This issue includes:-
Sad Sally, Happy Hanna: Everybody's Talking
October is Christmas Challenge Month!
Last Month's Competition: Calling All Cleaning Sceptics!
Hidden Gems Competition Winner
Best Member's Blog: This Month's Winner
NEW! Lin's Garden Diary
Best of the Vault: Xpensive Xmas?
Best of the Forum: Festive Season Just Around the Corner
Cooking with Mimi: Iced Tea and Continental Picnic Loaf
Penny's Blog: That's What Friends Are For
From Last Month: Life on the Move
This Month's Help Request: Help Me Conquer My Shopping Bag Mountain!
Savings Story: Eat Your Heart Out Imelda!
So Long, Farewell, Auf Wiedersehen, Goodbye :-D
---
Hello,
This week one of the most amazing women I will ever know left her body. Her name was Sara Warneke - in the Forum her name was Sara from Nonsuch Gardens, but to the rest of the world she was the international bestselling author, Sara Douglass.
Sara was an astounding woman who also happened to be a brilliant writer. The reason I say she 'left her body', rather than died is because Sara is a legend. She influenced so many people that she will never die. She will live on like Shakespeare. Ironically, of all the things Sara wrote, the best piece was a rant about her own death called 'The Silence of the Dying'. Please read this. It will help you to understand others' pain. It will change the way you think. Read it and then print it out and give a copy to your friends and neighbours.
When we started Simple Savings I never thought it would lead to me meeting and growing to love a wonderful woman like Sara. I also never thought it would lead to me meeting so many of our fantastic members and receiving amazing letters like these:
"I love this site! I lucked upon it about a month ago and tried the $21 Challenge. I spent a lot more than that for the week but made some big savings. I joined up as a member two weeks ago and have slowly been implementing changes to our grocery spending. Three days ago my husband arrived home with a bunch of red roses. I was a bit taken aback as it was out of character. He announced I had reduced the money we spend on food by over 30% in four weeks! Thank you Simple Savings. You guys are fantastic." (Caroline Wallace)
"I recently purchased a copy of The $21 Challenge for my daughter. Before sending it to her, I thought I'd better have a better look at it myself just to check it out. I decided that I would keep that copy and order another one for her. But whilst I was away at a medical clinic I ran into a lady who was really interested in what I was reading. She seemed to be a little desperate and in more need than I was financially. So I decided that I, in the spirit of generosity, should GIVE her my copy of The $21 Challenge - which I did. Today I just ordered another two copies of the book, one for myself and the other for my daughter - who said that she didn't mind receiving her birthday present a little late this year since the original went to help somebody else. Thanks for a great book Fiona!" (Heather Elliott)
"I just thought I'd take the time to touch base with you again regarding my Debt Demolition Plan (as a friend of mine ended up terming it). I last left you with approximately $7000 remaining to pay off. Not content with failing, I intensified my repayments (and picked up a bit of extra work at the same time) and have now closed my loan! In fact, I closed it during August - almost a month ahead of my goal!
"In addition to this, I have booked into a conference in Tasmania mid-November (which the funding from my extra work covered the cost of the fee for, though this fee and the flights, accommodation and so on will be claimed against my tax next year as this pertains to my career) and have been planning a holiday in New Zealand with my boyfriend over the new year. Furthermore, I have now got firm goals in place for funding these activities and savings in general. Along with my goal of 'be debt free by 18/09/2011' scribbled on a piece of paper and stuck on my bedroom wall (with a big tick next to it!), is the goal 'have at least $5000 in the bank by 31/12/2011'. I intend to surpass this and have another big tick next to it when I return from New Zealand.
"I just wanted to say thank you once again for all your help over these years, both with practical advice and inspirational stories. Without you all, I couldn't have realised my dream of making 2011 the year I got myself back in the black and started living within my means!" (Kate Delley)
"I have been a member of Simple Savings for three years now and I just want to say a very big thank you to you and your team. I have been blown away by how much I have learnt and saved. Before Simple Savings I thought I was good at saving, but I did not even know that the supermarkets reduce their products. Now I buy reduced first, then specials if cheaper than home brand. Simple Savings has changed my life and has allowed me to save $125,000 in three years. I remember when I first went to the post office to get the money order for my subscription and the guy there asked what Simple Savings was as he had never heard of it. I was rather embarrassed to say that it was a website that is supposed to help you save money. Well I am certainly not embarrassed anymore and I tell anyone who will listen about Simple Savings. My 12-year-old daughter hears about it on a daily basis and she has been known to come back from the supermarket with a bag of fruits and vegies for $4.00 because I told her about it. I had also told her that I did not think our supermarket does it as I have never seen it; she found it before I did. Once again, a huge thank you." (Jacqueline Ladouce)
Wow, wow and WOW! Thank you so much for sharing your successes with us. We really appreciate every single tip we receive every week too, so keep sending them in. As well as helping other members to save money, you could also win yourself a free 12 month Vault membership (value $47) in our weekly Hint of the Week competition!
PS: Your FREE 2012 Simple Savings 'War on Debt' calendar is in production as we speak. We'll let you know as soon as it is ready!
---
"It's that time again!" Hanna smiled to the rest of the Savings Group. "Time to start organising our Christmas street parties. Last years were fantastic weren't they! I know it's only October but we really need to get our invites out now so that all the guests can write it in their calendars and keep the day free. Now, I've drawn up some invites, I'm guessing you'd all like a copy?"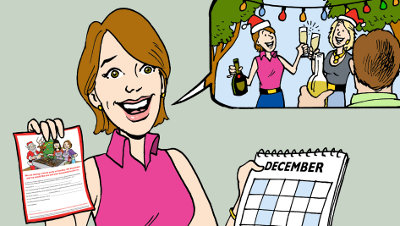 "Excellent, Linda and I have been waiting for these!" grinned Sally. "Linda? Who's Linda?" Hanna asked in surprise. "She's the neighbour I met at last year's street party. She's offered to help me organise this year's. Can you believe I was living next door to such a lovely lady for such a long time and had no idea? But," Sally whispered conspiratorially, "there's a new guy who's moved in just across from us. He looks very nice - I want to introduce them to each other!"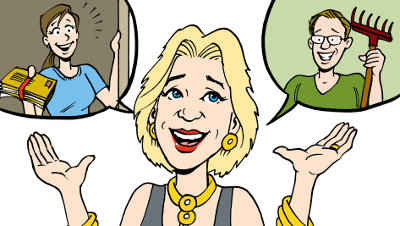 "Oh, so THAT's why you're so keen to have a Street Party!" Hanna laughed. "Not just that!" giggled Sally. "Last year's party was so much fun; everyone's still talking about it and asking when the next one's going to be. It really broke the ice and made our neighbourhood a much friendlier place. So I'd better grab one of those invites now because nobody's going to want to miss out. Hmm, I think I'll get Linda to help me hand them out. She can deliver one to that new chap across the road!"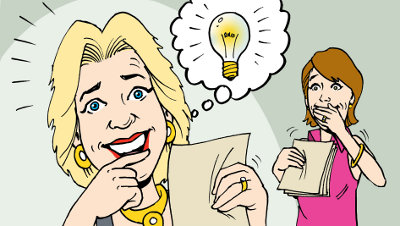 ---
Hanna's right, it IS that time again! Last year we proudly launched our very first Great Aussie Street Party campaign, together with That's Life! magazine. It was a huge success, with 112 parties ALL being held on the same day, at the same time! A fantastic result for a first effort! This year, however, we want it to be even BIGGER - and that's where you come in. This month your challenge is to bring everyone in your street together for Christmas. Just as Hanna said, we need to start organising this now before everyone's festive calendars get too full. After all, Christmas is just 12 weeks away!
You may be wondering what does throwing a Street Party have to do with saving money? The great thing about bringing your street together is that everybody wins. You get:
More friends! You see your neighbours drive past every day, you may have even seen each other getting the mail in your dressing gowns and slippers - but do you know each other's names? When you get to know your neighbours, you are creating a safe and supportive network, so that next time the car won't start or the cat swallows a fish hook or you need a hand putting the rubbish out, there is always someone reliable on hand to help. Not to mention it's great to have someone close by whose door is open for a chat and a cuppa (or even something stronger!).

Peace of mind and security. According to national neighbourhood support networks, getting to know your neighbours can greatly improve security and peace of mind in your street.

You DO get to save money. In all sorts of ways! Asking a reliable neighbour to feed your pets while you're away can save you a fortune on animal boarding fees. Carpooling to school or work can save both time and money in petrol and wear and tear on your car. Being able to borrow items from one another can also save everyone a huge amount, whether it's something small like a cup of sugar or large such as a trailer or wheelbarrow. Don't forget too that your neighbours may well have hidden talents! Supporting them in their trades and businesses is both good for them and you. Even if you are not lucky enough to get 'mates rates' you can usually be assured of excellent service.
Above all, having a Street Party is FUN! So join us in our celebration on Sunday December 4th. Everything you need to organise your own street party is available on our site. We have even made free printable invites for you to hand out to your neighbours. Your mission this month is to fill them in, deliver them and get the ball rolling - easy peasy!
You can register your street party here.
You can print off your free party invitations here.
For more information about the Great Aussie Street Party and why they are so important, check out last year's newsletters:
---
We had a fabulous response to our cleaning competition! We asked for all the sceptics out there in SS land to come forward and give our home-made cleaning products a go and report their results to us. Thank you to everyone who took the time to try them out and send their entries in, we loved reading your stories! Our first prize winner of $100 is Alison Wiltshire with her fantastic account of how she became a cleaning convert!
"I've been looking at a spot on my tiled floor that has been bugging me since we moved in. It was full of ingrained dirt. I have been thinking 'I must get down on my hands and knees and scrub that with a scrubbing brush. But I kept not bothering and especially now that I'm six months pregnant again, who wants to get on the floor?! Last week, I had had enough - another failed attempt at mopping it clean. I pulled out my new shaker of bicarb (made out of an unused metal chicken salt shaker) and my new bottle of vinegar in a spray bottle. I was VERY sceptical, but a fat belly and a hormone-induced-fed-up-attitude encouraged me to sprinkle on the bicarb and then spray with the vinegar. I love that bubbly reaction and can't help myself from mentally writing the chemical word equation in my head (I'm a science teacher so I can't help it!). So I mopped it... and the dirt lifted away! No scrubbing! No down on my hands and knees after much moaning and groaning to get there. No effort really at all! In an instant I was sold and every day in the past week I have looked at that spot and smiled. How long had it been dirty? At least three years since we moved in, who knows how much longer it had been!
"From then on I was on an experimental frenzy (remember, scientist!). I tried it on the stove top after trying a cursory swipe with no result. Normally I have to get the commercial spray and a metal scourer to get it off. You guessed it, bicarb and vinegar (fzzzzzz) lifted it right off. It has probably saved the stove top from my persistent scrubbing. And then I tried the slop marks around the bin (gross). Again, lifted right off. And the kitchen sink and the benches. Next time will be the bath (fat-belly-syndrome has prevented me from getting there for some weeks now - oops!).
"Am I converted? You bet I am! I've got all the ingredients to make laundry liquid from the recipe booklet. I'm just waiting to run out of the old powder. I have orange peel soaking in vinegar to make my own kitchen bench spray. I love the orange cleaning products normally and we have an orange tree. I feel less guilty about throwing out all that peel. Talk about 'recycling'! I have used bicarb in the dishwasher to both wash the dishes and the dishwasher. Easy and cheap. No better but no worse than what I was using before and so much cheaper. I also have the ingredients to make floor cleaner and disinfectant ready for when the other stuff is used up.
"Thanks for all the fantastic ideas. My stay-at-home mummsy-ness is satisfied. My fat-belly is less challenged with hard work. And my curious scientific brain is stimulated and satisfied too!"
Congratulations Alison, we're so glad to hear our cleaning recipes have made your life easier! Well done also to the following four runners-up, who all win a cash prize of $50: Julia Knock, Julie Williams, Heather Brown and Jodie H.
Thanks to everyone who entered - and if you haven't tried making your own cleaning products yet, why not give them a go? Just like our winners, you may be very pleasantly surprised!
---
Our Hidden Gems directory is designed to help members find it easier to source the best deals in their area. Whenever you come across a real gem of a store, enter it in our Hidden Gems directory and you could be in to win our monthly prize of $100 cash! This is our way of saying thank you for helping other members save by sharing your knowledge. The more information you can give us, the better your chance of winning. This month's winner is Hope Farm Shop as nominated by Laverne Clark. Read her entry to see what makes them such a great example of a Hidden Gem.
Hope Farm Shop 185 Main Road, Hope, Nelson, NZ
"I have lived in Nelson for seven years and been a member of Simple Savings for three. I can't believe it's taken me this long to see the light - but now I have, I want to shout it from the rooftops!
"Pre-SS, I bought my fruit and vegetables from supermarkets, then I saw the light and bought from a fruit and vegie store. The quality was always good, but I just wasn't saving the amount of money I thought I should be - around $30 a week. Until one day a friend and I were discussing money saving tips. She told me about her trip out to 185 Main Road in Hope, where she got a box (yes - a BOX) of fruit and vegies to last her the week for $20. She feeds a family of seven, so this was impressive stuff. I thought it might be possible for my family of four to save a bit too, so went to check them out myself. Was I ever glad I did!
"Now every fortnight I take my elderly neighbour and we go to the Farm Shop. The fruit and vegies are so good, we easily get enough to last the fortnight and the average cost has been a measly $24, saving a whopping $36 a fortnight! And, the produce is so delicious, I've never come across a single thing I thought was a waste of money.
"At the moment they're only open every Friday (winter trade) and I've noticed each fortnight the people attending get bigger and bigger. Word is spreading and I'm looking forward to summer when they will be open for the full week!"
Congratulations on being this month's winner Laverne and a huge pat on the back to the Hope Farm Shop team for providing consistently outstanding customer service and value for money! You can enter your own Hidden Gems into our monthly competition here. Thank you and good luck!
---
One of the many benefits of being a Vault member is that you can win a cash prize of $100 each month for your Simple Savings blog! Starting your own blog on the site is easy. All you have to do is log into the Vault, click on 'My Desk' at the top left, then 'Your Blog'. Then get writing! We love reading all your money saving trials and tribulations and really appreciate the effort that goes into each one.
This month's winner is Single and Saving for this extract from her blog Bits and Pieces. If you have ever thought owning your own home was an impossible dream, think again! Single and Saving proves it can be done in this inspiring post.
My New House & Reflections on my House Deposit Journey
May I present a photo of my new house!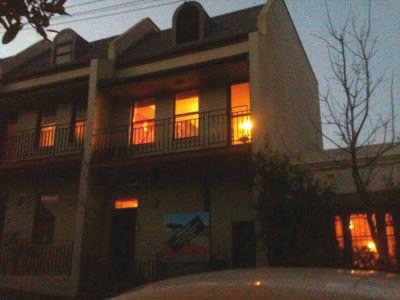 I exchanged contracts last Wednesday and will settle in November. This purchase is over three years' worth of hard saving, many tears, much frustration and in particular from December last year through to now, I have given this my absolute all. And I think it was entirely worth it!
Just as background to me and to give a bit of context - I am 33 years old, I moved home to live with my parents a little over 3 years ago with the goal of saving for my own deposit. I am single (although hopefully not for too much longer!) and have a good paying job, so I'm lucky to have had this opportunity to go home and save some money.
I thought I might take some time to reflect on my journey, these are my miscellaneous thoughts and tips I would give to anyone starting out.
Start.

Don't be too hard on yourself at the start. My savings goals at the start were completely unrealistic, but every little bit counts, so just do your best and you'll naturally fall into a good savings rhythm. At first I just transferred bits and pieces over, and then gradually I moved to automatic transfers and just lived off what I had left in my account. This is a post I did six months into joining SS about the things I had learned and my thoughts on how hard it was: </fora/2051058/>

Baby step it. My background was one of a complete shopaholic, I spent everything I earned (and more) and my biggest challenge was to rein in my spending. I tried various things: keeping out of the shops on a Thursday night, I cut down on my drinking, tried to limit going out to Friday or Saturday night (not both) and took my lunch to work. I could not give up my morning coffees. To me this was the equivalent of complete and total deprivation and I wasn't able to do it! This is one of my favourite threads which I started on how to get over the 'I deserve' mentality </fora/975918/>

Go out for cheaper options - 'dumplings', 'Thai' or go over to friend's places for dinner/cocktails.

Play games with numbers - I had fun with palindromes and rounding up, so whatever floats your boat!

Identify little and big things to cut back on - I reduced my spending on clothes, stopped buying magazines, CDs, kitchen stuff, manchester. I realise now that a lot of SS members already do this, but I was terrible at it. At the beginning of this year, I made a resolution that I was not going on any overseas holidays until I had bought a house.

I cut up my credit card. This is a very personal choice and certainly not for everyone, but I found I was in a situation where I was always paying off my credit card rather than putting that money into my savings account. I moved to a MasterCard Debit card which does the same job as a credit card (can buy books online. This is a thread I started when I was in the midst of agonising over whether to cut it up or not </fora/2165250/>

I had trouble accepting that it was as big a task as what it was. It is without a doubt one of the hardest things that I've ever done in my life and I can't describe the feeling of excitement of achieving this goal. It is one of my proudest achievements ever. I pretty much danced around the office and home for three days after I exchanged contracts.

I used the Savings Diary on this page and entered in everything I spent. This year I approached it as a bit of a game and tried to spend less each month that what I did the month before. Obviously this doesn't work for the month that car insurance is due, but on the whole it is a fun game.

I have thrown my fair share of tantrums over my frustration with this enormity of this task. There is a doozy of a vent on the House Deposit thread (Mark 5) in the Forum of how over I was with the whole process especially how hard it is to save a deposit by yourself:
While part of me is pleased with my progress there is another part of me that is so incredibly frustrated at the moment as I realise that despite having given this my all since December, I'm still not at the finish line. I'm over how I have to save twice as hard cause it's just me. My sister saved a fraction that I did and because she bought a place with her boyfriend who already had a unit (which they sold) she's waltzed into a house. Whereas I've already saved twice as much and I'm not even close to having the money I need. I'm over that my friends bought their houses about two years ago in the same area that I'm looking and paid $200,000 less than what I'll have to pay. I'm over living with my parents, being at home at 33 is embarrassing. I'm over not having my independence or having a boyfriend. I'm also over the fact that at the moment I've saved a bigger deposit than anyone I know as I'm still not close to buying a house. I'm over not going on holidays. I'm over living in one of the most expensive cities in the world. I'm over that my friends are married with their own places and I'm still at home with my parents and don't have a boyfriend or a house. I'm over that my parents won't help out or go as guarantor - there is no one in my group of friends who bought a place by themselves without help from their parents. I'm over that my mother would probably happily keep me at home cooking dinner for her for the rest of her life and that I'll never end up being independent with my own life. I'm over that my sister moved home for 6 months and didn't have to pay board whereas I do.
I'm over being patient, I'm over being me and to be quite frank I'm just over it all.
Good luck can happen amazingly quickly. I was psychologically prepared to wait until next March/April to buy a house (when I had an inheritance come due) but this house appeared in my price bracket with all of my features and then it just happened.

Use the camaraderie of the House Deposit thread to your advantage. Posting every second Thursday when I got paid has been one of my favourite aspects of saving for a house deposit. I have enjoyed the company of Carolyn (With My Own Two Hands), Venturing, Bek and Julie enormously. Thank you very much for all of your encouragement.

Set lots of mini goals. I had different goals for the start of various months. My big one was setting a goal last December (when I was at $55,000) to reach $90,000 by the end of June and I did it. Reaching $100,000 was pretty exciting too.

Come up with some challenges. This was my thread on not buying any more cookbooks! </fora/2198774/>

Get everyone involved - let your friends and family know what your goal is. I had so many congratulations and well wishes when I bought my house. So many friends have offered little pieces of advice and encouragement along the way and I have found this priceless. One of my friends has been a great source of pep talks and we compare our frugal food ideas. It's quite funny. She's also enjoyed having me over for dinner. I have had a saying of 'Have cocktail shaker, will travel' and I've spent lots of nights at friends' houses making cocktails and it's been a cheaper alternative to going out. As my friend said to me at one stage drinking a yummy drink "S&S, you've just made me a $20 cocktail!"

Use the Forum. These are some of the threads. Pep Talk Please - Feeling a little behind in life </fora/1969467/> Although the Forum can be a bad influence on spending money too! </fora/2177066/> a good benchmarking one on How long did it take to save your house deposit. </fora/1493530/>
So there you have it. That is my journey and thoughts in a nutshell. Good luck to everyone who starts on this journey - always keep the faith that you will get there!
Congratulations Single & Saving, what a fantastic achievement! To read more from her, or any of our other members' blogs, click here
---
What a treat we have for all you 'wanna-be gardeners'! Four weeks ago Linda and her family left their hectic lives in the city behind to move to the beach. Having tried several times to grow her own vegetables and failed miserably, Linda is on a mission to achieve green fingered success completely from scratch - and she wants you all to join her! In each newsletter, Lin's Garden Diary will include helpful information on creating a vegetable garden, planning your site, preparing the soil and deciding what vegetables to grow. There will be lots of information on composting, companion planting, organic sprays, pests, seeds and more. There couldn't be a better time to get started than now. So come and join Linda, hubby Lee and their children Sebastian (6) and Zoe (3), as we all learn to grow our own fabulous fresh food together!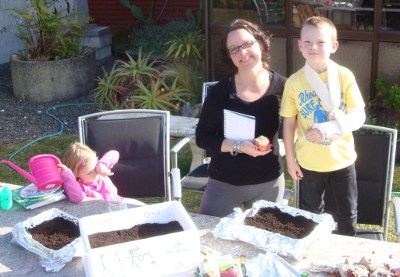 I discovered Simple Savings a few months ago and it couldn't have come at a better time. We were caught up in the rat race and wanted a slower pace of life. We wanted to live life like we 'used' to. Growing up in the 70's, life was simple. You didn't have many toys, you made use of what was around, we walked everywhere, ate vegies from the garden, and I always remember helping Dad make our own ginger beer! We were pretty self-sufficient and life was great. We want our own children to live the 'old school way', just like we did growing up.
We have now been in our new location for four weeks. We bike or walk everywhere and the kids are enjoying the simple things in life. Life can't get much better than this - the only thing left for me to do is grow my own vegetable garden!
If you want to be a Simple Saver like me, then growing your own vegetables from seed is the cheapest way to go. As our vegetables grow and we learn how to gather seeds from them, we can save even more money!
Step One - Get a garden diary
Buy a blank note book and title it 'Garden Diary'. This seems to be a very important tool for a successful garden (if only I'd known about this before)! My new diary has a dream list of all the vegies, herbs and fruits I want to grow, but I need to be realistic as we don't have much space at the moment. So baby steps!
Step Two - Decide what seeds you want to plant
I have chosen the following, as we eat a lot of these over summer:
Vegetables - Cherry tomatoes, lettuces (cos and mixed), spring onion, strawberries, celery, beans, capsicum, peas, beetroot, spinach, corn and carrots.
Herbs - Basil, mint, coriander, parsley and rosemary.
Of course, not knowing much about planting, I got some helpful advice from our local gardening shop and was told the following vegies and herbs would be suitable to plant from seeds, however, the remainder I should just buy as a plant! Tip: Find a neighbour, family member or gardening shop to gather advice. Having a gardening mentor is a great idea and can save you time and money!
So off I went on my bike, to my local garden shop to get my seeds. I got a packet of marigolds too! They are meant to be good for vegie gardens and I thought the kids would love them!
My chosen vegies/herbs:
Plant from seed
Buy the plant!
Cherry tomatoes
Spring onion
Lettuce (cos & mixed)
Strawberries
Runner beans
Celery
Peas
Capsicum
Beetroot
Spinach
Corn
Mint
Basil
Parsley
Coriander
Rosemary
Step Three - What you need to plant your seeds
Small trays or pots (enough for your seeds). Make sure they are clean, rinse with hot water. I put on my Simple Savings hat and went around to my local florist and butcher to see if they had any pots or polystyrene containers. So these were absolutely FREE!
Good quality seed raising mix (this helps prevent disease). I used Black Magic brand.
Soil thermometer (seeds germinate well in a warm soil 18-21degC). This is optional; they cost about $20, and a good investment.
Small watering can.
Step Four - Plant your seeds
If you have kids, get them to help, they will learn lots and together you will have so much fun! Sebastian was getting carried away, poking the seeds into the dirt, 'WAIT,' I said! Just one tip from me... get them to poke the seeds into the dirt AFTER you have them all laid out, otherwise you have no idea where they are! Zoe was in a grump and not really into it, however, she did enjoy watering them! 'STOP' I shouted! Argh, another tip DON'T WATER YOUR SEEDS WITH THE WATERING CAN! The poor seeds drown! Use a spray bottle or if you are using a watering can make sure it has a spraying nozzle.
In your diary, draw a layout of each garden bed, pot or tray. Give each vegetable or herb a number and map these out on your plan. I got the kids to draw a picture on the front of the box so I knew which was the right way up. This saves you having to put a named stick in the soil to identify each seed.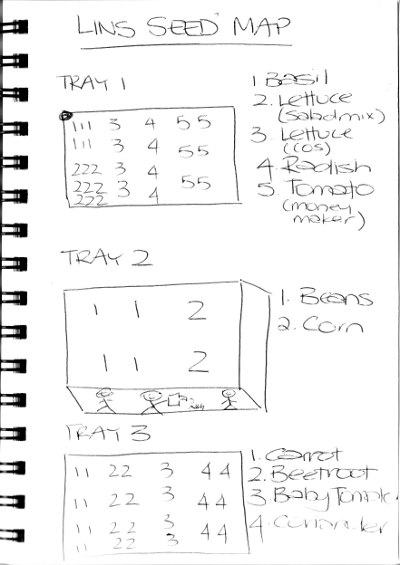 I saw a fantastic new hint in the Vault a few days ago from Simple Savings member Jan, who said you can use the plastic bag inners from your cereal boxes, placed over your plants/seeds to act as a mini hot house! So thanks Jan - what a fab idea!
Remember I am as new to this as some of you, so when planting your seeds it is best to follow the instructions on your seed packet! We all live in different areas and have different soils so once again having a local gardening mentor is a great idea as they will have tips relevant to your environment. I'm sure with a good seedling mix and some care and attention, you can't go wrong!
Useful tips for your seeds:
Check the expiry date on the back of the packet (I found the ones at the back of the pile had another year validity on them).
Some seeds require an overnight soak to help speed up germination (check the packet; they are usually big seeds like peas).
Don't overwater! Keep your seeds nice and moist.
Plan where you are going to put your seeds, then draw a map in your diary.
Place your trays or pots in a warm and sheltered spot.
As your seeds start to germinate, keep them moist and gradually introduce them to direct sunlight otherwise you will fry the poor things (hmm yes, have done that before)!
By placing a plastic bag or newspaper followed by glass over the top of your tray you help keep the moisture in and the soil at a good temperature.
If you have a soil thermometer try to keep soil temperature between 18 and 21C.
Well that's it from me. I am looking forward to updating you next month. Don't put off your vegie garden any longer, go and buy, find or borrow some seeds and get started - spring is here everyone and now is the best time to sow!
I will continue to blog my gardening journey here between newsletters and would love any savvy tips from members. Happy gardening everyone!
---
There is much fun and frivolity to be had this festive season without blowing the budget. These tips from our fantastic Simple Savers will get you through with credit card and savings accounts intact!
Save between $1000 and $2000 - or more!
It is never too early to start preparing for Christmas and though we are running out of time with Christmas just over two months away there is still plenty that can be organised, items that can be purchased, savings put aside and much more. Everything that you do now will mean fewer dollars taken out of the Christmas holiday pay/wages - if nothing at all!
Start your top 10 early Christmas preparations by purchasing a small notebook to write down all the tips you use and the savings you make under each category and use this for easy regular reference.
If you haven't done so already, set up an automatic payment of $25, which can be deducted from your weekly wages to go into a separate Christmas savings club with your bank. When the Christmas holidays arrive, there will be an additional $225 set aside for outings and so on.
Each time you do your weekly shopping, buy a gift voucher for $10 to $15. Put this in a special envelope marked 'Christmas groceries' and store in a safe place. Between $90 and $135 will be there to go towards the Christmas shopping.
Ask your local butcher if they have a Christmas club that you can join and deposit $10-$15 each week into this club. The $90-$135 saved can pay for a good-sized piece of ham and go towards a meat pack to stock up the freezer over the Christmas holidays.
Lay-by gifts. Sort out your Christmas shopping list for family and friends and visit stores like Big W, Kmart and so on. Don't forget the extras like Christmas wrapping paper, stocking fillers, cards, labels and Sellotape. Shop around for bargains and always check if sale items can be put on lay-by. Make weekly payments on your lay-by account so that by Christmas your account should be almost paid in full. With the one final payment left you can pay, pick up and breathe a big sigh of relief that you did get in early and avoided all the mad rush that Christmas brings. Another bonus with lay-bys is that in most cases your items can be picked up a day or two prior to Christmas and this means you don't have to hide any gifts around the home for too long! Depending on your shopping list, you can literally save hundreds of dollars by not depending on the Christmas holiday pay/wages, likewise with Tips 5 and 6!
eBay has many gifts to purchase either through the auction (bidding) process or the Buy It Now feature. There are literally thousands of new gifts available, often at bargain prices and/or well below store costs. This is another fabulous way to buy a gift each week to put aside for Christmas. Rare items can be found on eBay as well as the perfect gift that you can hunt high and low for and never find in a store, all from the comfort of your home! Make sure that you ask the seller the cost of postage/freight and/or courier delivery prior to bidding or buying it and add this into your total cost. Also compare the total eBay cost of the item(s) you're interested in against an actual store cost to ensure that you are getting the best deal before bidding or buying on eBay.
Auctions are another great option for gift buying. Check your state's main newspaper (generally Saturday's) for upcoming auctions and the items they have listed. Have a good idea in advance what the store costs would be for any item(s) that you are interested in. Be prepared by visiting the auction the day before (if noted in the newspaper) and or early on the day prior to the auction starting. Allow yourself ample time to test and check any items you are interested in and mark them in the auction catalogue, which costs around $1.00. Set your budget limits and stick to them, and be disciplined as some bidders will pay more than store cost, simply by getting swept up in the moment! Take into consideration any additional fees, GST, buyer's premium and so on. Many items are brand new and can be bought for a bargain price if you go prepared.
Raise money for Christmas spending by selling items on eBay and/or by having a garage sale. Look around the house, in the wardrobes, cupboards, garage, tool shed and so on for any items that are no longer in use, new and/or used. All funds raised from the sale of your item(s) can go into your Christmas savings account. Depending on the item(s) sold, the amount raised could be between $100 and $500, or more!
Plant fresh vegies and herbs. If you don't have a garden, potted vegetable plants like tomatoes, lettuce, silverbeet or any others in season will do. Plant them in now, tender and be prepared for deliciously fresh vegetables and herbs over the Christmas holidays. Fresh vegetables over the Christmas period are known to jump in price in the supermarkets and you can literally save $100 or more by growing them yourself.
Stock up the pantry. Write up a list of Christmas goodies, for example, assorted lollies, nuts, chocolates, tinned fruits, tinned foods, biscuits, crackers, chips and baking products - and don't forget the items to fill your Christmas stockings. Each week when you do your grocery shopping buy products that are on sale, place in boxes marked as 'Christmas goodies' and store in a dry place. If your pantry is not big enough to cater for the extra stock, a spare bedroom, wardrobe or any dry, cool place will do. Always check the dates on the products and ensure they are sealed (unopened) and will last over the holiday period. By stocking up now, savings of $200 to $300 at least can be made!
Petrol vouchers of $10 to $20 each equate to $90 to $180 by Christmas! Purchase each week when you fill up the car as they are an ideal way to save dollars over Christmas for those outings to family and friends, picnics, beaches and theme parks. Put them in an envelope marked 'Christmas petrol' and store in a safe place.
All of the above can amount to between $1000 and $2000 or more in savings!
Contributed by: Christabelle
I am no longer worried about how I am going to be able to afford Christmas gifts this year, since I stumbled on a website which has reminded me of the true meaning of the festive season. My family of five are really struggling to make ends meet this year and I have not been able to put any money away each month for Christmas as I usually do. I was wondering how on earth I was going to deal with Christmas gifts this year and search for some ideas on the internet. I came across a website called Buy Nothing Christmas. It suggests that Christmas today is all about consumerism and far from what Christmas is meant to be about (Christ Mass). The website has an alternative page which gives suggestions of the kinds of gifts you can give to your friends and family, without having to go out and buy them. Most gifts are either handmade or time orientated. Suggestions such as home-made biscuits, slices or preserved fruit or coupons which give the receiver some of your time, for example, babysitting hours, cleaning time or just leisure activities. Most people would prefer a gift that has had a lot of thought put into it rather than just a thoughtless knick-knack. Our family is also very environmentally aware and it upsets us to see all of the waste that Christmas produces. So, if you are like us and are concerned about consumerism, the environment and also your wallet, take a look. You too might turn your back on what society thinks Christmas should be - like me!
Contributed by: Sarah Dixon
I have raised $415 towards the cost of this year's Christmas presents by selling a number of unused household items we no longer wanted. As Christmas approached, I was reminded of my tight budget, so before I went out and spent money I didn't have, I looked around the house and garage in search of things I 'could turn into money'! I sold:
A beautiful timber butchers block for a fantastic $250
A pushbike for $76
A children's slippery dip for $38
An unworn dress new, with tags on it for $51 which is more than I paid for it!
I'm delighted! The money will go a long way and has taken the stress out of Christmas for me. I've got the 'selling bug' now and am about to see what else I can sell to add to the money I've already made!
Contributed by: Wishful thinking
I was waiting in line at an MBF branch just before Christmas, wondering why it was taking so long to be served. When I finally got to the counter, I asked the man about the delay and he told me that some people save up their medical/extras rebates and bring them all in just before Christmas. This means they're getting a year's worth of rebates in one hit, which I thought was a great idea. I see a chiropractor every three weeks and get $25 back each time from MBF; if I leave it to the end of the year to collect all my rebates, I end up with a lump sum of around $430; a very nice Christmas bonus if you ask me!
Contributed by: Jennifer Hodges
Every year, I used to spend hours looking for fun and interesting Christmas gifts for our nieces and nephews, without destroying the budget - often with minimal success! This year, I got tough and vowed to stick to a budget of $10 per child, no matter what!
I used my sewing and craft skills to achieve this goal. I rummaged through my large material cupboard and found some fabric left over from previous curtain making ventures. The fabrics featured butterfly and fairy prints, plus characters from the popular movie 'Cars'.
For my nieces, I made oversized pencil cases using the butterfly/fairy fabric, plus zippers I found in a draw. For my nephews, I turned the Cars fabric into drawstring bags, using leftover cord from the cupboard.
Cost so far? Two hours at the sewing machine.
Next, I made a trip to Go-Lo and The $2 Shop with just $40 in my purse. I came home with colouring books, pencils, stickers, blank project books, glitter, how-to-draw books, coloured paper and crayons for the girls' pencil cases. For the boys' bags, I bought a mixture of cars, trucks, dinosaurs, planes and toy soldiers. And I had $10 in change!
Two hours of effort, and $30 in cash, is all it took to create six fun Christmas gifts for my nieces and nephews. All the gifts have been made with love and imagination, and my budget is intact! Plus, I'll spend less time battling it out with mad Christmas shoppers!
Contributed by: Tracy New
Every year for the past four years I have missed the deadline for sea mail Christmas postage to the UK. This year I am determined to make it on time and have bought and wrapped most of my gifts (in last year's Christmas paper leftovers). They are sitting in the appropriate post packs with a list attached reminding me of who I have yet to find a gift for.
By getting organised early you can save a HEAP on the postage - and guarantee delivery before Christmas. Check out souvenir shops and Australian Geographic for interesting Aussie themed gifts for those beloved rellies and friends across the rest of the world. Sometimes their sales and markdowns are HUGE!
Contributed by: Michelle Quinsee
BONUS Extras for Vault Members
The Vault is just bursting with money saving hints and ideas from our members, far too many to mention here! We've included these extra links to even more fabulous tips as a way of saying thanks to you all. Ho, ho, ho!
Seafood Christmas party Contributed by: Shirley M
Plan for Christmas spending Contributed by: Susie Moen
Lovely tricks for a magic Christmas Contributed by: Juanita Sevik
Mini Christmas puddings Contributed by: Gayle Guyomar
A stress free Christmas on one income Contributed by: Leanne Matthews
---
This month's Christmas Challenge encourages us all to get the jump on the festive season, both in our larders and in our purses. These awesome threads from our Forum members will inspire even the Ebenezer Scrooges amongst us. Only three month's sleeps to go!
Let our lovely member Chatterbox show you the way to get yourself organised for the festive season.
read more...
And the great ideas keep on coming...
4 months to go
But wait, there's STILL more!
3 months to go
As well as Mimi's fabulous recipes below, this thread suggests more mouthwatering morsels to whip up and share with your neighbours at your street party.
read more...
Why not spread some Christmas cheer to children in desperate circumstances by preparing a shoe box filled with gifts to be delivered overseas by the charity Samaritan's Purse. Get all the inspiration and help you need from our generous and community-minded members.
read more...
Claire already has her work Christmas party planning in full swing. How about you? Follow her thread for some inspired Christmas entertainment ideas.
read more...
Home-made Christmas cakes always bring back memories of special family gatherings. Why not try baking one of the recipes in this thread? There is even time to bake and sample one of each, just to see which one you like the best!
read more...
A gorgeous home-made tipple from our favourite Forum foodie, perfect to prepare ahead for your street party and the Christmas season.
read more...
---
I love a good gathering of friends. A few laughs, some chit chat and a good old fashioned game of backyard cricket does more for my looks and my wrinkles than any number of spa days at some posh resort. Needless to say, these gatherings usually entail consuming an unforgivable quantity of food and drink as well. Yes, yes, there's always self-discipline, but then what's a party for if not to over-indulge! The trick is to indulge in the right kinds of things. I've got a couple of great recipes this month that fit the bill nicely.
Forget the foot long subs and the pizzas! This do-ahead picnic loaf is a scrummy addition to any party table. Sliced, it looks like little rounds of mosaic, and you can vary the fillings in dozens of ways. It's meaty enough for the blokes and fresh and tasty enough for Mum and the kids. Even better, it can be made up to 24 hours ahead, and you can make as many as will fit in your refrigerator. Then it's just a matter of grabbing it from the fridge and slicing it to serve. My nanna used to make these for family events and she always had her big flowery apron on when she did it. To this day, I don't feel right if I don't have my nanna apron on when I make them. If you have one, make sure you wear it for authenticity!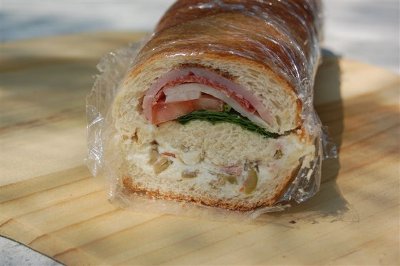 Serves: Up to 20 slices or enough for one huge platter
Equipment required:
Cling wrap
Bread knife
Medium bowl
Sharp knife
Dinner knife
Dessertspoon
Several full tins of canned food of some kind to use as weights
Flowery nanna apron
Clean tea towel
A long, cleared space in your refrigerator
Sharp bread knife or electric knife
Ingredients:
One baguette (French stick)
375g ricotta cheese
100g green stuffed olives
200g shaved salami
200g shaved ham
200g shaved turkey
Balsamic vinegar
2 large tomatoes, sliced
100g baby spinach
Method:
Put on your flowery apron.
Find a space on your kitchen bench or dining room table, separate to your preparation area, to lay out two overlapping pieces of cling wrap, about a metre long. You'll be using this to wrap your baguette tightly at the end.
Tip your ricotta into your medium bowl.
Drain your olives if necessary and dice them finely.
Add to your ricotta cheese and stir well until combined. Set aside while you prepare your baguette.
Slice your baguette lengthwise into two even halves. Then, with your clean hands, carefully remove the soft bread from the baguette. Just start at one end, dig down with your fingers to the bottom of the soft bit, and then start wiggling and tearing the squishy part of the bread all the way down the hollow of the baguette. It's fun to try and remove it all in one piece, but it doesn't really matter. You will be using this in a minute, so put it somewhere clean and safe on the bench. Try not to nibble at it. I know fresh bread is irresistible, but you need it to make your loaf look pretty!
Once you have two long hollowed out baguette halves, you can start on the really fun bit. The aim is to make this look as colourful as possible and to really pack those filling ingredients in. This is no time to be sparse. This won't work if your baguette halves aren't absolutely chock full of stuff.
So first up, spoon the ricotta and olive spread into the bottom of the baguette half. You should have enough to fill the entire thing from one end to the other and up to the brim. Make sure it's filled in every nook and cranny.
Lay your baguette top in front of you on the bench. Sprinkle the inside with balsamic vinegar. I just kind of drizzle it all the way along in a thin line. Don't drench it or you'll end up with muddy slush, instead of meaty baguette. You just want it lightly moistened as this helps keep the whole thing 'glued' together.
Inside the baguette, you can now layer a row of salami. I like to fold my salami slices in half as I think it looks more effective when sliced. Follow this with a layer each of ham and turkey. Don't spread them out neatly, as it won't look nearly as pretty. You need to be kind of folding them into the baguette. Press it all down firmly, then add slices of tomato and two layers of baby spinach leaves. Make sure the baby spinach and tomato is all inside the edges of the baguette. It'll all be piled up past the top edge of your baguette now, and that's good.
This is where you now replace the soft squishy parts of the bread. Lay them on top of the two halves of your baguette and press them down well.
You can now carefully replace the ricotta filled part on top of the other half. Push it all down well to glue it together.
Now you need to move your filled baguette to wherever you've laid out your cling wrap. Don't rush. I find the best way to do this without disaster, is to place it onto a clean tea towel and carry it like it's in a hammock.
Place your baguette on the closest long edge of your cling wrap and start wrapping. You need that wrap really firmly around your baguette for this to work properly. So kind of roll a bit, then pull the baguette and wrap tightly towards you, as if you were rolling sushi. Once you've got it tightly enclosed, fold the ends of the wrap in and keep rolling, keeping it nice and firm.
Now your baguette needs to chill and firm up so you can slice it for presentation. So into the fridge it goes, with the tins of food on top. This helps to compress it all so it sticks together. I find placing my baguette in the back of the fridge gives the tins somewhere to lean and stay put. If the baguette is too long for your fridge you can cut it in half, keeping the cling wrap in place and covering the open ends with more cling wrap to keep them moist and fresh.
You can now remove your flowery apron. Didn't it make you feel like a Continental Mama though?
Leave the baguette there for a minimum of 30 minutes, and preferably overnight.
If you're transporting this to a party you can now just grab and go. It can be sliced into rounds upon arrival or when you're ready to serve.
At serving time you're going to leave the cling wrap on for slicing so don't go getting all excited and remove it! Take your sharp bread knife or electric knife and slice your baguette into 5cm rounds. Arrange on a platter, remove the bits of cling wrap and, for best results, serve immediately. If you prefer, you can slice this into short rolls, removing the wrap just prior to serving. It won't look as pretty, but it'll still taste darned good!
When your friends ask you how you did it, tell them the secret's in the flowery apron... shhhh.
Note: You can try any number of alternative fillings. Just follow the same principles of a creamy cheesy filling on one side and meat, fish or chicken and salads on the other. Try tuna, whole boiled eggs and salad in the salad half, with cream cheese mixed with corn and diced bacon in the other. Add the hard boiled eggs whole to your baguette half and they'll slice prettily for presentation.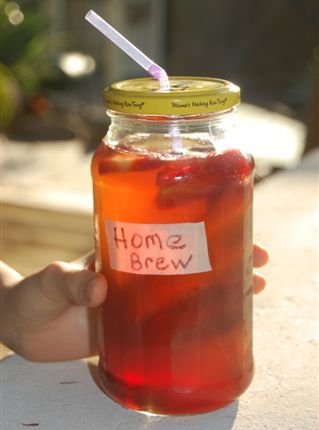 Now on a hot summery afternoon, you need a really good thirst quenching drink, and preferably something easy on the hip pocket, that leaves you headache-free the next day!
Iced tea is always a crowd pleaser, and with this yummo iced tea concentrate, you will have your thirst quenched, suffer no dreaded morning-after, and find your wallet no lighter for the experience.
Makes around two litres of concentrate which is enough for dozens of glasses of iced tea!
Equipment required:
Several bottles and large jars to store the tea concentrate
Large saucepan
Measuring cups
Large spoon
Slotted spoon
Funnel
Recycled jars with lids for serving
Straws for serving
Ingredients:
40 teabags (without tags)
3 litres water
6 cups sugar (remember it's a concentrate, you won't be drinking it at this strength, so it needs a fair bit of sweetener. You'll dilute it at a 1:7 ratio)
Heat your hotplate to High and place your saucepan over it. Into your saucepan, measure your 3 litres of water and bring it to the boil.
Once boiling, remove it from the hotplate and add your 40 teabags. Allow it to steep for 15 minutes. If it brews any longer your tea will be bitter. Remove your teabags with a slotted spoon, resisting the temptation to squeeze the liquid from them. This too, will make your iced tea cordial concentrate taste bitter. Now you can toss the teabags in the bin or save them for a spa experience by chilling them and placing them over your weary eyes when you've finished cooking.
Now you should have about 2-2.5 litres of brewed tea in your saucepan as you will have lost some liquid by NOT squeezing out those teabags.
Replace the saucepan on the hotplate and add your sugar. Stir the brew constantly now until your sugar is completely dissolved. Reduce the heat to Low and allow your brew to bubble away for about 10 minutes until it's evaporated a bit.
Your concentrate is pretty much ready now, but I like to taste test mine at this point before I get all excited and bottle it. So put about a finger width of concentrate into a glass and top with chilled water. Have a taste and if you're satisfied with the 'sweetness', there's nothing more to do but allow it to cool and then bottle it. Clever you!
If it's a little bland for your palate then add a further cup of sugar to your brew and return to a hotplate heated to High, stirring again until your sugar dissolves completely. Have another taste test. If it still isn't sweet enough for you and your friends then add more sugar and repeat heating and cooling.
For serving, I like to make our own portable non-spill drinks by using recycled jars. I use a hammer and large screw to hammer a hole in the top of each lid, insert a straw, add tea concentrate, chilled water, sliced fruit and ice cubes to the jar, replace the lid, and voila! Very posh iced fruit tea in a jar!
Variations: Naturally you can use any flavoured tea or herbal tea you like. I also vary the flavour by adding sliced fruit or by freezing fruit juice in ice cube trays to add to my prepared tea. If you want to get really fancy schmancy, add slivers of fruit to the ice cube trays then top up with fruit juice of your choice. Freeze them and add these pretty fruit-infused ice cubes to your tea jar... delectable! This adds flavour, colour and presentation points to your already award worthy iced tea.
Hoo-roo. I'm off to deliver my invitations to my street party. Have fun everyone!
---
September 23rd
I just bought my first Christmas present! I can't reveal what it is of course, one of the kids might read it! But at $19.99 instead of the usual $59 RRP it was too good not to take advantage of. I received the confirmation email, then looked at the date on my computer screen and realised that it's still only September! Still, there's nothing wrong with being organised and time is flying along. Hard to believe but our first anniversary in our 'new' home is fast approaching! The boys are no longer the 'new kids' at school and just like in the old days in Te Kauwhata we can't go down the street any more without chatting to someone we know and waving to all and sundry. Think you can safely say we have settled in!
I came across an old blog post by chance this morning which said 'when we move to Whangamata one thing is for sure. Our door will always be open, to friends and neighbours old and new and there will always be beer in the fridge and plenty of gas in the barbecue.' I read it out to Noel and he said 'Well that's right, it is!' It sure is. Our perspective on life has changed so much since moving to Whangamata. For starters the boys were only ever allowed one friend to stay at a time and it was a BIG DEAL for me, making sure the house was tidy, that there was enough 'nice' food to eat - even organising the pick-up and drop offs with the other parents was a hassle.
These days, however, things are very different. Last weekend we had one of Liam's old school friends from Te Kauwhata to stay. The poor boy had only been here five minutes when TWELVE kids appeared at the gate. 'I guess that's one way to meet people!' he grinned. And that's the way it was all weekend, as thirteen teenagers made themselves at home. The boys' rooms are like rabbit warren these days, you never who is going to appear down the stairs next!
On the whole it's been a brilliant year; an awesome year. Living here has been more perfect than any of us even dreamed of. It just goes to show that money doesn't buy you happiness because we're the happiest we've ever been, even though financially things are the tightest they've been in years! Still, we knew it wasn't going to be easy but we've made it through the first year and that was going to be the biggest test. We've finally got the vegie garden rocketing away and we have fresh produce in our back yard whenever we want it. Just as well with a houseful of 13 kids! My car would be lucky to make it out of the garage twice a week and since a new friend recently moved to town and berated me for not using my fabulous funky bike more I have a feeling it's going to be even less!
The one who I think has changed the most and benefited the greatest from our move, however, is Liam. When I first started writing this blog in 2005 he was eight years old. Reading through some of the old posts it's hard to believe it is the same boy. Gone is the shy little boy, always worried, always anxious and full of self-doubt. He's been replaced by a shaggy-haired, stubble-faced beanpole - 6'3 and with a smile almost as wide as he is tall. He has an army of great friends who would do anything for each other and no longer worries about a thing. In fact, if he was any more laid back he would probably fall over! Boy has he come a long, long way. Mind you, living at the beach tends to do that to a person! He's our gentle giant and we love him to bits.
The only thing we lack living here, which I can't see changing any time soon is neighbours. In 12 months I've met a grand total of two and I don't think Noel and the boys have met any! It's kind of hard when all the houses on your street are empty. Seriously, it amazes me that people have hundreds of thousands of dollars in holiday homes just sitting unused, year after year. What's the point of buying a property so that you can 'get away from it all' if you're never going to get away?! Still, what we lack in neighbours we more than make up for in friends. Lots and lots of friends, both old and new. We may not be able to hold a proper street party, but I have a feeling there will still be plenty of wonderful company and festive cheer in our peaceful little cul-de-sac!
---
Last month Lynley asked:
"I am a single lady, just myself and my small dog. I am looking at buying and living in a 7m bus, I am too young to retire and want to explore my own country while still working at my chosen profession - funeral director. Do any of your readers/contributors live in mobile homes or buses and how do they cope, particularly if they are not staying in one place? Just a thought as this is quite an inexpensive way to live but you don't have the luxury of ground to plant a garden."
Thank you to everyone who shared their fantastic tips and experiences. We wish you all the best in your travels Lynley and hope you find these helpful. Do let us know how you go!
For a great experience whilst living on the road, check out www.wwoof.com.au. It stands for Willing Workers On Organic Farms and is suitable for everyone. It's a super concept and you can travel all over the country and meet all sorts of people. I am a Wwoof host myself! Not all people will take dogs of course but it's well worth checking out.
Contributed by: Fiona Scott
We are back in NZ now after living in the UK and travelling in Europe in a van. We lived in our old builder's van (a 1997 Mercedes Sprinter) for nine months as we travelled through Eastern Europe as far as Turkey, then back via Greece and Croatia. We mostly parked overnight in free places like car parks, wharves, beaches and back country roads. Our van just had a chemical toilet, small gas cooker and a 3/4 mattress. It was a wonderful way of life and a very cheap way to travel. We had showers at public swimming pools or the occasional cheap hotel or camping ground, did our laundry at laundromats, and cooked all our own food. We were in Romania, Turkey and Greece in the winter, with snow and ice, but comfortable enough.
Things we couldn't have done without: a stovetop espresso machine, wet wipes, a heavy chain with a padlock across the front seat at night between the door handles for added security, a laptop and lots of books to read. We even have a website with stories of some of our adventures: http://www.travelmagpie.com.
Also, if you do a Google search using the words 'RV living' or 'van living' you will find US websites devoted to the topic. Good luck, it sounds like a great plan!
Contributed by: Suzanne Middleton
My husband and I live permanently on the road. We do not stay long in one spot and just love the life meeting new people and new places. We volunteer on outback farms and there are several websites, namely Outback Helpers and Outback Links whom you could contact. We lived in a 7m bus for four years and have just purchased a larger motorhome but our bus was particularly comfortable. Another tip is to purchase the traveller's Bible called 'Camps 6' available from camping stores. Although this costs around $50 -$60 you can recoup this money with one or two 'free camping' nights. Also there is another publication called 'Travelling with Dogs' which you may like to consider. Unless you plan to stay in caravan parks at approximately $30 per night you may also consider solar power. You will find many people who travel alone; use common sense regarding your safety but usually there are many people at these sites. Regarding your question about a garden, if you purchase a plastic tool box (the type with a handle over the top) you can grow at least six different types of herbs and you can move this easily inside and outside to the sun. Just watch the positioning, however, as wildlife like these as well as - we had at least three chillies eaten from our plant!
Contributed by: Eileen Wallace
My father-in-law lives in a bus he converted into a motor home. He was traveling around Australia when he got to Kunanurra in WA. He liked the area and stayed for a while and during that time he got to know the locals. He was offered a caretaker's job at the local golf club and in exchange he parks his bus there free of charge. He has no outgoing costs as he gets electricity and parking as his payment. He has taken up golf and gets his games thrown in also. Whilst you might not want to be a caretaker of a golf course, be open to opportunities which arise as it could save you a lot of money!
Contributed by: Megan Hall
We used our campervan a lot when our kids were little for trips away. We used a Hot Box slow cooker PLEASE LINK TO HINT 56029 tucked under the sink and dinner cooked while we travelled. You can also make porridge this way with powdered milk the night before - just bring to the boil, put lid on and pop in the Hot Box for a yummy breakfast in the morning. We always had a large flask, which saved boiling the billy often. We used park BBQ's and chose to cook our main meals at lunch time as there was no need for lamps and torches. We then just had simple meals in the evening. We had a small three-way fridge for milk, cheese and meats and a string line for washing to attach to the nearest tree. A solar shower can be fabulous as a hot shower rather than a cold one sure makes a difference!
Contributed by: Claire A
My husband, our young son and I did what you want to do and found it is a very inexpensive way to see our country. We used garbage buckets with clip-on lids as washing machines; as you drive the movement agitates the clothes! As for gardens, you can have small pots. It is such a wonderful way to live, you can stay in roadside camping areas as there are always other travellers in them and there are always plenty of roadside stalls to buy your fruit and vegetables. You will totally enjoy yourself and make some wonderful friends for life.
Contributed by: Leanne Gardner
To keep some potted herbs or other plants when on the road simply keep them in a tray or several trays. These can be placed on the bus floor when travelling and when parked can be placed either on the ground or on the roof of the bus for sunlight. You might need a ladder to reach your bus roof, but I've seen people do this so gather it is easy enough to set up.
Keeping utensils and containers and smaller bits and pieces in containers with lids helps stop them from rolling around when travelling; otherwise these smaller items can get wedged in odd places that are out of sight and get lost or damaged.
I can also recommend you place a layer of insulation beneath your mattress as buses are not as well insulated as caravans and houses. This will help stop cold from rising beneath you while you sleep. I've used one of those emergency foil type blankets often found in camping stores. They work better than a ground sheet.
Contributed by: Anne Shaw
Living on the road doesn't mean you can't still have a great garden! I met a woman at a caravan park in Coonamble a couple of years ago. She had a (approximately) 0.5m by 1m tray on legs (which folded under for travelling). In this she grew lettuce, herbs and other small vegies. She simply secured the tray in her van and when she stopped for the day she took it out in the sun and watered it. I was very impressed!
Contributed by: Olivia de Bruyn
---
This month Laura asks:
"I've just arrived home from a trip to the supermarket. I opened my cupboard where my plastic shopping bags are usually stashed and was horrified when they all tumbled out to meet me! I do use eco bags where possible but the pesky things just keep on mounting up! I don't want to contribute them to landfill and feel there must be a better way to use my enormous collection. I remember as a child my nanna would sit for hours crocheting plastic bags into tougher, funky looking shopping bags. Alas she is no longer with us but I would love to hear how other members manage their plastic bag mountains. Can you help?"
We can't wait to hear your ideas! If you have any tips or suggestions which can help Laura, please send them in to us here.
---
I have a big shoe problem. OK, addiction. It's not unreasonable for me to spend several hundred dollars on one pair of shoes. And yes, there have been 'those' weeks where bills weren't paid because I just had to buy a particular pair (or two) of heels, boots, sandals - you get the picture.
So imagine the enormity I faced when joining Simple Savings and trying to get my family budget under control - how on earth was I supposed to live without new shoes!? I couldn't bear the idea. Then the thought hit me - the whole idea of Simple Savings is empowerment and teaching me to take control of my life. I wanted to make my life better and my family's life better, not more miserable! So, with a little bit of imagination, my local (and very handy) $2 shop and some elbow grease I have managed to set myself up with nearly a whole new wardrobe full of shoes for almost nothing!
I started by going through my existing shoe collection. At just over (gulp) 70 pairs, I had forgotten just how many shoes I really had. And most of them never get worn. Straight away I sold half of the ones I never wore on eBay for a very nice little profit. Surprisingly it wasn't as hard as I thought to get rid of them. Yes! This empowering thing really works!
Then, I set aside all the shoes I didn't wear because they were too scuffed, old, not fashionable and so on. Armed with some of the money I made from my eBay sales, I headed into the $2 shop and walked out nearly an hour later after spending $40 with a fabulous array of art and craft items. Setting aside one whole weekend, I put my imagination, skills and elbow grease into action. I used feathers, coloured rice paper, beads, glitter, sequins, ribbons, patterned fabric, studs, hair clips, diamantes, the list goes on!
Within one weekend I managed to turn 15 pairs of old, boring and damaged shoes into 15 works of art! Some are quite unique but most fit right in with the latest fashions and look like I have picked them off any store shelf. I can really see them working with my wardrobe for many more years to come too.
Ironically, I haven't felt the urge to buy a new pair of shoes for a while - I think it's because I feel like I have 15 new pairs already! It feels great knowing that I can always do the same thing again to keep my shoe collection interesting. Hubby is also absolutely delighted by extra space in our wardrobe and the fact that we now have more money to go towards getting our debts under control.
The best part is that I feel so proud of myself for doing this. I've also discovered how fun being creative can be - next on my list is revamping Hubby's shoes and the shoes of our two boys. Hmmm, maybe not with sequins though! Both our boys also had a great time with Hubby using up all the left over arts and crafts stuff that I bought too which made for a great inexpensive family activity. What a bonus!
Contributed by: Monique Davis
---
Wow! Didn't we manage to cram a whole bunch of money saving ideas into this month's newsletter? I hope you really enjoyed it and have been inspired to try something new.
I am always keen to receive your feedback about the kinds of things you want to see more of in the newsletter and those things you would rather we leave off. Drop me a line next time you're on our website. If you have enjoyed this month's newsletter, why not forward it to your friends to help them save money too? Or tell them about us on Facebook by clicking the 'like' button on our Simple Savings Facebook page.
Best of luck with your Christmas Challenge - don't forget to get those invites out! See you next month!
All the best,
Fiona