This issue includes:-
Sad Sally, Happy Hanna: Love Local!
November: Buy Local
Shoppe Closing Down Sale
Penny Wise: Home Sweet Home
Best of the Vault: Buy in Your Own Backyard
Best of the Forum: Shop in the Shire This Christmas!
Best Members' Blog: This Mum is Getting Fit!
Mimi's Own 'Aged' Sticky Balsamic Dressing
Rob Bob's Gardening Blog: Looking Locally to Feed the Patch For Nix
From Last Month: Instant Entertaining
This Month's Help Request: Caravanning in Comfort
---
Happy almost-Christmas!
It is getting close isn't it. :) This Christmas we want you to be super duper clever and make your Christmas dollars count by shopping local and supporting your neighbours and friends.
We love hearing from you - your savings stories and tips make my day! Here are some of my favourites this month:
"I bought The $21 Challenge to see what all the fuss was about. Well, we just did our first Challenge and saved a huge $250 on this week's groceries. I plan to do another two before Christmas which will cover the cost of Christmas and Christmas presents. Thank you $21 Challenge!" (Briony)
"Thank you, Fiona, Matt and Simple Savings. I have renewed again and just wanted you to know how much I appreciate everything I have learnt on your site. We have saved so much money, but more importantly, changed many of our bad spending habits since I joined the Vault." (Sharnee)
Have a great month!
All the best,
Fiona Lippey
P.S. We are putting the finishing touches on the 2015 Calendar and it will be available in the first week of December. It's a little bit different this year and we hope you love it!
---
"Oh I GIVE UP!" groaned Sally, banging her head theatrically on her desk. "It's just TOO hard. I've a good mind to just run away to Outer Mongolia until January. Or somewhere like that. Anywhere but here!" "What on earth's the matter?" Hanna raised an eyebrow at Sally. "Is it that stuck-up Celia from accounts again? I've told you before, don't take any notice of her!" "Noooo, it's not that, it's Christmas shopping," Sally explained grumpily. "I have no idea what to buy ANYONE this year, it's really stressing me out!"
"You're stressing out over Christmas presents already?" Hanna asked, "But why? It's only November! Just keep an eye out for all the flyers, they'll start pouring through the mailbox soon and you can grab a heap of stuff on special as soon as you see them. Easy!" she smiled. "Ugh - I tried that last year and it was a disaster!" Sally wrinkled her nose at the memory. "Everyone else in town had the same idea! The malls were hideous and half of what I wanted was sold out. I ended up still rushing around the shops on Christmas Eve, grabbing any old thing just to tick another gift off my list. I'm never doing that again but it's so hard to find decent presents when we're on such a tight budget," she sighed.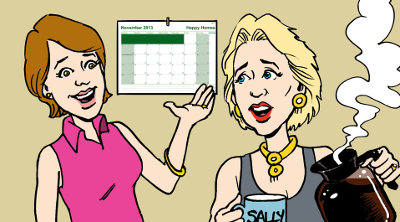 "Oh Sal, it's not about how much your gifts cost, it's the thought that counts, you know that!" Hanna reminded her gently. "I know - I just want to be able to buy everyone something really special - something different. But we work so hard all year trying to get ahead with our own finances; we don't want to blow all that effort on expensive things for everyone else when Christmas comes around! I wish there was an easy solution," Sally said sadly. "There is," grinned Hanna. "Don't panic Sal! You're coming on a mission with me this weekend. I know where we can get presents that NO ONE else will have!"
---
Hanna is right, when it comes to buying a gift for your loved one it IS the thought that counts - but while we are quick to hand over the present, how often do we also share the thought behind it? The reason we got it just for them, the reason we thought they would love it or find it useful, the story behind where and how we found it? Sometimes the story behind the gift can be just as special as the gift itself!
Bulk shopping using catalogue specials is one way to get your gift shopping out of the way and you can get some terrific discounts - but it is also fun to go hunting for local goodies. Not only that, the gifts you'll find there are limited edition and one-offs, not mass produced! We're talking about buying local produce and wares designed, made and crafted by your neighbours, not on an assembly line in China. The lady who sells the most delicious, fresh honey, collected herself from her own beehives; the family down the road who make their own fragrant lavender soap; the chap who's had that workshop for years and makes the most exquisite traditional wooden toys. All of these things have been made with love and can be purchased and given with love.
Your mission this month is to find those gifts! Think about the area you live in, the places you drive past every day. What is YOUR local specialty? What does your area grow or do or produce that makes it truly unique? What talented art and craftspeople can it boast? If you're not sure, ask around - you'll probably be amazed! If you live in a city, check out the markets. Wherever you live, set yourself a challenge this Christmas to source and buy all your gifts and festive treats as close to home as possible. Food and presents made locally mean more to people; it's not about the price, it's about the thought, effort and skill which has gone into producing them. Some of the goodies you could go hunting for include:
Locally made Christmas pudding or cake
Jams and preserves from markets
Beautiful plants, raised in your area
Fruit grown and sold from roadside stalls to put in a hamper or use in home cooking/baking
Ham smoked by your local butcher
Exquisite handmade items made by a local sewing or patchwork group
Who knows what other treasures you may find? As well as being a less stressful way to shop, local produce and gifts don't have to travel thousands of energy-consuming miles to get to you, so they are fresher and last longer. Give it a go - we promise you, it will be a lot more fun than braving the crowded malls and sweaty, grumpy checkout queues!
BUT - your mission doesn't end there! To make your gifts extra super-duper special this year, we have made you some rather unique and special tags to go with them; so that when you present your gift to the recipient, you can also share the story of how and why you chose that gift just for them. All those little things which make your gift extra personal, such as where you bought it, who made or grew it, why you thought they would like it, perhaps the address and details of their shop/location in case they would like to visit the store themselves - anything else you can think of or would like to add. Gifts mean so much more when you write a beautiful note and loved ones would love to know why you think they would like it. Think about it - wouldn't you?

Love Local Gift Tags
---
We still have some great bargains in the Shoppe so get in quick for some early Christmas presents - you have until the end of November!
Ice-block moulds $2.00 per set (saving $23 per set, original price $25 per set).
"The $21 Challenge" books $5.00 (saving $20, original price $25).
GameTag $4.00 per set (saving $16, original price $20).
CreaClip $25 (saving $15, original price $39.95).
---
School has finished for the year, yippee! No more lunch boxes to make, no more uniforms to wash and when the boys aren't studying for their exams they're running around town trying to find part time jobs to keep them occupied over the next few months. As for me, I've been having a ball lately buying all sorts of new stuff! Let me see, so far I have four pairs of new shorts, four dresses, four singlets, two skirts, one hoody, one crocheted top, a brand new pair of jeans and two pairs of summer sandals. That's me well and truly sorted for a very long time to come, all for the princely sum of $40! Almost everything is a top brand label such as Volcom, Roxy and Billabong and I couldn't be happier with my haul but I didn't buy a single thing from a high street shop or chain store. I got almost everything but the shoes from our Facebook Buy, Sell and Swap group and my sandals came from St John's op shop! As you can probably tell, I am finally feeling better, hooray! I'm still having blood tests and x-rays to ensure I don't have a relapse and am waiting on further tests from the hospital but the main thing is I feel good, woohoo! And after two whole months of doing next to nothing there's no time to waste!
Which is good because for a while I've needed a bit of a wake-up call to remind me how lucky I am to live in such a beautiful part of the country, amongst such a wonderful, warm-hearted community. Even before I got sick and was stuck in bed for weeks I had long ago lost sight of all the blessings of living where we do and after such a long period of inactivity I couldn't even motivate myself just to go out for a walk the way I used to. I didn't want to see anyone, I didn't want to talk to anyone and I couldn't remember the last time I went to the beach! All the joy, all the appeal had just gone. I guess I'm sharing this because I know I'm not the only one and who knows? Maybe it happens to a lot of us; we become jaded with our surroundings without even realising and once it's gone, it can be hard to get back.
Fortunately in the majority of cases, no matter how dark and dismal things seem, life seems to have a way of gently picking you up, setting you on your feet and steering you back in the direction you're meant to go in and whilst I had got quite comfortable and accustomed to lying in bed day after day wallowing in self-pity, two months of illness really was not helping to pay the bills. I had to do something and during one of my legendary middle-of-the-night brainstorms a few weeks ago I remembered some stuff I had under the stairs and even tucked under my bed that I no longer needed. Nothing major, just $5, $10 and $20 items but I decided to try my luck selling them on our local Facebook Buy, Sell and Swap group and planned to devote my day to photographing and listing them. Well I don't know what was in the drinking water in Whangamata that day but people were actually fighting over my listings, I could hardly keep up! For the next three days Nawtypoo was a hive of activity as an endless trail of people called in to pick up their new goodies and hand over their money. By the end of the weekend I had made $600! No postage, no fees, just a few hours of my time.
As you can imagine, I was absolutely delighted and didn't know who to pay first with all that lovely lolly! What an absolute lifesaver. I was really proud of myself for being so pro-active and resourceful after such a long slump and I think the boys were quite impressed too, but the best thing wasn't even about the money, it was all the new people I had met along the way. They were all locals in our little town of 4000, yet in four years I had met barely any of them! They were all so nice and meeting them really gave me a lift. I get a free copy of "That's Life!" sent to me every week and now when I've finished reading it I pop it in the mailbox of one of the Buy, Sell Swap ladies so she can enjoy it with a cuppa and do the puzzles. A lot of the things I was selling people were buying to give as Christmas presents to their loved ones so it felt great to know that my unwanted stuff was going to a new home where it would be given with love and hopefully be loved by the recipient too.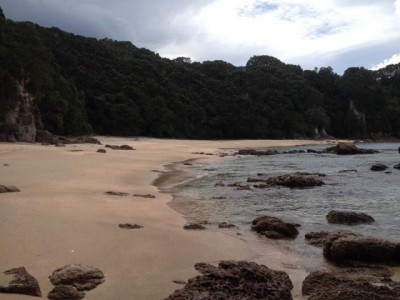 That little mission out of the way, I planned to once again return to languishing in my boudoir but Liam had other plans. 'Can you please come and help me with my photography project?' he asked. 'I need to find somewhere high to take photos from.' The first place we thought of wasn't suitable so had to go a couple of kilometres down the road to Onemana, where you can drive up a big hill to the highest point and look out over the sea. I thought that would do but apparently we needed 'somewhere with ledges' as Liam beckoned me to follow him down a nearby bush track. What I thought was going to be a five minute jaunt turned out to be a 90 minute tramp! Some of the hills were so big we had to grab on to a large rope to pull ourselves up. However, once we reached the top and I had stopped grumbling enough to really look around I realised that the scenery was absolutely stunning. We could see for miles and miles! I thought that was it but Liam kept going, stopping every so often to snap away with his camera and after a while I don't know who was taking more photos, him or me! Through the bush we went until suddenly and quite unexpectedly I began to glimpse flashes of white sand and sparkling blue and green through the trees. There, in the middle of nowhere was a tiny beach! This time it was me nagging Liam to keep going as once again we had to hang on to the ropes for grim death as we made our descent but the effort was worth it. It was like something out of the "Blue Lagoon" movie! Completely perfect and absolutely unspoilt, we had this amazing little place all to ourselves. For four years I lived just around the corner, completely unaware that this delightful wee gem had been hiding on my very doorstep the whole time.
Eventually it was time to head back. Liam had all the photos he needed and as we chatted along the way, with him telling me excitedly that he only had five days left of school EVER, I realised that my gentle giant of a son wouldn't be with me for much longer. It made our spontaneous walk all the more special and I'm so glad I went along that day. It rekindled my enthusiasm for life, my love for the place I live and renewed my energy after weeks spent vegetating inside. And to top it all off, as I huffed and puffed my way back along the track my phone rang and it was the manager of the Whangamata Club, offering me a job starting the following day. One way or the other the powers that be were ensuring there was no way I was going back to bed! Mind you, I figured if I had managed to survive that bush track without my lungs collapsing I was pretty much well enough to do anything!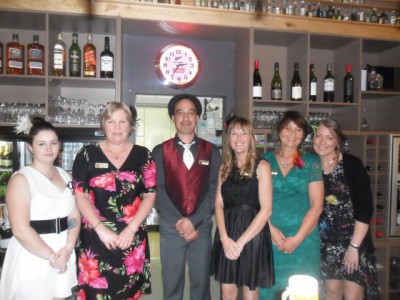 I have now been at the club for just over a week and absolutely love it. This is us dressed up for Melbourne Cup day! Can you spot me in one of my 'new' dresses? Actually this one WAS new, the tag was still on as the previous owner never wore it! It's tiring being on my feet after being sat behind a computer for 15 years (especially in a pair of $2.50 pink spangly sandals!) but it's so much fun it hardly feels like work. The staff and customers are all so warm and friendly, it feels as though I've been there for ages! I feel as though I'm right in the heart of our little community and I couldn't be happier or feel luckier. My work is still mainly in the evenings so while I have to be more organised than usual (feels a bit weird cooking dinner at lunchtime!) I've got into a nice little routine of going for a good long walk for an hour early in the morning, then settling down to some writing before going to the club. And I've realised while on these walks, or at work that our little town really does have everything we need. I can't remember the last time I bought anything anywhere else!
For starters there's Fara, who lives down the road from me and sells all her free range eggs, avocados and other produce for nothing more than a gold coin donation. Several local ladies do beauty treatments and hairdressing from home - quite a few of my friends go to one of the bank clerks for all their waxing! We also have two amazing florists; Nikki sells gorgeous bouquets from her little gift shop at unbeatable prices but for a real gem I love the new florist in town, Kelly. Every Friday she makes up a beautiful big bouquet (sometimes with a beauty salon voucher tucked in for good measure) and then goes and leaves it in a random spot for someone to unexpectedly find and make their day. HOW COOL IS THAT! Not only that, for our recent school ball she made beautiful free corsages for every single one of the girls attending. All the kids had to do was put their name down for one and then pick them up on the day. All those dainty orchids and tiny roses must have cost a fortune! Even if she wasn't the cheapest florist in town she has my custom for life due to her sheer kindness. So many wonderful people. People will always complain about the price of things and our town is no different but I don't think they realise that we couldn't actually buy things cheaper anywhere else! Sometimes you need to get out there and have a good look around to see how fortunate you actually are. For a long time I had forgotten. I'm very happy to say that now I remember!
You can get updates on Penny's new blogs on the Simple Savings Facebook page.
...or in our Members' Blog section.
---
Your challenge this month is to find those hidden gems in your neighbourhood - the local markets, that little art gallery, the craft shop you always walk past. We want you to explore your local area and see what it has to offer and we hope you'll be pleasantly surprised!
I can get authentic Indian food at the right prices. As an Indian living in Tasmania, I found it difficult to get Indian groceries in my area, especially some brands of South Indian stuff, which are available in Melbourne and Sydney.
I made friends with a nearby Indian restaurant. Now I order my list of Indian groceries from them! They get their raw materials for their restaurant from Sydney by sea, so were happy to include a few more in their list. Some of the lentils and rice are bulk ordered. It always pays to ask!
Contributed by: Aditi Mark
We now buy honey that is half the price of the supermarket brands and even cheaper than fruit and vegetable shops.
Woolworths' Home Brand honey costs $5.31 for 700g - which works out to approximately $7.60 per kilogram. I just looked in the Yellow Pages under 'Beekeeper', gave the nearest one a call and asked whether they sell direct to the public. Honey now costs us only $4.00 per kilogram and we buy several kilos at a time, stored in plastic milk cartons. We bought a non-drip container of honey at Woolworths and simply refill it with our bargain honey.
Contributed by: Angela Woodward
Over the years, I have saved hundreds of dollars by going to u-picks, farmer's markets and road side stalls. The majority of times, the items are heaps fresher than the supermarkets, which means they last longer and you know you are supporting local farmers. Thanks to a website I have just discovered, I can now save even more! Below is an excellent link to u-pick farms, which gives heaps of terrific information on all kinds of fruit and vegetables too!
Contributed by: Gwen Grosvenor
Eggs bought at a farm are much cheaper - you get two dozen for the price of one at the supermarket - and they are fresher too.
Contributed by: Tracey White
---
Christmas gift-giving for many of us isn't the joyful, uplifting experience it really should be. However, this year you could do things completely differently - here are some ideas for sourcing local products and suppliers for unique and thoughtful gifts to put under the tree. Think local this Christmas!
Follow Cat Slave's gift-seeking adventures - you'll get some great gift ideas you WON'T find on a department store shelf!
read more...
Some wonderful ideas for the younger people in your life from Loving Life - and a chance to make some family memories.
read more...
CCDee is turning Christmas into a fun-filled lucky dip with some unique gift ideas for everyone.
read more...
---
One of the many benefits of being a Vault member is that you can win $100 cash each month for your Simple Savings blog! Starting your own blog on the site is easy. All you have to do is log into the Vault, click on 'My Desk' at the top left, then 'Your Blog'. Then get writing! We love reading all your money saving trials and tribulations and really appreciate the effort that goes into each one.
This month's winner is Tradies Wife for getting back into her fitness regime and sharing some great free tips and motivation!
"Ok, so I know heaps of people claim to have the magic answer for shredding post-baby weight. There is so much information out there that bluntly, you can spend a day or two sitting on your rump in front of a computer screen trying to figure it all out and work out what is best for you. Plans on diets and exercise programs, the bits and bobs that you see through your daily scroll through Facebook. It's just plain overwhelming.
My confession. I have a gym membership. That is not very SS, hey. What can I say, it includes childcare for $13 a week. So that means that I really should use it at least once a week. Right. Check. I try to. I really do. But things always get in the way - if it is my husband heading out for a few days for work or if he decides to do a 14 or 16 hour day; my work; kids' health appointments; or I just miss the 'ring after 8am-9am' deadline to book my little ones in. Yeah, I try to ring, but while also trying to get a kinder child, school child and a baby ready to do the school and kinder run at the same time. Hectic... yeah. I could almost count that morning rush as my work out! I'm still working on getting there at least once a week.
So still determined to ditch the extra kilograms that are making my hips hurt and not moving as freely as I would like, I ventured into the world. My ideal day now starts by breastfeeding my baby, changing his nappy and handing him to my husband to get breakfasts ready for the kids. I then venture out, for my 4.5km walk/jog attempts. Hey, it ain't pretty. However, I'm gathering that no one is judging someone who is actually trying to make a positive change as much as they would judge someone who does nothing to benefit their own health. I know whenever I see anyone out for a jog my first thoughts are 'good on them!' and 'If they can, I can give that a shot.'
It doesn't happen every day. Far from it. Quite a lot, my husband has to start work early and can't do the kids' breakfasts. Or something crops up, like daylight savings throwing a spanner into the works, or my baby wakes up later and I miss that vital time slot of 40 minutes. But it is a lot more convenient than getting to the gym.
I've also bought an exercise DVD for times that I just can't get out of the house. Like today, when my baby is asleep in his cot and my kinder boy is home and not well. It allows me to work out in the privacy of my home, and strut my stuff as I see fit.
The other thing that I noticed was that I was probably eating good food already. Just far too much of it. Seriously, that second or third sandwich or extra bowl of cereal was not helping. But I seemed to be hungry all the time. Since exercising more, I've noticed that I don't feel as hungry! Seems odd, but I'm going with the flow and now I'm eating when my body tells me it's hungry. Seems sensible to me.
A few things have helped my motivation. And they are free. The two best things I've found are applications on my mobile phone. The first is RunKeeper, which motivates me to do better each time I venture out. I've set up a goal of 100km, after which I'm going to buy myself a new pair of running shoes! The other application that I LOVE is My Fitness Pro. Seriously this app is excellent. I just type all of my food into it (or cheat and just scan the barcode) and it will give me a breakdown, not just of how many calories I've consumed during that day, but also if I am getting enough calcium or iron. I can then work on boosting these nutrients. How good is that! It makes sure that I'm eating the right stuff, I'm accountable to something and I'm looking after my health the best way possible. These app's are far better than a gym membership and they are FREE! Yay.
I thought I'd share, for others out there that are finding it is really hard to find the time to look after yourself. And for those that figure that in order to get fit they have to spend oodles of cash on gym memberships and diet programs/ready meals and shakes. It just ain't so.
Just between you and me and my belt, I've lost 5kg too.
I'd love to hear about your SS best health and fitness tips too - feel free to share them, a little extra motivation is always a good thing!..."
Well done Tradies Wife- we'll be following your progress and cheering you on every 'step' of the way!
You can read more of our members' blogs here.
---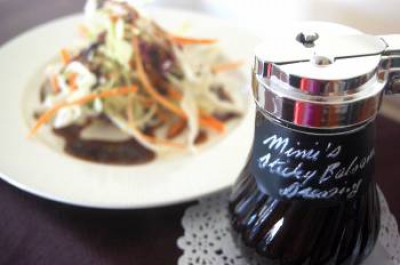 I got a bottle of really nice balsamic vinegar for my birthday this year. It was utterly delicious and sweet and kind of syrupy and nothing like the stuff I usually buy at Aldi or Coles. I used it all up a while back and investigated buying some more. Well... it was $35, thank you very much, so no-go there! And that was for 200ml! So I've come up with a way to make a similar tasting product that will do very nicely though.
For 250ml of 'aged' balsamic vinegar, you need:
500ml cheap balsamic vinegar
3/4 cup sugar
1/2 cup port
You also need:
A medium saucepan
A pretty bottle in which to decant the vinegar
I had some port in the cupboard dating back to my honeymoon nearly 14 years ago... It was probably a shame to use it! 14-year-old port fetches a good price at the bottle shop!
You can use inexpensive port. It's available for around the $10 mark and will yield lots of batches of this mixture.
I made a smaller batch first to get the proportions right, so maybe try a third of all these amounts first to make sure you're happy with the finished product.
Put it all into the saucepan, stirring until the sugar is dissolved. Then turn it down to a low simmer and reduce the liquid by about a third to a half. The more you reduce it, the thicker and more syrupy it will be. This takes about 15-30 minutes. And again, it's worth experimenting.
Make sure you watch over it and stir it from time to time.
I like mine thick, but still runny enough to pour from its bottle, so about 15-20 minutes for a big batch is right for me.
Allow it to cool before pouring it into your bottle.
Hang a tag around the neck and maybe add a few recipe ideas on how to use it, and you've got a convincingly gourmet gift.
You can also add jam instead of the sugar, and then you're only limited by your imagination as far as flavours go! Imagine orange or lime scented sticky balsamic or raspberry or plum scented sticky balsamic or even maple syrup scented sticky balsamic. :)
Enjoy!
You can get updates on Mimi's new blogs on the Simple Savings Facebook page
or in our Members' Blog section.
---
I have already mentioned how we make our layered compost in IBC cages in previous blogs but thought I would fill you in on a few ways that you could make up your own compost or feed the compost worm farm using free or very cheap local resources.
We are lucky enough to live close to farming areas and have access to pre-bagged horse manure. Some people collect their own animals' manure and offer it for sale at the farm gate while others collect it in bulk, re-bag it and sell it to the public. The most I've ever paid for a 25 litre bag of manure is $2.00 and that was home delivered.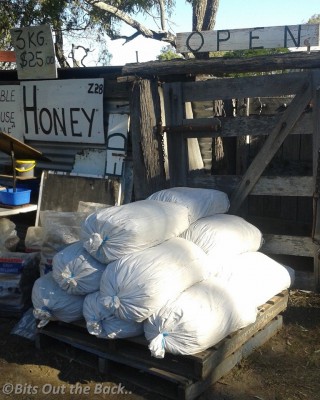 Our favourite source of horse manure offers aged horse manure in 45 litre bags for $2.70 and comes already aged for well over a month which is great. If you have access to a ute or a trailer then another option opens up to you - I have seen offers on Facebook pages and Gumtree for free manure from stables and properties where folks agist horses. All you need to do is make an appointment and be prepared to put in a bit of elbow grease to collect it yourself.
There are other manures that are fine to compost for the patch like cow, poultry, sheep, alpaca, rabbit, goat and even guinea pig. I think it's a good idea to age any manure you bring into your yard to allow time for any drenches or pharmaceuticals to breakdown, especially if you are unsure of its origin. We like to leave ours for a month minimum if we're uncertain.
Another great source of organic matter for your compost pile is the local shops and shopping centres.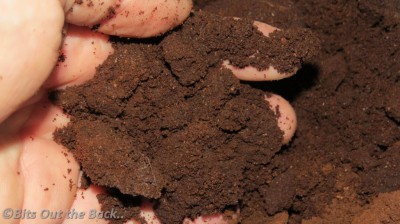 Cafes and restaurants will quite often hold aside coffee grounds for anyone willing to take them. Juice bars are another great source of free organic matter in the form of skins and fibre removed from fruit/vegetables. I was surprised to find out how much organic matter the local juice bar throws out with their general rubbish. The local fruit and vegie store is also a good place to pick up bulk organic matter for composting. Every time we have asked to raid the scraps bin we have been told we can take as much as we can carry.
A resource a lot closer to home would have to be yours and your neighbour's lawn mower catcher and green 'waste' pile/bin.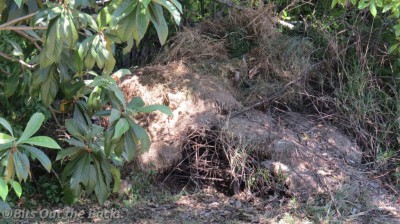 Our neighbours are great when it comes to helping us out with compost-building materials. One side always offers us lawn clippings to use in our compost or to add to the chicken pen. They have also provided us with tree trimmings which we then mulch up and add to the compost pile. We also have access to spongy rotten tree trunk and branches in our other neighbour's yard. Some of that has been crushed and added into our current compost cage. Not only does it add more 'browns' (carbon) to help even out the carbon/nitrogen ratio but also acts as a sponge so that will hold more moisture in the pile. Another kind local has offered as much duckweed as we want from their pool that has been turned into a pond. It will most definitely come in handy as there are no trees left to prune back here for the next compost cage.
Shredded paper also helps to add bulk to the compost pile.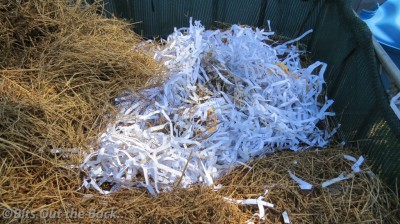 We are fortunate that we get a fair bit collected for us by friends and family as well as the free 'newspaper' that Bianca collects on her evening commute. We mainly add the soiled shredded paper from the chickens nesting box as the bulk of what we collect and shred goes into the worm farm.
I hope that gives you a few ideas on how you can gather resources for your next compost pile or the vermicompost farm from local sources for free or very little outlay.
Thought I'd do a bit of a rundown on what's going on in the patch now that spring has well and truly arrived. The weather has been great with a few days in the mid 30°C's and nice mild evenings. We haven't had much rain but I dare not wish for any as that could come back to bite me in the rear.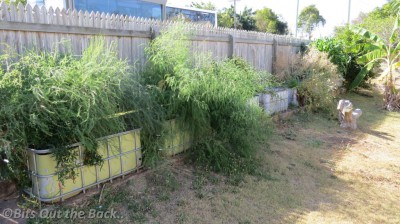 The front beds have been producing a decent amount of food for us so far this season. We have been very pleased with the amount of asparagus that we've been able to pick. The plants' spear production has slowed down a bit with only a few being ready for harvest every couple of days and most of them have become my breakfast as I do my morning wander through the patch. ;-)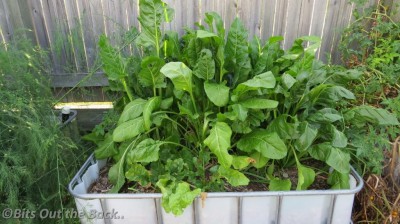 The perpetual spinach is being harvested with a fair bit for both ourselves and the chooks to munch on. The chickens are getting some leaves every few days and we are having a meal or two a week from the small stand we have growing here. We're mainly using it in dishes like vegetable frittatas, mashed through roasted pumpkin/squash as well as in one of my favourite home-made 'fast food' treats: spinach, feta, olive and sun-dried tomato pasties.
The corn in the front yard is also going great guns.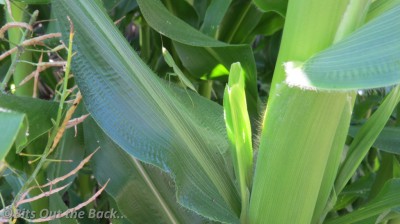 I have noticed a few small potential corn cobs growing out from between the leaves and stalk on a few plants but there are no signs of the tassels forming at the top of the plant yet. Another bed will be planted out in the next week or so with others later so we can have a continuous supply of sweet corn all the way through into winter.
The next bed to be planted with corn currently has some broccoli in it that was let go to seed. As the broccoli wasn't really intended for the table and only for seed collection, we didn't mind that some aphids infested the branches. They quickly built up in numbers but I wasn't worried as they attracted a load of ladybugs that also decided to call the broccoli home. The ladybugs have multiplied to the point that we now have hundreds of them in all stages of development crawling over the plants and feasting on the aphids. I posted a clip to our YouTube channel for anyone interested in having a look at the different stages of the ladybugs' life cycle.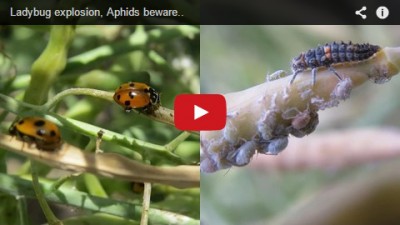 After we have collected all the seed we need, the remaining branches with ladybugs on them will be placed in the hoop house out the back to help increase the population there. Hopefully they will keep any whitefly or aphid infestation under control while the adults may help in pollinating the plants.
There will also be a couple of carrot flower heads dry enough to collect seeds from over the next week. I'm really looking forward to growing some carrots from some seed we have saved ourselves. In the next blog I will include a bit of a look at collecting the seeds from these and a few other plants.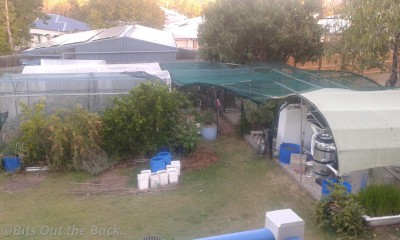 The hoop house out the back has been extended a little to allow more shade around the aquaponics area. It is not a lot but should be enough to set up some NFT tubes to grow some leafy crops in. A few of the plants in the backyard patch have really taken off over the last few weeks. The long purple eggplants have again proven to us that they are one of the most productive varieties we've grown.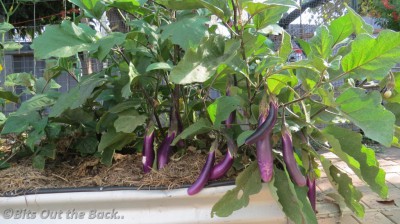 I was planning on frying the first lot for some vegie burgers but decided on grilling them with a bit of parmesan cheese on top instead. It made for a very tasty little side dish and to my surprise, was enjoyed even by Kira who isn't normally a fan of eggplant. I think we might look at removing one of the udumalpet eggplants as this one plant will give us more than we need methinks. The mouse melons have also picked up with the warmer weather sending out new sections of vine over the top of the shade house already. The vine is covered in female and male flowers at the moment but have not seen any fruit start to form as of yet. Surprisingly there is still one or two fruit on the plant that made it through winter.
Another plant that has taken off is the blueberry bush. It's absolutely loaded with fruit and I think it will be a best harvest to date.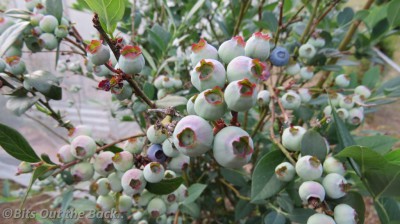 I have already started to munch on the odd ripe one in my morning walk around, much to the displeasure of the girls. ;-)
The broad ripple yellow current tomatoes have continued to supply us with an abundance of fruit from the various volunteer plants we have growing around the yard.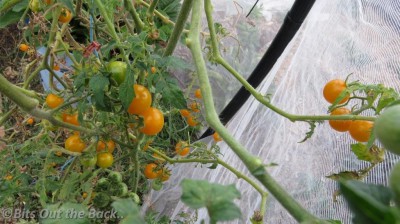 It has taken a while, but the girls have finally been re-trained to cut up a small handful of these beauties for a sandwich instead of asking if we can buy some tomatoes at the store. ;-)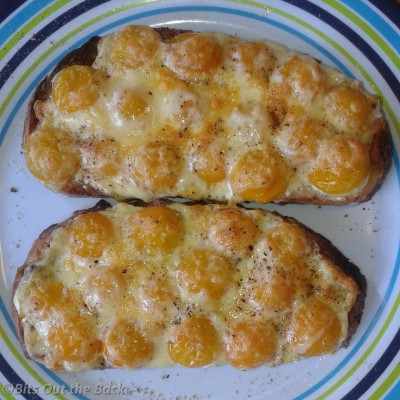 It takes no time at all to cut up enough to make a tasty grilled cheese and tomato for lunch. ;-)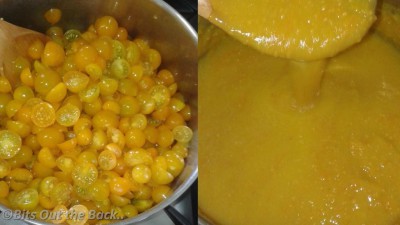 We have also preserved a few harvests as tomato sauce to be seasoned and used at a later date as a quick meal base. Making up the sauce takes no time at all really - it's as easy as slicing all the fruit in half and adding them to a pot to stew down until the sauce starts to thicken. Once I'm happy with the consistency I use a stick blender to puree the sauce and break up all the skins as I see no point in losing any of the goodness of the fruit. These fruit have a nice sweet flavour and it really makes this sauce a bit of a stand out I think.
That's about it for this month's blog. Hope you have a crack at sourcing some free local goodies to make up some living fertiliser for the patch or even just to feed the worms or other animals you may have roaming around the place. ;-) Shall see you next month with a bit of a look at some seed saving.
Cheers & have fun in the patch,
Rob
You can get updates on Rob Bob's new gardening adventure blogs on the Simple Savings Facebook page
or in our Members' Blog section.
---
Last month Karyn emailed us about ideas for entertaining unexpected guests:
"Please help! I work really hard at sticking to our food budget so there are rarely treats or fancy food in my fridge. While this is fantastic for our budget, I am sometimes caught out when unexpected guests drop by and I really don't have anything 'nice' to give them (unless they are happy with frozen home-made biscuits or vegie sticks and mayonnaise!). I'd love some ideas for savoury, quick entertainers that I can keep stocked in the cupboard, freezer or long-term in the fridge so that I can serve something tasty for those 'pop-in' visitors. Does anyone have recipes or ideas?"
Why do we get stressed out when visitors pop in? We seem to forget that they came to see US, they don't necessarily need fancy food! A plate of home-made biscuits is always a welcome sight to visitors, or do some baking when you have some spare time and keep it in the freezer for these sort of occasions. A loaf of gingerbread, banana bread or similar can be pre-sliced and then frozen. Just take out the slices you need, toast them gently and enjoy with butter and jam if liked. You can do the same with pikelets too. Delicious and easy and guests always love them!
Contributed by: Margaret
We often feel under pressure to feed and provide for our guests, even unexpected ones, when the reality is they probably don't need anything to eat and will accept food out of politeness or maybe if it's a treat, just because it is yummy!
If guests are arriving outside of the main meal; especially if they are only popping in, then try offering just a cuppa. Otherwise try offering a healthy lunch or snack from what you have around. Some ideas include:
Vegie sticks with whatever dips you already have (you can tip the dip into a small bowl and re-fresh with some lemon juice if you need to) are yummy and healthy.
Chopped fruit with some plain or fruit yoghurt dip.
Some savoury things that might be good for re-heating from the freezer such as mini quiche or sausage rolls.
Have a variety of dried fruit and nuts on hand so you can make a mix to put into a bowl to feed guests.
Offer them a sandwich; you can make it a little bit fancy by making them club-style and cutting the crusts off (save the crusts to make breadcrumbs!).
If anyone questions a change from what you would normally provide and you don't want to explain your budget, just tell them you are trying to avoid having any treat foods in the house because you/husband are watching your waistlines. This will probably save your guests' waistlines too as they don't need any sugary biscuits or cakes!
Contributed by: Alison B
I never get stuck for a tasty, low-cost snack to serve to unexpected guests! I just keep a jar of corn relish in the pantry, a tub of cream cheese in the fridge and a loaf of bread in the freezer. Mix the relish and cream cheese together and you have a delicious dip to be served with savoury biscuits or toast fingers. I also keep an eye out for boxes of Chinese nibbles such as wontons or spring rolls on special and keep those in the freezer as well. These can be quickly heated in the oven and served with sweet chilli or soy sauce. Your guests will be delighted with the company and the yummy treats and best of all it doesn't break the budget!
Contributed by: Patricia
This home-made hummus dip is easy and cheap to make and doesn't call for tahini as most recipes do. If you have a tin of chickpeas in the cupboard, you have a dip! You need:
1 tin garbanzo beans/chickpeas
1/4 cup olive oil
1 tbsp lemon juice
1 tsp cumin
Blend all ingredients together until smooth and creamy. Serve immediately with pita bread, pita chips or vegies. Store in an airtight container for up to three days. To make it even easier you can keep pita bread or tortillas in the freezer and defrost in the microwave or oven. Cut them up before you freeze and you can then just toast in the oven. Or keep a packet of rice crackers in the pantry for such occasions only.
Contributed by: Andie
We don't get stressed out when unexpected guests turn up. If we feel the need to put food out we usually have cashews in the cupboard, bought on special. These, accompanied by sundried tomatoes and some feta or cream cheese or home-made yoghurt cheese, make a great and fancy dip. Simple Jatz crackers (or similar) topped with a slice of cheese and tomato is pretty good as well. When all else fails, visitors who show up unannounced turn up to enjoy your company, not get fed something fancy and cause undue stress to the host!
Contributed by: Coops
For a quick, easy, cheap and fairly long lasting treat, you cannot go past crackers. You can serve them with whatever! Inexpensive water crackers last forever in a drawer or an air tight container; simply top with whatever is available at the time. Cheese, tomato, ham or luncheon, pickles - even jam which is a favourite of mine, the list goes on. Great in an emergency when unexpected guests drop in. Very versatile - and if time or humidity has softened them somewhat, simply put them in the oven at 170C for a few minutes to crisp them up again! However, I still remember the best budget snack I ever had one day when I dropped in on a friend who was as poor as a church mouse. I STILL remember with pleasure the potato she sliced and pan fried - and that was over 55 years ago!
Contributed by: Sylvia
If you have leftover puff pastry, you have a low-cost delicious snack! Whether it's in sheets or leftover strips from previous baking, there are all kinds of things you can make with them. For example, with some tasty cheese added you can twist strips of pastry into spirals. While you're at it you can add anything that takes your imagination - chopped olives, herbs and so on. These can be kept in the freezer until needed, then popped in the oven for 15 minutes. The result? Delicious 'freshly made' treats! Add a little cracked salt or some chopped fresh herbs from the garden when serving for added flair. Or, you could experiment with jam or Nutella and top with icing sugar, yum! You could even use leftover bolognaise sauce - just seal the pastry strips, then gently twirl and add shredded cheese to serve. See how many different ways you can create!
Contributed by: Eileen
Entertaining guests who drop in without warning is never a problem in our house! I keep some blue cheese (you may prefer another kind of fancy cheese) in the fridge and some fancy crackers in the pantry - the family knows these aren't for general consumption and don't touch them. Keep an eye on the date of the cheese and every now and again you get a treat without having visitors as if it's not used you need to eat it before the expiry date - shame! However, with neighbours like ours who like to wander over with a glass of wine in hand, it's great to be able to put these on the table.
Contributed by: Jaybee
If you keep a batch of cookie dough in the freezer, unexpected guests are quick to feed! I use the well-loved $4 biscuit recipe from the Vault and $21 Challenge book. Simply make in bulk then freeze until required. Once needed you just take however many you need and cook them in about 12 minutes. The longest wait is for the oven to heat up!
Contributed by: Yummy Mummy
For a filling and tasty snack when unexpected extras arrive, toasties are always a good back up. They can be prepared when you have something else cooking in the oven, then cooked once your dinner or baking is taken out. They also freeze well, and can be reheated from frozen. You can make them as simple or as fancy as you like.
Use any type of stale bread, or buy the cheapest supermarket bread. One method I like is to first spread the bread with butter. Next, mix a packet each of grated cheese and bacon pieces with two tablespoons of Worcestershire sauce and two beaten eggs and spread this mixture evenly over the bread. Or, mix three cups of grated cheese, a packet of French Onion soup, two eggs and half a cup of milk. You can also top your bread with anything you might use for a pizza - spread the bread with tomato paste or home-made tomato sauce. We like cheese, ham, capsicum and sliced olives with a sprinkle of ground oregano. Bake at 180C until golden brown, around 20 minutes. Cool on a wire rack to ensure they stay crisp.
Contributed by: Donna
Feeding unexpected guests doesn't have to be expensive or difficult - in fact it can be fun! Keep some Hundreds and Thousands on hand in your pantry. Even adults love fairy bread (buttered pieces of bread with Hundreds and Thousands sprinkled on top)! Or, do what my mother does and sprinkle a mixture of cinnamon and sugar on top of buttered bread, or simply drizzle honey over buttered toast. Another tip if you have the time to make them is to buy the cheap store brand cake packets (about $0.89c) and make up cupcakes or small round cakes for treats that cost less than $2.00.
In summer, provide a cool treat for guests by freezing juice or mixing up a packet of pudding or jelly or cordial in ice cube trays with ice-block sticks inserted into each tray. Or simply use regular ice-block trays. These make fun icy treats for kids and adults alike.
Salsa and chips is a nice little treat. Make your own chips with thinly sliced potatoes or carrots or kale, then either fry in oil on the stove top or in the oven. You can even make your own salsa and can in small jars so once opened they don't spoil before you use them up.
Contributed by: Beth
This home-made mushroom pate is great for serving guests with crackers or toast. It freezes well too. You need:
250g mushrooms, finely chopped (or you can use frozen ones)
1 finely chopped onion or 1 clove garlic, crushed
100g butter
90g cream cheese
A few drops of Worcestershire sauce
Melt the butter in a small saucepan and add onion/garlic and mushrooms. Simmer gently for four minutes until just tender then blend with remaining ingredients - I use a stick blender. Refrigerate or freeze in small containers. If heated it also makes a lovely sauce for pasta or steak!
Contributed by: Sam
When it comes to finding low-cost nibbles to feed unexpected guests, my two stand-bys never fail to please! The first is puff pastry, salsa dip and grated cheese. Just cut the sheets of pastry into eight sections, defrost slightly, then press into a muffin or small cake pan. Add about a quarter to half a teaspoon of salsa dip and sprinkle with a little grated cheese. Cook for 10 minutes at 180C.
Second is a long bread roll, grated onion, salami, tomato paste and grated cheese. For quickness I cut the bread roll on the diagonal when fresh, then place in a plastic bag and keep in the freezer. I also do the same with the salami. When guests come, I just take the bread out and lightly cover with some tomato paste, then sprinkle over the grated onion, top with the salami and then the grated cheese. Place under the grill and cook until the cheese melts - quick and easy!
Contributed by: Lesley
I make my own delicious scones using just four ingredients. I always keep a batch in the freezer for a cheap, quick and tasty solution when unexpected guests arrive. A minute in the microwave and you have food on the table!
My recipe is:
2 cups self raising flour
1 cup icing sugar
1 cup cream
1/4 cup milk
Mix all the ingredients together but don't knead or over mix. Pat the dough into a flat square and cut out your scones. Bake in a moderate oven for about 10 minutes or until 'done' and golden brown on top. Leave to cool, then pop in the freezer and use as needed.
Contributed by: Robyne
---
Gabriel has emailed asking for some help! She writes:
"We are taking our family (three kids) away in a caravan for the first time in the Christmas holidays. We haven't done this before but I want to make it a great holiday for my family. Can you ask your readers to share their tips on caravanning, cooking, storage, cramped living and keeping kids entertained at night/during bad weather or any other clever ideas they have? Thank you."
If you have any pearls of wisdom you'd like to share with Gabriel, please send them in to us here.
---
Well, that's your Simple Savings Newsletter for November and we hope you get out into your community and spread some 'local love'! Please let us know what hidden gems you find in your neighbourhood.
Our members are hugely important to us and we love hearing from you all! So, next time you're on the website, why don't you get in touch and say 'G'day'! Let us know what you would like to see more of in our newsletter or any suggestions you have for something new to try. We love receiving your clever ideas!
Don't forget to spread the love around to your family and friends too by forwarding them our newsletter or letting them know about our website. Help make their lives easier and save them money too! Or tell them about us on Facebook by clicking the 'like' button on our Simple Savings Facebook page.
Till next time...
All the best,
Fiona