This issue includes:-
Sad Sally, Happy Hanna: Santa's Little Helper
December is Old Fashioned Fun Month!
Great Aussie Street Party!
$21 Challenge: Order Quick for Christmas!
Best Members' Blog: This Month's Winner
Lin's Garden Diary
Best of the Vault: Funds-Free Fun
Best of the Forum: The Good Old Days
Cooking with Mimi: Stamped Salt Dough Ornaments & Microwave Celebration Toffee
Penny's Blog: Real Life, Real Fun
Homeopathy Corner: Rheumatoid Arthritis - Lauren's Story
From Last Month: Unique Christmas Gifts
This Month's Help Request: An Overabundance of Hankies
So Long, Farewell, Auf Wiedersehen, Goodbye :-D
---
Ho, ho, hello,
Happy Christmas! Thank you for all your wonderful support this year. We really appreciate your help and couldn't do it without you! To show our appreciation we have been hard at work preparing your 2012 free Simple Savings calendar entitled "The NEW, Clever YOU!" We are almost finished and will have it ready for you early next week. How exciting!
I am really looking forward to some time relaxing with my family this festive season. I hope you get lots of time to do the things you love most, with the people you love most!
Thanks for all the wonderful emails you send in. Reading your success stories really makes my day!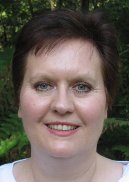 "Our household is celebrating today! After 11 years we paid off our mortgage. During this time we almost went broke, recovered ourselves and went on to buy an investment property as well as paying off a $260,000 house mortgage.
"We are so thrilled and I wanted to share my excitement with someone who understands the buzz of debt reduction. I also wanted to testify that our membership to Simple Savings has really made a big difference in our attitude towards our money and spending habits." (Caroline Taylor)
"I just wanted to say a massive thank you for your Simple Savings site. That site has made the biggest turnaround in my household finances, to the point that I have been able to be a stay at home mum for a couple of years. Those years have provided my family with memories that money simply can't ever buy. So thank you and thank you again." (Kate Havas)
"Great work you guys. So many people would be so much better off if they just opened their eyes and minds to what's around them. You guys have made this possible for so many and I know we all really appreciate it. Simple Savings to the rescue!" (Cheryl McKay)
"I really love your $21 Challenge book. We spend more than that on milk and bread each week, so we tried the slightly modified version for one adult and four kids. I find many of the recipes in there quite useful. My kids are fussy and so I find most cook books to be unsuitable, but even my kids will eat quite a few of the recipes. To be honest, I didn't think I had enough food in the house to create good meals but when I followed the instructions in the book and did the freezer and pantry inventory, I discovered that I could possibly have fed half of the starving population of Haiti! I used to always buy generic brand products because our budget was so tight that we didn't have a choice. When I started working, I enjoyed having a choice to be able to purchase some branded items but I discovered that I had stopped purchasing ANY generic items. I also found that I wasn't organised and started grabbing whatever was quick and easy - and usually expensive - from the supermarket at the last minute.
"Since reading The $21 Challenge I have had a re-think about what I put into my trolley. I don't buy everything generic, but I am now at least buying some again and also buying 'differently'. I am also making better use of my freezer and pantry overflow. Since doing the $21 Challenge, not only did I save $250 that week, I am now also saving $100 in my shopping EVERY week, just by being a little bit organised and having a different, but more tasty and nutritious menu. Thank you so much for your book." (Heather Elliott)
Thank you for your wonderful feedback! We really appreciate every single tip we receive every week too, so keep sending them in. As well as helping other members to save money, you could also win yourself a free 12 month Vault membership (value $47) in our weekly Hint of the Week competition!
Merry Christmas!!
All the best,
Fiona
P.S. We have slashed the price of Vault memberships to $27 until 31st December. We are getting into the festive season by cutting the cost of Vault memberships from $47 to $27 until 9PM on the 31st December. Order here.
---
"This is great, isn't it?" Sally smiled, as she looked around. "Look Pete - our whole street is here!" "I'm not surprised," Pete grinned. "Last year's was so much fun nobody would have wanted to miss out this year! Well done, Love, I'm really proud of you for getting our neighbourhood together. It's a really good thing you're doing - although I think you might have landed yourself with an annual job!"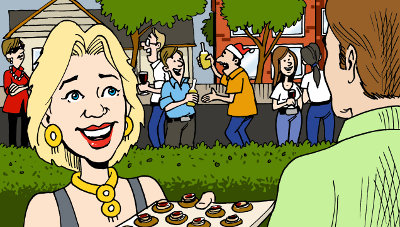 "Well it's a nice job to have," Sally replied happily. "Especially now I have Linda to help me. She's been terrific at coming up with all the old fashioned games, I have to admit I'd forgotten half of them!" "Me too! I can't remember the last time I ran an egg and spoon race!" laughed Pete. "And don't think I didn't notice how you just happened to pair Linda up with our new neighbour for the three-legged race!"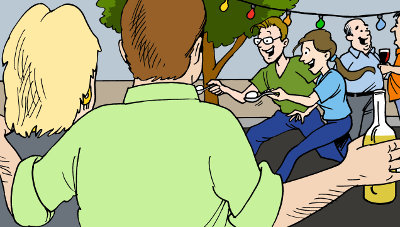 "I don't know what you mean!" Sally giggled. "But they ARE getting on very well aren't they? Tom is such a nice chap too. Look how he is helping her. And look at how she is smiling!" "Well, that's what street parties are all about isn't it? Good, old fashioned, fun," Pete winked. "And, by the look of those two, I reckon we might end up with a new couple in our street!"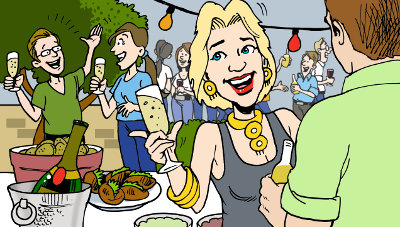 ---
I love my computer! My computer gives me access to so many things. For starters there is Google, Youtube, Simple Savings and Skype. It is great. But, it also has me sitting on my rapidly growing bottom for way too many hours a day. It is time for that to change; it is time for my bottom to stop growing. So this month, I'm swapping the screens for good old fashioned, bottom-shrinking FUN!
I want to have a great month this month, by getting our bodies up and active. Modern entertainment is fun, but it only exercises our brain and our eyes. The rest of the body needs a workout too.
When you get moving your body switches its happiness endorphins on. So you'll experience good old fashioned joy.
Getting your mind and body moving together will also strengthen you up.
In the Lippey household we are really getting into the swing of things for Old Fashioned Fun month and going camping for three weeks of swimming, playing and laughing. It is going to be so much fun!
So let's get to it. This month, make an effort. Each day, do something from the following list to help make a happier, healthier, stronger you:
Sing in the shower
TELL a friend a joke; don't just email it to them
Bake a cake and take it next door
Try a new recipe
Make some Christmas decorations
Teach yourself a craft
Call an old friend you haven't heard from in a while
Teach your kids a card game
Make some Christmas cards
Prepare some joke presents for Christmas Day
Listen to some great music
Go for a walk
Go Christmas caroling
Make candy
Give someone a hug
Break the TV *wink*
Challenge your friend to some tongue twisters
The list goes on and on, see how many more you can think of. Give it a go this month - and make sure you report in to the Forum or our Facebook page and tell us how much fun you are having in Old Fashioned Fun month!
---
That's Life! magazine have once again got behind our Great Aussie Street Party and are running a fantastic competition. To enter, you must hold a street party on either Saturday 3rd December or Sunday 4th December 2011. Then, tell That's Life! in 500 words or less all about your party and send in your story with an entry form and at least one photograph. Easy - not to mention a lot of fun! You can download your entry form from www.thatslife.com.au or you can find it in Issues 45 and 46 of That's Life! magazine. There is a prize of $1000 cash for the first prize winner and 5 x $100 runners-up prizes. Entries close January 5th 2012. Visit www.thatslife.com.au for full terms and conditions. Have a fantastic street party and good luck in the competition!
---
As mentioned above we are going away for some old fashioned fun, so if you would like to order some $21 Challenge books for Christmas, you must do so before 6th December. Any orders you place after that will be sent in January. Here is a link to the Australian order page.
You will still be able to order NZ books until 17th December from here.
You will also be able to order American books until the 17th December from here.
We have a five star rating on Amazon!
Thank you, thank you, THANK YOU to the fantastic 16 people who went to our Amazon page last month and left glowing reviews for the $21 Challenge book. The reviews were so gorgeous. I read every single one of them out loud to Jackie Gower on the telephone. If you would like to read them here is the link.
---
One of the many benefits of being a Vault member is that you can win a cash prize of $100 each month for your Simple Savings blog! Starting your own blog on the site is easy. All you have to do is log into the Vault, click on 'My Desk' at the top left, then 'Your Blog'. Then get writing! We love reading all your money saving trials and tribulations and really appreciate the effort that goes into each one.
This month's winner is Sam for this extract from her blog 'Trying to Save'. In this post, Sam gives us a glimpse of what life is like for a Simple Saver living in Christchurch after February's devastating earthquake:
Shaken to the Core
Going through four major earthquakes in the past 14 months has really shaken us literally, along with the 7000+ aftershocks. Life chugs along nicely then WHAM something really upsets the apple cart. No power or water for a week is pretty bad too.
Hey, but there is a silver lining. If we hadn't had September's first big shake more people would have died in February.
How so?
Several buildings collapsed or got badly damaged in September but being at 4.35am no one was killed. Take our Railway Clock Tower. In September that got damaged with large cracks through it. So they wrapped it in ply to stabilise it. When February's quake hit the tower stayed up. Had that not had the support of the wood around it, it would have also come down. Underneath that tower is an arcade, cinema complex and a science expo.
Buildings that were damaged were surrounded by containers to keep people away. Those containers did exactly what they were meant to do. They contained the rubble when more of the buildings came down in February. Experts believe there could have been another 300+ extra people killed in February if we hadn't had September first.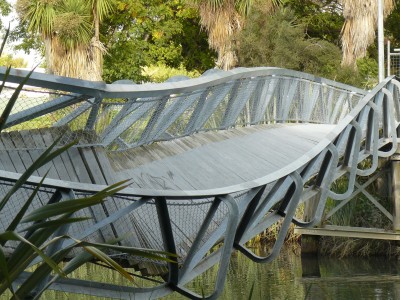 The problem for Christchurch is that we're still on edge. It's always in the back of our minds that it could happen again. There are faults running right under the city they didn't know about.
What's all this to do with saving? Well quite a bit in a way.
We learned to live with what we had in the fridge and freezer. They had to be cooked straight away.
We learned to cope without power. The problem is we're not talking just dark, we're talking pitch black. My nine- and six-year-olds were terrified. During the nights came aftershocks. You could hear them but you couldn't see anything. First would come the rumble, then the windows would rattle, then the bookcase, then the house and it would rumble away again.
They put a curfew up. It's eerie lying there and not hearing trucks. Knowing that the rumble is an aftershock, NOT a truck on the main road. Because it was so quiet you could hear them coming several seconds before they hit. It was a bittersweet sound. It was sometimes easier if you heard them because then you knew but also you would be tensed for longer whereas the sudden ones you usually didn't do more than jump.
In February for the first time in my life I was a hysterical mess. I was standing on the deck sobbing, hanging on to my eight week old baby like a lifeline. One neighbour looked over, took one look and was at our house in seconds. His wife came out later and took the baby so I could get my older two. My son didn't talk for nearly an hour. My daughter was scared for a bit then got over it pretty quickly.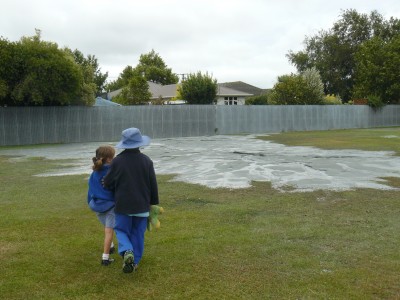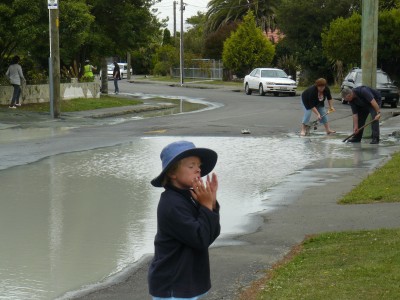 Life will never be the same in Christchurch. We joke about it, smile, make funny sentences but deep inside it's hit us all in some way.
I was talking on the phone to the Earthquake Commission a couple of weeks ago and she asked us how we were. I said we were pretty good and not as bad as some people.
She said she was amazed at the Canterbury spirit. Everyone she'd talked to had said the same thing. 'We're not as bad as some people.'
I said that's probably because in Christchurch pretty much EVERYONE knows someone worse off than them.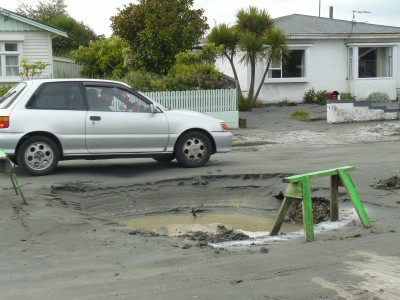 My mum and grandfather lost their house. BUT they're safe, they're stuff was salvageable and their cat came home. There are families who not only lost their homes but everything in them, people who lost their livelihoods, their loved ones. Yes, we're very lucky. I don't know personally anyone who was killed but I know of them. On Tuesdays I'm normally wandering around the local shopping mall but that day I hadn't gone as I had an appointment.
The only thing that did not come down in our room was the heavy clock above our eight week old baby's bassinet. The one she was fast asleep in at 12.51pm February 22. It is no longer on the wall and will never go back up.
In both the February 22 and June 13 quakes it was lunch time for the kids. They were still outside playing. My daughter's classroom was severely damaged in February and is still fenced off today.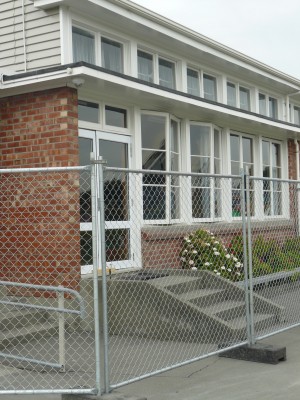 You know you're from Christchurch when...
Your baby gets rocked to sleep and you're not in the same room.
Your kids ask for a milkshake so you take them for a drive.
Your son no longer asks for a skateboard ramp.
You finally get the speed humps in your street - but the road crews didn't put them there.
No life will ever be the same but it's a relief to hear your nine year old say 'Did you feel the earthquake last night Mummy? It was only a little one though and didn't scare me'.
I think that's probably one of the nicest sounds in the world. Especially in Christchurch.
Wow. Thank you for sharing your story with us, Sam. To read more from Sam, or any of our other members' blogs, click here
---
It's been nine weeks since the kids and I planted our seeds. We have cared for them, watered them and fed them, and they now they sit happily in their new 'potager' garden. It has been a wonderful learning experience, watching them grow, seeing what works and what doesn't, learning what and how to feed them, when to water and what soil to plant them in etc. How naive of me to think they just needed some dirt and a lot of watering! **blushing**
I have watched closely as the plants go through different stages. I noticed one week some of them were getting lighter coloured leaves, so I fed them with worm wees and voila within two days they returned to their healthy dark green leafy colour! I had watered the plants most days, however, there were a few times where I didn't and panicked that they would have wilted, but they were still standing tall and proud and when I put my finger into the soil I was surprised to feel it was still damp. I have since found out that plants prefer to have a good dose of water a few times a week rather than a sprinkling of water daily.
Let me share with you what I've learnt about feeding over the past few months. I've tried them all and my garden is going great guns!
Worm wee - With the set up cost of our potager garden I am holding off getting a worm farm for the moment. But this is definitely a long term goal as the 'worm wee' has been a valuable feed in our garden. Zoe's kindergarten has a worm farm and they just ask for a gold coin donation in exchange for 1 litre of concentrated worm wee. We came home excited to pour some over the garden, but it didn't go far. I found out the next day that you add one part worm wee to five parts water! Oops, thank golly my worm wee concentrate didn't kill my plants! Note: A litre of worm wee concentrate actually goes a long way!
Seaweed - Zoe and I have been to the beach several times now to collect seaweed. Seaweed is full of nitrogen and breaks down quickly. You can use it in many ways: We added it to the lasagne garden, using our layering technique as this provides the plants with lots of nutrients.
Check out how to build your own lasagne garden from my blog, click here
To make up a liquid feed, simply wash the sand off first and then pile into a big bucket. Fill to the top with water. Once a week we dip in our watering can and water around the base of the plants. We simply top up the bucket of water for next week's feed and by doing this it allows it to dilute and not burn your plants!
Using another bucket, fill it with seaweed, put a lid on top and leave it for 3-4 months. Once it has broken down, you can mix it in and around your garden - it will love you for it. I have spoken to many keen gardeners around here and they all swear by it!
Sheep poo - Golly it's all about poos and wees! Sheep poo is great for the garden. The kids added sprinkles of it to the lasagne layering. Like the seaweed you can also make up a liquid feed. Just one quarter fill a bucket with sheep pellets and top it up with water. Dip your watering can in and water over plants every other fortnight.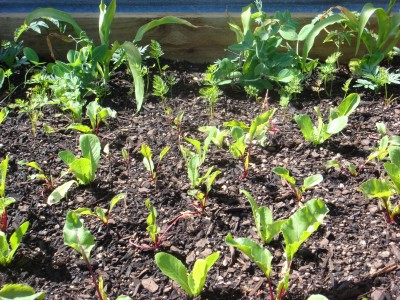 We finally built our potager garden! Plants were transplanted at six weeks old.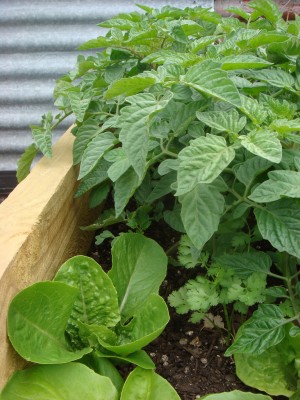 Picture taken today, nine weeks after the seeds were planted, and just three weeks after the picture above!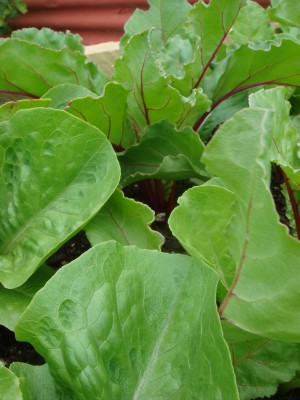 Look at our healthy cos lettuce and beetroot plants - delicious!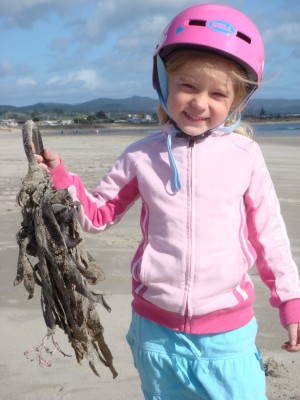 Zoe collecting seaweed from the beach.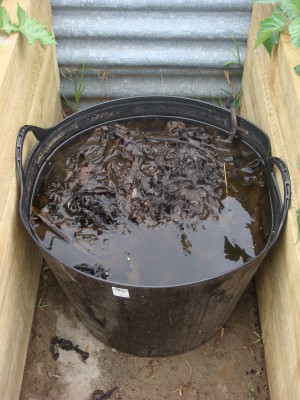 Bucket full of seaweed and water, liquid feed.
Mixing 'worm wee' and water.
I will continue to blog my gardening journey here between newsletters and would love any savvy tips from members. Happy gardening everyone!
---
One of the best things about old fashioned fun is that it is low-cost and often no-cost! Check out some of these terrific ideas from the Vault to get you started.
Our family keeps happily entertained and active and usually for free, thanks to our very own Suggestion Box! I have two young adult boys still at home with me. They both have girlfriends and other mates and both work part time while putting themselves through TAFE and uni. They are both also always on the lookout for fun, cheap or free activities to keep boredom at bay! So I came up with a 'Suggestion Box' where we can write ideas on pieces of paper and 'post' them. Any time they are sitting around at home with nothing to do, they can now just take a dip and pull out a suggestion! Some examples are:
Regularly checking council websites for festivals, markets, movies, concerts and events.
Going to a free Sunday movie at Brisbane City Library.
Watching a free outdoor movie at South Bank. These are held on a regular basis in a really comfortable atmosphere right beside the river. We take a picnic dinner, a nice drink and a rug and pillow.
Have a picnic dinner at South Bank and then join in the cafe footpath dancing if you feel inclined.
Make some popcorn and some drinks and invite a group of friends over for movie nights.
Games around the table - sometimes we will play games like 'how many musical sounds can you make with your mouth, nose, hands?' and so on. Or one person will start a story and everyone has to then add a bit - can get very interesting!
Spend time at the museum, art gallery or library.
Organise a BYO barbecue or pot luck dinner. Just add some good music and friends.
A game of paper wasps or water pistols.
Drives to the beach or mountains.
Volunteering time at big music festivals.
Skating, swimming, star gazing, sunsets, football, soccer - you get the idea. The list is endless and the boys' Suggestion Box is working so well, I often find myself dipping into it too!
Contributed by: Angela Schlecth
I found a great alternative to buying expensive traditional tales for my son when I discovered a free online audio equivalent. My son loves traditional stories and requested a few of them for Christmas. However, after discovering they were expensive to buy new and hard to source second hand, I looked online to find an alternative. In no time I had come across an awesome website that contained a huge range of children's stories, all of which come with free audio downloads and the words to go along with it. It's fabulous because it allows you to create your own read-along books which are something all children enjoy.
Contributed by: bungle
I recently found a website to help release some of my son's energy and relieve the boredom, without spending money! www.playgroundfinder.com is a user-contributed directory of playgrounds in Australia with photographs, reviews, available facilities, a five star rating system and map links. Now when I go out, I can look for a playground in that area and my son can enjoy a variety of equipment.
Contributed by: Mistralan
Our family is having some great fun together while getting exercise too! Most children just seem to like the idea of cycling whether they are going anywhere in particular or not! Recently we picked up a free folding exercise bike at our church Freecycle. We thought the whole family could have fun on it, and we were right! The youngest child had a bit of a job to get her feet to reach all the way down to the pedals as it is meant for adults but somehow that just increases the fun of it. Even 'Tyler' the dog was interested and a very patient spectator. Of course the children are getting the exercise they need as well as fun without even realising. It is great when good things can just happen naturally for the children without having to bribe them to get up and move, or get off the computer chair and actively live life!
Contributed by: Simply Blessed
www.free-ebooks.net is an excellent website that lets you download free ebooks from a wide range of categories including fiction, food, health and beauty, parenting and travel.
Budding authors can even submit their own ebooks to the site, so this website is perfect for readers AND writers!
Contributed by: Carole Bennett
---
The best festive memories are made of people, not presents! Remember the good old days, when a game of backyard cricket was the highlight of any family gathering? For a dose of good old fashioned fun, look no further than our Forum.
This thread is a fabulous reminder of the good old days when Christmas was more about spending time with the special people in our lives and less about splashing the cash. What do you love about Christmas?
read more...
This thread is a timely reminder to stop endlessly buying things and instead put what you already have to good use.
read more...
Our members will warm your heart with their lists of things to be thankful for. Goodwill to all this festive season.
read more...
Share your favourite spots in the great outdoors with other members and let's all soak up some good old fashioned camping fun!
read more...
This time of year see councils and communities everywhere providing free entertainment for young and old. Like our members, head on out and discover what's on in your neighbourhood.
read more...
---
Christmas is almost upon us. If you, like many others, have just realised that you've forgotten teacher gifts, Aunty Mabel and Uncle Herman gifts or that the pickings are looking a little slim all round this year, then these recipes are just for you.
For the first time though, I feel it's only fair to warn you that one of these recipes is totally inedible. Yes, totally. No, I haven't lost the plot, I've found a gorgeous new way to decorate the tree, label the gifts and use up that ton of cooking salt I bought a while back when I thought I was going to dye all of my clothes purple.
Here's my Stamped Salt Dough Ornaments, and this recipe will make between a dozen and eighteen rustic looking ornaments or really unique little gift tags.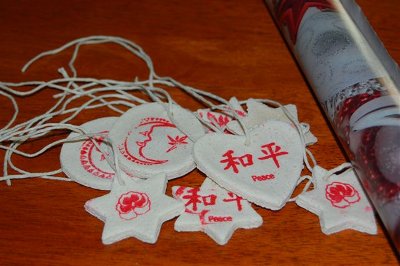 Equipment required:
Food processor with knife blade or large mixing bowl and your clean hands
Baking paper
Baking tray
Measuring cups
Rolling pin
Office stamp pad
Craft stamps
Bickie cutters or scone cutters
Spatula
Skewer
Cotton cooking twine
Ingredients required:
1/4 cup cooking salt
1/4 cup plain flour
1/2 cup water
Extra flour for dusting the bench and the rolling pin
Turn your oven on to 100C.
Gather the family together because the kids are going to have a ball with this!
Line the baking tray with baking paper.
Dust a clean section of your kitchen bench or dining table with flour. Place all of the bickie and scone cutters, craft stamps and stamping pad nearby.
Put the ingredients into the bowl of your food processor, cover and pulse it all until combined, about 20 seconds. Alternatively plop it all into your mixing bowl and squish it around with clean hands until it congeals into a nice ball of goopy stuff.
Flip the goop onto your floured bench or table, dust your hands with a little more flour and knead it, pushing it away and turning it a quarter turn ten or twelve times until it's nice and smooth.
Grab your rolling pin and after giving the children a lesson in 'a rolling pin is not an instrument to get your own way when it's not your turn', let them roll away. Keep the rolling pin well dusted with flour. Your dough needs to be about the thickness of a 50c coin.
Now, don't get carried away and start cutting things out just yet. It's actually a lot easier to stamp your designs first and then cut out around them. So, doing one at a time, get creative. Press your craft stamp into the inked stamp pad and press firmly onto your waiting dough. There's a fine line between pressing hard enough for the entire picture to appear and pressing so hard that you get the edges of the stamp too, but it all adds to the lovely rustic look of your ornaments.
Now, choose the shape you want the ornament to be. Scone cutters give a lovely traditional round ornament, while bickie cutters are great for hearts, stars or anything else that takes your fancy.
Cut out your ornament, lift it with the spatula and place it onto your waiting lined tray. Now use your skewer to pierce a hole in the middle of what will be the top of your ornament. You'll be threading your kitchen twine or ribbon through this, and the hole will shrink as your ornament dries, so make your hole large enough to allow for that.
Continue until you've cut out enough shapes from your sheet of dough that you only have the dough edges left, then gather the scraps, roll it out again and have another go. You should be able to do this three or four times.
Once all of your chic new ornaments are done, pop them into your oven and leave them there for about four hours, turning once. Alternatively, you can just leave them out on the bench to dry naturally.
Once dry, thread with twine, raffia or ribbon and they're ready to go. If you find the back of the hole has shrunk a little, just carefully use the skewer to release some of the dried dough around it to enable you to thread them with twine.
Tie them to your tree or write on them with a felt tipped pen to use them as gift tags. These look gorgeous used on a twig style tree, or as tags on gifts wrapped with brown paper or butchers paper. Who needs all that posh stuff they're trying to flog in the shops?
Rustic and home-made is always in style!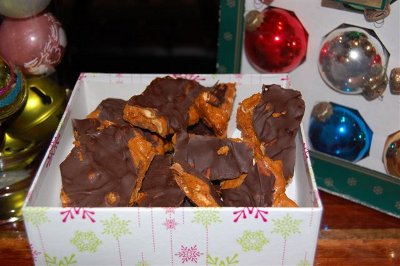 Foodie gifts are the sanctuary of the cash poor. That would apply to just about all of us wouldn't it? This quick toffee is so posh, no one will believe you actually made it with your own two hands. They're all going to think you've gone crazy at some uber trendy deli and spent mega bucks stocking up on the latest thing from some far flung foodie paradise. That's a good thing though, right... *wink*?
Equipment required:
Large microwave-safe glass bowl
2 spoons
Measuring cups
Baking tray
Baking paper
Box or cellophane for packaging
Tea towel or oven mitts
Smoothing spatula or large knife
Ingredients:
1 cup white sugar
1/2 cup glucose syrup
Cooking spray
1 cup roasted and salted peanuts
1 tsp butter or margarine
1 tsp vanilla
1 tsp baking soda
150g chocolate, broken into small pieces
Method:
Line your baking tray with your baking paper and set aside.
In your microwave-safe bowl stir together the sugar and peanuts.
Pop the glucose syrup in to the microwave and zap it on high for about 25 seconds to liquefy it slightly because this stuff is darned sticky!
Spray your measuring cup with some cooking spray and measure your glucose syrup into it. The cooking spray will help it slide right out and into your bowl.
Give it all a good stir and accept that your spoon is going to look like it has an alien growth on it. Don't worry about it. Scrape off as much as you can into the bowl with your other spoon. Like I said, that glucose syrup is sticky stuff!
Microwave on high for six minutes. It will bubble and froth and generally look like it's alive, but that's good.
At this point it should be anything from light amber to dark brown in some patches, so carefully remove it from the microwave with oven mitts or a tea towel and place it on the bench. Add the butter and vanilla and tip the bowl around a bit to swirl it through the mixture. Don't stir it yet.
Add the baking soda and stir carefully until it's well combined, frothy and lighter in colour.
Pour the mixture on to the lined baking tray and spread it out. It won't completely cover the tray but try to spread it to about 2.5 centimetres thick.
Sprinkle the chopped chocolate on top and allow it to sit for a few minutes. The chocolate will soften and melt. After a minute or two, grab your smoothing spatula or large knife and smooth the warmed and melting chocolate into a topping covering the toffee.
Pop it into the fridge for an hour or so to allow it to cool and harden.
When the chocolate is hardened and the toffee is cooled, it's ready to package. No knife needed, just break it into lovely huge chunks and place in a paper-lined box or wrap in a cellophane bundle.
This could become YOUR Christmas speciality. Promise!
---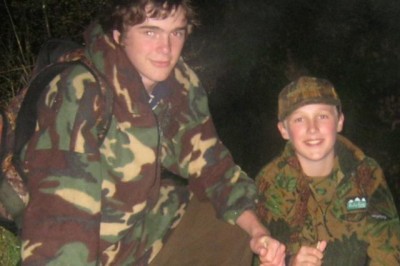 Here is a rare photo of my boys as you don't usually see them. For starters they're not fighting which is unusual and Ali isn't pulling a crazy face which is a real rarity but this was taken recently on an evening hunting trip, deep in the heart of the King Country. Ali is a seasoned hunter and bushman but for Liam this was his first night walking out of the bush in the dark, not to mention carrying a deer on his back. I've mentioned before how Liam has changed since living in Whangamata. Gone is the shy, anxious boy with no self esteem. He's been replaced by a happy go lucky young man who is no longer scared to give things a go. To say his dad and I are pleased is an understatement.
So what's brought about the change? It's simple really - he no longer spends most of his waking hours glued to video games and TV. Instead of rarely leaving the house, he's never home! He makes the most of each day. He goes and finds things to do, just like we had to when we were young. Mind you, there is a lot to do in Whangamata and the great thing is most of it is free. Another thing I love about living where we do (and I apologise if I have also said this before) is that it's a little like going back in time, 20 or 30 years or so. Just like some of the Simple Savings newsletters, where Fiona reminisces about the days when people would chat over the fence and everybody knew all the local kids and where they were and what they were doing, our little town is like that.
Ali has always been a 'do-er'. He's never been able to keep still and crams as much as he possibly can into each day. If he wants to do something, whether it be swimming, surfing or whatever he'll jump on his bike and go and visit his friends one by one until he finds someone to do it with. He has a Playstation in his room and it hasn't been switched on since we moved house over a year ago. Liam on the other hand couldn't have been more different. It seemed that days would simply pass him by in a blur of Ratchet and Clank or Modern Warfare - whatever his latest game obsession was. I admit, Noel and I clashed a lot about it. Where Noel was seriously concerned about how much of Liam's life was being wasted this way, I was far more relaxed. 'He's just a teenager, doing what teenagers do. Give the kid a break!' After all, his friends were all doing it too. Where was the harm in it? I used to cringe every time Noel would go stomping upstairs and throw Liam and his mates outside, telling them to stop being a 'bunch of girls' and get out in the sunshine.
In the end, the change came about from Liam himself, triggered by another boy he knows. This boy is a talented sportsman but doesn't play sports. Instead he plays video games. All day, every day. It affects his schooling, it affects his relationships, it affects his health and it affects his sleep. Liam and his friends used to go round and call for him but they gave up when he started locking the door so nobody could interrupt his gaming. Sad, terribly sad, but true. All of a sudden, video games didn't seem so cool to Liam any more. 'I don't want to turn out like that!' he said. And that was that. The games got switched off and are now only played when it's raining or when a group of them are staying over and want to play. The rest of the time he's swimming, surfing, running, biking, walking the dog - anything really. I had to chuckle the other day when he arrived home after a day out and told me he and some friends had pooled their coins together and hired a couple of tandem bikes and spent a whole hilarious afternoon riding around. 'We must have biked over 20km!' he said proudly.
If there's one thing both Noel and I have been delighted with it's the range of activities available at the boys' school. They are ALWAYS doing something, it's brilliant! Just last week Liam spent four days away at camp with his whole year level, white water rafting and water skiing at Blue Lake, near Rotorua and had an absolute ball. An absolute stipulation of these camps is that there are no cell phones, no iPods and no 'gadgets' of any kind. It's a sad sign of the times that these days school camps are as much about getting kids away from technology and out into the real world than simply offering the opportunity to do something different and bonding with their fellow students. Sadder still, however, is that the boy I mentioned in the previous paragraph chose not to go on camp and stay at home for the week instead. Liam, however, came home full of even more energy and no one was more amazed than Noel and I when he came bounding downstairs on Saturday morning and asked 'Dad, can we go clay target shooting?' The great thing is, this attitude is now rubbing off on his friends and more and more of them are asking Noel to take them fishing and bushwalking. Hooray for old fashioned fun!
So I stand corrected. I would much rather see my boys the way they are now; happy, healthy and making the most of each day rather than sitting inside playing shooting games with complete strangers on the other side of the world while real life and real fun passes them by. Making the change to his lifestyle has given Liam confidence, knowledge, skills, good health and energy. We no longer have to nag him to get outside - in fact, we have more trouble keeping him in! Although even the most active boys run out of steam eventually. Here are the boys after their hunting trip, fast asleep in their chairs. Both nights they were too exhausted to even make it to bed and spent the whole night in their chairs! Shh, don't tell them I showed you!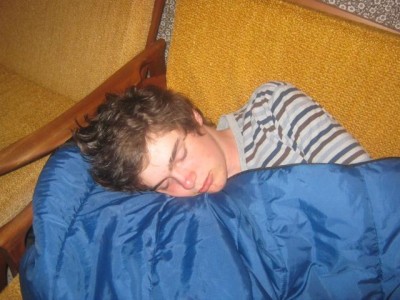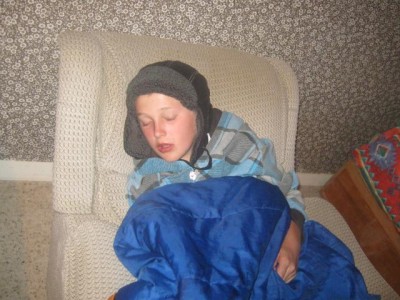 ---
This month Fran is sharing with us the story of Lauren, a young woman who has treated her rheumatoid arthritis with both homeopathic and conventional medicine. Not only did the homeopathic medicine work better, it was also significantly cheaper; whereas the cost of the mainstream medicine was phenomenal. To listen to Lauren's story or discuss Fran's article, click here: homeopathyplus.com.au/homeopathy-helped-me-live-a-normal-life
---
Last month Maryann asked:
"I would REALLY love some suggestions for different gifts for Christmas this year. I love to give home-made gifts and have done gifts in a jar and all kinds of hampers thanks to the brilliant suggestions on Simple Savings. They are always a big hit but this year I am struggling to come up with something really unusual. Time is ticking on so I would love to know if your members have any ideas, either home-made or bought that I will be able to get organised in time for Christmas!"
Don't worry Maryann, it's not too late! We have received some fantastic ideas as you can see here. Thank you to everyone who responded to Maryann's request, unfortunately we received so many we are unable to print them all here but we are sure this selection will inspire you to get crafty for Christmas!
I would suggest soap for your gift giving dilemma. You still have time to make your own! You could make it totally from scratch like I do; render the fat from the butcher, add lye and water and pour in a fun plastic mould or some round PVC pipe - whatever your creative mind can think of. I bought fun beach sets from the dollar store and used the sand moulding forms to make soaps! I have sets of giant seashells, fish, turtles and crabs. The seashells really are wonderful as they don't have little parts that break off like the fish tails, turtle legs and crab claws, which are kind of fragile. Home-made or crafted soaps are so cool and definitely as creative and unusual as you are. If you don't want to give home-made soaps you could give soap making kits!
Contributed by: Vickie Smith
For a festive looking gift with a difference, how about a 'tea wreath?' Check out this website link - they look fantastic. I'm going to have a go at making one myself!
http://kojodesigns.blogspot.com/2010/03/kojotutorial-tea-tea-tea-kitchen-wreath.html
Contributed by: Maria White
For a nice, 'girly' gift, make a set of notelets. Cut some card into smaller than usual cards and stamp with pretty craft stamps. You can also stamp matching envelopes so they are part of the 'set'. Wrap in a pretty ribbon and there you have it!
Contributed by: Trina Bergmann
For the person who has everything, make them a 'family faces' bunch of flowers! Make a flower template with enough room in the middle for a smiling face to be inserted. Use your template to cut flowers out of bright cardboard, then get your photos and cut them into round centres to glue into the middle of each flower. You can then use pipe cleaners as stems and cut cardboard leaves to twist on. Make many of these and then tie them together with a big bow for your loved one. They can then see everyone's smiling face whenever they walk by!
Contributed by: Kama Stephen
This delicious strawberry syrup makes an ideal festive gift for sipping and slurping! It's so easy and only takes a week until it's ready. All you need are strawberries, sugar, vodka and a clean jar.
Put fresh strawberries into elegant jar or bottle.
Drizzle with white sugar until jar is filled.
Fill with vodka.
Turn daily for a week to dissolve sugar.
Decorate jar with ribbon and/or festive tag.
Use as drink with lemonade or over crepes, ice cream or strawberries. Yum!
Contributed by: Kathy Lowry
For a great Christmas present for someone who loves to read, go to the second hand stores or school fairs/galas and buy up four or five books in good condition, in the genre the recipient loves (romance, thrillers and so on, or a mixture of them all). They should only be around $2.00 each (often less at the fairs) and the kids' books are often really cheap, such as five for $1.00. Stack them up and wrap in pretty ribbon, add a mix of sweets or lollipops (buy in bulk and split them up into your own ziplock or cellophane bags). Now you have a great cheap present for someone to while away their summer holiday time. You could do a version for the kids too, with a stack of colouring or maze books, pencils and sweets.
Contributed by: Karen Gordon-Lewis
For a delicious, low-cost Christmas treat, make peppermint bark! Simply melt dark chocolate and spread it over a large piece of baking paper. Next, smash two or three candy canes (peppermint flavour works best, but you can vary it if you like) and sprinkle this over the dark chocolate. Leave to set in the fridge. Melt some white chocolate and pour this over the top and return to the fridge. When cool use a knife to break into pieces, put into a plastic bag or pretty mug and tie the top with a nice ribbon.
Contributed by: Trudie Best
Board games make a wonderful gift and are even more special if they are home-made! Here are some kids' games I have made in the past:
Snakes and ladders: Using a piece of 3mm MDF (you could use stiff cardboard) I divided the board into 25 squares and, using pencils and Texta, coloured in the board. When finished I covered the whole thing in contact. I bought counters and dice from a game shop. You could make as many squares as is suitable for the age of the child.
Fishing game: I got a piece of board and cut it into a circle (again cardboard would be just as good). I then cut out fish shapes from an old calendar and laminated them and fixed on paper clips. I made fishing rods out of dowel, string and magnets.
Memory game: I printed up cards on the printer and then had them laminated. On the back of the cards I printed the child's name to make them individual. You could use shapes, family member's photo, dinosaurs or whatever the child is interested in.
Contributed by: Claire Wallder
Bonus extras for Vault members -
Hot dish carry bag makes useful gift Contributed by: Shirley M
Give the gift of time with tobacco tin clocks Contributed by: Grace Mcpherson
Cute as a button gifts for girls Contributed by: SusieQ
Shell windchimes make beautiful gifts Contributed by: Deborah K
Go nuts with these home made nibbles Contributed by: Janeen M
---
This month Delma asks:
"Over the past two years I have lost a mother and mother-in-law. These two women were real 'ladies' and I have been left with boxes and boxes of beautiful packaged handkerchiefs - has anyone any suggestions on how I could use these individually? Incidentally they both did use hankies but there were way too many for them! We travel in our caravan and I was wondering whether I could incorporate these in an appreciation gift? We often have someone do a kindness for us and like to repay them with a thank you gift. I am quite handy with a sewing machine and would love some ideas."
If you have any tips or suggestions which can help Delma, please send them in to us here.
---
Tadahh! You've finally read right down to the bottom of this month's newsletter. Did we mention that taking some quiet time to read an interesting newsletter is a form of old fashioned fun? And didn't we have fun! I hope you really enjoyed the newsletter and have been inspired to try something new in your savings journey.
Don't be a stranger - drop me an email. I love receiving your feedback and suggestions. If you have enjoyed this month's newsletter, why not forward it on to your friends to help them save money too? Or tell them about us on Facebook by clicking the 'like' button on our Simple Savings Facebook page? Spread the love and the savings.
I hope you have heaps of old fashioned fun this month. Our family certainly will. Merry Christmas and best wishes for a family fun, festive season. Enjoy!
All the best,
Fiona