This issue includes:-
Sad Sally, Happy Hanna: Facing up to Christmas
Bonus Gift for Vault Members: Beauty Queen on a Budget!
Secrets To A Truly Beautiful Christmas
Aussie Street Party Update!
$21 Challenge Update
Visions of Christmas Past
Best Member's Blog: This Month's Winner
Best of the Forum: Favourite Festive Threads
Best of the Vault: Fast Track to Christmas
Cooking with Mimi: Make-Ahead Christmas Menu
Penny's Blog: A New Woman!
Homeopathy Corner: The Right Remedy for the Job
From Last Month: First Time Kitchen
This Month's Help Request: Singles Need Help Too!
Savings Story: We Did the Maths!
---
Hello,
Happy Christmas! Thank you for supporting us this year; we really appreciate your help. To show our appreciation we have made you a free calendar for 2011. It is a gift for every single member from us to you. You can download your new calendar here.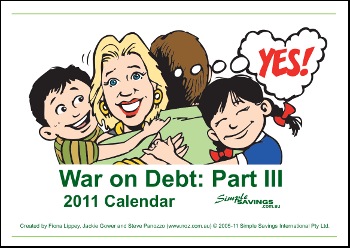 We hope you like your calendar and that it helps you to have a very enjoyable and prosperous 2011! Of course being Simple Savings, this is no ordinary calendar. Just like any other calendar you can use it to remember dates and write notes - but the War on Debt calendar also does what no other calendar can do. It can help you improve your life and your finances. How cool is that! Feel free to print off as many as you like and give them to the people you care about too.
We have so much fun doing what we do. We love helping to make a difference. Most of all, we love it when you succeed and write to tell us all about it!
"I am a relatively new single mother to three kids aged three to 13. Yesterday I found myself with $52 to get me through the next week and a half. I freaked. Then I literally looked up (I was in a book shop!) and saw your book, The $21 Challenge. After reading your book last night and the email and attached links today, I have already seen the possibilities ahead. I worked out that I have enough food to last us at least a month (just got my Chrisco in!) Then I sat down and REALLY looked at my financial situation. After a lot of number crunching and tough decisions, I have discovered that I CAN afford to not only eat well, but also live well. After my divorce, I thought I was destined to 'struggle forever', but now, thanks to my fantastic purchase (the book has already paid for itself!) and the great 'lists' I have printed out, I can actually see my future in a much more positive way. So, THANK YOU for caring so much about the people like me who need a helping hand and help to see that good things can happen with the right advice. I will be sleeping well tonight." (Natasha G.)
"My siblings and I are always teasing our mum about the things we could find in her pantry i.e. spices that expired five years ago. I finally convinced my husband to help me do a stocktake of our food. We found ground cinnamon 'best before 1994' but even worse was the ground ginger 'best before 1989'! The funniest part of it is that I'm only 31! In 1989 I was only 11 years old so the spices could only have come from my mother! Thanks SS for helping me find these things so I could clear them out to make room for fresh things. I plan on doing some baking this weekend after I finish work with my six-year-old and now I know what I have without having to buy new (except for the cinnamon and ginger)!" (Toni Barnard)
"At the end of 2009 I was a new graduate. I wasn't able to go West (remote teaching) as a lot of young graduates do to secure employment. At the time, I was still working in my well-paid IT career. The thought of dropping down to graduate teacher wages was daunting to say the least. We have a large mortgage and all the usual family expenses.
"Fast forward to the end of 2010, and I have successfully made the transition into teaching. I love my job! If it wasn't for my finely tuned Simple Savings mentality, we couldn't have survived financially. We have had a very lean year; however, I have now started building my dream career.
"We expect that financially, things will improve in 2011. We are working hard to restructure our lifestyles, including that large mortgage. We are planning to downsize our house, something that now makes so much sense to us when looking through our SS glasses.
"So a big thank you to the Simple Savings team for the part you played!" (Sandra K.)
(This is the same beautiful lady as on page 10 of the $21 Challenge book who dubbed the Challenge as like a game of Survivor in your kitchen.)
Well done everyone! We make a fantastic team!
Speaking of fantastic team, we are very proud to announce that our resident cartoonist and illustrator, Steve Panozzo, was recently award the 2010 JIM RUSSELL AWARD for Significant Contribution to Australian Cartooning! Congratulations Steve, your award is very well deserved! Steve has been a hugely valued member of the Simple Savings team for five years now. He is brilliant - but don't just take our word for it! To see more of his creative genius at work, visit Steve's website www.noz.com.au - and while you're there, why not drop him a line to say congratulations on his award? He really has earned it!
All the best,
Fiona Lippey
---
"Ooh, that looks nice! Is it a Christmas present?" asked Hanna. Sally had been to the beauty salon in her lunch break and was trying unsuccessfully to stuff the evidence into her desk drawer without anyone seeing. "Sort of - it's a present to myself, from me," Sally blushed, as Hanna grabbed the package.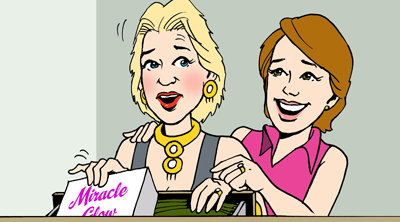 "Miracle Glow Skin Cream," Hanna read the label. "Get younger looking skin in just five days. Wow - I wouldn't mind some of that!" she grinned. "How much was it?" "Um, $180," Sally mumbled. "I know, I know," she said, catching sight of Hanna's horrified expression. "But I just wanted to look nice on Christmas Day. Everyone else manages to look stunning while I always feel like I've been dragged through a hedge backwards!"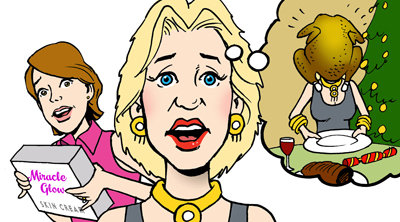 "Ugh, I know what you mean," Hanna sympathised. "You should have seen me last year - it was awful!" she shuddered at the memory. "I'm determined not to let that happen again this year though. I've printed off this fantastic book full of super cheap beauty recipes you can make yourself. Tell you what - I'll give you my copy. Now we can both look fabulous! Merry Christmas, Sal!"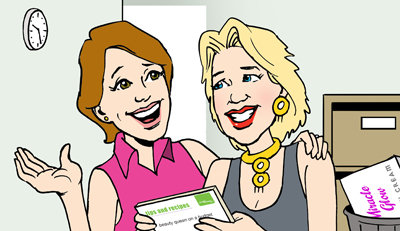 ---
I think most of us understand how Sally and Hanna feel at this time of year! Looking and feeling beautiful when you're stuck in a hot kitchen, cooking and cleaning up after the hordes is no easy task. We're so busy trying to create the perfect Christmas for our loved ones, that finding time for ourselves seems to go pretty much out of the window!
So this year we want your Christmas to be perfect in EVERY way. We want to make it easy for you to look fabulous on Christmas Day - and every day after that too! We also want to thank all our paying members for helping us to help people. Your membership fees are vital. As a special Christmas gift from us to you, we have made a book of beauty tips and recipes, which is available free for Vault members. It is a huge collection (almost 20 A4 pages) of beauty secrets shared in the Vault and Forum; including many 'insider tips' generously given by the professionals. They are BRILLIANT - I just wish I'd known them years ago! This book also makes a perfect gift to give to your friends and family for Christmas.
Vault members can download it here. I hope you enjoy it as much as we do!
If you are not currently a Vault member and would like a copy of our fantastic beauty book, you can join here and print off your copy today!
---
Of course, a beautiful Christmas is about much more than having flawless make-up and fabulous hair! We don't usually recycle articles but we thought this one from this time last year was particularly good and really sums up how to have a great Christmas day, so we're going to share it with you again (with a few added bits I missed last year):
Think back to your happiest Christmas ever. What do you remember most? Bet it wasn't the presents or the colour of the walls! What people cherish and remember about a wonderful Christmas for years to come are the sounds, the smells, the food, the surprises, what they did and the laughter. These are all things you can tweak for very little money or effort.
Sounds. Have you ever noticed how movie makers use music to manipulate our emotions? Try this out on your household to keep them smiling on Christmas day! Think about the music that makes your family the happiest. It doesn't even have to be Christmas carols. In our household it is Ren and Stimpy's 'Don't Whiz on the Electric Fence!' Whatever lifts your spirits and has you humming along will work. Decide what music to play, write a list and get it all prepared beforehand. On Christmas morning, all you need to do is switch the songs on for an instant happy atmosphere.

Smells. Scents also trigger happy emotions and memories. Use this to your advantage on Christmas morning. Find out everyone's favourite smell and recreate them. It may be the scent of freshly baked bread or freshly popped corn. Mine is the scent of pine from our Christmas tree. I love it. Penny's is cinnamon and cloves from making pomanders. By recreating these smells on Christmas morning you aren't just triggering old happy memories, you are also using the smells to create new ones.

Activity. Movement stimulates the release of endorphins, which make us feel good. So make sure everyone has something fun to do to keep them moving for a good part of the day. Whether it is organising a Christmas treasure hunt, a family game of cricket or even a water fight. Whether you're seven or 70, you can have heaps of fun with a water pistol! If you're having trouble getting older kids away from the video games you could always squirt the gaming console with a water pistol (Only joking. Don't try that one at home, kiddies.) or you can get them to bring out the Singstar or similar games where everyone can have a go. Planning activities costs next to nothing and they will be remembered for many years to come.

Laughter. Find a way to keep your guests laughing and everyone will have a great day. To get people to laugh all you need to do is surprise them. It can be as easy as hiding corny jokes in napkins, wrapping lollies into the presents, giving people really silly gift, wrapping someone's present in so much sticky tape you need a blow torch to open it or, drag out the present opening by making everybody guess what their gift is before they open it. Your exact approach doesn't matter, just as long as you get them laughing! My family still laughs when we reminisce about the time I gave my sister an encyclopaedia for Christmas. She was horrified! Little did she know I had cut a hole in the book and hidden her favourite music CD - the real present - inside! This way the present opening becomes about the people and sharing fun times together, rather than about the gift inside.

Taste. Eating delicious food makes us feel good. So an important part of Christmas day is to keep the food coming all through the day. But, the food doesn't have to be expensive. It just has to be yummy! So ask your family members to name their three favourite dishes and make the cheapest one. For example, Matt's two favourite foods are Honey Soy Chicken Drumsticks ($3 per kilo) and battered King Snapper ($40+ per kilo). Jacqui's favourite is delicious dessert of Mango Sorbet and Sara Lee French Vanilla ice cream, with chopped mangos and sprinkles on top. It may not be traditional Christmas fare but it has become the kids' favourite part of Christmas Day. Already they have been asking 'can we have that mango dessert again this Christmas!'
---
Woohoo! The day of the first ever Great Aussie Street Party is just around the corner! We have been over the moon with the response and are delighted to report that at the time of this newsletter going out, there are 112 street parties registered to take place on Sunday December 5th. How fantastic is that? 112 parties all being held on the same day, at the same time! A big thank you to everyone who got on board with joining us in this event. We really appreciate your enthusiasm and support and hope you all have a wonderful party. We can't wait to hear all about them!
If you haven't entered the competition yet, don't panic! There is still time. You have until the beginning of January to tell us all about your party AND be in to win a cash prize! Simple Savings and That's Life! are giving away $1000 in prizes. All you have to do is tell us in as much detail as you can about your street party - before, during and after. How did you feel handing out your invitations, were you nervous? How many people came to your party? What funny things happened? Has anything changed for the better in your neighbourhood since your street party? Feel free to send in photos too, the more the merrier!
As a reward for your efforts in helping us to bring back the good old days, one lucky winner will win $500 cash, with five runner up prizes of $100. So don't be shy; register your party today here, print off your free ready-made invites and hand them out, quick!
---
Tristan's favourite recipe from the $21 Challenge book is 'Fiona's non-drip jelly ice blocks' on page 169. Although, perhaps we should rename it to 'Tristan's non-drip jelly ice blocks' or '12 non-drip iceblocks for $0.39c', because he has well and truly claimed them as his own and when we make them we really do get 12 ice blocks from one 39 cent packet of jelly.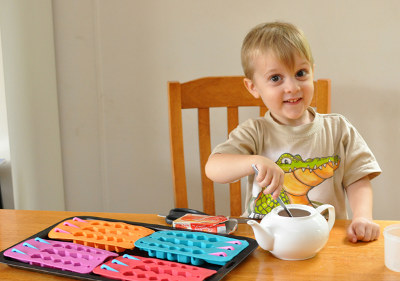 We have taken some more photos of exactly how making these yummy ice blocks is done Tristan style, so you can see the whole process here. It's really long but so very cute.
Mark your War on Debt calendars for February because Fiona is doing a library tour of the Sunshine Coast! She will be talking at the following libraries and would love to see you there:
Cooroy Library - Thursday 3rd Feb, 6pm
Coolum Library - Tuesday 15th Feb, 10am
Kawana Library - Thursday 17th Feb, 10am
Maroochydore Library - Thursday 17th Feb, 2.30pm
Caloundra Library - Monday 21st Feb, 10am
Nambour Library - Tuesday 22nd Feb, 10am
Noosa Library - Thursday 24th Feb, 10am
---
Christmas is one thing which never goes out of date! Here are some quick links to some of our favourite Christmas tips, recipes and gift ideas from our newsletter archives:
www.simplesavings.com.au/newsletter/2008/november/
Destitute Gourmet Sophie Gray shares some of her favourite tips and recipes for a stress-free Christmas.
www.simplesavings.com.au/newsletter/2005/december/
Save yourself a fortune and change someone else's life for the better by giving real gifts which don't cost a cent! We also feature some terrific ideas for low-cost festive decorations (tree toppers) and goodies (tummy stoppers) with Sophie Gray. You can even learn how to keep the worst Boxing Day hangover at bay with the help of homeopath Fran Sheffield!
www.simplesavings.com.au/newsletter/2004/december/
Give some brilliant Christmas gifts for under a dollar with the help of our free printable vouchers. Perfect to give to mums, dads, grandparents, loved ones - anyone! We also share some of our favourite tips for bagging a bargain in the January sales.
www.simplesavings.com.au/newsletter/2003/december/
Expecting a crowd for Christmas? No problem! We show you how to serve up a banquet on a budget. Also, learn how you can have the best looking Christmas tree in the neighbourhood without breaking the bank!
---
Exciting news! You can now win a cash prize of $100 each month for your Simple Savings blog! Starting your own blog on the site is easy. All you have to do is log into the Vault, click on 'My Desk' at the top left, then 'Your Blog'. Then get writing! We love reading all your money saving trials and tribulations and really appreciate the effort that goes into each one.
This month's winner is Pumpkin Patch for her post 'Different Strokes'. This extract is taken from her blog 'Nostalgic Memories of My Childhood'. It is beautifully written and invokes many memories of 'the good old days'.
"When I started to reminisce about the past, I got to thinking of all the debt we seem to have these days and started comparing it to what it was like in the early days. Everybody will always have some sort of regular debt but what we did have to pay for back then was so different to what we do today. The average household paid for everything with cash - unless you were a bit flash and had a cheque book.
The milkman came early in the morning, collected your empty bottles and the money you'd left out for him the night before, and replaced them with fresh bottles of milk, still with the thick layer of cream on top, the baker came and you paid him each day, the fruiterer came once a week and he was paid, and, before supermarkets, my mum even had the grocers 'boy' (who was in his late twenties!) come every Tuesday morning, sit down at the kitchen table with his pad and pencil and write down what she wanted that week. Every Thursday the order was delivered to the kitchen and we would excitedly dig over the contents. All this was paid for in cash on delivery.
In addition, there would be the electricity bill, and perhaps gas too if you had it - no bottled gas then, we were connected to the main pipeline. If you were lucky enough to own your own house, you paid council rates and perhaps house insurance too. If you owned a car - and most people didn't (my dad was the only one in our extended family who had a car and that was because he did a lot of field work during the war years and had to have a reliable utility) - you would pay for registration, and petrol which was cheap enough. I doubt there was car insurance; there weren't many cars on the road in our town.
We had private health insurance - very affordable back then, although Queensland had always had an excellent public hospital system funded by the Golden Casket - and you always got almost all of your expenses back, there was no huge gap fee as now. Another plus was that you claimed your medical insurance and chemist bills on your annual tax and had it refunded in full.
As well there was a radio licence - most people had these as it was the only communication with the outside world, and much later it would incorporate a television licence as well. These were abolished eventually, but you could be fined quite heavily if you didn't have a licence for them.
Most men of that era smoked and drank beer, and I regularly went to the shops to buy my father's tobacco and papers - no age restrictions then. Tailor made cigarettes were a new thing in years to come - and I remember my young girlfriend and I buying a packet (ten in a pack for a few pence) and trying to light them - nobody told us you had to inhale to get it started so we tried for ages to get them lit and of course the taste was foul, so that was that - looking back, that was hilarious, but the female film stars of the day made it look soooo sophisticated. Very few females smoked, and I used to think my city aunts who all smoked were so cool compared to my country family.
Again, most men would stop at the pub every afternoon after work for a few beers, before the pubs closed their doors - they were only open for an hour or so - and the men would head home for their tea. It was a man's world.
In telling this, I'm working between what my childhood memories of growing up were and also how it progressed as we got older. This was probably the extent of the household budget.
There was no such thing as a HECS debt for instance, nor did we have huge mortgage repayments - our own first home cost $7800 new and repayments were $13 per week. We didn't have many electronic mod-cons as we do now, so power was relatively cheap too.
Only people who were well off could afford a home phone so we used the public phone around the corner, or else we rode our bikes to deliver a message. If some disaster happened to a family member in another town, the police from that town would contact the police in your town and then they would come to your door to notify you. Now we have mobile phones glued to our ears at any given point in time and very handy they are too but I remember a gentler time."
Congratulations Pumpkin Patch and thank you for sharing your thoughts! To read more from Pumpkin Patch, or any of our other member's blogs, click here
---
The Savings Forum contains squillions of fantastic tips and threads on Christmassy subjects. So many in fact, that we found it impossible to pick the best ones! So instead we asked our clever Forum members to share their favourite festive threads, old and new. This is what they came up with!
MummaCass wants to know if anyone has any tips to help a newly broke family create a wonderful Christmas for her three young daughters. Our members don't disappoint, with tons of inspiring, low-cost ideas!
read more...
Onwards and Upwards is determined to be organised this Christmas! There's still plenty of time to make some terrific gifts for Christmas; check out what some of these clever members are making!
read more...
An oldie but a goodie! Stuck for Christmas gift ideas? This thread is full to the brim with brilliant suggestions. The only problem is, which one to choose!
read more...
How cool is this! A personalised gift basket is an ideal gift for the person who has everything. In this thread you will find an amazing list containing no less than 95 gift basket suggestions. You need never struggle to find a suitable gift ever again!
read more...
Has Christmas got you feeling overwhelmed? This inspiring thread from Clutterhen will soon help you feel back in control and well on your way to the best Christmas ever!
read more...
Christmas is getting closer by the day! How organised - or disorganised - are you? Either way, you're not alone, as these members share!
read more...
---
The Savings Vault contains over 200 tips for a low-cost, low-stress Christmas! To save you trawling through them all, we have made it super easy for you to go straight to some of our favourite ones!
Every year I save on the cost of buying an advent calendar by making my own that also helps the family get ready for Christmas. The calendar is made of squares of paper stuck to the window or wall. You can get creative and make these form different shapes, like a star, or put up a picture behind the squares that is slowly revealed. Behind each square is a job or activity to help the family get ready for Christmas. This can be things like making our own cards or bon-bons, making presents, listening to some Christmas music or going to a carols concert. On Christmas Eve we make a cake for Jesus' birthday, which we eat the next day. This has become a family tradition that also teaches the children that you can give of yourself at Christmas, not just buy things to give.
Contributed by: Rosie Tea
I have found a way to make expensive looking bon-bons for a fraction of the price! I was finding that many of the bought bon-bons are expensive but have nothing but cheap rubbish inside.
So now I buy cheap bon-bons that look really nice, then I untwist one end and put in a treat (i.e: mini Mars Bars or lollipops for the kids and Ferrero Rocher for the adults). For work bon-bons, I even put in mini torches, pens and so on. Basically, you can put anything into them, just re-twist the end when you've finished. If it's a big item, you can tie a small piece of curling ribbon at each end. Everyone loves my bon-bons!
Contributed by: Sheena Bigalke
Instead of buying stickers and hanging decorations for my windows at Christmas, I printed off some pictures and got my five-year-old to colour them in. I also recycled old Christmas cards and stuck them back to back on both sides of the windows. The overall effect was great, and it saved me a bundle and made my daughter very proud of herself!
Contributed by: Alison Boyle
Everyone loves Christmas decorations, which makes them the perfect gift! Our family has a tradition of giving Christmas decorations to each other as gifts each year. It means that we all have something new to put on the tree every year, and from a savings point of view, it ticks all the boxes too.
Decorations aren't too expensive, and as my family lives in Canada, the postage is much cheaper for a smaller, lighter present than for something bulky. As we all have very different tastes, and decorations are fairly universal, nobody is given something they just don't like. We all look forward to see what Santa sends in the post each Christmas!
Contributed by: Cherie Hearne
If you have families with several children to buy for at Christmas, you can make a huge saving by giving them a 'family' present. We try to give gifts that will enhance their quality time together - for example, this year we are giving my sister's four boys a bird feeder for their garden. Another idea is to compile an Activity Box full of low-cost items that everyone can share. The one we are making is actually a 'Nanny's Box' which will be kept at Nanny's house and contains enough activities for four other families to share whenever they visit her. We are giving them a box filled with items such as colouring books, crayons, pencils, rubbers, balls, puzzles and so on, which we know will provide hours of fun and entertainment. At the moment there are only a few cars to play with at Nanny's so this will benefit all the kids in the family and save us money on buying separate gifts for everyone. Simple, yet thoughtful ideas like these ones can really save the Christmas budget!
Contributed by: Miss A.
More hints for Vault Members!
Activities each day from the Christmas tree Contributed by: Kylie James
Affordable prawns for the festive season Contributed by: Lisa H
Crafty Christmas wreath Contributed by: Lynn Coff
Discounted decorations Contributed by: Jane Saker
Electricity free Christmas lights Contributed by: Melissa Horton
Free letters to make from Santa Contributed by: Michelle O'shea
Hand-made decorations for the tree Contributed by: Gisela Peters
Home-made table centrepiece for $12 Contributed by: Denise Sutherland
Magic reindeer food Contributed by: Emily Mauger
Make gift tags out of used cards Contributed by: Joanne Roberts
---
Mimi has really come up trumps this month with her selection of festive fare! These delicious recipes can all be made in advance, so you can relax with your guests and be the picture of composure this Christmas!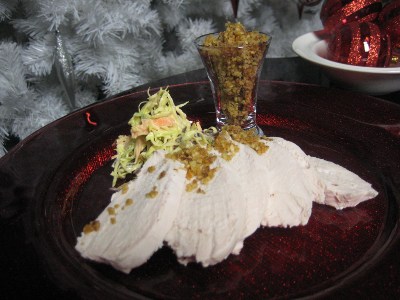 This is a little different to your usual coleslaw. It feels so soft and moist on the palate and is a yummy addition to your traditional Christmas menu. Make a day in advance for the best results.
Ingredients:
½ sugarloaf cabbage, finely shredded
1/8 red cabbage, finely shredded
1 carrot, peeled and finely grated
¼ cup double thick cream
¼ cup whole egg mayonnaise
½ tsp sugar
Small pinch dried garlic granules
Equipment required:
Mandolin or 'V' slicer, a sharp knife or food processor to shred the cabbage. The final result relies upon a really finely sliced cabbage.
Grater
Vegetable peeler
Bowl and whisk
Large container to store in the refrigerator
Method:
Using your preferred method, slice the cabbage almost hair thin. This is the most important step, as it will give your slaw the gorgeous, luxurious feeling in your mouth once the dressing has worked its magic.
Peel and grate the carrot.
Combine the rest of the ingredients in a small bowl, whisking thoroughly.
Toss the cabbages and carrot in the storage container until combined. Then toss through the dressing.
This Dukkah will dress up any old meat, but is particularly delicious with poached chicken breast. The combination of flavours says 'Christmas' and it's a super easy do-ahead recipe! Sprinkle over the sliced chicken breast, with more in a cute shot glass on the side for dipping.
Ingredients:
1 cup raw walnuts
½ cup dates
¼ cup raw or roasted cashews
Zest of one orange
Equipment:
Food processor, blender or mortar and pestle
Method:
Process, blend, or pound ingredients until well mixed. Store in an airtight container until ready for use. Keeps well, refrigerated for up to a month.
This method of cooking chicken results in a moist and succulent meat; great for the Christmas dinner table or for everyday sandwiches. Either way, it's one of the best do-ahead, drop dead 'wow' factor dishes ever. Guaranteed legendary status for any cook right here!
Ingredients:
8-10 cups water
Vegetable stock
3 bay leaves
8 cardamom seeds (optional)
1 chicken breast per serving
Equipment:
Large stock pot
Large airtight container for refrigeration
Method:
Bring the water and seasonings to the boil in a large pot.
Add the breasts, trimmed of tenderloins (these can be used for another dish).
Allow to come to a simmer, put on a tight fitting lid, and turn OFF. Do NOT remove the lid. The chicken will cook in the stored heat of the liquid. After 30 minutes, you will have perfectly moist chicken breast, fit for a celebration. Store in the cooking liquid, covered and refrigerated, until ready to serve. These can be made up to three days ahead.
Cut across the grain into thick slices and arrange on top of Bar Room Slaw, with Festive Dukkah on the side.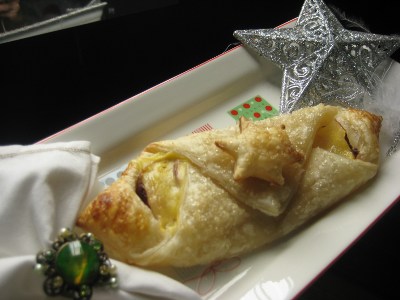 This is a great Aussie version of a luxury breakfast treat. Who can resist the scent and flavour of stone fruit at Christmas? These are dead simple to prepare and can be popped into the oven to bake 15 minutes before serving!
Ingredients:
Puff pastry sheets
Double thick custard (see October newsletter)
Nectarines
Sugar and a little milk for garnishing
Method:
Cut a sheet of puff pastry into four.
Put a teaspoon of thick custard in the centre.
Arrange thin slices of nectarine on top, and fold two corners in to the centre.
Brush with milk and sprinkle with sugar.
Bake at 220C for 10-15 minutes until browned.
---
November 26th
Yippee, less than a month to go until Christmas! We're all really looking forward to spending our first Christmas ever at the beach but far from making it a grand occasion we are planning the most low-key, stress free Christmas Day ever. Every year without fail we have a huge traditional Christmas dinner, which is absolutely delicious and very enjoyable but an awful lot of effort. On arriving at our new home, however, it became apparent that this year was going to be different. For starters, our tiny kitchen simply wouldn't cope with catering such a massive amount of food! But more than anything, it just doesn't feel right for us any more. Things are so laid back here - WE are so laid back here!
So this Christmas, instead of busting a gut and blowing the budget trying to replicate Christmases of years gone by, we are going to focus on what really matters, which is simply being together. Instead of the traditional roast turkey and all the trimmings, we'll be firing up the barbecue and chucking on whatever we feel like, which will hopefully be a feast of free, freshly caught seafood if the conditions are right! As for the evening meal, we'll be packing a sumptuous picnic and heading down to the beach for a game of cricket!
So far there is just the four of us and my mum for Christmas Day - but I have a feeling this Christmas will be far from the quietest. So many friends and colleagues head over to Whangamata every year for the festive season, we never know who's going to pop in! As it is, we have seen and heard from more old friends in the last month than we have in 10 years! My kitchen might not be big enough to cook a banquet in but at least I have room to make some yummy treats to keep on hand for when visitors arrive. Ali and I have been making shortbread Christmas trees and angels for years - the only problem is, the bigger he gets, the quicker the shortbread disappears!
I'm also refusing to stress out about Christmas presents this year. In actual fact, I have things surprisingly under control already! Most of my gift list is already taken care of thanks to online shopping and bits and pieces I've picked up throughout the year. One good thing about moving away is we are now hours away from the big city shopping centres. At our old place it was so easy to whiz off to Auckland or Hamilton and I always seemed to end up leaving Christmas shopping until the last minute but now we're two or three hours away, it's far easier to do my shopping over the Internet, which is not only quicker but saves so much money on impulse buys when you don't have any shops around; not to mention cafes and fast food outlets!
One more thing I'm definitely not going to be stressing out about this Christmas is my appearance. In Christmases past, no matter how I try, I look absolutely hideous. Spending hours in a hot kitchen peeling potatoes, stuffing turkeys and goodness knows what else does not do much for one's appearance. Every year it seems everyone else looks immaculate in their bright, festive clothing whilst I wouldn't look out of place in a fish and chip shop, with cooking stains all over my clothes, my hair plastered to my head and my hastily applied make-up running down my face in sweaty rivulets. I know I shouldn't worry about it but it really gets me down when everyone else looks so nice. I feel like the weakest link in an otherwise perfect Christmas.
But not this year! One great thing about living at the beach is that nobody wears many clothes. Don't get me wrong, we don't all wander around like Adam and Eve, heaven forbid! But everybody wears the bare minimum and the dress code is strictly casual. No doubt for all the Australian members this is nothing out of the ordinary but for me it's a real novelty. The amount of washing in our house has reduced beyond belief and ironing is all but non-existent! So this Christmas I'll be wearing my shorts and singlet with pride.
Talking of pride, December is 'Your Own Challenge' Month and I was wondering what I was going to do for mine. One of my very favourite SS challenges over the years is the Pride Challenge, which ran on the Forum. Looking back now, I can see it was started by the lovely Mimi! The first thread was this one and it developed into several more, which were eagerly followed by members like me, who wanted to look after their appearance but couldn't quite manage to get it together a lot of the time! Basically, the idea was 'how you look is how you feel'. As someone who lives and dies in gym shorts or track pants I look like a dag 99.9% of the time and when I look like a dag I feel like a dag. I realised on reading Mimi's thread that even making the smallest effort to look after your appearance can improve your self esteem no end and vowed to make more of an effort.
But like so many things with me, over time it all went by the wayside. Until I spotted this fabulous thread, 'What is your beauty routine?' What an absolute treasure trove of beauty secrets! This thread really has transformed my beauty routine, particularly as I confess to not really having one before. I've really been enjoying reading and trying out some of the skincare tips. Noel looked rather bemused when he found me getting the aspirin out to use on my face but oh my goodness, that is just the BEST skin treatment ever! My skin has never felt so good and the pimples that had been glowing horribly on my chin literally disappeared overnight!
As for make-up, I probably wouldn't even wear it once a month before but now I wear it every day! Well, sort of - thanks to one of the many fabulous 'cheats' I have learned. This tip has got me feeling fab and smiling every day! It takes just a few seconds to apply and you look for all the world as though you're wearing flawless, glowing make-up but you're not; it's sunscreen! Perfect for this beach bunny and so cheap too. For the first time ever, I'll be putting my best face forward on Christmas Day!
22nd - 'Welcome to a different pace of life!'
---
One of the things I love most about homeopathy is that there really is a remedy for absolutely everything! In this month's article, Fran Sheffield takes a lighthearted look at how different remedies can help with everyday hazards around the workplace. Whether you're a chef, a builder or a bartender, you won't want to miss this!
www.homeopathyplus.com.au/something-different-for-christmas
---
Last month Tegan asked:
"I will be moving out on my own for the first time and want to buy some kitchen equipment that will help me be a whiz in the kitchen. I have been putting money aside for this purpose but am unsure what I should buy. I like to cook from scratch but there are so many appliances and gadgets out there and I won't have much bench or cupboard space so I don't want things that will take up too much room or not get used at all. What do you recommend that are the kitchen 'staples' of appliances/gadgets?"
Wow! We had a huge response to this request! Thank you to everyone who contributed their wonderful tips. Unfortunately due to the sheer volume there's no way we can publish them all, but here is a small selection. We hope Tegan - and anyone else setting up a kitchen for the first time - will find them helpful!
I've found over the years that the best kitchens have the least amount of gadgets. However, my kitchen is proof that quality is the key when buying kitchen 'staples' as I've had most of my appliances for over twenty years. I have two good quality frying pans, one large, one small, and two saucepans, one 2L and the other 1.5L. Good knives are also worth their weight in gold. I recommend you buy a carving/chopping knife, a paring knife and a bread knife, as well as a knife sharpener. One of the few kitchen 'gadgets' I do own is my food processor/blender which I find extremely useful. Finally, remember to follow care instructions for your appliances and they should last you a long time.
Contributed by: Coryn Keith
A good quality Kitchen Whiz is an extremely useful kitchen appliance to own. It's really versatile and does away with the need to buy many other appliances. With it you can make your usual baking goodies but it also makes coleslaw, dressings, mince and soup in no time. It grates cheese that can then be frozen, and it enables you to make delicious dips and smoothies too! The list really is endless! Think carefully about the number of 'gadgets' you purchase as, with all gadgets, if you don't use them to their full potential, they're simply not worth buying.
Contributed by: Marjorie Bremer
I have never regretted buying my cast iron electric frying pan. It's just so useful and very hard wearing. I also recommend you invest in good kitchen knives, remembering, when it comes to knives - quality is definitely better than quantity. Don't be tempted to buy things like microwaves and toasters with too many 'bells and whistles' though. Unfortunately these days, many manufacturers design their appliances to break down within a year or two, so keep it simple and always buy well-known, respected brands.
Contributed by: Sue Lane
Before you rush out and spend your hard-earned money on appliances you think you want for your kitchen, borrow the items from friends and family for a 'trial period' to ascertain whether or not you are really going to use them. I have used this strategy over the years and found, after borrowing something, the thrill of having a new appliance could soon wear off! Once I realised, that the bread maker, juicer, sandwich press, or Mix Master either sat in the cupboard gathering dust, was too fiddly to use or simply a nightmare to clean after use I handed it back to its owner and saved myself an expensive purchase I'd regret!
Contributed by: Vashti B
One of the most useful and versatile pieces of kitchen equipment is a cast iron casserole dish. It can be used on the stove top and then transferred straight into the oven. I cook all the great staples such as casseroles, roasts and lasagne in it, and I've even used it to make bread. One appliance that does the job of many is a great investment, and will save you money, space and time.
Contributed by: Barbara Calnon
Once you have decided on the appliances you want for your kitchen you will need to decide on which brand you wish to buy. The website www.choice.com.au is extremely useful and will certainly help you in the decision-making process. They review the market and test appliances, looking for value for money and ease of use. For $22.95 per quarter or $20 per report you can access reviews and recommendations for hundreds of products and make an informed and assured purchase as a result.
Contributed by: Christobel Say
The best way to go about deciding what you really need is to sit down and analyse YOUR requirements. Your own personal 'appliance shopping list' will be different from the next person's list. Make column headings entitled 'What do I cook?' and, 'What equipment is needed?' Include knives, graters, scales, measuring gear and so on, list the basics that you will use everyday and don't forget the saucepans and frying pans! Keep clutter down and save money by choosing and buying only what you need, rather than an expensive and unnecessary 'starter pack'.
Contributed by: Angela Caballero
I moved out of home for the first time eight months ago and had to start a kitchen from scratch. My biggest tip? Think about your grandma's kitchen and try to emulate it! I've found a Mix Master, a kettle, a timer and quality scales are essential. Because it is the 21st century I also bought a microwave and a bread maker - and that's it. When cooking cakes and biscuits, lasagne, stews and roasts from scratch, you don't need gadgets. What you DO need are good pots, sharp knives, a big oven roasting dish, a frying pan, a good mixing bowl and lots of storage containers. You can't cook from scratch effectively or cheaply if you don't have a pantry full of sugars, flours, grains and herbs.
I also recommend shopping at reject shops. Who cares whether you buy the expensive or the cheap oven tray? And finally, ask your friends and loved ones if they have any unwanted/unused items to spare. Most will have one pot too many! I picked up my mum's beloved (but recently upgraded) Mix Master, my friend's spare frying pan, and a bread maker someone thought was a good idea and then got bored with. Some you'll get for a song some for exchange and some simply for promises of freshly-baked goods! Get back to basics and enjoy your new kitchen!
Contributed by: CB
Quick links for Vault members:
Kenwood Mix Master is the Kitchen King! Contributed by: Jilly-Anne Strother
Buy at hospitality stores and be amazed at the prices! Contributed by: Sean & Wendy Kelly
Basic kitchen utensils are all the gadgets you need Contributed by: Monica
Homestarter kit is the complete kitchen package Contributed by: Tahnee Hrelja
Get Jamie's help in setting up your kitchen Contributed by: Belinda Lee
---
This month Anna asks:
"I am REALLY, REALLY struggling, especially after a prolonged illness. Currently I am regretting 'doing the right thing', such as having a mortgage, paying for health insurance and so on. Independent singles are such a marginalised group that nobody seems to care about. We are not eligible for any support, tax benefits and so on, and other saving techniques such as buying in bulk are not practical. Please, please, please help."
We're sure Anna is not alone in feeling this way! If anyone has any advice which could help her and other singles, please send them in to us here.
---
Five years ago I won a subscription to Simple Savings. I confessed a bad habit, planned a new one to replace it, and was rewarded with entry to the Vault. In that time we have gone from being a double income, no kids household to a NO income, TWO kids household. The reasons we have been able to make that huge change all stems from the discovery of Simple Savings. It changed my life.
I started baking then began menu planning and cooking food from scratch. We started putting spare money into the mortgage, rather than splurging (there were hiccups, sure, but we were learning!). Baby number one came along. We spent, but much less than friends in the same situation. We began to get thoughtful.
I went back to work fulltime when my daughter was 10 months old. That's what you did, right? How else could we manage? I would drop her off at daycare around 7.30am, cry about leaving my baby, pick her up at 5-ish and go home. By the end of the first year the SS mantra to 'do the maths' had sunk in. I did the maths. Once we had paid for daycare, fuel, work clothes and so on I was working for $200 a week. For that amount of money I missed my baby's first steps. Her first tooth. Many, many firsts.
My husband was surprised by my findings, but he went through them and we figured out that with a bit of management we could survive if I went down to half-time at work. That lasted three months until I became pregnant with baby number two and crippling morning sickness gave me the momentum to jack it in entirely and become a stay-at-home-mum. Turns out the $200 per week I was working for had actually cost us more than that in convenience food and takeaway. We were financially better off with me NOT working! Wow!
We made the decision and haven't looked back. It wasn't long before we realised that with my husband commuting to work we no longer needed two cars. The things people had to say about that! But, again, we had done the maths. I could have afforded $100 a week on taxis before it made financial sense to keep the second car - and I haven't resorted to a taxi once! We sold the car before it got too old, and the money went into the mortgage.
Just over 12 months ago, we had paid off enough of our mortgage to get a 2.7kW solar system put on the roof. The new feed-in tariffs in WA where we live mean it'll pay itself off in no time!
We extended our mortgage by $13,000 to convert the roof space into storage space, meaning our 3x2 house is extremely comfortable for our family of four. We've gradually added vegie beds, fruit trees and an aquaponics system to our tiny yard, foregoing lawn as we live 100 metres from a park. We're not self-sufficient; I don't know that on our 540m2 block we will ever quite manage that, but we are happier, with less.
Last year my husband's job became untenable. Unrealistic targets and lack of customer care had turned his job into a punishment. In a dark depression he just didn't know what to do. Again, wisdom from Simple Savings came to our aid. What was the point of doing something he hated; that was destroying him and beginning to seriously wound our family? The money was just not worth it. So, he asked me if I really thought we could manage financially if he went back to university to do Renewable Resources Engineering. We did the maths. And we couldn't. Not without one or both of us working. But then we had a brainwave. We sold our luxury 4x4 vehicle, bought a teeny, tiny car, and put the difference into the mortgage to cover rates and big bills over the four years ahead.
So here we are at the end of our first year of living from Austudy and Parenting Payments, and this morning I realised I felt sad that it was going so quickly! My kids are so much happier; they have less, but they don't notice or care. I'm in awe over how wonderful my life is.
And so, I thank you all, including all the wonderful people on the Forum. I have experienced a 'me-change' over the past five and a half years, and Simple Savings has been the catalyst for what truly is an amazing life. (Hannah C)