This issue includes:-
Sad Sally, Happy Hanna: No Dinner Zone?
June is Double Dinners Month
Do-do-do the Double Dinner!
Competition: The Dog Ate My Dinner...
Hidden Gems Competition Winner
Best Member's Blog: This Month's Winner
Best of the Forum: Quick Frozen Delights
Best of the Vault: Dinner Lifesavers
$21 Challenge Update
Cooking with Mimi: Kitchen Magic
Penny's Blog: My Indulgence For Today
Homeopathy Corner: Autism
From Last Month: Sweet Treats for Diabetics
This Month's Help Request: Home Made Dairy Products
Savings Story: Priceless Baby Nursery for $1.25
So Long, Farewell, Auf Wiedersehen, Goodbye :-D
---
Hello,
How are you going? Phew, it's been another busy month! We recently had the pleasure of working with A Current Affair on a couple of features. If you missed the segments you can watch them here:
http://aca.ninemsn.com.au/article.aspx?id=8253031
Two very different families put the $21 Challenge to the test (and so do I!)
http://aca.ninemsn.com.au/retail/8251218/taste-test-challenge
All supermarket brands are not equal! See how they measure up for taste, quality and value in this blind taste test. Prepare to be surprised!
"I saw ACA last week and nearly fell out of my chair to see Fiona talking about the value of generic brands. I use them as my basic pantry items, so I can afford better meat bought on special. I am a multiple-disability Pensioner, so have had to learn how to get the most meals from a minimum of cash. I'm legally blind, have Cerebal Palsy (balance problems), severe Asthma and Osteoporosis. A kind friend bought me the $21 Challenge book (and a big trolley full of freezer, fridge and pantry items to set me up). I've been able to show her how to use generic products and menu planning to keep more money for the things you really want." (Elizabeth Sims)
"Saw you on the TV. I am glad I am not so sad with the savings and have the ability to 'cut my coat according to my cloth'. I was retrenched last year and people are asking how I have coped! Thanks SS" (Deborah)
"I have enjoyed reading the various articles and am now trying the $21 Challenge, starting today. I went to ALDI and only spent $4.80. My husband made the comment 'We would have always spent more as we would have bought chocolate, crumpets and various other non essentials'. Big thanks!" (Linda Walker)
Thank you for your fantastic feedback. It means a lot to me and all the Simple Savings team. We recently sent out a Hint of the Week entitled 'Old Fashioned Price Tags Keep Budget on Track', contributed by Sally Mcquillan. This was a fantastic tip and proved a huge hit with members!
"I just wanted to say that I think this week's tip is a real winner." (Ann Reynolds)
"I like this hint... think I might try it... not so much for my benefit, but for those in the house that have no idea how much anything at the supermarket costs but just keep adding to the never-ending list!!" (Lynda Perkins)
"Just want to say that Sally's tip is AWESOME! That's a new tip that's just pure genius!" (Vicky Lau)
We really appreciate every single tip we receive every week, so keep sending them in. As well as helping other members to save money, you could also win yourself a free 12 month Vault membership (value $47) in our weekly Hint of the Week competition!
---
Pete walked in from work and immediately felt something was wrong. For starters the place was too quiet. Stranger still, the kitchen was spotless. Pete checked his watch - it was ten past six, just as he thought. So where was Sally? Normally at this time the kitchen was a hive of activity! Sal would be rushing about like a mad thing, banging and crashing pots and pans, chopping this and stirring that - but not tonight.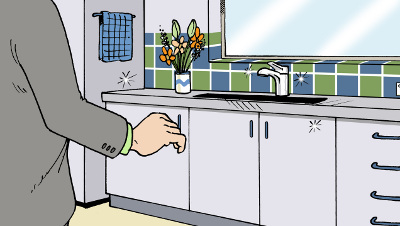 He walked into the lounge - nobody in there either! Pete racked his brains, had Sally said anything about going out? He looked around - there was no note. Pete shrugged; maybe the bus was just late? He wondered in a brief moment of panic if there had been an accident and raced back to the kitchen. With a sigh of relief he saw Sally's bag hanging in its usual place. Thank goodness! But where on earth WAS she then? There was only one place left to check - the bedroom. Slowly he pushed the door open...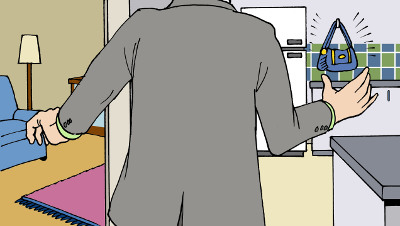 To his amazement he saw Sally lying on the bed in her pyjamas, wearing a face mask and calmly reading a book. "What's up love? Are you not feeling well?" he asked, concerned. "No! I feel terrific!" Sally grinned through her face mask. "It's Double Dinners Month, remember? I don't have to cook tonight! Everyone's dinner's in the microwave, just heat it up when you're ready. You know what dear? I think Hanna's right! Saving money IS super easy!"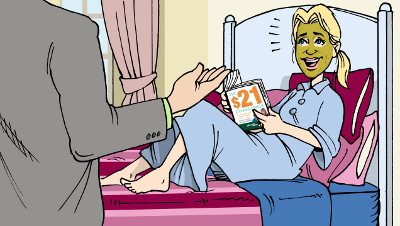 ---
Sally has earned her time off and she is going to enjoy every minute of it. Cooking food in bulk is a fantastic way to save time, money and make your life easier. Just a few minutes extra effort is all it takes and the results are SO worth it.
You save time because for starters, you're already in the kitchen cooking dinner! You simply make twice the usual amount. I have got into an easy routine of cooking in bulk a couple of days a week when I get home from fruit and vegie shopping. It only takes five minutes more to chop a few extra vegetables and cut up some extra meat but I can earn myself a whole night off cooking next time I want or need one.
You save money because when you cook Double Dinners you are protected from the takeaway trap. Fast food is a huge budget hole and so tempting when I am tired and hungry. Some days I want dinner to just magically appear while I'm hiding in the bedroom with my feet up like Sally - and with Double Dinners I can! No mess, no fuss, no driving, no queuing, no processed junk; just good food ready and waiting at home. It is a simple fact that dinner tastes better when I don't have to cook it - and it is even yummier if it isn't bundled up in a big pile of 'heck - I stuffed up' takeaway guilt!
It makes your life easier because cooking this way gives you peace of mind. It means if I'm having a bad day and can't be bothered cooking, or am just having too much fun on the site or with the kids, I can keep going because I've already taken care of dinner. So next time you have one of those days when life goes pear shaped, the kids jam a finger in the door and you end up making a mad dash to the emergency clinic - you may end up with a child with a broken bone but at least you've got DINNER!
---
The real effort in cooking is the thinking, the getting organised, the finding the time. It's a bit like going for a jog! Some days you find it hard to get moving but once you start you're away and before you know it you're getting ahead. To those who haven't tried it, cooking in bulk sounds a lot harder than it actually is. However in reality, a few extra minutes in the kitchen while you're already preparing your regular meal is all it takes.
This is how you do it:
Choose a one pot recipe.
Multiply the ingredients by two.
Don't add any of the herbs or spices the recipe asks for yet (herbs taste strange when you freeze them).
Cook the meal in a big pot.
Scoop out half the mixture into containers with lids and leave on the bench to cool.
Add half of the herbs into the pot and put the other half in a safe place for later.
Enjoy your freshly cooked meal!
Now, when you are clearing up after dinner, put the other containers of food in the freezer. Then, next time you want a 'no brainer' night, simply grab your container from the freezer, defrost in a bowl in the microwave, grab those herbs you saved from before and add them, stir, heat and serve. How easy is that!
There are heaps of great recipes in the Vault and Forum to get you started. If you are not currently a Vault member and would like access to our recipes section so you can enjoy Bulk Chicken Curry and other yummy dishes for your Double Dinner challenge, you can join today here.
Or you can check out our Newsletter Archive for inspiration and yummy recipes. You can even watch us making our terrific bulk Pumpkin and Vegetable Soup here on YouTube. Go on, give Double Dinners a go this month - once you try it you'll never go back!
---
Some days getting dinner on the table seems like an impossible mission. We've all been there - and this month we want you to share your tales of woe in our fun competition! We want to know - what gets in the way of you making dinner? What makes you throw your hands up in despair and go and get takeaway? What makes it all just too hard? Send in your best excuse for NOT cooking dinner (real experiences, not hypothetical ones please) and be in to win! There are cash prizes up for grabs with $100 for the grand winner and five prizes of $50 for the runners-up. Enter the competition here - we can't wait to read your excuses!
---
Our Hidden Gems directory is designed to help members find it easier to source the best deals in their area. Whenever you come across a real gem of a store, enter it in our Hidden Gems directory and you could be in to win our monthly prize of $100 cash! This is our way of saying thank you for helping other members save by sharing your knowledge. The more information you can give us, the better your chance of winning. This month's winner is The Reading Bug as nominated by Lisa McKenzie. Read her entry to see what makes them such a great example of a Hidden Gem.
140 Colombo Street, Beckenham, Christchurch, NZ
"My family and I absolutely LOVE shopping at The Reading Bug! The owners designed the store to be just what their daughters would love. It's bright, colourful, and has special little nooks and reading corners for kids to tuck themselves up into.
"The staff are so friendly and helpful, and actually make a point of getting to know you personally, so each time we go in we have meaningful conversations!
"When I spoke to the owner about why they price their books so cheap in comparison to other book stores, they said they did that as they knew they wouldn't be able to compete with the sales the chain stores had, so they just mark them much lower all the time! Excellent!
"As well as this, they have a reward card, which you get stamped each time you make a book purchase, and after 10 stamps they give you a book of your choice up to the value of $20! That is way better than most reward cards that just give you a discount on your next purchase!
"And finally, something to make the trip breezy for us busy parents... they have a child-friendly toilet! With fun posters on the wall, and even a stepstool for the kids to reach the taps, this place is well thought out and very family friendly! We love it here!
"I always try to use my reward card, as that adds up quickly! Especially as there is no minimum price on the book purchase (even if the full ticket cost is $5 it still counts!) Brilliant!"
Congratulations on being this month's winner Lisa and a huge pat on the back to The Reading Bug for providing consistently outstanding customer service and value for money! You can enter your own Hidden Gems into our monthly competition here. Thank you and good luck!
---
One of the many benefits of being a Vault member is that you can win a cash prize of $100 each month for your Simple Savings blog! Starting your own blog on the site is easy. All you have to do is log into the Vault, click on 'My Desk' at the top left, then 'Your Blog'. Then get writing! We love reading all your money saving trials and tribulations and really appreciate the effort that goes into each one.
This month's winner is Mona for this extract from her blog 'Today's Planning Paves Tomorrow's Reality':
Today I did my bulk pet food shop and I was astounded at the marketing ploys and just downright sneaky tricks employed by food manufacturers and supermarkets. Here are a few I just noticed today:
I bulk buy my dry cat food (Whiskas) in 6.5 kilo bags at Big W. Three weeks ago I bought a bag at $18.96, it has been this price for months. Today there was no price tag but I picked up two bags and when I got home realised the price has snuck up by $3 per bag in three weeks.
At Foodland I was buying cheese. In small boxes they were selling 5 slices of cheese and 5 crackers for $2.56 What?? Are you joking me? One block of 400g vintage cheese was $3.99 on special and the rice crackers were on special for $1.09 a packet. So in fact the 50g of cheese and five crackers would only cost you 53c! Seriously you could easily cut up cheese and store it in the fridge in reusable containers ready to pop into your bag same for the crackers.
Another huge rip off are the small individual containers of flavoured cream cheese. How hard is it to just mix dried apricots cut up into a small amount of cream cheese, or gherkin relish or corn relish or pickles. Please, you would save two thirds of the price and have a larger variety to choose from. Now nobody can be that time poor.
I bought half a kilo of shredded ham for $5, one red capsicum for $1.25 and a large can of tinned pineapple pieces in syrup. I will make three batches of pizza dough and with that make ham and pineapple scrolls, pizza scrolls using the capsicum tomato ham and onion and savoury twists with the left over puff pastry in the freezer. I managed to buy chicken legs for $2.99 per kilo and will crumb and bake these and huge bags of pumpkin off the roadside for $6 to make soup. Will also make grained savoury breads. Here for very little cost I have school lunches and after school snacks for a month. Adding the fruit for a song from the local sellers and four packets of rice crackers for $1.09 each as well as what is left over in the fridge/pantry, the girls have treats as well for very little overall cost.
So what is needed to make these savings? TIME. I know we all think we need to work work work, Mothers working to supplement the family income but truly what is work COSTING you? If I worked any more (and I have an unlimited opportunity for more work hours) I would indeed earn a lot but then I would never have time to bake and reduce the cost of our groceries. In fact if I worked any more it would cost me money when taking petrol into account and other work related expenses. Also with my extra time I can patrol the op shops looking for clothing and being large it isn't always easy for me to buy clothes second hand. Often I will look into six op shops per week when I pass them (I rarely go out of my way to find one) and sometimes buy nothing but in the past two weeks I have bought 5 shirts for me at $1 each, 1 shirt for me at $3 (good church top), a pair of black work pants for me at $4, 23 cotton handkerchiefs for under $8, fabric to make two gifts $2, two scarves for my girls at $1 each and wool enough to make two scarves and two beanies for me at $2. The buy of the week was $1 for a great condition summer school uniform for DD11.
Now in having the time I have just about outfitted me for under $15 for winter. I also got the girls great outfits off Freecycle as well as a heater and a bag of figs, a large number of books, computer games and sheets.
Now really, when you take this into account I am much better off in not working more.
How about you?
Congratulations Mona! To read more from her, or any of our other members' blogs, click here
---
Have you ever wondered, 'can I freeze this type of leftover?' You're not alone and the do's and don'ts of freezing different types of food to provide easy, no-brainer dinners has provided some really interesting threads in the Forum.
Fantastic ideas for using your freezer to prolong the life of many unusual types of ingredients. Slices of lime? Boccocini? Thanks for posing the question Grace!
read more...
Yummy hot apple crumble for dessert. Perfect now the nights are getting cooler! But is it better to freeze it before or after cooking?
read more...
Jarah shares her creamy mushroom sauce recipe with us. Great in the Hungarian crepe dish, Hortobágyi palacsinta and fantastic for freezing to use on another night!
read more...
Double dinners done to the extreme! Inspirational ways to cook up a storm and fill the freezer for easy, reheat and eat evenings.
read more...
---
The Vault is full of fantastic recipes and suggestions for when time, money and food is in short supply. These brilliant suggestions will ensure full tummies and smiling faces in next to no time!
Imagine getting 14 meals out of a single cooked chicken! It's my biggest food saving and this is how I do it. Buy a whole chicken (on special of course)! Get a large pot. Place chicken in it and add chunky chopped carrot, onion, celery and mixed herbs (I grow my own so save more money here)!
Boil until the meat is starting to fall off the bone (I have a wood heater so I cook on that, saving gas in winter). Take the meat and vegetables out, reserving the liquid. Serve some of the meat and all the vegetables with mashed potato and white sauce.
With leftover meat, make up some chicken sandwiches and freeze them for quick lunches. Use the rest in curries or whatever other suitable recipes you have.
Back to the liquid. Add a little more water, chop up whatever soup vegetables you have or add lots of lentils, a dash of paprika and salt and slowly simmer to make a few meals of wonderful thick soup. This way, I feed two of us 14 meals out of the one chicken! Not only is it cheap, it is good for you and has helped the purse strings through many tight times over the years.
Contributed by: Caroline Casey
My husband and I are getting through what we call our 'Bog Depression' (the flood financial crisis) with good old bolognaise sauce. Recently all we could afford to buy was 2kg of mince, two cans of diced tomatoes, one bag of Home Brand mixed frozen vegetables and two jars of Home Brand sauce. I made enough from this for two to three weeks worth of evening meals, especially using my trick to make the sauce go further. I simply add water and cornflour to the sauce jar and give it a good shake to mix. When it cooks it thickens up the base which means we use less per meal. We eat our bolognaise sauce with whatever we have in the pantry (pasta, toast, mashed potato) which helps to add variety.
Contributed by: Miss Trina
I save heaps on takeaway lunch and dinner with this two-in-one bulk cook stir-fry idea. The basic idea is to cook up a huge chicken and vegetable stir fry, add in the rice, noodles or pasta you will have it with, then separate it into two different bowls just before adding the sauce. I then add a different flavour sauce to each bowl (I use the Kantong sauces) then freeze the two stir fries in single portions. As a single person, one stir fry using three chicken breast fillets, a stem of broccoli, a handful of snow peas, some capsicum, a handful of beans and three carrots is enough to make around eight meals of two different varieties. If you were cooking for more people you could increase the ingredients and split it into three or four bowls. As I have been doing this every weekend, I have a big stockpile in my freezer and I am no longer tempted to buy takeaway on the nights I get home late. I also no longer need to buy takeaway lunch because if I am running late and don't have time to make it, I can grab something from my freezer.
Contributed by: Erin J
Every now and then, I go to the Indian grocer to buy chick peas, white beans, black eyed peas and any other beans that I like. I then go home, soak them over night, and cook them the next day. I put them in small containers and freeze them.
Every time I make a soup, spaghetti bolognese, or any other dish where I can add beans or chick peas in, I do! This saves us a lot of money, adds flavour, and bulks up the meals so there is always plenty leftover for lunches.
Contributed by: Anja Lenner
---
This month has been a great one for the $21 Challenge. Not only do we now have the latest reprint in stock complete with brand spanking new cover, but we've received some fantastic TV coverage courtesy of 'A Current Affair'. It was great to see the families in action on the show, using the book to help them save. However it's even better for all the viewers who until now haven't understood the $21 Challenge to see how it works, rather than judging it before they've even given it a go.
Thanks to coverage like this we are able to help people take a good look at their shopping and cooking habits and break the cycle, rather than being a victim to the supermarket. Once you give it a go, you never know what you might find - as Jennifer recently discovered!
"Dear Fiona,
I went through my fridge, freezer and pantry and I was so embarrassed. I think I have enough food for four weeks! There are only two of us but I can't get away from spending for a family of five - and my children have been gone for 10 years! Here is my list:
2 packets of puff pastry
550g cubed beef
1 packet green beans
1 1/2 packets chicken nuggets (for grandchildren)
1 packet mixed vegetables
688g mince
24 fish fingers
Half a packet of carrots, corn, peas
750g chicken breast
1 packet blueberries
10 pieces of glazed chicken
5 schnitzels
3 pieces of Lebanese bread
3 lamb chops
3kg chicken tenderloins
3 fillets eye steak
1 packet of bacon
2 bass fillets
1 packet spinach
1 packet chopped bacon
1 packet tortillas
5 (yes FIVE) jars honey
Olive oil
2 bottles sesame oil
1 can oil spray
1 1/2 bottles oyster sauce
3/4 bottle of Worcestershire sauce
3 bottles mustard sauce
1 bottle of kecap manis sauce
1/4 bottle of soy sauce
1 large bottle BBQ sauce
1 large bottle tomato sauce
1 bottle Verjuice
1/4 white wine vinegar
1 bottle plum sauce
3/4 bottle chocolate sauce
3/4 bottle red wine vinegar
1 bottle Hoisin sauce
1/2 bottle balsamic vinegar
3/4 jar of molasses
Sweet chilli sauce
Hot chilli sauce
2 1/2 packets of pasta
16 coffee sachets
2 Chai latte sachets
2kg white sugar
2kg castor sugar
500g raw sugar
500g brown sugar
1 1/2 jars peanut butter
1 jar pickle
1/2 jar corn relish
1 1/2 jars marmalade
1/2 jar blueberry jam
1 small packet of spaghetti
3/4 packet cornflakes
3 different gravies
Vege stock in tin
2 packets Dianne sauce
1 packet pikelet mix
4 packets Cup-a-Soup
1 large bread and butter cucumbers
1 can coconut cream
1 tin of apricot nectar
1 tin of peaches
1 tin of apricots
4 tins baked beans
2 tins of brown lentils
2 tins salmon
1 tin kidney beans
1 tin peas
1 tin mixed veges
1 tin water chestnuts
1 tin condensed milk
1 tin tomatoes
2 packets gluten free pasta
1 packet Alfredo pasta
1 packet chilli con carne mix
3 packets cream of chicken soup
French onion soup
Taco seasoning
Burrito seasoning (getting a bit tired writing this!)
Packet cheese sauce
2kg SR flour
2kg plain flour
Corn flour
Custard powder
Coconut
Corn chips
1 packet marshmallows
1 packet icing sugar
1 packet jelly
1 packet custard
2 bars white chocolate
2 bars milk chocolate
2 bars dark chocolate
3 packets chocolate melts
3 packets sprinkles
2 500g packets of milk powder
1 jar mayonnaise
1 jar tartare sauce
3 litres milk
1 jar green curry paste
1 jar horseradish
2 jars mustard
1kg grated cheese
12 slices of cheese
1 packet cream cheese
1 long life cream
Unsalted butter
Almost two dozen eggs
1 1/2 packets walnuts
Packet of pickled ginger
1 packet of pine nuts (those suckers are dear too!)
3/4 tube of garlic
1 tube Italian herbs
1 1/2 packets carrots
1 packet of fresh beans
1 packet mixed salad
4 potatoes
1 packet onions
2 zucchini
1/2 a pumpkin
Load of garlic
6 pears
11 oranges
3 apples
1 piece of ginger
3 lemons
3 soft sticks of celery
That's it! I am going to print this off now and have cleaned out the fridge and pantry while doing this stock take. What do you reckon? Do I have enough for 4 weeks?"
We think you might just be right Jennifer! Best of luck in your Challenge. We would love to hear how long you can survive without the shops!
The $21 Challenge book is chock-full of recipes to help you use up just about every ingredient you can think of. If you would like a copy of your own, you can order one here.
---
It's Double Dinners month and that means more time for me! If I can square away two meals for every one I cook, I gain 15 spare evenings this month. That's 15 evenings to pamper myself from my list of 50c Indulgences, see a friend, play cards with my daughter or spend time with the rest of my family.
I reckon though, that cooking two meals from one means more than just serving the same meal twice. It means getting a bit creative and not just treating the second meal as leftovers. It means - cue tinkly bell music - a bit of Kitchen Magic!
Here's one of my favourite Magical Winter Meals. Soft caramelised potato chunks, with crispy bacon bits and an aromatic dressing made from the still-warm roasting pan... Mmmm... then transformed the second night into crunchy, flaky filo pastries with a delectable, melt in the mouth filling.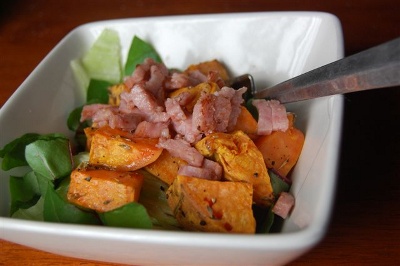 serves 4
Equipment required:
Vegetable peeler
2 x roasting pans
Baking paper
Large spoon
Large mixing bowl
Sharp knife
Non stick frypan
Serving bowls
Ingredients:
2 kg sweet potato (kumara)
4 rashers bacon
2 teaspoons dried thyme
3 teaspoon dried basil
1/2 cup olive oil
Salt and pepper
Salad leaves of your choice. About a handful per person.
Method:
Preheat your oven to 200C. Line your baking trays with baking paper.
Peel your sweet potato and dice it into 5cm chunks. Put the chunks into your large mixing bowl.
Add your oil, herbs and seasoning. Toss your sweet potato well, until each chunk is glistening in oil, herbs and salt and pepper.
Tip your sweet potato mixture into your baking trays and spread it into one even layer in each pan. Set your bowl aside for re-use once your sweet potato and bacon is cooked.
Roast for 45-50 minutes until a skewer inserted into a piece of sweet potato pierces it easily, and your sweet potato is soft and brown at the edges.
While the sweet potato is cooking, dice the bacon finely, Heat the non-stick frypan on your hotplate over full heat, and add the bacon pieces. Fry, stirring occasionally for 2-3 minutes until the little squishy pieces of bacon are crisp and brown around the edges. Transfer to your mixing bowl, ready to be mixed with your yummy, sticky roasted sweet potato.
Once your sweet potato is cooked, remove it from the oven, and immediately tip it into the mixing bowl with the bacon. Scrape any oil and herbs into the bowl from the roasting pan. You want all of those yummy crunchy bits that get stuck to the baking paper, in the bowl with the other ingredients.
Toss well, and reserve half for your second recipe, keeping it chilled or frozen, in a covered container for future use.
Put your salad leaves into your bowls, and serve the warm, sticky roasted sweet potato and crispy, crunchy bacon over them.
Now, here's the fun part. How do you convince the family to eat the same food on another night, not too far far away? You turn it into something that looks and tastes just as enticing as it did the first time round, with smoke and mirrors and a magician's hat. You also need a fluffy white bunny... oh no sorry, wrong recipe! But seriously, there's not much to it. Ingredients such as filo and puff pastry, and appliances like ovens and pie makers are made for this kind of magic. So here we go - Abracadabra!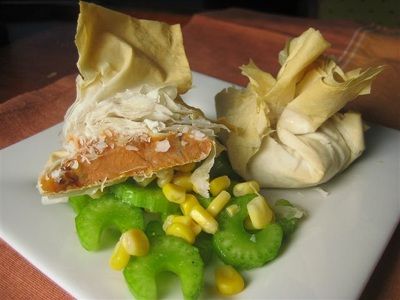 Equipment required:
Baking tray
Baking paper
Potato masher
Tablespoon
Damp tea towel
Egg spatula for serving
Ingredients:
Leftover portion of sweet potato and bacon salad, defrosted if you froze it
4 tablespoons of pine nuts
4 sheets filo pastry
Cooking oil spray
Method:
Preheat your oven to 180C. Line your baking tray with baking paper.
Roughly mash your remaining sweet potato salad with the potato masher. It doesn't have to be perfectly smooth, just squashed. Add your pine nuts - I love these, and they add such a distinctive flavour, yummy-yummy!
Open your packet of filo pastry. It will be rolled up in a fat cylinder. Unroll it carefully and cover it with your pre-dampened tea towel to prevent it drying out. When you're finished with your filo pastry, do not freeze it. Filo pastry should be stored in the refrigerator to keep it pliable for further feats of kitchen wizardry.
Take one sheet of filo pastry, and fold it in half, then in half again to create a smaller square. Put a tablespoon of your sweet potato mixture into the centre of your filo pastry and gather the edges up like a parcel, so you end up with all the ends gathered into the middle like a little topknot. Squeeze and twist the pastry at the base of the little topknot, to keep it in place. Spray it liberally with your cooking spray and place it on your lined tray. Repeat until all if your sweet potato mixture is used up.
Bake your magical parcels for 20-35 minutes until golden brown.
To serve, wave your wand and point in the general direction of your family's dinner plates. Alternatively, lift from the tray carefully with the egg spatula onto their plates. Serve with steamed vegetables, couscous or rice. Et voila!
---
May 2nd
50c Indulgence Month may have only just started but I know what my indulgence is for today. It doesn't cost a cent but is the most precious thing in the world to me and is a treat I will never take for granted.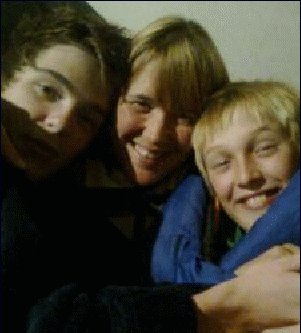 Excuse the grainy-ness of this photo but it's one Noel took on my phone two nights ago and it's my absolute favourite photo at the moment. It makes me very proud that even though they are almost 13 and 15 they're still not too 'cool' or grown up to snuggle up on the couch with their mum - even though there's not much room for all three of us anymore! When I look at this photo I feel like the luckiest mum in the world - but never more so than today. As I write this my heart is breaking for a mum who will never get to hug her son again. Because yesterday at just 15 he took his own life, leaving behind two parents, four siblings and a whole school and a community who loved him. This kid was a gem. He honestly was the last person we would ever have dreamed of choosing to leave this world. Popular, funny, smart, polite, good looking, hard working - he had everything going for him. But all the questions and all the wishing in the world won't bring him back. Liam and Ali are both too shell-shocked to talk about it yet. It's hard enough for adults to deal with but almost impossible for a child to comprehend. So today my indulgence is to pamper my boys. Cherish them, appreciate them and listen - REALLY listen to every word they have to say. This morning they went off to school with an enormous cooked breakfast in their tummies and I drove them to school rather than send them out on their bikes in the rain. This afternoon when they come home there will be a cosy fire waiting for them, a big comforting batch of Mimi's Home Made 'Better Than Tinned' Spaghetti on the stove and their favourite blankets to snuggle up in. Cost = nothing. Happiness factor = priceless. Rest in peace Logan x
---
Fran is world renowned for her work with homeopathy and autism, having treated hundreds of children with autism at her clinic. Recently, Fran put out a call asking those who had benefited from homeopathy to write a letter to the National Health and Medical Research Council to let them know what homeopathy had done for them. If you'd like to see to read some of the stories of people who's lives were changed by homeopathic remedies, click on the link below.
To read Fran's article go to:- homeopathyplus.com.au/reversing-autism-zanes-story
---
Last month Carol asked:
"I am in my 40's and have recently been diagnosed with diabetes. I have two young girls who love cookies and cakes and I am desperate for recipes with sugar substitutes and almond flour and coconut as it means I can also eat the cookies and cakes that I bake for them. Please can you help with low carb recipes of any kind, but especially baked goodies?"
Thank you to everyone who sent in their helpful tips and recipes. We hope Carol and other diabetics enjoy tucking into some of these!
For the best and easiest diabetes friendly recipes ever, head to the 'Taste' website. They look good and are simple to make but best of all they taste fabulous, are free to access and can be easily printed for future reference. Here is the link: http://www.taste.com.au/recipes/collections/diabetes+friendly
Contributed by: Mrs Bug
Diabetes isn't fun but there are plenty of things you can do to make life easier. I use stevia to replace sugar at around 1 small teaspoon of stevia to one cup of sugar. Also, if you use wholemeal flour, or add bran, or fruit or nuts it makes the baking lower GI because the digestion time is longer. If you use stevia in a drink, dip the teaspoon in the stevia and tap the spoon back into the jar; the residue on the teaspoon is enough to sweeten a cuppa. Cinnamon is great for blood sugar too. I buy cinnamon bark at Asian shops, rather than expensive quills, and just pop a 'quill' into a cup of tea or coffee. It tastes lovely and I re-use the same 'quill' again and again. Anything you can put cinnamon into or onto makes for much steadier blood sugar. Pop it in those cookies!
Contributed by: Adrienne Mcenaney
The magazine Diabetic Living comes out every two months and has heaps of recipes for sweet treats plus lots of meal ideas, menu planner articles and so on. Also if you are in Australia there is DIAL where you can talk to dietitians and get advice, recipes and more. If you have not heard of DIAL, ask your GP or nurse for information.
Contributed by: Gloria Cashman
If you want to turn a regular recipe into a diabetes-friendly one, simply use a sugar substitute, such as Equal or Splenda. Splenda is my favourite as I feel it has the most similar consistency and taste as regular sugar. Other brands you may have to experiment with to get the required sweetness - most are much sweeter than sugar in smaller quantities. They are available from most regular grocery shops and health food stores.
Contributed by: Kirsten-Lee Elcoate
I have always enjoyed baking for fun, as well as the cost savings and the fact you know what you are eating. Then my 12 year old son was diagnosed with Type 1 diabetes two years ago. At first it was so challenging as clearly most home baking recipes are chock-full of sugar but I refuse to use artificial sweeteners. I have been experimenting for a couple of years now and have discovered that you can often drastically reduce the amount of sugar in the recipe for many cakes and biscuits with no adverse effects on the end product. If you need a bit of extra bulk try adding some almond meal or desiccated coconut in place of the sugar. I often reduce the sugar from one cup to one quarter of a cup with no problems. I have also recently experimented with coconut flour which is available from good health food shops. Also use wholemeal flours instead of white or blend the two to make the recipes lower GI so it doesn't have such a drastic effect on blood sugar. Highly recommended reading is the glucose revolution (low GI) books which you should be able to borrow from your local library. Here are some of my favorite recipes:
Healthy Low GI cookies
1 cup wholemeal plain flour
1/2 cup rolled oats
1 cup desiccated coconut
Pinch salt
Mixed spice
125g melted butter
1/4 cup sugar
1 egg
Handful of sultanas or chocolate chips, possibly add some nuts or seeds of choice.
Mix together and bake at 180C for 10 minutes
Chocolate Zucchini Cake
185g butter
1 1/2 cups wholemeal self-raising flour
1/4 cup sugar
2 eggs
1 1/2 cups grated zucchini
1/4 cup cocoa
3/4 cup milk
Cream butter and sugar, add eggs then other ingredients. Bake at 200C for 50 minutes.
Flourless Chocolate Cake
1 cup almond meal
1/2 cup sugar
200g butter
6 eggs
1 tbsp baking powder
1 tbsp cocoa
Line and grease a cake tin, and preheat your oven to 160C. Mix sugar, eggs, baking powder, cocoa then almond meal. Bake for one hour. ENJOY!
Contributed by: Kim Deans
For simple, tasty diabetic recipes I can highly recommend a series of cookbooks called "Symply Too Good to be True" by Annette Sym. All her recipes are approved by Diabetes Australia. The website www.symplytoogood.com.au contains a wealth of online recipes for free and each recipe comes with a dietary breakdown also. Most of the sweet things substitute apple sauce for sugar however the ones with sugar list facts to assist those with diabetes in balancing their nutrition.
Contributed by: Cate S
Bonus hints for Vault members:
Baking secrets for diabetics Contributed by: The Smiths
Low sugar apple slice Contributed by: Heather M
Take the hassle out of searching for recipes Contributed by: dannie
Low carb biscuits perfect for diabetics Contributed by: Scott C
---
This month Wendy asks:
"We have a house cow. I am interested in discovering any recipes for yoghurt, butter, ice cream and milk soap that people may have. Would your members be able to help or point me in the right direction?"
If you have any tips which can help Wendy, please send them in to us here.
---
Our first baby is due to arrive any day and we are so proud of the gorgeous nursery we have created. Not only does it look beautiful, it cost us a grand total of $1.25! How? Through careful planning and taking up opportunities as they presented themselves.
Major items such as the cot and change table were sourced from 'Freecycle' so didn't cost a cent. The cot came with a new mattress which was a lovely bonus. The change table was completely plastic so didn't require anything more than a good clean with disinfectant. The pram, baby clothes and blankets were hand-me-downs from friends. Most newborns don't stay in the same sized clothes very long so there is a lot of wear in them.
All of the above items were given to us within the first few months. This gave us plenty of time to sit down and create a 'Boxed Up' account (www.boxedup.com) of things we still needed to buy, such as carriers, nappies and so on. Bit by bit, as people wanted to give us a gift, they reserved and bought items off the Boxed Up list. The great thing about this is that it isn't a registry at an over-expensive baby store and allows people to shop around. We found that most guests chose a number of things off the list as they were able to buy several things from Target for the same price as one item from Baby Kingdom and other specialist stores.
In the meantime I became a little proactive in writing letters to various baby companies for samples of products. We now have a basket of samples of creams, wipes, oils, shampoos and all sorts of other goodies! In addition a friend held a baby shower last weekend. She handed out our Boxed Up address to the guests and the remainder of the items were given to us then - including packets and packets of nappies! People added to necessities with cute outfits and toys.
Our little girl will be coming home to a beautiful set-up nursery that isn't all entirely pre-loved. But we haven't ended up with a whole host of 'doubles' or unnecessary things that are 'cute' but not practical. Even the decorations are craft items I had in my sewing box, with flowers and butterflies that are recycled Christmas ornaments sewn onto the curtains.
I could go on and on about all the little savings we made, but I think the total price for a complete set up nursery for an only child says it all. Oh - and in case you're wondering what the $1.25 was for? A light bulb for a beautiful butterfly lamp we were given!
Contributed by: Cate Scobar
---
Congratulations on making it this far through the newsletter! I hope you have really enjoyed it. If you have any suggestions for things you would like us to include or exclude from future newsletters, please drop us a line. Good or bad, it doesn't matter. I love feedback and your input helps us to keep improving. If you have enjoyed this month's newsletter, why not forward it to your friends to help them save money too? Or tell them about us on Facebook by clicking the 'like' button on our Simple Savings Facebook page?
Best of luck with your Double Dinners Challenge. See you next month, if I don't bump into you on the Forum first!
All the best
Fiona Lippey