This issue includes:-
Sad Sally, Happy Hanna: Challenge on the Bus
April is $21 Challenge Month!
Hidden Gems Competition Winners
New Monthly Hidden Gems Competition!
Best Member's Blog: This Month's Winner
Best of the Forum: New Tricks
Best of the Vault: $21 Challenge? No Sweat!
Cooking with Mimi: $21 Challenge Meals
Penny's Blog: Look Who's Trendy Now! (aka FIGJAM)
Homeopathy Corner: Post Traumatic Stress Disorder
From Last Month: Go Away Silverfish!
This Month's Help Request: Which Laptop?
Savings Story: Starting Early
---
Hello,
Penny here! It's been a hugely busy and exciting month in Simple Savings land. For starters, we now have a brand new site which will last the next 10 years. With this site we will be able to bring you all the features you have been demanding for years but we have been unable to give you until now. Hooray! In particular it has been a very hectic month for poor Matt. Not only was he working hard on the new site but Fiona also decided to give Elora a crash course in weaning and ran away to NZ, leaving Matt to look after the four kidlets. Still, the pain was worth the gain (or so we tell him!).
Whilst Fiona was here in New Zealand, we made the most of the two of us being in the same country by getting photos done for the new $21 Challenge book cover! We've copped a lot of flack in the past about the $21 Challenge and are hopeful that this new cover and text will reduce the confusion. If you would like a sneaky peek at the new cover, click on the images below to see them in more detail.
This new version is at the printers as we speak but you will be able to get your hands on a copy very soon.
We LOVE to hear from our members. Emails such as these ones really inspire us to do better and keep going, particularly during this chaotic month!
"A really big THANK YOU to you for starting this whole Simple Savings Forum, and to you and Matt, and all your staff for keeping it running so well. Simple Savings has kept me sane and helped boost my self-confidence when it was really taking a battering, I've made some wonderful friends and I'll be meeting some other SS'ers at the Canberra get together - and I do believe that soon I will even start saving some much needed money. So thank you so much for everything you've done, and continue to do - all of you." (Eden Harrison)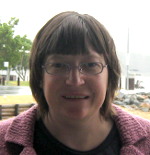 "I just wanted to say thank you. Recently I had a reduction in wage due to a change of job and I was still able to get by based on the knowledge learned from Simple Savings. Also, I have recently met a nice group of ladies at the Canberra get together where we swapped ideas and goods. Thanks again for a great site." (Ruth M.)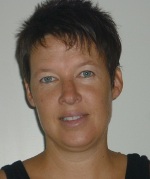 "Because last month was 'Hidden Gems' month, five colleagues and I spent an afternoon 'op shopping' one Saturday. We had a budget of $50 each and had a fabulous time. We looked at our purchases afterwards at a BBQ at my place and reckon we saved around $200 each! Not bad for a couple of hours' FUN! We can't wait to join together for next month's challenge! (Anita Stokes)
All the best,
Penny :-)
P.S. Woohoo! The Australian Government has included a link to Simple Savings on its new website, MoneySmart! It's truly wonderful to receive this kind of recognition from such a wonderful site. If you haven't visited their site, go check it out. There are some great calculators and loads of useful information. Here is the link: http://www.moneysmart.gov.au/managing-my-money/budgeting/simple-ways-to-save-money
---
Sally was feeling very pleased with herself - and rightly so! She was so proud of the savings she made last month, she decided to go even further and take the bus to work instead of her car. She got out her $21 Challenge book and settled happily into her seat. Time to brush up on her skills for the month ahead! All of a sudden, she felt a tap on her shoulder.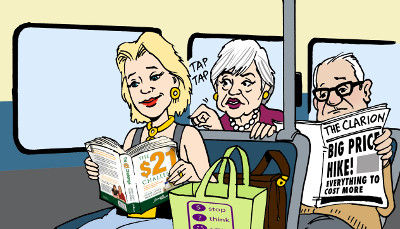 "I wouldn't bother with that book dear, I've heard it's rubbish," the lady behind her leaned over and sneered. "It's the two minute noodle book isn't it? I know all about it. Nothing but noodles, cigarettes and water for a whole week." She pursed her lips smugly. "Oh really? Have you read it?" Sally asked the woman innocently. "Of course not! Anyone would know it's impossible - unless you have a deathwish," she told Sally knowingly.
Sally couldn't believe her ears! She was about to give the ignorant woman a piece of her mind - then she had a lightbulb moment. She turned to the lady with a dazzling smile and said "Then I think you should read it. I used to hate the $21 Challenge too. But then it got me out of a very tight squeeze and now I love it! Tell you what, I'll give you my copy in case YOU ever need it."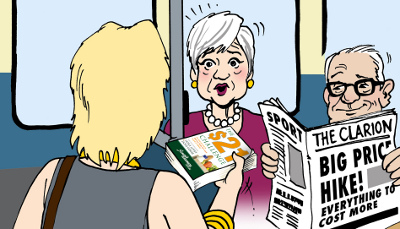 The lady looked stunned. Sally's kindness had silenced her for half a breath. "But, don't you need it?" "No," Sally replied confidently, "I'll get another copy on the way to work."
Twenty minutes later, Sally walked into the office. "Oh there you are! How was your bus trip?" Hanna asked, looking at her watch. Sally laughed with her new book in her hand. "Expensive."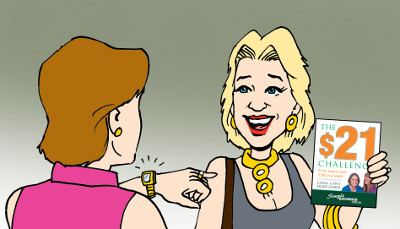 ---
We know just how Sally feels! Even after five years of the $21 Challenge there are still a lot of misconceptions about it, which is one of the reasons we wrote the book. It is the best way to see exactly what the Challenge is all about, how it works and why everyone should give it a go. Yes, we mean EVERYONE. You see, some of the most common excuses people have for not doing a $21 Challenge are:
I don't need to save money. I HAVE money.
I'm past that stage. I'm already good at saving money.
Woah! That sounds like too much work. Why should I bother?
I couldn't possibly do it. It's too hard.
Only poor people need to do a $21 Challenge.
Wrong, wrong and wrong again. You only have to read the first two chapters of the book to see that the $21 Challenge is relevant to EVERYONE, no matter their income, status or situation. If you have never done a $21 Challenge before, the first two chapters of the book are available free online for you to read. They will tell you all about it and why it is so brilliant.
The first chapter explains the story behind the Challenge and its mystical $21 figure. It also tells you exactly what the Challenge is, how you are going to accomplish it and answers some frequently asked questions, as well as helpful tips for newbies.

You can read Chapter One here
The second chapter gets your brain ticking! What do you want to get out of your $21 Challenge? In this chapter, members share their experiences and the many benefits they found during their Challenges to inspire and motivate you.

You can read Chapter Two here.
As well as shooting the new book cover while Fiona was in NZ, we also spent a couple of days filming segments which answer some of your questions about Simple Savings and the $21 Challenge. Fiona has edited the first two videos so far and there are plenty more to come. The first video answers the question we are most frequently asked, which is 'Is the $21 Challenge for EVERY week?' Watch this video to see our response, mwahahahahaa!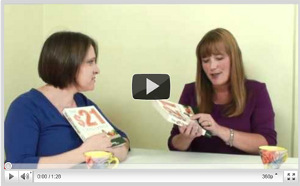 The second video answers another question we are commonly asked - why did Fiona and Matt start Simple Savings? If you have heard the story before, you may think you don't need to watch this video but do take a look. As well as the history behind Simple Savings, Fiona also reveals why we put so much effort into the $21 Challenge and why it is so important to her. Watch her tell the story here.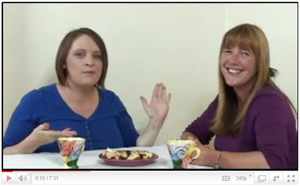 We had a lot of fun making these videos and hope you find them helpful. Once you have watched them, if you have any questions that you would like us to answer on film, do write and let us know. We are here to help you and your feedback is really important to us. It guides the future of Simple Savings and what we work on next.
So give the $21 Challenge a go this month and let us know how you get on. And if you have done one before, do another one and brush up on your skills! All the help and support you need is right here, in the Vault, Forum and Downloads area.
To become a Vault member and receive instant access to over 14,000 money saving tips (9,000 for NZ), click here.
To order your own copy of the $21 Challenge book in its entirety, click here.
We also have an extra special treat for Vault members this month to make your $21 Challenge week easier. We've said it before and we'll say it again; we have some very clever members and Antonia Marino has really blown us away with her fantastic effort! Years ago Antonia was given a recipe for microwave chocolate crunch. Over time she has adapted and perfected this recipe into 25 different variations - but it gets better! She has kindly compiled them all into a printable book to share with members. Each home-cooked slice is beautifully photographed. This book will make your mouth water and the recipes are ideal for a $21 Challenge. Each recipe has/is:
Mixed and cooked in one bowl
The same cooking method for every recipe
No creaming, beating or sifting
No milk or eggs
No greasing or lining of baking tins
Cooks in microwave in 5 minutes
Freezes beautifully
What more can you ask for to get your $21 Challenge off to a perfect start? Vault members can download their free copy of this fantastic book

here. Enjoy - and a huge thank you Antonia for all your hard work!
---
Last month we asked you to write in and tell us who your favourite 'Hidden Gem' stores are and what you love about them. We received some fantastic responses and loved hearing about all your shopping experiences. Thank you to everyone who entered our competition and shared their favourite stores. Ladies and gentlemen, we proudly present the grand winner - Moe Meat Packers, as nominated by Tradie's Wife! Read her entry to see what makes them such a great example of a Hidden Gem.
330 Moe-Walhalla Road, Dumbleyung, Victoria
A trip to the abattoir doesn't sound like much fun, really does it? Especially to little ones. However, what I was expecting and what I got were completely different things. For a start, the BEST customer service that you could ever ask for! The lady warmly greeted me at the door and allowed me to look through the small cool room at my own pace. That in itself would have been OK customer service. Knowing her product, how to cook it to get the best out of the cuts, and how to slice down larger portions of meat into steak and other cuts also bumps the customer service up another notch.
However, I always have my two little ones with me. My son is almost 2 and daughter almost 4. When Luke was around 15 months old (when I started going to the meat packers) and was in his pram, I didn't want to get him cold in the cool room. So I left the pram just outside the plastic strap door and grabbed what I could quickly. If he started to cry, I'd jump out pronto. However, the lovely lady who runs the store gave him something to play with and chatted to him to keep him at ease. If anyone has been in this situation you would know what a Godsend this is. Again, customer service up another notch!
One day, I turned up and the same lady was using her camera to take a photo of a butterfly and had my little girl enthralled. The kids ended up playing on the grass together while I shopped and she rang up the bill. It was just beautiful to see my two enjoying the trip to the abattoir. It's a very small store, very quiet and no real traffic, and I could see out the window so I felt comfortable enough doing this. The same day, just as I loaded both the kids into the car, Jessica decided she desperately needed to go to the toilet. It was urgent. I almost thought she would have to go on the grass. I quickly asked the shop lady if I could use their toilets and she took me over through her office so Jess could use the toilet there. But that isn't where the customer service ended! She also attended to my son for the time we were in the toilet, who was still in his car seat with the window down and door open. She showed him toys and talked with him again. Honestly, she was an absolutely wonderful business owner and also a wonderful person to be so thoughtful.
I'm not advocating this business be a child minding service by any stretch of the imagination, and I'm sure if I wasn't the only customer at the time the shop owner wouldn't be able to help me out like she had. However, it was the little things that just made this place a real gem. The brilliant combination of customer service, product knowledge, product pricing, and that little bit of extra care that just makes the experience so much more enjoyable.
Price-wise and quality-wise, I just can't do any better. The meat is absolutely beautiful, often having great marbling. The prices, well quite a few cuts were around the $6.50/kg mark and the knowledge was on hand on how to cook them to get the best from them. Even the more expensive cuts of meat like eye fillet can be found for under the $20/kg mark, and then cut up and stored in the freezer for special dinners. Quite a wonderful saving when you consider the cost of going out and ordering this cut of meat or even just buying it from the big chain supermarkets.
I'd really like to thank this business, more than just saying thank you. They have saved me time, money and by showing such wonderful customer service they will keep me coming back. By posting this I'm hoping to help promote a wonderful husband and wife who run this business.
Generally the prices are far lower than anything I've seen in the supermarkets for years. The specials are listed in the local paper which gives an indication of pricing. They also advertise specials on the notice board outside the gates. In addition, they have a pricing list that you can take away. Prices are low, and everyone gets a great deal.
The prices are also listed on their website as a PDF file so you can work out how much you are likely to spend. However, as it is in bulk some pieces need to be cut down and bagged up.
Here is the link to the PDF and times the store is open.
http://www.moemeat.com.au/Shop.html
A big pat on the back to Moe Meat Packers for consistently going beyond the call of duty! Congratulations also to Tradie's Wife, who wins our first prize of $500 cash for her entry! Well done also to our three runners-up, who all win $100 cash for sharing their Hidden Gems:
Lorax for ZK Golden Service Centre, Sydney, NSW
Yummy Mummy for Kapiti Cheese and Ice Cream Shop, Paraparaumu, NZ
Penny L for Home-Herb-Garden, Beerwah, QLD
Keep reading for your chance to win $100 every month with your Hidden Gems!
---
Now you know what makes a great Hidden Gem, it's time to share yours in our new monthly competition! Our Hidden Gems directory is designed to help members find it easier to source the best deals in their area. Just like the Vault, it's growing all the time! In case you need a reminder of exactly what a Hidden Gem is, here is a clarification:
For those who haven't heard about them before, Hidden Gems are shops that save you time and money every time you go there but the specials are rarely advertised. They are the best shops in your area - but you have to go looking for them.
There are two ways to find the best shops in your area. There is an easy way and a hard way. The easy way is to ask around. So start your quest by asking your frugal friends where they shop. They will know the best places aemail=nd will be happy to help - but they will only share their knowledge if you ask them. Note - it is important to make sure the people you ask are actually frugal. Asking your spendthrift friends to recommend cheap places to shop just doesn't work!
This is the easy way; if this fails, you will have to do it the hard way. Start with the phone directory. Work out all the shops in your area that sell the goods you want, then put on your Simple Savings hat (that's a metaphorical hat, not a real one; we don't sell hats!), get in the car and check out each shop in person. Chat to the staff. Check out the goods, check out the prices and work out which has the best value.
When you find a Hidden Gem, enter it in our Hidden Gems directory and you could be in to win our monthly prize of $100 cash as our way of saying thank you for helping other members save by sharing your knowledge. The more information you can give us, the more likely you have a chance of winning, just as Tradie's Wife has done above.
You can enter your Hidden Gems here. Thank you for helping us create a fabulous directory of the best places to shop - and good luck!
---
One of the many benefits of being a Vault member is that you can win a cash prize of $100 each month for your Simple Savings blog! Starting your own blog on the site is easy. All you have to do is log into the Vault, click on 'My Desk' at the top left, then 'Your Blog'. Then get writing! We love reading all your money saving trials and tribulations and really appreciate the effort that goes into each one.
This month's winner is Alicia for this extract from their blog 'Monster Madhouse' where she puts her long lost scrapbooking skills to great use and saves herself a bundle!
Recently it was my mother in law's birthday so we bought her a present and card. After paying $4.50 for the card (and that was nowhere near the most expensive), I decided that we wouldn't buy any more cards this year. We would make them!
I haven't made cards for a few years (or done scrapbooking for ages), but I knew I had plenty of materials stashed away (and I found heaps of envelopes of various sizes too). No going to the shops to buy paper, or stamps, or embellishments or anything else related. So I got to work. After a few days of trying to squeeze in card making, this is what I have done:
Baby cards (I know three people who are pregnant and one is due this week, plus they were fun to make)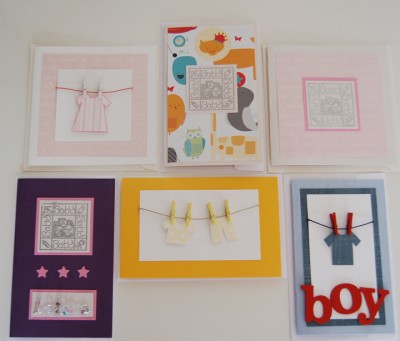 Plus some kids' cards and girly cards: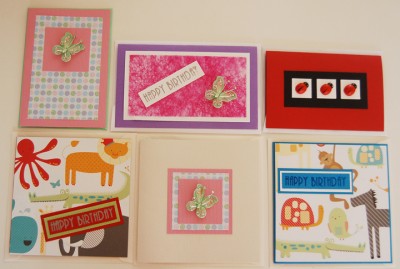 I'm very happy with how they turned out, and even though I was itching to go to the shop (I wanted some ink pads and more 'boy' stuff), I resisted the urge. I've still got more cards to make; some male appropriate cards and some Mother's Day and Father's Day cards. Even though I don't usually send Christmas cards I might make a whole stack as I have so many Christmas embellishments to use up!
TIP: For 9 years (since I first started scrapping/card making, I have never had the special embossing heat wand/tool thingy. Just hold your paper over the toaster. If the piece of paper is quite small, then use tongs or tweezers to hold it.
Congratulations Alicia, your cards are beautiful! To read more from Alicia, or any of our other members' blogs, click here
---
There is never a shortage of new ways to save money on food! Our Forum members have been busy trying out new and different ways to feed their families well on a budget.
We can always rely on the lovely Claire M. to keep members on track with their $21 Challenges! This thread is chock full of helpful information for $21 Challenge newbies and experienced challengers alike. A great place to start!
read more...
This thread is the perfect place to come if you're stuck with a random ingredient in your $21 Challenge that you don't quite know what to do with. Chances are, you'll find the answer here!
read more...
Saver In Training just went to her first food swap and says 'If any of you have excess fruit, vegetables, herbs, eggs or even fruit and vegetable seedlings or compost, I'd encourage you to go along and do a swap!' Find out more about what you can expect in this informative thread.
read more...
This thread is a must-read! Packed with tons of tips, smart advice and recommended reading, this thread is a wealth of information for anyone wanting to grow their own food.
read more...
Easter falls during $21 Challenge Month and Hope wants to give some 'no chocolate' gifts to her children. You can always rely on the members to come up trumps with some great ideas!
read more...
A brilliant thread for parents of little ones. Learn how you can give your baby a wide variety of delicious, home-made meals for next to nothing. These suggestions and recipes will even have Mum and Dad's mouth watering!
read more...
---
The $21 Challenge is supposed to be FUN - and the Vault is the perfect place to find tried and true tips to make your Challenge easier and more enjoyable. Check out some of these helpful ideas.
Use up what's in your pantry, have fun and entertain the kids with your very own game of 'Junior MasterChef'. Ask your child to prepare a meal using only what's in the house. Get them to look up recipes in books, magazines or on the Internet and encourage them to be creative by adjusting the recipes according to the ingredients they have. Not only do you get a meal that costs you nothing extra, but it's a great way to teach kids about cooking and to nurture your own little MasterChef!
Contributed by: Tanya Gibson
Thank you for bringing out the fantastic $21 Challenge book! I recently bought a copy and I am noticing the benefits already. It does say in the $21 Challenge book that you don't need to include cleaning products into the $21 total. However, once I began, I found that I was actually leaving the supermarket with change in my pocket! So I set up a 'spare change' tin in which I put any leftover money from my $21 and soon found I had enough change to buy dishwashing liquid. I am now going to take this a step further and, using SS tips, make my own cleaning products, thus making my spare change go even further. Doing the $21 Challenge has helped with both the small and the large things. I have recently been able to make more payments on my mortgage and buy tickets to a concert for my partner's birthday - an amazing treat and something I never thought we would be able to afford.
Contributed by: Katrina Reeves
'Surprise Pie' night is a great way to use up any casserole leftovers in your freezer. We often freeze casserole leftovers but found that we either forgot what was in the container or that our children refused to eat the casserole when it was reheated. Then we came up with 'Surprise Pie' night. We simply pop the contents of the container between two sheets of puff pastry and cook. The children have fun guessing what's inside and everything gets eaten because anything tastes good in a pie!
Contributed by: Mummy Hubbard
Next time you run out of eggs, don't panic! Due to the expense of buying eggs and not having any on hand, I recently decided to try using two tablespoons of cornflour per egg in a biscuit recipe. I then added milk and the biscuits turned out exactly the same!
Contributed by: Dana Grayling
I saved nearly $40 over six weeks on cereal after reading the $21 Challenge book. A particularly inspiring idea was the 'Surprise' cereal recipe. After embarking on a very expensive weight loss program and experiencing it going bust during my 'journey' I had been left with a pantry full of surplus ingredients going to waste. However, after doing my pantry 'stock take' I knew exactly what I would do with them all.
Using a combination of ground linseed, pepitas, sunflower seeds, whole sesame seeds, dried fruit, a range of trail mixes, Weet Bix, bran, puffed rice and oats, I made the best cereal ever! Not only was it high in natural omega 3 acids, full of fibre and absolutely delicious, but over the course of six weeks I saved about $35-$40 just on cereal. My husband likes the Sanitarium cereal mixes but he absolutely loves my 'surprise' cereal and enjoys the added savings even more!
Contributed by: Amanda Caporrella
I would often spend between $1.50 and $4.00 for breakfast on things like a muffin or a single serve of muesli, until I discovered quick cooking oats which I can microwave at work. A 750g packet gives me around 25 breakfasts at just $0.10c a serve. What a great way to start the day!
Contributed by: Jenna Axtens
When I can buy tomatoes cheaply I make a big pot of pasta sauce and freeze in containers to use later in spaghetti, stews, with nachos or just over pasta instead of tinned tomatoes. It is much cheaper then pre-made pasta sauce and it uses only home-grown natural ingredients.
Ingredients:
10-20 tomatoes
2 cloves garlic for every 5 tomatoes
1 onion for every 5 tomatoes
Herbs (optional)
Red wine (optional)
Method:
Crush the garlic and finely dice the onions. Fry in a large pot until soft, then add the diced tomatoes and if applicable, the herbs and red wine. Simmer gently for twenty minutes, adding water if needed. Allow to cool then pour into containers and freeze.
Contributed by: Ali-cat
Old formula tins make great biscuit barrel gifts! I recently made one for a friend and filled it with Anzac biscuits that I baked myself. It's as easy as covering the outside of the tin with scrapbook or seasonal paper, sticking on some lettering and decorating the lid with stickers, stencils or whatever you like! You can also line the inside of the tin with a freezer bag to collect crumbs, or stick your favourite biscuit recipe to the back of the tin. You get a cheap, tasty and useful gift for next to nothing!
Contributed by: Rebbecca Gorman
Turn your cheapie cake mix into doughnuts to die for! Contributed by: Ally
Stock up and they won't starve Contributed by: Bronwyn Cartledge
Simple food and plenty of it for happy teens Contributed by: Ruth Barringham
---
The biggest challenge I find in feeding a houseful of carnivores during $21 Challenge week is that they don't see anything without meat in it as a 'meal'. To make meat-free meals satisfying to the meat eaters in your household you need to wake up their taste buds with beautiful smells coming from the kitchen long before the meal arrives at the table. So I have prepared two recipes for you which will have your family begging for more 'meat-less' meals.
Serves 4
My mum used to make us the most beautiful fish fingers when I was little to get us through the tough times. And, whenever we eat them we think of Grandma; about how special she was and how she could always feed the hordes with almost nothing. So I have always loved making her fish fingers for my kids. But me being me, I kept improving her recipe till it couldn't be improved any more. Give it a go!
Equipment required
Peeler
Lined tray for keeping finished fish fingers warm
Medium bowl
Flat plate
Sharp bread knife or serrated knife
Normal knife
Cutting board
Pan or wok
Slotted spoon
Paper towels or old tea towels for draining
Foil
Ingredients:
2 medium cucumbers
2 medium carrots
100g tinned salmon (or tuna, minced prawns or crab meat), drained well
2-3 tbsp mayonnaise
Chopped fresh herbs (optional)
Salt and pepper to taste
12 slices of bread (any type)
1 egg
1 cup milk
½ cup sesame seeds (or crushed nuts, polenta, desiccated coconut)
1-2 cups oil for frying
Method:
This is one of those lovely dishes that taste best when served hot! So, before you make the actual dish, you need to prepare your garnishes so everything is ready at the same time. These are made easily by using a vegetable peeler to slice lengthwise down the carrot or cucumber. Then put them in a bowl of water to soak while you prepare the rest of the meal.
Preheat the oven to 150C.
Mash the fish with the mayonnaise and herbs if using any. Taste and season if necessary.
Cut the crusts from the sliced bread and reserve for another use. Crusts make great fresh breadcrumbs when whizzed up in the food processor and freeze well for months.
Spread half the bread slices with the prepared fish mixture. Top with the other half of the sliced bread. Cut each sandwich in half to form finger shapes.
Beat the egg with the milk in a medium bowl.
Pour the sesame seeds on to the flat plate.
Heat the oil over a medium-high hotplate. Spread out the paper towels or clean tea towels in preparation for draining the fried fish fingers. Have the lined tray ready to transfer the cooked fish fingers onto.
Working quickly with clean hands, dip each finger sandwich into the egg and milk mixture, then press quickly into the sesame seeds. Only one flat surface needs to be coated in the seeds.
Drop each coated finger into the hot oil and allow to cook until golden. Turn if you are shallow frying, but deep frying is quicker and more effective. Once a nice golden brown colour is achieved (this only takes 30-60 seconds) remove promptly and allow to drain on the paper towels or clean tea towels.
Once drained well, transfer to the lined tray and pop into the oven to keep warm. Cover with foil to maintain the colour.
Continue with the rest of the fingers.
Now your meal is ready to serve. Garnish each plate with your cucumber and carrot ribbons and tuck in. Remember you are not just creating meals, you are creating memories. I hope you enjoy this meal as much as my family have!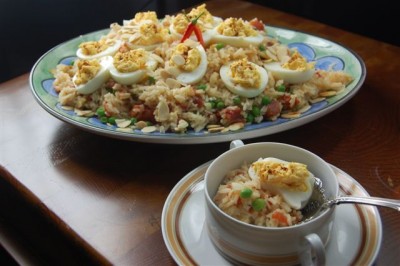 Serves 4
Some days I dream of travelling to sunny Spain but this week I can't. Well, not during a $21 Challenge week anyway! So instead my taste buds are going to do the travelling for me.
Equipment required:
Large saucepan
Large frypan or wok with a tight fitting lid
Large serving platter
Sharp knife
Small bowl
Teaspoon
Large cooking spoons, plastic or wooden
Slotted spoon
Cutting board
Stereo system
Maracas
High heels
For the Ole` Eggs:
Ingredients:
For best results and super tasty eggs, make them ahead of time and chill them for several hours in the fridge.
6 eggs, kept at room temperature so they don't crack in the boiling water
2 tbsp mayonnaise, sour cream or plain yoghurt
¼ tsp mustard or mustard powder
½ tsp smoky paprika
Method:
For this recipe to work, your eggs need well-centred yolks. Bring a large pot of water to the boil. Add the eggs, lowering them gently into the simmering water. Stir gently for about 20 seconds, to keep the eggs moving and centre the yolks.
Simmer for 10 minutes and immediately tip out the hot water, then refill the saucepan with cold tap water. Let your eggs chill out in the cold water while you do something else. (Maybe check out the Forum, as long as you have already turned all the stove elements off!)
When the eggs are cool, peel them and slice them in half length-wise with a sharp knife. Scoop out the hard boiled yolks carefully with a teaspoon, and mash them with the mayonnaise and mustard. Arrange the empty egg halves on a plate and, using a teaspoon or piping bag, scoop or pipe small rounds of the egg mixture back into the white halves. Cover with cling wrap and place in the refrigerator to chill.
Just before serving, sprinkle with the Smokey Paprika, and arrange on top of the Red Hot Rice. You could also serve these on an egg platter which has little hollows around the edges to sit the egg halves in. These have largely disappeared from kitchen shops, but can be found on eBay and at garage sales for anyone keen enough to look.
For the Red Hot Rice:
Ingredients:
1 onion
2 tbsp oil
2 cups uncooked rice
1 400g tin peeled tomatoes, chopped
3 1/2 cups chicken stock (any other flavour is fine too)
1-2 cups diced vegetables; aim for lots of colour if you can
½ cup crushed nuts, can be cashew, peanuts, almonds; it's flexible
½-1 tsp dried chilli flakes (optional)
Spanish music (optional)
Writing this recipe makes my mouth water. Not to mention my eyes - but that is because the first step is to peel and chop up an onion!
Once your onion is prepared and your eyes have recovered, start heating the wok. Brown your nuts in the wok for about twenty seconds. Then put them in a bowl and save them till later.
Pour the oil into the wok and turn the heat up to high. When the oil starts smoking it is time to get your revenge on that onion by throwing both it and the rice in the oil and giving them a good stir.
Add the peeled and diced tomatoes with their liquid and the flavoured stock. Stir well until boiling, then put on the lid and switch off. Leave the wok or pan on the hotplate and do not disturb. Check the rice after 20 minutes. It should have cooked perfectly, so long as you haven't peeked or lifted the lid.
While you are waiting for the rice to cook start chopping your vegetables. You will need about two cups of chopped vegetables. Some vegetables that would be nice in this recipe are:- capsicum (any colour), diced carrot, chopped celery, broccoli, cauliflower, zucchini, peas and beans. Don't use potatoes, pumpkins, leafy vegetables or any slow to cook vegetables as they won't work.
After 20 minutes your rice should be perfect, but all rice cooks slightly differently so you will need to check. If your rice is chewy or dry, add ½ cup of boiling water. Stir well, turn the heat on to medium, stir the rice to combine it with the additional water, bring to a simmer, turn the element off again, cover with the lid and leave for five minutes.
Once the rice is perfect, add all your vegetables along with the chilli and stir well. Replace the lid and allow to sit for five more minutes. This allows the vegetables to heat through, but not cook, giving a great crunch to the dish.
Tip the rice onto a large serving platter, then make some little hollows in the rice for your eggs to sit in. Now get your Ole` eggs from the fridge and pop them in. Lastly, sprinkle some more paprika and green herbs on top and serve immediately.
Now's the time to put on your Flamenco heels, crank up the stereo and serve your authentic Spanish dish. OLE`!
---
Can you believe the $21 Challenge is going into its FIFTH year? So much has happened in that time! One thing's for sure, an awful lot of people have heard of it; even if they don't know exactly what it is. Gone are the days of having to stand there for half an hour explaining what the $21 Challenge is when people ask me 'so what's your book about?' Instead, I get 'Oh wow! The $21 Challenge! I've heard of that!' Exciting progress indeed!
I love how saving money has become trendy. The frugal bashing has gone and now people are actually boasting about their fantastic saving prowess! However, when it comes to saving money you can never know too much. You only have to look at all the new tips going in the Simple Savings Vault each week to realise there is always more you can learn. The other day I had the pleasure of meeting two lovely ladies for the first time. Straight away we got along like a house on fire and had a great old time sharing money saving tips and I thought 'Cool! I love meeting people who are on the same wavelength as me!' I didn't let on who I was or what I did for a job and we chatted away merrily for an hour or two, with plenty of 'I can't believe people spend money on this!' or 'I would NEVER waste money on that' thrown into the conversation until the inevitable question came up, 'So what is it you do?'
To which I told them and once again received the response 'Ooh! The $21 Challenge! I've heard of that!' which always makes me smile. I then went on to tell them that we were writing a second book and the type of things it was going to cover, 'Because while it might seem like common sense to people like you and me, there are an awful lot of people who have never been taught these skills,' I confided. 'Oh absolutely!' they agreed wholeheartedly. 'I mean, you wouldn't believe how many people still don't know you can freeze milk!' I chuckled.
And was promptly met with a stunned silence. 'What? You mean you can freeze milk?' one of them eventually said. 'Yes, of course!' I smiled. 'Ewww - but why would anyone want to do that?' came the reply. 'Well, all sorts of reasons! You can buy it in bulk when it's cheaper and freeze it so you save that way. And if you always keep milk in the freezer you don't have to rush off to the shops in a panic every few days when you run out and inevitably end up buying all sorts of other stuff at the same time...' I tried to explain. 'But wouldn't it taste all... frozen?' came the wrinkled-nose response. 'No, not at all!' I insisted. 'Ooh no, I still couldn't do that. Besides, I've only got a tiny freezer' she said dismissively. At this point I gave up!
Fortunately I had more luck when discussing the $21 Challenge. We all agreed that there are far too many people in the world who don't know how to cook, waste too much good food and rely too heavily on processed rubbish. However, I received the same feedback we usually get, this time from the other lady. 'Hmm, it's a great idea. I couldn't do it though,' she said. 'I don't have anything in my pantry. I clear it out every single week. Tins of spaghetti, pasta sauce, there's nothing left by the end of the week, I always have to go out and buy them again.' 'But what about all your basic ingredients? Your flour, sugar, rice, spices? You can use all those to make all kinds of things,' I told her. 'Nope. Couldn't do it,' came the firm response. In the end I had no choice but to pull out my trump card. 'You know - I should really just give you both a copy of the book so you can give it a go!' I offered. 'Ooh yes, that would be great!' they both said. So I did - I hope they enjoy it!
---
In her article Fran details the different ways some people are effected by Post Traumatic Stress and explains which remedies will help in each situation, such as:- Erica who is anxious and having panic attacks after losing her home in a bush fire, Michael who is constantly thinking about death after being in a terrible accident, Wei after suffering a terrible injustice has become angry and very intolerant, Carmen who after living through a home invasion is so depressed she can barely get out of bed in the morning and Chris who after spending years as a disaster aid worker is becoming increasingly withdrawn and troubled.
To read Fran's article go to:-
http://homeopathyplus.com.au/first-response-homeopathy-%E2%80%93-remedies-to-use-in-a-disaster-part-3/
---
Last month Merrilyn asked:
"I am looking for a non-toxic way to eradicate and deter silverfish from my house. Has anyone got a solution for me?"
Silverfish may be pesky little blighters but the good news is there are heaps of easy peasy ways to get rid of them! Try some of these suggestions from our clever members. Thanks to everyone who wrote in!
I've found an effective and pleasant smelling repellent for silverfish that is totally environmentally friendly. Soap. It may smell good to us but silverfish will NOT be impressed! I just place cakes of soap in clothing drawers, wardrobes, the linen press and so on and before long those little pests are nowhere to be seen. Not only are the silverfish kept at bay, but my clothes and linen smell fresh and clean!
Contributed by: Andrea Bullen
We have managed to get our silverfish problem under control by using Pyrethrum. This is non-toxic and is derived from plants. We buy the aerosol varieties which we spray around our skirtings and throughout the ceiling. (The ceiling spraying makes the biggest difference and we repeat the process a couple of times a year.) Our silverfish population has diminished to a huge degree, although it is very hard to completely eradicate them as they can live for long periods without eating. Another option is to have a professional put Pyrethrum dust in your ceiling, however, we have found doing the spray has worked very well for us.
Please note: Pyrethrum should not be used around aquatic life.
Contributed by: Tanya O'Neill
I have found whole cloves to be a very effective way to eradicate silverfish. They are available in any supermarket and can be scattered throughout affected areas such as drawers, wardrobes and linen cupboards at home. Also, camphor wood (which can be bought as little wooden balls) works well and is a great help in controlling a range of pests.
Contributed by: Averil Kentsch
Silverfish can't abide citronella oil and I find it's fantastic for getting rid of them in an environmentally friendly way. I put two drops of it onto an old face cloth, which I then put into a resealable bag. I puncture the bag in several places to allow the aroma out and place it in the affected area. Those silverfish soon pack their bags and leave! Lavender is also a good oil to use, however, I find citronella more refreshing and more effective.
Contributed by: Fiona Nelson
Cinnamon sticks are a cheap and non-toxic way to deter pesky silverfish. When we moved into our house I noticed a number of silverfish were already resident! I had heard cinnamon sticks had other uses (other than adding flavour to my curries) so I left a few sticks in my wardrobe and drawers and I am delighted to say that I have not seen a silverfish since! We have been living in our house for four years now and I have only needed to replace the cinnamon sticks two or three times during that period.
Contributed by: Shaz McArthur
My most exciting silverfish 'assault weapon of choice' is the 'posh teabag'! These are basically sewn-up large muslin 'tea bags' which we fill with dried lavender heads, cedar wood balls, bay leaves, cloves and a little tea tree oil. We then pop them into drawers, cupboards, the linen press and wherever else those little blighters hang out! As an artist I need to ensure the longevity of my paper products and have found a few bay leaves scattered in each drawer or cupboard where the paper is stored repels silverfish too.
Contributed by: Liz Vercoe
Extra tips for Vault members:
Scrub your shelves with Sunlight soap Contributed by: Gillian Vance
Diatomaceous earth deals with silverfish Contributed by: Les Lever
Perfect pillows repel pesky pests Contributed by: Carol Kemister
Basil keeps silverfish at bay Contributed by: Gale Grey
Cucumber peelings - a cool silverfish repellent Contributed by: Sue F
---
This month Crystal asks:
"I want to buy a laptop computer but there are so many around I'm finding it all a bit confusing. Does anyone have any suggestions on how I can find the best value laptop? I would really appreciate any help! Many thanks."
If you have any tips which can help Crystal, please send them in to us here.
---
This month's Savings Story is taken from a member's blog extract. Thank you to 'Not your typical Gen Y' for letting us reproduce it in our newsletter for everyone to enjoy.
"I feel incredibly blessed that in my family SS is ingrained through the generations. My mum has always been pretty open about talking about money with us. Encouraging us to save through her actions as well as her words. My grandpa is constantly telling us about his bargains - in our family it's impressive to get things on sale rather than being seen as cheap!
The first thing I remember saving for was a pair of denim overalls; they were $50 and I was 12. I saved the pocket money I earned from doing extra jobs around the house (vacumming and car washing were the most lucrative).
Next I remember a pair of Colorado shoes; I was about 13. I desperately wanted a pair of these shoes but at $60 Mum couldn't justify the cost. She'd pay for a pair of leather, unbranded shoes or she'd go me halves in the Colorados. So again I saved my pocket money for months and months to save $30. I wore those shoes for years as I appreciated the value of them!
When I was 15 I really wanted a TV in my bedroom - I wanted to be able to watch Dawson's Creek. I remember looking around in the shops and finding the cheapest I could, a little 34cm from Kmart for $179. I remember working out how many jobs I would need to do to buy that TV and working out a plan that allowed me to buy one magazine per month, have a small amount of money to go to the movies etc with friends and save the rest of my money for the TV.
I had a little money box with three fabric bags in it and when I got paid for my jobs or was given any birthday or Christmas money and so on, I would divide up the money as per my plan into the little bags. I saved for a year to get that TV and when I finally had enough money it was on sale for $139! (Sadly I can't remember what I did with the remaining money!). I was so proud to take that TV home, I still remember setting it up in my room and it is still going as a spare 12 years later.
I didn't get a job until I was 17 and, to be honest, I didn't manage to save much for the first year. I earned about $80 per week working on weekends as a checkout chick and spent that money on phone credit, getting my licence, petrol, phone credit and clothes. But even with this small amount I had a budget of sorts and would save a little each week in my money box for future weeks (like when my car rego / insurance was due).
I paid my way through uni to get the 25% discount and avoid going into debt. It was tough as I was earning about $200 per week and my fees were around $5000 per year - basically I saved half my wage every week for uni. I was very lucky to be able to stay living at home and used the other half of my pay to clothe, transport and entertain myself. Luckily my friends were more into BBQs, cooking each other dinner and going out for coffee than partying most of the time. We did manage to go on a couple of small holidays and I saved all birthday and Christmas money to go to Europe on a shoestring as well.
So where did these skills leave me once I got into the big bad world?
I scored a great job after uni about an hour from home. I moved out of home and set up a flat using money I saved in my last months at uni. For the last two years before I left home I would mostly get household items for birthdays and Christmas, so when I moved out all I bought was a fridge and a washing machine. Everything else (couch and so on was second hand).
As soon as I started working full time I committed to saving 50% of my pay - something I continued to do as my salary increased each year / promotions etc. Now that I'm married, we aim to live off just one income most months and are saving the rest for a house deposit.
In five years our house deposit has reached six figures, something I'm incredibly proud of as it has been through hard work and sacrifice but something we both want - to buy with as little debt as possible. Because it is something we both want, we rarely feel like we are missing out or going without. We've still been overseas twice together and contributed towards our wedding (although my parents did help us out), paid for a honeymoon and upgraded the second hand furniture.
Different goals and strategies work for different people but I think learning to set goals, whatever they may be, and to plan ahead are two of the greatest gifts my family has given me