This issue includes:-
Sad Sally, Happy Hanna: One of Those Days
June: Instant Meals
Best of the Vault: Tea on the Table in Two!
Best of the Forum: Meals in Minutes
Best Members' Blog: Surrender
Cooking with Mimi: Lamb Meatballs and Herbed Quinoa
Rob Bob's Gardening Blog: Some Useful Bugs and An (Almost) Home Grown Soup
---
Hello,
How are you going? I hope you have had a lovely month. I have been playing in our Facebook group and our Forum this month and I'm blown away by how lovely everyone is. I'm very proud that I get to be a part of Simple Savings.
Some of your comments and emails are beautiful - here are some favourites from this month:
"I've just read your latest newsletter - I love getting them and do EVERY challenge! Thank you for helping us save so much money." (Megan)
"I joined Simple Savings last week, and after a quick look around, can't believe I left it so long to join! I've started to work my way through the hints, there are so many of them. Thank you for a great website." (Jaye)
Have a great month!
All the best,
Fiona Lippey
---
Hanna had had a really bad day. Normally she loved work but EVERYTHING had gone wrong today! The computers were down, everyone complained and on top of that she was getting the flu. And things hadn't got any better after work. She picked up the kids and then got caught in a traffic jam so they were late getting to netball. As she sat in the freezing cold watching the practice, she'd just had enough.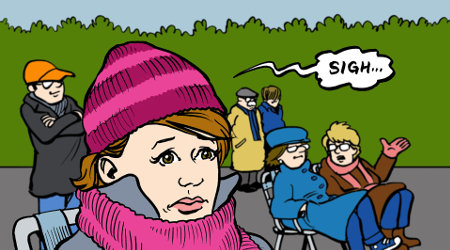 She grabbed her mobile and rang home. "John, it's me," she whined, "I've had an awful day!" Hanna never, ever whinged but it really was one of those days. "I just can't be bothered cooking. Let's get take away." John comforted his wife, "Of course honey, just get something on your way home." Hanna groaned and hung up on him.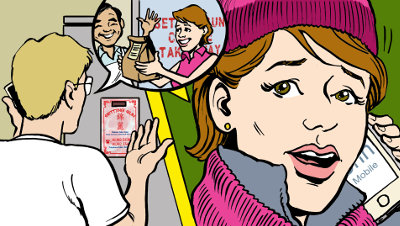 John looked at the phone, stunned! What had he done wrong? Was there some secret woman code he had missed? "Ahhhhhhh," he suddenly remembered. 'Take away' was Hanna's secret code for 'OFFER TO COOK DINNER YOU SOD'! He quickly rang her back and said, "Honey, now don't you worry about dinner. I'll take care of it tonight."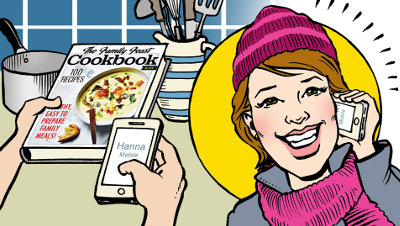 ---
We all know how Hanna feels at the end of an exhausting day - dinner is just one more chore. The temptation to get a quick and easy take away is often too great so we waste another $40 or $50 because we just can't be bothered. Well, imagine just cutting one take away out each week by being prepared with your own instant meals! This month we want to show you some great tips and tricks to get that food on the table pronto! Your challenge is to try just one of them - or better still, ALL of them!
Yes, yes, yes... we can hear you sighing... it's bulk cooking all over again. Well, you'd be right in one way, we all know there is no better way of filling your freezer up with instant meals than a huge cook-up! But there are lots of other ways to get quick meals organised, here are a few ideas to try:
Dinner doesn't have to be a cordon bleu affair every night of the week. Sometimes the best meal is the one you don't have to cook! It's time to train your troops so they each have one 'go to' instant meal they can prepare when needed, or better still, one night a week. Except for younger children, everyone else in the family can cook a meal - your job is to show them how, make sure the ingredients are always on hand and give the order! In the Lippey household, Matt's quick 'go to' favourite is honey soy chicken while 13-year-old Sam's 'instant meal ' is apricot chicken. Miss Jacqueline makes the salad and Tristan and Elora peel and cut vegetables. Teaching your children how to cook (and encouraging older members of the family!) is not only good for giving you a break now and then, it's a necessary life skill. You're actually doing them a favour. ;-)
The 'Stretcher' is a sanity saver! Just make up a big batch mix of your favourite meat and flavours to use in a variety of different ways. Pre-prepared savoury mince can be used in pasta, tacos, pies, sausage rolls, baked potato filling, curries, chow mein and so on. Stretch a large batch of cubed chicken and spices into casseroles, skewers, stews, stir-fries, burritos and the like. Lentils, beans and vegetable mixtures and sauces make great tasty stretchers as well. The key to 'Stretchers' is to make a huge batch and freeze into appropriate proportions.
Truly your best friend in the freezer! Puff pastry quickly turns ordinary bits and pieces into something hot and tasty! Use it for pies, toppings, rolls, scrolls, pasties, foldovers and so on. Fill with your Stretcher and selection of vegetables for quick and tasty instant meals.
This tip is a no-brainer! Think ahead when you're cooking so today's leftovers will be part of tomorrow's meal, saving you even more time.
boil extra potatoes tonight for potato salad tomorrow
make extra rice tonight for fried rice tomorrow
roast extra vegies tonight for tomorrow's roast vegetable salad
steam extra vegies tonight for tomorrow's vegetable bake
It's time to get friendlier with those shiny appliances in your cupboards! Take a good look at how they can help you make a healthy and tasty dinner in next to no time. That rice cooker doesn't JUST cook beautiful rice you know - it also cooks quick and easy risottos, quinoa dishes, fried rice and lentil stews. Flat sandwich makers make quick omelets, pizzas, pancakes and crepes. Dust off those instruction booklets, or Google, and we know you'll be amazed!
Need we say anymore? Your microwave isn't just a convenient clock in your kitchen - it can do pretty much anything your oven can, only much quicker and cleaner! There's a whole world of microwave magic out there.
Short-cuts are a great way to get a meal on the table quickly - here are some of our suggestions:
Meat from sausages can be made into meatballs in seconds
Quickly cooked grains such as couscous and quinoa are a good alternative to pasta
Use oven bags to store and freeze your pre-prepared meals in for quick defrosting, cooking and cleaning
You can cook two different meals in oven bags in your crockpot at the one time
Marinate meat before you freeze it - defrost and cook!
For quick cooking, thinly slice meat and chop vegies into matchsticks
Mimi's Poached Chicken - versatile, delicious and it really does cook itself!
In the forum, here
Lastly, we want you to remember that a baked bean toasted sandwich or a cup of soup for dinner every now and then really is OK... and much quicker than getting take away!
---
Making dinner every evening can actually be a pleasant experience - yes, really! You just need to know how to get that meal on the table quickly and easily - let us help with some of these great ideas from the Vault.
This is a rich dish with added health benefits in the form of vegetables!
Ingredients:
¾ packet of rice
1 cup of vegetables e.g. carrot, zucchini, cauliflower or celery
2 chicken breasts, or you can use a BBQ chicken
Coconut cream
Stock or water
Salt and pepper, to taste
Method:
Place rice on the bottom of a baking tray. Layer vegetables over rice, then place chicken on top. Pour over the coconut cream, then enough water or stock to cover everything - or you can mix the coconut cream and liquids before adding. Cover with foil, shiny side down. Bake at 180-200C for about 30 minutes or until chicken is cooked through.
Contributed by: Cheri H
We are a family of only two adults who cook often with a large crockpot. However, we do find ourselves with a heap of leftovers after cooking a pot full of food. So, instead of filling the crockpot with enough food for one meal several times over, we now take two oven bags and divide our meat/chicken/fish between both bags. We add different flavourings to each bag then arrange both bags in the slow cooker and cook on low for eight hours. I have just made Chicken Korma in one bag, using drumsticks that were on special with an extra pinch of cinnamon and some chilli, and Mediterranean Chicken with olives in the other bag. The conflicting smells are surprisingly delightful and the final result is two delicious meals both cooked with the same amount of power I would have used for one. Any extras we don't consume straight away I simply freeze and save for a later date.
Contributed by: Linda P
This super basic mince recipe saves me up to $100 a month on take away, thanks to the convenience of having meals already 'half made'.
All you need is:
2kg minced beef
2 cups red lentils
2 tbsp vegetable stock powder, or four vegetable stock cubes
1 tsp dried garlic granules
1 dsp dried onion flakes
4 cups water
Place all the ingredients into a crock pot and cook on high for two hours, stirring every 30 minutes. It should be thick, aromatic and an unattractive brown colour (don't let this worry you!).
One batch costs just $13 to make and is enough to serve as a base for seven meals for our family (two children and two adults). This saves heaps of money and time too. I usually freeze the mince in margarine tubs, as that seems to be the right amount for one meal for our family.
The meals I made are:
Piemaker pies.
Allow one heaped tablespoon of basic mince per pie. Pour the mince into a small saucepan and add a large spoonful of gravy powder or a dessertspoon of cornflour and some Vegemite for colour. Heat and stir until thickened. Spoon into pastry cases and cook in the piemaker.
Mexican enchiladas.
I use Mountain Bread or make my own crepes. Lay the bread or crepes in u-shapes in a large baking dish. Mix the mince with an equal amount of tinned or home-made refried beans. Spread the mixture in a sausage shape down the middle of each crepe, fold each side of the crepe over, sprinkle with grated cheese and bake at 180C until the cheese is melted and bubbly. Serve on a bed of rice, topped with natural yoghurt and some salsa.
Stuffed capsicums.
Halve enough capsicums for half or one per person. Spoon the mince straight into the capsicums, top with some mashed potato, pumpkin or sweet potato. Sprinkle with cheese and bake for 40 mins at 180C. Kids love these as the capsicum sweetens when baked.
Baked spuds with topping.
Allow one potato of appropriate size per person. Cook in the microwave according to manufacturer's instructions. Split a cross in the top and pile filling into the opening. Top with natural yoghurt or sour cream and chopped, sauteed bacon. Allow one large tablespoon of filling per potato. Mix the filling with one tin of baked beans and heat in a small saucepan before pouring on to the potatoes.
Spring rolls.
Mix about four tablespoons of mince mixture with a packet of cooked and cooled Two Minute Noodles, some shredded carrot, and 1/2 a teaspoon of Chinese five spice. Using filo pastry sheets or spring roll wrappers, fold a small handful of filling into each spring roll. Spray liberally with cooking spray and bake at 180C for 20-30 mins.
Greek pasta bake (Pastito).
Heat a container of mince mixture with a 400g tin of peeled tomatoes. Cook enough macaroni for your family and drain well. Mix with the meat mixture and spoon into a large baking dish and top with your favourite white sauce or cheese sauce. Sprinkle on some grated cheese and bake for 40 minutes at 200C.
Shepherd's pie.
Add any vegetables of your choice to the mince mixture. Place into a baking dish and top with mashed potato, pumpkin or sweet potato then bake until heated and the potato browns.
Contributed by: Mimi
---
Our Forum members always come up with surprising ways to make meals quickly and easily. Here are a few tips to share with you!
This is a great way to keep tabs on your menu planning - plan ahead so you don't get out with tempting take away on a busy day!
read more...
Nothing beats the winter blues like a warm, tasty pumpkin soup! Quick, easy and tasty - here are some great ideas!
read more...
Zellie's vegetarian recipe is sure to become a quick, easy favourite.
read more...
---
One of the many benefits of being a Vault member is that you can win $100 cash each month for your Simple Savings blog! Starting your own blog on the site is easy. All you have to do is log into the Vault, click on 'My Desk' at the top left, then 'Your Blog'. Then get writing! We love reading all your money saving trials and tribulations and really appreciate the effort that goes into each one.
This month's Blog winner is Mel K who wrote beautifully about 'surrendering'.
"When I first think of the word 'surrender', I think of giving up a fight. Losing. Quitting. Throwing in the towel. But in thinking that, I have it in my head that life is a fight. Surely it doesn't have to be.
We are so conditioned to pushing through, to having to achieve, to 'get things done'. For me it feels weird and lazy and guilt-inducing to not be constantly working on something and at the same time, thinking about the next. To never having down-time, but rather starting on the next thing on the list. Not living in the now. Not listening to your body and emotions. To pushing aside that tiredness, the moodiness, the permanent sore throat. To never slow down enough to take stock, to enjoy the little things, to even have a proper conversation with your loved ones. All for the sake of 'getting things done'.
But life is not about constant action and busyness. It has its ebbs and flows. The busy times with the quiet in between. The giving and receiving. The cycle of growth and release, action and rest.
I have been in a panicked state lately, with my to-do list overwhelming me, so much to do that I feel paralysed and don't know where to start. So when I pulled the surrender card from a deck of cards that I have, and also noticed the world around, I knew I needed to take notice.
To let go. To stop being such a control freak. To trust that life has my back, even if I do drop one of the 1001 balls I try to constantly juggle.
You don't need to push through all the time. It's ok to rest and recharge when you feel the need. Why buy into the busyness myth? Who said that in order to be a valued human being that you need to be 'busy'. Listen to your body and your moods. Honour and respect that they are trying to tell you something. We are human 'beings' not human 'doings'.
What is coming up for you at the moment? Are you even taking the time to listen to what your body needs? What do you need to surrender? What are you holding on to that is weighing you down? Is it clutter, is it anger and resentment? Is it a toxic friendship? Stop holding on so tight and let what needs to go, go. Surrender.
Release and restore your soul. Surrender your fears and ego. Surrender your need to be in control. Surrender the false belief that only YOU can juggle all those balls with no help. Surrender to actually asking for help and being willing to receive it. Allow your life to unfold. Move more gently.
(And when you finally let go of your tight grip on the reins and decide that yes, tonight I am going to actually have a rest, surrender to the possibility that you will come home from work to a strange smell, crying children and a frustrated husband who has aaahhhhh! found nits in one of the kids' hair, and is starting the treatment process. Surrender to giving up all other plans to focus on an extra four loads of washing, to cajoling and comforting children who hate having their hair brushed at the best of times, and who now have to be tortured by the nit comb. Surrender to a bad night's sleep because the favourite soft toy is suffering the indignity of hanging from its ears on the washing line. Surrender to letting the kids sleep on unmade beds because you are way too tired to remake them...)
Because when you start to muse on something, it has a habit of coming to bang you over the head, just to make sure you are really getting the lesson, lol.
Another new thought has come to me on the word surrender. It's a picture of falling into a big comfortable bed, of snuggling up under the cosy blankets and letting yourself drift into the healing peace of sleep. Surrender. Giving up can be a good thing."
Thank you, Mel for your thoughts - we loved your blog!
You can read more of our members' blogs here.
---
The cooler weather always means comfort food, doesn't it? It's suddenly chilly in our part of the world and that usually means lots of mash or rice, and gravy-laden slow cooker meals. We're trying hard to be healthy this winter so that we don't exit August looking like bears waking from hibernation, so I'm keen to find alternatives to butter soaked mashed potato, steamed white rice, and gravy... sigh... I know. It's not easy. We all love that stuff. I'm finding quinoa is a great alternative, as is polenta. DH has eaten polenta when we've been out and thought it WAS mash... lol. And quinoa is just a great nutty flavoured, grainy choice that's a little healthier than white rice. We'd had this meal three times in the last fortnight, so I guess that makes it a winner. So I thought I'd share it here.
For four servings, you'll need:
Make the Moroccan seasoning first:
2 tsp each ground cumin, ground ginger, turmeric, salt and white pepper
1 tsp each ground coriander, cayenne pepper, allspice and the crushed thorny bits off two clove heads. Don't use the whole clove!
Combine these well in a small container with a lid. You'll have enough for two or three meals.
For the quinoa:
1 cup quinoa
1/4 cup currants (or any dried fruit really)
1/4 cup orange juice or water
1/2 cup each of chopped herbs of your choice... I like mint, coriander and Italian parsley
2 shallots (the long green things), finely sliced
1 Lebanese cucumber, chopped roughly
2 tsp home-made Moroccan seasoning
For the meatballs:
500g lamb mince
1 egg
2 tbsp finely chopped mint
2 shallots, finely sliced
2 tsp home-made Moroccan seasoning
Tzatziki, to serve, if you like it. I make my own by combining Greek yoghurt with finely diced Lebanese cucumber, half a teaspoon of grated onion, a teaspoon of lemon zest and some mint.
Then just:
Put the currants into a small microwave safe bowl or cup, add the orange juice and heat to steaming in the microwave. This just hastens the plumping of the currants. Allow the currants and the OJ to sit while you prepare the rest of the meal.
Combine the meatball ingredients well and roll the mixture into balls, refrigerating them for about ten minutes.
Put one cup of quinoa in a medium saucepan with two cups of water. Bring it to the boil and simmer for about 15 minutes. If you have time you can also cook it using my easy peasy rice method of bringing to the boil, covering it with a tight fitting lid and turning the hotplate off. Leave it sit for about half an hour and it's done. Fluff it with a fork.
Line up the ingredients to add to the quinoa so that you can quickly add them prior to serving.
While the quinoa steams, pan fry the meatballs. I actually squash them flatter so they're like mini burger patties. They cook more quickly.
While they're cooking, drain the currants, reserving the orange juice.
When you're ready to serve, toss the cooked quinoa with the currants, cucumber, shallots and chopped fresh herbs. Add the Moroccan seasoning and as much of the reserved orange juice as you like for flavour.
Scoop the quinoa mixture into bowls, top with the meatballs/patties, and spoon Tzatziki over them
Utterly delicious and so healthy. :)
You can get updates on Mimi's new blogs on the Simple Savings Facebook page
or in our Members' Blog section.
---
An (Almost) Home Grown Soup
One of the unavoidable parts of growing your own tasty fruit and vegies is the arrival of free-loading insects that also enjoy our home-grown delights. I've mentioned a few different methods we use to control some of these pests in a previous blog. There is also another less hands-on method I think that some might find useful and that is attracting predator/beneficial insects into the patch. While predatory insects may take a while to build up in number to be an effective weapon against the pests, I do think it is worth encouraging them. One of the easiest ways you can achieve this is by having flowering plants in the patch, a lot of which can be edible.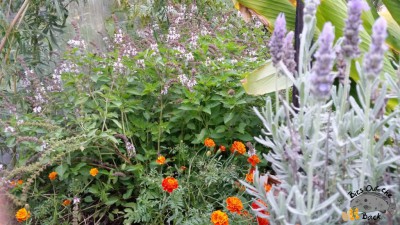 Some of my favourites are French marigolds, dill, buckwheat, pineapple sage, lavender, coriander/cilantro, Lucerne/alfalfa and the basil family of herbs. Broccoli is another plant that I've noticed brings a lot of bugs into the patch, so I always like to let a few florets go to flower.
Here's a bit of a run down on some of the most common beneficial insects we get in the patch:
The common ladybug is the one beneficial bug we see the most of, and they tend to show up here whenever we have an outbreak of aphids.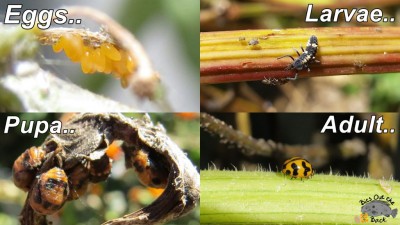 The adults will feed on a number of garden pests like aphids, mites, scale and mealybugs. One of the reasons I like these bugs so much is that the larvae are also voracious feeders and can polish off up to a dozen aphids a day. When you consider that a ladybug can lay up to 50 eggs at a time, that's a lot of pests being devoured every day. The parents also do their fair share, consuming up to 60 aphids a day. The adults of some species also like to feed on pollen which is also a bonus for the patch.
Lacewings are another garden helper that like to feast on a number of the smaller pest insects.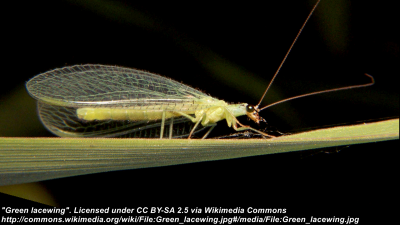 This time round it's the larvae that do most of the hard work consuming aphids, whitefly, mites scale and mealybugs. The adults feed on nectar and pollen so are also great workers to have around the patch.
I haven't seen many adult parasitic wasps around the patch but I have seen the handy work of their young. These fellas help out in a slightly more gruesome way by laying the eggs under the skin of caterpillars. One variety we see a lot of belong to the Braconidae family of wasps. These guys like to target the cabbage butterfly.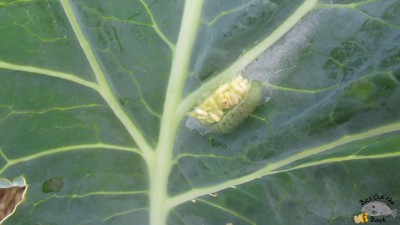 While they allow the caterpillars to continue to feed on your brassicas for a time, they do kill their host before they mature into butterflies. The young wasps then emerge to mate and then target more cabbage butterflies.
Paper wasps may be considered a pest by some, including myself in the past.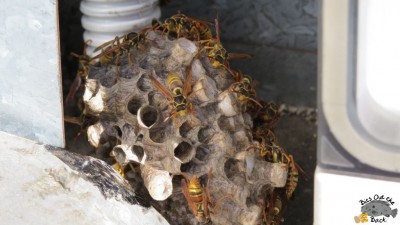 These fellas also perform a beneficial role in the patch by collecting caterpillars and depositing them in the nest for their young to consume. The adults also assist in the pollination of plants around the patch. I first noticed these orange wasps when the pigeon pea was in bloom out the front and there were a number of the wasps hanging around the plants. I must admit that I do prefer these yellow ones over the more aggressive black wasps we get here.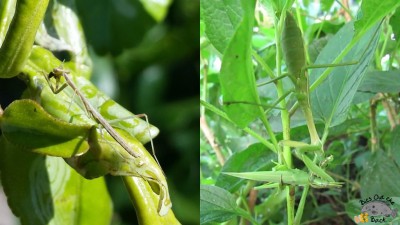 Praying mantis would have to be one of the best hunters we have here in the patch. I've seen them eat anything from an aphid to adult grasshopper and was very pleased when Bianca found the cocoon that was mentioned in my last blog post.
I thought I'd just tag on a clip that shows a few of these insects as well as other beneficial bugs and critters we get around the patch here.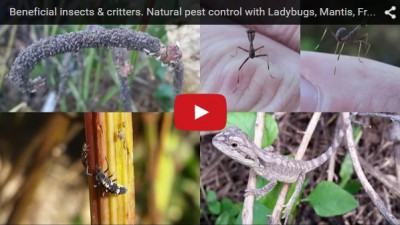 My favourite would have to be the many skinks and other lizards we get around the patch.
Thai cuisine would have to be one of our favourites to cook. As we like Thai so much, a few years ago we decided to plant many of the spices and herbs that form the base of many Thai meals.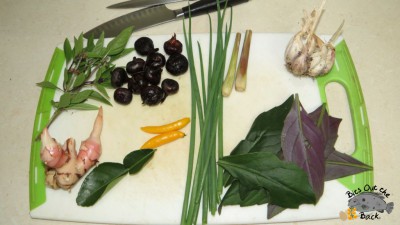 I thought I'd share this light Thai-inspired soup that uses a basic blend of home grown spices and herbs. We also use this paste as the base to a lot of our Thai and Indo-style meals. This meal gets served a fair bit here but how it's prepared can vary depending on what we have available in the patch at the time. I have just harvested the water chestnuts from the bathtub so decided to add a decent handful of them this time along with some prawns/shrimp. We have also enjoyed this soup with chicken and I think it would be just as tasty with only the vegies if you ate a vegetarian diet. I find this recipe is quick to prepare as the bulk of the work is making the paste and if you have spare time you can make bulk and put in the freezer for later. The vegies can quickly be prepared while the soup is on the stove.
The recipe below is enough for 2-3 servings.
Spice paste:
2 thumb size pieces of galangal, chopped
4 med cloves garlic, peeled
2 stalks lemongrass, sliced thinly
1-2 chillies (or more depending on your preference)
1 tbsp oil
1 tbsp water, if needed
Add paste ingredients into food processor and blitz until it forms a paste. I've found that the small 'Rocket' or 'Bullet' style blenders are better for small amounts like this. You can add a bit of water to help the paste process better.
Set aside to add to saucepan.
Just a note: I find processing these ingredients helps to make it small enough to be consumed with the soup, nothing wrong with a bit of extra fibre. ;-) You could also slice the chillies, garlic, galangal and lemongrass thinly and add them. Just be warned that the galangal and lemongrass may not to be very tender, even after boiling. ;-)
Soup: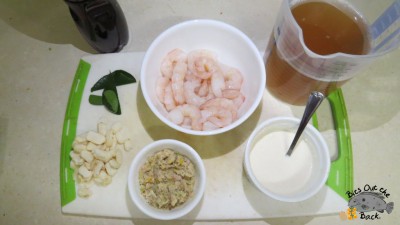 ½ tbsp cooking oil
Spice paste from above
1L chicken stock (certain tinned chicken stock powders are vegetarian friendly BTW)
400ml tin coconut milk (I used powdered coconut milk and water)
1 kaffir lime leaf
400-500g peeled and deveined prawns (diced chicken also works well)
20-30 leaves Thai basil, shredded
Small tin sliced water chestnuts (I used 11 of our freshly harvested chestnuts)
1-2 tbsp fish sauce. Pays to add a bit then taste test before adding more. (I always add extra after serving as I like the flavour it adds.)
Vegies: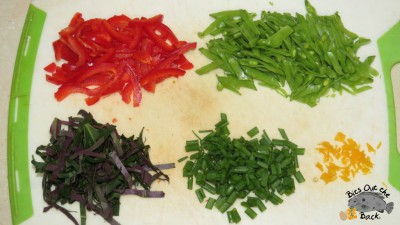 Green onion greens, sliced into 10mm / ¼" sections (thinly sliced onions or shallots could also be used)
Handful of your favourite greens,** sliced thinly
½ small capsicum/red pepper, sliced into thin 40mm / 1½" lengths
Large handful of snow peas, sliced into thin strips
Extra chilli for those who like it hotter, diced finely
Lime juice, to taste
** Asian greens like pak choi, choy sum and Kang kong go well in this dish as do silverbeet/chard, cabbage, amaranth leaves, Warragal greens/NZ spinach, kale or broccoli leaves. I used Okinawan spinach as we have loads of it growing in the patch at the moment.
Heat one tablespoon of cooking oil in a saucepan, then add in the spice paste and stir for a minute to help release the flavours. Pour in stock, coconut milk, toss in the torn lime leaf and bring to a slow boil. Once the soup is at a slow boil you can add in the water chestnuts, prawns and Thai basil. As the soup comes to a slow boil again turn it down to a high simmer for five minutes. Stir through the fish sauce, taste and add more if needed.
While the soup is cooking, prepare the vegetables and add them into the serving bowls. Serve hot soup over the vegies in the bowl, adding lime juice to taste. I also add in extra chilli and fish sauce at this point. ;-)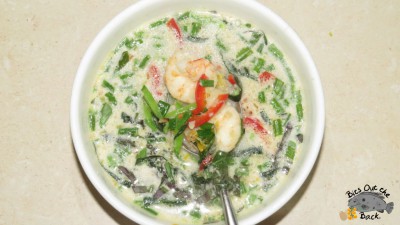 Hope you enjoy the soup if you get the chance to make up a batch.
That's about it for this month. We have a few harvests I'm looking forward to over the coming weeks so hope to share them with you all next blog.
Cheers all and have fun in the patch,
Rob
You can get updates on Rob Bob's new gardening adventure blogs on the Simple Savings Facebook page
or in our Members' Blog section.
---
Well, that's your Simple Savings Newsletter for June 2015 and we hope you have enjoyed it. We'd love to hear about your Instant Meals this month so don't forget to share on Facebook or join us in the monthly challenge on the Forum.
Our members are hugely important to us and we love hearing from you all! So next time you're on the website, why don't you get in touch and say 'G'day'! Let us know what you would like to see more of in our newsletter or any suggestions you have for something new to try. We love receiving your clever ideas!
Don't forget to spread the love around to your family and friends too by forwarding them our newsletter or letting them know about our website. Help make their lives easier and save them money too! Or tell them about our Simple Savers Facebook Group
Till next time...
All the best,
Fiona