This issue includes:-
Sad Sally, Happy Hanna: The Kindness of Strangers
July is Volunteer Month!
Last Month's Competition: The Dog Ate My Dinner...
This Month's Competition: One Good Turn
Hidden Gems Competition Winner
Best Member's Blog: This Month's Winner
Best of the Forum: Lending a Hand
Best of the Vault: Helping Others and Yourself
Cooking with Mimi: Black Forest Slice
Penny's Blog: Legging it for Louis
Homeopathy Corner: But Wart, There's More!
From Last Month: Home-Made Dairy Products
This Month's Help Request: Washing Coming Out of My Ears!
Savings Story: Life Lessons
So Long, Farewell, Auf Wiedersehen, Goodbye :-D
---
Hello,
How are you going? I'm afraid this month has been a sad one for our family. Matt's grandma passed away just a few days short of her 98th birthday. She was a wonderful woman, always helping people. She did Meals on Wheels right up until she was 94, when she was one of NSW's oldest volunteer workers. She was a lovely, caring person - and I want to be like her. I want to still be helping people well into my nineties, just like she did.
Simple Savings is all about people working together to help one another. Every time you send in a money saving tip you are helping someone else get ahead and make their lives easier - as these fantastic letters show!
"Well... you guys have done a great job on me! I read that in your new competition we have to give our reasons why we go and get takeaway. I can't enter and it's all thanks to you guys. We don't buy takeaway, unless we are having a day out and decide to treat the kids, but even then we usually try and plan it so we are home for lunch and go out either in the afternoon or morning. We possibly have takeaway two to three times a year. I always make sure we have easy meals in the freezer and always cook in bulk (sometimes enough to feed us for another four or five nights, that's how slack I am). When I know I am running low on food I make sure I'm organised and make my 'leftover' meals for the weekends. We spend all weekend renovating and working hard so the last thing you usually feel like is cooking but by the time we get organised for takeaway and go and get it and they mess up the order and we finally get to eat, we could have re-heated something twice over. Seeing as we have 11 takeaway shops within a two minute drive I think we are doing pretty well, don't you?" (Debbie Drakeley)
"Thanks for your latest competition; just by entering it I can see how slack I've been and vow to pull my socks up! We live 30 minutes out of town and find that on days when the kids have after school activities, we use the excuse that we need something quick and easy for dinner. Grabbing a takeaway on the way home usually costs about $50 for our family of four. This ends up costing us at least $100-$200 a month or more! How crazy is that! As I type it, it looks so incredibly outrageous, but we justify it to ourselves by saying we have no time! I know that's rubbish though because we have always got some frozen leftovers and a microwave! Thanks for the hints every month. I really look forward to them. Will let you know how I go!" (Leisa Tolhurst)
"I have been receiving your email updates for a number of months now (thank you!) and had been meaning to buy the book. Am SO GLAD I did! It arrived promptly on Monday and I had read the whole thing in less than 24 hours, I couldn't put it down (and I am a busy wife and mum to a six and four-year-old). I also work outside the home on nights and weekends, in hospitality. Your book is FANTASTIC! I have always been pretty thrifty and organised, have always meal planned and had a recipe folder even before I was married. But there's such a treasure trove of hints and tips in this book, it's incredible. I have a $9000 credit card debt (eek!) - but since reading the book my goal is to have it paid off by Christmas, which I know I can do now by working hard and doing a few $21 Challenges along the way, once a month or so. Once that's paid off I am saving for our next family holiday and our first BIG one - Hawaii in 2012! What a reward to look forward to. My main motivation is to clear the fridge and pantry; at the moment my pantry is tidy but I have no room for even a jar of anchovies! I look forward to trying out all the gorgeous recipes, they look so yummy. The first one I tried out was the artichoke dip (with parmesan, olive oil and chives) and it was SO DELICIOUS, my family loved it! I showed Mum the book and she wishes it was around when she was a struggling single mum. I'm going to be sharing this and I can't thank you enough for what it's done for me already and what it's doing for mums everywhere." (Rosie Toonen)
You see what an amazing difference we can all help make to each other's lives? We really appreciate every single tip we receive every week, so keep sending them in. As well as helping other members to save money, you could win yourself a free 12 month Vault membership (value $47) in our weekly Hint of the Week competition!
---
Sally was rugging up in her gloves and scarf getting ready to catch the bus home. "It's so cold and dark on the bus on my own at night - and it's freezing!" she moaned to Hanna. "Tell you what - I can give you a lift home as I'm going your way tonight but I've got an important detour I have to make first!" grinned Hanna.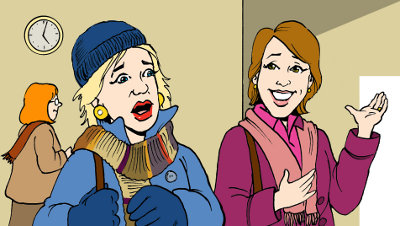 Sally accepted gratefully. She didn't care what the 'detour' was - she was getting to ride in a nice, warm car AND save her bus fare too! Half an hour later, however, Hanna pulled up outside an old warehouse. Sally started to feel really nervous. What on earth were they doing here? How well did she really know Hanna after all?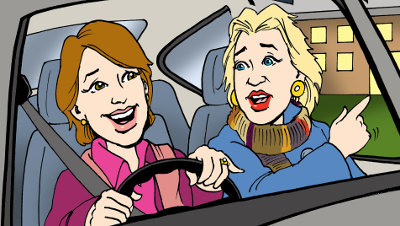 "Hanna, what is this place? Why have you brought us here?" Sally asked, looking around suspiciously. Oh heck - what had she agreed to! "This is my secret, Sal - I come here every week." Hanna smiled mysteriously. Sally's alarm bells really started ringing! Hanna took one look at her nervous expression and burst out laughing. "It's a women's shelter! We could really do with an extra hand, come on!"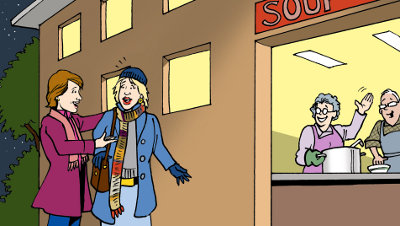 ---
Sally was really surprised to discover Hanna had been helping out in a women's shelter after work. How did she possibly find the time? Once there was a time when volunteering was common place. Nowadays, however, everyone is so busy sitting in front of various screens that we only help each other when we are in a crisis.
It is wonderful that humans still do help each other in a crisis, but ONLY helping out in a crisis is not enough. The human body needs constant movement to stay healthy and volunteering your time to help others is a great way to stay active. Grandma Jones had a magnificent long life, because she was always active.
When the Brisbane floods and the Christchurch earthquake happened everyone immediately pitched in to help. People nearby left their screens in droves to help out and get the job done. And, while doing it, the helpers found out something very surprising. Helping other people is a lot of fun. It gives you a huge BUZZ!
But natural crises are one-off events. After everything settled down people went back to being still. At the moment, we sit still for 30 hours per week on average watching TV and another 18 hours per week surfing the web. Instead of keeping active we are surfing and sitting ourselves to an early grave.
So this month I want you to turn this around. Be inspired by Matt's grandma Dot Jones and volunteer some of your 48 'still' hours to help someone else. Let's spend some time away from our screens and spend some of the time enjoying the BUZZ of volunteering with other good-hearted people. And when you do, don't forget to share your experience in this month's competition!
---
It's not often our members reduce us to tears but you have this month - tears of laughter that is! Last month's competition 'what's your best excuse for not cooking dinner?' attracted a record number of entries and many of them were absolutely hilarious! Thank you to everyone who took the time to enter our competition. Our grand prize of $100 cash goes to Brenda Winchester. Brenda had us all falling about laughing as we pictured her disastrous evening!
"I came home from work early and it was chilly so thought I would light a fire. It was the first fire of the winter and as I lit it a bird fell down the chimney, into the just-started fire. I quickly flicked it out on to the carpet, but its feathers had started to smoulder. Whilst I was busy trying to put out some sparks from where it fell, it flew up and perched on the wire of my net curtains. Unfortunately the shock proved too much for the bird and it fell to the floor - whereupon the cat pounced on it - but because the bird's feathers were still hot it burnt the cat's mouth and it started wailing! I then noticed to my horror that my curtains were on fire from where the bird had perched on them! I rushed to pull them down and the smoke alarm started going off but I was too busy getting the curtains down to do anything. However, my neighbour heard the alarm going off, saw the smoke and, knowing I worked late, promptly rang the fire brigade. I was just dowsing the last of the smouldering on the curtains with water when there was a bang on the door. In rushed a fireman in full rig and holding a fire extinguisher, which he immediately used, covering curtains and carpet with foam. What a mess - soggy, blackened curtains, a soggy carpet, foam everywhere, a cat still wailing and a fire engine in the drive! At this point my teenage son arrived home and said, 'Had a problem with dinner, Mum?' Shortly after my husband arrived. Upon surveying the scene he shook his head and said 'You really didn't need to go to those lengths to avoid cooking dinner.'"
Congratulations Brenda - we hope your house, the cat and your nerves have made a full recovery! Well done too to each of our five runners-up, who all win $50 cash each:
Lee Elwood - Poor Lee had a very understandable excuse not to cook dinner after an eventful trip to the airport!
"I confess - I bought dinner the night my husband took my car keys on an interstate flight in his pocket, leaving me stuck at Adelaide airport with four kids under seven and my visiting sister. He was heading for China, but luckily realised en route to Melbourne that he had them! As soon as he realised, he organised for the airline to send them back, but it couldn't be until that night.
"I rang the automobile association, who burst out laughing; they couldn't get us started as the car had a kill switch, but unlocked it for us so at least we could get to the nappy bag - phew! I also found a packet of ham lost in the car from the previous week's shopping - urgh! I tried to get a taxi to nearby Glenelg Beach to keep the kids occupied until the keys arrived but there were six of us so we couldn't fit. We waited an hour until one taxi took pity on us on his third return to the rank and jammed us all in (as long as we didn't tell anyone - whoops)!
"We then walked everywhere looking for a McDonald's but there wasn't one. More walking found us a KFC but suddenly my two-year-old son started to look ill and threw up all over me in the middle of the restaurant. I staggered back to the beach nursing sick son and hoping to occupy remaining children; the two older ones went paddling and got completely wet. By now I had one bag of vomitty clothes, two bags of wet clothes, one invalid and two half-naked children. Luckily the baby was happy!
"Time passed. We tried to get a taxi back to the airport to wait for keys; but again six of us so couldn't fit. Eventually the same taxi driver took pity on us again! After eight hours, my keys arrived back at the airport (eternal gratitude to the now defunct Ansett Airlines); we paid the exorbitant parking fee, started the car (hooray!) and staggered home, which was an hour away on the other side of Adelaide. Bathed everyone, cleaned all the clothes.
"One stiff Scotch and some Chinese takeaway, thank you!"
Marilyn Nixon - At least Marilyn TRIED to cook dinner. However, her careful organisation didn't quite go to plan!
"The family had arrived back late from a trip and I grabbed an unlabelled package out of the freezer and threw it in a pot to heat. We'll have a quick casserole with instant potatoes I thought. The cats were around my feet demanding food as the casserole heated. I grabbed a spoon and dolloped a spoonful onto hubby's plate only to discover it was casserole cat food I had frozen prior to going away! Hence, that night we all got takeaway and the cats got a nice, heated dinner!"
Patricia Conman - Patricia also had the best intentions of cooking dinner. Unfortunately for her, so did her toddler...
"My two-year-old son thought he would help Mummy make dinner by washing the potatoes. The only trouble was he used the toilet. After that takeaway was the most appetising option!"
Tara Sinclair - Tara had us all nodding our heads in sympathy at her poetic account of life as a busy wife and mother!
"Here's an account of a day I had recently that caused me to order takeaway.
Off to the shops for more food,
Get the medicines, pay the bills.
Laundry sink overflowed,
Cat wouldn't take her pills.
Kids home from school complaining non-stop,
Oh my, I'm going to blow my top.
Six o'clock has come and gone,
Husband home late,
But wait, he's mowing the lawn!
Forgot to thaw out some meat,
Take a deep breath.
Cooking dinner right now seems
A fate worse than death.
Phone
Credit card
Order
Wait
Ding-dong
*SIGH*"
Carol Woolcock - 'If you can't stand the heat, get out of the kitchen' so the saying goes - and after this tale of woe we sincerely hope that's where Carol's son stays!
"Our 16-year-old son was left at home alone for the first time while we went to a movie matinee. We had given him money to buy a pizza, however, as he was a keen saver he decided to cook himself chips. He was eating them and watching TV when he smelled smoke and ran to the kitchen to find the pan of oil alight - so he carried the pan to the kitchen sink and turned on the tap, igniting the curtains. He then had the good sense to get out of the house! We arrived home soon after to find the fire brigade hosing down the charred remains of our kitchen. I turned to my husband and said 'Sorry Darling, can't cook dinner tonight!'"
---
This month is Volunteer Month and we want you to share your good turns with us. How have you, or someone you know, given up your time to help someone else? Big or small, we want to hear about it! There are cash prizes up for grabs for the best stories, with $100 for the grand winner and five prizes of $50 for the runners-up. Closing date is July 25th. Enter the competition here - we can't wait to read your entries!
---
Our Hidden Gems directory is designed to help members find it easier to source the best deals in their area. Whenever you come across a real gem of a store, enter it in our Hidden Gems directory and you could be in to win our monthly prize of $100 cash! This is our way of saying thank you for helping other members save by sharing your knowledge. The more information you can give us, the better your chance of winning. This month's winner is Healthy Hampers as nominated by Jade M. Read her entry to see what makes them such a great example of a Hidden Gem:
150 Brisbane Street, Ipswich, Queensland
"Healthy Hampers is an amazing store and the backbone of my weekly shop. It is a co-op so you do have to be a member to shop there, but anyone can become a member for $25 and in your first shop you get $10 back! $15 for the first year, it is definitely worth it, especially when you save more than that in your first shop! It is truly great.
"The shop firstly sells very heavily discounted stock to help assist those who are struggling. They are a not for profit organisation and are truly just there to help everyone. Last week I bought $40 worth of groceries that would have normally cost me towards $100 elsewhere. Last week I got a whole big bag of apples for $0.50c, a whole bag of onions for $0.50c, a huge lettuce for $0.50c, three bundles of bok choy for free, a pre-made salad mix for $0.50c, 1kg of bacon for $4.00 and lots of non-perishable items such as rice, biscuits and chocolate!
"Their stock changes weekly so there is always something new and the store is so fun to go into as you never know what amazing goodies you will find. It also helps that the staff are so friendly and remember me by name and always take the time to ask me about my week, help me with my basket if it is too heavy and are always smiling.
"My husband and I got married three months ago and are trying to save to buy a car. We have to watch every dollar we spend and having the Healthy Hampers co-op as our main shopping supplier has been a godsend. This store is really a hidden gem in the middle of Ipswich and truly deserves some type of reward for all they do for the community.
"They are only open on Wednesdays and Thursdays from 11am to 4.30pm I think, but it's worth taking the time to go there. The staff don't need to be charmed to give you the best stuff as they are just so willing anyway. However, the best time to go is in the morning when they open as you don't want to miss out on any of the best stock that will sell first. They do put out limited amounts at the start and refill as the day goes by so I guess it just depends on the luck of the customers."
Congratulations on being this month's winner Jade and a huge pat on the back to Healthy Hampers for providing consistently outstanding customer service and value for money! There are some fantastic charity organisations out there so if you know of any good ones do write in and tell us about it so we can share them with others. You can enter your own Hidden Gems into our monthly competition here. Thank you and good luck!
---
One of the many benefits of being a Vault member is that you can win a cash prize of $100 each month for your Simple Savings blog! Starting your own blog on the site is easy. All you have to do is log into the Vault, click on 'My Desk' at the top left, then 'Your Blog'. Then get writing! We love reading all your money saving trials and tribulations and really appreciate the effort that goes into each one.
This month's winner is SuperSaver for this extract from her blog 'Careful Saver':
I don't know about you but at this time of year do you receive letters in the mail from charities asking for much needed funds? I think we have received about a dozen of these letters and I generally have a quick read and put them in the bin. But one such letter I received really hit a note with me and I want to share this experience with you. Firstly, before I begin this story, I believe you should have one or two charities that you support. It's hard when you are on a tight budget but remember that it is a tax deduction and the blessing of making your payment before June 30 is that you can claim it in this year's tax return. I also believe it's a good habit to give and be generous. We really don't realise how blessed we are as a country.
Anyway, back to my story (I should warn you that it might be hard to read for some). I received a letter that explained about a charity that does surgery on women who have become incontinent due to having a traumatic birth. In a Western country, if the mum was having difficulty giving birth, an emergency c-section would be done for the health of the mum and her baby. In third world countries, however, they have no such luxury, often giving birth in their hut with no medical help. Sometimes they have a long and stressful birth, when the baby is born it is dead due to the trauma, and the woman becomes incontinent due to the pressure of giving birth. This story brought tears to my eyes because I am a mum of a 10 month old baby girl and I had to have a c-section because she was in breech position (head the wrong way around). I already support two charities and I knew that we were on a tight budget but I felt led to give a small amount to this charity. They basically do an operation on these women so that they are no longer incontinent and can live a life without embarrassment.
The minimum amount was $35 so I sent my details and felt good that I might have been able to help at least one woman. The next day when I was looking over our accounts I looked at our ING savings account and low and behold the interest I had made that month which had been added to my savings the day that I sent our donation was $35! I wish I had given a bit more now ;). But the moral of this story is the fact that I do believe that when you feel led to give, you should give because you will receive in return in one way or another.
Congratulations SuperSaver! To read more from her, or any of our other members' blogs, click here
---
Got the volunteering bug? Good on ya, you've come to the right place! Our caring Forum members will show you how easy it is to get a 'money-free high' whilst lending a hand in your community.
Stumped for ideas on where to offer your help? From school tuckshops to community aid abroad, soccer clinics to assisting with the Red Cross or SES; there is something for everyone to get involved with!
read more...
Kids love getting stuck in helping others! How about involving the whole family in volunteering their time?
read more...
Simple Saver Rebecca shows you how helping others can bring joy and meaning into your own life too.
read more...
Can you knit or sew? Why not share your lovingly hand-made items with local charities and help make a difference?
Knitted 'little boy' pattern for charity/emergency care?
Sewing/crafting for charity
Don't forget our faithful, furry friends when it comes to volunteering your time!
read more...
---
Volunteering is for EVERYONE! Your selfless giving of time reaps wonderful positive rewards such as building friendships and feeling part of your community. But did you know that volunteering can often save you money as well? All the proof you need is in the Vault!
Volunteering at our school's second hand book sale saves me around $1200 a year! I normally spend close to $1500 on school books for my two boys, who attend a nearby private secondary school. By giving up a few hours of my time to help at the school's end of year second hand book sale I get first pick of the books the boys will need the following year, and I got all of this year's books for just $300! This also takes the stress out of January as all the books are bought before Christmas.
Contributed by: Kezza
I recently noticed my elderly neighbour was unwell and no longer able to drive or leave the house; relying on taxi services to deliver food (often expensive pre-packaged items), or he would have home delivered takeaway. Being a fussy eater, he was reluctant to consider 'Meals on Wheels', so I volunteered to shop for him and cook him three different meals a week. Each week he gives me enough money to cover the costs of his meals (soups/stews/freezable casseroles) and I make up bulk amounts of each dish. I deliver half to him and keep half for myself, as suggested by him for payment. Not only is he saving money on taxis and home delivery, but he is eating healthy food and my family is also provided with three meals a week as a bonus for giving up a little of my time. Often cooking for one is not inviting, but cooking for others encourages healthier eating habits and helps regain social contact. Often a lonely person will gain a new lease on life to boot. A great savings all round, and using recipes from the Vault saves me even more!
Contributed by: Laree Thorsby
I am saving over $1000 in gym fees by volunteering at the gym's creche. I'm not sure about other gyms, but I learned that my local gym is always looking for volunteers to do a few hours looking after the children in the creche. In return, volunteers get unlimited free use of the gym, as well as a 10% discount for the creche. Volunteers need to provide a police clearance letter, must undergo a Working with Children check and be interviewed by the gym's management. What a fantastic way to save money and get fit!
Contributed by: Rinnie S
Save on the cost of owning a pet by adopting one at your local animal shelter instead! Many people would love a dog or cat but can't afford to have one or can't have one because of where they live. However, that doesn't need to stop you from having a special animal in your life! If you ask to volunteer at your local dog pound or animal shelter you will be able to help look after and socialise an animal for free. You'll also meet some other animal lovers and you'll be helping to save an animal's life.
Contributed by: Amie Etheridge
Not only do I buy clothing and household items at half price by volunteering at my local op shop, but all the profits go back to the local clubs and other volunteer agencies. My clothing costs me $1.00 or $2.00 per item, it's a great social opportunity to mix with other people and you feel good to be helping others!
Contributed by: Bev Jackson
Here are some extra tips and information to say thank you to our Vault members for joining and helping us make Simple Savings such a fantastic site. Happy volunteering!
Dramatic savings for theatre volunteers Contributed by: Donna-lee Greaves
The spirit of co-operation Contributed by: Jannine Ord
Volunteer your time and reduce club fees Contributed by: Catherine Magraith
Cheap seeds online Contributed by: Alison Bruce
Helping others in need Contributed by: Heather Davies
---
I reckon Volunteer Month is a great time to join in the fun and celebrations at your local school fete. Even if you don't have children still at school or children aren't yet on your agenda, you can still indulge your inner child by joining in at the animal farm, side show alley and making something special for the home-baked goodies and sweets stall. Maybe you could offer to take the children of a neighbour or friend and give them a day off, giving your volunteering efforts a double whammy!
There's nothing like the wind singing through your hair on the Whip It ride, churning your insides straight after a burger with the lot, made by the parent whose child sits next to yours in class, who hasn't got a clue about food presentation, and has probably burned the meat pattie, forgotten to toast the bun and neglected to add the BBQ sauce. Yep... the school fete... ya gotta love it.
Here's a yummy slice that's bound to be a big hit. I bet it sells out in the first hour or two. You'll be a legend!
Baking dish lined with baking paper
Large bowl
Electric mixer
Large mixing spoon and big muscles
Spatula
Knife
Dessertspoon
Cooling rack
Small microwave-safe bowl
Sharp pointed knife
Small glass of hot water to use when slicing
Egg spatula
One or two large airtight containers
3 eggs
2/3 cup sugar
2 cups milk
1 cup coconut
3/4 cup plain flour
3/4 cup cocoa
1 tsp vanilla essence
425g tin pitted cherries, drained well
1 cup chopped dark chocolate or chocolate buttons
1/2 cup cream
1 tsp vanilla essence
Preheat your oven to 170C or 160C fan forced.
Grease and line your baking tray.
Beat your eggs and sugar on low until well combined
Add the milk and vanilla essence and beat on the lowest speed until mixed. Don't do what I did and beat on high or you're going to end up with a new attractively fragrant hair treatment!
Add the coconut, flour and cocoa and stir with your big spoon. The mixture will be a lot thicker now so you'll need to really get into it. My daughter always proudly shows me her pumped biceps after hand mixing this one. Who needs the gym when a good bake-up will do the trick?
Pour the mixture into your lined pan, and no licking of fingers yet please.
Spread the drained cherries across the chocolate mixture and press them gently into the mixture.
Put the tray into your oven for around 25-35 minutes, remembering that ovens vary. It's done when you touch it lightly in the middle and it springs back. NOW you can lick your fingers.
When cooked, cool for about 15 minutes before running a knife around the edges to loosen it. Keep it in the tray for now.
Make the ganache by putting your cream, vanilla essence and chocolate or chocolate buttons into the microwave-safe bowl. Microwave on full power for 30-45 seconds. Stir and continue to microwave on high for 15 seconds at a time, stirring well. When it's all smooth and satiny, it's ready.
Pour the ganache over your Black Forest Slice and chill for an hour or so to allow the ganache to harden slightly.
Use your sharp pointed knife to slice the large rectangle into smaller squares or fingers, dipping the knife into a glass of hot water intermittently to allow it to slice cleanly through the ganache. Remove the slices or fingers with an egg spatula and store in an airtight container.
Deliver to your eternally grateful Fete Convenor with a big 'aren't I clever' kiddy grin, making sure you include a list of ingredients and your phone number.
---
I'd like to introduce you to a very special friend of mine. His name is Louis and he's seven years old. His mum Tara and I went to primary school together in England and purely by chance ended up together on the opposite side of the world decades later. Funnily enough it was Simple Savings who brought us together! Tara and her husband Greg became Simple Savers three years ago when they took part in the first No Spend Month for NZ current affairs show Campbell Live. In typical fashion they threw themselves into the challenge and even though Valentine's Day and Louis' birthday party fell during the same month the pair of them was not deterred from their mission and by the end of the month they had saved a whopping $1000. Just goes to show what you can achieve with a little conscious effort doesn't it!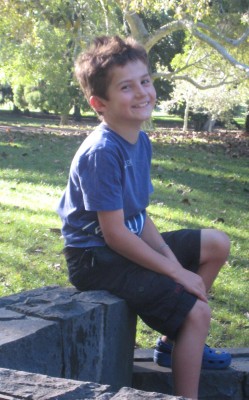 It's just as well this family is good at saving money because boy, do they have some saving to do. You see, from the outside Louis looks just like any other seven year old boy. He has a wonderful, caring personality, heaps of friends, is bright as a button and has a gorgeous smile as you can see. He can chat away happily to anyone about anything - I've learned heaps about caring for pet rabbits from Louis! However, if you look closely at his picture you'll see he is wearing a rather important bracelet. It's his Medicalert bracelet which tells people he is a severe diabetic.
Louis was diagnosed with Type 1 diabetes when he was just five. It turned the whole family's world upside down and from then on life became a constant routine of monitoring food, monitoring blood sugar and administering medication. But like many people I didn't understand the implications of this condition. I remember when Tara first announced Louis' diagnosis. 'Oh no, that's terrible!' I said - and meant it - but in all honesty I thought it was a bit of an inconvenience, nothing more. I was one of the countless people who confuse Type 1 and Type 2 diabetes with being one and the same, when in truth they are very different. When you are a seven year old with Type 1, every day you are faced with a barrage of needles. When you are a seven year old with Type 1, everyday childhood illnesses and injury is far more traumatic and prolonged. Just keeping a little fella like Louis well from day to day is a mission. You never know what each day is going to bring and planning anything can be very hard.
When I first started spending more time with Louis and his family I thought it was cute how, when Tara and I went out anywhere, she would give Greg a quick rundown of exactly what Louis had eaten, his last blood sugar reading and exactly what else he could eat and how much if needed before kissing him goodbye. 'How organised they are! How easy they make it all look!' I thought. But I was wrong. It's not easy, not at all.
They say 'there's no friend like an old friend' and Tara is one of life's true gems. She is one of the funniest people you could ever hope to meet and has me falling over my desk with laughter on a daily basis. She's been the same ever since we first met at nine years old and is good at putting on a brave front but the more time I have spent with her these past few months, the more I get an insight into what a massive weight diabetes is on any family's shoulders. When Louis has a bad day, Tara feels totally responsible, like it's all her fault. Of course it's not - but you try and tell any good mum that! I've been lucky - when I see Louis he's always placid, happy and talkative. I don't see him on the days when he's trying to resist his insulin or is just plain over it. I might not see Louis, but I see his mum and when she cries it just breaks my heart.
Do you know what the worst thing is though? If we lived in pretty much any other country this family's life would be so much easier. Louis would have his own insulin pump, which would hugely reduce the amount of finger pricks and injections, he would automatically receive the required amount of insulin he needed whenever he needed it and would be able to eat pretty much what he wants, when he wants, taking a huge amount of stress off Greg and Tara. No more mercy dashes in to school! But we live in New Zealand and our clean, green country is one of just a handful in the world which does not receive government funding for insulin pumps. For Louis to have an insulin pump his family is going to have to raise at least $8000. That's for the pump alone and they only last six years, meaning they are going to have to find this amount again when he is 13 and again when he is 19, for the rest of his life. In addition, these pumps cost around $350 per month to maintain with all the necessary bits and pieces. See what I mean about a giant savings goal?
Louis has been through so much already but every time I see him he has that same gentle smile on his face. It's not his fault we live in one of the only countries that doesn't receive funding. He has a long road ahead and he deserves that bloody pump. So do his parents. So I'm going to make sure he gets it. On October 31st I am running the Auckland Marathon to raise money for my little mate. The support I have received already has been huge - and I haven't even done it yet! Louis isn't the only one with a long road ahead - between now and October 31st I will have run over 1000 kilometres but it will be worth every step if it helps make that little guy's life easier. So if over the next few months there might be the odd lengthy gap between SS posts, you know where I'll be - pounding the pavements. If you would like to learn more about Louis and follow my journey, you can keep posted through this special blog http://leggingitforlouis.wordpress.com/ See you at the finish line!
---
I bet you thought a wart was just a wart, didn't you? These pesky little blighters affect people of all ages and as anyone can vouch who has ever suffered with them, once you have them, they can be VERY hard to get rid of. However, all warts are not created equal! The size and shape of the wart makes a huge difference to how you treat them. The great news is that homeopathy is terrific for treating all kinds of warts, fast and pain-free as Fran explains to us in this month's article. Read more about it here:
homeopathyplus.com.au/warts-treating-them-with-homeopathy
---
Last month Wendy asked:
"We have a house cow. I am interested in discovering any recipes for yoghurt, butter, ice cream and milk soap that people may have. Would your members be able to help or point me in the right direction?"
They sure can! Thank you to everyone who wrote in with yummy recipes and helpful suggestions like these ones:
You can find some terrific home-made dairy recipes by doing a simple Google search. I just Googled home-made butter, yoghurt, cheese, milk soap and ice cream and I found MANY links to information, plus demonstration videos. Enjoy your cow!
Contributed by: Jan Silk
I recently invested in a milking goat and it's great to have fresh milk! We use it to make the following:
To make yoghurt: Simply heat one litre of milk to just before boiling and allow to cool to 43 degrees C. Whisk in two tablespoons of plain natural yoghurt from the supermarket (as a starter). Keep warm for eight hours, e.g. in a sink full of warm water, next to the heater, or in an Esky with a heat bag wrapped in tea towels. Then place in the fridge overnight. It is ready to use the next morning; you can eat it plain or flavoured with honey, jam, fruits or maple syrup. This yoghurt will last approximately 7-10 days. You can then use this yoghurt as a starter for your next batch. It will be runnier than store-bought yoghurt as it is completely natural and has no stabilisers. If you prefer creamier yoghurt add 1/3 cup powdered milk before mixing in the starter.
To make cream: Chill your milk in the fridge overnight. The cream will rise to the top and can be skimmed off. Or, if you are lucky enough to have a milk separator, put it through this twice for an extra thick and creamy cream.
To make butter: Allow cream to come to room temperature. Put the cream in a food processor or electric mixer and mix until the cream 'seizes' and forms clumps of butter and separates from the buttermilk. Pour off the buttermilk and pour one cup of very cold water over the remaining butter. Keep mixing for about one minute. Pour off more buttermilk and continue to wash the butter until the water stays clean. If you like, add a small amount of salt to taste. Using two spoons, press the butter in to shape. Home-made butter can be stored frozen for three months.
Contributed by: Rebecca Tapscott
A wonderful source of this type of information is Grass Roots magazine, available at most newsagents. The library may have a copy. The production team is very helpful; you could ring them and they will send you a back copy that has the recipes you're after. I love this magazine as it is always full of helpful, practical hints on everything from spinning and knitting to farming, gardening, cooking, building and so on. Another excellent magazine is Earth Garden which may also have these recipes; they have a website and you may be able to email a request. Good luck with your quest!
Contributed by: Liz McBride
This recipe for bitter orange ice cream by Nigella Lawson uses over half a litre of cream. You can substitute the bitter oranges with another type of citrus, whatever you have on hand.
Bitter Orange Ice Cream
3 Seville oranges or 1 orange and 2 limes
175g icing sugar
Large pot (584 ml) double cream
Wafers, to serve
If using Seville oranges, grate the zest of two of them. Squeeze the juice of all three and pour into a bowl with the zest and sugar. If you're going for the sweet orange and lime option, grate the zest of the orange and one of the limes, juice them and add to the sugar as before. Stir to dissolve the sugar and add the double cream.
Whip everything until it holds soft peaks and then turn into a shallow air-tight container, approx. two litre capacity, with a lid. Cover and freeze until firm (3-5 hours). Remove to ripen for 15-20 minutes (or 30-40 in the fridge) before eating. Serve in a bowl, in cones, with wafers - however you like!
Contributed by: Seana Mallini
A friend of mine didn't have a cow to milk but she wanted to make her own cheese so took a cheese making course. There are quite a few courses advertised on the Internet. I thought cheese making would be quite difficult but the way my friend described it, it wasn't super hard and she really enjoyed the fruits of her labour. I even think she managed to make a Brie!
Contributed by: Beverley Cull
Kefir is a culture made with milk and is so easy to make; just add the milk to the culture and it grows. It is not as particular as making yoghurt, to get it to the right temperature. I just take milk out of the fridge and add it to the culture sitting on the kitchen bench. In warm weather it is ready to use in 24 hours and in the cold months two to three days. Kefir is a probiotic and has many benefits to health. I have been making Kefir for over 20 years!
Contributed by: Aleisha Stewart
Bonus extras for Vault members
No house cow? No problem! Contributed by: Julia O'Connor
Dairy products made easy with Green Living Contributed by: Judith M
Home made yoghurt less than $2 per litre Contributed by: Chrissy G
Home made cottage and Cheshire cheese Contributed by: Pam W
---
This month Kim asks:
"Help! We are a family of four with two teenage boys and I am at the end of my tether with the amount of washing we make each day. I have an 8kg washing machine and we would wash on average two to three FULL loads a day. At this time of year it is hard to get washing dry outside - we live in a very sheltered area with no breeze and the washing can literally hang there for a week and not dry. I have three clothes horses which I use wherever possible and the outside lines are always hung with washing. The tumble dryer has been going constantly for months just trying to keep on top of things and keep everyone clothed. My husband has a work uniform, my kids each have school uniforms and we are a very sporty family so always have a lot of muddy, sweaty sports gear to wash. Hubby and I try to make our own clothing last as long as possible between washes but the kids are something else! Does anyone have any suggestions for some sort of solution, routine or habit that we can all get into to help reduce the load? Thank you in grateful anticipation!"
If you have any tips which can help Kim, please send them in to us here.
---
Back when I first discovered your wonderful site, I was essentially working to support my useless boyfriend. Five and a half years later I left him (with $30,000 of accumulated debt that I have still not received back from him) and vowed to enjoy life for a change. I had lost 45kg through good (self-taught) nutrition and walking and had a new lease on life. Moving back with my grandmother allowed me to pay off my credit cards and consider formal nutrition qualifications.
Fast forward to today, past another boyfriend, STACKS more life experiences including my first international travel. I am now a Registered Nutritionist with the Nutrition Society of Australia (having completed my Master of Human Nutrition), work in diabetes prevention and have a wonderful boyfriend who loves to get out and experience life as much as I do. Plus, being English, he's got a lot of Australia to explore! But I still have debt and given that his occupation pays double mine (and we live 250km apart), I find that my debt has been gradually accumulating. A major part of this is making up for lost time from when I was 18-24 with that initial boyfriend, working full time and essentially working as an eBay seller full time also, just to pay for us both. Don't get me wrong, being a musician is cool, but you need to also be realistic when it comes to living costs (or just find yourself a girlfriend who is willing to pay for you)! The other part is that because my current boyfriend earns so much more than me and I've always been the 'breadwinner', I feel like I have to keep up with him.
Anyway, the start of 2011 for me was celebrated on a backpacker tour of the Red Centre, specifically Coober Pedy by this stage, and an accumulated debt of just on $14,000. To put this in perspective, I don't drive, have no car, rent and live approximately 8km from the CBD of Melbourne. My job pays better than it used to, but I've only been on this rate for about 10 months. I vowed that 2011 would be the year that I slash my debt and have been working steadily at this. I did some research, applied for a loan to consolidate my debt, budget and spend very little on food to get by. I try to walk as much as possible and have a very vegetable-based diet. I do like meat but I don't have it as the feature of my dish - it is just another component. I've essentially been completing the $21 Challenge now for months and rarely spend more than $10 a week on food. By relying on vegetables and healthy cheap meals, your health naturally improves which will not only make you feel better but also reduces medical costs. Couple this with active transport and it's a bonus!
Getting back to the debt, I have now got this down to $7000 and, having intensified my repayments, I will have this paid off in full by the start of September. I have graphed it all out and have regular payments and if I have a little bit more left over, that goes into the debt too. But don't think I haven't enjoyed my year either - I've been on a trip from Cairns to Brisbane (via Airley Beach and Fraser Island), to Perth, back to Sydney on the Indian Pacific and back and forth to the country town that my boyfriend lives in too!
Kate Delley
---
Congratulations on making it this far through the newsletter! I hope you have really enjoyed it. If you have any suggestions for things you would like us to include or exclude from future newsletters, please drop us a line. Good or bad, it doesn't matter. I love feedback and your input helps us to keep improving. If you have enjoyed this month's newsletter, why not forward it to your friends to help them save money too? Or tell them about us on Facebook by clicking the 'like' button on our Simple Savings Facebook page?
Best of luck with your Volunteer challenge. See you next month, if I don't bump into you on the Forum first!
All the best
Fiona Lippey