July - Get Moving - Move it or lose it.
How to get active
Making masks
Money saving tips from the Vault
Cooking Competition Hint Winners
Leg Up Program
---
Hello,
I hope you are well and 2020 has been an OK year for you. Life in Simple Savings land has been trotting along. The kids were able to get back to karate and soccer this week. At Jacqui's first karate class her instructor looked at her, grinned and asked for 60 push ups. Her arms, abs and back muscles were very sore.
For everyone that can get out and about July is a great month to get active. Our bodies need movement to stay healthy. In this newsletter we are focusing on Covid safe ways to get active.
Let's get to it :-)
All the best,
Fiona
P.S. Leg Up Program - Every time someone buys full price 12 month Vault membership we give one to someone who would like a Leg Up. If you would like a Leg Up, go here to apply.
If you would like to buy a Vault membership, click here
---
If you are new to this newsletter, each month we set some challenges to help inspire you to improve your habits, help your budget and to help everyone save the planet.
These follow along with this years theme - Save the Planet
We would like to help you to think about the best ways that you can stay healthy.
Our challenges for this month are set at -
E = Easy - Find time to exercise for 15 minutes a day
M = Moderate - Exercise for 30 minutes a day, 3 times a week
D = Difficult - Exercise for 30 minutes everyday
To our gym lovers and sports enthusiasts - set your own cracking pace!
---
There are many creative Simple Savings ways to make do and exercise with what we have at home.
A few gentle stretches in the morning are a great place to start, it costs nothing but a few quiet minutes.
No equipment required exercises - do 5 of each one of the following for a minute, when you find a quiet five minutes later in the day. Squats, burpees, sit ups, planks, push ups
Then you could repeat those 3 to 5 times each.
Look up exercises online. There are some great apps and loads of YouTube tutorials.
Squish exercise into your day by wearing wrist, waist or ankle weights while you clean and/or fold clothes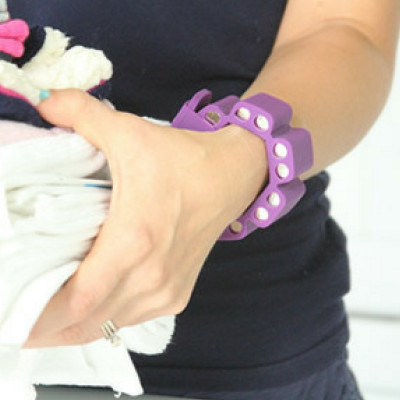 Enjoy some music if you can, while you are doing exercises. It's a great distraction.
If you live in an apartment choose to walk down some of the stairs, rather than taking the lift. The same goes for your workplace, even if it's only part of the way up or down the building or to the train station or the bus stop. Or go for a quick walk at lunch time to stretch those legs and clear out the cobwebs.

Gardening is a great way to exercise and grow your own tasty food.

Get outdoors, go for a bike ride, even a stationary exercise bike will do very nicely, dance around your lounge/ living room, or run around your backyard, or have a run around in the surf or along the beach if there's one nearby.

Lots of places now have designated walking places for people to enjoy. Can you find one near you? Take a friend or if it's a safe area, go alone during the day.

Don't forget that even if you are working, you can always get up, get out of your chair, stretch, have a drink and go look out of a window for a few minutes.
If you have some great tips on getting active you would like to share with others send them in here
---
It is great to be prepared and have a mask or two in your bag. To help you make some we have sorted through mountains of online tutorials and found the best 'No sew', 'Low sew' and 'Need a machine' mask making methods.
If you need a mask in a hurry. This is a great video. It shows you how to cut up a t-shirt with a pair of scissors and turn it into a three layer mask. This is the best of the "No sew" mask tutorials. The good part about this method is it is easy and has three layers of fabric. The downside is that because there isn't any stitching. You may need to spend a lot of time adjusting and re-adjusting your mask.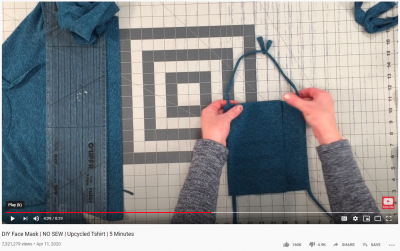 This "low sew" mask is better than the "no sew" masks. It has wire across the bridge of the nose for a better fit, has four layers of fabric, it's straps go around the back of your head which will stop your ears from getting sore, and doesn't need constant adjusting. All you need is some wire, an old t-shirt, needle thread and scissors.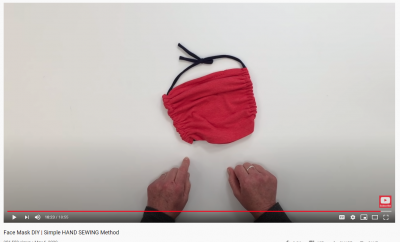 If all you want are the instructions to make a basic mask on your sewing machine. This is a good tutorial.
This tutorial was made by a retired medical professional helping people make masks for her former colleagues when the hospital ran out of disposable masks. If you would like to learn the difference between different types of masks. As well as, how and why they work. This is a great tutorial.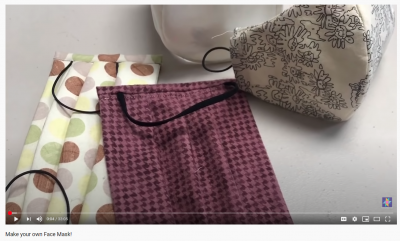 This is the follow on video and goes through some of the problems they had with various mask designs and how they improved them. Such as placements of straps, types of materials, etc..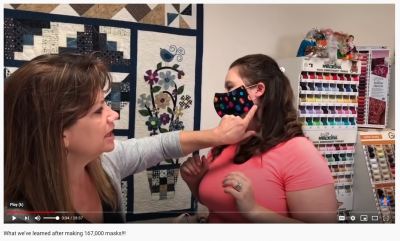 ---
With 20,000 money savings tips in the vault is a great place to spend the day and learn how to free up your cash. Here are some of our favourites for this week.
I saved a fortune on a day's well-earned pampering! I had a rare day to myself and was wondering how I could best spend it. My initial plan was to go to a movie, buy a coffee and some chocolates and then get myself some lunch, maybe a neck and shoulder massage - money, money and more money!
So instead I pulled some home-made chicken and vegetable soup out of my freezer and put on a DVD which I had been given for Christmas and hadn't ever made time to watch. I got out the foot spa, essential oils and foot cream, put on a face mask and made myself an extra big coffee in the recently bought coffee maker (bought for half price). The total cost for my treats? A few dollars. This was for a whole marked down wedge of Brie, with two days before it was due to expire. I had a wonderful day of peace and quiet and pampering and I didn't have to leave the house!
I found free aerobics and yoga shows on YouTube which means I can do my workout at home when I want to, and the variety is amazing!
I saved on expensive gym fees and got on my bike instead! I used to be a member of a gym but found that I wasn't able to get there as often as I liked as I have a young daughter. Instead I bought a mountain bike on special and bought a good quality child seat for the back on special, plus a couple of helmets.
Now my daughter and I enjoy a bike ride everyday to a few different parks around our area. The bike has already paid for itself, I'm getting more exercise and my daughter and I benefit from the fresh air and time spent together. It makes for a cheap family outing by just throwing in some sandwiches and fruit to eat.
---
This month's winners are Jeanette Shaw with her family's Yorkshire Pudding recipe and Helen Blemish's clever take away calculations.
Working out how much I save by making take-away instead of buying it opened my eyes. Not only the monetary cost, but also the "working time" cost and the environmental cost.
After seeing the queues of cars on the last night before lock down, and the first morning out of lockdown at the heavily marketed takeaway stores. I started to think about the costs of takeaway food.
Take away Pizza Meal for 2
$5 from franchise pizza, 2 garlic bread ($8), 1.5L drink ($2.50)
15-20 min wait time. Total: $20.50
Homemade Pizza meal for 2
$2-3 for basic ingredients. Soda stream $0.50 , Garlic bread $5.
Time 20 minutes. Total:$8.50
**Money Savings - $12.00
Environmental Savings - cardboard boxes, plastic bottle**
Sometimes the amount of time it takes to make homemade takeaway means it is more economical to buy takeaway. But, sometimes the "work time" or "environmental cost" or "wait time" or "health value" means it is better to make it yourself.
Before, you buy fish and chips... burger a franchise... pasta... Thai takeaways.... Indian takeaways... franchise sandwich/roll... pie... your favourite takeaway. Work out how much you meal is going to cost and how long it will take you to buy it. Then look at what it will cost you and how long it will take you to make it. Then make an informed decision about whether or not you want takeaway.
Don't judge yourself (or anyone else), just raise your awareness of the real cost of those takeaways.
With the challenge of Covid 19 we have all been on a steep learning curve and to assist in my own "Learning Curve" I set myself the challenge of making delicious and healthy food with ingredients I already had in the pantry.
I collect recipe books, the older the better. The C.W.A. Is a good basic cookbook, so I started with that. My granny Lucy was a Yorkshire lass so I made Yorkshire Puds in muffin pans. Easy peasy.
A glass of eggs, a glass of milk, and a glass of self raising flour. Good pinch of salt, whip into a batter like consistency and pop the jug or bowl into the fridge for half an hour.
After half an hour stir in an ice cube or some ice cold water into the batter and whisk again.
I cheat a little and pop my jug of batter into the freezer compartment for 15 minutes as I can't wait to eat them
Pour a little virgin olive oil into your pans, and place in your hot oven until they are smoking hot. Pour batter into each one, about one quarter of the depth.
Into your hot oven they go for about twenty minutes.
Without opening the door check on your Yorkshires visually.
When ready they should be risen, light golden and crispy.
Make some thin gravy and pour over your cooked Yorkshires. This makes a meatless lunch. I like to add a brown sauce, Daddy's Favourite, H.P. Sauce or even BBQ sauce will do.
I promise you they are heaven on a stick, well not exactly on a stick, but you get my drift.
---
For every full priced Vault membership purchased from Simple Savings we give one away to some who could do with a Leg Up. Here are some of the incredible stories from people you have helped us help in the last month.
If you would like a Leg Up, apply here.