This issue includes:-
Sad Sally, Happy Hanna: First Date
March is Hidden Gems Month!
Hidden Gems Competition Winner
Best Members' Blog: This Month's Winner
Best of the Forum: The Best Shops Ever!
Best of the Vault: Smarter Shoppers
Cooking with Mimi: Hidden Supermarket Gems
Penny's Blog: Happiness is a Pair of Red Shoes
Lin's Garden Diary: Best Mates Grow Well Together
Homeopathy Corner: Is it Normal?
From Last Month: Radishes!
This Month's Help Request: Home with Pets
Savings Story: On My First Challenge!
So Long, Farewell, Auf Wiedersehen, Goodbye :-D
---
Hello,
How are you going? Good I hope. Today it is a bit of an exciting day in the Lippey household. My Omi, (grandma) Hannah Lippey turns 99. How is that for a brilliant age! Ninety-nine! I love my grandma, much of her wisdom shaped Simple Savings. Whenever I'm lost I ask my Omi for her advice. She is a very special lady and if I can be just half the lady she is then that would be one fantastic life. Cheers to Omi! A truly wonderful lady!
While we are raising our cups of tea I would like to propose a toast to you and all the Simple Savings members. Thank you for your help throughout the years. We have achieved some fantastic things working together and the following praise is for you and the whole Simple Savings team.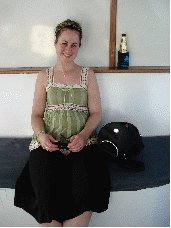 "I just wanted to share my gratitude! I ordered the $21 Challenge book and a year's membership for the Vault and I am already inspired! I just checked the inventory of both my freezers and discovered about two weeks' worth of meals and snacks! I will only need to buy bread, eggs and milk to top us up so I guess that's the $21 Challenge! Thank you so much for the inspiration. I'm looking forward to receiving my book in the mail. This has come at a perfect time for us too as I only get paid monthly and my husband isn't getting paid regularly at the moment.
"Thanks again for showing me how resourceful I can be." (Kristy Steel)
"Dearest Fiona and all the amazing team of SS. I want to tell you how grateful I am, I got your book, The $21 Challenge and I got it signed - wow! It has changed my life forever. I am married for four years, I am very bad as a housewife, to be honest too much to do and I don't know where to start. Plus, at the moment, we are having lots of financial problems so my hubby and I live on a very tight budget. So I decided to put into place my action plan and change for a better housewife. I want to have a wonderful clean, organised house and be an excellent cook! I found myself spending lots of money on lots of ingredients that in the end I did not use in my cooking, due to the lack of knowledge. Now, with my $21 Challenge book and my membership to your amazing website I finally got it! I have now a better looking home, I use lots of vinegar and bicarb soda, and I am starting to feel more confident in my kitchen. My husband is noticing these changes and he is very, very happy, mainly because the food I am creating from scratch and it is yummy and cheap. I am cooking lots of casseroles and quiches and home-made pizzas. My hubby eats very well and I am losing weight too since we don't buy cheap snacks! So really you have to know you have a place in our lives and in my heart and I can't wait to buy more of your books to give to my sister in Mexico and my parents-in-law in Western Australia! Thank you with all my love and keep up the fantastic work. I loooove Simple Savings!" (Jenny and Richard)
"I live in the USA. I came across your site a while back. I have followed your yearly calendar and used some of the $21 Challenge meals. When I started using your site my family was deep in debt. My spending was out of control. Well, this year my debt is half gone. We were able to re-mortgage most of our debt, have only used cash for all our spending over the years and have been able to save money instead of spending it. We can live better, not be so stressed worrying about how to pay for all those bills etc. My food bill is high. I use menu planning and a price book from each store that I shop at.
"For example, at Aldi, I keep my receipts from the store and write in a small note book for prices for most staples like milk, eggs etc. (list eggs $0.99c, milk $3.00). I look up store flyers and plan my weekly meals. So if I was to be at Wal-Mart shopping and they have milk on sale I can open my price book to compare if it's a deal or not. I only use cash; no plastic, no bank checks or debit cards. For all my groceries I shop with a list. I use a number clicker that adds up close to my budget amount. Sometimes I need to put food items back, which isn't fun. But we eat well and it's nice to live within our monthly income. We wanted to thank you for sharing your site with others." (Tracy Walters)
"I would like to say thank you very much for my book, I received it yesterday, I can't wait to read it. I would like to congratulate all of your staff for all of your helpful hints and your calendar, as these have helped me save a lot, get my GE CC paid off, start to save some money and get all of our bills organised and paid off each month on time. My DD is the one that got me into SS a couple of years ago as a Mother's Day present and she renews it each year for me. I love her for that, and I love what SS has done for DH and myself." (Julie Beattie)
Wow! Congratulations everyone! We make a great team.
Many grins,
Fiona
PS. $21 Challenge books for $10 plus postage. ALMOST SOLD OUT!
We have been selling NZ copies of the $21 Challenge book to people in Australia for $10 per book plus postage for the last couple of weeks and we are close to running out. So if you want one please click here and be quick.
(Once these books are gone, we will not have any more books for a month or two.)
---
Tom looked at Pete and shook his head. His date with Chloe had started so well, but before he knew it, he'd stuffed everything up. The night was a disaster! "Mate, she is never going to talk to me again!" Pete struggled to find something to say to make him feel better, "Oh come on Tom, it can't have been that bad!"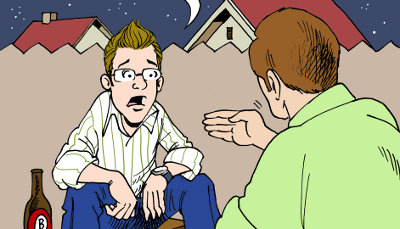 Sally had been waiting all day to hear about Chloe's date. Her heart sank when she saw Chloe at the door looking like she'd just had the worst night of her life. "It was awful, Sal. The garlic bread was burnt. The waiter knocked the wine over, then the chef abused us and for some silly reason I started crying. I can't imagine what he must think of me! I actually cried. I cried on our first date!"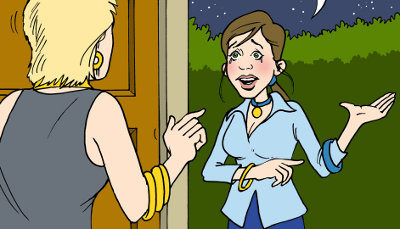 "She'll never go out with me again. The restaurant was a disaster, I bet she's telling her friends right now about the worst date she's ever had!" Tom wished he could block out the memory. "Oh mate, I'm sure she's over it by now," Pete said, hoping to get Tom in a better mood. "She hates me so much that she cried!" Tom sunk his head into his hands. "So what's your plan Tom?" Pete asked. "I'm thinking I might shave my head and join a monastery - at least I can't go upsetting any more women there!" Pete smiled wryly. "If that's the case, mate... can I have your tools?"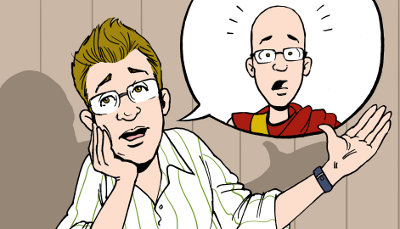 ---
Imagine how different their night would have been if Tom had known of a fantastic restaurant where they would have received impeccable service! But, that's the thing about restaurants, it can be hard to judge which ones are good. Often the best way is to ask a local - or go to a chain restaurant where you know exactly what to expect. This is why so many people go to chain restaurants. They see them as risk free; they know what is on offer before they even enter. It is also why they are so boring. There are no exciting surprises. No Hidden Gems!
Last holidays we drove from Buderim to Eden and back (4000 km's total!). My favourite stop was in Ulladulla. We found a beautiful Vietnamese bakery called Vince's Bakery. The food was stunning, it was affordable, it was delicious, it was hidden in the Franklins car park. If you're from Ulladulla, you may be reading this and saying, 'Of course, everyone knows Vince's is brilliant!' But if you're not, I hope you've made a note to visit Vince's if you're ever in Ulladulla. It is a true Hidden Gem!
I wish I'd found more Hidden Gems on our trip. I know they're out there! I know there are fantastic places where the 'locals go' in every town. So we're going to see if we can build up a list of the best places to eat when travelling around Australia and New Zealand. So when Simple Savers are on the move, we will all know exactly where to stop in for a tasty treat and no one will have to resort to Maccas!
If you're new to Simple Savings, you might be wondering what are these Hidden Gems that I keep talking about! Hidden Gems are shops that can be hard to find but stand out a mile from the competition because of their consistently good service and value for money. Because these stores are hard to find, we've been putting together a directory of them in the Vault so you can enter a postcode and it will give you a list of stores other Simple Savers have recommended in that area. We call it the Hidden Gem directory and you will find the link to it on the left hand side when you are logged into the Vault.
The directory is good, there are some great places in it, but we want to do better! So this year we are going to focus on improving one area of the directory each month. This month we are running a competition to uncover the Hidden food Gems in your area. What places would you recommend to eat at? This way we can put together a list for all Simple Savings Members to enjoy. We are offering six prizes of $50 each for the best entries received. So send us your best Hidden Gem here.
---
Our Hidden Gems directory is designed to help members find it easier to source the best deals in their area. Whenever you come across a real gem of a store, enter it in our Hidden Gems directory and you'll be in the running to win our monthly prize of $100 cash! This is our way of saying thank you for helping other members save by sharing your knowledge. The more information you can give us, the better.
This month's winner is Harvey's on the Bay as nominated by Bianca Nicholls.
Harvey's on the Bay - 11 Buccaneer Drive, Hervey Bay, Queensland, Australia
The service at this restaurant is second to none. From the first time I had to bring a bunch of rowdy little girls out for lunch and they had water, glasses and colouring-in pencils and paper on the table before I had managed to sit everyone down, to the last time I visited with just my son and they gave him a free kid's lemonade because he was behaving so wonderfully. Meals are about on par with elsewhere in Hervey Bay (although some are divine) but the prices are about $5-$10 cheaper than elsewhere and the view out of the windows at the marina are pretty special too. Kids' meals are only $8.50 and come with a free frog in a pond dessert.
Last time I went I was telling our waitress how impressed I was with the service and she called the owner out to hear it. He actually praised his staff and told us how happy HE was with them which I liked.
The one time our meals took longer than about 20 minutes to get to us the staff came and warned us it could be a little longer because they had just had a rush of orders. But they still got the kids' meals out in about 15 minutes and ours were only 10 minutes behind.
My biggest tip is to just be nice to the staff. They truly do seem to appreciate it. They have $13 specials every day or every other meal is only $15. We quite often go after church on Sunday as they do a $10 Sunday roast!
Congratulations on being this month's winner, Bianca and a big 'well done' to Harvey's on the Bay for friendly customer service and great meals at a reasonable price. If you know somewhere special that others would like to know about, please write in and tell us. Send in your hidden gem here. Thank you and good luck!
---
One of the many benefits of being a Vault member is that you can win a cash prize of $100 each month for your Simple Savings blog! Starting your own blog on the site is easy. All you have to do is log into the Vault, click on 'My Desk' at the top left, then 'Your Blog'. Then get writing! We love reading all your money saving trials and tribulations and really appreciate the effort that goes into each one.
This month's winner is Tracey D for this extract from his blog post 'Hello World. I'm a Girl':
I rolled over this morning and nearly jumped out of my skin - Tracey was sitting up in bed facing me.
"I think you better have a shower," she said.
Fifteen minutes later I'd also managed a shave.
"Call your mum," said Tracey, "but don't tell her I'm in labour. I don't want to jinx it again. Just invite her up for a coffee."
At 4.30am.
An hour later we were ready to head up to the hospital: not to have a baby, mind, just because it looks so nice in the early morning light and Tracey thought I should see it.
At the hospital, which was quite lovely nestled beneath the morning rain clouds, we stop-started our way towards the emergency entrance.
Up to the fourth floor: the mid-wife directed us into the waiting room. "It's time, is it?"
"Yes," said Tracey. And then it all stopped. "Oh, s***!"
Fortunately it started up again an hour later, only this time with instant vigour.
And at 8.35am this morning, little 'soon to be named' arrived at a healthy 7lbs 3oz. Miss0 is 51cm long with an apparently deceptively large head and is the most beautiful little cherub in the whole world. Both are doing well and as we speak the Devereaux and Lawrence clans are converging on the hospital to welcome our latest wonder.
Is there a feeling in the world to compare with a day like this? I'm forty-four and this is the seventh time I've been privileged enough to experience it, and I think not. I must say though that as a father, witnessing your wife endure the pain and being unable to do anything much about it, you do feel quite useless and unnecessary. All you can do is mutter encouragements, rub her back and make sure there's always cold water handy for sipping. Which I'm told is heaps, but every time we go through this I think 'When this is done she's going to hate me.'
Then today, same as every time, when I was leaving to tie up some loose ends, Tracey grabbed my hand.
"Hurry back," she said.
You girls really do forget everything just as soon as the baby comes out, don't you?! Our marriage is, I think, a testament to that innate ability.
Thank you to everyone who has been so forthcoming with their encouragements and blessings on this journey. But mostly, thank you to my sweet, darling wife for all she endures so willingly so we can have this big, wonderful family. x
Congratulations Tracey D! To read more from them, or any of our other members' blogs, click here
---
The quickest way to uncover your local Hidden Gems is to ask family and friends for their favourites. Our Forum is another superb source for discovering the best shops ever!
Sarah S. has been sharing her favourite stores with all her local NZ Simple Savers. Follow her clever lead and add your own 'best ever shops' to our Hidden Gems directory.
read more...
No one knows the insider secrets about a place like a local. Be guided to all the best bits of Brisbane by our Queenslander Simple Savers.
read more...
When looking for the best websites to help you book cheap flights, these online Hidden Gems are priceless!
read more...
And, for even more ideas...
Best site for last minute cheap airfares?
Searching for first-rate toys and educational gifts? Our members have these excellent suggestions for both online and bricks and mortar shops. Take a look!
read more...
If you love to dig up discounts at op shops, here is all the local knowledge for our Brissy based members. Go and bag yourself a bargain!
read more...
---
Many of our members put in a lot of time and effort uncovering the Hidden Gems in their area. Be guided by their experiences and rewarded with the savings you can make. Here are some of their tremendous tips from the Savings Vault so you too can be a smarter shopper!
The marinated whole chickens at ALDI are so economical! For around $10 you get the BEST tasting, best quality and so much meat! I usually buy two large chickens when I have a roast to feed my family of five, but I only need to buy one when I cook these. They are absolutely delicious and full of flavour. I recommend them to EVERYONE!
Contributed by: Leisel Finlayson
For the best pies at the best prices you have to check out Sargents Pies located on 3 Roper Road, in Colyton, NSW. They are only open on the first Saturday of the month from 8am until 11am. But they are so popular, people get there early (from 6am) to grab their ticket ready for the sales! It really is 'first come, first served', but the early start is worth it. You can pick up a box of up to 50 pies for just $13, a box of up to 90 assorted bread and rolls for only $5.00, or if you're planning a party, grab their boxes of party pies and sausage rolls in boxes of 72 for only $13! What unbelievable bargains! (Remember though, it's cash only.) www.sargents.com.au
Contributed by: Getting Better
I have found that shopping at Best and Less is cheaper than shopping at Kmart or Target for things like underwear, manchester and especially children's clothes. I bought some outfits for my daughter the other day: these two-piece sets were only $12 each. After I bought them, I went into Target and for something similar they were charging almost double the price! I've also noticed that most Best and Less stores are out of the way, tucked around a corner in most malls. So now I check with the help desk to see if there is one whenever I'm shopping somewhere new.
Contributed by: Susan Sharf
My daughter saved $30 off a new car battery without any effort. The battery was originally $130 from Supercheap Auto, but as an RACQ member (free for under 20 year olds), she was entitled to a 20% discount (provided in the member's discount booklet). And by taking the old battery back, she also saved another $10. So instead of paying $130, she paid just $100!
Contributed by: Laurel Chamberlain
I've found a way to reduce my fish-feeding costs by more than a third and help a great cause at the same time!
I have two large fish tanks with approximately 50 goldfish in total that eat a huge amount of fish food per week. I used to buy from my local pet shop at a cost of $12 for a small container. After looking online, I came across the RSPCA store which sells a bulk 3.5kg bucket of good quality food for just $99 including postage, that's a saving of more than triple on what I was outlaying! Now I can put the extra towards other fish care items without blowing the budget! And, of course, I also felt good within myself because the funds were going to a good cause.
Contributed by: Kelly R
Extra tips for Vault members
The joys of small town op shops Contributed by: SB
Amazing free Android app makes shopping a breeze Contributed by: Ms Moneypenny
Best place to buy nuts in Dandenong Contributed by: Karen Bruni
Comcare membership for cheap fruit and vegies, Qld Contributed by: tina h
---
When I shop, I usually whiz through the aisles, trying to get through the task as quickly as possible. But I must admit I love scouring the fresh vegie and spice shelves. One spice that I particularly love is sumac. It has a pungently fresh citrus-like flavour that pairs well with chicken, fish, pork and vegetables.
Another Hidden Gem in my cooking repertoire is pickling and brining. It can turn a few basic ingredients into gourmet fare! This month I'll share one of my favourite pickle recipes. Then, using the brining method and that one special spice, sumac, I'll share my secret method for turning a plain chicken breast, so often overcooked and tasteless, into something succulent, juicy, and bursting with flavour!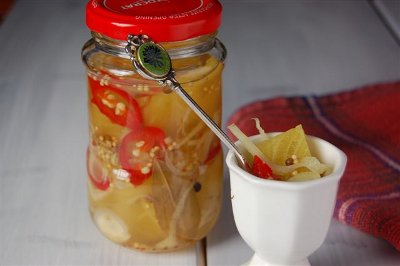 (makes about 500g)
Serve this fragrant pickle warm as a side dish, or store in the fridge and allow the flavours to develop before using as you would any other pickle or relish. Prepare a day ahead for best results.
Equipment:
Small saucepan
Mandolin style slicer or very sharp knife
Dessert spoon
Measuring cups
Apple corer (if you don't have one, just use your knife)
Container with lid for storage
Ingredients:
2 small or 1 large fennel bulb
1 fresh pineapple
2 cups white vinegar
4 dsp sugar
12 peppercorns
2 bay leaves
2 tsp pickling spice or an equivalent amount of spice seeds
1 large red chilli, cut into fine slivers (optional)
Method:
Place the vinegar, spices, sugar and chilli in your small saucepan. Bring to the boil and simmer, stirring until sugar dissolves. Remove from the heat and set aside to cool slightly.
Wash your fennel bulb and remove the stems with foliage attached. Slice the bulb wafer-thin with the mandolin slicer or your sharp knife, and use the knife to slice the stems as finely as possible. If you like the scent of aniseed or liquorice, you'll recognise the fresh, sweet smell immediately.
Peel the pineapple using your sharp knife then use your apple corer or knife to remove the core and cut the flesh into four long wedges. Cut each wedge into fine slices.
Carefully drop your fennel and pineapple into the warm vinegar solution. I love the fragrance of tangy pineapple and the earthy fennel mingled together. It's utterly mouth-watering!
Bring your ingredients to a simmer. Turn the heat off and remove your saucepan, allowing your pickles to cool slightly. Transfer to your container and store in the fridge allowing the flavours to develop for at least 24 hours. The longer you leave it the more flavoursome it will become. To serve warmed, just remove the amount you need and microwave on high for about a minute.
Your Fennel and Pineapple Pickle can be served with any meat dish, but is particularly delicious with chicken, pork or fish. It'll be sublime with your Brined Sumac Chicken Skewers!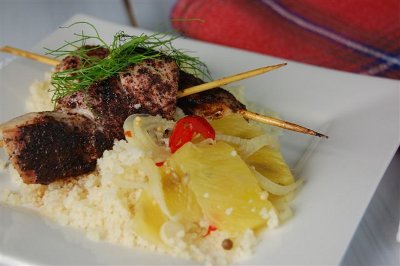 Brining is a little like marinating and a little like poaching. It gives the chicken a wonderful succulence and delicate flavour. You'll need to start preparation of your skewers about three hours ahead of serving. This is one recipe where you can get away with cheaper quality brine ingredients as you'll be discarding the liquid after resting the chicken breasts in it.
Equipment:
Large saucepan
Large deep bowl or container that will fit into your fridge
Measuring jug or measuring cups
Sharp knife
8-12 skewers, trimmed at the blunt end to fit into your frying pan
Large non-stick frying pan
Ingredients:
2-4 chicken breasts (or 1-2 double breasts) depending upon your family's appetite
1 litre water
3/4 cup soy sauce
3/4 cup oil
3/4 cup sugar
1/4 cup salt (sounds like a lot but it's not in the context of the other ingredients, and you need it to balance the flavours)
Sumac
Extra vegies for the skewers like capsicum, onion, zucchini and so on
2 trays of ice cubes
Cooking oil
Method:
Place the water, soy sauce, oil, and sugar into your saucepan and stir over a high heat until the sugar is dissolved, then remove immediately from the hotplate. Add the ice cubes to the liquid to cool it to room temperature as quickly as possible (it can't be warm or it will start to cook the chicken). Transfer the liquid to your container, immerse the chicken breasts completely and refrigerate. Leave to rest for about two hours. In fact, you have a rest too. You deserve it!
After two hours, remove the chicken and discard the brine. Use your sharp knife to cut the chicken into fairly substantial chunks and thread on to the skewers. You can also thread wedges of onion, capsicum or other vegies between the chicken pieces if you like. Sprinkle the sumac liberally on every side of the chicken. It's not a 'hot' spice like chilli or curry, so use as much as you like. It's also a lovely reddish-brown colour, so your chicken will look really exotic!
Cook your skewers in the frying pan over a medium heat for about 5-8 minutes. When they're this thick, it's better to cook them a little slower and turn them often. The great thing about brining is that you'll impart a wonderful new flavour and succulence without worrying about burning the marinade in the pan, a common problem with many marinades due to their high sugar content.
Serve with a yummy salad and some rice or couscous and, of course, your fennel and pineapple pickle on the side.
Accept compliments with a cursory wave of your hand, because you're used to compliments at the dinner table by now! You'll never look at another chicken breast without wanting to give it a nice brine bath... mouth-watering and delicious!
---
I have a confession to make. Don't worry, I haven't fallen off the wagon, I am still happily alcohol-free! But for the last 35 or so years I have felt something has been missing from my life - a pair of red shoes. You see, when I was little I had the most awkwardly shaped feet; they were so narrow it was almost impossible to get shoes to fit me. I dread to think how many hours my devoted mum and I spent getting measured in shoe shops and how many hundreds of pounds we must have spent on getting 'special shoes' ordered. Top quality, sturdy things they were indeed but the problem with these kind of 'special' shoes was that they looked anything but special. Whilst my other friends pranced around in beautiful red shoes and spangles, I clumped around in hideous brown T-bar creations. Never mind that I probably had the most expensive, highest quality leather shoes in the whole school, they weren't RED and when you're a five-year-old girl wanting to be like all the other five-year-old girls, things like that are nothing short of catastrophic.
Eventually I did grow my way out of those T-bars and into regular shoes like everyone else but never once did I become the proud owner of a pair of red ones. Until recently - and it's all thanks to a fellow savvy saver - Linda from the SS team! Like me, Linda is a beach chick. She has her own funky style and is the queen of groovy beach wear. Little did I know, however, that some of her most gorgeous outfits come from one of her favourite Hidden Gem stores! Unlike lazy old moi, as soon as Linda moved to Whangamata, she threw herself into finding out as much as she could about the area - the best place to buy fruit and vegies, the best place to buy meat - and obviously clothing. I swear after two weeks here she knew more people than I did! But that's how you find Hidden Gems, you have to get out there looking and once you find them, you're all set to save yourself a lot of money.
I was keen to investigate this mysterious Hidden Gem called 'The Changing Shed' but if there's one thing I have learned over the years it's that I should never go clothes shopping by myself unless I want to end up with a pile of ill-fitting, ill-suited garments I'm never going to wear again in a million years. An honest second opinion was what was needed and so Linda and I spent the morning of my 39th birthday op shopping (and eating cake). Never had op shopping been such a fun experience! The Changing Shed is an Aladdin's cave of rack upon rack of women's clothes and accessories. Most of the garments are top brand labels and all are in great condition. Linda whizzed around like a whirlwind picking out things for me to try and the two of us tried on one thing after the other, giving each other the thumbs up at the 'must haves' and cackling with laughter at the 'heck no's!' A fun morning indeed and I also had the pleasure of meeting the shop owner Liz, a lovely, friendly and helpful lady who went out of her way to make us welcome and show us where the best bargains were. I prepared to leave the shop clutching my new skirt, t-shirt and bag (this shop has the BEST collection of bags you can possibly imagine!) - and then I saw them. The most perfect pair of red shoes I had ever seen in my life and they were MY SIZE. Dorothy from the Wizard of Oz would have been proud for sure! And there they were, sitting, waiting for me. It doesn't matter that they had impossibly high heels and I knew my mum would tease me forever for walking in them with bent knees. I had waited almost my whole life for a pair of shoes like this and now, on my 39th birthday they were to be mine. What a wonderful present!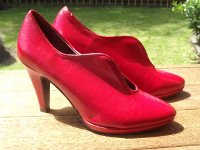 Since then I have been back to The Changing Shed and had a ball stocking up on summer singlets. People always comment on my Ripcurl, Roxy and Billabong tops and can't believe it when I tell them they only cost $3.00! In addition, Liz also takes in good quality second hand clothing and you can either trade in your garments for money or choose to have store credit. Having lost 22kg in the past year I have a LOT of clothes I can no longer wear so for me this is perfect, I can take in all my clothing which no longer fits and walk out with a whole new wardrobe! I still have $70 to spend in store so I have a feeling I'll be back before too long! I'm so grateful to Linda for sharing her Hidden Gem and especially for my red shoes. Even now, their decadent red-ness makes me smile every time I look at them!
---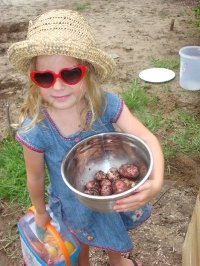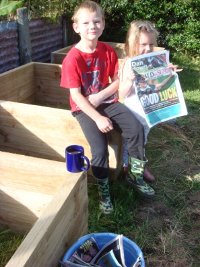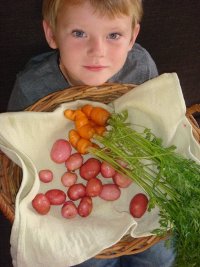 My two kids, Zoe and Seb, are best mates, they do everything together including tending the vegie garden! I love watching them plant seeds, watering the garden and having fun together. And just like Zoe and Seb, some plants get along really well together too. It's known as 'companion planting' and it's a great way to make the most of your garden. For example, carrots and peas go well together, as long as the carrots are on the sunny side! And of course, there are plants that need to be kept at separate ends of the garden too - as we found out when Seb decided he wanted to plant his beetroot next to the runner beans. The end result was dwarfed beetroots!
We have learnt so much about gardening over the past six months and part of our success is due to companion planting, it has huge benefits and is definitely worth trying! So before you get planting, think 'what' and 'where'! Spend some time planning what you want to plant and where you want to plant them!
Here are some great reasons to give companion planting a go:
Some plants release toxic materials which other plants can't handle.
Some root systems thrive off being next to their 'best mate'!
Best mates' produce better-flowering and heavier crops.
You'll have fewer weeds, pests and diseases, and therefore need fewer chemicals.
More crops! For example, we planted carrots with radishes on top. Because radishes grow quickly, they are harvested before the carrots really begin to grow! Great for people with limited garden space.
Just like mates help each other, so do some plants! Beans and corn are good companions as the beans use the corn as a climbing frame.
As you can see there are lots of benefits to be had by planting 'mates' next to each other. Here is our list of what's good and what's not!
What's good:
Basil and tomato
Runner beans, corn, carrots, peas and lettuce
Beetroot and lettuce
Broccoli and potatoes
Lettuce, strawberries and marigolds
Marigolds, I have lots of these in the garden as they go with just about anything and they help keep away the eel-worm and dogs! Dogs hate the smell!
What's not:
Beetroot and runner beans
Onions and beans
Strawberries and tomatoes
You don't need to be an expert; you just need to find the right information! I gathered mine from various sources including the book 'Get Fresh' by Dennis Greville and my favourite magazine 'Your Home and Garden'. Some of my best information was from the Forum and Vault!
So come and join us in the Forum, share your tips and together we can plant 'best mates forever'!
---
Homeopathy is the ultimate Hidden Gem for the health of your body and mind! We often just accept illnesses, moodiness and odd behaviour as something that we have to put up with. However, what we often don't realise is that these odd behaviours can be a sign that the body is trying to fix itself. With the right homeopathic remedy, we can help speed up this process and see a return to normal behaviour.
There is a great example in this month's article. Fran talks about how she uses a remedy known as Hyoscyamus niger (Hyos) to treat children and adults who are displaying inappropriate sexual behaviour. Here is a link to this month's article:-
http://homeopathyplus.com.au/inappropriate-sexual-behaviour-in-children/
---
Last month Michelle Obama asked:
"I'm having real trouble with my organic vegetable garden. The secret service agents keep digging it up and planting listening devices in my radishes. Does anyone know how I can fix this?"
We received some great response from last month's silly help request. Here is the best one. It was sent in by Julie B.
Dear Michelle,
I'm sure we all understand how pesky those secret service agents can be. While they can be annoying sometimes, it is important to remember that they are really very playful and energetic and in most instances, quite easy to train. This may require a little patience but the girls may be able to help after school and on weekends.
First, provide them with their own special place to dig to their hearts' content. I would suggest a nice, large sandpit. Put it on the other side of the lawn, away from the radishes. Add a few spades and buckets and embed a few wires for them to trace and they should be happy for days. If you can toss in a few fake terrorists now and then, they will have hours of harmless fun.
If they continue to play in the vegie garden, there are a few things you can do to make it seem unpleasant to them when you don't have time to shoo them away (and what busy, working mother does?). Pepper spray is quite harmless but the average secret service agent is generally happy to avoid it. Set up a few cans at the corners of the garden and rig them to infrared beams. When the beam is broken by an agent heading into the garden, the spray will be released and the agent will run back to the safety of the sandpit. You don't even need to set it up yourself, the boys at the FBI love a good party prank and are always trying to get one up on the secret service boys. They will be only too happy to help.
For the more stubborn members of the group, a row of dummy landmines will do the trick. While not actually dangerous, they do make a very loud noise and will frighten off even the hardiest of agents. If Barry doesn't feel capable of doing it himself, I'd suggest calling in the marines. This is one of their favourite games and for the price of a good crew cut; they will work all night for you.
In no time at all, you should be enjoying a lovely crop of radishes.
Best regards,
Julie
---
Leonie from Canberra asked:-
"How can a couple with pets and without children reduce the costs of owning a home - mortgage and associated running costs, bills and so on? Nowhere seems to cater for people like us. We don't need a huge home but we do need a yard for our dog and chickens. How do people like us find affordable housing?"
If you have any tips which can help Leonie, please send them in to us here.
---
I'm doing my first $21 Challenge and have already discovered great new recipes and great new ways to save!
After receiving The $21 Challenge book for Christmas, I sat down and read it and was totally inspired. I hadn't done a big shop for Christmas as there was only going to be my husband and myself so I decided I couldn't wait to take the Challenge!
I went through my pantry, fridge and freezer and documented everything in alphabetical order. I discovered I had all the ingredients for the Cream of Anything Cup-a-Soup recipe in the book (page 179) so that was the first thing I made - and it was very tasty too! Next I made the Toasted Muesli with all sorts of tasty ingredients including nuts, seeds, sultanas and craisins. Delicious! I also have enough ingredients for the Bulk Biscuits (page 176) so will make them next week.
We have lots of tasty vegies, herbs and berries growing in our garden including beans, peas, silverbeet, potatoes, spring onions, basil, parsley, corn, cucumber, cabbage, raspberries, strawberries, blackcurrants, gooseberries and rhubarb. Plus we get two dozen eggs from our chickens each week! This has given us a huge head start. And to fill our freezer, we managed to purchase bulk meat from a friend who sent a steer to market a few weeks ago.
So far this week, all I have had to buy is:
two litres of Ashgrove milk ($4.06) which I made up to four litres with skim milk powder in pantry
a loaf of bread ($2.00)
two packets of Arnotts crackers (on special, $1.89 each)
a piece of cabana ($1.77)
four bananas ($0.85c)
two litres of orange juice ($3.17)
a kilo of onions ($1.80)
That is a total of just $17.43 with two days to go!
We have so much home-grown produce that I'll be doing the Challenge again in two weeks' time. It's a great feeling to get exactly what we needed for the week without trudging around the supermarket aisles! Thank-you so much for the inspiration!
Margaret Blair
---
Thank you for dropping by for another month of saving fun! I hope you enjoyed it!
Best of luck finding your Hidden Gems. We look forward to seeing you next month!
All the best,
Fiona