This issue includes:-
Sad Sally, Happy Hanna: Sally the Super Saver!
March is Hidden Gems Month
This Month's Competition: Share Your Best Hidden Gem and WIN!
$21 Challenge Update
Best Member's Blog: This Month's Winner
Best of the Forum: Hidden Gems Galore
Best of the Vault: Thinking Outside the Square
Cooking with Mimi
Penny's Blog: Hooray for Hidden Gems!
Homeopathy Corner: Disaster Remedies Part II
From Last Month: Too Many Tomatoes
This Month's Help Request: Go Away Silverfish!
Savings Story: Don't Give Up
---
Hello,
How are you going? I hope you have had a good month. It has been a month of ups and downs in the Lippey household. This month, I did eight library talks, which was both really scary (I hate talking in public) and absolutely wonderful. The best bit was meeting so many Simple Savers. A lot of really lovely people turned up to the talks and it made them a lot of fun. I also learnt many new tips from the audience including some new hidden gems (special places to shop) in my area that I didn't know before. Such as; ALDI is the cheapest place to buy environmentally sustainable fish on the Sunshine Coast and the best place to get fruit and vegies is at Fisherman's Road market at 4.30am on a Sunday! I also found out how brilliant our local librarians are. It was wonderful to meet so many members in person for the first time, and to top it all off, we received awesome letters too!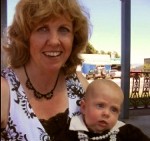 "Imagine how perfect it was to receive your newsletter this month, perfectly timed! I've been away for 10 days and came home late last night to nothing 'fresh' in the house. I was wondering what on earth to have for lunch, when I read the pantry salad recipe. In an hour's time I will have a healthy and nutritious lunch at 'no cost'! Also, imagine my surprise to discover that I can actually make chocolate syrup! As the mother of two 'starving' teenage boys who are constantly guzzling milkshakes, it had been getting quite expensive to buy the topping. Now I can make my own from a few simple ingredients which are also in my pantry!
"I'm still grateful for learning that I can freeze pumpkin, and now freeze all sorts of vegies prepped and cut up, ready to just toss into a stew or soup. I recently discovered that you can also freeze garlic! Many, many thanks to this month's contributors as once again I've learned heaps! Keep up the great work." (Belinda Lee)

"I've borrowed 'The $21 Challenge' twice from my local library. I don't generally buy books but I've made an exception for this one. I have been managing our household shopping for over 40 years and thought I was a very wise shopper. I was brought up with the mantra 'waste not - want want' ringing in my ears. My mother was a born recycler and I realise most of it has actually rubbed off on me. However reading your book made me see that I was falling into some bad habits and the two big supermarket chains were causing me to make unwise purchases. I've always shopped with a list, but I was falling into the 'special' trap and buying stuff I didn't really need immediately. When I took stock of my pantry I found I had too much of everything!
"The turning point for me in my decision to actually lay out some cash for your book was all the fantastic information on how to substitute ingredients. Especially herbs; there's always one that I haven't got that appears to be a key ingredient in a recipe. I look forward to the many times I know I'll be dipping into your book for ideas on how to use up the odd bits and pieces that we all end up with, no matter how good we think we are at not wasting anything.
"I no longer rely on my memory for the contents of the freezer. I bought a special notebook and I list the contents of the freezer right down to the last lonely sausage or bits of herbs. Use it up/cross it off, add something/write it down. It's made a huge difference to the way I menu plan and shop. I use one section of notebook for a permanent shopping list. I buy nothing for the pantry until I've opened the last of that particular item and it's then written on the list. Now before I go shopping, I plan the week's meals using the freezer list, check what's on the permanent list for any key ingredients and only go and buy what I really need for that week. Thank you a thousand times over for the wake-up call!" (Anne Whiteway)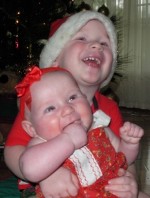 "I have been a member for about three years now and in November of last year I was thinking about not renewing my membership. I didn't think I was using the site or your information much. I didn't think I was much of a Simple Saver. Then, at the end of last year, I did a financial overview of where we're at for my husband. I've been a stay-at-home-mum since July 2008 and in that time we've managed to live OK; we've had two kids, still managed camping holidays and we are over $20,000 ahead in our home loan. OK so the GFC assisted with that but if I hadn't been a Simple Saver I may not have capitalised on it! So after this I realised that I AM a Simple Saver and I do need this membership. I've used and eagerly await my new calendar at the end of each year, I use the Bill Payment System each week and I use the Vault for gift ideas and really, ideas on anything. So, although I may not be as hard core as some, I am very proud to be a Simple Saver and thank you very much for a job well done and for helping me to spend precious time with my babies." (Kylie-Ann Martin)
All the best,
Fiona Lippey
P.S. We are working on the follow up book to the $21 Challenge now which is focusing on long term food savings. If there is anything you would like us to cover in this book, please send us an email and we will do our best to include it.
---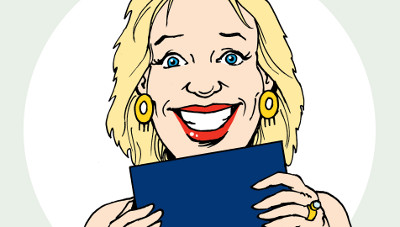 Sally had to stop herself from running into her Savings Group meeting! All month she had dedicated herself to finding the best deals and the best shops in her area. No stone had been left unturned and now Sally was reaping the savings. All her findings had been recorded neatly in black and white and now she couldn't wait to show the others.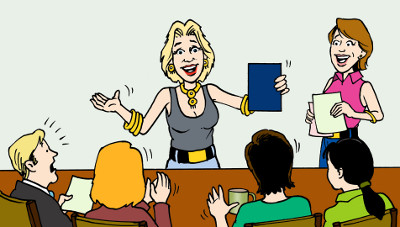 "I've done it!" she announced proudly. "Since our last meeting I've been EVERYWHERE working out the best place to buy things in our area. I know the best place to buy my vegies, the best place to get my meat, the best op shop and I've even got the best insurance plan!" she beamed triumphantly, tapping her folder.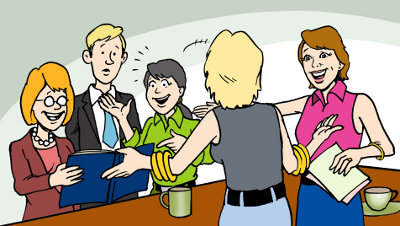 The rest of the group clapped and cheered in surprise. "Well done, Sally! You really are a Super Saver!" Hanna gave her friend a hug. "That's a fantastic effort, Sal, congratulations! We would love to see what you came up with. Any chance we could have a look at your folder?" "Of course, I'd be happy to show you!" Sally's eyes sparkled. "You could save us all a fortune by the time we leave this room!" grinned Hanna. "Thanks, Sal, you're a real gem!"
---
Sally has taken a huge step in the right direction. To be a smart consumer you definitely need to do your homework and shop around. However, you also need to work together with friends so that everyone can benefit from each other's knowledge and help one another. This month is Hidden Gems month, where we share our favourite little-known shops and encourage others to share theirs too!
For those who haven't heard about them before, Hidden Gems are shops that save you time and money every time you go there but the specials are rarely advertised. They are the best shops in your area - but you have to go looking for them.
There are two ways to find the best shops in your area. There is an easy way and a hard way. The easy way is to ask around. So start your quest by asking your frugal friends where they shop. They will know the best places and will be happy to help - but they will only share their knowledge if you ask them. Note - it is important to make sure the people you ask are actually frugal. Asking your spendthrift friends to recommend cheap places to shop just doesn't work!
This is the easy way; if this fails, you will have to do it the hard way. Start with the phone directory. Work out all the shops in your area that sell the goods you want, then put on your Simple Savings hat (that's a metaphorical hat, not a real one; we don't sell hats!), get in the car and check out each shop in person. Chat to the staff. Check out the goods, check out the prices and work out which has the best value.
Not all shops are equal. Hidden Gem stores can save you a heap of money compared to other stores. Imagine if, like Sally, you shopped around and got the best deals on vegies, meat, insurance and everything else. Imagine how the savings would add up each week, each month, each year. You could save an absolute fortune! I recently met a woman at a library talk who spent three hours researching and calling a few stores and lowered her yearly bills by $1280. Not bad for three hours' work!
So celebrate the Hidden Gems in your area this month! Find them and, importantly, SHARE THEM in our new, improved Hidden Gems Directory. This is a special feature which is available to Vault members only. Why? Because it takes time and effort to find really good Hidden Gems. Our frugal members have worked hard to dig up these bargains and are not willing to give them away to all and sundry. We respect their wishes, which is why the directory is, and will stay, exclusive to Vault members. If you would like to become a Vault member and enjoy all the benefits it has to offer, you can do so right away! Simply click here to join and access a wealth of tips and advice from thousands of savvy members who shop at Hidden Gem stores every day. Good luck hunting for your Hidden Gems this month - and when you find them, be sure to tell us about them!
---
Hidden Gems may be hard to find but they stand out a mile from other stores with their consistently good service and value for money. Stores such as these deserve rewarding with your custom and support. They deserve to be given credit for doing the right thing by their customers. In this month's competition, you get the chance to do just that! We want you to tell us all about your favourite Hidden Gem shop. Who are they? Where are they? Most importantly, WHY are they your favourite Hidden Gem? Why do you like them? What is it that makes them so good? The more information you can give, the better. There will be a first prize of $500 and three runner-up prizes of $100 each. Awards wil be given for the most entertaining and well-written accounts of your favourite store. We can't wait to see all your wonderful Hidden Gems! You can enter the competition here. The closing date for entries is March 25th.
---
It's been a busy month with the $21 Challenge! Fiona has been flat out doing library talks and we have been working with the lovely ladies at Healthy Food Guide magazine to help spread the word that the $21 Challenge IS indeed healthy! Check out this month's issue, which has a brilliant eight-page feature including tips for surviving the Challenge, some favourite recipes from the book and heaps of ways you can use up all kinds of leftovers from your fridge and turn them into yummy, filling dishes. This is the second time that the $21 Challenge has been featured in the Healthy Food Guide magazine - big thanks to Georgia and Niki for their support!
---
One of the many benefits of being a Vault member is that you can win a cash prize of $100 each month for your Simple Savings blog! Starting your own blog on the site is easy. All you have to do is log into the Vault, click on 'My Desk' at the top left, then 'Your Blog'. Then get writing! We love reading all your money saving trials and tribulations and really appreciate the effort that goes into each one.
This month's winner is Tracey D (or should we say Tracey's hubby!) for this extract from their blog 'Happy Little Blogger' where the family find a real gem of a second hand piano. Or do they?!
Given the musical bent of our children - they know all the words to Mary Had A Little Lamb and I caught Miss 7 tapping her foot the other day - we have decided to buy a piano.
Oddly, the only comment we've managed to illicit from both Tracey's mother and my own when we mentioned this is, "Where the heck are you going to put it?"
They have a point. We only just manage to fit the children in.
Naturally I gave each of them the same answer, "Wherever Tracey says."
Another reason we MUST get a piano is ever since Tracey came up with the idea I've been entertaining a secret desire to learn to play Billy Joel's Baby Grand (only I would sing both Billy's AND Ray Charles' parts cause I'm needy and want attention).
Sadly I also secretly know that as I have stumpy fingers and no rhythm it would be nothing short of a miracle if I learned to play chopsticks.
Weeks of searching on eBay finally secured us a slightly used Beale Upright for $50, and only 5km away from where we live.
Getting it here turned out to be a problem. All the Internet sites I visited called for four blokes with experience and muscles. Well, that's not going to happen. Master 19 has gone to Brisvegas and between the two of us he's the only one with muscles. I plead guilty to having the piano moving experience though, but only because I've watched the YouTube videos...
So I rang a local removalist. Only an hour's work, tops. Couldn't be more than $100, right? Oh, so wrong. $220 - plus extra for each step. Added onto the $165 for tuning the beast when it arrives and this $50 piano is becoming serious money for a bunch of as yet unproven virtuosos!
So I'm thinking, maybe if I grab a couple of young fellas and give them beer? Four blokes at a carton each will cost us $120, steps included. Actually, five cartons: forgot to pay myself.
But then Tracey calls up the seller and discovers the description, "The item may have some signs of cosmetic wear, but is fully operational and functions as intended," was a little exaggerated and the old Joanna would play everything in the key of O (as in 'O no that sounds awful') cause we would also need to re-felt the piano. Whatever the heck re-felting is. Cost? Something like a kidney.
Needless to say we're still looking for a piano.
And the kids - Elton, Tori, Kate, Ray, Carol and Alicia - will have to wait a while longer until they belt out their first number one hit.
Congratulations Tracey and hubby, keep up the great work! To read more from Tracey, or any of our other members' blogs, click here
---
The Savings Forum is a great place to find all sorts of Hidden Gems as our savvy members share them with each other all the time! Whether you want to find the best deal on car rental, the best phone or Internet plans or the best place to buy a new computer, look no further than the Forum!
Mum of E&A is excited to share one of her new favourite stores, where she managed to get fantastic deals on everyday groceries and saved a fortune on a fortnight's worth of food!
read more...
Want to know how good a particular store is? Ask the Forum! You can guarantee honest reviews and can save time and money before you even start!
read more...
A gluten-free diet can be hugely expensive without a reliable Hidden Gem! In this thread Julie shares her favourite gluten-free shop in Adelaide.
read more...
Want to know where the best bargains can be found right now? These members have been busy digging up Hidden Gems all month!
read more...
Jemma likes the look of the savings she could make by purchasing her favourite fragrances online but is hesitant to buy without recommendations. Fortunately the members are quick to help her sort the best from the rest!
read more...
Salli desperately wants some new bras but is wary of paying a fortune for ill-fitting, poor quality garments. She sees an advertisement for the 'Ahh Bra' but wonders could they be too good to be true? The Forum members give their verdict!
read more...
Time for a Major Change needs some help deciding which new bank to choose. Which offers the best service and value in ongoing fees? The members are happy to help!
read more...
Salt & Pepper wants to know 'what do you like about your insurance?' Read on for a thought provoking discussion!
read more...
---
It doesn't matter HOW you find a Hidden Gem, as long as you find one! These tips from the Savings Vault show how a little creative thinking can result in some massive savings.
We saved $1205 by removing the old lino and carpet ourselves when we had our house tiled. When we received our quote from the tiler we noticed a charge of $1250 to remove the old flooring. Instead, we went to Bunnings and bought a heat gun, Stanley knife, wide chisel, sharpening stone, bolster, paint scraper and a hammer, all for $45. We then spent three days of fairly strenuous work, but it was worth it for the $1205 saving! Removing lino is fairly easy. Cut a strip down the lino about 50cm wide, run a heat gun over it in a sweeping motion until the lino is warm then in a steady motion peel the lino up. When it gets hard again, re-warm it with the heat gun. If the lino separates from the backing, stop and use the chisel to scrape underneath it until it is peeling off smoothly again.
Contributed by: TayNicJam
We've saved hundreds of dollars on call-out fees for a plumber by hiring a 'Drain Snake'! Our pipes often become blocked and require clearing out, which, until recently, was always done by a plumber. Although we were getting 'mates rates', the cost still came to $150 for less than an hour's worth of work. (I dread to think what the normal rates are for a plumber!) So, instead, we hired a heavy-duty 'drain snake' from an equipment hire centre for $45, and it worked better than the hand-held one the plumber used. Our drains are working better than ever and have done so for the last few months since we hired it.
Contributed by: Elkebelle
If you live in NSW sign up to kidspassport.nsw.gov.au for free kids' passes to over 70 museums, galleries, art centres and attractions across the state. After registering online you will receive a passport for each child which allows them to enter for free. This has saved me heaps over the school holidays. The program runs until April 26 2011.
Contributed by: Sarah Rakow
I always buy iTunes cards at a discounted price thanks to a handy website I found that keeps track of when iTunes cards are on sale at all the different retailers. I have found the site invaluable when buying presents for teenagers. I simply check for the best deals currently available and always get between 10% and 25% off the full retail price. I have been following this for about eight months and during that time there have only been a few weeks where there wasn't a sale on somewhere. The site's called 'iTunes on sale' and is also available on Facebook and Twitter. Check out: http://www.itunesonsale.com.au
Contributed by: Jacinta Shanahan
Check out UK website www.bookdepository.co.uk for the cheapest books. I am a uni student and always find this is the cheapest source of books. I recently bought copies of A Christmas Carol for $7.43 when the local retailers were selling it for $19.99! The Book Depository ships anywhere in the world for free. The only downside is that you may have to wait up to two weeks for your books, but it's worth it!
Contributed by: Morgan Dwyer
I have saved $5580 in just five months on rent and expenses by becoming a house-sitter. When I recently lost my job I was forced to reconsider my finances and immediately registered with a house-sitting website for an annual fee of just $65. On my personal profile I entered my details and nominated my preferred areas to house-sit. House-sitting means that you are providing a service to someone in exchange for accommodation. Although some will ask for a small fee to cover utilities, I have not been asked to do so as yet. I simply purchase my usual groceries for myself.
I asked a family with a spare room if I could use it as a base between house-sits. I pay a small weekly rent and my share of the electricity and land line and the costs are very modest compared to what I'd pay whilst living alone. I also found a great 12-month storage deal for the bulk of my belongings where the company gave me four months free because I paid up-front, in full (saving me $1000).
Over the last 20 weeks, it has cost me $2320 for storage, rent and utilities when it would have cost me $7900 had I continued to rent on my own - a saving of $5580. Five of those weeks were rent-free house-sitting where I've paid absolutely no utilities expenses. There are numerous house-sitting websites but the one I registered with is www.housecarers.com.
Contributed by: Neene
---
This month is Hidden Gems Month so I wanted to tell you about two little gems I've found. The first is in my own backyard!
Do you remember picking nasturtium flowers as a child, and sucking the nectar from the little side stems? I certainly do, but it never occurred to me that the rest of the plant was tasty too! In fact the entire nasturtium plant is edible - leaves, flowers and seeds. The leaves have a flavour very similar to rocket, and the seeds can be used like peppercorns. You can also toss the pretty sunset-coloured flowers through a salad or use them as a garnish. I have several recipes for you this month that show how to use nasturtiums as an ingredient to spice up some of your meals; as well as one which makes a tasty and unique gift.
As for my second 'gem', Hidden Gems was a title destined to send me searching for another 'undiscovered' ingredient, and it was inevitable that my friendly local butcher would get in on the act! I complained to him that it is hard to find an inexpensive cut of meat that isn't minced or made into sausages, and that's when he introduced me to another little treat.
Many of us would remember our neighbourhood butcher giving the lamb shanks to Mum or selling them for $0.20c. No one wanted them back then but now they're a gourmet item! However, the lamb shank of the new millennium is beef cheeks.
Beef cheeks are inexpensive and respond well to braising and slow cooking much like lamb shanks. They need time to become flavoursome and tender, but you'll be well rewarded with a beautiful, melt-in-the-mouth dish, bursting with flavour. This recipe combines both my Hidden Gems!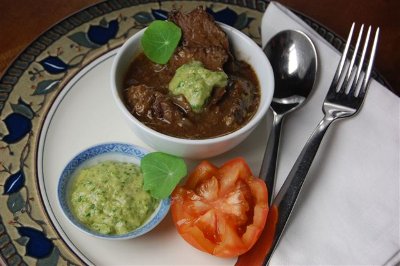 You may need to order the beef cheeks ahead of time. Some butchers still call them ox cheek. They should cost between $0.50c and $1.50 each. A larger one can be split in half lengthwise and will easily feed two people.
Equipment:
Slow cooker (crock pot) or casserole dish with a firm fitting lid
Sharp knife
Frypan and tongs
Medium bowl
3-4 cup capacity jug
Measuring cups
Ingredients:
½ to 1 beef cheek per person
1 large onion, sliced
¾ cup plain flour
¼ cup balsamic vinegar
2 cups boiling water
2 stock cubes, chicken or beef flavour
1 tsp mustard
1 tbsp brown sugar
Method:
Turn the slow cooker on to 'low' or if using a casserole dish, preheat the oven to 175C fan forced or 190C non fan-forced. Put the flour into the medium bowl.
Trim the beef cheeks of most of the sinew. There will be some fat remaining and that's fine. It makes the cheeks extra tender. If your butcher has supplied larger pieces, cut them lengthwise in two.
Toss the meat and the onion rings in the flour.
Add the boiling water to the stock cubes in a jug, and stir until dissolved.
Heat the frypan over a high temperature, and sear the beef until golden brown. Set aside in the slow cooker or casserole dish.
Panfry the onion rings for about one minute until golden.
Add the stock, balsamic vinegar, sugar and mustard to the onions in the pan, and stir until the gravy is slightly thickened.
Pour the mixture over the beef, ensuring it's well covered.
Seal the casserole dish firmly with a lid or foil, or place the lid on the slow cooker.
For slow cooking: cook for 8-9 hours on low, 3-4 hours on high.
For oven bake: cook for 2-3 hours, checking for tenderness after 2 hours.
This is a dish that actually improves if made 1-2 days ahead of serving. Reheat gently in the oven or slow cooker for up to an hour, ensuring you have plenty of gravy. Add more liquid if necessary. Be certain that the meat is well heated through before serving.
For extra compliments, serve the beef cheeks with salsa verde, made from ingredients in your own garden!
Salsa verde is a paste-like green sauce, often served with meat dishes to add a bit of a savoury flavour. A little like pesto without the nuts, this one will add a real peppery bite to your braised beef cheeks.
Equipment required:
Food processor or blender or mortar and pestle
Jug for storing
Measuring cups
Ingredients:
1 cup smallish nasturtium leaves (the large ones have a very strong flavour but are fine if you wish to use them)
1 cup other green herbs, such as basil, rocket, mustard, shallots or cress
½ cup olive oil
3 cloves garlic, chopped
2 tbsp vinegar
1 tbsp mustard
1 tsp sugar
Method:
Add everything except the oil to the blender or bowl of the food processor. While the blender or processor is running to puree the ingredients, slowly drizzle in the oil. The finished consistency should be similar to thick gravy.
Check for seasoning and add salt and/or pepper if necessary.
Serve some drizzled over the beef cheeks with a little extra on the side.
Salsa verde is best used fresh and when a new batch is just a few steps away, with the ingredients abounding in your own garden, why wouldn't you use it to spice up sausages, chicken, fish or rissoles as often as you like!
While we're on the subject of using garden greens, let me share a recipe for a gorgeous herb infused oil that adds a real burst of flavour to dressings, soups, salads and mayonnaise. This makes a lovely gift, presented in a pretty bottle. I source most of my gift bottles from the local Lifeline store for under $2.00. I also scour supermarket shelves for unlikely items stored in a bottle with a pretty shape. There are often some great finds in discount stores and on the clearance tables at department stores too.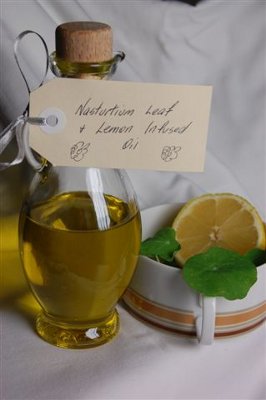 Must be made two weeks ahead before use.
Ingredients:
25 freshly picked nasturtium leaves
Zest of 4 lemons
1 litre extra virgin olive oil
Pinch or two of salt
Method:
Roll the nasturtium leaves into a cigar shape and feed into your chosen storage bottle.
Zest the lemon, being sure to not get any of the white pith as it will make your oil bitter. Feed the zest into the bottle.
Gently heat the oil, to kill any bacteria present
Pour the oil over the leaves and zest, and seal. Store in a cool, dark, place, swirling the bottle around every few days. After two weeks pour a little onto a spoon and taste test. If the flavour has developed enough for your liking, strain the oil, discard the leaves and zest, add seasoning and bottle into a suitable small container. If you would prefer a stronger flavour, leave for a few more days, testing every third day, until the flavour has developed to your liking.
This oil is used as a condiment, much like tomato sauce. Swirl a little into soups on serving, or use as an ingredient in salad dressing. It's also delicious drizzled over steamed potatoes, rice or pasta. It has a strong flavour though, so use sparingly.
It is important to heat the oil gently prior to adding the zest and leaves, to kill any bacteria present. Once the oil has infused with these ingredients for several hours it can then be bottled for use. Please use within one week.
To make a longer lasting oil, you must dehydrate the leaves and zest first. You can do this simply by peeling the zest from the lemon with a vegetable peeler and arranging it, along with the nasturtium leaves, in the sun for several days. When completely dry, you can then add these ingredients to the oil, leaving to infuse for several weeks, before straining and bottling for gift giving. Use within three months.
And...
Finally, you might be surprised to know that nasturtium leaves are a perfect replacement for Rocket in any recipe. They have the same peppery, savoury bite as Rocket, and frankly are far easier to grow!
Here's my new twist on a cafe favourite salad.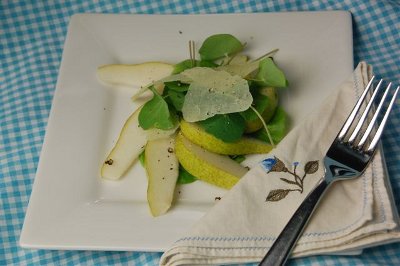 Serves 1
Equipment:
Sharp knife
Vegetable peeler
Serving bowl
Paper towels
Ingredients:
2-3 leaves mignonette lettuce (any lettuce or greens will do)
4-6 young nasturtium leaves
1 pear
A few curls of parmesan cut from a larger piece with a vegetable peeler
Method:
Tear the lettuce into bite-sized pieces.
Trim and shred the young nasturtium leaves if desired, or do as I do and leave them whole, stems attached.
Slice the pear thinly, leaving the skin intact.
Use the vegetable peeler to slice a few curls from a wedge of cheese. Parmesan is best for this, but any will do.
Place the lettuce in the bowl. Place the pear slices on top in a fan shape. Decorate with the nasturtium shreds and parmesan curls.
Serve immediately, seasoned to taste.
---
February 16th
As any long suffering parent knows, shopping is a far more enjoyable experience if you don't have children in tow. Not only is it far less stressful, it's also so much cheaper! The novelty of the supermarket wore off for my children a loooong time ago so for some years now I have been spared the embarrassing tantrums at the lolly aisle and random objects mysteriously appearing in my trolley, followed by yet more tantrums at the checkout. However, my two boys have now reached the delightful age where they refuse point blank to go shopping with me at ALL!
The main reason for this is that at 12 and 14 respectively they tell me it is definitely not cool to go shopping with your mum - especially in a small town like Whangamata where EVERYONE sees you! However, they have also made no secret of the fact that they hate shopping with me these days because I spend more time talking than shopping. I can't help it; I've met so many wonderful people since moving here! They are real gems and I'm proud to say that to date I've discovered them all myself.
Take Daryl and Gail for instance. They own the boys' favourite shop, Roar. Long before we moved here I was impressed with their service. As soon as you walk into the store it's obvious that these two love what they do. Like us, they're just so glad to be here! This dedicated couple employ no other staff; it's just the two of them working long hours all year round but you are always guaranteed a warm welcome. Having made the move to Whangamata with their children a few years previously, they were happy to answer any questions Noel and I had with regard to the area, in particular the school and how their own children had made the transition. They were both so helpful and never forgot our faces. Every time we popped in when on holidays or checking out real estate they would immediately ask 'So are you here for good yet?' I couldn't wait to go into the shop to tell them when we had finally made the move!
Since then I try and support their business wherever possible. They always go out of their way to help people find what they're looking for and if they don't have it, they do their best to get it in for you. I love the fact that their shop is 100% devoted to local brands, that they play cool music in store and they are always nice to my boys. Daryl even helped Ali fix the new watch he got for Christmas when he was having trouble with it! They always truly appreciate our custom and have often given us discount on our purchases. Their shop is a one-of-a-kind, true hidden gem!
Another firm favourite is the Whangamata Surf Shop, owned by the Williams family. These guys are awesome! When the boys wanted to learn to surf there were several places we could have gone to for advice but I thought we would try them first and I'm so glad we did. They have been surfing for decades and really know their stuff. As soon as Ali and I walked in, Braedon made us feel welcome. We learned so much from him in that one visit that Ali was able to get up on his surfboard within around 15 minutes of taking it out in the sea. Since then we have also had the pleasure of dealing with Braedon's parents, Dean and Janine and his sister Ella, all of whom work in the shop. Nothing is too much trouble and they always make time to chat and offer help and advice even when the shop is heaving with people. Most of all though, I love their infectious enthusiasm. They make the most of every single day and support each other in everything they do. They are an extremely tight-knit family and their love for each other, their business and their passion for surfing and helping others just radiates from them. Whether Ali needs new wax for his surfboard or Noel needs a new wedding outfit, you can guarantee they will always see us right. I've lost count of the times they've offered to teach me to surf - one day I might just take them up on it!
The thing about Hidden Gems is, when you find a good one, you will keep going back. I remember years ago I had a job as a Saturday girl in a shoe shop with some other girls from school. We were always on hand to help and would approach customers with a smile if it was obvious they needed assistance but apart from that we would let them browse in peace. Until a new manager was appointed, whom we immediately christened Tiny Tim. Small man, huge ego! He insisted that we all jump on the poor unsuspecting customers before they had barely got in the door. We hated doing this and would try to avoid it wherever possible under his ferocious glare but it was obvious that the customers didn't like it. Nine times out of ten they were just coming in for a nosey in their lunch hour and didn't even know what they were looking for but so desperate was our manager to make his sales figures look better than his predecessor that he would do anything to try and manipulate people into buying. We were literally driving customers away! I couldn't bring myself to do it and it wasn't long before I left, as did the rest of the girls I worked with. We had barely handed in our stripey blouses and name badges before we heard that Tiny Tim had been 'let go'...
Fortunately I have yet to come across any Tiny Tim's in Whangamata! Instead I love to support people like Leith and Ange at Stirling Sports, who travel to other stores especially to get things for us, give us discounts AND invite me running. Or the bubbly Sarah from Saltwater who is always 100% honest when she says 'Yes, that dress does look crap on you,' but is nice enough to add 'But it's not you - it's the dress!' Not to mention she invited me to go along to her Zumba class twice a week the moment she learned I'd just moved here. Or EJ, the brilliant hairdresser at Sorenson's who cuts my hair like nobody else. I never have to worry about leaving the salon with that 'Look everybody! I've just had my fringe cut!' look - and to top it off, my first haircut was free!
So those are my favourite Hidden Gems - am I allowed to mention cafes too? I know cafes aren't very SS but if you want brilliant value for money you can't go past Vibes cafe for fantastic breakfasts and Cafe Rossini for awesome lunches. Last time Noel and I went there for lunch we ordered an open chicken sandwich and almost fainted at the price but when it arrived it was MASSIVE! Neither of us could eat it all and we were so full we couldn't even think about eating dinner hours later! Well worth treating yourself if you're ever in town - and if you are, let me know and I'll meet you there!
---
The last couple of months have been horrible. It feels like we have had one natural disaster after another, so we have asked Fran to share with us the homeopathic remedies that can help people in times of distress.
To read more, go to homeopathyplus.com.au/first-response-homeopathy-remedies-to-use-in-a-disaster-2
---
Last month Kathryn asked:
"I would like some information on preserving or freezing tomatoes. I have too many in the garden to use and do not own a cannery or special jars. I made some pasta sauce last week and reused old pasta sauce jars. I am a mum of five kids, including six-month-old twins, so the ideas need to be fairly simple please. Thanks in advance."
Thank you to the masses of people who responded with their terrific tomato tips! Unfortunately we cannot possibly print them all but here is a selection of some of the huge number we received.
I came up with a solution to use up the glut of beautiful grape tomatoes we have in our garden. Whenever my husband uses our Weber kettle BBQ I cut a tray's worth of tomatoes in half and sprinkle them with salt, pepper, sugar and olive oil. I then cover them with basil, oregano or rosemary (or any combination of herbs) and put them in the Weber once my husband's finished barbecuing, to cook in the residual heat. Alternatively, they can be slow roasted in the oven, but by using the heat in the Weber after it has cooked something else we save on energy. Once the tomatoes have cooled, I transfer them to a jar or container and freeze them. We had some tonight with pasta, mushrooms and cream and they were delicious!
Contributed by: Margaret Eade
I love to oven-dry our seasonal tomatoes. It's such a simple process, but the resulting flavour is fantastic and they can be stored in jars in the fridge for up to two weeks afterwards.
Ingredients:
2kg ripe tomatoes, cut in half
Sea salt
Olive oil
Method:
Preheat oven to 140°C (120°C for fan forced ovens) and line two baking trays with baking paper.
Scoop out seeds from tomatoes, and if they are large, cut them into quarters.
Place onto trays, flesh side up and sprinkle liberally with sea salt.
Roast tomatoes for 2½ hours. Check tomatoes every half hour after the first 1½ hours of cooking.
They are ready once the edges are just starting to look charred but the tomatoes are still soft and pliable.
Remove from oven and allow to cool completely.
Place into a large preserving jar or sealable container and pour over enough olive oil to cover.
Seal jar and store in the refrigerator for up to two weeks.
Contributed by: Toni McPherson
I have vivid memories of my mum's mouthwatering tomato stew we used to enjoy as kids. She's since told me how easy it was to make and that it was a lifesaver on the nights when she was too tired to do any fancy or laborious cooking. She simply placed a saucepan full of tomatoes in hot water on the stove, added finely chopped onions, salt, pepper and any herbs she had and just boiled it down to a stew. She sometimes took out the skin (but not always) and it didn't matter if it was a bit sloppy, as it was just great on toast with a bit of cheese on top! These days I make up a large amount and freeze it for an easy breakfast or tea option.
Contributed by: Leonie Moore
Whenever I have a lot of extra tomatoes in the garden I make use of them in recipes that would usually require a large amount of tinned tomatoes.
To prepare them I score the bottoms and place them whole, into boiling water for about two minutes to make them easy to peel. Once peeled, I slice them, place them in a saucepan and cook them for about fifteen minutes. When they have cooled, I either leave them 'chunky' or use my stick blender to make a fine sauce with them.
Then, using a soup ladle, I transfer the sauce into sandwich resealable bags, squeeze out the excess air and seal them up. (Each bag takes about two ladles.) By laying them all out on a baking tray and popping them in the freezer they freeze flat and stack nicely when frozen. Any time a recipe requires a tin of tomatoes I have the perfect amount ready in my freezer.
Contributed by: Bronnie Cartledge
Nothing is as simple as freezing tomatoes whole! I don't peel, slice, dice or jar sterilise, I simply give my tomatoes a rinse and pop them straight into the freezer. I freeze them in a single layer overnight then bag them up to avoid freezer burn.
When I need them in my cooking, just a few minutes out of the freezer will allow the skins to peel away easily. (If you don't mind the skins you can put them straight into the pan as they are.) While they're still mostly frozen I chop the tomatoes and use them as I would tinned tomatoes. As they heat through, they mash down easily and the resulting meal always tastes delicious.
Contributed by: Carol Penglis
My sister-in-law passed on a delicious tomato relish recipe to me a few years ago. It's now a family favourite and I try to make a batch or two of it every season. It is great in sandwiches and a tablespoon added to rissoles or scrambled eggs produces a lovely flavour.
Tomato Relish
You will need:
1.5kg tomatoes
500g onions
2 cups sugar
2 1/2 cups vinegar
1 tbsp cornflour
1 tbsp curry powder
1 tbsp dry mustard
1 tbsp salt
Pinch pepper
Method:
Chop the tomatoes and dice the onions finely. Place them in a large saucepan and add sugar and vinegar.
Bring to the boil and then simmer slowly until the liquid reduces and the sauce thickens. Blend flour, powders, salt and pepper with a tiny amount of water and add to saucepan. Stir until boiling again. Allow to cool for five minutes. Bottle into warm, sterilised jars.
Contributed by: Sharon Blanck
Whenever I have a large amount of seasonal tomatoes at home that I don't have an immediate use for I just pop them all into a clean plastic bag and put them straight into the freezer. They can be frozen whole until I'm ready to process them into sauce. If I just need one or two, I give the bag a good knock to dislodge a couple.
Contributed by: Lauren L
If you do not have access to a dehydrator, ask around and see if you can borrow one. If not, you can use your oven on fan-bake. The temperature should be at the lowest setting and you should leave the door propped open with a wooden spoon. Slice tomatoes and dry at 40C for maximum enzyme retention. Dehydration should take twelve or more hours depending on how thick the slices are. Dry tomato slices until pliable but not moist. Store in plastic bags or jars. They can be marinated in olive oil and slices of garlic (the oil can then be reused). I use my sun-dried tomatoes in a range of recipes to add that authentic Mediterranean flavour.
Contributed by: Christine Smith
Bonus tips for Vault members -
Wonderful Watties tomato sauce Contributed by: Dale Findlay
The perfect pot of homegrown pasta sauce Contributed by: Ali-cat
Tomatoes make a souper-tasty meal! Contributed by: Bridget Mcleod
Make your own DIY dehydrator! Contributed by: Maths Nerd
Recycle your jars for cost-free preserving Contributed by: Maria Sigal
Authentic sun dried tomatoes Contributed by: Kelly Kohlhardt
Slow cooked tomato sauce is worth the wait Contributed by: Lyn M
Keep your cool with this tasty Gazpacho soup Contributed by: Valerie Georgeff
Introduce a 'produce-swap' day! Contributed by: Greg And Sue Brunner
---
This month Merrilyn asks:
"I am looking for a non-toxic way to eradicate and deter silverfish from my house. Has anyone got a solution for me?"
If anyone has any advice which could help Merrilyn, please send them in to us here.
---
This month's story is taken from our Savings Forum. Our Vault members found it so inspirational, we hope you will too!
"It's been some time since I last posted in the Forum. Since the last time I posted, I have:
Broken up with my girlfriend (and her daughter) which was a huge relief financially and emotionally.
Reduced my total debt last year by approximately $22,000. ($6500 credit card gone, $12,000 off car loan, $1000 off another credit card, $2000 off loan to Aunty, $3000 from HECS).
Most importantly I've lost 31kg since I found out that I have a ASD (Atrial Septal Defect) - or hole inside my heart, about 14 months ago. It's slow progress, I've done it totally on my own, as no doctors or fitness people are game to touch me. But soon I'll have lost enough weight and be eligible for corrective surgery to repair it.
How have I done it all? Sometimes I really don't know myself. Education, determination, constant vigilance and stubbornness. Sure, that all sounds like a load of marketing hype but it's the truth. Those ideals and the resonating thought in my head that I am in a war with my debt. Until I win, or die trying I will attack from every angle and chip away at it until I completely obliterate it.
Education. I have educated myself continually. I read Simple Savings and all the other financial sites that people recommend every week, sometimes daily. I look for good deals everywhere I go. I watch for the good deals on TV, newspaper and Internet in every financial aspect. There is no one method that will save enough money to get any person. It is the conglomeration of hundreds of little savings (soldiers) and new ones being added all the time that add up to an army of different ways to destroy the enemy that is debt.
Determination. I am completely determined to reduce my debt and lose weight. I have to do it so I can start a new life for myself. I have to do it because I have no other viable choice. I do it because the alternative is a life of debt, misery and as far as my health goes, death by the time I am 50 if I am lucky. Being in debt is like being dead. You cannot do those things your heart desires. You are not free to make your own choices about where you want to go, and what you want to see. Money can buy you happiness. It seems to be the logical opposite side of the equation. Lack of money brings nothing but misery. The opposite I believe must be true. It split up my relationship and has imprisoned me in my own home for too long.
Constant vigilance. I work out of a spreadsheet which I look at daily to remind me and motivate me. I equate everything to a dollar amount. I scrutinize everything I spend money on by keeping EVERY receipt and chastising myself when I see some frivalous spend was a bit of the line lost. I re-evaluate the situation all of the time so I know which side is winning. As time goes on, companies offer new deals, which you won't know about if you just sit on your hands and hope that you've got the best deal.
Stubborness. I sit at home, I don't go anywhere often other than work. I've built my own little fortress of solitude. I have put my blinkers on to the world around me, as until I am debt-free I do not want anything to distract me from my goal. I am stubborn and will not be swayed. I have changed my entire outlook on life and I know that if I stick to what I have learnt, I will win this war. I have set myself clear goals to keep motivating myself.
I set weight loss goals - how much I want to lose and by when. How far I will walk. How many steps I will take. How many times a week I will exercise and what my ultimate goal will be. I have set myself a goal of having this debt cleared and weight loss achieved by the end of next year. $48,000 to go and another 40kg to lose. When I started out on this seemingly un-winnable battle, I was looking at $90,000 in bad debts and 150kg starting weight. I know I will win. I have no choice but to keep trying.
I have already started to look to the future. Started to think of new goals to work towards as I overcome this seemingly less insurmountable pile of debt. I want to have enough money saved to cover myself if I were to lose my job for any reason. The day I can see as much in my savings account as I see in my debts will be a sweet day. I also want to go on a well deserved overseas holiday.
What I want to say to anyone who is in a similar situation, is don't give up. I've tried to get help from banks or personal trainers and been knocked back repeatedly, but never let it stop me. I only let it make me more resolute in my attitude. No matter how much you think your situation cannot get any worse right now, believe me it can. Look at all the flood affected people around Australia. It puts your own problems into perspective and you must stop and give thanks for what you do have. Imagine having all you have fought for wiped away in a surge of water in a matter of hours. Keep strong and fight the good fight and eventually you can win your own war. Declare war now on your debt, or weight loss or whatever other personal battle you might have. I wish you all the best of luck Simple Savings Warriors.
Paull Mitchell