Merry Christmas! How are you going? I hope you are well. It has been another strange topsy turvy year. Even though the world around us has been weird, everything has been going well at our place. Everyone is healthy, everyone is happy and we are incredibly grateful.
Grateful we looked ahead. Grateful we spotted the con. Grateful for being frugal. Grateful that I'm surrounded by a gorgeous family. I feel incredibly lucky and looking forward to the year ahead.
The last two years have really brought home to me how important the Simple Savings way of life is because it makes us strong, resilient and prepares us for whatever life throws at us. Thank you for joining us on this journey.
This year we have made you two Christmas gifts. The first gift is a calendar (surprise, bet you never saw that coming) from me and the second is an OMG pancake slice recipe from Sandra.
I hope you enjoy both of them and have a fantastic year!
Merry Christmas!!
Fiona and Sandra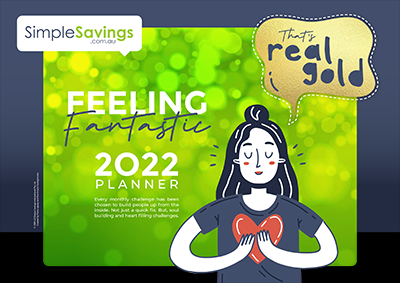 This year every monthly challenge has been chosen to build people up from the inside. Not just a quick fix. But, soul building and heart filling challenges. Or, as I like to call them "REAL GOLD".
Before we talk about the monthly challenges. Let me introduce you to the concepts of "Real Gold" and "Fool's Gold". Real Gold are things that make you feel fantastic right down to your core. Fool's Gold is something that you think is going to build you up but leaves you depleted instead. Real Gold is harder to find, where Fool's Gold is being sold to you on every corner. Real Gold gives long lasting satisfaction, where Fool's Gold is a quick fix.
Here are our challenges for this year:-
January: Ready, set , go
February: Friendly food
March: $21 Challenge
April: Hands in the dirt
May: Beautiful space
June: Craft and create
July: $1 treats
August: Outdoor joy
September: Kindness
October: Christmas organised
November: No spend
December: Take a rest
Click here to download your calendar.
This recipe turns a Pancake Shake and Bake into an impressive slice. It looks so delicious.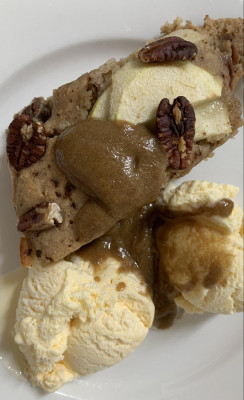 1 x 325g bottle of Pancake shake mix.
For the bottle used, it needed 300mls of water.
1 Granny Smith apple, peeled, cored and sliced very thinly.
1 heaped tablespoon of Pecan nuts
Maple syrup
Preheat oven to 200 ºC
Add the water needed to make up your pancake mix and shake the bottle until it is well mixed.
Line a 12cm x 27cm loaf pan with baking paper, leaving a 5cm overhang around the edge of the pan.
Pour the pancake mixture into the prepared baking pan.
Gently even it out with a spatula.
Arrange the apple slices on the top of the pancake mixture. Scatter the pecans on top.
Pour a little Maple Syrup over the apples and pecans so they don't dry out while they are cooking.
Bake for 27 minutes or until a skewer poked into the middle of the pancake, comes out clean.
Remove the pancake slice from the pan and cut diagonally into slices to serve.
Serve with Salted Date Caramel.
¾ cup ( 115g) of fresh, halved dates
¾ cup (185mls) water
½ cup (125mls) milk
½ teaspoon salt
Place dates and water into a pan.
Cook over medium high heat, then bring to the boil.
Reduce heat and simmer for 4 minutes until soft.
Let it cool a little.
TAKING ALL DUE CARE
Transfer to a small food processor and add salt.
Add the half cup (125mls milk)
Whiz until smooth.
Serve with the pancake slice. Enjoy!
NOTE - you can use your favourite pancake mix if you have one and you would prefer to.
The pancake slice idea will also work for Gluten Free pancakes.
You could also use salted caramel sauce instead, if you are in a hurry. If you would like to try it, you can prepare it for up to 2 days beforehand and it will keep in the fridge.
Slice served with the caramel sauce and ice cream and yes, it might have been for breakfast with guests. They said it was yum!
This recipe served 4 adults. You can easily double it to serve a larger family.