This issue includes:-
Sad Sally, Happy Hanna: Dear Diary
December: Needs, Not Wants
Penny Wise: The Christmassiest Christmas Ever!
Best of the Vault: I'm Dreaming of a Wise Christmas!
Best of the Forum: Have a Spend-Spree-Free Christmas
Best Members' Blog: Challenge Success!
Mimi's Salted Caramel and Ginger Chicken Thigh Cutlets
Rob Bob's Gardening Blog: Seed Saving Tips
From Last Month: Caravanning in Comfort
This Month's Help Request: Help Me Plan 2015
---
Hello,
How are you going? Christmas is almost here and we wish you and your families a peaceful and happy Christmas!
We love hearing from you - your savings stories and tips make my day! Here are some of my favourites this month:
"I really love the Simple Savings newsletters and all of the hints I receive. I could not live without them. Thank you for the great work you all do. I can't believe that Simple Savings has been going for 12 years and I certainly hope for many, many more years to come." (Julie B)
"As a mum to a young family, and with the help of Simple Savings, we are learning to spend sensibly and live a different kind of 'normal'. Now it is 'normal' for us to have home-cooked meals every night and takeaway is a great treat once a month. It is 'normal' for my husband and kids to take lunch from home rather than buy it every day or have tuckshop. We are saving more money than I would ever have thought we could - thank you Simple Savings." (Mikki)
Have a great month!
All the best,
Fiona Lippey
P.S. The Simple Savings 2015 Calendar is now ready and we hope you love the changes we've made this year! You can download it here.
---
"Have you got a minute Chlo?" Sally peered round the door. "Oh hi! Yes of course," smiled Chloe. "I just wanted your opinion on this Christmas present I got for my stuck-up sister." "Sounds intriguing! Show me," Chloe grinned, putting out her hands. "I went Christmas shopping with Hanna the other day. I picked up this book in one of the local handy craft shops. It's just a notebook but..." Sally blushed, passing Chloe a pretty fabric covered book. "She told me she WANTED a Trent Nathan bangle but I thought she'd enjoy this."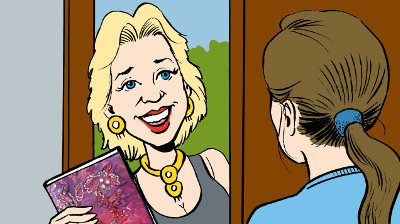 "Nothing wrong with that, it's gorgeous!" Chloe said. "Open it," Sally nodded. Chloe carefully turned the pages and found Sally had turned the notebook into a diary for her sister - but it was no ordinary diary. She had lovingly filled each page with little cut-outs of photos of her children, her friends, thoughtful messages, jokes to make her laugh, favourite recipes - there were even quirky little extras such as a special teabag and a $5 note with 'Today you are taking a book to a coffee shop and just watching the world go by' written to accompany it.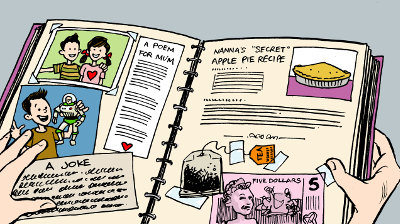 "Sally - wow! This is amazing," breathed Chloe. "It must have taken you ages!" "It did," laughed Sally. "My sister is one of those people who always adds up the cost of gifts. Do you think this book is enough, or should I buy her something as well?" she frowned. "Are you kidding?" Chloe said, still thumbing through the book in wonder. "Sal this is a gift to be really proud of! It may not have cost much but anyone can see the amount of love and effort gone into it!" "Thank you," Sally smiled in relief. "And do you know something else? This is the first year EVER I haven't had to resort to the credit card!"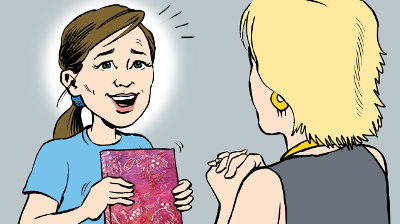 ---
There are many different beliefs and traditions surrounding Christmas. However, one thing is for certain; right from the very first Christmas ever, it was intended to be marked as a time of joy and celebration, not a time of sadness, stress and debt. It's pretty doubtful that after bestowing gifts of gold, frankincense and myrrh on the baby Jesus, the three wise men would have had to run off to their bank manager, caps in hand and say, 'Sorry, we got a little carried away!'
If the thought of more debt or the threat of overspending is already putting a damper on your festive spirit, now is the time to take action and make this year different. Christmas after Christmas we allow ourselves to fall victim to marketing, to peer pressure, to buy more than we can afford, when in truth, all we need to do is be like the three wise men - choose our gifts with meaning, give them with love and give only what we can. When you think about it that way, it's ridiculously easy!
Here's what we want you to do - grab a pen and paper and write down everyone you bought presents for last Christmas. Now you're going to have to put your big girl pants on - are you ready?
Cross off those people that you haven't seen this year - really. If you can't be bothered actually catching up with them, why are you buying them a gift? Send a Christmas card today and wish them a merry Christmas, and that you're looking forward to catching up in 2015. You've let them know that you don't expect to be exchanging gifts this Christmas.

Now you're going to look at the families you usually buy individual gifts for. No more worrying about trying to find that FANTASTIC gift for that teenage boy or the ten-year-old girl who has EVERYTHING because you are going to get something thoughtful for the WHOLE family. A beach hamper, a movie hamper, perhaps a moderately priced 'family adventure' somewhere. A quick email lets the other party know you're giving them a joint gift this year so they can change their own plans if necessary. A new tradition has to start somewhere!

Now you're going to look at your own extended family and think of ways to lessen the burden of giving everyone a gift. Think of ideas such as buying only for the children under 18, a $10 lucky dip for each person, secret Santa or devise your own unique raffle/auction! In fact, this might be the BEST Christmas yet!

For the elderly people in your family, nothing is better than something from your heart. These people know what a true 'gift' is - it's your time, it's memories, it's photos and words that mean something. Enlist the help of the younger members of the family to make some new memories for Nana and Pop.

For the gifts you simply have to buy, just stop and think. Just because someone wants a $100 bottle of perfume or an expensive watch, doesn't mean YOU need to buy it for them. Take a moment to think of something they might need that is within your budget - we bet you'd be surprised at what you come up with!
So be kind to yourselves this year. Buy only what you need to. Spend only what you need to. And relax this Christmas, safe in the knowledge that you are doing the very best for you and your loved ones.
For some fantastic ideas to make you feel all warm and fuzzy and show how you can create a wonderful festive atmosphere and an unforgettable Christmas, please check out our newsletter archive HERE and HERE
Make this year the Christmas for change, just like Sally!
---
Good grief, where to start?! What a hectic few weeks it's been. Overnight I seem to have turned into the stereotypical suburban TV 'mom', working three jobs to put shoes on her children's feet. Not even kidding about the shoes part! Life is busy and there is/has been so much going on I couldn't possibly write it all in one post but hopefully I will get a chance to catch up over the course of the week as some of it is quite special, at least in my mind.
But for now, I must turn my attention to the present! Going out to work has been very good for me, I think. After years of being the eternal cruiser, working from home and doing whatever whenever, I finally have to have some semblance of organisation in my life and get the most out of each precious hour. Turns out I'm actually getting quite good at it too! Mind you, with the crazy hours I work, it would cost me a lot of money if I wasn't organised. I also really appreciate my days off and endeavour to make the most of each one, whereas when I was at home all the time, one day was very much like another. Even the boys have noticed the difference and we all seem to appreciate the times we are all together more. Financially it's still a struggle and will continue to be for some time but we are pottering along quite happily and the main thing is, we are all trying, we are all doing our bit. Liam has got a job as a 'jack of all trades' at a motel in town and is working for a lovely couple and their staff six days a week doing whatever needs doing - groundsman, painting, cleaning the pool, gardening, laundry just to name a few. He's learning heaps, enjoying each challenge and it's a great way for him to learn and become confident in a lot of new domestic skills for when he goes away to uni in February! Ali finished school last week and is about to start his summer job as a waiter and barista in one of the local cafes. The three of us are a little like ships in the night and it's only going to get busier over the next couple of months but the times we do get to see each other is lovely.
It's funny how your mindset can change in the blink of an eye. This time a couple of weeks ago I had decided we wouldn't be having Christmas this year. I was feeling so hopeless, so despondent and a terrible parent and provider. How could I give my beloved boys a decent Christmas when there is no money in the kitty for presents or even for a decent Christmas dinner? What changed my mind? That's a whole other blog and one I intend to share soon but all of a sudden I realised that it didn't matter if we didn't have many presents. It didn't matter if we didn't have a traditional Christmas dinner. We could eat what the heck we liked! The important thing was that we had each other and that we had FUN. One of my favourite Simple Savings newsletters ever is from a few years back and talks about creating the perfect Christmas, how it is all about the festive atmosphere, the sounds and the smells. I realised we didn't need money to have all that; we already have everything we need! We have the tree, we have the decorations, we have the lights, we have the oranges and cloves, the angel and Christmas tree biscuit cutters to make shortbread and the hideous but hilarious array of corny Christmas CD's. These are the things which make Christmas Christmassy, not the presents! So what if we can't afford a traditional dinner; we'll cook a barbecue instead and all be chefs, it will be way more fun! This year is Liam's last official 'kid Christmas at home' and I'm determined to make it the best one ever! If anyone has any ideas they would like to share to help us make our 'low-cost or no-cost' Christmas extra special, please let us know!
I'm even getting organised with presents and have a couple stashed away already, which is unheard of for me! I also have set a budget and am sticking to it - well, I have to really, when it's gone it's gone and there's nothing else! But I think the boys will be happy. Apart from one ridiculously impractical gift for Liam, which I know he will love and have pride of place in his room at uni, everything else is things they either need or can use. Now they're young adults that's the way they like it anyway; their days of having rooms and shelves full of meaningless 'stuff' are long gone. Even Liam's Christmas 'stocking' has a use! I wasn't going to do stockings this year but then I spotted someone selling steel Corona (beer) buckets for $2.50 on our Facebook Buy and Sell page and I thought I would fill it with goodies and it would make a rather stylish rubbish bin for his room at uni!
We have a family wishlist for things we want or need which we pin up in the kitchen and have been having a good chuckle at the things listed on it. Far from being extravagant or whimsical we have things such as 'NEW TOWELS!' (almost all of ours are worn into holes, I will definitely have to get Liam some more presentable ones to take away with him!) 'NEW FRYING PAN!' (we hate our frying pan with a passion; for some reason these days any food you attempt to cook in it refuses to stay in the middle and rolls or puddles around the outside. Makes for some very interesting shaped fried eggs I can tell you!), 'NEW BULB FOR SECURITY LIGHT' (at $18 a pop we never seem to find it important enough to replace) and my personal favourite 'FIX THE LEAKY BATH TAP!' What an exciting bunch of crazy kids we are!
I guess we do at least have our photo board, which is one fun family project we want to work on for Christmas and will cost very little. These days when everyone has cameras on their phones, everyone is always busy snapping potshots of everything from hilarious photos of each other to endearing pics of family pets and goodness knows what else. Some of these can be classics or truly beautiful but they rarely make it off the phones to be enjoyed anywhere and by anyone other than the photographer. On looking through our phones last week the boys and I realised we had amassed a wonderful collection and decided we needed somewhere to display them. A friend of mine was giving away a huge pinboard for free on (where else!) Facebook Buy and Sell and I signed up to an online photo printing store who were giving away 40 free prints just for signing up. Now all we have to do is choose our 40 prints and wait for them to be delivered. Putting them all together with the boys is going to be fun! I'm also going to check out the op shops for board games and puzzles we can do together and Liam is excitedly downloading karaoke songs on his Playstation. Last time we played Singstar together the boys' voices hadn't even broken! I can't wait to hear the difference when they attempt to sing the same songs from over a decade ago, I have a feeling it's going to be hilarious!
Who knows what else Christmas Day is going to bring but at least now I'm totally relaxed about it. We have nobody to please or impress except each other and because of that I am finally going to get the opportunity to do something I have always wanted to do. Every year our local Lions Club organises an enormous Christmas dinner at the club where I work for those who are less fortunate or on their own. I've always wanted to volunteer my time on Christmas Day to help someone else enjoy the kind of Christmases I was lucky enough to grow up with and this year I've put my hand up to help out. If the boys are not visiting their dad they'll be coming along too. I can't think of a more Christmassy thing to do!
For the next few months at least, life is only going to get busier, so I apologise in advance if blogs are a little few and far between! Should you have a burning desire to know what is going on in the chaotic world of the Wise clan, you are very welcome to follow the 'real me' on Facebook (hint: it's the same name as on the $21 Challenge book). Otherwise I shall attempt to bring everyone up to date on all the news here soon!
You can get updates on Penny's new blogs on the Simple Savings Facebook page.
...or in our Members' Blog section.
---
With every purchase this Christmas, stop and ask yourself, 'Why am I buying this?' If it's to impress someone or because of guilt about giving a 'GREAT' present, well, maybe you need to think again. Try some of these great ideas from the Vault - remember, the (reindeer!) buck stops with you!
I came up with this lovely idea for a low-cost birthday present when money was tight. My daughter was invited to a birthday party but we couldn't afford to buy a present at the time. So we looked through my old material scraps and found some silvery stretchy material and some Dacron and made a lovely heart-shaped cushion. We decorated it with buttons (spares that came with new clothes) that I had saved in a variety of girly colours and lastly added a ribbon (saved off another gift).
With all the materials already at home it cost me nothing, but even if you had to buy the bits and pieces, with careful shopping for offcuts of material it would still cost well under $10 to make. The pillow looked fantastic and the six-year-old recipient loved it, saying it was her favourite present of all that she had received! It was a great lesson to see that those handmade personal gifts are appreciated much more than shop-bought mass produced items. We now plan to repeat this exercise at Christmas, when we will make more personalised cushions for our family and friends!
Contributed by: Kerry Pope
I decorated my daughter's room with some fantastic new wall art, without spending a cent! Wordle is a website where you can type in whatever words or phrases you like and it will then put them on a page randomly. I typed in the word 'dance' and Wordle turned my words into word art. I printed it out, then stuck it onto a piece of cardboard to fit inside a picture frame I already had. I then got various photos of my daughter dancing in costume and stuck them around. I popped the finish piece into the frame and it looks terrific! Have a go at making your own super cheap wall art by going to http://www.wordle.net.
Contributed by: Miss A
Bring new life to an old pair of jeans and make a funky denim bag! Cut the legs off and sew the openings together inside out, then turn in the right way. That makes the 'bag'. To make a long handle, sew the two legs together then sew to the bag, or sew one leg to each side for two shorter handles. Put some Velcro or a button on the inside to clip together. You can add a scarf or a belt for a more personal touch. Jeans can also be used to make cushions.
Contributed by: Wahine
Last Christmas Santa gave our four kids practical presents that they could use all year round! He realised that mums and dads have a lot of expenses leading up to the new school year and that the Christmas period can actually be quite a stressful time. So he helped out by getting our kids some lovely new lunch boxes, flash new drink flasks, fancy looking containers for their litter-less lunch, cool new Band-Aids, and some brilliant new bathers! There wasn't a toy in sight and our kids certainly didn't miss them. This meant there was no need for another big annual clear-out of all the unwanted clutter! I'm grateful to Santa, and hope he can find some other handy things for the kids this year. Christmas isn't about expensive gifts; it's about spending quality time with the special people in your life.
Contributed by: Kylie Parish
We built a sandpit for our boys for just $60 with some free planks of wood from the local dump, black plastic from the hardware store ($30) and a trailer load of sand from the quarry ($30). The pit is built under their swing set and has made a great cheap alternative to the expensive ready-made sandpits, bringing my boys hours of fun.
Contributed by: Melissa Roos
---
There is still time to organise a stress-and-spend-spree-free Christmas! Here are some great ideas from Forum members that are big on thoughtfulness and small on price.
Christmas at home without extended family doesn't need to be second best - now's the chance to create new traditions to enjoy.
read more...
Look no further than GoGo Goanna's thread for some fantastic ideas for your own low budget Christmas.
read more...
Some great ideas on how to fill those stockings for the young men in the family!
read more...
It can be hard to buy gifts for elderly relatives but here are some great ideas to help make Christmas Day special.
read more...
---
One of the many benefits of being a Vault member is that you can win $100 cash each month for your Simple Savings blog! Starting your own blog on the site is easy. All you have to do is log into the Vault, click on 'My Desk' at the top left, then 'Your Blog'. Then get writing! We love reading all your money saving trials and tribulations and really appreciate the effort that goes into each one.
This month's winner is Lil ol' Me for doing a successful $21 Challenge AND for her delicious home-made Christmas gifts!
"Yay! Challenge achieved! We did it...and easily. My weekly shopping last week for our family of six was $50. I'm quietly thrilled! The kids had no idea what was going on and went about the week as normal in complete ignorance.
I was inspired after using the Coles online shopping tool to check on prices and in particular, unit pricing. So I created an Excel sheet one night and checked all the items I usually buy and went searching for the best prices on these. I found a few gems, and hopefully this will reduce our spending even further.
I've just come back from shopping for this week and spent $93.55 which has included everything we need for the week to feed six of us.
Here's our dinner menu:
Tacos
Cottage pie topped with potato gems
Baked potatoes (with ham, cheese, tomato, pineapple and beetroot)
Vegie and bacon pasta bake
Quiche with oven fries and vegies
Home-made pizza
Fish with oven fries and vegies
Everyone will have sandwiches for lunches and I'll be making yoghurt for use in smoothies, ice blocks and snacking. I'll bake blueberry muffins and white choc & raspberry muffins, some choc fudge biscuits from the $21 Challenge book, and we have lots of fruit both fresh and tinned. I have ingredients for more baking if needed but all up, it should be another great week to top up our savings. I never considered us one of 'those families' that could feed ourselves on so little but we're getting there!
My BF planted out our vegie patch two weeks ago so hopefully over summer that will keep the spend low. His sister gave him a Bunnings voucher for his birthday recently, so the vegie patch has cost us nothing except for TLC.
Christmas is fast approaching and I found myself with a little spare time and inclination last week so after searching on Google and Simple Savings, I whipped up the following as gifts for teachers and friends. A big thank you to Mimi for your posts last year for gift ideas - I used a lot of them!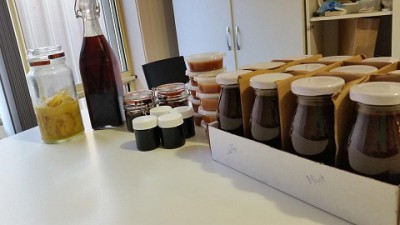 From left to right, limoncello, vanilla extract, vanilla bean paste, salted caramel pots, boozy choc jaffa liqueur and after dinner mint liqueur. I can't wait to box these up closer to Christmas with some additional shortbread.
Lots of big ticks all round!"
Well done, Lil ol' Me. We think you have done a fantastic job with your Challenges and Christmas goodies!
You can read more of our members' blogs here.
---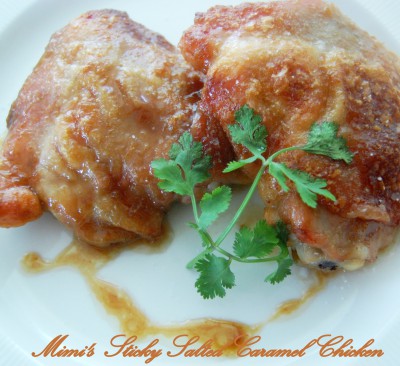 Chicken thigh cutlets are so inexpensive and delicious and vastly underrated as a family meal.
A tray of 6-8 thigh cutlets on the bone rarely costs more than about $6.00 where I live.
They look a little more substantial when served than a lonely thigh fillet does and the bone adds a bit of flavour oomph too.
This recipe is one I came up with when I had run out of honey and wanted to do a marinade for the cutlets that night. The old combo of honey, soy and ginger is pretty hard to beat! I'd been browsing salted caramel sauce for Christmas gifts and thought that a similar combination of flavours would probably work. After all, it's just brown sugar, salt and cream or butter... how could that not be awesome? Add the ginger which marries so well with chicken and we're onto something.
If, like us, you find that idea of honey, soy and ginger appealing, then you'll find this as yummy as we do. It's not something you'd eat every day given the combination of the sugar and butter, but as a special meal, it's a winner.
It's best to start preparing these at least an hour before baking them, and the night before or that morning is even better to give the flavours a chance to permeate the chicken.
You need:
1-2 chicken thigh cutlets per person (one is enough for my daughter and I, but husband prefers two)
3/4 cup brown sugar
3tbsp butter or margarine, softened
1dsp minced or grated fresh ginger
Pinch of salt
Then just:
Line a baking tray with paper or foil and set aside.
Lay the chicken cutlets on the tray and poke holes in the flesh with a sharp knife to allow the marinade to really flavour the meat.
Run your fingers between the skin and the flesh to loosen the skin slightly, without separating it from the cutlet.
Combine the softened butter, brown sugar, ginger and salt to a smooth paste.
With clean hands, take a small ball of the paste and push it under the skin of the chicken cutlet. Smooth it with your fingers so it covers the surface of the thigh cutlet, sitting between the skin and the meat. Blot the skin of the chicken dry with a paper towel and press a second ball of the paste over the surface of the skin. So now you have the mouthwatering salted caramel and ginger paste between the meat and the skin, as well as on the surface of the skin.
Place the tray in the refrigerator and let the marinade paste do its job.
When you're ready to cook, preheat the oven to 180C fan forced or 190C normal and place the chicken cutlets in the oven. Bake for about 45-60 minutes depending on your oven. I bake mine for nearly an hour in a fan forced oven so that they're all brown and bubbly. Brush the marinade back onto the chicken as it dribbles down the sides.
The butter and sugar will caramelise as the chicken cooks, creating a gorgeous sticky coating that is a treat for the senses.
Serve with a crunchy coleslaw and steamed baby potatoes or steamed rice.
Very, very YUM!
You can get updates on Mimi's new blogs on the Simple Savings Facebook page
or in our Members' Blog section.
---
We've had a lot of plants go to seed in our various gardens over the past month or so and I thought some folks might like a bit of a look at the seeds that have been collected. More importantly, I would also like to pass on a few tips and information on saving seeds to those thinking about saving seeds for the first time. All the varieties we're collecting at the moment mature on the plants and require very little processing. To begin with, saving seeds is a very straight forward process; however, a few basic guidelines need to be followed when it comes to some varieties. This is to ensure that plants will provide seeds that will grow true to type and with vigour.
In some plant families different varieties will easily cross pollinate with others resulting in hybrid seeds that will not grow true to type (the same as the parent plants the seed came from). If you intend on saving seeds for the next growing season, it's a good idea to only let one member of the family flower at one time. The cucurbit family (including cucumber, melons, squash and pumpkin) is a great example of this with many commonly grown plants easily crossing with each other. These plants have both male and female flowers (called imperfect flowers) and require pollen from the male flower to be delivered to the female flower. If you are looking to save seeds from plants like this it's a good idea to either grow one variety at a time to ensure seed purity or to cover them with netting and hand pollinate until you have some fruit set that you can save seeds from for the next season. Below is a look at how to hand pollinate the larger cucurbit flowers such as squash, pumpkins and zucchini for those that are curious.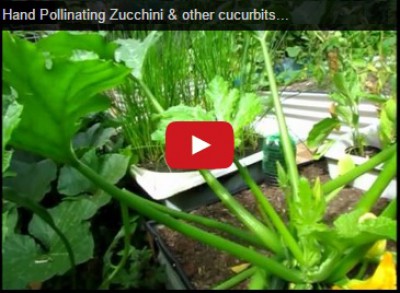 Another tip for the larger flowers like zucchini, is to tie the female flower closed with a bit of wool or twine after hand pollinating. This will stop bees and other insects from delivering pollen that might have come from a different member of the family. I haven't tried this method myself but have been told that it does work.
One other thing you need to be careful with when saving seeds from some plants is 'inbreeding depression'. Simply put, inbreeding depression is where the gene pool of a given plant type is limited and mutations/lack of vigour can start to occur in subsequent generations. There is a great PDF download from "The Siskiyou Permaculture Resource Group" that includes the number of plants you need to grow to prevent inbreeding depression in vegies commonly grown in backyards, as well as other information you might find useful. Some plants like tomatoes, capsicum/peppers, cucurbits, beans, peas, lettuce and radish show no inbreeding depression and it's fine for the home gardener to save seeds from a single or small number of these plants for the next crop.
The cabbage family of plants (Brassica oleracea which includes cabbage, cauliflower, kale broccoli and brussel sprouts) is one family we grow and is susceptible to inbreeding depression.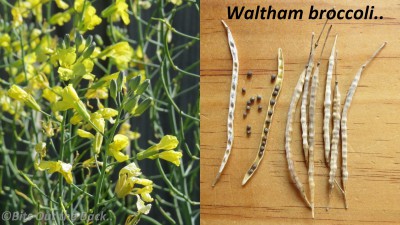 To guard against inbreeding depression we let a group of six 'Waltham' broccoli plants go to flower to ensure that the genetics would be varied. While this was the minimum number recommended by many I think if we introduce a few plants grown from another source every few years we will be able to keep the genetics varied and strong enough to continue to grow vigorous plants.
Corn is one plant that is very susceptible to this with mutations in some varieties starting to show up two or three generations down the line if insufficient numbers of plants are grown. Most recommendations I've read for corn say a minimum of 200 plants to get seeds that will continue to be strong and show no defects in following generations. Other articles I've read recommend 100 plants minimum.
Last summer we grew two types of coloured corn; Aztec and Glass Gem.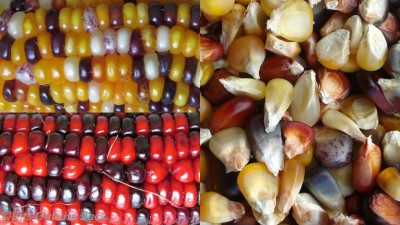 We only grew 40-50 plants of each variety so the genetics are probably only good for another generation before defects will be seen. One way to counter this is to introduce some new genetics from other seeds of the same varieties or to even cross the two to see what happens. ;-)
As I mentioned before, the seeds we have been saving lately are all left to dry on the plant which makes saving them a lot faster to process than some others.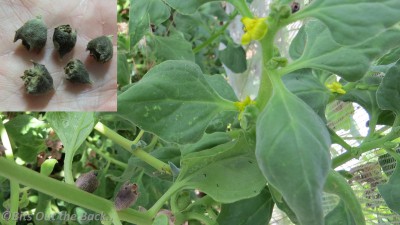 One of the easiest plants to harvest seeds from would have to be the Warrigal greens/New Zealand Spinach (Tetragonia tetragonioides). The seeds appear where the leaves join the stem of the plant after the small self-pollinating yellow flower has been fertilised. The seeds are ready for gathering when they turn brown and fall off easily when touched. As this plant is native to Australia you can find it growing in coastal regions and you may be able to acquire a seed or two from a wild plant as long as the local authorities don't mind. ;-) We found the best way to get these seeds to germinate was to soak them for 24-36 hours in water before planting them into small pots, where they could be kept moist until they germinated. I don't think we will ever need to sow another seed as we now have volunteer plants popping up around the patch.
Other very easy seed to harvest would have to be those of the bean and pea families.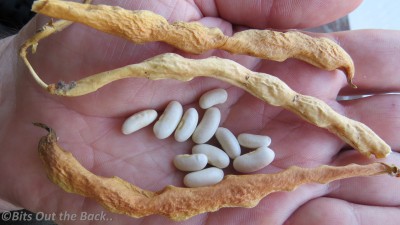 Beans and peas are self-pollinating plants that don't cross pollinate very easily. To save the seeds we leave four to five beans/peas on each bush as it comes to the end of the season. Once the pods have dried out it's just a matter of picking, giving the pods a twist and collecting the seeds.
Chillies are a fruiting plant that you can let dry out on the plant and then collect the seeds.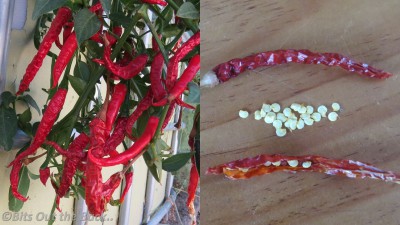 These cayenne chillies/peppers have been left to dry on the bush before being removed for seed saving. The dried flesh doesn't go to waste either and is kept in a jar to add to cooking. One word of warning though, it is a good idea to wear gloves if you are handling particularly hot chillies.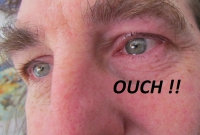 More than once I've rubbed my face after dealing with some of the super-hot chillies we grew, only to regret it for half an hour or so later. :-/
Lettuce is also a very easy plant to collect seeds from. It is capable of self-pollination and it is possible for a single plant to provide you with enough seeds for a few seasons.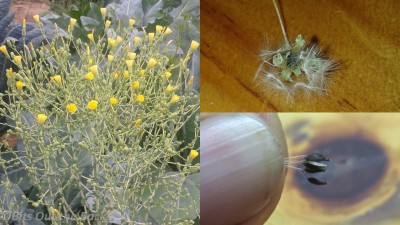 Each small seed within the flower head is topped with a bit of fluff which I have found comes in handy when it comes time to collect the seeds. It is really as easy as pulling on the bits of fluff and the majority of the seeds will come out leaving very little chaff to clean from the saved seed.
A good way to collect smaller seeds like those from the amaranth and the brassica families is to use a few basic utensils most folks have around the house. There are a few steps involved but it doesn't take long at all.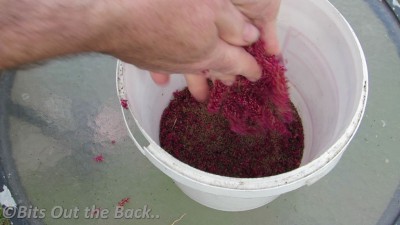 First step is to remove the seeds from their pods or flower heads. The easiest way I found to do this is to simply rub them between your hands over a bucket.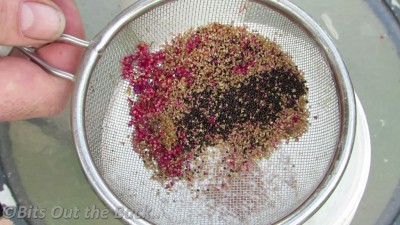 If the seed is small enough, like the amaranth, you can run the chaff and seed mix through a sieve to remove the larger bits of chaff allowing the seeds to fall into a second container.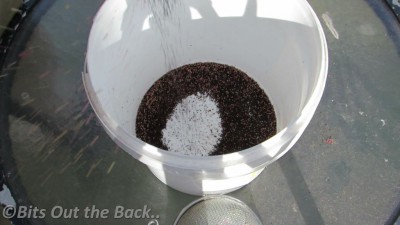 The next step is to winnow off the small bits of chaff that remain mixed with the seeds. An easy way to do this is to pour the seed and chaff mix from one bucket to another allowing a gentle breeze to blow the chaff away while the seed falls into the container below. A house fan on low will do the same job if there is no breeze and for small amounts, I have also blown through the seed and chaff as it falls between two cups.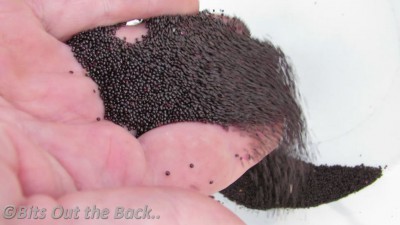 Repeat this process until all chaff has been removed from the seed.
For seed storage I like to use small Ziplock bags to keep the seed dry. I try to keep all seeds from the same family in larger bags to make finding specific varieties a lot easier. These larger bags are then stored in Bianca's old sewing toolbox and kept in the coolest spot in the house.
Just a quick word on the types of seeds you can buy and the benefits they may have.
Open pollinated seeds come from plants that have been allowed to be pollinated by natural means like wind, insects, animals or man. Older varieties of open pollinated seed that have a history spanning many generations are often called heirloom seeds. Open pollinated seed are suitable for seed saving as long as precautions are made to keep different varieties from the same family isolated from each other so they don't cross pollinate.
Hybrid seeds are made from a cross of two different plants of the same variety to produce an offspring that will have genetic characteristics of both its parents. These are called F1 varieties. Some F1 plants are developed to provide an increased yield in faster time than their parents (often called hybrid vigour). Other reasons for creating an F1 is so plants can tolerate extremes in climate, uniformity of shape/quality and the ability for all plants in a crop to become ready for harvest at the same time.
One type of F1 fruit I'm interested in growing this season is the parthenocarpic cucumber. Parthenocarpic plants are able to produce fruit without the need for pollination and can often turn up in nature as a mutation all by themselves. I think these cucumbers would be great to grow in the hoop house where there are few pollinating insects. Due to the Queensland fruit fly, many fruiting plants need to be grown under protection here.
The big downfall of F1 hybrid plants is that the seeds generally will not grow offspring that are true to type. Some plant breeders have persisted and stabilised some hybrid varieties but it can take many generations and a lot of dedication. I have spoken to a few folks that have bred their own tomato varieties this way. I was lucky enough to be able to purchase some seeds and am looking forward to growing these dwarf varieties to see how they go here.
GMO or Transgenic seeds, are a different kettle of fish altogether. These seeds are created by taking genes from one species and placing them into a different one to provide them with herbicide resistance (Roundup ready Canola), toxic properties that will kill pest insects (BT Corn), fortify with vitamins (Golden rice) or even just to produce a uniquely different colour flower like the blue rose. The main reason I am mentioning them is that they are not available to the home gardener here in Australia and many other countries, contrary to little info graphics posted on some social media sites. If you are interested in saving seeds from store bought produce here in Australia you don't need to worry about GMO produce either. All produce that is a 'GMO' needs to be signed as such and I am yet to see any make an appearance. You can also check out what varieties are approved to be grown here on the "Current GM Applications & Approvals" page on the Food Standards Australia New Zealand (FSANZ) website.
That's about it for this month's instalment. Hope the seed saving tips help a few folks out.
Cheers all & have fun in the patch,
Rob
You can get updates on Rob Bob's new gardening adventure blogs on the Simple Savings Facebook page
or in our Members' Blog section.
---
Last month Gabriel emailed us about ideas for holidaying in a caravan:
"We are taking our family (three kids) away in a caravan for the first time in the Christmas holidays. We haven't done this before but I want to make it a great holiday for my family. Can you ask your readers to share their tips on caravanning, cooking, storing, cramped living and keeping kids entertained at night/during bad weather or any other clever ideas they have. Thank you."
We got some great idea - thank you for sharing your wisdom with Gabriel. Here are some of our favourite replies:
You can make a cheap camping or caravanning holiday even more fun and active by packing bikes for everyone. We go camping regularly in caravan parks and camp free in National Parks. Not only does this entertain the kids from arrival, it also helps them make friends and they can have fun playing games like cops and robbers or making their own jumps. If you don't have room for bikes, scooters and helmets will do. Also make sure you pack a torch for each child - 'Spotlight' is a popular after dinner game and they love it. Both these items you usually already have at home and ensures hours of free fun for the kids!
Contributed by: Ruth Hills
We have found a way to eat well and transport food easily when camping and caravanning. We freeze meals flat in large plastic Ziplock bags before the trip and store them in either an Esky with ice or in the car freezer and reheat them as necessary once on location in the caravan. This way the cook gets a bit of a holiday (or at least less work) without having to spend more money on takeaway!
Contributed by: Ms Moneypenny
We have just returned from our first caravan holiday with three kids. The best tips we found are:
Stay in the caravan park for at least three days. There's nothing worse than setting up and packing up frequently.
Pack plenty of books/colouring-in pages (depending on ages). A jigsaw puzzle with a roll-up mat was a great idea. Board games were pretty fun too. Movies/DVDs were a must for rainy days!
Keep meals simple: Salads, fruit, yoghurts, sandwiches and BBQ in the evenings. Camp fires with marshmallows (even a contained one using park facilities) was always a hit.
We had great weather but the occasional rainy day was spent in local towns/shops/cafe as a treat and even doing the 'tourist' thing in museums (was more fun than we thought!).
Also try to limit driving time to sight see as kids would be too tired for a hike once we got there! Our best times were spent stopping unexpectedly at a lake or river and going for a quick fish and just sitting under the trees for lunch.
Ask other caravanners and locals what to see/where to go, they give really good advice!
Get the kids involved in trip planning, get them to do a basic town history and choose what they would like to do/where to go for the day.
I gave each of my kids $50 before the trip to spend on whatever they liked: lollies, books, whatever. It's amazing how much time they occupied trying to figure out how to stretch that further!
Contributed by: Sal Costanzo
When camping or caravanning together, above all remember to just relax and enjoy the time together! With food, stick to basics, but take some fresh herbs to enliven meals. Pasta, couscous, rice or barley all can make good solid bases for filling salads or warm meals. Some butchers can vacuum pack meat for you, or can freeze it very flat, so it will defrost quickly. Use a tin of beans to bulk up meat dishes. Tinned tuna or salmon can be used when fresh meat runs out. Vegetable curries or stews with rice and sides such as raita, nuts, chutney or yoghurt can be a treat. Kids love tending a fire and cooking baked potatoes and stuffed apples in foil, as well as damper. As a treat a wine or juice and cheese, or a few nuts, after setting up camp, and before cooking dinner is a real relaxer. I always have dinner pre-cooked for the first night out, while everyone is getting used to being on the road. You never leave on time or get as far as you planned on the first day.
As for keeping occupied, we play cards (even a five-year-old can play poker), Monopoly and Scrabble. At a new camp site the 'alphabet game' is good! Kids have to find an item beginning with 'A', then 'B' right through to 'Z'. A good tactic for stops and car travel too! Another is trying to count the number of different types of animals seen when travelling.
Remember that children can help plan your trip too, follow maps and guide the driver. Letting them research potential towns and their attractions can give children ownership of the holiday. Change the seating arrangements now and then too. As extra back-up each child also takes a back pack of individual games, for example, Solitaire, as well as books, music, DVDs, small sketchbook and pencils, pad and pencil for dot to dot, noughts and crosses, a diary to write up, toys, water bottle and any other essentials or ways to pass the time. Some wonderful caravan parks have adventure playgrounds and bouncy pillows, pools, billiards, BMX tracks, bike hire and more. If you are free-camping, staying at one of these parks now and then can be a treat.
Don't try to travel each day. It is boring and tiring for children in a car every day and setting up each night and packing up each morning. Stay at least a few days in each place to get settled, go and do things locally, fish, swim, walk around town, visit museums and other historical points of interest. Less is more. Have fun and get to know each place.
When on the road keep snacks simple. Fill a flask so you can make your own tea, coffee and cordial. Dates, prunes, fresh fruit, home-made biscuits or raisin bread all make snacks which are cheaper and healthier than service station fare. Keep these in the car for easy access/quick stops. Use a cooler bag for milk and sandwiches.
One really valuable tip is to make sure children all have jobs to help get unpacked and pack up the caravan each time you move. Even the youngest can check the pop is locked down, the gas cover is on, the windows closed, drawers locked and so on. They get bored waiting around for you to do it all!
Contributed by: Karen Murdock
You don't have to worry about finding cheap ways to entertain kids when camping or caravanning. If the kids are as active during the day as they no doubt will be, they won't need entertaining at night as they'll be asleep! But just to be sure, throw in a deck of cards for good measure!
Contributed by: Summer Breeze
---
Iris has emailed asking for some help! She writes:
"I am so glad to say goodbye to 2014 - I have wasted so much money and time and energy because I CAN NOT get organised! It's almost the start of another year and I have some time to sit down and plan 2015. Can you please ask your members for their best tips on getting and staying organized? 2015 is going to be the year that I stay on top of things - please help!"
If you have any pearls of wisdom you'd like to share with Iris, please send them in to us here.
---
Well, that's your Simple Savings Newsletter for December and we hope you have a wonderful Christmas - we hope you can try to make it all about needs and not wants!
Our members are hugely important to us and we love hearing from you all! So next time you're on the website, why don't you get in touch and say 'G'day'! Let us know what you would like to see more of in our newsletter or any suggestions you have for something new to try. We love receiving your clever ideas!
Don't forget to spread the love around to your family and friends too by forwarding them our newsletter or letting them know about our website. Help make their lives easier and save them money too! Or tell them about us on Facebook by clicking the 'like' button on our Simple Savings Facebook page.
Till next time...
All the best,
Fiona