"Secrets to Saving Money in Australia" Free Newsletter - November 2009
This issue includes:-
Sad Sally, Happy Hanna: A 'Proper' Christmas
Making Merry Christmas Memories
Best of the Vault: Christmas Cheer
Best of the Forum: Making it Special
Sophie Gray: Chillin' Out
Penny's Blog: It's Got to be Perfect - Doesn't It?
Homeopathy Corner: Christmas Survival Kit
From Last Month: Kids' Christmas Gifts
This Month's Help Request: Christmas Day Surprises
Savings Story: Simple Inspirations
---
Hi,
How are you going? Fantastic, I hope! Thank you for supporting us this year. To show you how much we appreciate your support, we are making you a calendar. We are almost done! It should only be a couple more days and we will email you when it is ready.
We should have finished it already but with the book and a new bub things have been just a little bit busy. Sometimes I think to myself 'what the heck are we doing!' But then Elora gives me one of her smiles and emails like these ones come in and suddenly all the effort is worthwhile.
"I don't know how to thank you guys. Just by reading your website my brain has already started to think differently. When I am at the shops I think 'do we need this?' and I am checking the upper and lower shelves for a cheaper option - all this before I have even organised my goals! Thank you very much." (Emma Crombie)
"Thank you for all of your hard work and encouragement via your website, Forum, TV appearances and book. You've made a huge difference to my family life and helped me to help my friends. What a great Australian icon you are!" (Anne Shaw)
"I recently purchased your $21 Challenge book and found it absolutely spectacular! I saved myself $100 this week on my weekly grocery shop. I love having all the hints that were added from members handy in my kitchen to grab and look at whenever I like. Congratulations, and in my book, money well spent." (Ellen Nilsson)
"I must say I was sceptical about doing the $21 Challenge but I gave it a go and spent only $25 to feed our family of five. I had so much in the pantry and freezer that I didn't know I had! Even the week after the Challenge I only spent $100 compared to the $200 I usually spend, so thank you SS for some great hints. I have passed them onto others (just as sceptical as I was) in hope they can achieve it too!" (Susan Keane)
"I ordered my $21 Challenge book from the SS website and it has already paid itself off after a week's use."
(Kim Algarve with husband and son)
Have a great month! All the best, Fiona
---
$21 Challenge: book update
Great news! The $21 Challenge book is a bestseller! At the moment we are listed at number four on the independent bestsellers list. Woohoo! Maybe one day we'll even make it into the main bestsellers list. A sincere thank you to every single one of you who has supported us and helped us get on that list.
The cheapest place to get a copy of the $21 Challenge book at the moment is at Target. They are currently selling it for $16.24. If there is not a Target store near you, Big W have the book priced at $16.93.
We were also given four stars by the Manly Daily newspaper (Sydney). Here's what they said:
"Take up the Challenge.
At first glance the premise of this book appears to be totally ridiculous - how to feed your family for just $21 per week. Surely this is not possible to do? Well, yes and no. No, it is not possible to feed your family for this amount, week in and week out. Yes, it is possible to do it once a month or as needed when times are tough. The strength of this book is the way it shows the reader how to menu plan using what you have in the pantry and freezer; especially the tips for adapting recipes to use what you already have. The authors are well aware that it is not possible to feed your family on just $21 every week, but they do show the reader how to achieve this once a month, thereby saving thousands each year and preventing food waste. Why don't you set yourself the challenge and see if you can do it?" Reviewer: Catherine Proctor
VERY IMPORTANT! - ORDER YOUR BOOKS NOW FOR CHRISTMAS
If you are planning to purchase a signed copy of The $21 Challenge as a Christmas gift, or are hoping your loved ones will get one for you, please place your order ASAP or start nagging them now. School holidays start next week and there will be six children clambering for Fiona and Jackie's attention and holding up the assembly line! Order by December 7th to be sure of receiving your books in time for Christmas. Click here to order now and guarantee a place under the Christmas tree.
Please order by December 7th to ensure delivery in time for Christmas.
---
1. Sad Sally, Happy Hanna: A 'Proper' Christmas
Sally was exhausted. Clearing the spare room out for Aunt Edna's visit had been a huge mission but they had done a great job and made quite a few extra dollars for Christmas in the process. The thing was, Sally looked around, now you could actually SEE the spare room, it was really looking quite shabby. "It's no good," she sighed. "We're going to have to give the room a lick of paint before Edna comes. It just won't be a proper Christmas if everything isn't just perfect!"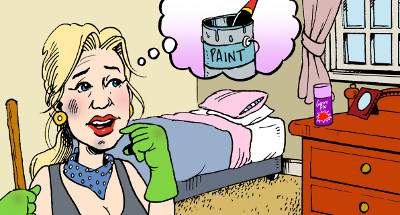 Sally's train of thought was interrupted by the doorbell. "Edna!" Sally gasped in shock. "But - I thought you weren't coming until the 17th! Isn't today the 10th?" "Yes, I was always coming on the 10th! Lovely to see you, dear!" Edna promptly marched past Sally and headed for the spare room. "Don't go in there!" Sally chased her down the hall in a panic. "Er - I mean, your room - it's not ready!" Oh no! What was Edna going to think?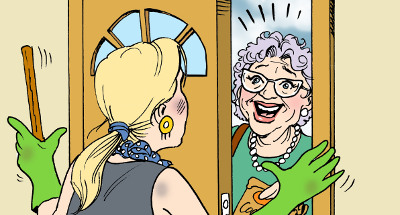 "What do you mean, it's not ready?" Edna pushed past her. "Aha! I see what you mean. You've redecorated! It looks wonderful! Oh thank you, dear, but you know - you really didn't have to go to so much trouble for little old me!" The kids burst into giggles, which Sally silenced with a hefty nudge. "That's quite alright Edna, it was nothing. Really!" she smiled sweetly. Little did she know! Sally inwardly breathed a sigh of relief. Looks like she wasn't going to have to spend her decluttering money on paint after all!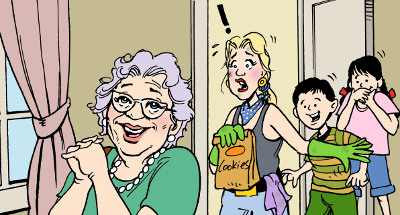 ---
2. Making Merry Christmas Memories
Aunt Edna may have arrived early but she has saved Sally a good deal of money and stress! Sally was about to fall into the classic Christmas trap of spending all her money and effort on things that don't really count, such as making the room or the table look 'perfect'. These are the sorts of things that no one remembers at Christmas.
Think back to your happiest Christmas ever. What do you remember most? Bet it wasn't the presents or the colour of the walls! What people cherish and remember about a wonderful Christmas for years to come are the sounds, the smells, what they did and the laughter. These are all things you can tweak for very little money or effort.
Sounds. Have you ever noticed how movie makers use music to manipulate our emotions? Try this out on your household to keep them smiling on Christmas day! Think about the music that makes your family the happiest. It doesn't even have to be Christmas carols. In our household it is Ren and Stimpy's 'Don't Whiz on the Electric Fence!' Whatever lifts your spirits and has you humming along will work. Decide what music to play, write a list and get it all prepared beforehand. On Christmas morning, all you need to do is switch the songs on for an instant happy atmosphere.
Smells. Scents also trigger happy emotions and memories. Use this to your advantage on Christmas morning. Find out everyone's favourite smell and recreate them. It may be the scent of freshly baked bread or freshly popped corn. Mine is the scent of pine from our Christmas tree. I love it. Penny's is cinnamon and cloves from making pomanders. Naomi's is the aroma of dried fruit simmering in brandy on the stove, while making boiled fruit cakes. By recreating these smells on Christmas morning you aren't just triggering old happy memories, you are also using the smells to create new ones.
Activity. Movement stimulates the release of endorphins, which make us feel good. So make sure everyone has something fun to do to keep them moving for a good part of the day. Whether it is organising a Christmas treasure hunt, a family game of cricket or even a water fight. Whether you're seven or 70, you can have heaps of fun with a water pistol! If you're having trouble getting older kids away from the video games, get them to bring out the Singstar or similar games where everyone can have a go. Planning activities costs next to nothing and they will be remembered for many years to come.
Laughter. Find a way to keep them laughing and everyone will have a great day. Getting everyone to laugh is as easy as hiding corny jokes in napkins, giving people really silly gifts or wrapping someone's present in so much sticky tape you need a blow torch to open it. Your exact approach doesn't matter, just as long as you find a way to get them laughing.
To make Christmas day easier for you to prepare, we have gone through the Vault and the Forum and found some great ways you can use sound, smell, activities and laughter to make this Christmas one you want to remember.
---
3. Best of the Vault: Christmas Cheer
You can still have a great time, keep the festivities alive and kick up your heels without dipping into the savings account. Try these great tips from our members in the Saving Vault. They will get you through the festive season without maxing out your credit card or plundering your savings.
Activities each day from the Christmas tree
We plan our summer holiday activities with the help of our Christmas tree! Each Christmas, my two boys (aged eight and 10) make little gift tags to hang on the tree. Inside each tag, we write places we would like to go over the holidays; certain parks to ride our bikes, Scienceworks, roller skating and so on.
The night before we want to do an activity, one of us takes a gift tag from the tree (without looking inside first!) and whatever activity is inside, we go and do the next day. My boys love it, as they both get to decide on our adventures and it's always a surprise. It's also a great way to see the lovely sights of where we live. We always manage to find new places to see every holiday and it is a great low-cost way to spend heaps of fun time with each other!
A cracker of an idea for serving Christmas cake
I cut my Christmas cake into small portions and wrap each portion in foil, and then in Christmas coloured cellophane, for example, red and green. I twist the ends of the cellophane like a cracker and put each piece in a nice dish or basket. When guests come over, I don't have to go to the trouble of getting the cake out and cutting it up as it is already done. The cake keeps fresh for weeks... if it lasts that long!
Free Christmas activities for families
Christmas holidays can be an expensive time for families but there are still plenty of free festive activities to keep the troops and the bank balance happy! Our two toddlers have reached the age of being aware of, but a little scared of Santa, as well as big crowds, so costly activities such as 'breakfast with Santa' are a waste of time and money. Instead, one hot evening we drove into Sydney Town Hall and showed them the Christmas puppet displays in David Jones' windows, then went on to look at the gigantic Christmas tree in the Queen Victoria Building. They both love being photographed so I took shots of them next to the tree. As it is a spectacular building in its own right, they really enjoyed walking around it looking at the stained glass without the daytime crowds.
Another fun activity is going for walks to look at the Christmas lights on people's houses. We started this because the house opposite has a wonderful display. We live in a suburb which is quiet at night, so we could safely walk with the children looking for decorated houses. We soon discovered that within walking distance from our home there are three streets which are famous for their Christmas lights and displays.These are AMAZING! The streets are crowded with families strolling at night admiring the most beautiful and over-the-top displays, including animatronics and full sized Nativity scenes. If you have tourists visiting you at Christmas time, do take them to see the lights. We have taken the kids on these night time walks several times. The local churches also hold mini 'Carols by Candlelight' sessions, which are less intimidating for little ones and often include kids' activities such as face painting and BBQs for the whole family.
Check out your local newspapers for Council sponsored activities as well and you'll have a fantastic family Christmas season without spending anything much but time!
A merry mall-free Christmas
My husband and I have developed the perfect way to have a stress-free and economical Christmas.
To save money and hassles, we avoid shopping centres for the entire month of December. By doing this we are immune to all those decorations, Christmas music and extended hours which compel us to buy up big. We also avoid crowds and scraps over limited parking spaces!
During our boycott, we have found other ways to do our Christmas shopping. We have purchased lots of quirky and unique gifts online, usually at a lower price than in retail stores. We have discovered interesting objects at our local markets and picked up nice things at smaller gift shops, nurseries or home wares store just around the corner. Some even offer a discount for multiple purchases or for when we pay in cash.
Just a few examples of how you can avoid the madness and expense of the shopping centre during the festive season. Follow these hints and have a very stress free Christmas!
Free stocking fillers from The Toymaker
Over the past couple of years I have made some great savings on Christmas stocking fillers thanks to a wonderful site called The Toymaker. The site is full of wonderful free paper toys that you can print off, then cut and fold. The files are in PDF form so anyone can access them. There is something for everyone - animals, spinning tops, gift bags, cards, the list goes on!
They are in full colour with easy to follow instructions but there are also toys you can colour yourself (in the workshop section). The site owner believes strongly that parents and children should spend time together making things and you can sign up for a monthly newsletter to receive her latest designs. A folder or envelope full of these pages makes a wonderful gift for a whole range of people - kids and grown-ups alike!
Home-made lolly wreath
Make a lolly wreath to hold 52 bags of lollies for around $20. Get an old metal coat hanger and pull the middle of the bottom to make a diamond shape (or as near to that shape as possible). Buy some cellophane in different colours, some coloured curling ribbon and a few bags of cheap mixed soft lollies.
Cut the cellophane into approximately 16 squares per sheet. I cut down the fold of the paper - two folds = about 16 squares. Put four or five lollies on to a square of cellophane, then wrap it up and tie with curling ribbon. Do this until all the lollies or cellophane are used.
Tie the lollies (in different colours) to the coat hanger - making sure they face a different way - then curl the ribbon. Keep doing this until the coat hanger is full.
When you have finished, you should have a beautifully decorated lolly wreath to hang up, and on Christmas day you can cut off and give out the individually wrapped lollies.
I use blue, red, green and gold cellophane with matching ribbons. Using two bags of cheap soft lollies I had 52 individual bags of lollies on my wreath! It only takes around an hour to make and looks fantastic.
COST:
* Ribbons and cellophane - $16 (can buy cheaper).
* Coat hanger, free.
* Lollies, approximately $4.00 - $5.00
Kris Kringle without the cost
If you and a group of friends or family do a Kris Kringle (Secret Santa) but want to keep the costs down and reduce the amount of useless presents floating around, how about this idea from my book group? Each year we bring a book from our own collection wrapped up and do a lucky dip. This gives us each a book to read over summer, which we return when we meet again in February. This could work with DVDs or CDs too. It's like having your cake and eating it too!
More top Christmas tips from the Vault
There are too many great tips to mention! Here are some links to more brilliant tips. You have to be a member to read these hints.
Lovely tricks for a magic Christmas Contributed by: Juanita Sevik
Minimal cost Christmas Contributed by: Kaye King
The great Christmas swap Contributed by: Lauren Zell
Popcorn Christmas tree decorations Contributed by: Dianne Nicholls
A memorable family gift Contributed by: Karen Ronlund
---
Psst! Want to learn how to save money on EVERYTHING? Become a Savings Vault member! Each month we try to cram as much information as we can on a single topic into our free newsletter. The Vault, however, is loaded with information on absolutely every money saving topic you can possibly think of. Becoming a member gives you access 24/7 to whatever information you want, whenever you want it. With our 365 day 'no questions asked' money back guarantee you have nothing to lose and everything to gain! Click here to join.
---
4. Best of the Forum: Making it Special
What is it that makes Christmas special for your family? Christmas is different for everyone, which is why the Savings Forum is the perfect place to look if you are searching for new and improved ways of making your Christmas special this year.
Best jokes to put in your Christmas bon bons
If you are making your own or buying some from the $2 shop - nothing beats putting your own special touch inside a bon bon. Here are some of the best joke threads from the Forum to inspire you. Print out the best you can find and slip them inside the bon bons this year!
Our members have the wackiest sense of humour! This is the second thread running with loads of silly jokes and laughs.
read more...
Warning - there are some seriously funny, but a little adult, jokes in this thread. Don't worry; we don't let anything too bad in the Forum *grin*!
read more...
This original joke thread had our sides splitting with laughter. Even if you don't end up using them in your bon bons your mood will be lifted ready for Christmas!
read more...
Best activities to have fun on Christmas Day
Sometimes it is hard to know what to do on Christmas Day. Our clever Forum members once again show the way and provide insight into their homes and special activities that bring them together.
For the first time, Trine's little boy is old enough to start to understand what Christmas is all about. She wants to make it magical for him, but how? This thread has some adorable ideas you'll want to try out yourself!
read more...
Pancake Princess is feeling all nostalgic about Christmases gone by. She wants to create lovely memories for her own family and asks the Forum how she can conjure up some Christmas spirit.
read more...
It's the simplest things that make the best memories! Miss S fondly remembers her Christmas Eve ice cream from Mr Whippy each year and asks other members to share their festive traditions.
read more...
Ever wanted to know what other members do on Christmas Day? Here's your chance to find out!
read more...
Each year, Miss Belle sews a different new trinket on her children's Santa sacks. Read about this and more delightful Christmas ideas too!
read more...
Best winners for Christmas dinners
Tried and true Christmas food treats direct from the members to you!
When Wendy Lou shares her best ever recipe for rum balls, all sorts of fantastic recipes come out of the woodwork!
read more...
Do you sit down to a traditional Christmas dinner, or do you opt for something a little different? Members share the many ways they enjoy Christmas dinner in this thread.
read more...
Since emigrating from England, Loubielou misses her traditional Christmas dinner - but the rest of the family aren't so keen. She's toying with the idea of a BBQ instead. But now she's living in the land of the great Aussie BBQ, how does she make it more special than any other day? The members are happy to advise!
read more...
Planning all the food for Christmas can be a bit of a nightmare but Fairy is determined to be organised! In this thread, she asks members to share their Christmas menus so they can share recipes and ideas of what worked.
read more...
Sue has been given the job of hosting a Christmas brunch for her extended family. There's just one problem - what on earth do you cook for a Christmas brunch? Once again, the members are on hand to help!
read more...
---
5. Sophie Gray: Chillin' Out
Last year I asked my readers to send me an email sharing their most significant Christmas memory. We were overwhelmed by the response! So many people had stories they wanted to share. Some were heartbreaking and some hysterical but all were deeply personal.
Interestingly, while favourite foods and the odd culinary disaster featured, not one of them had 'presents' as their favourite memory. The things that were most significant and memorable were largely spontaneous acts of kindness - the elderly neighbour who filled his garden with candles and twinkling lights to create a magical experience for his new immigrant neighbours on their first Christmas away from their homeland. The broke young student couple who played 'Santa's elves', cleaning up and wrapping some pre-loved toys, to leave on the doorstep of the struggling family next door, then delighting as the kids whizzed round on their 'new' roller blades to shrieks of delight.
Many people were just grateful their sick child, parent or spouse had made it through another year, or that the family was able, despite their circumstances, to gather together for that one day a year.
I know I would much rather spend that precious day chasing the kids with cheap water pistols, chatting in the shade with my 80-year-old dad, and mucking in together to get the Christmas meal on the table than slaving to produce a magazine style Christmas spread that I'll still be paying for in February. Keep things simple and aim for enjoyable instead of perfect. I'd rather dial back the expectations and enjoy the moment, because in years to come they simply won't remember what they got - but they will always remember the way we made them feel.
Make it easy on yourself and your budget:
Have everyone contribute a dish to the meal - decide ahead of time so you don't end up with 3 trifles, 2 potato salads and no meat!
Make punch or sangria to make the booze go further.
Set a gift spending budget - and remember the grandparents may be on a fixed income but have more people to buy for than anyone else!
Consider only doing gifts for people under a certain age, or draw names from a hat so it's not a total present overload.
Don't serve food simply because it's traditional. If you don't all love it, don't have it!
Take advantage of seasonal foods and use them in your menu.
These easy cool desserts look and taste great, don't cost too much and can be made ahead of time. Ideal for the festive season!
White chocolate and berry cheesecake
Cheesecakes are so decadent and this one is a stunner, made loaf style and drizzled with berry syrup.
Serves 10
300g white chocolate
250 ml cream
500g cream cheese
50g caster sugar
1 packet gingernut biscuits crushed with a rolling pin to form crumbs
60g butter melted
For the syrup - use some in the cheesecake and the remainder to decorate it
2 cups frozen mixed berries
¼ cup sugar
¼ cup water
A small squeeze of lemon juice
1 tbsp arrowroot
1 tbsp cold water
Line a loaf tin with cling film so it completely covers the inside of the loaf tin and there is enough over-hang to wrap over the top when filled.
Melt the white chocolate gently in a bowl set over a small saucepan containing simmering water - stir frequently, and when beginning to melt, turn off the heat and allow the residual heat to completely melt the chocolate.
While the chocolate is melting make the syrup. Place the frozen berries, sugar and water in a small saucepan and simmer gently for 15 minutes. Remove from the heat, mix together the arrowroot and tbsp of cold water and stir into the berry mixture. It should begin to form a slight gel.
Beat together the cream cheese, cream, caster sugar and white chocolate.
Spoon a layer of the cream cheese mixture into the tin then drizzle in some of the berry mixture, add another layer of cream cheese mixture and some more berry syrup, continuing in this manner until the cheese mixture is used up. Retain some berry syrup for decorating the cheesecake when set.
Mix the melted butter into the gingernut crumbs. Gently bang the loaf tin on the bench so the mixture settles well into the corners of the tin then pack the crumb mixture on the top, pressing it down firmly. This layer will form the base when the cheesecake is turned out.
Fold the excess cling film over the crumb crust and refrigerate the cake for 6 hours or overnight.
To serve, gently loosen the cake then up-turn onto a serving platter, remove the cling film and drizzle with remaining syrup. Serve in slices.
Blueberry goodness tart
I love the combination of lemon and blueberries, but this easy dessert can be made with any variety of berries.
I use block puff pastry rather than sheets in this recipe as it puffs up really nicely and is easy to work with.
400g block of frozen puff pastry - defrosted
250g frozen blueberries
200 ml water
80g sugar
½ cup cream
½ cup lite sour cream
1/3 cup lemon curd
1 tbsp arrowroot
Pre heat the oven to 210 degrees C
Sprinkle flour on the bench to prevent the pastry from sticking then roll the pastry with a rolling pin until it forms a rectangle 33cm x 23cm. Carefully lift it onto a greased baking sheet.
Using a bread and butter knife mark a line 1cm inside the edge of the pastry all the way around. Don't press hard and cut into the pastry. It should look like a frame. When the pastry cooks and rises the middle bit will be separate from the edges. The edges will hold the filling in.
Use a fork and prick all over the base of the pastry.
Bake the pastry till dark golden brown then allow to cool. When the pastry is cool you can either remove the top layer of the middle section leaving a hollow for the filling or you can crush the centre section a little to form a rectangular hollow (that's what I usually do).
While the pastry is cooking, place the sugar and water into a small saucepan. Heat till simmering and simmer this syrup for 5 minutes. Add the blueberries to the syrup and cook for a minute or two until the juice starts to run.
Dissolve the arrowroot in 1 tbsp water, stir into the blueberry syrup mixture, and cook very gently, stirring continuously until the syrup begins to thicken. Set aside to cool.
It is important that both the pastry shell and the blueberry syrup are cool before you make the tart or the creamy filling may melt or curdle.
To make the filling whip the cream until it forms soft peaks, fold in the sour cream and lemon curd. Spread the mixture into the middle of the pastry shell. Then spoon the blueberry syrup over the tart and serve.
Smashing gingernut ice cream
This is fun to make and so easy the kids can do it. The gingernuts add a lovely chewy crunch to the ice cream.
2 litres French vanilla ice cream
1 packet of gingernut cookies
Rolling pin
2 plastic supermarket bags
Remove the ice cream from the freezer and allow it to soften. You don't want it liquid, just soft.
Place one supermarket bag inside the other, tip the gingernuts into the bag and smash them up with the rolling pin.
Tip the softened ice cream into a large bowl, and using a metal spoon, fold the crushed gingernuts into the ice cream.
When it's well mixed, tip it back into the ice cream container and re freeze.
Serve with or without chocolate sauce.
---
6. Penny's Blog: It's Got to be Perfect - Doesn't It?
November 27th
If there's one thing I've learned through having Chronic Fatigue Syndrome it's that I have to conform to the limits of my body, whether I like it or not. Which to be honest probably isn't such a bad thing, as otherwise I would probably have gone through several tanks of petrol by now and run myself ragged, just getting stuff ready for Christmas. I had made the old mistake of setting myself an impossible 'to do' list for the upcoming weeks. With my brother-in-law and his fiance coming for Christmas lunch, I decided that I would set myself the goal of redecorating not one, not two, but three rooms before Christmas. They're not coming anymore but I still decided that this was necessary. I also seem to have promised no less than five people that I will accompany them Christmas shopping, which works out to one day out a week for the next five weeks, just Christmas shopping! I was full of good intentions to make my own Christmas tree decorations this year too. I checked out Spotlight and the $2 Shop for supplies but I confess to taking the cheat's way out. By the time I had collected everything I needed to make my decorations I realised it was going to cost me more than the barrel of 60 decorations I had seen on special for $19.99 in the Ezibuy catalogue. I'm afraid Ezibuy won.
I admit, it felt a bit like a cop out. After all, I was on a mission to create the perfect Christmas. To me, this meant immersing myself and my family completely in 'warm fuzzies'. I had visions of the boys and I spending cosy Sunday afternoons at the table, singing along to our corny Christmas CD's and making tree decorations together. A lovely thought Penny, but get real. You have 11 and 13 year old boys. You know what's going to happen. Liam would refuse point blank and say it was girly. Ali might give it a go and make one before losing interest and finding something - anything - else to do. Despite my best intentions I knew what would happen - I'd be left to take care of the whole mess. The boys love helping me put up the Christmas tree each year, but actually MAKING the decorations? That would involve sitting still for far too long! And at the end of the day, the only person who really cares what the tree decorations actually look like is me. Simply HAVING a tree in the lounge for a few weeks is enough for the boys. If signifies to them that Christmas is coming and it's having that tree there that is special to them, not the things hanging off it.
For me, putting up the Christmas tree meant it was my birthday! I absolutely loved our Christmas tree when I was little. We brought out the same decorations year after year and the tree was just a glorious mass of shambolic colour. A friend of ours couldn't understand why her young son wasn't interested in her Christmas tree, but loved ours. We knew why. At their place, he wasn't allowed to touch the Christmas tree, let alone help decorate it. Everything about their tree had to be perfect, from the colour scheme to each artfully placed bauble. The tree wasn't about him, it was all about her. Years later when my own kids came along, I remembered that and from the time they were big enough to stand on their own two feet they were allowed to decorate the Christmas tree however they liked. Even though it used to kill me watching them! Half the tree would be bare and the other half would be boughing under the strain of having half a dozen decorations hung on each branch. But the important thing was, they thought it was beautiful and it made them happy. The only time I was allowed to intervene was right at the end, when it came to putting the star on the top of the tree as the boys were too small. But now Liam is so much taller than me, I have a feeling I'll be out of a job this year!
So thanks to Ezibuy, my Christmas stress levels are already dropping. Even one less thing to do is helpful at this time of year! And I will decorate - but only as and when I feel up to it. I don't know what I was thinking. As long as there was beer and enough people for a family game of cricket, my brother-in-law would have been content. I'm sure he wouldn't even notice whether the walls were a different colour. Once again, the only person who would have cared what colour they were would have been me. It's daft isn't it? I mean, we have people dropping in all year round and don't give a hoot about the decor so why is it we feel that everything has to be perfect at Christmas? That all of a sudden things aren't 'good' enough anymore? I think I must have watched too many Christmas movies over the years!
It's funny what you remember about Christmases past. I used to think my parents were dreadfully mean because they would only let me open ONE present on Christmas morning. After that, I wasn't allowed to open any more until after everyone had let their Christmas dinner go down. Sometimes that wasn't until 4 o'clock, by which time the suspense was killing me! Only then was I allowed to play Santa, divvying up all the gifts into piles and placing them one by one at the recipients' feet. Then we all had to take it in turns to open our gifts, so that everyone's attention was focused on that one person. Of course now I can see what it was all about. Mum and Dad were simply prolonging the anticipation. This alone made the day better for everyone, especially me. The excitement wasn't all over in five minutes, in a flurry of ripped wrapping paper. It meant that Christmas Day wasn't all about the presents. It was about simply being together. With the added bonus of being able to eat and drink as much as we liked all day!
As for the presents, I've lived through 36 Christmases now and the ones I remember most aren't the ones which cost the most money, but the ones which made me laugh. Like the massive undies my Aunt Min used to buy for me unfailingly, every year. As I got bigger, so did the knickers. Bridget Jones had nothing on me! 'I didn't know which size you were, so I got you two!' she would explain, as I unwrapped my neck-high undies, one in size 18, the other in size 20. I was 12 years old at the time! But that was one of the things I loved most about her. That and the fact she would make me an enormous trifle every year, even though I couldn't stand trifle! 'Just for you, Ducky!' she would say with a beaming smile. I would dutifully force down my trifle but I didn't really mind. It was all part and parcel of Christmas and I wouldn't have had it any other way.
So I've given myself a good talking to and am going to do my best to be a relaxed host this Christmas. The kids know we don't have a money tree at the bottom of the garden and their Christmas lists are mercifully short so far - although it's early days, there's no guarantee they will stay that way! They also know to expect 'recession size' stockings from Santa this year but they say they don't mind and I actually believe them. As long as we have Cliff Richard singing 'Mistletoe and Wine' and Mum and Grandma dancing around the kitchen while peeling potatoes and glazing the ham, it will feel like Christmas to us all!
November 2009
3rd - Old and grey
10th - Joy and pain
10th - Farewell Pat
12th - The Ultimate Sad Sally
17th - One on one
24th - Land of plenty
Bonus Extra - Liam's Guide to the Universe!
Well, maybe not the universe *grin* but a pretty good guide to decluttering! Members asked Penny ages ago when her son Liam was doing heaps of selling on Trade Me if he could make a tipsheet with tips for newbies at online selling. Your wish has been granted! Members can download Liam's guide here.
---
7. Homeopathy Corner: Christmas Survival Kit
Christmas is a time for giving and receiving. It's also a time for hangovers, indigestion, sleeplessness and family disgreements to name just a few! Whether you're dealing with an overexcited toddler or a drunken uncle, help is at hand! In this article. Fran Sheffield shares her favourite remedies for getting everyone through the festive season.
homeopathyplus.com.au/hplus/library/christmas-survival-kit.html
---
8. From Last Month: Kids' Christmas Gifts
Last month Heather asked:
"Does anyone have any easy ideas that would be suitable to make for kids for Christmas gifts? My 'kids' are 20, 12, 12, 9 and 8. The younger four have special needs and I am a single parent. I'm really broke at the moment and have warned my kids that they won't be getting Christmas gifts this year as we can't afford it and they have too many toys already. I have read some great ideas that people have for making inexpensive gifts for their friends/family and I'm willing to have a go but wonder what I can make for kids? I am a non-crafty, creatively challenged person, so they would have to be very cheap and very easy."
Recycled gifts from a resourceful mum
This year I have become a single mum with eight kids, so I have had to think very carefully about Christmas presents. As my disposable income is almost non-existent, I decided to look for things that we already had and find new ways of using them.
My kids love to take photos of each other, so for the younger kids I have cleaned up an old camera and decorated it with shiny stickers and glitter to give it a bit of pizzazz. I then asked a friend to donate some scrapbooking and photo editing software, which they kindly agreed to. Another friend was throwing out a printer which uses very cheap ink - I gratefully took the printer and cleaned it up ready for the kids to use.
The local $2 Shop sells very cheap folios which can be easily tuned into scrapbooks, plus they also sell little bits and pieces that can dress up the pages. I have bundled all of these together to make a do it yourself photo/scrapbooking kit. So far I have spent $30 and I have enough ink and printer paper for my younger kids to create three scrapbooks each. This will take them hours to do and keep them going for weeks.
I don't know what I am going to do for the older kids yet but I'll keep searching!
Gifts for the boys
Here are two creative gift ideas for two boys of very different ages.
For my 18 year old son, I am making a memory book. It sounds corny, but I think he is at the age where he will really enjoy this gift, even if he won't admit it out loud! I have put some photos into a ring binder folder and printed a corresponding story for each photograph. Simple but memorable.
My eight year old son is into soldiers and spies, but I know from past experience that store bought 'spy' toys break within the week, while all soldier related toys come with guns and grenades which I am not so keen on. So this year, I popped into an army disposal store and picked up an army issue hessian backpack. I have filled this with all the things you need as a soldier including a water flask, meals kit, a billy and mug, a compass and a hat.
I then went to an op shop and picked up a second hand briefcase for $2.00. In the case, I have placed essential 'spy' equipment, for example, spiral notepads, pens, a mini torch, and an old mobile phone. I have labelled one notepad with the words 'Top Secret Missions' and I have written the first mission in there for him.
The best thing about these gifts is they encourage parent participation and give a wonderful excuse for quality time.
A gift with a legend
A dream catcher is a novel gift you can make yourself using a few basic parts. Some Native Americans believe a dream catcher traps bad dreams while the feathers allow the good dreams to filter down to the sleeper - quite a legend to tell your kids when you present them with their dream catchers.
For more about dream catchers, and instructions on making them, go to: www.dream-catchers.org
Make it personal
I had this Christmas gift idea many years ago and have decided to do it again this year.
I went to a towel factory outlet and bought a large, good quality towel for each member of the family. I then stitched each person's name onto one end of the towel using hand stitching and simple cross stitch. The hardest part was forming the letters in cross stitch, so I practiced each word on paper before stitching the towels.
I did this seven years ago but the kids still prefer to use their personalised towels!
Give them the 'sack'
For years, I have given my boys a 'sack o' crap' for Christmas and birthday gifts!
Basically, they receive a reusable Christmas bag, such as a pillowcase, filled with all the naughty edible stuff that I rarely buy during the year, for example, big bags of chips, Rollups, chocolate bars and so on. The boys now write out a list of items they would like and they wake up to a sack filled with treats and, occasionally, some money too.
This gift idea means I don't have to buy toys and other stuff, which we have more than enough of anyway, and my sons get to enjoy some rare treats. This saves me heaps of money, and I don't have to travel far to buy things as these sweet treats are all purchased where I normally shop. As a bonus, I save on wrapping paper and gift tags too!
Easy and Free
These gift ideas are not just cheap - they're free! Simply pop down to the local library, and borrow some Christmas gifts. Books, DVDs, Playstation games - you'll be amazed at the fun stuff you can take home on extended loan. Just wrap them up, pop them under the tree and return them when Summer is over.
Gifts for young gardeners
Pot plants make fun gifts for children of all ages and can help develop an early interest in gardening. By giving the components separately, it draws out the fun of unwrapping.
Buy a terracotta pot for each child - the size is optional but the larger the pot, the easier it is to keep the soil moist. The pots can be lined with a plastic bag, with a drainage hole cut in the bottom. Then, get a bag of potting mix and divide between the pots. Choose a packet of seeds for each child such as flowers or vegetables - sunflowers are fun and pretty easy to grow, but herbs in pots are great too. If you wish, you might like to buy a pack of hand tools and give one tool to each child so they can share them as they work.
If funds are available, buy a pack of waterproof poster paint so the kids can paint their pots. You can even buy a small watering can, a pair of gardening gloves or a decorative plant tag. There are lots of low cost gardening accessories at places like Bunnings, so you won't blow the budget.
Home-made trading cards
My three sons love rugby and V8 Supercars, so I made them a set of trading cards using Excel and the Internet.
I developed an Excel template by measuring the size of a normal playing card and then doing the same in Excel. I then went online and cut and pasted images pertaining to rugby and V8 Supercars i.e. rugby players, cars and drivers. I put facts and figures on each card, printed them out in colour and laminated them.
The boys have had hours of fun making up their own games with their trading cards, so it's been well worth the time and effort. None of their friends have trading cards like these, so that makes them even better!
To see some of my cards from 2007, check out - www.rachel-larkin.com/wp-content/uploads/2007/06/v8supercar2007cards.pdf
Kids love crafts Contributed by: Anna Pitt
Gift giving wizardry Contributed by: Sue Rennie
Colourful gifts for kids Contributed by: Karen Dunn
Play 'favourites' this Christmas Contributed by: Robyn Mckegg
Three helpful Christmas ideas Contributed by: Denise Wilkinson
---
9. This Month's Help Request: Christmas Day Surprises
This month Sophie Denman asks:
"We have a mixed bunch of teenagers and small children joining us for Christmas Day. I've run out of fun activity ideas to do with my family. In past years we have all ended up bored within a few hours of opening presents and the whole day is a real fizzer. Can anyone suggest some fun activities that the teens won't think are too lame to participate in? I really want to make the day memorable this year."
Keeping everyone entertained can be a real challenge on Christmas Day! If you have any ideas that Sophie can use in time for Christmas Day submit your ideas here.
---
10. Saving Story: Simple Inspirations
Our dream wedding cost just $3500 - thanks to Simple Savings! With seven months to organise my wedding, no savings in the bank and living week to week, I turned to Simple Savings. I read all the tips and information on celebrations, weddings and anything that I could relate to a wedding. I then began implementing the tips myself. I set a budget early on of $5000, which I thought was pretty cheap for a wedding.
Then, just a week after we announced our engagement I found out I was pregnant. Wow! Now I was getting married in October and expecting a baby in December - double panic! Where was I going to find the money? I started off by working out my priorities - what we really wanted from our wedding and the things we could do without. I decided I could make my own bridal party bouquets and found enough red and cream roses to make three bouquets with ribbon and accessories for a total of $50. My hubby had specific model cars in mind for wedding vehicles so we simply asked family and friends who had the same models if we could hire them for the big day. They were all happy for us to use them free of charge!
We found a brand new suit for hubby for $99 and matched it with a brand new shirt from the op shop for $7.00! With just a little extra searching and thinking outside the square I was well on my way to having a cheap wedding. As for my dress - well, I wanted to look like a princess but I was going to be eight months pregnant when I got married! The alterations I was going to possibly need as I grew were rapidly pushing the price up. So I asked around at work to see if anyone knew of a dressmaker. Lo and behold, I found a capable colleague who said she would make my wedding dress for the just cost of the material!
So I went pattern hunting - which isn't as easy as you think when you're pregnant! Eventually however, I found the perfect one. To top it off, the material I wanted and chose came to a total of $120. A massive saving of at least $1200 on what I was looking at initially! The reception venue did us a deal on the venue hire and even threw in a night's accommodation free of charge, just because I asked. As we had been living together for seven years, we didn't need any presents, so we asked guests to contribute towards their wedding meal. This certainly sorted out who were real friends and wanted to help us celebrate our marriage!
We asked the bridesmaids and groomsmen to pay for their own outfits, hair and make up. After adding it all up, our wedding cost just $3500. And yes, I was a princess on the day, everything was perfect and many people commented how lovely it was! I couldn't have done it without the inspiration from Simple Savings. With just a couple of weeks until the baby is born, I am still checking out all the savings tips. Already I have a cot for $70, a free change table and a bassinette with linen for $20. I wonder what else I can save on!