This issue includes:-
Sad Sally, Happy Hanna: Elbow Grease
September is Spick and Span Month!
This Month's Competition: Calling All Cleaning Sceptics!
Hidden Gems Competition Winner
Best Member's Blog: This Month's Winner
Best of the Forum: A Cleaning Frenzy
Best of the Vault: Squeaky Clean
Cooking with Mimi: Kidney Bean Kievs and Lemony Tuna Salad
Penny's Blog: Everyday Triumphs
Homeopathy Corner: Specialist?
From Last Month: Old Fashioned Floor Polish
This Month's Help Request: Life on the Move
Savings Story: Nothing to Lose, Everything to Gain!
So Long, Farewell, Auf Wiedersehen and Goodbye:-D
---
Hello,
How are you doing? It's Penny here, filling in for Fiona. You see, this month is Spick and Span Month and whilst Fiona is an unbeatable Miser Extraordinaire she does not profess to be a Cleaner Extraordinaire. In fact, she claims to be 'so useless at keeping her house spick and span' that she just didn't feel right contributing to a newsletter all about cleaning! What Fiona forgets, however, was that I still remember the first time I ever went to her house back in 2005. Not only was it spick and span but I didn't see a single commercial cleaner in sight; everything was completely natural and home-made. This is just what this newsletter is all about, so I think Fiona is better qualified for this newsletter than she realises!
Spick and span or not, we have both really enjoyed reading your letters this month. It's fantastic to see you succeed and overcome whatever challenges life throws at you.
"I'd like to thank you for all your ideas. I have gone from being in debt and not knowing how to budget to having food in the house, I make it from scratch and I do not waste a thing. I teach my seven-year-old niece how to cook and save when she visits and she is loving it. She is going home teaching her mother a trick too. I've gone from $30,000 debt (that's not my house loan) to $11,500 in three years but joining up with you I have saved much more and now I'm teaching my friend too. Thank you for all the help and keep it up." (Kathleen Nizeti-Panebianco)
"I do TRY to do the monthly challenges on the calendar; sometimes I am really successful, sometimes not so successful, but this month with the Free Food Challenge, I am confident I am fairly successful! I have been planting herbs from the bargain department of a nursery I visit and have been very pleased with the result, I have sweet basil, lemon basil, thyme, lemon thyme, parsley, garlic chives and oregano growing. When I cook up a casserole I pick a handful of each, chop them all up together and throw them into the pot; what a lovely flavour! Also, I have planted some potatoes and have about four different varieties and about 10 plants that are nearly ready for picking. Hopefully I will get at least a couple of kilos to stretch the budget!" (Ailsa Crane)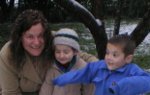 "I am thrilled. I will be completing a $21 Challenge week tonight with $9.00 still in my pocket. I just can't believe it. I have a family of four and we still have a freezer and pantry full of food. One of my boys is on a gluten-free diet so I thought I might struggle to provide him enough of his usual gluten-free food but it was fine. I have just lost my job. While I look for a new one, my job at home is to save the amount of my previous pay cheque each week so we are not out of pocket due to my job loss. I reckon I have saved $200 this week on food so I have saved more than my weekly pay this week. Thanks so much Simple Savings, you are a life saver. I am going to ask for a subscription to the Vault and a copy of your book for my upcoming birthday." (Jo Baily Gibson)
"I love this site! I lucked upon it about a month ago and tried the $21 Challenge. I spent a lot more than that for the week but made some big savings. I joined up as a member two weeks ago and have slowly been implementing changes to our grocery spending. Three days ago my husband arrived home with a bunch of red roses. I was a bit taken aback as it was out of character. He announced I had reduced the money we spend on food by over 30% in four weeks! Thank you Simple Savings. You guys are fantastic." (Caroline Wallace)
"Thanks, Fiona. I love your website and keep thinking that I would be saving $17 each year if I didn't re-subscribe but take a look at my budget goals and know that it definitely saves me a lot more than $17. It is very interesting to see what other people do to look after their families. A big thank you." (Michelle Ortiz)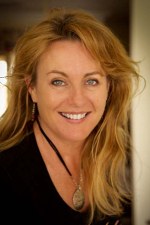 Thank you for sharing your inspirational stories. We really appreciate every single tip we receive every week too, so keep sending them in. As well as helping other members to save money, you could also win yourself a free 12 month Vault membership (value $47) in our weekly Hint of the Week competition!
Before I go, check out Fiona's recent TV appearances! A Current Affair did a story on alternatives to buying meat and groceries at the supermarket. Watch Fiona in action as she shows how the experts shop smart, and meet her favourite butcher, Ian from Buderim Meat Hall here http://aca.ninemsn.com.au/money/8278643/how-to-save-thousands-on-groceries. Also, who remembers the 'Debt Street' story on Today Tonight? It featured a group of families who all lived in the same street - and were all in debt. Fiona and the SS team soon got them on the right track to reducing their debt but how are they all faring three years on? Find out if they are still managing to save money here! http://au.news.yahoo.com/today-tonight/latest/article/-/10060187/meeting-the-debt-challenge/
---
'What have you been up to this time?' laughed Sally suspiciously as Hanna plonked a large, heavy box on her desk. 'Yet MORE bananas?!' 'No, not this time,' Hanna grinned. 'I had a huge clean up round the house this weekend with my own home-made cleaning products! It was so much fun. I got a little carried away though so I thought I would bring the extras in for you all to try. Come and have a look!'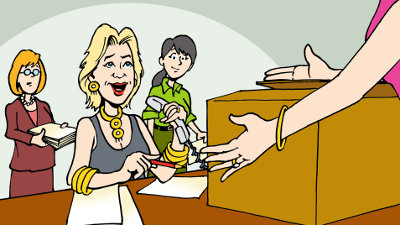 The others quickly gathered around Hanna's desk, sniffing, spraying and sampling all the jars and bottles. 'What's this one? Eucalyptus Cleaning Spray - wow that smells really good!' 'Lavender Furniture Polish, just what I need, thanks Hanna!' 'Home-Made Laundry Liquid? You mean you can actually MAKE laundry liquid?' someone asked in amazement.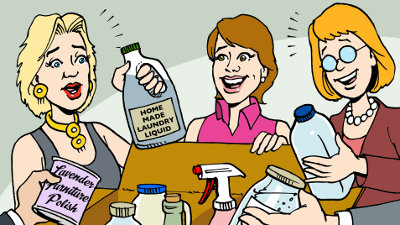 'You sure can! It's so cheap to make and lasts for ages. Honestly, they're all so easy. I got all the recipes from here,' smiled Hanna, waving a booklet. 'I printed off a copy for everyone if you're interested.' 'Ooh I'll have one! Does it have a recipe for elbow grease? I'm going to need a lot of that!' giggled Sally. 'Not with these cleaners you won't, Sal!' smiled Hanna. 'Take them home and give them a go - I bet you'll love them as much as I do!'
---
People are always impressed when you know how to make your own cleaning products. It's a fantastic skill to have and one which will save you money for the rest of your life! Unfortunately these days it is very rare. You're far more likely to find a spray bottle of 'Rainforest Splash' sitting on the average kitchen bench than a bottle of vinegar. Both bottles will do a brilliant job of getting your kitchen sparkling clean. However, your average 500ml bottle of 'Rainforest Splash' will set you back around $4.00, whereas a 500ml bottle of vinegar generally costs under a dollar. In addition, that same bottle of vinegar will last you around four times longer as you need to use so much less. This means, when you finally run out of your $1 bottle of vinegar, you would have needed to spend $16 to get the same amount of 'Rainforest Splash'. When you think about how many bottles of cleaning products like this the average household goes through in a year, the savings really add up.
Cleaning products are a huge industry - but think about it. Where did the manufacturers of today get the idea to add baking soda and orange oil to their chemical blends 'for added cleaning power'? From their old fashioned, non-chemical counterparts! So this month we want you to give them a go. Take control back from the supermarket and have a go at making your own easy peasy and effective cleaning products. After all, how much do you REALLY want to pay for water?
All the information you need to get started is right here, in this cleaning tipsheet.
Whenever Penny and Fiona give a library talk this is always the booklet everybody clamours after. Why? Because the recipes WORK. Because people want to save money and learn a new skill. Because they want to have natural products in their home and not have to worry about the baby getting hold of the toilet cleaner.
The cheapest way to feel really healthy and wealthy is to get your house spotless. Make everything shine. Making the home you live in look special makes YOU feel special. Give these recipes a go and you will never look back. They are so easy - and we promise you that cleaning with vinegar will not leave your home smelling like a fish and chip shop!
---
If you've never tried making your own cleaning products before, now is the time! We want to prove to everyone just how fantastic they are. So, take the bull by the horns, learn a new skill and you could win a cash prize at the same time! Choose a recipe (or more, as many as you like!) from our tip sheet or cleaning booklet, give it a go and share your experience with us. How well did they work? What was your previous opinion of home-made cleaning products? Has this now changed and if so, how? What was the best (or worst!) thing you discovered? There are cash prizes of $100 to be won for first prize and four runner-up prizes of $50 for the best stories. Happy cleaning - and don't forget to enter our competition here!
---
Our Hidden Gems directory is designed to help members find it easier to source the best deals in their area. Whenever you come across a real gem of a store, enter it in our Hidden Gems directory and you could be in to win our monthly prize of $100 cash! This is our way of saying thank you for helping other members save by sharing your knowledge. The more information you can give us, the better your chance of winning. This month's winner is Georgiou's Confectionery as nominated by Leah Howe****. Read her entry to see what makes them such a great example of a Hidden Gem.
Georgiou's Confectionery, 147 New Canterbury Road, Petersham NSW - www.georgious.com.au
Georgiou's Confectionery is a family business with a real family feel. In this Hidden Gem you are surrounded by all of your favourites, old and new, of confectionery and chocolate at unbelievable prices. With super specials on for Valentine's Day, Easter and Christmas this is definitely the factory outlet to visit to get inspired.
Georgiou's stock everything from old time favourites that my parents and grandparents used to have when they were kids, like aniseed chalks, to what I enjoyed as a kid - think sherbet lollipops and push-up pops - to everything new and international like Junior Mints, War Heads and chocolate liquors. Never short on the unusual confectionery items such as marzipan and carob, this Hidden Gem is a must visit.
I usually visit just because I feel like some Red Vines or Musk Sticks or to pick up a treat for my partner - such as $3.00 for a packet of Hershey's dark chocolate kisses, what an amazing bargain! But it is also a great place to pick up some fantastic birthday, Christmas and anniversary presents.
The owners are friendly and helpful and more than happy to talk about what's in stock and what's coming in.
Although it is a 1000 square metre factory outlet, the feel is of a warm, friendly corner store from that gorgeous time long ago when $0.20c bought you the most amazing array of lollies. Granted, these days you need more than $0.20c, but for $5.00 you can be walking away from Georgiou's with quite a variety of treats. They also have a free gift wrapping service!
Congratulations on being this month's winner Leah, and a huge pat on the back to Georgiou's for providing consistently outstanding customer service and value for money! You can enter your own Hidden Gems into our monthly competition here. Thank you and good luck!
---
One of the many benefits of being a Vault member is that you can win a cash prize of $100 each month for your Simple Savings blog! Starting your own blog on the site is easy. All you have to do is log into the Vault, click on 'My Desk' at the top left, then 'Your Blog', and get writing! We love reading all your money saving trials and tribulations and really appreciate the effort that goes into each one.
This month's winner is Simply Blessed (Mum of 9) for this extract from her blog Saving Pounds in the UK. As you might guess, she and her family live in England where they are currently enjoying summer - including lots of yummy summer food!
Celebrating Free Food Month - A Month of Strawberries!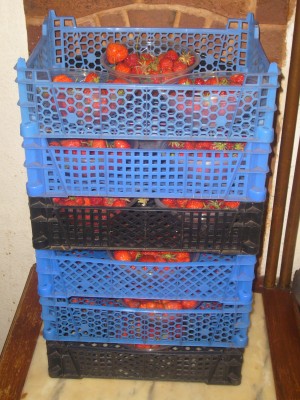 I would like to share with you about some of our free food this month. We receive a weekly delivery of several crates of organic strawberries every year 'free' for a whole month! I realise that this is probably cheating a bit as I didn't actually do the hard work of growing, weeding and harvesting myself. However, I did start the process by providing the very first strawberry plant.
It all started in the 80's at the 'County Agricultural Show' (gosh that makes me sound really old) I was given some pocket money to spend at the show and I found two things that I was interested in spending my money on. One choice was a punnet of strawberries and a small pot of clotted cream and the other was a very healthy looking strawberry plant in a black pot. So I stood there looking at my money and thinking out the pro's and cons of them both. I could buy the punnet of strawberries and pot of cream for a nice tea for my parents and myself to share which would soon be forgotten about. Alternatively, I could buy the strawberry plant and give it to my green fingered dad to plant in our garden and enjoy the benefits of it year after year.
I chose to spend my money that day on the strawberry plant. Right, now all I had to do was carry it around with me at the show for the rest of the day, then take it on the bus with me until I got home. I still remember that day very well, trying not to let my precious plant get squashed and the smell of the fresh soil and of course, the scorching heat that I feared would wither it, and my 'friend', (who incidentally had spent all her money on a fresh hot crepe which was gone in a couple of minutes), was very obviously sniggering at the sight of me when she saw me sit on the bus with a pot plant sitting on my lap.
Finally, I got it home in one piece, hurray! I showed my treasure to my mum who was pleasantly surprised by my choice and I waited excitedly for my dad to come home from work. He finally came and I proudly showed him my new purchase for our family garden, he looked then he LAUGHED! He laughed and said; "One plant? One plant! We won't get many strawberries from one plant, we will have to go to the garden centre and get some more." I was a bit taken back at his reaction, I hadn't expected him to laugh but at least he planted it and we soon got several more plants to keep it company. The strawberries were really yummy and we had several meals from them that summer, with cream of course.
They were so successful that Dad bought more plants the next year and even more the year after, until we were planting a whole vegetable patch just with strawberries. They lasted us a whole month and we gave lots away to family or friends too, as we couldn't manage to eat them all. Some years my mother made strawberry jam and we always put some in the freezer for the winter months. So how do we get our 'free' strawberries I can hear you ask? I do apologise for waffling on so but the answer is of course, my dad!
My now elderly dad still grows his strawberry patch in the same tradition that I helped him start in the 80's. Only, now my mum has grown old and has dementia, so she is unable to make jam or even freeze the strawberries. There are far too many berries for the two of them to eat and they don't want to fill their freezer up with strawberries, so they give most of them to us. Our family of eleven manage to eat lots of meals for a whole month, with sugar and cream of course, but not just clotted cream, actually we usually have single or double cream as it is runny and goes further to feed a crowd. We also give some to my in-laws and we make pots and pots of yummy jam which lasts us for several months just for the price of the preserving sugar.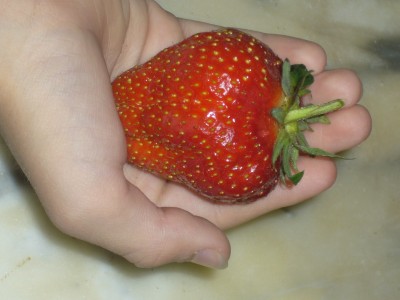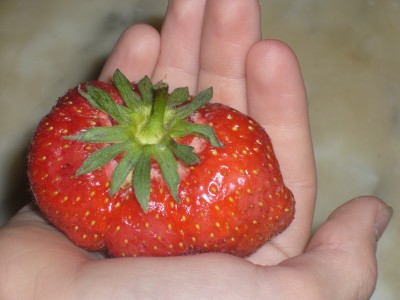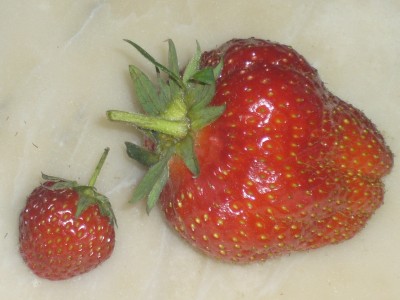 I am including some pictures so that you can see just how large organic strawberries can be. They are so much bigger than most of our supermarket ones here in the UK. In order to demonstrate some idea of scale I have put on a picture of the strawberry in a hand and another one of a smaller strawberry beside a huge one. Most of my dad's strawberries were very large, juicy and really yummy.
My young daughter also likes to show her creative side and did some art with some of the strawberries before we ate them!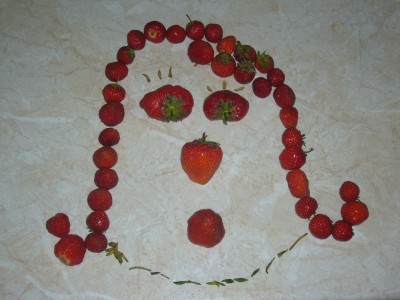 Congratulations Simply Blessed, what a mouthwatering blog! To read more from them, or any of our other members' blogs, click here
---
Our Simple Savings members are wonderful at saving on expensive cleaning products by using their own home-made equivalents. Have a look at some of these excellent Forum discussions to inspire you to don your rubber gloves and hunt out those dusty and neglected nooks in your home!
Onwards and Upwards has had enough! After a run of bad luck her house is a bomb - but she has a plan to get back on track. Join in her cleaning mission and get your place up to scratch!
read more...
If removing stains from clothing is an ongoing and expensive battle, this thread is a must-read! Find out how you can save a fortune on super clean clothes.
read more...
Marilyn loves everything about the gorgeous hand-knitted cardigan she's been given - everything except the musty smell that is. Fortunately our clever members come to the rescue with some tried and true tips!
read more...
Who needs harsh chemical soaps when you can have a natural alternative made from the soapnut fruit? Find out more about this wonder product in this interesting discussion.
read more...
Whether you want to clean stained coffee cups or remove sticky tape from your wallpaper, you'll find a natural and effective solution to this and much more in this gem of a thread!
read more...
---
Everyone loves the feeling of a sparkling clean house. This feel-good sensation is simply doubled when you use your own, home-made, chemical-free cleaning products. Here are some brilliant tips from our fantastic Vault to help you get your home spick and span in no time!
For all my cleaning requirements, I use generic dishwashing detergent, methylated spirits, bleach and olive oil, as well as eucalyptus and lavender oils, a glass scraper, newspaper and steel wool. I don't spend a fortune on fancy and expensive cleaning items, and I can't calculate how much money this has saved me over 30-plus years of marriage.
These are my tips for cleaning various items in the house:
Oven cleaning - use steel wool and detergent. You might need to leave it on for a little while, but it will still clean well.
Furniture polishing - use olive oil and lavender (or your favourite oil). Apply with a soft cloth, leave for 10 minutes or so, then buff with another soft cloth (old singlets are great for this).
Washing floors - a small amount of detergent and methylated spirits will do the job - the spirits help the floors to dry quickly.
Cleaning windows - use hot water and methylated spirits. Once the window is dry, polish with crumpled newspaper. The printing ink makes windows sparkle.
Cleaning shower recess - a glass scraper removes soap scum from glass (it won't scratch). Finish with a quick wipe over with a scourer and soapy water and then rinse. Mould can be removed by spraying with diluted bleach. Rinse after five minutes.
Toilet cleaning - use diluted bleach. If stains are bad, full-strength bleach can be put into the bowl and left for a short while before brushing.
General cleaning - eucalyptus is an antiseptic. Add a few drops to hot water and wipe over bench tops and vanities for a nice fresh-smelling room.
The list of cleaning ideas goes on and on.
The initial total cost of ingredients would be no more than $20, depending upon where you shop. The detergent is the main item I have to replace. With the others, I use such a small amount that I usually replace them only every year or even less. For example, I have used only a quarter of the olive oil that I bought two years ago. Even though I have timber kitchen cupboards and hutch, timber display cabinets and a timber dining table, I don't need to use much to keep them looking good.
Contributed by: Sheila Longden
A jug of water is all you need to clean your microwave. Place it in the microwave and set it to high for six minutes, then let the boiled water sit for 15 minutes in the microwave. The steam build-up will loosen all the grime, allowing you to simply wipe it away. No chemicals required!
Contributed by: Kerri Ahomiro
Save hundreds of dollars in cleaning around the house!
Here are some fun, clever and interesting ideas to help you save on four precious resources - your time, your money, our power and our water - while still having a reasonably clean house.
You can easily tie in these ideas with the many great ideas already in the Simple Savings Vault, and the money you save each year can be used for rewarding family members, or saved up towards a special night out. You really will save if you do some, or all, of the following:
First, really lower your standards - if you clean the house once a week, go to once a fortnight. If you are already cleaning fortnightly, go to monthly. Don't feel bad about it either!
Don't be as fussy - there will be dust under the bed long after you are dead and gone!
Don't buy specialised cleaning products for every job - either go environmental (just use vinegar, bi-carb soda, methylated spirits or soda water) or choose a maximum of three cleaning products that will do all jobs. For instance, dish washing liquid will wash a tiled floor just as well as a specialised floor-cleaning product.
Always sweep patios and verandas with a broom - never use the water from a running hose to clean these areas. If you need to clean an outside area, use recycled water in a bucket.
Learn to dust as you go - use one of those polishing gloves or the sleeve of an old pyjama top, and dust as you talk on the telephone. Wooden furniture does not need to be highly polished every week or fortnight - buy a special wood polish if you need to, but make it last by polishing wood furniture only once every two or three months.
Make your own polishing and wash cloths by cutting up suitable old garments - pyjamas or nappies for instance. This saves on buying expensive products like Chux.
Always keep several small bottles of fizzy mineral water in the pantry for taking stains out of carpets. Much cheaper than stain remover!
Use home-brand cleaning products - but only if they perform as well as the brand-name products.
Tie in serious spring cleans around special events - involve everyone - offer rewards and incentives.
Encourage family members to 'clean-up' as they go - offer rewards or incentives to make this happen.
Assign children (if they are old enough) and your spouse one or two rooms (depending on age and work commitments) in the house each - rotate rooms for fairness -and make it their responsibility for cleaning and tidying these rooms using the saving ideas. Make this a competition, and offer rewards for the best room or rooms.
Do not wash bath towels and face washers every day - amazingly many people do - this is a big waste of time, power, cleaning products and, more importantly, our precious water! Have two sets of towels and face washers for each family member - mark with their name and assign one set to last for at least a fortnight. Make everyone responsible for hanging their own towels on the line, every day, to dry. Also, have at least one set of towels marked 'guest'.
In winter, change and wash the sheets/pillowcases on the beds monthly, in summer you might like to do it fortnightly - but weekly is definitely too often, unless special circumstances are involved.
Learn to iron only the real essentials - that is, the clothes that show - this saves on power, distilled water and ironing sprays. Never iron items like underwear, socks, pyjamas, sheets, pillowcases, bath towels, or tea-towels. Only iron tablecloths for special occasions.
Declare one day a week, a fortnight, or a month, as a bath/shower free day. Offer rewards for the family member who racks up the most shower free days over a period of time.
Only wash the dishes once a day, or every second day if you have enough dishes - learn to rack and stack 'em either on the sink or in the dishwasher.
If you are cooking or cleaning in the kitchen - fill the sink with a small amount of warm soapy water for washing your hands as you cook or clean.
Encourage everyone to wash hands using cold water - this can be a hard habit to break but it's worth it. Again, use rewards if you have to - until it comes naturally. This saves power and water - especially in winter, as the inclination to linger over the job vanishes if cold water is the only option!
Try to always clean using a bucket of water or recycled water - use buckets to collect the water used to get the shower hot enough or from running the kitchen tap to wash up. This fresh water is usually totally wasted! Never clean while running a tap.
If you are going to clean the bath - put the plug in while you shower and wash the bath with the water saved, before you get out of the bath!
Wash the car less often - once every three or six months say - and when you do, use buckets of water collected from the washing machine cycles. Don't buy expensive car washing detergent - dish washing liquid will do. And remember to park the car on the lawn and rinse quickly and sparingly with the hose or leave it in the rain to rinse!
Clean the wheely bin once or twice a year - save up the dregs of cleaning products, add recycled water - tip into bin and use an old broom (keep just for this) to scrub out - turn it upside down to drain.
You might find some of these ideas a little confronting, but common sense is the key and there will be times when some of these ideas will not always be applicable.
I am unable to determine exactly how much I have saved over the year, but I estimate I have saved between $300 and $500 on the cost of cleaning products, power and water by following these simple savers. Good luck!
Contributed by: Jennifer Lydon
We have turned cleaning our house into a family event, saving ourselves $1560 a year on paying a cleaner. We decided we would spend one hour every Saturday morning doing the cleaning. We sit down at a family meeting on Friday nights with our home-made pizza and draw the cleaning jobs out of two jars, one for the adults and one for the children. We have already decided to spend $560 on having fun family adventures over Christmas, and the rest will go towards a holiday. As the whole family will benefit, we are all committed to it.
Contributed by: Anita Stokes
I'm saving on time and frustration when cleaning my bathroom by enlisting the help of the whole family! Cleaning the shower has never been one of my favourite jobs around the house and the longer I leave it the bigger the job becomes. However, I've now come up with two ways of making the job SO much easier.
Instead of enduring the weekly nightmare of cleaning all the walls and floors of the shower I have broken this 'big' job into smaller parts. Because a shower usually has five surfaces (four walls and one floor) for five nights a week when I have my shower I clean one part. For four nights I clean one of the walls and on the fifth night I tackle the floor. I keep a sturdy brush and a bottle of Jif handy in the shower and just scrub away for a couple of minutes. Now the shower is always clean and I'm no longer exhausted!
Secondly, to keep the glass screen sparkling and free of watermarks throughout the week I've asked all family members to wipe the glass dry using their towel once they've finished drying themselves. (I've stuck a nice note on the outside of the screen to remind them which they see as they're about to step out of the shower!) It only takes seconds and the results are amazing. The glass is now sparkling clean!
The 'dry while in the shower cubicle' rule has also had the knock-on effect of keeping the whole bathroom in a much more respectable state because all our family members are drying themselves inside the shower cubicle. We now no longer have puddles all over the bathroom floor and soaking wet bathmats!
Contributed by: Galligina
Our loyal and valuable Vault members are a source of inspiration to us. They are an absolute goldmine of clever tips, ideas and hints to help us all really stretch our dollars further. We'd like to say 'thank you' for joining and helping us make Simple Savings such a fantastic resource. Here are some extra tips just for you!
Use baby oil to clean stainless steel Contributed by: Lisa Barchard
Citrus savings are sweet! Contributed by: Erica Wilson
Clean dishwashers with tartaric acid Contributed by: Robyn Dundas
Clean oven safely with washing soda Contributed by: Trish S
Acidic orange gives concrete a run for its money Contributed by: Joan Mancuso
Bright and white washing Contributed by: Kaye King
---
There are three things that I find in the back of my pantry every single time I do a pantry clean out. Tinned red kidney beans, tinned tuna, and rings of black, sticky stuff of unknown origin. I have no idea what this sticky stuff of unknown origin is, although I suspect someone pouring honey or golden syrup straight from the jar when they're in a baking frenzy, and neglecting to remove any stray gloops from the jar's edge, might be the culprit. Is that me? I'm not saying, but let's just say the evidence is incriminating given I'm the only one in the family that actually bakes!
Okay, so the rings are removed with some lovely home-made eucalyptus cleaner and the pantry contents are replaced faithfully. But heavens above, what's to be done with all those tins of beans and tuna?
Well, these Kidney Bean Kievs are mouth-wateringly more-ish, and will forever banish Kidney Bean Fear (KBF) at your house. Serve them up with some leafy greens and keep everyone guessing on the main ingredient. Shhhh... I won't tell if you don't!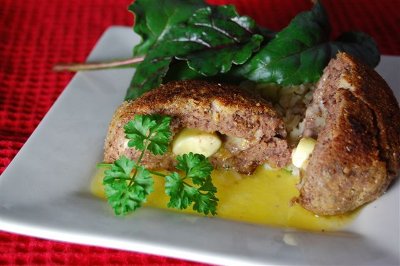 Makes 6 substantial serves
Equipment:
Large non-stick frypan
Large colander (strainer)
Large mixing bowl
Small mixing bowl
2 small bowls, additional
Fork
Cling wrap
Plate for refrigerating the kievs
Food processor or potato masher
Thin egg slice/spatula
Paper towels or clean tea towels for draining the cooked kievs
Dinner plates for serving
Ingredients:
2 x 400g tins red kidney beans
6 slices bread
3 eggs
2 tbsp butter or margarine
2 cloves garlic, crushed or 1/2 tsp dried garlic granules
1 tsp smoky paprika
1 tsp dried onion flakes or one small onion, diced
Seasoning to taste
1 cup fine breadcrumbs
Oil for pan frying
Steamed rice and leafy vegetables to serve
Method:
Mix your butter or margarine with your garlic. Spread a sheet of cling wrap, about the size of an A4 page, on your bench. Pile the garlic butter into the middle of your cling wrap, and with the wrap around it, roll your butter into a little cigar shape. Refrigerate for 30 minutes.
Pour your kidney beans and their liquid into your colander and rinse under running cold water until they stop foaming. Then put the colander full of beans on the sink to drain well for a minute or two. Once drained, put the beans into your food processor or large mixing bowl. Process or mash them thoroughly until they form a thick paste.
If you are using a potato masher, and not a food processor, you now need to cut your bread into teeny, tiny cubes with a sharp knife. This makes them easier to mash into your bean paste.
Add two of your eggs, your bread cubes or slices, smoky paprika and onion and mix it all well to combine. Use clean, damp hands in your bowl to really squish it and mould it into a smooth paste if you're not using a food processor. Season to taste.
Crack your last egg into one of the small bowls and add your fine breadcrumbs to the other. Beat the egg with a fork.
Set up your plate for refrigerating the kievs on the bench nearby.
Remove your garlic butter from the refrigerator, and cut it into six round discs.
Tip your bean mixture from the food processor into your large mixing bowl. Divide your mixture into six roughly similar sized balls and keep them in your bowl.
Take a ball of bean paste mixture in your clean, damp hands, and flatten into a patty the size of your hand. Take a disc of garlic butter, and place it in the middle of your patty. Then carefully mould your bean patty around the butter by folding the edges into the middle, and forming back into a burger like shape. Continue with your other bean paste balls until the mixture is used up.
Now take each of your patties, dunk them into the beaten egg, then into the breadcrumbs. Toss them around in the crumbs until they are thoroughly coated. Once they're all crumbed, you can pop the kievs into the refrigerator for about 15 minutes, just to firm them up.
Heat your frypan over a hotplate heated to medium. Coat the bottom of the pan with oil. Pop the kievs in, and gently pan fry them, for about three minutes each side, turning once.
While your kievs are cooking, prepare your dinner plates for serving. I like to serve these with steamed brown rice and some beet or other green salad leaves.
Drain your kievs on some absorbent paper or a clean tea towel, and serve on your waiting plates.
The questions will come thick and fast... 'Mmm... what's this?'... 'Yummy, what's in these?'... 'Is this a new rissole recipe, Mum?'. You'll just give a Mona Lisa smile and keep that secret to yourself!
Now those tins of tuna are a bit trickier. I find that most times, unless I dress tuna up and call it 'chicken', nobody here wants to eat it but me! Thankfully this recipe comes to the rescue, often as a tasty lunch or light dinner, and has enough flavours other than tuna, that it's palatable for the whole family. It also uses up all those odds and sods from packets of nuts, seeds and dried fruit, so it's a real pantry cleanout winner! Be sure to make the extra effort with the presentation. As you can see, it's worth it!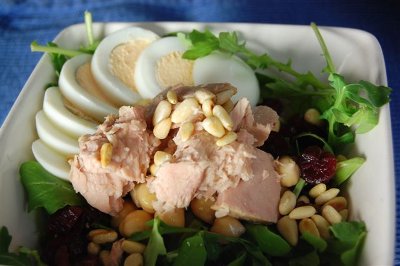 Serves 4
Equipment required:
4 serving bowls
Citrus zester or sharp vegetable peeler
Sharp knife
Non-stick frypan
Small saucepan
Can opener
Sieve or colander
Small bowl
1 saucer
Juicer
Cup
Measuring cup
Jar with lid to mix dressing
Ingredients:
1 x 185g tin tuna
1 x 400g tin chick peas
4 handfuls leafy veg like lettuce, rocket or baby spinach
4 tbsp craisins (dried cranberries), raisins or sultanas
4 tsp pine nuts, pumpkin or sunflower seeds
4 eggs
1/2 cup hot tap water
1 tsp honey
1/4 cup olive oil
1 lemon
2 tsp sugar
Method:
Put the craisins or other dried fruit into your cup. Mix the hot tap water with the honey, then pour this over your craisins. This plumps them up, makes them super juicy, glossy and succulent and enhances the colour.
Zest your lemon with a zesting tool or skim the skin off, leaving the white pith behind, with a sharp vegetable peeler. You'll then need to slice the peel really thinly with your sharp knife. Set this aside on your saucer. Now cut the lemon in half and juice it, pouring the juice into your empty jar for the dressing. Add your olive oil, lemon zest and your sugar. Shake well to blend and pop it into your refrigerator to chill slightly while you assemble your individual salads.
Half fill the small saucepan with water and put it on your hotplate heated to high. Bring your water to the boil and gently lower the eggs into it. Reduce the hotplate to 'low' and boil your eggs for six minutes. Now have a clean bowl at hand. Remove your eggs with a spoon and pop them into your waiting bowl. Drain the boiling water from the saucepan, refill it with cold tap water and pop the eggs back in to cool them. This maintains the yellow of your yolks, preventing that greyish ring around the edges of the yolks when you slice them.
Open your tin of tuna and tip the contents into the sieve or colander. Stand it in the sink to drain well then tip it into your clean bowl.
While your eggs are cooling, toast your nuts or seeds. Have your saucer at the side of your stove ready to hold the toasted nuts. Then put your non-stick pan over a medium-high heat. Toss your nuts into the pan and stir them for about a minute until they're just starting to turn golden. Yum! I love the smell of toasted nuts. Sort of golden and toasty and warm all at the same time. Tip them out on to your saucer.
Now, all is at the ready, and you've had no more than 10 minutes of preparation. So it's time to make your salads. Peel your boiled eggs and slice them thinly with your sharp knife or use an egg slicer.
Drain your dried fruit and pop back into the cup.
Open the tin of chick peas and drain it as well.
Into your waiting serving bowls, pile a handful of fresh, crispy, green salad leaves. Make a little hollow in the middle of the leaves and spoon 2-3 dessertspoons of chick peas into each hollow.
Pile about 2 dessertspoonfuls of tuna carefully on top of the chick peas.
Sprinkle the juicy succulent craisins around the edges decoratively.
Arrange the sliced egg around one section of the salad, overlapping the slices prettily.
Top with the toasted nuts or seeds and drizzle with the tantalising lemon dressing.
Now, some of my family prefers an all-in approach with this dish, mixing it all together before hoeing in ravenously. I prefer to delicately pick and choose each flavour individually. But no matter how it's consumed, this could quite possibly be the dish that will make your family ask 'Please, is it tuna night tonight?'
---
August 17th
Have just checked the bank balance and it's not going to be an easy month, to be sure. With $770 due to come out in rates and $2000 in tax before the end of the month there's not going to be much left in the kitty to pay even the usual bills. On top of that, what with moving house last year I didn't receive a notice in the mail like usual to say that my car registration was due to expire. Hence it did - back in June. I use my car so little that I had no idea until I parked in town for 20 minutes at the weekend and returned to find some horrible council man had attached a $200 fine to my windscreen. I know there's never a good time but WHY do these things always happen when you're really trying hard to save?!
I was really surprised to receive so many messages of support and encouragement from SS members after my last blog. It was very humbling and hugely appreciated. I mean, I'm only human and I thought it far better to be honest than pretend to be perfect - but I know there are people who expect me to be and understandably so. Take Alex for example - 'You're Penny Wise for goodness sake! I mean, you should have like $40,000 just sitting in the bank or something!' he berated me the other day when I admitted to getting declined. True, very true, and for a long time I did indeed enjoy the luxury of a nice, healthy looking bank balance. But then we bought a house - a more expensive one than the one we had, AND accepted a $100,000 drop on our own asking price. That sort of thing kind of eats up your savings. And, when you don't have any savings left and then go swanning around for a month or two like Lord and Lady Muck you soon find yourself up the proverbial creek without a paddle.
I'll admit, I'm kind of worried. I don't know if we'll be able to hold things together this month without going into overdraft - and if we do, by how much? I'm almost too scared to fill in my Bill Payment System to see! But sticking my head in the sand is not going to make it go away. We have to know what we're dealing with. And we have a good relationship with our bank. We have an exemplary record and I know they would help us if we asked. But I would really rather not have to, so let's hope it doesn't come to that. On the positive side I am REALLY enjoying pulling out all the saving stops! To be honest I thought I was already pretty conscientious at most of the everyday stuff but it's so easy to save much more when you really make a conscious effort. Every cent I don't spend, every light I switch off, every squashy apple I turn into apple muffins feels like a wee triumph. The savings are everywhere! OK, so the bank balance may not be looking the healthiest but at least I know I am doing my utmost to prevent it from dwindling any further, which makes the situation a little less bearable. It gives me great comfort to know that all these little extra things we're doing are really helping us to keep more money in the bank. Imagine what sort of state we would be in if we didn't know all these extra tricks!
One saving area I have been sadly neglecting is making my own cleaning products. Which is dreadful really because I've been doing it since 2004 so why stop now? No excuses really - if anything, just out of laziness. I remember when I stopped though, it was when we moved. Things were so hectic that when we arrived at our new place and I was cleaning up a storm I told myself it was easier just to go and grab a few cleaning products from the supermarket than take the time to make them. Excellent logic, Penny! Making them in your own home where all the ingredients already are takes approximately two minutes, yet you thought it was easier to get in your car, drive to the supermarket, spend a small fortune on chemical cleaners which smell so artificial and overpowering you have to vacate the room, queue up at the checkout and drive home again. Better still, you kept doing it for the next NINE MONTHS?! Sometimes I do have to wonder what planet I'm on (Noel stop nodding your head please, I know you are as you're reading this!).
So no more stinky bought cleaners for me. Best of all, I didn't even have to go out and buy anything whatsoever to start making my own cleaners again; everything I needed was already at home. It's back to my home-made 'spray n wipe' for the kitchen using a squirt of washing up liquid, a couple of teaspoons of baking soda and a few drops of whatever essential oil I feel like in a spray bottle filled up with water. For the bathroom, toilets and laundry I love the 'home mixed household cleaner' which to this day is one of the most popular all time SS tips with its lovely fresh smell and unbeatable cleaning power. Floors get washed with hot soapy water and a dash of methylated spirits in the bucket. Forgive me for sounding a bit weird but they feel like old friends after all this time! At least tea tree smells like tea tree and eucalyptus smells like eucalyptus and lemon smells like lemon. In comparison, after moving to the beach I can categorically say that the bright blue 'Ocean Breeze' stuff you get in a bottle (and to my shame I was using) smells absolutely NOTHING like a real ocean breeze!
---
Fran is both a brilliant homeopath and a brilliant teacher. She regularly does seminars explaining how homeopathy works and one of the questions she is regularly asked is; do homeopaths specialise in certain fields? Are there fertilty homeopaths, digestive homeopaths or autism homeopaths?
In this month's article Fran answers this question in detail. To read it go to:-
homeopathyplus.com.au/monica's-story---my-weird-symptoms
---
Last month Denise asked: "Does anyone have a good old fashioned recipe for floor polish?"
This request proved somewhat of a tricky one! It seems these kind of recipes are few and far between; however, we hope the suggestions below will be helpful to Denise and anyone else wanting to give old fashioned floor polish a go!
For a real old fashioned style floor polish, try using beeswax. It's slow going, but it works!
Contributed by: Kaylene Holmes
Ever wanted to make your own old fashioned floor polish? Give this recipe a go! Use this polish on resilient floor coverings - it dries to a shine without buffing and isn't as slippery as a waxed floor.
This recipe makes around a litre:
910ml denatured alcohol - to make it 'keep'
4 tbsp gum Arabic
60ml turpentine or white spirit
16 tbsp orange shellac
Place all the ingredients in a bucket and stir until the gum Arabic dissolves. To use, wash the floor and then apply the polish with a cloth, sponge or mop. Leave it to dry for 30 minutes before walking on it. After 2-3 applications, strip the old layers off with hot water and detergent and start afresh. Store the polish in a tightly covered jar.
Contributed by: Julie B
You don't actually state the type of floor but if it is hardwood I would recommend Tung oil. It is a bit expensive but gives a nice sheen without being slippery.
Contributed by: Rodney Munro
This simple recipe for floor polish comes from the website http://www.guvswd.org/recipes#wood
1/4 cup olive oil
1/4 cup vinegar
10 drops essential oil (optional)
Mix all ingredients together and apply to floor, then wipe clean. Easy!
Contributed by: Samantha Moon
---
This month Lynley asks:
"I am a single lady, just myself and my small dog. I am looking at buying and living in a 7m bus, I am too young to retire and want to explore my own country while still working at my chosen profession - funeral director. Do any of your readers/contributors live in mobile homes or buses and how do they cope, particularly if they are not staying in one place? Just a thought as this is quite an inexpensive way to live but you don't have the luxury of ground to plant a garden."
If you have any tips or suggestions which can help Lynley, please send them in to us here.
---
The best tip that I would give Simple Savers is actually very simple and seems obvious at first. Become a fully paid up member and read other members' blogs! I know that we can get a lot from this site for free, as I also did at first before I finally opened my wallet. There was nothing to lose as the promise is there to get your money back if it isn't right for you. I can testify that it is well worth the money to join Simple Savings as a member because it not only gives you advice but is a key motivational tool.
I joined the members' blogosphere here in early July and I just love sharing things with other members that I have found save money - but even more to read other people's findings too. We are a proper community that has something in common and we leave encouraging comments or useful tips and advice on each other's posts. It is the first thing I look forward to in the morning when I switch my computer on and the last thing I check in the evening when shutting down for the night.
It doesn't matter how many books or tips you read or how great your goals are, if you can't put it into action and keep it up long term you will just give up and feel bad. Motivation is needed and that comes from within you but you will more than likely need support from other human beings. Who better to help than other Simple Savers who are trying to do the same thing that you would like to do and are actually succeeding!
The tips in the Vault are great, I still haven't read them all but have read many of them. I will keep reading them, as and when I have some spare time, as it is worth it. You never know when the perfect tip for your situation will come up.
The Savings Forum is great too. I look in there every day and add to threads and have even started a few - it's great fun and very relevant to our situations. We cried with The Wez's when they lost their baby girl and we rejoice when people manage a 'no spend' month, pay back their debts or buy a house. It is good to share life with friends.
Simple Savers are a community and we all need each other. If you join, you will enrich our lives too, as well as being supported and motivated by us. So that is my tip, to 'join Simple Savings as a fully paid member and use the facilities here to your advantage'. If there are any members who have paid but don't regularly use the site I would like to encourage you to try it again; read the tips, visit the blogs and look at some recent threads in the Forum because that is what you are paying for. :-)
Contributed by: Margaret White
---
Wow! Didn't we manage to cram a whole bunch of money saving ideas into this month's newsletter? I hope you really enjoyed it and have been inspired to try something new.
I am always keen to receive your feedback about the kinds of things you want to see more of in the newsletter and those things you would rather we leave off. Drop me a line next time you're on our website. If you have enjoyed this month's newsletter, why not forward it to your friends to help them save money too? Or tell them about us on Facebook by clicking the 'like' button on our Simple Savings Facebook page?
Best of luck with your Spick and Span challenge. See you next month!
All the best,
Penny :-)