This issue includes:-
Sad Sally, Happy Hanna: Frugal Fatigue
May is 50c Indulgence Month!
Hidden Gems Competition Winners
Best Member's Blog: This Month's Winner
Best of the Forum: Indulge Yourself
Best of the Vault: Affordable Luxuries
Cooking with Mimi
Penny's Blog: Dance Like Nobody's Watching
Homeopathy Corner: A Gift to Mothers
From Last Month: Which Laptop?
This Month's Help Request: Sweet Treats for Diabetics
Savings Story: Diamond in the Rough
---
Hello,
I hope you are having a lovely month and this newsletter goes some way to making it even better. Because this month we want you to treat yourself every single day! All the tips and tricks in this month's newsletter are designed to make you feel special and appreciated - just as the following emails have made me feel.
"I LOVE Simple Savings! It is such a way of life for our household now. Recently we finally gave in and bought a second car that we desperately needed. Pre Simple Savings I would have thought nothing of taking out a $10,000 loan to purchase this car. Instead I asked around if anyone was selling a car. Well - my Mum told me she was getting rid of hers and I could have it for the bargain price of $3000. It is 20 years old but in brilliant condition. I have paid her a third already and have until November to pay the rest. I am so happy to have a car that I don't have to work day night to pay back a loan and be a slave to the bank for the next five years. Best of all, I feel like a real Simple Saver in it because it isn't fancy or flash; just clean and tidy and reminds me of who I am and what I can afford. Thanks Simple Savings for changing my mindset from 'I want, I need, it must be perfect' to 'I need what fits into my budget.' " (Tia Cherry)
"I must admit to being one of those people who, when hearing of the $21 Challenge, didn't think it was possible and didn't even bother making much of an effort to achieve this goal. However, this past week I did it! I went shopping with only milk, bread and fruit on the list. I have done this before but once at the supermarket I have been easily persuaded/encouraged to buy other things. Not this time though. I left the supermarket with milk, bread and grapes and whilst shopping decided I had plenty of food in the pantry and freezer that needed to be used. Fresh veg I would harvest from the garden. I had to go shopping again later on in the week but only for milk and bread again so I still managed to stay within $21! I feel proud of having achieved this. So, thank you for the emails and newsletter which are a constant reminder to me that with a bit of effort I can save money." (Aisha Ali)
All the best,
Fiona Lippey
P.S. The $21 Challenge is being reprinted and we will have books in stock again by May 16th.
---
It was cold and wet and as Sally hopped off the bus she wished for her nice, warm, comfortable car. She was proud of herself for catching the bus to work each morning. After all, she was saving almost $100 a week on petrol and even more on parking. She knew catching the bus was the right thing to do and should have been feeling fantastic! So - why was she feeling so flat?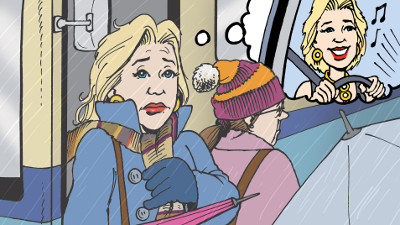 'What's up?' Hanna asked when Sally arrived at work. 'I don't know' Sally sighed. 'I mean - I know all this money saving makes sense, and I'm loving watching the bank balance go up but... it just feels some days like it's all work and no play,' Sally confided. 'I miss being able to treat myself to nice things. I miss my guilty splurges! Do you ever feel like that? Like maybe you're missing out?' she asked.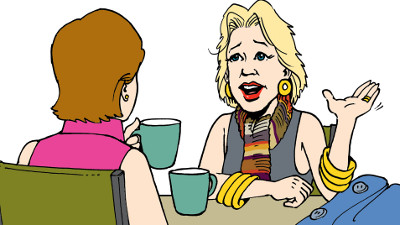 'Not at all!' Hanna smiled. 'I splurge all the time. Here, have one of these!' She ferreted around in her bag and brought out a sachet of 'Prince William and Catherine' bubble bath. 'I got this from the chemist for 50c, they're divine! Now tonight when you get home from work, run yourself a big, deep bath and soak in it as long as you like. It's my favourite indulgence. Guilt free and almost free!' Sally took the little sachet and was amazed to find she felt better already. She couldn't wait to get home to her right Royal bath!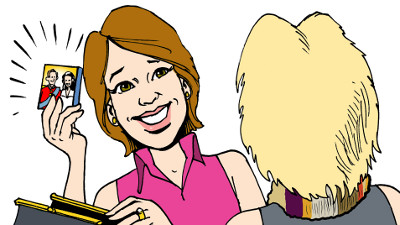 ---
There's nothing wrong with enjoying life's little luxuries. Even on the tightest budget you can afford to treat yourself on a regular basis - when you know how to do it right. This month we want to show you how you can pamper yourself every day with one of our favourite challenges - 50c Indulgences! This month is also Mother's Day but you don't have to be a mother, or even female to enjoy taking part in this month's challenge. We want EVERYONE to indulge themselves!
What exactly is a 50c indulgence?
This concept originally started in the Savings Forum when Helen began a thread asking for ideas which showed that truly enjoying life need not cost the earth. Before we knew it, the Forum was chocka with low cost and free ways to make each day just a little more special.
What's so indulgent about spending 50c? Don't you have to spend up big to enjoy yourself?
Not at all! Here are some of our favourite quotes from members who have discovered the joy of 50c 'splurges':
"It's easier to stay on budget when you have a little treat"
"We don't feel deprived with small indulgences. It's the reverse!"
"I have reached the point of realising that making anything special needn't cost much at all."
"It's the little things that are so meaningful and set up traditions in our life."
"It's amazing how much you become grateful for, when you observe the general discontent and haste of people around you."
"To live within our means in a way that celebrates what we have rather than what we don't have."
"It's non-retail therapy!"
Sound appealing? It is! There are countless 50c or free ways you can pamper yourself. To get you started and give you some ideas, here are 10 favourite suggestions from members in the Forum:
Put your feet up: Fill a container with hot water, add a little baking soda and soak your feet for 10 minutes. A heavenly indulgence for just a few cents.
Shop in your own wardrobe: Instead of splashing out on a new outfit, dig out all the clothing and jewellery you haven't worn in ages and have fun mixing and matching them up to make new, free outfits!
Put pen to paper: Write at least one proper letter on nice stationery every week!
Go bananas: Make banana splits with real ice cream (none of the 'lite' stuff!) and savour every mouthful.
Come out and play: When was the last time you played with your kids? Sometimes as an adult you forget how important this is to a child. It helps make good memories too!
Baking therapy: What better indulgence than the smell of fresh baking wafting through the house? Put on your favourite CD and bake up a storm!
Get moving: Exercise isn't only good for the body, it's good for the soul. Go for a walk, take a dip in the ocean (while it's still warm enough!) whatever you enjoy most. Yes you will get fitter and slimmer, but also happier!
Feed your face: Just a teaspoon of brown sugar and your favourite everyday cleanser is all it takes to give your skin a sweet treat every morning. Simply massage into your skin and rinse.
Pyjama party: What could be more decadent than spending a whole day in your pyjamas? Perfect for the colder months ahead! Get the whole family involved and enjoy a cosy day together.
A novel thought: Go to your local library, or your own bookshelf, choose yourself a novel and settle down and read it. All day!
You see how easy it is? There are thousands more suggestions where those came from but we're sure you can come up with plenty of your own. Life's little pleasures are so much more enjoyable when there is no guilt attached. Enjoy this month's challenge and don't forget to share your own favourite 50c Indulgences with other members in the Vault and Forum. If you're not currently a Vault member and would like to read ALL of our members' wonderful suggestions, you can become one right now here. A 12 month membership costs $47, which works out to just 13c per day over the course of a year. Much less even than a 50c Indulgence!
---
Our Hidden Gems directory is designed to make it easier for our members to source the best deals in their area. Whenever you come across a real gem of a store, enter it in our Hidden Gems directory and you could win our monthly prize of $100 cash! This is our way of saying thank you for helping other members save by sharing your knowledge. The more information you can give us, the better your chance of winning. This month's winner is Riverside Orchards, as nominated by Emmaleen Sarten. Read her entry to see what makes them such a great example of a Hidden Gem.
Riverside Orchards, 1346 Napier Road, Ashurst, New Zealand, www.riversideshop.co.nz
Hidden away in Ashhurst, at the side of the road is Riverside Orchards. It's a family business and it has that homely feel to it. The staff are both friendly and knowledgeable, selling top quality fresh produce (most of which is grown by the orchard). I frequently visit to buy "the cheapest milk in Ashhurst", which at $3.50 for 2L is also likely to be the cheapest milk in Palmerston North! Bread is also a competitive price at $1.70 per loaf. I picked up 10kg of Agria potatoes for $10 a few weeks ago and they were so fresh that I've been able to slowly use them without any going bad (a problem I have with buying supermarket potatoes in bulk).
Last time I visited the orchard I was looking for pumpkin to make my first homemade pumpkin soup. Not only did they help me to find the correct type of pumpkin for soup but they offered some helpful tips on how to make it a success (which I can report it was!) I left with a smile - and a free pear. Customer service is outstanding and quite often we leave with freebies - especially if the kids are with me.
For those of who don't want to travel out to Ashhurst or just don't have much spare time, the orchard also has an online service. It was a friend from Palmy who told me about this little gem - simply spend $15 or more and the delivery is free for Palmerston North and Ashhurst residents. Now I may only live round the corner from this orchard but I admit I have used this online service more than once - it's just so much fun having a package delivered to your door! Plus I found it an invaluable service after I had my second son four months ago and found it hard enough to make a cup of tea, let alone venture out shopping with the two boys!
The best thing about Riverside Orchards is once you know where to find them, anyone can get these great deals! Of course it does help to have time for a chat, and bringing the cute kids along helps to ensure a free sample of their home grown produce! Also if you live locally, look out for the special coupons that appear in the local Ashhurst paper from time to time - the orchard will offer specials to local residents to show they appreciate our support.
A big pat on the back to Riverside Orchards and congratulations to Emmaleen, you have won yourself $100! Well done also to our runners-up for sharing their Hidden Gems:
Shires Fruit & Vegetable Market nominated by Dianne Thompson
The Big Pot Nursery nominated by Lorraine Mcneair
Ivanhoe Pasta Deli nominated by Claire S
Cafe Agora nominated by Suz Boyles
You can enter your own Hidden Gems into our monthly competition here. Thank you and good luck!
---
One of the many benefits of being a Vault member is that you can win a cash prize of $100 each month for your Simple Savings blog! Starting your own blog on the site is easy. All you have to do is log into the Vault, click on 'My Desk' at the top left, then 'Your Blog'. Then get writing! We love reading all your money saving trials and tribulations and really appreciate the effort that goes into each one.
This month's winner is Pumpkin Patch for this extract from her blog 'Nostalgic Memories of My Childhood'. In this post she shares simple pleasures of days gone by:
I was talking to my eldest daughter the other day and she remarked that she and her kids had been laying back relaxing on the old trampoline, just enjoying the peace and looking up at the sky, watching the clouds roll by...
Didn't that bring back memories - such simple pleasures. I used to love laying on the freshly mown grass, looking up and making fun shapes out of the clouds - and the other night, sitting on our back verandah, the cloud formations were amazing, so many different shapes and sizes and all resembling animals or people - it is still a fun thing to do although I haven't done it for so long.
I am guilty of taking heaps of photos of cloud formations though - they are fascinating, the way they swirl and change.
Another simple pleasure was rolling on the grass - and rolling over and over again - better still if there was a slight slope, then you could really get up some momentum. We would do this for hours, giggling all the time - we didn't need much to amuse us.
My brother and our cousin, who were best mates, would use any excuse to build a cubby house - anywhere, anytime - and I was always there, wanting to join in - they got around that by using me as their maid and I was a willing slave. Later, I too would be having great fun building cubbies under the trees - one particular one when I was a bit older was on top of Dad's shed sheltering under next doors mulberry tree. Another good one, I recall, was under the huge bullock's heart custard apple tree in the back corner, very spacious and there was room for at least ten children or more. How we loved our cubby houses, we had all sorts of things in there and would spend hours and hours in them, eating our lunch and having snacks - and no doubt our mums were happy knowing where we were and what we were up to.
Another favourite game was just playing 'chasey' - round and round the house we'd go, and we had plenty of places to hide behind the many trees and shrubs, or we'd race through the house, jump over the verandah wall then tear around the side and up through the window to do it all again - use to drive Mum crazy, all these kids flying every which way - but it was fun and kept us active. Needless to say there were no insect screens in my day.
Of course now and then we did get up to mischief - the time when my brother had just been to the pictures to see Batman or Superman and he climbed up on the roof and jumped off, his cloak flying behind him - he didn't realise he couldn't fly. And no matter how many times we were warned not to touch the birdseye chillies we couldn't help ourselves and then went screaming in agony to Mum because our lips were burning. She always managed to soothe us and away we would go again, none the worse for wear.
Kids will be kids...
Congratulations Pumpkin Patch! To read more from her, or any of our other members' blogs, click here
---
Can you remember the last time you pampered yourself? Sadly, many of us get so caught up in our hectic schedules that we never quite manage to take time out for ourselves. If this sounds like you, head for our Forum right now and browse these threads for super easy ways to enrich your life without breaking the bank.
You don't have to wait for Valentine's Day to come around to show loved ones you care! Check out some of these gorgeous low cost ways to say I love you all year round.
read more...
Feeling rich has little to do with money. Indulge yourself every day with ideas like these!
read more...
Home made gifts are a delightful indulgence for both the maker and the recipient! Check out this thread to see what our busy members are up to.
read more...
Every little bit adds up! In this thread, Tradie's Wife encourages everyone to share the savings they have made each day. Be inspired - and surprised!
read more...
Writing down everything you are grateful for each day has been proven to enrich your life - and it doesn't cost a cent. Join the SS Forum online gratitude journal here!
read more...
Rosie is helping two youngsters plan and cook a delicious meal to indulge their parents - but what to cook that is simple, yet special? These suggestions will get your mouth watering!
read more...
---
It really is easy to indulge yourself and the people you love every day for next to nothing. The Vault is absolutely bursting with suggestions you will love. Start pampering yourself today with some of these great ideas!
I created some gift baskets for my Mum, Step-mum and Nanna as a present just to let them know I was thinking of them. They took just an hour of my time and cost me absolutely nothing to make but were full of love!
First I rescued some small baskets from the back of a cupboard which have been lying around unused for years. Then I searched my present drawer and cupboards and came up with the following items to put in the baskets:
Bath soaks and guest soaps with gorgeous matching floral labels. I split the packets and put a few in each basket.
Bath salts, which I divided into three tiny recycled plastic bags and tied with pretty ribbon. I added a label made from my scrap-booking supplies.
Chamomile tea bags which I put into little plastic bags in the same way as the bath salts and added to each basket.
Tea light candles.
Empty hotel-sized shampoo bottles which I filled with pink shower gel from a larger bottle. I then covered the label with a pretty homemade label sticker from my craft box.
I added a note encouraging the ladies to take some time out and relax in a candle-lit bath, covered each basket and its contents with cellophane and tied a pretty bow around the top. All three ladies were delighted with their pure-indulgence gift!
Contributed by: 'Not your typical Gen Y'
I am saving $155 a year on bath time fun! Every night my four year old asks for a coloured bath. I was buying a small pot of colour tablets almost every fortnight at $5.99 a jar. Instead I now have several bottles of liquid food color which costs around $2.50. Just two drops in the bath water and they can have any colour they want. A bottle of food color lasts about 12 months, so this is a much cheaper, longer lasting option!
Contributed by: Katherine James
School holidays are more affordable with the help of the $21 Challenge! Money seems to slip away so effortlessly while out having fun with my teenage kids. Budgeting is something I am trying to teach them about but it is hard to make it relevant sometimes. Then I had a great idea that would make them pro-active with the weekly budget over the holidays, without me being a 'budget nag'.
It is the $21 Challenge week, with a twist. THEY have to go and log all the food in the freezer and pantry, and make up the meal plan for the week. Then all the money THEY save us for the week can go towards some guilt-free fun. It's a great incentive and my kids are learning important household skills.
Contributed by: Louise Blackmore
Make over 120 bickies for just $4.00! This fantastic basic bickie recipe is terrific value, makes loads and has lots of room for variations:
500g margarine
1 tin condensed milk
1 cup sugar
5 cups self-raising flour
Cream the sugar and margarine. Add condensed milk and flour. Roll into teaspoon sized balls and press down with a fork. Place on greased trays and bake in moderate oven until golden brown (approximately 10-15 minutes).
Before baking I divide the mixture into five and add the following ingredients for different flavoured bickies:
Chocolate chips and glace cherries (chopped)
Cornflakes and sultanas
Hundreds and Thousands
Jam drops
Milo and coconut
You could add any number of other things like Rice Bubbles, Smarties, nuts, cinnamon and other spices and so on. The raw mixture can be frozen in balls, just thaw slightly before baking.
From this one batch we made 123 bickies and by my calculations using the cheapest possible ingredients the whole batch cost just over $4.00 to make!
Contributed by: Kristy Frahm
Add $5 bills to your money tin and save up to $200 a month! Most people have a money tin they throw their coins into but a few years ago I began adding $5 bills to my tin. This saves me $200 to $600 over a three month period, just in coins and $5 notes. I now purposely try not to hand over $5 notes at the shops so that I can put them in my tin instead. Try it - you'll be pleasantly surprised!
Contributed by: Darcy C
I've just discovered a 50 cent solution to a frustrating problem! I shudder to think about how many hours of my life I have wasted, ferreting around in my handbag trying to retrieve ringing mobile phones, combs, pens - or what ever I'm looking for but can't seem to find!
A friend had told me about handbag inserts - mini purses that fit in your handbag to put all the things you are always searching for in order and within reach. But these cost up to $60 - a price I wasn't prepared to pay. Today however, in my local op shop, whilst looking through a box of assorted purses, I found the perfect solution. An unused make up bag with two side pockets and one centre zipped pocket that fits perfectly into my hand bag. Its price? 50 cents! They always have purses and make up bags in great supply so, save yourself a whopping $59.00 on expensive handbag inserts AND hours of frustration and get down to your local Op Shop!
Contributed by: Diane Smith
Our 50 cent money tin has paid for the landscaping of our new house in less than twelve months. I used to pay for everything electronically but my partner liked to use cash. This worked well until we bought our first home together and to maintain the peace, I reluctantly agreed to keep a money tin for our grocery purchases. We both contribute $200 every fortnight and from this we purchase all fortnightly groceries and any top up groceries such as milk, bread, fruit and vegies.
Because there are only the two of us there is always money left over and this has been the biggest bonus! We had a 12 month plan for a massive landscaping makeover which of course always reveals additional costs that you don't factor into the budget. The tin has been our saviour and we have been able to pay for the following using the extra cash:
Lots of concrete for retaining wall foundations.
Bobcat and backhoe hire for excavations.
Concrete for garden shed slab.
The garden shed (second hand) - we dismantled, transported and built it ourselves.
Pavers for the pergola from a garage sale.
Numerous garage sale and market purchases for the garden (pots, plants and so on).
Pest inspection.
TV aerial makeover by tradesman.
Installation of ceiling fans (bought from an auction) by electrician.
Timber garden edging.
Pump and fittings for the rainwater tank.
Numerous trips to Bunnings for the little extras you always need when landscaping.
Mulch, soil, topsoil, mushroom compost and sugar cane mulch for the garden beds.
Paint for different projects.
There was also enough in the tin to buy all the Christmas purchases (seafood, drinks, nibblies and so on) for a great Christmas Day with the family and we have also used the money for holidays and not contributed cash for a pay or two. We made a rule that we wouldn't take out any loans and now when the money tin builds up to a certain amount we know we have enough for the next project. I love the tin and we are now saving for the internal house renovations.
Contributed by: Cathy Baxter
---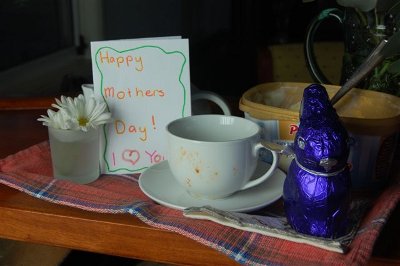 Mother's Day is fast approaching and this year I'M taking control. I want a nice pot of tea and my favourite french toast ice cream for breakfast. Yes, you read right - french toast ice cream. And I'd like serviettes please. And a flower in a vase like they have in the movies.
For me however, that's only going to happen with careful planning... and nagging... lots of nagging. Oh, and written instructions.
So without further ado, here they are!
Equipment required:
Small saucepan
Whisk
Non-stick frypan
Small bowl
Sealed container, eg. Tupperware or recycled jar
Baking tray lined with baking paper

Spatula

Ingredients:

2 litre tub vanilla ice cream. Generic is fine.
2 thick slices bread
1 egg
1 cup milk
1 teaspoon vanilla
1 dessertspoon caster sugar
2-3 tablespoons cinnamon sugar made by combining 1 cup caster sugar and 1 teaspoon cinnamon in the sealed container. Keep your unused cinnamon sugar for making cinnamon toast another day.
Butter for frying
Maple syrup or that stuff they call pancake syrup that tastes like it
Preheat your oven to 150C. You want your oven set to a low heat so that your french toast doesn't burn while it's becoming crisp and crunchy.
Line a baking tray with baking paper.
Set up your bowl for your sweetened milk and egg mixture
Gently heat your milk in a small saucepan. Add your sugar and vanilla, stirring until the sugar is dissolved. Once it has all dissolved and the milk mixture is silky sweet, set it aside. Once cooled, add your egg and beat well until well combined.
Turn on your hotplate to medium-high. Melt about a teaspoon of butter in a fry pan. Once sizzling, quickly dip each slice of your bread into your egg and milk mixture, and pan fry on one side for about a minute, or until golden underneath. Flip your bread over with a spatula, and let it cook on the other side until 'done'. Set aside on the baking tray and repeat with the other slice of bread.
Once both slices are cooked, sprinkle them liberally with cinnamon sugar. Then pop them into the oven to crisp. Bake until it is deep golden in colour and hard and crunchy. Remove from your oven and allow to cool. When cool enough for you to handle, cut your toast into small cubes, or break it up into chunks.
Remove your ice cream from the freezer and allow it to soften at room temperature for 15-20 minutes. Then tip your soft ice cream into a large mixing bowl. Add your crispy french toast cubes, pieces and crumbs to the mushy icecream, and combine well.
Add ¼ cup of maple or pancake syrup to your icecream. Mix well for a real maple flavour or simply swirl through with a spoon if you prefer a ripple type flavour. Return your newly flavoured icecream to it's container, put the lid back on and pop back in the freezer.
Leave for a couple of hours to return to a firm consistency and serve in dainty bowl... or a humungous one depending upon your appetite. Consume leisurely, propped up on silken pillows, with loving partner massaging ones' feet.
Well, I can dream can't I?
So you've done the domestic goddess thing, said hi to everyone on the Simple Savings Forum and actually managed to wrench yourself away, and are just about to put your feet up and have a nice cuppa tea.
Now here's the bad news. We're not going to dunk a teabag in some microwaved hot water for our cuppa. Granny was right. For tea to be truly appreciated, it should be brewed in a pot, and served in a cup, not a mug. And you want to make your pot of tea no more than ten minutes before you want to drink it.
These instructions are for normal old black tea. Variations for green tea or herbal teas are at the end. So read all the way through, choose your tea, and off you go!
Equipment required:
Teapot
Measuring jug
Tea strainer
Teacup of your choice
Kettle
Teaspoon
Tray for serving

Super clean teatowel to line the tray

Ingredients:

Loose tea leaves of your choice, NOT a teabag
Sugar and milk if you like it
Fresh tap water
How to do it:
Start making your pot of tea no more than ten minutes before you want to drink it.
First up, wash your teapot thoroughly, and wipe it dry on the outside. If there are oil residues in your teapot they will stop the tea from seeping properly. Now run your hot water until it's very hot and fill your teapot to warm it. Set it aside while your kettle boils.
A good cuppa should always be made with freshly boiled water. So empty your kettle, make sure it's clean on the inside, then fill it with enough fresh cold tap water to make your tea.
When the kettle is almost finished, empty the teapot (you did fill it with hot water to warm it, didn't you?) then put in one teaspoon of tea leaves for each cup of liquid the pot will hold, plus a half a teaspoon.
As soon as your kettle comes to the boil, pour your gurgling water onto your leaves in the teapot. Give it a gentle stir with a teaspoon.
Enjoy the wafting fragrance of your tea for a moment then put the lid on the pot. Let it brew for 4-5 minutes, depending on how strong you like your tea. If you like to drink black ink (very strong) leave it for seven minutes.
Pour your tea when it is ready and add sugar and milk to taste. Sip and enjoy!
Different types of tea
The only difference when making green or herbal tea is that you should wait for three minutes after your kettle has boiled before pouring. This allows the water to cool enough to prevent scorching the more delicate leaves and flower buds found in green and herbal teas, which can make them bitter. Then proceed as for the black tea.
---
April 28th
It appears that Noel's doom and gloom is catching. I have declared every month a No Spend Month indefinitely. I knew that this month was going to be a bad one for bills when we received a lovely invoice of $900 to pay to our new district council for rates. Not that paying rates is anything new - it's just that they cost three times as much as the old place so that came as a bit of a shock! Still, I wasn't too worried. We've been making such a concerted effort to save on our food bill lately that I was confident we would have enough to cover it.
Until last week when I received a tax bill for $2,000 due May 7th. That in itself was a nasty surprise - but I only just forked out $1,200 for tax LAST month! Talk about adding insult to injury. Apparently one is provisional tax, the other is terminal. Ha - I can see why they call it terminal, it just about kills you to pay it!
Honestly, sometimes it makes you wonder how on earth anyone is supposed to survive. Two steps forward, ten back. Woe is me. And then something really cool happens, such as the Easter holidays. Whilst we didn't win the lottery (I'd have to buy a ticket and am far too stingy to do that!) we did have a ripper of a time filled with heaps of fabulous company and managed to escape with the bank balance almost completely unscathed. Not a bad achievement considering we haven't fed less than seven people for dinner in longer than we can remember and had no less than 14 people hanging out with us over the long weekend. We had friends, grandparents, godparents, the kids' mates, Alex came down from his uni home in the city to stay and we even had a surprise visit from an old farming friend I hadn't seen in more than 15 years. We didn't have much to offer but what we did have we shared and everyone loved it.
It's times like these that remind you of just what is important. Even when money is at its tightest you don't have to miss out. Friendship is priceless. Good food can be priceless too - we got just as much pleasure out of throwing together a massive pot of soup for the hordes at the weekend than running off to the supermarket for supplies or paying a fortune for a meal out. Being at the centre of such a happy, noisy, fun home has really made me think about some of the things I love to do best. No doubt you'll laugh at some of them and think I'm completely bonkers but we all have our little quirks so hey, indulge me!
Singing in the car. At the top of my voice, music cranked up as loud as it will go. Very important. This has been one of my favourite indulgences since I became a mother and spent years first tiptoeing around a Metallica-free house so as not to wake the babies, then several more years surrendering my car stereo to the likes of Hi-5, Teletubbies and whatever other story CD's the kids wanted to listen to. Even now we all like the same music, there is still nothing I like better than driving solo with the music turned up LOUD. Cost = nothing (except the petrol I'm already using to get me wherever I'm going). Happiness factor = 9/10.

Walking the dogs on the beach. This is obviously something which we have only just begun in the last six months but Noel and I try and do it every day. It's good for the body (we walk around 5km), good for the soul, good for our relationship as we can thrash out any issues on neutral ground (and a beautiful, tranquil ground at that) and most of all good for the sense of humour as you have never seen anything as funny as Hubble and Minnie racing around on the beach like the two happiest dogs on the planet. Cost = nothing. Happiness factor = 9/10.

Lounge room disco. Now this is one of my favourite indulgences! These are a fairly regular occurrence in our house and usually happen when there is nothing on TV and Noel and I are reduced to watching the music channel. All of a sudden a good song will come on and all of a sudden yours truly feels a dance coming on. We jump up, our tiny lounge becomes a dance floor and the two of us bop away merrily for a good couple of hours until we're exhausted or the wine runs out. By some stroke of good fortune our kids have never ventured downstairs and caught us or they would probably die of embarrassment but what the heck, we think it's pretty cool! Cost = nothing (wine optional but no more than $8.99). Happiness factor = 10/10. Hangover factor = extremely likely.

Running. What is it with me and music? Running is my ultimate indulgence. It's my 'me time', my thinking time, my problem solving time and my de-stress time but most of all it's my 'zone out and listen to music on my iPod really loud' time. Whilst getting fit at the same time which is a bonus. The faster the song, the faster I run! Cost = nothing. Happiness factor = 9/10.
So there you have it, my favourite low cost, feel-good indulgences. We're all different - some of us love nothing better than a really good coffee or a few squares of dark, 70% chocolate. Or a big, deep bubble bath. Or snuggling up watching a movie on TV with home made popcorn. One thing's for sure though; they may not cost a lot but when those horrible tax bills come along they are worth their weight in gold!
---
Few people know that I divide my life as a mum into two distinct periods. First there was the hard period - the first three and a half years when the kids constantly got sick and we spent night after night walking with sick children. We used Paracetamol, a lot. Dymadon was a regular item on our shopping list. The kids caught everything and then Matt and I caught it too. We thought this was normal. After all that is what life is like when you have small children, or so people told us.
During the hard period I used to get very frustrated with my children. It felt like I was hitting my head up against the wall and asked 'Why is my child doing this?' Some of the questions that plagued me were:- Why won't my child go to sleep? Why do they seem to get an earache whenever we go out on a windy day? Why doesn't my child speak at childcare? Why does he hide in the corner of the room at childcare pretending to read a book when he can't read? Why is he so quiet at childcare and so noisy at home? Why does my child insist on dominating me, but not his father? Why does this child crave salt? Why does my child have big bags under his eyes? Why is he still wetting the bed? Why is my child so fat? Why isn't she sitting up? Why isn't she crawling? Why does she look so dopey, as if no one is home? Why? Why? Why?
I had a lot of questions. So many things did not make sense. Then I did Fran's free workshop and being a mum became a lot easier. Fran fixed my children and the homeopathy text books held the answers to so many of my questions. I now believe that homeopathy is the best gift to mothers ever. So this month, I asked Fran to show how homeopathy can make mum's life easier by making bub healthier.
To read Fran's article go to: homeopathyplus.com.au/frequent-waking-and-fear-of-strangers-baby-taylors-story
Of course my kids still do get sick from time to time. But now their illnesses are generally minor and short lived, fevers are rare, and the bottle of Dymadon in the cupboard is three years out of date.
---
Last month Crystal asked:
"I want to buy a laptop computer but there are so many around I'm finding it all a bit confusing. Does anyone have any suggestions on how I can find the best value laptop? I would really appreciate any help! Many thanks."
Wow, we had a huge response to this request! Thank you to everyone who wrote in to share their knowledge and experience. Whilst unfortunately there are just too many to print every one, we hope you will find this selection helpful.
Having recently bought a laptop I can see how there is the potential for a lot of confusion because everybody has different opinions on what is the best brand to buy. Various stores have laptops available at good prices but the amount of memory can really vary. Decide what you actually need the laptop to do and how much memory and/or extra features you require. A good idea is to check out computer warehouse stores. They may be able to make a computer to your exact specifications and could be cheaper than a regular retail store. I bought a DELL because I had heard positive feedback and it had a top rating in Choice magazine. I found the DELL staff very helpful and happy to answer questions. They also have twelve months of ongoing support to help you deal with any issues, which is handy if you aren't very computer literate (like myself!). It might pay to have a look at any special offers your work social club or union may have in order to take advantage of these savings as I received a discount on the model I chose through my workplace union membership.
Contributed by: Louise Deland
When looking to buy a new laptop, first make a list of all the things you will want to use your laptop for on a regular basis. Will you be carrying it around a lot or using it mainly at home? Do you only want to check emails and use the internet or do you want to watch movies or edit photos and videos? Take your list with you when you go to the shop. For great advice on laptops I always go to Whirlpool Forums: http://forums.whirlpool.net.au/forum/130
Contributed by: Shannaka Beveridge
When buying a laptop, a useful site to look at is what2ask.com.au. The site doesn't tell you which product to buy - instead it provides lists of suggested questions to ask before buying various domestic products to help you make the best decision about your purchase. It's also really easy to navigate. Knowledge is power, and if you can start by asking the right questions, you're in a better bargaining position and less likely to buy something that doesn't suit your needs. Check out the page about laptops at http://what2ask.com.au/general/laptop.html. There are also other pages on 'mini notebooks' and 'desktop computers' which could be helpful too.
Contributed by: Judy Cameron
My first piece of advice when buying a computer is NOT to buy from a regular retailer. Even when they have a really good sale going on, you can generally get a better deal at a computer wholesaler. Personally, I've found Asus, HP and Acer are fairly good brands. I would simply call the wholesaler and ask what is suggested for a basic laptop for whatever functions you require. I use www.msy.com.au which has stores in every state. Since you are unsure about what it is that you are after, I imagine that you only want your laptop for simple things such as Microsoft Word and the internet, not for complicated programs. Providing you only use your laptop for basic functions, I doubt that you will need more then 2GB of RAM (the laptop's short term memory) and more than a 500GB HDD (the long term memory - what you can save to your computer). If anyone tells you that you need more, they are attempting to upsell you and you simply won't use it to its full extent. (In saying this if you can get more memory without a huge price increase then do so). Also remember the larger the screen, the higher the price. Finally - make sure you get a warranty on your laptop.
Contributed by: Kirrilee Gerber
I've had several computers over the years, and have found that often the cheapest isn't the most economical! I have discovered that Mac computers, while not the cheapest on the market, last such a long time, and the Apple help team is terrific if you have any problems or issues with your computer. Some big stores are now selling Apple computers at a good price, and it always pays to ask if they'll give you a discount (especially if you are a student or have a child who is a student). Finally- don't go for the biggest screen or lots or impressive sounding characteristics - chances are you'll never use them!
Contributed by: Kay de Vogel
The key to saving money on computers and laptops is to remember that new models are coming out every few months. That means two things for us money-saving folk; Firstly, take all advice with a pinch of salt when listening to people's opinions about the 'best' and 'cheapest' models to buy, because they are changing all the time. Secondly, when looking to find a great deals on a near-new laptop or computer, take advantage of the fast turnover. It's a bit like buying a secondhand car that has just been driven off the lot. Businesses are advised to keep computers for just three years, and their computers are often faster and fancier than what we need for home. Ex-business computers are being sold on sites like TradeMe or eBay for a fraction of the price in a store.
Contributed by: Paula Salisbury
When I needed a new computer, I entrusted my hard-earned money to my nerdy friend (and most of them don't mind being called that either!) Just tell them what you want it to do and what you will use it for, e.g. word processing, Internet, music and so on and they will hunt around online for you. Just make sure you give them a budget, otherwise they'll go all out with excitement getting you a fancy thing that is so much more than what you need!
Contributed by: Sonja Wilson
Bonus Extras for Vault members
The essential guide to buying the perfect laptop! Contributed by: Renee D
Laptop purchasing - points to consider Contributed by: Sue E
Get the right connections with Work Ventures Connect It Contributed by: Mel
Only buy what you need when choosing a laptop Contributed by: Jess B
---
This month Carol asks:
"I am in my 40's and have recently been diagnosed with diabetes. I have two young girls who love cookies and cakes and I am desperate for recipes with sugar substitutes and almond flour and coconut as it means I can also eat the cookies and cakes that I bake for them. Please can you help with low carb recipes of any kind, but especially baked goodies?"
If you have any tips which can help Carol, please send them in to us here.
---
In desperate search of a partner for my scrapbooking supplies, I turned to the best dating website I know for this kind of thing... www.simplesavings.com.au. With hope in my heart and a conviction to stop at nothing short of perfection, I typed the address into my browser.
I clicked on the 'Savings Forum' and saw 'Scrapbooking storage solutions, help please'. Drawn in by this scrapper's desire for a perfect match I read on. Other scrappers were sharing their stories and before I knew it I was following links and viewing profiles. Desperately I searched for that one true love.
Cupid shot his first arrow as I came across one particular profile that stood out. It appeared to have all the qualities I was looking for. Sturdy, with its own transport - easier to get where we needed to go. Good looking - great bragging feature when introducing friends. Yet modest enough that I could be persuaded to drag myself away to go to work and take care of my kids. I wanted a committed worker, well-built, open and friendly offering easy access to their treasures within. I didn't want to get into a situation where we had to put on hold what we'd started just to search for the right toys... if you know what I mean? And my perfect match had to be multi-skilled, able to manage all of my needs...
Oh... that scrapbook storage cabinet was divine! It ticked all the right boxes. Plenty of shelves, drawers, and a pullout work space. On castors for easy movement to wherever I wanted to work. Attractive, but not overly done so it would suit any decor. Space for tiny embellishments, card stock and bulky tools. A perfect match. It was love at first sight! Cupid's arrow had hit its mark.
Suddenly my heart sank. This was one high achiever! I was seriously punching above my weight. He was out of my league! I'd need better cashflow to afford the transport just to meet him. Then there'd be the need to keep up with the whole package! Envy quickly set in... Why not me? Why are they always out of my reach? Why do others always get what they want? Oh how my heart ached...
Down, but not out. Spurred on by all that I had seen and with a strong conviction to find my one true love, I turned off the computer and cast a keen eye over my immediate surroundings. Searching for a glimmer of hope, a less demanding model, a hint of potential, an achiever closer to my world. I wasn't going to give up on my dream...
And then I saw him....
He caught me off guard, standing there, unassuming and alone. Waiting to catch my eye. He had potential. Sure he was old, but there were no wrinkles in the old dog yet. His structure was sturdy with everything intact. He had enough experience and was fully accommodating to satisfy my every need. I was willing to give this old flat-pack computer tower on castors a go. A second date, if you will...
Immediately, I grabbed a nearby storage basket and placed it on the bottom shelf to create a large drawer for bulky items. Just like the image I'd seen online! Heading up, shelf by shelf, I noted another shelf the same size, perfect for more bulky items. Could this old romance be rekindled? Cupid shot his 2nd arrow.
Next the pullout keyboard drawer - a sturdy work surface with easy access to all the shelves and drawers! I grabbed 2 small, but matching storage baskets and placed them on the next shelf above the pullout. These will make great drawers whilst giving him a fresh new look. A makeover. My eyes began to twinkle with affection. Cupid's 2nd arrow hit quick!
I wanted to see if distance made the heart grow fonder, so I drove to the hardware store and purchased a pack of 12 shelving supports $1.42. There were enough supports to secure 3 shelves in place-no need to get carried away and use all those pre-drilled holes. I wanted to leave this old dear some room for surprises once the honeymoon is over.
Still at the hardware, I found a sheet of Melamine for $4.96. Perfect size to make three shelves. My dream was within my grasp! Cupid 3rd arrow is drawn from his quiver... He takes aim...
Meanwhile, I was keen to reunite with my new love, but I wanted to ensure that my contribution to this relationship was equal. So, I located some small plastic craft drawers and a couple of plastic take away containers I had in another cupboard. These would hold the little things in life and fit perfectly between baskets or on a shelf. I couldn't wait to return. My heart had definitely grown fonder...
As our eyes met, I was shocked to see something that I hadn't noticed before. His crowning glory... like Fabio's flowing hair... a top shelf... bragging space for finished photo albums. The attraction was electric. I had fallen in love. Cupid's 3rd arrow sunk deep into my heart...
But like all good romance stories, fear raised its ugly head. I hesitated. Had I jumped in too soon? I could hear "Love is blind" ringing in my ears. I worried that I'd soon tire of this not so young yet comfortable old flame.
I didn't hesitate for long. He may not be as stunning as that international model, online. But, like most images of those out-of-our-league, rich, internationals; their photos are probably air-brushed! Besides, my rekindled romance holds fond memories of the past, shared together.
This one's definitely a keeper!
I'm ready to commit. But I'd best check his financial status before giving him an answer.
Cost $6.38. Great! No credit card debt looming ahead. No awful arguments about what could have been. $1,495.00 and that's just the model I saw. I forgot to mention, he's an American. So I'd have to add transport costs. Shipping just to get him to the edge of the U.S.A is $175.00 then there's the unknown expense of flying him to Australia and the costs of getting him from the airport to my door. Potentially huundreds, if not thousands of arguments to be thrown in my face somewhere down the track.
Yes. I'm ready to say commit. I'm happy with my diamond in the rough. Confident we'll live happily ever after.
Contributed by: Anne Shaw