"Secrets to Saving Money in Australia" Free Newsletter - December 2009
This issue includes:-
Sad Sally, Happy Hanna: Are You Lonesome Tonight?
January is No Screens Month!
Best of the Vault: Turn on Fun without TV
Best of the Forum: Turning it Off
Decluttering Competition Winners!
Sophie Gray: Feeding the Whanau
Penny's Blog: Divided We Fall
Homeopathy Corner: Silica in the Garden
From Last Month: Christmas Day Surprises
This Month's Help Request: Student Life without Deepening Debt
Savings Story: Six Months of Simple Savings
---
Happy New Year!
I hope you had a fantastic Christmas! Another year is coming and it is exciting. I'm really looking forward to it and using the War on Debt Calendar. January, 'No Screen Month' is going to be fun. Although, this month our family has an advantage. We threw out our TV's 13 years ago. It has given us so much free time. The time others spent watching TV, we spent building Simple Savings. If we still had a TV, I often wonder if Simple Savings would exist.
Think about it; the average person watches 21 hours and 46 minutes of TV a week. So for two adults (Matt and I) that's 43.5 hours a week. 43.5 x 52 is 2262 hours a year, and it has been 13 years since we threw out our TV's. That is 29,406 hours or 1225 days (over three years!), of extra time Matt and I had that TV watchers didn't, just because we threw out our TV.
So give it a go and write in. Please tell me how you find it, what were your biggest challenges? I'm looking forward to hearing from you. I love reading your emails. It's so much more fun than being a zombie in front of the telly.
"I heard about this site when I heard an interview on the radio about the $21 Challenge book. I've since joined up and am really enjoying looking around the site. It's the most comprehensive list of hints for saving money I've ever seen. I can't wait to get my turn on the computer each day to read more! So far I've cleaned my whole house with vinegar, water and eucalyptus oil. I've also started to learn about menu planning - something I've never done. Keep up the good work. I work full time and hubby has been studying for three years, so I really appreciate any tips to save money. Thanks heaps." (Jill Wilson)
"Hi! I am a new member on this site, and I love it - who wouldn't? Every time I receive my Hint of the Week email, I make myself a nice hot cuppa so I can sit and enjoy reading it!" (Debbie Whitworth)
"I can easily say that I am looking forward to Christmas this year. It will be the first year in many that we will be credit card debt free! Since joining your site I have followed lots of advice, one tip being 'cut up your card'. It was very difficult at first to live without it but I'm so thankful we have. We finished our Christmas shopping on the weekend and still have money left in the bank. I can't tell you how wonderful that feels! It has made this Christmas a lot less stressful and we can take advantage of anything we need in the post Christmas sales, saving us even more money. I hope you all have a debt free and happy Christmas too." (Kym Nind)
"I just wanted to say thank you for having the brainwave of setting up this site and also a big thanks to all the members who are so willing to share their knowledge with others! I joined Simple Savings just over a year ago and I'll admit I was a bit dubious so I signed up for the free newsletter. After reading a couple, I was convinced it was worth it and joined up.
"At the time I joined I was $8000 in debt and was starting to despair as to how I'd got myself into this situation and also how I was going to get out of it! With the help of Simple Savings I reduced my total debt down to $0. My goal then was to save enough for my partner and I to travel to Europe for a long holiday. I don't feel like we have had to sacrifice a lot (if anything at all) and although we have had the usual obstacles this last year, I am now debt free and we have booked and paid for a nearly three month trip to Europe for June next year! We cannot wait! It feels great not having to borrow money and end up in debt to travel as so many of my friends have.
"I am so glad I found this site and wanted to say a big thank you because without Simple Savings I don't know if I could have done it!" (Theresa Holland)
All the best,
Fiona Lippey
P.S. Book update

Guess what, we got a fantastic review from Maggie Ball from the Compulsive Reader. Here is the first paragraph. To read the rest of the review follow the link below.
"It isn't so much about making do with less, as about how best to use what you've got and driving your spending by a well thought through process of planned expenditure. Don't expect any new age claptrap here though. Instead, Lippey and Gower have created a very practical, fun, cartoon rich book that will appeal to just about anyone and will add value to any household whether it's used as an occasional tool to save up for something or as the start to a major life-change."
http://www.compulsivereader.com/html/modules.php?name=News&file=article&sid=2393
P.P.S. War on Debt calendar
This coming year, this newsletter will follow the challenges set out month by month in the War on Debt calendar we gave you for Christmas. If you haven't got your copy or you would like to read more about it go to:-
www.simplesavings.com.au/warondebt
---
1. Sad Sally, Happy Hanna: Are You Lonesome Tonight?
Sally sat at the dinner table alone, silently eating her meal. Christmas with Edna had been lovely. Everyone had sat around the table and chatted and laughed - but now it was back to the same old routine. She knew where the rest of the family was without even looking. Pete was eating his dinner on his lap, watching the news. One child was in his bedroom playing the Playstation, the other was glued to a computer screen.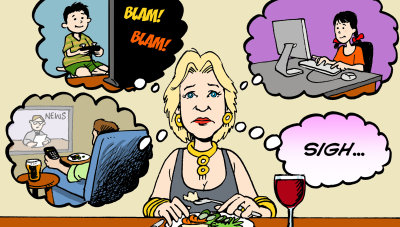 When did we all stop talking to each other? Sally wondered. She thought back to when the kids were small, before video and computer games became part of the furniture and took up all their spare time. They never did anything as a family any more - not even something as simple as eating dinner together. Sally looked around the kitchen sadly - and caught sight of the new calendar on the wall. With a gleeful smile she jumped up from the table. Time for action!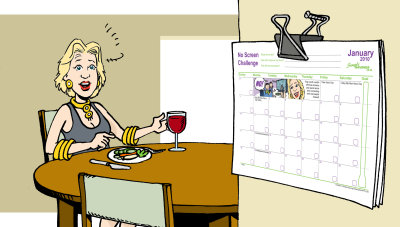 "Right you lot! Our new calendar says it's No Screens Month - and I reckon it couldn't have come at a better time. I'm sick of eating dinner by myself night after night. Turn those things off and come and sit at the table with me. NOW!" she barked, turning off the TV and computer as she went. The kids were aghast. "Dad - do something! Mum's flipped her lid!" they wailed. "Not this time guys," smiled Pete. "I'm with your mum on this one. It's time to bring this family back together!"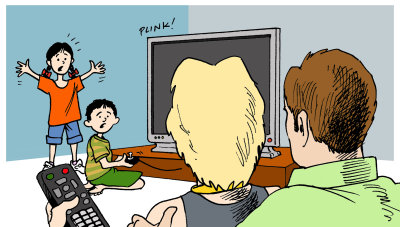 ---
2. January is No Screens Month!
For many families in this day and age, Sally's situation is all too familiar. The screens many of us spend hours glued to each day connect us into the matrix and disconnect us from our families. But how will switching off your screens save you money?
Think back to the old days. If companies wanted a sales team to corner you in your home, they had to pay people to literally walk from door to door, selling their product to each individual home. But once we all had television sets, everything changed. Suddenly, all they had to do was get a spot on the box and they had their foot jammed into a million doors all at once. A million people all watching the same sales pitch, hanging on their every word.
Companies became so good at using the TV to sell to us, we never even realised we had let the sales team through the door. Corporations quickly learned that they could shift heaps of product as long as we kept watching the screen. So they invested stacks of money into making sure their shows were so interesting we would drop what we were doing, ignore everyone and give the TV our complete, undivided attention.
Companies were in heaven - all these people they could potentially sell to! And sell they did. A great example of mass selling is what we commonly refer to as the 'soap opera'. These were invented to get women to watch TV during the day, so that companies could sell them soap. Really! But they didn't just sell soap. They sold us cars, they sold us lifestyles, they sold us 'food'.
The reason soap operas sold so much stuff is they took advantage of a very basic human survival trait; our ability to learn and copy our neighbours. There is nothing wrong with wanting to copy your neighbours, to dress like them, be like them, spend like them. Generally, copying someone successful is the quickest shortcut to success. But the people on TV are only pretending to be successful. They are only pretending to be our neighbours. They are only pretending to be our companions. They aren't real. They are just sales people manipulating our survival instincts to flog products.
The desire to copy our neighbours is so strong in humans that we can't switch it off. The only way to stop sales teams from using it to weasel money out of you is to switch off your screens. This way you can block the door to door sales people from coming into your home. You can stop them from walking through your door. All you have to do to save some serious money is switch off the screens.
So this month, break the spell of TV. Switch off the screens and reconnect with your real friends and family. It may take a little while, we know how addictive the screens can be, but give it a go. In time, your home and your bank balance will be a whole lot happier. If you find you really can't do without your screen fix, do yourself and your loved ones a favour and 'tune in' to Simple Savings instead. Check out the masses of free information, or bite the bullet and join up to our paid area, the Savings Vault. Unlike television, we offer a 365 day 'no questions asked' money back guarantee, so you really do have nothing to lose. We are also an advertising free zone and will show you thousands of ways to SAVE money in the real world, rather than spend it!
Find out more about the Vault here.
---
3. Best of the Vault: Turn on Fun without TV
If sitting around the goggle box is being used as a poor substitute for family time, now is the time to break the cycle. These inspirational ideas from the Savings Vault will soon have you reaching for the 'off' button!
Huge benefits without a TV
For the last four years, our family has not owned a television - and we don't care! When we first moved in together, we decided not to have a TV. As a result, we have two little boys who would rather go outside and play. We do more things as a family and I still get plenty of time to myself! I believe my children are going to be smarter, healthier and will benefit greatly from not being exposed to all the stuff on TV. We gain more time together as a family and have a cheaper electricity bill to boot. It takes dedication, but it's well worth it!
It's important to have fun
During stressful times, it's important to blow off steam and have some family fun. Here are a few affordable ways for you to enjoy some quality time with your kids.
Pick up some cheap sports gear from the op shop or the local dump recycle shop. For example, I recently spent $6.00 at a dump recycle shop and picked up two cricket bats, wickets and a few balls. Take the kids to the park so they can have fun with their sports gear, or if they're still too young to participate in general sports, go to parks with lots of play equipment.
Take a picnic lunch with you. For just a few dollars, you can buy some bread, sandwich meats, cheese and salads from the supermarket. Much cheaper than buying take away! For drinks, take some bottles of water from home.
If the park is close to your home, leave the car at home and walk. This saves money on fuel, builds your energy levels and keeps you healthy.
It will cost just a few dollars to spend a day at the park with lots of sports gear and a picnic lunch. It's a cheap way for everyone to have fun and relieve some stress at the same time!
Ditch the TV
One of the best things I have ever done is ditch my television. Here's why you should do it too.
You can earn some extra cash by selling your TV.
You no longer waste time sitting in front of the box every night. You can use the extra time to invest in personal development or to do things you enjoy. Save some cash by starting a home vegetable patch or free up your weekend by doing household chores at night, instead of watching television.
You are no longer bombarded by advertisements which make you want to buy more than you actually need.
Forgetting about the television has been a win-win-win for me!
Affordable and rewarding family fun
For a cheap family fun day out in the fresh air, go fruit picking! Our family saved heaps and had a ball when we went cherry picking a few months ago. We picked four kilos of sour Morello cherries for just $7.00 a kilo and the farm provided us with buckets and little scissors. You can cook up your picking to your heart's content and make all kinds of delicious things. When we got home we had great messy fun pitting all the cherries and then made cherry cobblers. A really cheap and enjoyable day out, with plenty of fun and a yummy dessert to boot!
We picked our cherries on the Mornington Peninsula, but there are several locations where you can pick your own fruit; some examples are listed on this website:
http://www.peninsulapages.com/produce-nurseries.html
No ads, no financial stress
Advertising works. Just go without TV ads for a few weeks and you'll see what I mean!
When we moved into our farm house we noticed that the previous occupants had removed the TV antennae; therefore we had no reception. After two months of no TV, my husband bought the children a DVD player so they could watch movies. It has now been 10 months with no television and we are saving a fortune. Why? The children don't ask for so much because they aren't bombarded with advertisements!
No more bickering, lots more fun
Like most families, our children love TV, computer games, the Internet and all other forms of technology based entertainment. We are an active family, and the kids play sport, but we were concerned with the bickering that went on when it came time to choose what channel to watch, whose turn it was on the computer and so on.
We decided that every third day was a 'No Power Day', meaning no TV, computer, radio/CD player or Game Boys. While hesitant at first, the kids now love the idea and mark the calendar at the beginning of each month with 'No Power Days'. If any of the children catch someone using power on that day, the culprit has to do the dishes until the next 'No Power Day'.
On a typical 'No Power Day', the kids might start a Monopoly game that goes until bedtime, be outside making bike jumps or down in the bush building cubbies. While the dollar value is hard to judge, the bonding value is fantastic, the health value is priceless and it is great to see the kids self regulate. This rule stays in place even when they have friends over and all the other parents love it!
Hours of TV free entertainment with fish
Keeping fish is a relaxing pastime away from the television and can be done quite cheaply. The trick to avoiding large costs is to keep your set up simple. The fish won't mind if you don't go out and buy everything new at once. We built our own large fish tank from pieces of glass picked up at a recycling centre and used some aluminium as the framework. This saved us nearly $200! The biggest expense, however, is usually the pump you use and it is essential to the health of your fish to have a decent one. If you can't build your own have a really good look at your local Sunday market for someone who has a complete set up and no longer wants the hassle of keeping fish. Otherwise an op shop or second hand dealer will also be good places to look for a tank and accessories.
'Freebie hunt' makes outings fun
We were pleasantly surprised to find that it IS still possible to enjoy a fun-filled family day out for as little as $20! When we recently took our two children to the local regatta, we agreed we would take no more than $20 with us to spend, even though we thought taking such a small amount to last the day was a bit of a joke. On arrival, we told the kids that we would look at all the rides and stalls first and then whatever they decided to do after that was fine with us. They chose to go on a ride that cost all of us $5.00 each, which used up all our money at once but it was their choice and was a lot of fun. After the ride had finished, the inevitable pleas for more rides started but we reminded the kids that all our money had now gone. 'So now is the time to see how much we can try and get for free!' I suggested. The kids weren't convinced to start with but couldn't believe it when around the very next corner we found a man handing out free gift bags and helium filled balloons. They were pretty impressed with that but to top it all off we also managed to see a puppet show, wood chopping and boat show, all for free!
---
4. Best of the Forum: Turning it Off
Our clever members started their own 'No Screen' challenge a while ago. See how easy it is to make the change with a few great ideas!
read more...
Amanda has had enough and imposed a TV ban in her house. After six months, her daughter is inspired to take up the piano again!
read more...
Here are some great ideas to get you started. Remember to add your own ideas to the thread to continue the flow!
read more...
Amanda is trying hard to allocate special time for her family and partner. The members have some wonderful ideas that are sure to inspire you.
read more...
If you are concerned about how much TV your child is watching then join this thread and support each other in cutting back!
read more...
---
5. Decluttering Competition Winners!
Wow! Our recent '100 item' decluttering competition was an outstanding success! Everyone who entered our competition deserves a gold medal, but five people stand above the clutter and have each won $50 for their efforts! Here are our winners:
Deirdre Ross
Deirdre Ross didn't declutter 100 items - she got rid of more than 500! Deirdre took a methodical approach to her decluttering, breaking it down into a series of challenges. She also inspired her family to help her, including her hoarding husband and her teenagers. Deirdre's decluttering is a work in progress, which she records on her blog - www.dee-clutteringmylife.blogspot.com
Deirdre says:
"This challenge has changed my life. It has also changed the life of my hubby and our kids. Once we got started, we began to look at things differently. I recently read in a blog somewhere that 'you can't organise clutter; you can only get rid of it'. That comment really hit me. I have now got about a dozen empty plastic crates with lids!
"Our previous home was part of my work contract and when I left my job due to ill health we had to leave our home. It has been hard on all of us. I am using this challenge to help me to focus, to heal and to make some big changes in my life. I can't say enough how much difference it is making around our home. I don't just mean in terms of stuff either.
"Our relationships are changing because of it. Our attitudes to the things we own are changing. It is affecting our decision making on several levels. Even the way we view our time is changing. Who would have thought it possible? Not me that's for sure!"
Amy Bell
When Amy moved to a smaller property with less storage space, she wasn't worried. After all, they didn't have that much stuff, did they? Wrong!
Amy says:
"I currently have 138 items on my list to get rid of, still finding more easily and not all little items at that. Our biggest declutter would be disconnecting our phone and Internet, which will save us $130 per month and means we no longer need the computer table. This will give us valuable room in our new house and also mean we spend more time together. I'm still decluttering as I'm unpacking and it will continue until my home is in a manageable condition. I have only managed to get through about a third of the boxes and the house is already full. Thanks to this challenge I will no longer need to purchase another cupboard to store stuff in, saving me $350 on the one I had planned to buy!"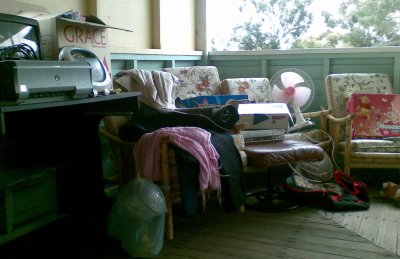 Alison
A marriage break-up inspired Alison to declutter. Through this sad time, Alison put a positive slant on things by cleaning her home and giving items to her husband so he can re-start his life too. This wonderful, caring attitude is certainly deserving of a prize.
Alison says:
"Gone are the old towels that I thought may come in useful one day.
Gone are the kids' beanbags that took up way too much room in their bedrooms.
Gone is the doona he purchased off 'Mornings with Kerri-Anne' when he was on night shift (despite me having just purchased a perfectly good one!).
Gone are the director chairs that my teenage son's mates had written their names across the back.
Gone is the old set of cutlery that I'd just replaced.
Gone is the set of very expensive, copper cookware that always looks like it needs a good clean.
Gone are all those cleaning products that looked like they may work!
Gone is the outdoor table that lived under the house.
And, best of all - Gone are those 5 kilos I've been carrying around since baby number one was born 19 years ago! Who says stress is a bad thing!"
Jodie
Jodie didn't just declutter her own house - she got the whole street in on the act as well! Jodie sent fliers to all the homes in her street, inviting them to get involved in a giant street garage sale.
Jodie says:
"We ended up with nine homes participating, and held a sausage sizzle to raise money for Zhenya (an orphaned little boy in Europe with Down Syndrome). I'm not sure how much money was made but we had over 100 customers each by 7am, let alone by the 12 o'clock closing time! There was a very festive mood, customers and residents were all in good spirits, and I made a couple of hundred dollars from rather small items that were just cluttering up my home and life. Money was made, the fundraising was a success, we got to know neighbours we didn't previously know, and our homes were decluttered. Everyone was a winner!"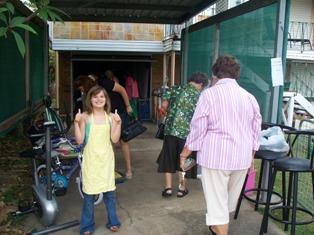 Sarah Booker
Sarah Booker feels great after watching a truckload of rubbish being driven away from her house! Sarah is amazed at the difference her decluttering has made to her home, and says she still has a way to go - but a truckload isn't a bad start!
Sarah says:
"It's amazing how much of a difference something so simple can make, Our smoke alarm battery went flat last week and because I had just the day before cleaned my kitchen cupboards and drawers I was able to go straight to a new battery... a week earlier and I would have been off to the supermarket to buy a new one. I just can't believe how much junk can be accumulated by three people and how we managed to live with and fit all this surplus stuff into our life and house!"
Congratulations to all our winners. Because of your decluttering, you've cleared a space in the heart of every Simple Saver!
---
6. Sophie Gray: Feeding the Whanau
We've always put a high value on 'family dinners'. For us that means a big table, favourite foods and lots of laughing with the Whanau (pronounced 'far-now'), as they call it in Maori; the close and extended family. Our young 'uns consider 'family dinner' on their birthday more important than a party. If it's a choice between one or the other they choose the dinner. The 21 year old twins make a point of being at the dinners of their young cousins - and not just because the food is good!
It's become increasingly rare for several generations of a family to be able to share a meal together, and those who can't, crave that kind of 'connectedness'. Johnny, a 21-year-old uni student who boards at my sister's has been present at a number of our dinners and recently asked if he could have one for his birthday - so we all trooped round and 'family dinner'd' him. We also held a 'family dinner' for fellow uni student Calvin a couple of weeks ago. Calvin lost his father a few years ago and his mum moved overseas. You would think these young men would be out partying (ok - they do that too) but they want something more. Something that only home, and 'Mum and Dad' (or a substitute mum and dad), the Whanau, and good food lovingly prepared for them can provide. Those meals nourish more than just their bodies. It's about nourishing the relationships and spirits of our Whanau.
When organising your own 'family dinner', it's good to bear the following in mind:
Family dinners need to cater for a wide range of tastes. Often our elders don't cope well with very rich or spicy food and nor do the littlies.
The essence of family dinner is being together - not slaving in the kitchen. Keep it simple.
Dessert is essential; it's the bit that makes them feel pampered.
Share the work - let people contribute, be it drinks, a side dish, a tub of ice cream...
Make it a sit down meal. It's about everyone eating together around the table, because important stuff happens when we do that.
Cannelloni for a crowd
This recipe makes a roasting pan full of savoury cannelloni. It's a lot less fiddly than it looks and is ideal for a hungry crowd. You can double it or halve it. Leftovers can be frozen.
Serves 8
1 kg lean beef mince - stock up when on special and freeze
2 cans condensed tomato soup
3 400g cans chopped tomatoes
2 onions, chopped
3 fat cloves garlic
2 heaped tsp mixed herbs
1 bay leaf
¼ cup tomato paste
2 cups beef stock
1 tbsp brown sugar
2 400g packs fresh lasagne sheets or use home-made pasta
1 ½ tbsp butter
1 ½ tbsp olive oil
4 tbsp plain flour
600 ml low fat milk
Salt and pepper
1 cup loosely packed grated cheese
Pre heat the oven to 170°C
For the filling:
Heat a large saucepan and gradually add the mince, stirring continuously until all the meat is used. Stir until browned and you should not need to use any oil.
Add the chopped onion and garlic to the pan and cook till soft then mix in the two cans of soup and one can of tomatoes, the herbs and bay leaf, then simmer for 10-15 minutes.
While the meat sauce is cooking, melt the butter and oil in a medium saucepan and using a balloon whisk mix in the flour. Cook the mixture for 1-2 minutes over a gentle heat then add the milk gradually, whisking thoroughly after each addition forming a lump free sauce. Simmer gently, stirring with the whisk until the sauce thickens, season with salt and pepper then set it aside.
To assemble the dish spread a thin layer of the meat sauce over the base of a large roasting tray. Cut the lasagne sheets into 24 strips, place a spoonful of mixture into the pasta and roll up like a tube and place in rows in the tray. Use three quarters of the meat mixture to fill the tubes, the remainder will become a thin sauce.
Return the remaining meat mixture to the heat, add 2 cans of tomatoes, the beef stock, tomato paste and brown sugar and simmer for 5 minutes. Spoon the thin sauce over the whole pan, easing the sauce in between the tubes and allowing it to work its way around the sides as well. Give the tubes a gentle press to slightly submerge them then spoon over the béchamel. Top with the grated cheese and bake in the pre heated oven for 40 minutes.
Good roast potatoes
The best roast potatoes are crispy golden and sticky on the outside and fluffy inside. Drippings from a roast, chicken in particular, make the best and tastiest roast spuds. If I am not cooking a roast, then a combination of olive oil and butter will suffice.
1 medium potato per person or more if feeding teenagers, (choose a floury or an all purpose variety)
Slosh of oil
1 tbsp butter
Salt
Preheat the oven to 200°C
Peel the potatoes and cut into biggish, even size pieces - too small and you will end up with all crispy crust and no fluffy spud.
Place the prepared potatoes in a large pot of cold water, add a pinch of salt and bring to the boil. Boil for 2-3 minutes then drain. Return the pot of potatoes to the heat to dry out- shaking the pot to turn the spuds and rough up the sides of the potatoes, scuffing them results in a crispier finish. Sprinkle lightly with salt.
If cooking a chicken or joint pour off enough of the drippings to thinly coat the bottom of a shallow pan, if not roasting anything else then put the oil and butter into a large shallow roasting pan in the oven to heat, toss the potatoes into the hot pan and roll them around in the oil. Bake the spuds turning occasionally till crisp and golden.
Self saucing chocolate pudding
This classic family pudding is easy to make and with its layer of thick sauce underneath, looks wickedly indulgent. Serve it with cream or ice cream. Rather than doubling for a big group and trying to cook a huge one, make two or more, they'll cook more reliably than a giant one.
Serves 6-8
1 cup plain flour
2 tsp baking powder
¾ cup packed brown sugar
3 tbsp cocoa
60g melted butter
½ cup milk
2 eggs
1 tsp vanilla essence
Pinch of salt
and...
another ¾ cup brown sugar
2 tbsp cocoa
1 ¾ cups boiling water
Pre heat the oven to 180°C
In a bowl combine the flour, baking powder, cocoa and brown sugar. In a separate bowl mix together the melted butter, milk, eggs, salt and vanilla essence.
Stir the liquids into the dry ingredients to make a smooth batter. Pour into an oven proof dish.
Mix together the second measure of brown sugar and cocoa and sprinkle over the top of the pudding.
Hold a serving spoon over the pudding and pour the boiling water over the curved back of the spoon, gently onto the pudding. The water will completely cover the batter.
Place the pudding into the oven and bake for 30-40 minutes until the pudding is well risen and springy. Serve warm with cream or ice cream.
Gluten-free: Replace the flour and baking powder with gluten-free flour, and gluten-free baking powder.
Dairy-free: Replace the butter with dairy-free spread and use soy or rice milk.
---
7. Penny's Blog: Divided We Fall
Dec 15, 2009
When it comes to parenting, as in most things, Noel and I are chalk and cheese. This is becoming more obvious than ever now we are the parents of a teenager. He's the one who cracks the whip, where as I'm considerably more laid back. That's probably an understatement. If it wasn't for Noel we would live in total chaos, be late for everything and probably never eat any vegetables. I admit, before now the kids and I have had a tendency to roll our eyes and mouth 'old fart' to one another when he starts harping on. 'When I was a boy the only time I got given fizzy drink was when I scored a try in rugby!' 'When I was your age I didn't spend a cent on skateboarding - I MADE my own skateboard using an old beer crate and the wheels off my Tonka truck!' And so on, and so on...
The thing is, as I try to gently remind him, it's been 25 years since we were Liam's age. Times have changed. The reason that we didn't spend every waking hour watching TV or playing video games was because they didn't exist. We had to find other stuff to do. I agree wholeheartedly that times haven't changed for the better but I'm pretty philosophical that there's not a heck of a lot we can do about it, so we just have to go with the flow. As I said before, if the 'Consuming Kids' documentary had been made 10 years ago I would never have let my kids watch TV. It's like smoking really. It's only now, after a generation has been ruined by it that we can say to our kids 'Yep, that was a really bad idea! But we didn't know back then'.
Somehow over the years we have ended up with all manner of video games, from Playstation to Nintendo. Our kids have also ended up with mobile phones. I'm not saying I like it but I don't think it's the end of the world. They spend just as much time outside being active than they do occupying themselves with electronics. Compared to a lot of other kids I know I think they have a pretty good balance and if the two of them having phones gives me greater peace of mind as a parent now they're old enough to go out and about without us, then that's a good thing. Noel on the other hand hates anything with a screen (except the fish finder on his boat!). But most of all, he hates a more recent phenomenon called Facebook. I really didn't understand what his problem was at first, I just thought 'here we go again!' Personally I thought it was brilliant. Now all my old friends from the other side of the world could track me down and vice versa, woohoo! Before long I was happily adding friends I hadn't seen or heard from in over 20 years. It didn't matter that we never got around to actually writing anything properly, at least we knew how to get in touch with each other if we wanted!
Things pootled along for a while and I kept on collecting and adding more friends. As far as I was concerned it was the perfect way to keep in touch in today's busy society. It took no real effort, all you had to do was say a few words and everyone was in the loop! Then the games started and all of a sudden Facebook took on a whole new dimension. The people joining up were getting younger and younger. They weren't supposed to be but what the heck, anyone can put in a fake birthday. My kids joined and added me as their friend. I didn't mind - at least I could keep an eye on their online environment, unlike other similar websites. That was the joy of Facebook after all, everyone can see what everybody else is doing or saying! The thing was, the more time I spent on the site, the less I liked what I saw.
I soon realised that although I was keeping an eye on my own kids, most of the other parents out there weren't. Kids forget to behave on Facebook. They're so busy trying to act cool and impress their friends that they forget they've added Auntie Flo or their parents' friends - or me. Sixteen of my Facebook friends are school children. Never mind that two of them have never spoken to me and pass me in the street! It's all about collecting 'friends', every teenager wants to have the most. At first I thought it was nice they thought I was 'cool' enough to be their friend but unfortunately most of them have shown me a different side to them. Kids I have known and liked for years use language on Facebook you wouldn't believe - words they would never dream of using in front of me or other adults in person, but they use no consideration online. On Facebook you can find thousands of different quizzes so 10 year olds can predict how and when they are going to die or broadcast to their friends and relations how big their penises are. All they have to do is answer a series of easy questions. What fun!
It's not just kids though. Facebook is robbing grown men and women of hours of their lives too. I'm always amazed at how much time my own relatives spend on it. My aunts and cousins can often be found playing games and posting messages at two or three o'clock in the morning, night after night. At first I thought it was cute that they were getting all tech-savvy, but now I think it's sad. What are their poor husbands doing, sitting twiddling their thumbs each night while their wives are tapping away on their keyboards? Instead of sitting and talking to each other of an evening, they're now kept apart after years of comfortable companionship by 'virtual others'. Saddest of all are the times I've seen my cousin posting on Facebook in the middle of the night, frantic as to the whereabouts of her 13 year old daughter, who hasn't come home. Perhaps if she and her husband spent time together as a family, instead of sitting on Facebook on their individual computers every evening, they might know where she is. Heck, the girl might have something to actually stay home for! Unfortunately they choose to communicate with people through a computer screen, rather than with their own kids. Apologies if it sounds harsh, but I've seen it.
Noel goes as far as to say that Facebook is actually damaging the economy. I laughed when he told me that - but a few months down the track I think he's right. People just aren't getting things done any more; they're too busy feeding fake fish in fake fish tanks, harvesting fake crops on fake farms and playing Mafia Wars to get round to doing their work or even doing something as simple as putting the washing out. I know this for a fact because one day the rest of the family was out. My plan was to clean the house. I ended up spending the entire three hours playing Bejeweled Blitz on Facebook. Yes, I am very embarrassed about it and no, I haven't played it, or any other game since!
The last straw was finding Liam sitting on Facebook cleaning out fake kitten poo from his 'Happy Pets' game on a gloriously hot day when we would normally have gone for a swim or played cricket. I told him in no uncertain terms that life is too short to waste it doing stuff like that and it has now been effectively banned in our house. I'm keeping my account open in case any of my old friends want to track me down one day and correspond properly but there'll be no more games or posting for me. I apologise to any diehard Facebook fans for any offence I've caused but from now on, I'll be writing proper letters, the old fashioned way. I appreciate that for people who are truly lonely something like Facebook is a lifeline, a welcome link to other people but in my experience for those with families, all it does is keep them apart. No more wasted hours for us!
4th - Be careful what you wish for
14th - Deck the malls...
28th - Christmas Spirit
---
8. Homeopathy Corner: Silica in the Garden
We are often asked 'why do you include articles about homeopathy in a newsletter about saving money?' The reason is, homeopathic remedies are very effective and unbelievably cheap for what they do. If homeopaths taught doctors how to prescribe the remedies instead of antibiotics and other ridiculously expensive drugs, Australians would save billions of dollars per year on health care.
There is something primal about the remedies. Somehow they tap into an ancient language inside our bodies, literally teaching them how to heal themselves. And, whatever it is, is so primal that even plants and soil will heal when given the right remedy. This month, Fran explains how the remedy Silica does just that. Silica can help trees, plants and flowers to flourish - it can even green the desert!
To read Fran's article about using Silica in your garden go to:-
homeopathyplus.com.au/hplus/agrohomeopathy/homeopathic-silica-the-gardeners-friend.html
---
9. From Last Month: Christmas Day Surprises
Last month Sophie Denman asked:
"We have a mixed bunch of teenagers and small children joining us for Christmas Day. I've run out of fun activity ideas to do with my family. In past years we have all ended up bored within a few hours of opening presents and the whole day is a real fizzer. Can anyone suggest some fun activities that the teens won't think are too lame to participate in? I really want to make the day memorable this year."
Fear Factor Christmas
One year we had a Fear Factor Christmas, and it was up to each person whether or not they wanted to participate.
Our first dare was to drink a raw egg - most of the entrants got through that one. The next dare was to eat a piece of offal! I had gone to the local butcher and bought a liver and a kidney, cooked them and put them on a plate, just like they do on the TV show. This really sorted the men from the boys! The final dare was to let a spider crawl up your arm!
This was such a fun day. Some days later, our neighbours asked us what we did on Christmas Day, because there was so much laughter coming from our house! I had been given a bottle of Kahlua as a present and was pregnant at the time, so I donated it as a prize, but any prize will do, for example, not having to help with the dishes if you win!
Festive season silliness
We have had lots of fun in the past with a number of silly activities, including:
- Water balloons and water pistols
- Indoor bowls
- Karaoke, bought cheaply from discount retailers
- Old fashioned board games like Taboo and Pictionary
- A treasure hunt
- Big art - a large cheap canvas and lots of paint pots and brushes. Do this outside and be sure to provide old shirts to the younger artists.
Fuss-free fun
We have had up to 30 people at our home on Christmas Day, so a few years ago we decided to do something a little different.
When everyone arrived, they were served drinks and nibbles and then were sent off to the local park for a game of cricket while Gran and Mum stayed behind to put the finishing touches on a late lunch. Everyone came home from the park hungry and thirsty and ready to tuck into their lunch.
After lunch, we opened presents and then relaxed with a few hours of light hearted chit chat followed by a game of charades. The whole day was fuss-free, rather than the rip and tear on arrival.
Be board this Christmas
I spent Christmas with a close family friend a few years back and we had the best time with good old board games. Some of the games we played included Wheel of Fortune, bingo, Scrabble and Pictionary.
There were people of all ages and everyone was in fits of laughter. Nanny, as we referred to her, had collected prizes during the year including scratchies, biscuits, soft drinks, kid's toys from op shops, books and chocolates.
Smaller prizes were awarded for winning a round of each game and larger prizes to the winner of the most rounds. To add to the intrigue, the players did not know what they were going to win, as prizes were drawn out, just like a lucky dip. At the end of the day, if you wanted to swap your prize for something else, you had to rely on your negotiating skills!
Plan your day
Keeping everyone happy on Christmas Day depends on the different ages and attitudes, but here are a few things to try:
Don't start too early. We traditionally open most presents after church and before Christmas dinner. If you do this, have nibblies and don't rush the dinner, as the kids will want to play with their new toys anyway.
Allow for people who need naps after lunch, including the cook! This is the time for the rest to play with quiet toys or read, listen to music or play computer games.
Everyone can play backyard cricket when it's cool enough outdoors. Encourage the older kids to help the little ones.
Limit the grog!
Encourage the older ones to tell funny stories about Christmases past. Family stories help unite us.
Get everyone to help with something. The boys can carry furniture or heavy roasting pans, while the little kids can put out cutlery. Working together is unifying, especially if the job you get is a bit more grown-up than the usual.
My only activity suggestion - ask the teens to arrange the cracker jokes in order of lameness.
Make it memorable
This year, my kids and I are not so worried about gifts and more interested in enjoying a day we'll all remember.
We are hitting the beach early with a yummy morning tea, followed by hot chips for lunch, which means we'll bypass Nanna's massive traditional lunch. We'll join the rest of the family at Nanna's in the afternoon, where we'll frolic in an above-ground pool that I bought during a half price sale last week. Nanna has bore water, so we'll set up the pool the day before and enjoy the cooling water on a hot Christmas Day - that will take the boredom out of the afternoon for sure! Here are a few other ideas for you:
Why not get the kids to make a gingerbread house? Better still, have the slabs made and ready to go and then get the teens to arrange and decorate it.
To preserve memories of Christmas Day, give them a video camera or camera and ask them to go around and take photographs. Later on, if they have access to a computer, they can turn the photos into a slideshow or DVD movie.
Everyone will love a funny pass the parcel, with a small gift inside for the person who best meets a certain challenge, for example, the person with the best 'Ho, ho, ho' and so on.
Christmas karaoke
For traditional family entertainment on Christmas Day, why not sing carols? One year, I purchased a Christmas karaoke DVD at a discount retailer. We had so much fun singing Christmas carols with family and friends, while having a laugh at the karaoke footage at the same time. Competitive types could even play Christmas Idol!
Hidden treasure
Don't be too quick to hand over treats to your kids this Christmas. Make them find them instead! Hide small packets of chips or wrapped chocolates around the house and get the kids to search for them.
You can expand this game into a treasure hunt by leaving a clue at a certain spot, which leads to the next clue and, eventually, the treasure at the end. You could have teams involved in this one, with oldies against teens, and the little ones divided between both teams.
Footy fun and games
If you are a footy family, you can do a lot with a laundry basket and a football. For example, you can get everyone to have turns at hand passing or torpedo kicking a ball into the basket. Once you've got the knack, move the basket further away.
Now that you're warmed up, it's time to get physical on a tackle bag! Fill a garbage bag with scrunched up newspaper - you could even dress up your garbage bag with a crepe paper jersey and shorts, or print out the face of a famous player and attach it to the bag. Let the little kids have a go at tackling while the teens run the game, judge the best tackles and hand out rewards to the best tacklers. To make it more interesting, hide treats in the bag; let the kids have fun with the tackle game first, then tell them about the hidden treats and watch as they have fun trying to open up the bag!
Next, put your participants into pairs and give them a football each. The pairs kick the ball to each other and are not allowed to drop the ball. Winners are the pair who can make the most kicks to each other without dropping the ball.
For more ideas, visit the AFL Auskick website at www.aflauskick.com.au
---
10. This Month's Help Request: Student Life without Deepening Debt
This month Caitlyn Murphy asks:
"I'm a 20-year-old student who has had to move out of home in order to study. I wasn't really prepared for the expenses of living away from home, and as such, have incurred debt. Thanks to your site, I have ideas of what I can do to get rid of this debt, but I'm scared that next year when I go back to uni, I'll put myself further into debt. I can't do a lot about textbooks and accommodation - they're going to be huge expenses regardless of whether I buy second hand. However, groceries are a problem I feel could be handled better. My freezer space is about 30cm x 15cm x 30cm - so I don't have a lot of space to buy bulk and freeze meals, and buying fresh food for one person is expensive. Do you have any suggestions about meal ideas or ways I can cut down huge bills?"
Caitlyn is on the right track to reducing her debt. Do you have any ideas which will help her keep reducing her debt during uni next year? Submit your ideas here.
---
11. Saving Story: Six months of Simple Savings
I have been reflecting on my savings journey and thought I would share my thoughts to motivate others who might be starting their own journey.
Thinking about the past six months, my first reaction is one of sheer fatigue. As a reformed shopaholic, this savings gig is awfully hard work, but worth it. I used to see the last $100 in my wallet and start to think what I could spend it on. Now, that money stays in my wallet and it's not going anywhere.
Anyone who has been on the house deposit threads in the Forum will know that I'm trying to make up for my spendthrift ways by saving the deposit for a place of my own. Since May, I have saved $21,000 and my credit card balance is under control after reaching $12,000 this time last year - credit cards are the work of the devil!
For me, the key ingredient has been the desire to buy my own place outweighing the desire to shop. I have made many changes, and I thought I'd outline some of the things that have worked for me:
For the first eight weeks of my journey, I tracked everything I spent. Nothing like shocking your senses! I've continued to do this so I can see where my money goes and identify areas to cut back on.
As Thursday was the day I spent most money, I stopped shopping on Thursday nights. I also implemented a 'no new clothes' rule because, quite frankly, I want for nothing on the clothes front. I haven't been entirely successful, but with only three purchases in six months, I'm doing ok.
Shopping is no longer a hobby. If I go shopping, it's because I need something, for example, work shoes. I have tried very hard to lose the 'I deserve' mentality, i.e. 'I work hard so I deserve a new dress.' I have discovered that if I go out wearing something I bought a year ago, people still say I look lovely.
I love cooking, so initially I didn't set a budget on groceries; I would plan my meals and go shopping for prawns, salmon or marinated fetta. This gave me my shopping fix for the week but I've been gradually reducing my food spend.
I now take my lunch to work and have dinner at home - sounds so obvious in hindsight!
I have cut down on my daily coffee and bagel. I did a tally on how much I spent over three months and it came out at over $500! I now indulge two or three times a week; I'm not cutting them out all together as I enjoy them too much.
In order to come up with a realistic savings plan, I eventually made up a budget. For the first time I didn't see it as a restrictive thing, but a way of achieving my goals. I've now sorted out an achievable savings amount each fortnight - and yes, I pay myself first.
I put my savings test tube on the fridge and colour it in every fortnight when I get paid.
I spend more time at home. I used to go out five to seven nights a week. I also choose to stay in one Friday or Saturday night a week.
I have set up a separate account for bills such as car insurance - although I must admit that I've dipped into this account a few times. It's amazing how much easier life is with this system in place.
I give myself a generous sanity allowance. I hate deprivation so this allowance helps me plan my purchases, or go out for dinner with my friends. I now get more pleasure out of what I buy because more time and research goes into it. As I get closer to my savings goal, I'll trim this allowance.
I stick to my shopping list when I go to the supermarket.
I spend time surfing the web and reading personal finance blogs. I also read helpful books such as 'How to Give up Shopping' by Neradine Tisaj.
I have a small group of friends who are thrifty by nature, so I keep them informed of my savings progress. They are a great source of motivation when I'm feeling down about my journey.
As my journey continues, I have many more things I want to do, including:
The $21 Challenge! On my first attempt, I went to the greengrocers to buy an eggplant and ended up spending $20 on other bits at pieces. There's always a next time!
I want to declutter, so when I move into my own home I won't have too much to unpack.
Figure out how to minimise bank fees. I currently pay $180 a year for two transaction accounts and a credit card.
Find a better mobile phone plan.
Stop frittering...
There you go! That's the story of my savings journey for the last six months. I feel proud of what I've accomplished, but tired at the same time. I have done my budget for December and because of all the outgoings at this time of year, there won't be a huge amount of saving going on - but I should start the new year with a clean slate so I can continue to strive for my goals. Hopefully, the end of 2010 will see me in my very own place. Fingers crossed!