"Secrets to Saving Money in Australia" Free Newsletter - November 2008
This issue includes:-
Sad Sally, Happy Hanna: Lemons into Lemonade
The Silver Lining
December is Conserve Water Month
Best of the Forum: Water, Water Everywhere
Sophie Gray: Festive Frenzy
Penny's Blog: The Fab Four - er, Five!
Homeopathy Corner: Silly Season Remedies
From Last Month: First Time Shopping
This Month's Help Request: Games to Make and Play
Savings Story: Lesley Barber - Three Years On
---
Hi,
How are you feeling with all this talk of recession? I was a child during the last recession; my dad was in the building trade and I remember him losing his job. I remember how upset he was. He had always worked hard, went to work early, came home late and the recession was a huge slap in the face to him. But, guess what? As a child I loved it! I loved the recession because my dad got to stay home and play with us all day. He didn't have to rush off anywhere. We sat at home and played. We had a ball. I adored him being at home and thought the recession was fantastic!
So, recessions are not always the big evil monsters people make them out to be. Australia is a prosperous country. If we are prepared and we work together everything will turn out alright. Being prepared is the key! So now petrol prices and interest rates are coming back down, make sure you use that money wisely so you are in a good position when the full effects of the recession hit.
I'm very impressed with everyone's progress so far. Some of your emails blow me away!
"I just wanted to say a huge thank you and give you an update on my savings. My first goal when signing up was to change my way of thinking - I have accomplished this. I am a single mum to a wonderful 13-month-old son. I was on a single parenting pension but would spend pretty much the whole thing before the first week was even up. I decided to go back to work as a teacher when my son was nine months old, mainly for the experience and also to save for our future. In my first month I saved $400 and changed my whole attitude towards saving, thinking more long term - which to me is worth more than money. I decided to create a savings goal of $1000 a month and in October I saved a massive $1500 - far exceeding my goal. I would like to thank you for the site and changing mine and my son's life." (Amanda Porter)
"Thanks for the latest newsletter - I also want to add my voice to all the people who love Penny's Blog. The thing I like most is her refreshing honesty - it's not a 'you-too-can-be-this-clever-if-you-just-try-harder' kind of read. Besides being informative, and giving a lovely glimpse of her family life, Penny's Blog is the real journey of a real person - with all her ups and downs, hits and misses, just like the rest of us! Hearty congratulations to Penny on reaching your goal weight - you've motivated me to get a bit slimmer for Xmas!" (Tina W)
"Have been receiving your free newsletters now for over a year and can't thank you enough for all the tips and tricks! As things are tight at the moment for us (and for everyone else out there) I have been implementing things as I go along. I'm so excited about these small changes; I am trying to talk someone into giving me a Vault membership as a Christmas present! Thanks again for super ideas and wonderful advice." (Jayne)
"I just want to say how much I love this website and the people who are on it. I have had hours of fun chatting with other members, sharing experiences and getting really good advice from them. It has been so worth the money paid for the subscription and I will definitely be renewing when I need to. Thanks for a great job and a fantastic way to chat to like-minded people, not to mention all the savings tips. I thought when I joined I was pretty good with the savings but I have saved so much more money since joining than I thought possible, plus I have loved the friendship and fun of the Forum. Keep up the good work." (Saffy)
All the best,
Fiona Lippey
P.S. We are still working on the 2009 calendar. Thanks for your patience - we want to make it a super special free Christmas gift for you.
---
1. Sad Sally, Happy Hanna: Lemons into Lemonade
'What a choice!' Sally wailed to Hanna as they left the staff meeting. 'Either we all drop to working four days a week, or four of us get fired!' 'At least they gave us a choice,' Hanna pointed out, passing Sally a tissue. 'At least we still have jobs! They're doing the best they can, Sal; we're all in the same boat.'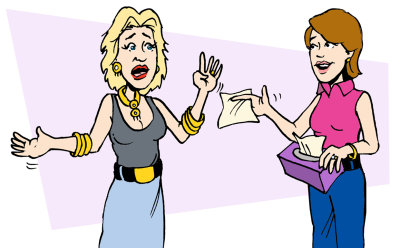 'Yeah? Well the only boat I'm in right now is up the creek without a paddle,' Sally sniffled. 'There'll be no more overtime either!' she realised in horror. 'Oh, Hanna, I just don't know how we're going to survive! I dread to think what Pete's going to say - we really need that extra money!'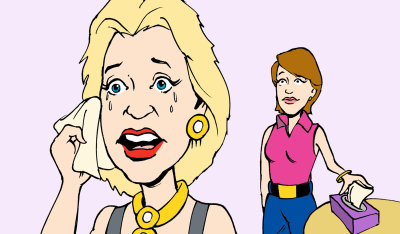 Hanna smiled sympathetically at Sally and gave her a hug. 'It'll be alright, Sal. When one door closes, another one opens. Something good always comes out of everything.'
Sally looked at Hanna as if she had just grown two extra heads 'Er - excuse me, have you gone insane? How on earth can this be a good thing?!'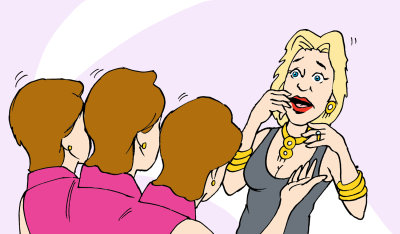 ---
2. The Silver Lining
At first, all the talk of economic doom and gloom was really getting me down. A mate at the Botany wharves in Sydney said half the trucks are sitting idle and hardly any containers are coming into the terminal. Harvey Norman's sales are down 32%. That means the recession really IS coming! At first I was really depressed about it - but then I sat back and started thinking about the positives. For example:
People have already stopped buying so much STUFF. This time last year the planet was in peril. Al Gore said we needed to reduce our consumption by 20% and we all groaned 'that is impossible!' Everyone was consuming more than they should; we HAD to have new cars and new toasters and our planet was dying under the weight of it all. It was insane to ever think we could continue the way we were going. The current economic climate may be bad for some people's wallets but it's great for the planet. At last we have stopped buying so much meaningless rubbish - that's terrific! That is great news!
We are becoming more self-reliant. The economic downturn has given everyone a good fright - and some of us really needed a good fright. We were living under a false sense of security; now we are all forced to live in the real world and stop and think about every dollar we spend. Is it a genuine need, or just a want? We have no choice but to be responsible and sensible and stop throwing money away. We are making smarter decisions and learning to live within our means at last. That is fantastic!
House prices will return to affordable levels. House prices have risen 75 per cent faster than wages over the past two decades. House prices are so silly that for a first home buyer to comfortably pay off an average home in Sydney they would need to have an income of $150,000. Just to buy an average house! The recession should mean house prices fall by 40%. When housing prices fall, so will rent. Now that is good news!
Less work means more time. Australia has some of the worst working hours in the developed world. We work 10 hours more each week than the French do. This deprives us of time to invest in our families; it robs us of time to shop around and grow our own food. This places extra stress on everybody. The recession is going to force us to slow down and in some ways that is great.
Sally doesn't see it yet but her employers could be doing her a big favour by reducing her hours. On the one hand, her pay packet is about to get smaller - but on the other, this could be just the opportunity she needs to realise that not only can she cope without it; she will also now get to spend extra valuable time with her husband and children. Sally now gets one full day off a week. She would never have taken that time off of her own accord but fate has stepped in and given her an extra hand.
Just as you can make delicious lemonade from a sour lemon, there is usually a way to turn a negative into positive. You have a lifeline, right here. With the right foresight, planning and action, you will not only survive but benefit from what could be a huge turning point in your life!
---
3. December is Conserve Water Month
December is the month to turn around your negative spending on water consumption! We are setting you a personal challenge - our family is doing it too. My own personal challenge is to put a four minute timer in my shower and see if I can get all the kids AND me showered in just four minutes.
Reducing the amount of water you use is also a great way to lower your bills and help the environment! Why not set your own challenge? Challenge yourself for 24 hours with these three easy starters:
Have a quickie! Time your showers
Did you know that the average cost of a 10 minute shower is $2.10? Crazy isn't it? What's worse however, is that most people don't just take a 10 minute shower. Multiply that by how many people take a shower each day and you'll soon see the need to reduce your time in the shower!
When you reduce your shower time you not only save money on your water bill, you also conserve water and energy. The next time you hop in the shower, start a timer and see how quickly you can get clean.
Read your meter
Being able to use your water meter could well be the absolute easiest way to detect leaks on your own. Read your water meter before and after a two-hour period when no water is being used. If the meter does not read exactly the same, there is a water leak! This could be something as simple as a dripping tap, or as horrendous as a leak from a pipe deep within one of your walls, causing untold damage to your home.
Recycle water to your garden
A washing machine is the best source of recycled household water for the garden. Most plants love the extra nutrients from the rinse cycle. Depending how much you water and how often you wash, you could save hundreds of litres off your annual bill.
Once you've mastered these three tasks try out some other great tips from members in the Vault!
Saving water saves money
During a water crisis about ten years ago we implemented all these water saving methods and found it very easy to change our old habits with simple common sense.
Brushing teeth: one small glass of water, wet toothbrush in glass, after brushing rinse mouth with water from glass then rinse toothbrush in remaining water.
Showers: Purchase a large, round bucket from Crazy Clarks or similar outlet, place in shower and stand in it. Turn shower on, wet hair and body, turn shower off, shampoo hair, turn water on and rinse hair, turn water off, wash body all over with body washer and shower soap, turn water on and rinse. You will be amazed at the small amount of water used!
Bathing children: It is very easy to bathe a small child in the large round bucket under the shower - plus they think it is great fun!
Toilets: Transfer the water from large shower bucket into toilet cisterns, and use it to flush the toilet.
Night visits: Don't flush during the night after urination, one flush first thing in the morning is sufficient, or use saved bucket water.
Older dishwashers: Put an 'Out of Order' sign on the dishwasher and wash dishes the old fashioned way! New models usually use less water than hand washing.
Taps: When running water from the hot tap from cold to hot, use the electric jug to save the cold water. Boil the jug and then transfer to vacuum flasks for tea/coffee during the day. When leftover water from the flask is cool, fill up water bottles and put in fridge for drinking.
Washing machine: Use the water from shower tubs for the first cycle wash and don't over use soap powder.
Bath water saver
My kids have a bath every night and filling up a bath uses a lot of water. I now save all that water as my kids are only in the bath for a short time. I have my kids fill up the nappy bucket with bath water and I put it all in the washing machine. The kids find it fun too. It fills up the washing machine sufficiently for a full load of washing. When it goes onto the rinse cycle I then water all my plants or throw it onto the garden.
Our bath water is now used for three different purposes. Can you imagine how much we would save if we all did this, or even just put bath water in the washing machine? It's a saving for you money-wise and water-wise. Why not give it a go?
Saving thousands of litres of water
Despite a lengthy drought, I have saved over 35,000 litres of water in our pool and haven't had to use any tap water to water the garden in two years! Two years ago I attached a hose to a downpipe of our house, so that I could fill the pool with rainwater as it fell and I could capture water for our pot plants and herb garden.
This has saved us hundreds of dollars. Even a light sprinkle fills my 48 litre container, giving me two weeks of free water for the pot plants!
Also, during the summer months I encourage my family to take 'Norwegian showers', which involves wetting yourself all over, then turning off the shower, lathering your body, and washing your hair, then turning the shower back on to rinse off. We have dropped our water consumption from one kilolitre per day to .65 kilolitres per day!
50c cure for leaky tap
We saved almost $80 fixing a leaky tap! We have been living in rented homes for a few years and have discovered how to fix most problems with them. However, on one occasion water was leaking out of the handle of the tap and replacing the tap washer did not make a difference. We asked a hardware store for advice and they said we needed new taps, recommending ones costing $80. Luckily we discussed the problem with another hardware store, who sold us an o-ring which fixed the problem for 50c. A huge saving!
NB: Before calling a plumber, check out the problem yourself and see if you can fix it. Don't forget to turn off the water at the mains. Remember that o-rings don't look worn but generally are, and change the tap washers at the same time!
---
4. Best of the Forum: Water, Water Everywhere
Saving water needn't be tedious - treat it as a game, a challenge! Instead of feeling as though it's a chore, think how you can do the best you can - just like the members in the Savings Forum!
You won't believe how much you can save either, once you've read what works for these members!
read more...
Waste not, want not! Make good use of all the excess water evaporated this summer to nourish your plants.
read more...
Water restrictions and drought won't stop you from having a blooming good crop this year!
read more...
Water and electricity usually don't mix, but these tips will have you saving on both in no time!
read more...
If your usual supply of tank water is running low, take advantage of these clever ideas to save water where it counts.
read more...
---
5. Sophie Gray: Festive Frenzy
I love this time of year! There are twinkly decorations in the shops, the checkout girls are sporting their wacky Santa earrings and reindeer antlers, while terrified pre-schoolers everywhere live in fear of having their photo taken with the scary hairy man in the shiny red suit. I particularly love the stricken expression that seizes people when you point out how few sleeps there are between now and Christmas - let's just say, there are not as many as you thought!
The secret to loving, rather than loathing the festive frenzy is not letting it get on top of you. Now is the time to work out who is doing what, who is buying what, and how much you are prepared to spend at Christmas. Then you can enjoy the great unwrapping and the great over-eating without feeling guilty about a great overspending.
There's likely to be a lot of food preparation ahead in the next few weeks, what with home-made gift type goodies, school parties, picnics and work do's and of course, the big day in December. So make it easy on yourself when you can. Take advantage of the abundant seasonal produce and fire up the barbecue. If you cook everything on sticks or wrap it in bread you won't even have to wash up, so you'll save on time and water too.
And with a smart idea up your sleeve for 'take a plate' events, you'll float elegantly from one function to the next like a model from a Donna Hay Christmas magazine - such a picture of calm, that no one even mentions the squashed mince pie on the back of your skirt (or does that only happen to me?).
Plan your baking. Are you doing any home-made goodies as gifts? Schedule your baking day on the calendar or you'll be doing it at midnight again - remember last year!
It's a wrap. What are you using for packaging? Bags, tins, noodle boxes, do you need to visit Spotlight?
The Main Event. Have you planned the main course meal for the big day? How much will it cost? What do you need to order ahead? Discuss the menu with extended family (or just move overseas and let them fight it out among themselves).
If you are hosting the big day, let others know soon what you want them to bring, don't leave it to the last minute or you'll end up doing it all, yet again!
Chill out. Will you have enough room in the fridge? Cook, cover, chill or get ill!
Cheers! Don't forget the drinks!
If you are planning to barbecue over the festive season, it's essential to pre-cook chicken and sausages to ensure that everything is safe to eat, particularly if you are not the one controlling the barbecue.
Lip-Smacking Baby Back Ribs with BBQ Sauce
We have become rib addicts. They're wonderfully tender, spicy, sticky and fun to eat. Definitely not first date material! Supply a finger bowl and loads of napkins.
The sauce makes enough to baste a couple of kilos of pork spare ribs.
Sufficient pork spare ribs for the number of people you are serving - how many you serve will be dependent on whether you are serving other meats, see cook's tips below.
For the simmering water
1 tbsp golden syrup
4 whole cloves
4 peppercorns
For the lip-smacking barbecue sauce
1/3 cup white vinegar
½ cup of prepared tomato sauce - I use Heinz
1 tbsp golden syrup
3 tbsp brown sugar
½ cup orange juice
1 tsp mustard powder
¼ cup sweet chilli sauce
1 tbsp Worcestershire sauce
Place the ribs in a saucepan with enough water to cover them. Add a tablespoon of golden syrup, 4 cloves and 4 peppercorns to the water and simmer the ribs gently for 20 - 30 minutes.
Discard the water and reserve the ribs.
While the ribs are simmering combine the barbecue sauce ingredients in a small saucepan and simmer gently for 15 - 20 minutes.
Pre heat the barbecue - use a medium flame, brush the ribs all over with sauce and cook till piping hot and just starting to blacken in places. Baste and turn frequently during cooking.
Cook's tips:
Allow roughly 500g ribs per person, less if you have lots of other meats - a lot of the weight is bone.
The simmering stage releases much of the fat making a leaner meal and reducing flaring while barbecuing. It also ensures that the meat is thoroughly cooked and meltingly tender.
Memphis Chicken Red Rub
Try this spice rub on any barbecue meat, but it's particularly good with chicken.
1/4 cup paprika
1 tbsp brown sugar
1 tbsp white sugar
1 tbsp coarse salt
1 ½ tsp freshly ground black pepper
½ tsp cayenne
1 tsp mustard powder
1 tsp garlic powder or crushed garlic flakes
1 tsp onion powder
Combine in a bowl or shake together in a jar. Apply liberally to chicken pieces or whole chicken ½ an hour - 24 hours before cooking. Rub the spice mix into the chicken re applying as needed. Grill or barbecue in your normal manner - on sticks or in pieces
Lemony Snickets
These pretty lemony lamington style cakes are dead easy to make and look divine sprinkled with silver balls and garnished with a strawberry or two. Keep a supermarket trifle sponge in the freezer, then when you need a plate of cake in a hurry you can throw these together.
1 trifle sponge - leave it out for a few hours if possible so it's a bit stale
3 cups desiccated coconut
1 cup shredded coconut
Runny icing made from icing sugar, plenty of lemon juice and a little water
Peel or slice off the brown outer layer of the sponge so you are left with the yellowish cake, cut into 36 squares. Combine the shredded coconut and desiccated coconut in a large bowl.
Dip a square of sponge, first in the icing, submerging it quickly with a fork then whipping it out before it sucks up a gallon of icing and drop it in the coconut. When you have dipped 3 or 4 pieces of sponge, toss them around gently in the coconut and set them aside on a platter for the icing to harden. Continue until all the squares are dipped and dunked. When they have firmed up a little, pile them up and sprinkle with silver balls and halved strawberries.
---
6. Penny's Blog: The Fab Four - er, Five!
Nov 17, 2008
Wow, what a hectic week it's been! If there's one thing our family know how to do it's have fun and we've had heaps of it over the past few days. I know we're more than a little biased but our kids are brilliant! We just adore their company and the four of us have such a hilarious time together. Well, these days it's more the five of us - we've kind of dragged a poor unsuspecting Alex into our merry clan in recent months too. It all started when he kindly offered to be my running buddy a while back, when I was looking for someone to keep me on track in my weightloss mission. In the process of losing 12kg, I also ended up gaining a third son! I'm not sure he knows what's hit him yet but his peaceful existence has been shattered by a group of people who somehow manage to get him to agree to do all sorts of things - anything from 'Alex, do you want to come clay target shooting?' to 'Alex, do you want to swim two kilometres in a Half Iron Man with us?' or most recently 'Hey Alex, how do you fancy an 18km trek across a mountain?'
Take yesterday for example. I'm proud to admit that I completed my first competitive running event successfully! At least this one only charges a $20 fee to try and kill yourself, compared to $210 for the Half Iron Man! Yesterday morning Alex and I lined up nervously along with several thousand other mad people for the 12km Hamilton Round the Bridges event, accompanied by Noel and the boys, our trusty support crew! Alex, being 20 years my junior could do the run with his eyes shut and his hands tied behind his back but I was particularly worried because not only was I still recovering from a nasty virus which had put the cobblers on my training for over a week, but all the fragrant flowers and pollen in the air lately had been playing havoc with my asthma. Only the day before it had become so bad that I was forced to stop after only 2km as I simply couldn't breathe. Yesterday morning I woke up early and straight away I knew I was in for trouble - how was I going to get through this? My inhalers weren't proving effective and I really didn't want to let everyone down, especially myself. My only hope was that I would find something in my homeopathic first aid kit. I looked in my books, then got online and typed my symptoms into the ABC Homeopathy website. The remedy they reckoned I needed was Arsenicum Album, which was the same as I had suspected from my books. It had to be an omen, I hoped! I popped a tiny pilule into my mouth and I swear to goodness not even five minutes later all traces of my wheezing and sore throat had gone. I had no more problems for the rest of the day and completed my run in a very respectable time. I can't wait to see the results online - while I wasn't first I definitely wasn't last. There's life in the old girl yet!
Alex belted his way along the course and arrived at the finish line a full 15 minutes before me. I was really proud of him for challenging himself and trying something new but what really made the day for me was my lovely hubby and boys, who monitored my progress throughout the course and would turn up unexpectedly to wave madly at me or run alongside for a bit. It always made me smile and encouraged me to try that little bit harder but best of all, I never knew when they might pop up so I didn't dare stop! The atmosphere was great and we made the most of the opportunity to take advantage of some half-price race day bargains. Noel as you know has also caught the running bug lately and has been gleefully ribbing me no end about how much it has cost for me to be able to run injury-free, with my podiatrist and physio visits and my $200 running shoes. 'Pah, I don't need any of that flash stuff, all I need is my $29 running shoes from The Warehouse!' he would gloat before heading off to pound the pavements once again. Yeah - they didn't last long though did they mate? By my calculations it was less than six weeks before the entire sole was cracked and you could see the road beneath through them - and that was AFTER I had spent another $20 on insoles for them weeks before, as he felt they were wearing a bit thin! In comparison, my 'posh, girly brand name shoes' have not only more months and countless more kilometres on the clock, they show no signs of wearing out whatsoever! Sometimes you get what you pay for but Noel still ended up with the last laugh as he managed to get his own pair of posh shoes at half price. I'll know where to buy mine from this time next year, should they need replacing!
Because I had done so well at my run, Noel said I could have a treat from Rebel Sports, who were also having some great specials. Yippee! This could have been fun - had I not had Senior Scrooge Noel and Junior Scrooge Alex in tow. Junior Scrooge flatly refused to let me buy anything without trying it on first. 'Yeah', grumbled Senior Scrooge. 'You want to see the stuff she's chucked out of her wardrobe over the years, just because she can't be bothered to try it on first'. Terrific - now they were ganging up on me! In hindsight it was just as well however, as they both informed me that the purple Nike shirt I had convinced myself was going to be my lucky running shirt (and was NOT on special) looked completely hideous and made all my lumpy bits look even lumpier. Sigh - at least they're honest I suppose and if it hadn't been for them I would have been $50 worse off and stuck with a shirt I would never wear. When will you learn from your past mistakes, Penny?
Prizegiving over and we were on to our next mission of the day - water sports! It's one of our very favourite pastimes - awesome scenery, great company, heaps of fun and best of all, no cost! I must apologise to anyone within a 50km radius of Lake Karapiro yesterday whose peaceful Sunday was ruined by a screaming banshee - that was me being dragged along at terrifying speed on a sea biscuit. Our mate Dave brought his boat, we brought the sea biscuit and lifejackets and hours of fun was had taking it in turns to whiz along the river, whilst trying very hard not to fall off (and failing). The weather was glorious and we found a lovely lakeside spot to relax and sunbathe in between rides. While we were all excited about having a go, we were particularly keen to show Alex, as he had never been on a boat before, let alone towed on his belly behind one! He even had his first go at waterskiing and did remarkably well for a first-timer. We all really enjoyed watching him have a go at something new and it brought home to us, as it often does, how much we take for granted as a Simple Savings family. We do pretty much what we like and don't miss out on anything - in fact we probably do more than any other family we know! The secret is, we know the smartest ways to get what we want. It's not rocket science. Where other families might spend $50 on a couple of hours' entertainment at the cinema, we get a whole afternoon's action-packed entertainment for nothing! It's all about mindset in the end, isn't it?
Oops, almost forgot! Our first attempt at a family movie is now live on YouTube! We had a blast making it and because I always talk too much we ended up with three segments! You can watch the first clip here, the second one (featuring Mr Patel) here and the third (which is basically bloopers!) right here. Thanks for watching, feel free to laugh at our expense as much as you like!
---
7. Homeopathy Corner: Silly Season Remedies
Instead of running off to the chemist at the first sign of a cold, this month Fran has suggested some great home remedies for athlete's foot, burns, cuts, stuffy noses, coughs, colds, headaches, mouth ulcers, leg cramps, nausea, urinary tract infections and insect bites.
homeopathyplus.com.au/hplus/quick-tips/kitchen-cupboard-cures.html
---
8. From Last Month: First Time Shopping
Last month Belinda Welseman asked:
"Do you have any specific tips for those just moving out of home and needing to do a big first grocery shop? We will soon be setting up house for two people and are feeling a little confused about what we should buy and how much."
You've done it again! Thanks for all your top ideas and tips to help our members. Belinda will have no trouble planning her first move with these great suggestions.
Housewarming BBQ is a hot idea
To stock your pantry, think outside the square and hold a housewarming BBQ. Ask everyone to bring a plate plus a favourite recipe and an ingredient from that recipe as a gift. Before you know it your fridge and pantry will be half full. Your guests will feel they have really helped out and will probably have spent a lot less than they would have on a regular gift. It's also a fantastic way to try new foods and recipes.
Unforgettable advice
There are so many things to think about when you move, you can easily forget something. Here are a few things to keep in mind:
Don't forget the pet food. Moving house can be hard enough on animals, so at least make sure they don't go hungry on their first night in their new home.
People often don't check if they have a working torch and spare batteries. A blackout in an unfamiliar house is particularly unsettling if you have no other light source. Spare light bulbs for the main living area and kitchen are also a good idea.
Check if there's a gas stove and whether or not it requires matches to light it.
It's also a good idea to have pen and paper on hand so you can jot down forgotten items as you think of them. Use magnets to keep these notes on the fridge.
A world of pantry fillers
To save money when settling into your new home, ask family and friends for hampers as house-warming gifts. You could suggest international themes such as Mexican (for example, salsa and beans), Italian (for example, pasta sauces and cheese), Australian (for example, sausages and tomato sauce).
People often don't know what to buy for housewarming gifts, so these affordable hampers are a great idea for the recipient and the giver.
A cheap weekly menu
A weekly menu will save you lots of money when stocking your pantry. Here's how easy it is:
Write out the ingredients for seven dinner recipes including quantities. Using a simple recipe book like 'Commonsense Cookbook' will mean you won't buy exclusive ingredients that are used just once.
Look for recipes that serve at least four. Freeze the left-overs or have them for lunch.
So that you're not tempted to buy snacks, choose two biscuit recipes to make.
Shop at ALDI. Your grocery bill will be about half of Coles or Woolworths.
Below are some basic recipes which could be included in your weekly menu. They are easy to make and require simple ingredients:
Macaroni cheese. Add champignons for extra vitamins.
Pizza. Make your own base then use toppings of your choice.
Quiche. Very high in protein. Add frozen vegetables or creamed corn.
Pancake batter. Add frozen vegetables and cheese.
Stroganoff. Use tinned mushrooms instead of meat for a cheaper variety. Shitake, straw mushrooms and champignons mixed together will stretch the stroganoff to eight meals.
Soup. Chopped onion, carrot, celery, potato, stock cube and the cheapest meat you can get. Boil in the pressure cooker for around 20 minutes or in the slow cooker all day.
Tuna pie. Make a macaroni cheese sauce and add a drained tin of tuna. Place in a pie dish with some frozen puff pastry on bottom and top.
These are cheap and easy meals, great for everyone but perfect if you've just left home.
Mum knows best
When I set up my first kitchen pantry and fridge, I took a note pad to my mum's house and wrote down everything she had in her cupboard and fridge. My mother does a lot of cooking and has all the essentials, so I was able to compile a comprehensive list without unnecessary items. I would recommend finding someone with a well organised kitchen and taking note before you head to the shops.
Week by week shopping is kind on the budget
When my boyfriend and I first decided to move in together, I started going to the supermarket once a week to buy items I knew we would need. During week one I bought spreads and condiments including tomato sauce, jam, Vegemite, peanut butter and honey. The following week I bought canned goods such as tomatoes, corn and soup. The week after that I bought cleaning products, a washing basket and so on. By spreading your shopping out over a few weeks you won't notice the outlay as much. Once you've actually moved in you may only need to buy fresh food such as meat and vegetables as you already have most of the basics.
On the spot menu planning Contributed by: Sharon Benjamin
Super advice for the supermarket Contributed by: Alison Bruce
Great advice from someone who knows Contributed by: Claire Rowe
The easy way to do a big shop Contributed by: Kerry Barber
---
9. This Month's Help Request: Games to Make and Play
This month Susan Landers asked:
"Kids' boxed games are so expensive. I would prefer to make some unique games and save a bundle. I would love to hear some suggestions that are easy and fun that the whole family can enjoy."
Do you have some ideas? We would love to hear them. Please send them to us here.
---
10. Savings Story: Lesley Barber - Three Years On
It's been three years since Lesley Barber first wrote in to tell us about her amazing transformation. Lesley used to live in the rat race and after joining Simple Savings made a commitment to change her life.
We were thrilled to hear from her again with her latest update:
"I decided to write an update, as a friend on another forum told me she had seen a story about my move to Tasmania. You may recall that I decided to take early retirement from my science job in 2005. We sold our big house in Victoria and bought a 14 square, eight-year-old Western red cedar cottage on 10 acres of land in rural NW Tasmania. We have never looked back and live well here. We spent the first year making four acres of scrubby land with some lovely trees into our own personal parkland. We pulled out all the brambly ferns, blackberries and weeds and cut down dead trees. Those came in useful as fuel for our winter fires. We tidied up dead or low-growing branches from the many healthy trees and went around with bush-cutters and a ride-on mower to make the paddocks into parkland.
"We have five acres of natural mixed woodland bordering half a kilometre of a lovely river, which is part of our boundary. We have built around 3km of walking tracks through our woodland which is wonderful to walk through early mornings or on warm evening. We put rabbit and wallaby-proof fencing around at least an acre of land nearest the house, which is the back garden, orchard and vegetable patch. We pruned the neglected fruit trees and were rewarded with apples and cherries, plus a few plums, walnuts and chestnuts. We tidied up the raspberry canes, gooseberry, blackcurrant and young berry bushes which then gave a good harvest. We ripped out the old strawberries and replanted with 90 new plants, which gave so much fruit that after freezing some I bartered some for free-range eggs from friends and gave more still as Christmas gifts to friends and neighbours. We have since planted three pear, one apricot, one black plum, one greengage and a lemon tree, all of which are doing well. We have also planted more blackcurrant and gooseberry bushes, plus blueberry bushes this year.
"Our vegetable garden goes from strength to strength, but we have found it is better to grow bok choy and silverbeet than cabbage in our area. I also have a flourishing herb garden. Our vegetable garden will continue to grow as we find out what it is best to grow in our area. Nothing is nicer than fresh picked vegetables, knowing no chemicals, except seasol, fish emulsion and manure. We have even pickled our own beetroot, it's so easy! We buy all our meat from a local butcher who sources all his animals on-the-hoof from local farms. He also cures his own bacon, cooked meats and sausages the old fashioned way without chemicals. The fruit and vegetables to supplement those we grow are purchased from the Farmers' Barn nearby which mostly stocks produce from the local farms, or from farms of friends on the mainland.
"I also make my own bread, soups, stews and so on for freezing, and home-made ice cream. I just love baking again and trying new recipes. I cut out all man-made chemical based cleaning products and make-up, making many myself after learning aromatherapy from books. We may have a lot less money, but we are healthier and much happier.
"I lost the excess 30kg I was carrying within eight months of moving here! I became so fit and healthy that I returned to employment 12 months ago and I am enjoying a totally different career, meeting new people and having money to spend on our property. My husband now looks after the property as all the hard work has been done and it ticks along nicely now. Our nearest neighbour is 500 metres from our home and all the neighbours are so friendly. Before I buy anything for the house or clothing, I take a day to decide if I really need it. I have a list on the fridge for items needed for our fortnightly shop. The nearest town is 25km away and the nearest expensive general store is 10km, so no rushing out for things forgotten. If I didn't buy it, then bad luck, we go without!
"Many a time I look at lovely dresses and my husband tells me jokingly that he is sure the local cows would love to see me wearing them. I wear a uniform for work, so no worries about latest fashion and high heels. I have a mixture of clothes, but a cocktail dress and fancy hats would cause much laughter in the local farmers' pub in the village! Keep up the good work and show people they do not need all the fancy gadgets, expensive cleaning products and latest fashion clothes. Health and happiness is peace of mind, not huge mortgages on houses far too big. As long as we have good food to eat, a warm home and friends to laugh with, then we are happy. Thanks so much for this site; it gave me the impetus to change our lives."
Previous installments of Lesley's transformation: