"Secrets to Saving Money in Australia" Free Newsletter - December 2007
This issue includes:-
Sad Sally, Happy Hanna: Camping Sally Style
No Impulse Buy Month!
Sophie Gray: Confessions of a Sneaky Mummy and How to Snack Smarter
Best of the Forum: Habit Changing Inspiration
Penny's Blog: In Search of Perfection
Homeopathy Corner: Your First Prescription - Part 2
From Last Month: Cheap Aquariums
This Month's Help Request: Home Brew Secrets
Saving Story: Sewing Course Investment for Life
---
Happy New Year!
I hope you have a fantastic year! We are doing our best to help you have an even better 2008. If you haven't already downloaded your 2008 Wealthy Habits calendar - quick, download it now and join us in making January a 'No Impulse Buy' month.
Together Simple Savers have made huge headway. Last year we saved a grand total of $2,834,313. Fantastic work!! Let's see how much more we can save this year. Thank you for your help. We are doing great things together.
"Thanks Simple Savings for the amazing life-changing time my family and I have had this year. It hasn't been easy, and has taken me eight months but I have been able to turn our finances around to the point now where we now save money on a low income. What a blessing you all are to us. Many thanks." (Wendy C)
"I have just renewed my membership for the second time. The Simple Savings site is terrific. I learn such a lot from it and it is well worth the money. It saves me so much every week as I use more and more hints. I am especially enjoying the Hottest 100 which I have just discovered. It is wonderful being part of the SS family and sharing in the lives of so many others too. Thank you for the work you constantly do." (Janny Cram)
"I wondered what was in this package that arrived from Simple Savings and low and behold it was my shopping bags! Well, they have so far held my shopping, my knitting when going to babysit my grandchildren, and then all my needs for the family outing; coffee, sugar, flask, drinks, cups and so on - they are very strong and very versatile. Thank you so much. What's more they look good too!" (Mel)
"I am sixty and needed help to change. Your site is fabulous and I am giving a copy of the calendar to ALL my friends instead of Christmas cards. Far more useful. Thank you." (Barbara Walker)
Let's go for it!!
Happy New Year!
Fiona Lippey
Miser Extraordinaire
P.S. What Wealthy Habit changes are you and your family making for 2008? Write in and tell us. There's still time to download your calendar here.
---
1. Sad Sally, Happy Hanna: Camping Sally Style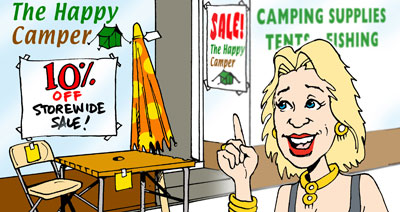 Sally had never set foot in a camping shop before. Pete thought he had their budget trip all organised but as far as Sally was concerned there were still a few things she just wouldn't be able to do without. She had only intended to buy a few pieces of crockery (the dreadful plastic stuff Hanna had offered them just wouldn't do) but the camping store was having a 10% off store-wide sale and somehow the car was now packed to the rafters. Sally told herself Pete wouldn't mind - after all, it's not as if she had bought tickets for her longed-for cruise. Best of all, she hadn't paid full price for anything! Surely he didn't really expect her to sleep in a second hand tent!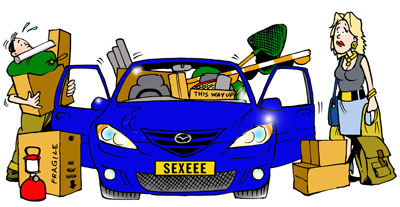 She decided on a top of the range, 12 person tent with extra large kitchen awning. Comfortable beds were a must so she grabbed four camp stretchers, along with four sleeping bags, a table for dinner, another for cooking on, some chairs, a gas cooking stove, a portable fridge, fold-up cupboard, backpacks, bath and shower tent, portable hot shower, portable toilet, gas lantern, a mosquito net (just in case), mosquito coils, fly spray... in fact, as Sally watched the shop attendant bring yet more items to her already full car she started to feel uneasy. Perhaps she had over done it - just a little?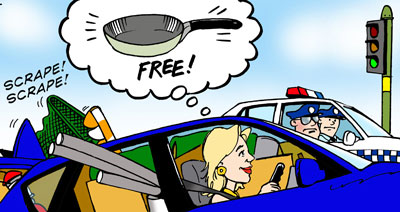 She soon waved her doubts aside - just look at all those bargains! So what if she had spent $3000. She had managed to buy everything they needed in one shop and at a discount. The kind man in the store even gave her a free frying pan for being a special customer. Admittedly, she had gone miles over budget and the car is riding a little low, but Pete could hardly complain. It was his idea to go camping after all and now thanks to her cleverness, they were going to go in style!
---
2. No Impulse Buy month!
2008 is the year for improvement! Let's start with fattening our wallets and helping the planet by training ourselves how NOT to be suckers for impulse buys.
Sally got well and truly 'done' at the camping store. She fell for the oldest trick in the book! A store-wide sale. She went into that shop not really needing anything and left with a gaping $3000 hole in her bank account. It is very easy to do and some days even I fall for it - if I don't plan what I am going to buy and do before we leave the house.
Planning is the key. Planning will save you money on food. Planning will save you money on everything! Planning your outing before you leave the house is the habit everyone needs to adopt in order to successfully avoid impulse buys, so we have set a new challenge for the New Year. Your goal this month is to write a Purchasing Plan every night before you go to bed. This is a fantastic habit to get into and will really help you keep your money in your wallet.
The first thing you need to do is set up a memory trigger, something that will remind you before you go to bed each night to sit down and plan out your next day. It can be something silly, such as writing on your bathroom mirror with lipstick so you will see it when you clean your teeth, or something sensible, such as a sticker on your bed head.
Once you have your memory trigger set up, you can now get into the routine of writing your own personal plan of action each night, to help you save money the following day. This three-step plan only requires a little effort and it WILL work. All you need to do is take a few minutes to work out everything you have to do tomorrow.
Step One - The 'Have to Do' list
First, make a list of 'unavoidables' - the things you have to do each day. Some example questions to ask yourself are:
What will you have for breakfast?
What snacks can you eat during the day?
What will you have for lunch?
What will dinner be?
Don't forget to include drinks too - we can save as much as $10 a day on having to buy drinks if we only remember to take a bottle of water from home!
Step Two - The 'Want to Do' list
Once you have worked out your vital tasks for the day, make a second list of all the things you would like to do tomorrow that are not actually essential for your survival. Some examples are:
Buy a birthday gift for a friend.
See a movie.
Go to the library.
Take the kids to the park.
You get the idea - whatever 'extras' you would normally choose to make part of your day. This also includes browsing store sales 'just in case' you come across a great buy. Remember a bargain is only a bargain if you were always going to buy it! Which leads us nicely into:
Step Three - The Purchasing Plan
Sounds great, doesn't it? Your own, personal purchasing plan! All you need to do is work out if there is anything you will actually need to BUY tomorrow. What items will you need to accomplish all your tasks? How many of these will you really need to buy - or can you make do? How much will they cost? Write all this down and there you have it. You have made yourself a purchasing plan - it's so easy!
There's just one final thing we ask you to do in order to stay on track - don't worry, this is the best part! We would like you to judge your own efforts each day. Scoring your results is as important as writing your plan. So, at the end of each day, take another look at the list you wrote the night before and tick off the items one by one. Compare how much you said you would spend to how much you actually spent. Did you make any impulse purchases that day? If the answer is 'no' - congratulations! Well done! YOU ACHIEVED AN IMPULSE FREE DAY! WOOHOO!
It is as simple as that. So let's get started! To make it even easier, we have made a great free download for you to print and fill in every night.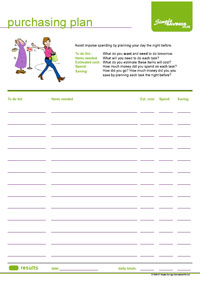 If you haven't downloaded your copy of the 2008 Wealthy Habits planner you can get it from here. It is free. So you have everything to gain.
---
3. Sophie Gray: Confessions of a Sneaky Mummy and How to Snack Smarter
I should be sent to the 'Home for Bad Mummies' because I frequently buy the kids snacks or treats when we go out, all the while secretly hoping they won't finish their fries or cake so I can wolf down the leftovers. Then, the instant that I've swallowed the last bite I regret every calorie and every cent.
But no longer! We're going to snack smarter. And believe me, if I'm going to exercise all this self control then I'm not doing it alone. Richard is henceforward banned from mainlining from the office snack box too. Here's my plan.
For Him
Take coffee plunger and coffee to work - no more expensive frothy coffees unless there is a reason - client meeting or similar.
Provide him with a snack box of his own for the office with lovely home-made stuff that he is proud to share (what does he think all those drawers in his desk are for?) I don't want him to feel self conscious as he already takes home-made lunch, but the contents of his lunch box are much admired by colleagues due to the delicious nature of food, so snacks must be every bit as praise worthy.
Will make gorgeous biscuits for sweet cravings and yummy savoury crackers. Also a nibbling mix that will keep well
For Me
Keep a selection of easy to grab snacks in the pantry and freezer. Muffins, scones, muesli bars and suchlike for when I am dashing out.
Keep some long lasting snacks in airtight container in the car - rice crackers, nuts and raisins, pretzels for emergencies.
Prepare a day bag before I leave the house with the kids - water bottles, basic sandwiches that don't need refrigeration, and whatever else is to hand - fruit, baking - the bag can be left in the car if need be.
Have my coffee fix BEFORE I LEAVE THE HOUSE.
Meet friends at home rather than at the coffee shop.
Be strategic about treats - take the kids out for an ice cream or treat and make it an event that we'll all enjoy, so they don't feel deprived
For the Kids
Won't let them get to the hungry, grizzly stage. Eat before we go out! Top up before hunger pangs kick in and tantalising smells do their evil work
Use some of the money I'm saving and plan a treat outing with them. Hopefully they'll get the idea that bought food is a 'treat', rather than regularly expecting me to buy them stuff.
Fruit Leather
There are lots of commercial fruit leathers on sale both in the supermarkets and health food stores. Fruit leathers are absolutely delicious and ultra easy to make. You can use either cooked fruit or fresh fruit that you have pureed. I find cooked fruit, be it canned, home bottled or stewed has the best flavour and because I only have to puree it and put it in the oven I will actually get around to doing it, instead of just thinking 'that's a good idea'. So here's how!
Preheat the oven to 120°
Fruit puree - roughly two cups is a good-ish amount of one flavour.
I like to use an 825g can of dark plums (yum!), or apple sauce or peach or nectarine puree or a combination of berries or pineapple and banana. Taste your puree, if it tastes good now it'll be even more intense when dried. If using uncooked fruit a pinch of citric acid and some sugar may be needed.
Wooden spoon
Cookie sheets
Plastic cling wrap
Sticky tape
Cover the cookie sheets completely with plastic wrap and secure it on the back with sticky tape. Make the plastic as wrinkle free as you can without giving yourself a migraine.
Puree the fruit, if using canned fruit drain off the liquid first. Push the puree through a sieve to remove any skin or fibres. Then spread the puree over the prepared tray in an even layer. A metal spatula or pallet knife is ideal for doing this. Don't spread it so thin that it becomes transparent.
Place the tray in the oven and keep the oven door slightly ajar by placing a wooden spoon in it to prevent it closing.
Allow the fruit puree to dry for several hours, expect three at least. Length of time will vary from one oven to another so test by touching the centre of the fruit. It shouldn't be tacky; fruit puree should be 'dry' not 'cooked'. It will be flexible though.
Remove from the oven and peel off the plastic. Cut into ribbons with a knife or scissors. Wrap well in clean plastic wrap. Eat as a snack when you fancy something sweet and delicious!
Cook's tip: Because the oven is going to be on for some time - three or more hours roughly, it's worth preparing several flavours.
I don't use the 'fan' setting when I do this as I find it makes the oven too hot.
Soda Crackers
These crackers are really cheap and easy to make and almost too good - you may want to double the quantity.
2 cups plain flour
90g butter or shortening
½ tsp baking powder
1/2 cup cold water - enough to make a soft dough
Salt for sprinkling
Pre heat the oven to 200°
In the bowl of a processor or with your finger tips, rub the butter or shortening into the flour till it is a very fine crumb.
Add the baking powder and enough water to make a pliable dough. If using a processor 'pulse' to combine.
Turn the dough onto a floured surface and roll out to a large rectangle, not too thick or the crackers won't be crisp.
Trim off ragged edges, sprinkle the dough lightly with salt and rub it over the surface.
Cut into strips, then into squares. Place the squares on a lightly greased tray and prick several times with a fork.
Bake roughly 10 minutes or until golden and crisp.
Jamborees
These melt in the mouth biscuits look so pretty with their jammy centres. They're easy enough to make for every day and good enough for gifts.
125g butter or shortening
½ cup sugar
1 ½ cups plain flour
1 egg yolk
Jam for filling
Makes around 15+ filled biscuits depending on size.
Pre heat the oven to 180°.
Cream the butter and sugar until pale and fluffy. Add the egg yolk and mix well then stir in the flour and mix to a firm dough.
Knead the dough lightly then roll out on a floured surface. Cut into rounds using a 5cm cutter. Use a smaller cutter to remove the centres from ½ the biscuits. Place on greased baking trays and bake for 10 - 15 minutes until lightly golden.
Remove from trays and when cool spread the ½ biscuits with jam, top with the biscuits that have no centres and dust lightly with icing sugar.
Cook's tip: If you haven't got the right size cutters, improvise with a drinking glass for the biscuits and use a screw top bottle cap to cut out the centres. Use a 5cm fluted cutter if you have one, the frilly edges look pretty. I use a heart or star shape to cut out the centres - raid the kids play dough cutters and see what they've got!
This article was written by Sophie Gray of Destitute Gourmet.
---
4. Best of the Forum: Habit Changing Inspiration
Another New Year is almost upon us and the members in the Forum have been busy evaluating their goals, settling on New Year Resolutions and vowing to put an end to their money draining ways for good. Best of luck with your new Wealthy Habits everyone!
Give me strength - puhlease!
Megan has decided to hold a garage sale to earn some extra cash for Christmas but after years of hoarding is finding it very hard to bring herself to part with anything. Once again her fellow members join forces to spur her on and ensure she gets rid of every last piece of clutter!
Goals for 2008
Cheryl has decided to go public with her New Year's resolutions, which is a great idea because Simple Savings members are terrific at keeping one another on track! Heaps of great ideas and inspiration to be found here!
Thinking twice to save money - have you done it today?
It's never too late to start! Naomi D saved herself $369 in one day by thinking twice before buying and she's made it her New Year's resolution. Check out this thread and before long you'll be doing the same!
Money tin challenge 2008
How much loose change can you save in one year? Now's the time to start! Join Cass and the others for this year's Challenge, starting January 1.
2008 SS Hamper Co - DIY Christmas hampers
What's the best way to make sure you get ALL the food and drink you need for Christmas, on time, with no extra fees and no waste? Simple - do it yourself! Sharon and Mands have had enough of 'no-show' Christmas hampers and all the unwanted items that go with them, so they are encouraging other members to put money and/or food vouchers aside throughout the year so that this time next year, they will have enough saved for their very own festive feast! Learn more about how it's done here.
3 month no spend challenge - sign up and guidelines
Imagine spending NOTHING for three whole months, except on absolute essentials! Amy is recruiting fellow members right now for a February start date. All the rules, motivation and support you need is right here, in this thread!
---
5. Penny's Blog: In Search of Perfection
Dec 29, 2007
It's been a funny old year! It's certainly been a great one for Simple Savings though and it's brilliant that so many New Zealanders are now Simple Savers too - even if my identity has been well and truly sprung in the process. I get called all sorts these days, depending what you read. 'Budgeting Guru', 'Budget Queen' and my recent favourite from the Sunday Star Times, 'NZ's Doyenne of Thrift'. I like it! I'm not entirely sure what a doyenne actually is but it sounds pretty flash so I'm sticking with it. Everywhere I go, people ask for advice how to save on this and that - which is great, I don't mind that at all but I do struggle a bit with everyone scrutinising what I buy, or trying to hide what they're buying themselves so I don't see! Let's face it, nobody's perfect and I've still managed to make my fair share of budgeting bloopers this year. I am kicking myself for every one, believe me and in all cases but one they have been for little things that just mount up. So - are you ready to hear them? Take a deep breath now...
Dearly beloved, we are gathered here today to witness the confessions of Penny not-so-Wise, which seemed like a good idea and only a few dollars at a time but actually add up to more than I even want to think about. In this, the year of 2007, I hereby admit to:
* Falling off the menu planning wagon. I have to menu plan, I just have to! If I don't we don't get dinner until goodness knows when, I have no idea what is in my pantry and it just means more trips to Mr Patel's to try and come up with something decent for dinner. Since Liam was diagnosed as wheat intolerant (which was, ahem, back in August) I have failed to keep up with my menu planning and our waistlines and grocery bill has suffered for it.
* Not making Noel's work lunch anywhere near as often as I should. I HATE making lunchboxes! I loathe it with a passion and am never organised enough to do it the night before so do it in the morning ten minutes before we all have to go out the door and by the time I have sorted out the kids I have almost always run out of time to make poor Noel's. While it may only cost him $4.00 a day to buy a salad roll from the local bakery, over a year that adds up to something dreadful and all because I can't get my sorry butt out of bed earlier in the morning. To make matters worse, it means Noel also gets a dreadful ribbing from his colleagues for buying his lunch because they all know who he's married to. Not a good look Penny!
* Too many cafe lunches. STILL! To be fair, I have tried to keep this down to once a week. Mum and I enjoy catching up together without all the noisy interruptions of our chaotic household and in my own defence I do largely stick to the best value dish on the menu - a gigantic bowl of wedges smothered with melted cheese, sour cream and sweet chilli sauce. You get enough to feed a horse for $6.00 - and unfortunately because I hate to waste anything I scoff the whole lot. As a result, not only have I thrown away a small fortune in wedges since they have been part of the menu, I have put on so much weight that I am now popping all the buttons on my summer shorts. It's really WEIGHING on my conscience as you can imagine!
* Too many extras at Mr Patel's. Not all the time, granted but still far too much. By extras I mean buying drinks when out, lollies for the kids and magazines. Of course I buy That's Life! every week now and I try to keep to other publications which will help us save money in the long run, such as Consumer but I have still succumbed to the odd celebrity gossip magazine just because the headline has grabbed me and then kicked myself for wasting money on something which only takes five minutes to read from cover to cover and more than likely isn't true anyway! As far as I'm concerned, that's the biggest waste of all. And talking of waste, I am also guilty of...
* Feeding too much to the chickens. By this, I mean giving them our leftovers on too many occasions, when they could possibly be made into another meal for us. Obviously the chooks think it's great and I suppose we do get lots of eggs in return but it's still not as smart as getting a whole extra meal for the family!
You know, looking at that little lot it's painfully obvious to me is that they are all linked to one thing - I'm too flipping disorganised! If I just took a few minutes to menu plan, make Noel's lunch or keep a water bottle in the car, we could save SO much money. Seems to me my budgeting bloopers are all down to lack of planning - which brings me to my worst confession and undoubtedly my worst buy of 2007. In my aim to get organised, I wasted $200 on a PDA. Basically, it's a little electronic organiser and as soon as I heard of them I thought owning one would be the answer to my prayers. I was sick of having notes everywhere - little scraps of paper covering my desk and kitchen bench reminding me to do things. I even told myself it would be helpful for writing my blog, as I often see things when out and about which I think 'ooh, that would be good to write about!' and then forget about them instantly. Yes, with my wonderful PDA I was convinced I would be transformed into the epitome of organised calm. Noel - he who sickeningly never forgets ANYTHING - instantly informed me it was a crap decision. 'You'll never use it!' he declared, 'what's wrong with using a notebook?' 'Because I have had notebooks and I always end up leaving them at home!' I reasoned. And that's exactly what has happened with my PDA. I think I have remembered to take it out with me about four times since I bought it. I think even I knew it was a waste of money at the time, which is why I didn't tell you about it before. I'm not even 100% sure where it is now but as soon as I find it I'll be doing my best to sell the darn thing on Trade Me. In my constant desire to be organised, I actually threw away $200 - what a plonker! I'm not saying they're not for everyone - they're just not for me. I've never been a person who takes a calculator shopping and even my Spendtracker has spent the majority of its life in the glovebox of my car, so I should have known I was never going to be a PDA type - shame I chose such an expensive way to find out!
This hereby being the end of my confession, my New Year resolutions are as follows:
1. I solemnly resolve to menu plan EVERY SINGLE DAY without fail.
2. I will make Noel's work lunch every morning and make sure I always have plenty of bread rolls in the freezer and cold meats and salads in the fridge. I was really inspired by the hint 'Work lunch cafe earns a whole week of food.' If that motivated chap can do it for everyone, I can do it for Noel!
3. I will meet Mum at the cafe no more than once a week and split a bowl of wedges between us for just $3.00 each when we do.
4. I will not be a sucker for celebrity gossip mags because let's face it Penny, YOU DON'T CARE. You don't give a stuff what any of them are doing so why on earth buy into it? I also vow that the boys and I will take a bottle of water and healthy snack in the car on all our journeys and after-school activities so we don't need to buy any.
5. I will only feed the chickens and worms scraps which genuinely cannot be used or made into something else, rather than just chucking them out in the 'tidying up' process.
Five resolutions, well that's not too bad is it? I should be able to remember those alright and although I have now made this so-called Doyenne of Thrift look completely crap in front of thousands of Simple Savers, all is not lost. My disorganised blunders are just a drop in the ocean compared to what I have actually saved this year. Thousands and thousands, by stopping to think before I buy, by researching everything except the blasted PDA properly before buying and asking myself my favourite question from the Eight Steps countless times - 'is there a better way?' Plus, thanks to the inspiration from Forum members last New Year, I did it! I GAVE UP COKE ZERO! My 1.5 litre a day habit gone! Finito! I would love to know how much the grand total is of everything I have managed to save this year. One day I'll get round to doing just that - writing down exactly how much I save every day and then adding it all together, I bet it would blow me away to see just how much. In fact, maybe I should make that New Year's resolution number six!
Penny's Blog is a special treat for Vault members and is updated a couple of times a week. You can drop Penny a line here - she loves to hear from other members!
6th - Fabulous freebies
10th - Bah humbug...
14th - Patience pays off
22nd - Stuff the turkey - pass the aspirin!
27th - Two weeks in a nutshell
29th - In search of perfection
---
6. Homeopathy Corner: Your First Prescription - Part 2
When you first see a homeopath it can be a little confusing as it is so different from the main stream medicine we are used to. So this month Fran explains in more detail what to expect after you have taken a homeopathic remedy, what the results mean and most importantly what to do next. To read Fran's article go to:-
http://homeopathyplus.com.au/book/tutorial-16.html
---
7. From Last Month: Cheap Aquariums
Last month Donna Lane asks:
"My twin boys have been asking for an aquarium for Christmas and I would love to be able to surprise them, but at first glance it appears to be a major purchase. Even the lovely ornaments and logs cost an arm and a leg. How can I save money on the initial outlay of the tank and equipment as well as provide an attractive display?"
Simple Savers sent in some fantastic tips. Great work! Here are our favourites.
Hours of TV free entertainment with fish
Keeping fish is a relaxing pastime away from the television and can be done quite cheaply. The trick to avoiding large costs is to keep your set up simple. The fish won't mind if you don't go out and buy everything new at once. We built our own large fish tank from pieces of glass picked up at a recycling centre and used some aluminium as the framework. This saved us nearly $200! The biggest expense however is usually the pump you use and it is essential to the health of your fish to have a decent one. If you can't build your own have a really good look at your local Sunday market for someone who has a complete set up and no longer wants the hassle of keeping fish. Otherwise an op shop or second hand dealer will also be good places to look for a tank and accessories.
Create a unique aquarium with your kids' imagination
Don't be restricted by what is in the aquarium shops for decorating your own water world and let your children's minds run wild! As long as the items don't contain toxic paints or materials most items from your own home can create uniquely themed aquariums. Imagine their thrill at a 'Cars' theme, 'Star Wars' theme, or 'Superheroes' theme! They will love it and will own it as their own! Many boys have toy boats and some of these would be an ideal attraction in a fish tank. Broken bits of clean terracotta pots work well too. Encourage them to make little hidey spots for the fish to swim into.
Inexpensive fish tank accessories
Decorations for fish tanks need not be expensive. Crockery, especially broken items, make great caves for places the fish can hide. And well washed river stones or pebbles are great for the bottom of your tank rather than the expensive option from the shop.
Try Sea Monkeys before expensive fish
Instead of spending hundreds of dollars for a full aquarium of fish for your kids try Sea Monkeys first. When my children were five and three I invested in an aquarium only to find out I had to do all the work and the kids either lost interest or worse, the fish died. Then I discovered you can buy the full kit of Sea Monkeys for around $14 and you don't even have to put all of the eggs in at once. You feed them a minuscule amount only once a week, and because they need to hatch and are small the kids keep looking for them. It's a great place to start and develop your children's interest.
A used tank is just as good as a new one
For a cheaper start to buying a nice large aquarium tank look in the op shops, Trading Post and free classifieds. A used tank is usually as good as a new one after a good clean. Just be sure to check for cracks and chips. After working in a pet store for years, my biggest tip is to try and buy the largest tank and best filter you can afford. It will really save you in the long term because you will not need to treat the water or fish as much. The reason is that there is beneficial bacteria on every surface of the tank that eats the waste from the fish, namely ammonia. The bigger the tank, the more bacteria there is and vice versa. Filters can often be bought at a bargain on eBay. Go for power filters that hang on the back of the tank or canister filters if possible. The other benefit of a larger tank with a good filter system is that you don't need to clean it as much which saves on conditioners, time and effort. If the fish are in a healthy environment you will spend less on medications!
Finally, don't add too many fish at once or too soon. You need to add a few at a time at first to allow the bacteria time to multiply. It won't do that unless there are fish in the tank to produce 'food' for it. Just remember, a fish tank is its own little ecosystem, and there needs to be a good balance without you having to mess with it too much; just regulate the temperature (with a tropical tank), the pH (very important), and don't clean the tank too well (for example, take all the ornaments and rocks out and scrub them and cleaning the glass is OK) and you will be fine!
Siamese fish save on power and water
We recently purchased two female Siamese Fighting fish for our girls that only require a small tank and no power. We have them in a clear flower vase with a couple of rocks for the bottom and they make a very decorative display in the middle of the dining table. The girls love them and these fish do not require ornaments or aerators either so we have saved money on power, water and expensive equipment that comes with larger tanks.
---
8. This Month's Help Request: Home Brew Secrets
This month Marie Dukalskis asks:
"I am looking into brewing my own drinks (Welsh nectar, ginger beer or beer and so on) at home but do not have any equipment. I checked the price of a brewing kit at Woolworth's, which was about $95, and I think $10 for PET bottles. Can anyone with brewing experience help out with what equipment is necessary and what could be done more cheaply? Such as, what containers could you use for the brew, what bottles are suitable and so on (I've heard some people use Coke bottles whereas others say they aren't suitable). Also, if you re-use beer bottles how do you get the caps on? Any tips would be appreciated, as well as any recipes for diet/artificially sweetened drinks. Thanks!"
If you have any helpful suggestions for Marie we would love to hear them! Send them in to us here
---
9. Savings Story: Sewing Course Investment for Life
I have learned how I can make a lifetime of savings for our growing family, thanks to a one-off investment of $55! We are expecting our first child early next year and seem to 'need' a lot of stuff. One excellent way I found to save money on some of the necessities was to enrol in an eight-week sewing course at our local high school.
For a cost of $55, the course covered 16 hours at the high school supplied with sewing machines, overlocker and a great tutor. In the 16 hours I was able to make the following (and they all look really great, despite me having very few sewing skills):
- Two big new curtains for the nursery. I bought thermal lined material on special from Spotlight ($5.99 a metre) and now for a total cost of $57 have great new curtains.
- Two maternity tops for a total of $36.
- A wrap for the baby and 12 muslin baby wipes for $25.
With these items alone I have managed to save hundreds - curtains would have cost at least $250; tops that fit and look good would be $30 each; muslin wraps go for $20 and wipes are around three for $20, adding up to $410. But all together (thread, curtain tape, material and course cost) I only spent $173!
It really pays to look around for local courses that can help you save money by learning how to make the things that you need and/or want - local high schools are a great place to start.