"Secrets to Saving Money in Australia" Free Newsletter - December 2006
This issue includes:-
Sad Sally, Happy Hanna: Credit-free Christmas?
Visions of Christmas Past
'Tis the Season! With Sophie Gray
Site Improvements This Month
Penny's Blog: Eat Your Heart Out Scrooge!
Homeopathy Corner: Tutorial No. 5
From Last Month: Feel Good Shopping
This Month's Help Request: Cleaning a Wedding Dress
Savings Story: Changing Simple Habits Saves $10,000!
---
Merry Christmas!
I hope you loved your calendar! If you haven't checked it out yet, you can download it here now to help you have a Happy and Prosperous New Year!
Things have been really busy this month. Matt, the kids and I have moved from Lake Munmorah NSW to Buderim QLD. We visited Buderim a couple of months ago and thought it was so beautiful we decided to 'up anchor' and move before Sam starts Primary School. He had a couple of introductory days last week and I was so proud.
Speaking of pride; When you look through the calendar, I want you to give yourself a pat on the back. Everything in the calendar, the illustrations, the text, the design and the Memory Triggers are all a direct result of you supporting Simple Savings. Thank you for helping us to help people turn their lives around and thank you for your letters of support. They mean a lot to me.
"Although impressed with all the information in the Vault, I did wonder if all that reading and comparing was really worth saving a few dollars here and there. However after receiving our last account, I decided that I really did need to do something about our phone bills and thought the very best place to start was the Vault! Why re-invent the wheel? I set aside a couple of hours to read all the related information and hints and eventually decided on the best option which reduced our home and mobile costs by $400 per year! Then I turned to bank fees and saved another $360 per year! That is $760 per year saved just by spending a couple of hours comparing and reading! Most certainly well worth the investment of my time. I cannot recommend the Vault highly enough and intend to allocate more time to read the hints in the other sections of the Vault - AND I am enjoying myself saving all this money!" (Jan Baker)
"THANK YOU, THANK YOU. I have been cleaning vacated rental houses as a part time job and shower screens are always one of my banes of contention. No matter what mixture of chemicals, bleach scourers, metho or whatever - they are never quite satisfactory. After searching the Vault I decided to combine a couple of hints that I found, using vinegar and water and a squeegee. How easy! No gagging on caustic fumes, no back breaking scrubbing - just clear glass! A saving of $2.00 to $3.00 every second time I clean my showers! Isn't it amazing how sometimes it is the simplest remedies that actually work the best - hence SIMPLE Savings! Thanks again." (Kathryn Casson)
Everyone has their own reasons for joining Simple Savings - here are some candid confessions from our Discussion Forum!
"Just wanted to say how much I am enjoying being a part of SS. I joined only two weeks ago and am already saving heaps. We have put the Bill Payment System into practise, which we used to do years ago but simply stopped - I am not sure why anymore. But I know it works - so we are using the one available on this website. Same with the Menu Planner, used to do this but just stopped so am back into it again now. I love the extra column for baking as it reminds me (who doesn't eat cakes and sweet things) to think about the rest of the family and their lunch box treats. This last week I used a budget calculator to see where the money was going and to my horror discovered we were literally wasting $18,000 per annum. WOW - that was a shock! So gently we are moving towards taking back control of our finances and reaping the benefits. My savings story for this week was one that made me feel particularly proud of myself though - I use my car for work every day and broke the electric window winder in the driver's door, meaning that my window was either 100% open or 100% closed. After checking around with the usual repair people I found that it was going to cost me around $200 to have it fixed. I mentioned my disgust about the best laid plans for saving money to my hubby and he promptly jumped up, went and pulled the door skins off and appraised the situation. A trip to Bunnings for some specialty glue cost $8.00 and he has fixed the window. Not bad! I am proud of myself for not just caving in and paying the repair man and proud of him for his ingenuity." (Kym Betts)
"I think, like a lot of people I joined SS to help me while I was on maternity leave and living on one income instead of two. Initially it looked like I would only be able to afford three months off work after I had our baby, but thankfully I found SS and started implementing all the hints in the Vault that were relevant to me. Instead, I was able to have 12 months off. In that time we purchased our first home together - so it can be done! Initially I maybe saw it as a 'quick fix', but now I definitely see it as a way of life, a whole new lifestyle - I really think of things differently since joining SS. I realise now that we can have the lifestyle we want without compromising family life and I am so much more aware of how and where I am spending our hard earned dollars, instead of spending without thinking. What blows me away the most is that it is not rocket science; it is simple, everyday tips and advice that make all the difference." (Kristen)
Have a great Christmas and see you next year!
Fiona
PS. The Save-O-Meter is up to $624,988. If you are using Simple Savings tips to save money, please type your results into the Save-O-Meter. Let's see if we can save $1,000,000 between us.
---
1. Sad Sally, Happy Hanna: Credit-free Christmas?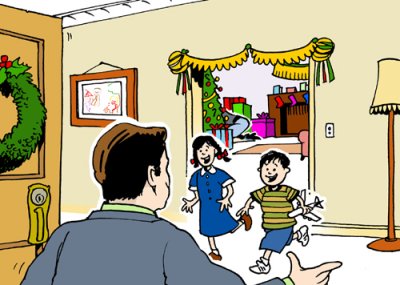 Pete arrived home feeling pretty chuffed with himself. He had just finished work for the year and was looking forward to a fantastic Christmas. One thing was for sure, it was going to be a much happier one than the last! He still couldn't help wincing when he remembered this time last year when his wife had deceived him by racking up a huge debt using a hidden credit card. Their relationship had been well and truly put to the test, but they were back on track now and working towards the same goal. This year they had even made a plan for Christmas. For the first time ever, he and Sally had sat down together and made a list of all the gifts they needed to buy. Everything was under control - there would be no budget blow-out this year!
Pete thought proudly of his wife and how much effort they had put in to turn their finances around - especially Sal with her Savings Group - who would have thought it! There had been a few ups and downs along the way, but Pete felt confident they were finally getting ahead. He smiled as he walked into the lounge and caught sight of Sally happily arranging presents under the Christmas tree - but his expression turned to one of horror in the next instant. The pile of presents under the tree had almost tripled since he left for work that morning!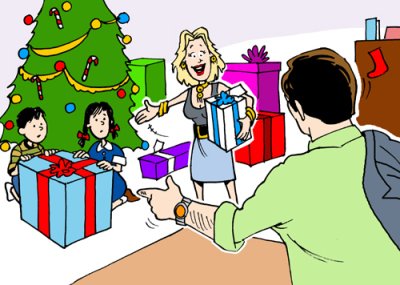 "Sally - WHAT are all those doing under there? Please tell me you didn't buy them all," Pete pleaded, his eyes almost popping out of his head. "Uh - yes, I admit I did do a little last minute shopping in my lunch hour," smiled Sally sheepishly as she surveyed the huge pile. "Oh, Pete - I know we agreed that everyone had enough already, but the kids are used to having far more than that, I didn't want them to go without!" Pete sat down heavily. "And how did 'we' pay for them? Please tell me you didn't use a credit card." "As if I would!" pouted Sally indignantly. "You know how good I've been this year! I just used the overdraft," she smiled.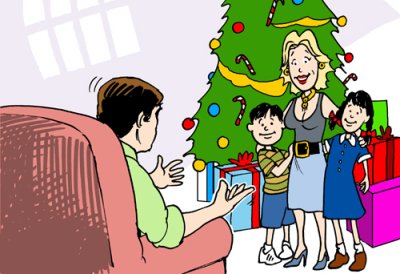 Pete couldn't believe his ears. "But that's what an overdraft is for, isn't it? To help us out when we need a little extra cash?" Sally defended herself. "It's hardly the same as paying cash, Dear," Pete groaned. "Well it's too late now - the kids have seen them so I can't take them back!" Sally's face lit up triumphantly. "How convenient! What the heck, Sal - we're in so much debt anyway, what's a little extra?" Pete asked, but the sarcasm was lost on his wife.
---
2. Visions of Christmas Past
In the four years we have been compiling Simple Savings newsletters, we have built up quite an archive of Christmas tips! Let's face it - Christmas comes every year, so to make it easier to find the best festive tips from our past newsletters, here are some handy links to remind you of some of our favourites!
Gifts of REAL value:
Save yourself a fortune and change someone else's life for the better by giving real gifts which don't cost a cent! We also feature some terrific ideas for low cost festive decorations (Tree Toppers) and goodies (Tummy Stoppers) with Sophie Gray. You can even learn how to keep the worst Boxing Day hangover at bay with the help of homeopath Fran Sheffield!
Printable presents:
Give some brilliant Christmas gift ideas for under a dollar with the help of our free printable vouchers. Perfect to give to mums, dads, grandparents, loved ones - anyone! We also share some of our favourite tips for bagging a bargain in the January sales.
Low-cost Christmas spirit:
Expecting a crowd for Christmas? No problem! We show you how to serve up a banquet on a budget. Also, learn how you can have the best looking Christmas tree in the neighbourhood without breaking the bank!
---
3. 'Tis the Season! - With Sophie Gray
Every year I resolve to be one of those people who shop in the January sales to put things away for the following Christmas. It's a really good idea - I just can't manage to do it myself!
As a result 'batch baking' has become a regular part of my Christmas preparation. As Christmas approaches and I am afflicted with the urge to blow the budget in a frenzy of panic buying, I plan the annual session of what I call batch baking - the selection of hand-made festive goodies mixed and matched, wrapped and ribboned that we will give as gifts, stocking fillers and thank you's.
I really like wrapping presents; it's my favourite part of Christmas (except for the over eating of course). The way a gift looks is important to me. Wrapping might mean finding funky little boxes, bags or tins in which to present our goodies, or it might mean making gift bags and tags or recycling wrappings and ribbons.
To feel good about giving something we have made, it has to look as good as a bought one, presentation and packaging are part of the cost. Seeing all those satisfying rows of batch baking smartly presented makes me feel clever and resourceful - a welcome change from my usual messily disorganised status.
While attracted to new recipes for flash exotic treats, I have to be realistic about the cost of ingredients, so I try to choose recipes that aren't cost prohibitive and yield a generous amount. Batch baking must also keep well, as it may not be eaten till after the Christmas blow-out.
The recipes below meet all my requirements for Christmas batch baking. They yield a generous amount, keep well, look great and best of all they taste terrific!
Wrap it up
For presentation ideas check out Emporiums and $2 shops for sets of tins, baskets or trays, flax boxes or baskets.
Small plates or platters are a good option, as are boxes and bags.
Tins can be sprayed different colours if need be or choose canisters, jars and containers that can be useful in the pantry- practical rather than decorative. Glass preserving jars will show off your efforts to great effect as well as keeping them fresh. Air tightness is important - tie cellophane around the foods before placing in bags or boxes.
Keep an eye out for little decorations and ornaments that can adorn the gift and be hung on the tree the following year, adding an element of permanence to an edible gift.
Christmas Star Sugar Cookies
These pretty little cookies keep well and are dead easy to make. The mixture makes loads so they are ideal batch baking biscuits, making around 60 average sized biscuits.
If very pale, the cookies will be soft in texture and if golden they will be a crispy texture. They are delicious plain but can be sandwiched together with jam or iced. If the kids are doing the baking make sure the tag includes the reassurance that the biscuits were 'made with love and clean hands by Jack'
¾ cup sugar
125g butter
1 egg
½ cup sour cream
2 tbsp lemon juice
Zest of one lemon
1 tsp baking powder
4 - 5 cups flour
Castor sugar for sprinkling
Silver balls to decorate
Cream the butter and sugar, add the egg and sour cream then stir in the lemon juice and zest. Stir in the flour and baking powder and knead the mixture adding more flour if required to make a firm rollable dough.
Chill for half an hour, then roll out and cut into stars using a variety of star cutters. Sprinkle with castor sugar and press a silver ball into the middle of each.
Bake at around 180°C for 10 - 12 minutes. Smaller stars will cook more quickly.
You can ice the biscuits or dip in chocolate, make patterns from the silver balls or pipe with an icing bag.
Gingerbread Christmas Trees
Gingerbread is a traditional Christmas treat, I like to make it into Christmas trees, but icing dipped angels or stars also look very pretty. These look great in a cellophane bag so you can see the contents. Makes around 30 average size biscuits.
For the biscuits:

125g butter
½ cup sugar
1 egg yolk
2 cups plain flour
1 tbsp ground ginger
50ml golden syrup
1 tsp baking soda
Icing:

1 heaped cup icing sugar
Juice of a lemon
Dash of water
Silver balls to decorate
Preheat oven to 180°C.
Heat the syrup in a microwave or saucepan till runny. Cream the butter and sugar, add the egg yolk and beat in the dry ingredients a little at a time. Lastly add the warm syrup. Knead the mixture; it will become softer with handling, making it easier to roll. Roll the dough out to 3mm thickness and use cookie cutters to cut dough into Christmas tree shapes. Re-roll as required until all dough is used. Bake at 180° for 15 minutes or until golden and cooked. Cool on the trays.
When making the icing for these, I make it in two bowls. This prevents the icing from being spoilt, as it does collect crumbs from the biscuits! To do this, divide the heaped cup of icing sugar equally between two bowls. Add half the zest and lemon juice to each bowl, with enough water to make a coating consistency.
Dip one half of each biscuit into a bowl of icing, tilting it forward and back to create a crisp line. Place on a cooling rack, with a tray underneath to catch drips. Place a silver ball on each iced point of the tree. If too runny the icing will be translucent, if too thick it's difficult to dip the biscuits. I always use the two bowls of icing, as it does get a little crumby.
Christmas Cakes
I say Christmas cakes, not cake because I like to make all sorts of shapes and sizes of cakes and use them as gifts. Wrap well in cellophane and decorate with Christmassy embellishments.
Small cakes are not only popular as personal little gifts (a whole cake may go stale before it's eaten in a smaller household) they are also a hit for cake stalls and fundraisers.
1kg mixed fruit
½ cup sherry or ¼ cup brandy and ¼ cup orange Juice
250g butter
250g brown sugar
5 eggs
2 ½ cups plain flour
1 ½ tsp baking powder
1 tsp cinnamon
½ tsp mixed spice
¼ cup sliced almonds
¼ cup milk or more
Blanched almonds to decorate
Place fruit in a bowl, pour on sherry or orange juice and brandy and soak for 6-8 hours or overnight.
Grease and line the base and sides of cake tin. In a large bowl cream the butter and sugar then beat in eggs one at a time. Stir in the fruit and nuts then add sifted flour, spices, baking powder and milk. Add more milk if necessary to produce a soft texture. Spoon the mixture into prepared tins. Smooth over the top with a wet spatula and scoop a slight indentation into the top of the cake so it does not rise into a cone shape. Press almonds into the top in a decorative pattern. Bake at 160° until risen, golden and springy. Cooking times will vary according to size of tins - between 30 minutes and 2 ½ hours.
This recipe will make one big 23cm round cake or a 20cm square but much more interestingly it makes lots of little cakes. The following will give you some ideas, but whichever tins you use, please check for sharp edges first. Also, some tins (such as canned fish) are lined with plastic. I don't recommend putting those in the oven! Some ideas I have successfully used to bake smaller cakes in are:
A10 tins - these are catering size cans which you can get from a café or restaurant by asking for a couple of empties. Cut them down by two-thirds and file off the edges. These tins make perfect half size cakes, you will need two. I have used mine for years and the smaller cake is very popular with single people.
Dumpy 400g tuna tins make very cute little cakes tins and you can get six from this recipe, about enough for two serves - morning and afternoon tea or half each for a couple.
Empty 400g cans - the 'baked bean' kind of size can be used to bake mini cakes, this mixture will give you around 20. If you want to use them year after year use a hack saw to reduce the height of the cans by two thirds, they'll be easier to line and fill, I can't be bothered but you might. This size is a perfect little snack for one.
Muffin Pans -You can bake the cakes in muffin pans but they are fiddly to line, having angled sides and must be watched closely to avoid burning around the edges. You get around 16 'muffins' from this mixture.
Tiny little loaf tins are readily available now both in tray form like muffin pans or singly. This mixture makes around 20.
Buy decorative paper cake tins from kitchenware and gift shops and bake the cakes in the pretty paper case.
Don't forget to decorate the tops - glazed fruits, nuts in toffee, a pattern of almonds - remember presentation is everything!
Sophie is the author of the Destitute Gourmet range of cook books. Her website is www.destitutegourmet.com.
---
4. Site Improvements This Month
The Simple Savings team have been busy working away in the background and added a few new features to the Vault you may not have noticed:
Category Icons - One of our members, Harmony Steel, is a professional illustrator and has designed some fantastic new icons for our Vault categories. Don't they look brilliant?
Forum Design - We improved the layout of the Discussion Forum, so it is easier for you to find your way around.
Forum Rules - To keep the forum a fantastically supportive place we brought in some forum rules. Please read through them before posting and let me know if you think we have missed any.
Recent hints - We added a Recent Hints area so you can view this week's hints as they are added to the Vault.
---
5. Penny's Blog: Eat Your Heart Out Scrooge!
Dec 7, 2006
I did something really daft yesterday - I decided to go Christmas shopping for one last look around. The daft part was that I actually believed that the shops would still be quiet this early in December - WRONG! It seemed the world and his wife had all thought the same thing and an hour later I was cursing them all and desperate to be on my way back home. Served me right I suppose for hitting the shops when I didn't really need to. Don't worry; I didn't go overboard on the spending, though! It's just not part of my shopping persona any more and I find it almost impossible to fritter. I'm sure several shop staff thought I was a few sandwiches short of a picnic as I went round and round, picking things up, carting them around for ten minutes while I reasoned with my inner self before putting everything back and walking out of the shop. I was keeping my Six Steps in mind the whole time, you see - particularly Step 5 'Is there a better way?' Yes, the Spongebob Squarepants pencil case would have made a lovely stocking filler and I carried it around for quite a while before reminding myself that the plastic Spongebob drink tumbler from last year's stocking made a perfectly acceptable pen holder ever since its straw had broken off. Maybe I only saved myself $3.49 on that particular occasion, but by the time I had talked myself out of also buying a Spongebob lunch tin ($9.99 - we already have plenty of lunch boxes) a book of Most Dangerous Animal Predators ($29.99 - Ali already has one which he loves) and a new release book for me ($34.99, will order it from the library), I had saved myself a grand total of $78.46 - and that was just in one shop!
I did manage to bring myself to buy a few things, but even then I made some valuable savings - more a fluke than anything but I was pretty pleased with myself for keeping my eyes open. Ali had a PlayStation game on his Christmas list and I was pleased to find that as it was one which had been out for a while, it was a good $30 less than I thought. I picked one up for $59.99 and continued looking through the rows of games for one which was on Liam's Christmas list. While I couldn't find that one, I excitedly spotted another copy of the same game I was already holding in my hand for $49.99! A whole $10 saved just like that (and yes I did check the docket while I was still in the store to make sure I got it for that price!) Another lucky saving happened not long after. When I had been in the book shop I saw a beautiful book called 'The Children's Encyclopedia of Animals'. I knew Ali would love it, but at $39.99 I told myself that he already had enough presents. I left it in the shop but it was such a lovely book I was soon kicking myself for not getting it. Just ten minutes later, I was walking past another book shop several blocks away and was amazed to find the exact same book on their specials table for $10 less! I decided I must be meant to have it after all and snaffled it up quick smart!
When I got home I decided to sort everything out and write a list to see exactly what everyone had and make sure the boys were even on the present stakes. I was surprised to see that their overall present tally was actually quite short and it took me a while to work out why that was, until I clicked. No toys! Well, hardly any. Contrary to my Sad Sally Christmases of old, I had managed to almost completely refrain from buying them any useless clutter (unless specifically mentioned on their wish lists). For example, one of Ali's presents is a half-day Junior Zookeeper's course at the local zoo. Another one is an adoption pack for an animal at Australia Zoo. I can't wait to see his face when he opens his gift and adoption certificate from Agro the Crocodile! He has learned so much about Agro from watching Steve Irwin over the years and hopefully this time next year we will have saved enough to be able to take him to Australia Zoo to see him for real. It feels far more rewarding to give the kids gifts which will hopefully stand them in good stead for years, rather than the usual five-minute wonders. After a lengthy online auction search, I bought a beginner's guitar for Liam. He has wanted to learn the guitar for some time but in our small rural area there are no teachers around to help him. So he asked if I would help him learn as something we could do together. How could I say no to that! I found an awesome package from a registered music store seller, with a brand new electric guitar, amp, case and all the accessories including a 'How to Play' book and DVD for less than I had expected to pay for a second hand guitar! I also bought him a good quality sleeping bag for his first week-long school camp in February, so one way or another, hopefully all the boys' presents will be put to good use.
The Vault has so many brilliant ideas for making Christmas gifts! I'm looking forward to trying out some of the amazing recipes for festive munchies and tipples. There are so many clever and creative ideas from members, I have been gleaning tips from them all year round and am hoping to put something special together for Liam, which hopefully he will love even though it costs next to nothing! Being a family of devoted rugby fanatics, we have been lucky this year to see some brilliant games from national and international competitions. Thanks to some ideas from the Vault, I had the foresight over the past few months to keep every piece of memorabilia from each game, the tickets, programmes and any photos and reports from newspapers and magazines. Any articles I didn't remember to keep, I managed to source from the Internet. All these have been collated and are being put into an A3 display file for Liam to keep and remember his first All Black game and so on. I have used some of the great scrapbooking tips from the Vault to get ideas for free page embellishments. I hope it's going to look as good as I envision, and more importantly I hope Liam will love it.
Talking of rugby, I can't wait to see the school concert this year! It's supposed to be a secret but the boys' enthusiastic practising is a bit of a dead giveaway. They are doing the story of New Zealand and all the kids are really getting into it. How often in this day and age do you see buses of school children going past, all earnestly singing the National Anthem at the top of their voices instead of the latest chart topper? It's a lovely sight! However, the part I'm most looking forward to seeing is the Haka. All the boys in the school have had to audition and how their teachers have managed to keep a straight face during the 'Haka Idol' elimination rounds is totally beyond me. Ali is extremely proud to be the Haka leader in his class and takes his job very seriously. Every afternoon this last week I've found him practising in front of the bedroom mirror - unfortunately his teacher has asked him to please refrain from doing the controversial 'throat slitting' action at the end and jump along nicely with the others instead!
With no real plans for these Christmas holidays except carrying on with our work in the garden, we decided to take advantage of an opportunity to go away for a few days in the small window between where the school term ends and the official holidays begin. We contacted the owner of the beach house we usually stay in and were pleased to find that the house would be available during that time. 'Excellent, we'll take it!' I said. 'Very good dear,' said the owner. 'Now I must just tell you that the price has gone up a little for this time of year.' No problem I said, thinking of perhaps a $20 increase. 'The price is $200 a night over the Christmas season.' I almost dropped the phone - almost FOUR times as much as we usually pay to use the exact same house at any other time of year! Our three nights away were going to cost $600 without food and expenses! I covered up my horror as best as I could and said 'thank you very much' and then waited until I knew she would be out to leave a message un-booking it again! Even in my saddest of Sad Sally days I couldn't have justified spending that much and these days I wouldn't dream of it. As it is, this Christmas Day is set to be a relatively cheap one for us, as we will be spending it with the in-laws. However, on catching up with a group of friends a few days ago this could be subject to change. With four other families spending Christmas on their own this year, all of us decided we would get together for drinks and a BBQ on Christmas night, but there was some deliberation over whose house everyone would go to. 'Ah well, they might as well come around to our place,' suggested Noel cheerfully. 'Good idea,' I replied, 'I'll ring everyone - hang on! That's no good - the host always ends up paying out more for food and drink, I don't want to do that!' Jings, have I really become that frugal?!
Penny's Blog is a special treat for Vault members and is updated a couple of times a week. You can drop Penny a line here - she loves to hear from other members!
---
6. Homeopathy Corner: Tutorial No. 5
Fran Sheffield is a truly amazing woman. If you would like to book a phone appointment with her, be warned - she is booked solid until March next year! It is fantastic she donates her time to teach others how to use the remedies so we can care for our own families. I have lost track of the amount of money I have saved by learning how to choose the right remedy myself. Even this week when Sam broke out in huge welts from insect bites, I was able to treat him from my Home Use Kit with medicine that costs two cents per dose and tastes yummy! The massive swelling started going down within five minutes. The knowledge about the remedies gained from Fran and my home remedy kit saved me a $40 trip to the doctors, $15 in medicine and several hours stuffing around on that one occasion alone.
It is hard to describe how grateful I am to Fran. The amount of time and money she has saved us is phenomenal and most of all she has helped me learn how to be a better mum. A good example of this was when Jacqui caught a cold three weeks ago. She had been clingy and snotty all day, then came down with a fever in the middle of the night. She woke up coughing and her chest was wet and sounded terrible. So I grabbed a dose of Pulsatilla from my kit and the fever was gone in five minutes! She went back to sleep and woke up the next morning her usual, happy self. It is important to mention that if I had chosen the wrong remedy nothing would have happened. She wouldn't have gotten worse but then she wouldn't have got any better either. The fever would have continued. So I was really pleased with myself when her fever disappeared and she woke up bright and chirpy. In my pre-homeopathy days when I used to dose the kids with Paracetamol, she would have woken up just as sick as she was when she went to bed. The difference to our lives is amazing. I am very grateful for Fran's live workshops, tutorials and numerous phone conversations. She is a great teacher. This month she explains the advantages of potentisation.
To read Fran's tutorial go to: http://homeopathyplus.com.au/book/tutorial-five.html
NOTE: Fran's tutorials are educational articles. They are not intended to replace a proper consultation with an appropriate health professional.
---
7. From Last Month: Feel Good Shopping
Last month Gemma Lanning asked:
"I am an impulse buyer who spends a lot of money in chain stores - I usually spend $20-$30 at least once a week, usually two to three times. Tonight I was dressed and ready to jump in the car, but I stopped. I was really pleased with myself and wanted to treat myself with something special - but for me that means shopping - what can I treat myself with that's not using money?"
We really enjoyed reading all your varied responses for Gemma - what a wise and clever bunch of members we have!
Surprise yourself with a special treat
When money is tight and I want to treat myself with something special, I go to my 'special treat container' for a surprise solution. The container has pieces of paper in it with activities that I can do at home and don't cost money. When I want to treat myself, I stick my hand into the container and pick out a random piece of paper. Some of the activities included are giving myself a pedicure or manicure, watching my favourite girly DVD or dressing up in front of my mirror with the clothes I already have in my wardrobe and creating new outfits that I hadn't thought of before. Whatever I choose is a special treat just for me and it costs nothing to have a great time at home!
Enjoy a friend's company instead of spending
To take your mind off going shopping and spending, organise for a friend to come around for coffee instead. It's a great way to catch up with each other and enjoy someone else's company - no spending necessary! You could also alternate between them coming over, or you going to their place, then you are still going on an outing!
Libraries are extraordinary
Your local library is a great place to enjoy a free outing! Become a member and read all the latest magazines for free. Take out one of the latest books, CD's, DVD's or even jigsaw puzzles! Libraries are fabulous places these days - why not take out a craft book and teach yourself a new hobby that you can do instead of shopping. Many of these make great gifts and can save you even more!
Save hundreds with a pleasant walk
Whenever you feel the urge to shop, go for a walk. In a park, near the sea - anywhere pleasant nearby! Walk for half an hour each time you feel in need of a shopping fix. You will soon forget about spending while you tone your body, lose weight and feel and look terrific! In just 10 weeks you will have saved $200-$900!
Relax and forget the malls
As a compulsive shopper I have found doing something relaxing is the key to taking your mind off hitting the malls. Take your partner, kids, a friend or just yourself to the park, beach or local gardens and just relax. Many compulsive shoppers are busy people who head for the shops in their desire to be always 'doing something'. With the introduction of relaxing time instead, I have found a busy shop doesn't seem as appealing any more!
Save for a fun day out
I reward myself for resisting expensive splurges by saving my coins until I have enough for a precious day out. Every week during the school term I save between $2.00 and $5.00 in a money box. Once the school holidays are over I am usually in need of a treat and by then I have saved enough to go and see a movie, buy a nice lunch and treat myself to something nice. It doesn't cost a fortune but I appreciate it even more because I have earned it!
Stop spending and reward yourself Contributed by: Leanne Matthews
Make a list to enhance your life Contributed by: Leonie Edge
No need to buy something to enjoy life Contributed by: Valerie Nason
---
8. This Month's Help Request: Cleaning a Wedding Dress
This month Rebecca asks:
"I bought a wedding dress from an op shop, trying to save some money. It has a stain on it which looks like it may come out if cleaned. I went to the local dry cleaners and was quoted that it would cost between $150 and $450 to dry clean; a cost that I cannot afford. (I originally though that it may be more like $75-$100 and was horrified)! Does anyone have suggestions on how to clean a wedding dress?"
If you can help Rebecca turn her expensive wedding dress back into a bargain, please send in your suggestions here.
---
9. SAVINGS STORY: Changing Simple Habits Saves $10,000!
I was so excited about using my new Wealthy Habits calendar that I have already implemented several new habits on my list, with great results! They are:
Change car insurance (using Internet search) - save $244.32 per year.
Bring lunch from home - save $1,680 per year!
Buy Diet Coke on special only, no more expensive 600ml bottles - save $356.40 per year.
Have dinner before school reunion and go for drinks only - save $80
Go to cinema on 'cheap nights' only - save $63.30 per year.
By changing these habits so far I am saving $2,424. If I can keep up the effort and implement the first eight of my 12 savings habits (the easy ones) I will save a whopping $10,840!
After reading through all of the archived newsletters I started thinking about my childhood. Lots of board games, BBQ's at the park, ball games in the yard and crafts with Mum on the weekends - often making birthday or Christmas presents for the family. We taped our favourite movies from the television, ate leftovers and always mended things instead of immediately replacing them (if it was safe). We were a hard working family but were very happy and with three kids my parents were able to afford to pay off their home quickly and start buying investment properties. Thank you so much for your inspirational calendar. I am really excited about using it this year to track my progress!