Hi,
How are you? I hope life isn't too difficult. After last month's newsletters we were flooded with beautiful emails. Thank you! They were fantastic.
This month Sandra is in charge of the newsletter and she has put together a great guide for sprucing up the outside of your home and creating your very own backyard oasis.
I hope you enjoy this newsletter and Sandra's great collection of tips.
Till next time.
Many grins,
Fiona
PS. Before moving onto the main guide. Have a quick stop in the forum where members have been sharing tips, tricks and useful threads for snazzing up their yard.
Being stuck inside 4 walls all day hasn't been too appealing to many Australians and New Zealanders. Creating a peaceful space to sit outdoors and 'just be' is very important to our health and wellbeing.
Here are the steps to create your own oasis:
Choosing your zen space
Cleaning it up
Snazzing it up
Enjoying the space
Have a look around your yard for a space you can turn into a lovely little zen zone.
It doesn't matter if your space is teeny tiny or large and spacious. Some things to consider are:-
Do you have a lovely view or something which you like looking at? Do you have a space out of the wind that could be turned into something special? Is there a protected corner out of the weather that you can use? Front yard, side yard, backyard, balcony or patio it doesn't matter.
Once you have chosen a spot it is time to clean things up.
If there's rubbish in that space, then clear it out. If you cannot physically clear out your space yourself, put an online advert in your local fb community group page or ask a friend to help you.
If you have a lot of rubbish you could hire a skip bin. If the weeds need taming, dispose of them in your green council bin.
If you have an outdoor space and it's not going to affect anyone else around you, it's easy enough to clean with a bucket of warm soapy water, (a squirt of washing up detergent or a small scoop of washing powder, dissolved in hot water first will do the trick) along with a soft bristled broom and a hose. A nice 'drying' day will help too.
Dip that soft broom into that warm soapy bucket of water and scrub, scrub, scrub.
If you have a stubborn mess to clean up, on the ground/paving/concrete, then a stiff broom will be useful to scrub with.
Then hose it off. You can use one of those $2 shower squeegee things to get the water off any windows that are now clean and in your space. Give those security doors/screens a good scrub while you are at it. Make sure the windows/doors are tightly shut first. Enjoy playing with the hose as it is very therapeutic!
If you have a patio and you are in a high rise building then of course you would need to consider how to clean your outdoor floor space. A mop, bucket of water and a scrubbing brush and some elbow grease should do the trick. Sweep the area first and remove anything which might be in the way.
Once you have cleaned your space down, do put a doormat down if there is a doorway which you will be using to go in and out of. Did you know that -
'90% of dirt that comes into your house, and onto the floors, comes in via foot traffic through the doorways'
There are a number of things you can do to improve your outdoor area. Such as, renovating your fence, tweaking your furniture, personalising the space, adding more light, planting greenery and making things comfy.
Seriously, even fence palings can be made more attractive with a coat of paint. See if you need to get permission first, to paint fence palings if you live in a Body Corporate type building set up and do get permission if you have to.
Have a look at the enormous change made to this small backyard, with some paint bought from a hardware store. You can talk to the staff at hardware shops about what paint to buy and they will assist you to choose. You will need to do a rough measurement of any space you would like to paint to make sure you are buying enough paint.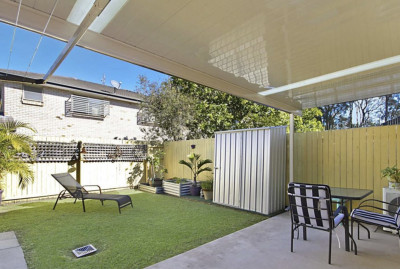 Not everyone will go for yellow BUT you can see the difference 2 coats of paint makes. Bear in mind that fence palings are thirsty so you will need to do 2 coats. You can paint with a big brush and it will take a little time, but the results are well worth it.
NOTE, this paint did not 'bleed through' to the neighbours side of the fence, so you might need to check that your paint won't either. Be careful how you apply the paint. If you go easy, and be patient then you won't make a big mess. If your fence butts up to a garden, then do put something temporarily down to save your plants. Protect any hard surfaces with drop sheets whilst painting. Old sheets would be useful for this.
Have a look at these before and after pics from one of our lovely NZ Simple Savings forum members. Honestly it's the same space, with the fence painted and a tidy up. Doesn't it look amazing!
Before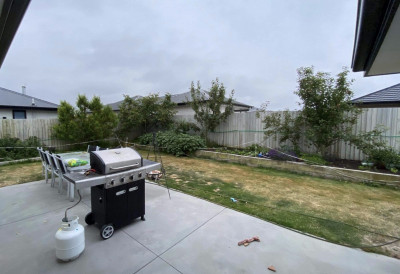 After ❤️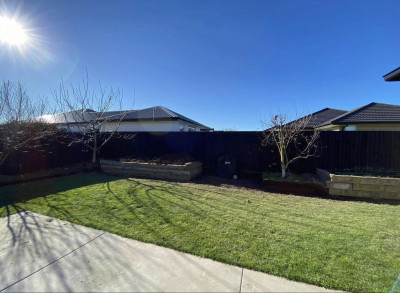 Any good space needs somewhere comfy to sit. If you already have something, then put it in the place where you would like it to go. If you don't have anything, there are loads of small tables and chairs which you can buy cheaply online and have delivered. Take care not to purchase anything too heavy if you won't be able to lift it yourself, or do get someone to help you.
Have a look if there are any good specials at your local hardware store, Aldi, Bunnings and so on, you might find some great marked down outdoor furniture.
Also don't forget to ask if anyone you might know if they have any spare outdoor furniture which they are no longer using. You never know what might just turn up.
Don't be scared to repair or to strip old furniture back or to repaint it if you have some outdoor furniture which could use some improvement. Perhaps your outdoor furniture just needs a wash or a fresh coat of timber stain or oil before it will be good to go.
Next thing to think about is plants. Greenery or colourful flowers are going to turn your space into something special. Though do be aware to make sure your pets can't reach or eat anything they shouldn't. There's lots of fake greenery around which looks quite real, from plenty of places if you need to use it instead.
Perhaps you can hang some real plants up and out of the way? Hanging baskets look fantastic.
Get into swapping plants with your neighbours, family or friends or take some cuttings and enjoy watching them grow, because buying plants can be expensive.
Look online for your local neighbourhood Buy, Swap and Sell group or FaceBook Marketplace as perhaps someone is clearing out their yard or garden and they have spare plants they're getting rid of.
If you have an ugly wall you want to hide, you can screen it with some quick growing plants, or use some lattice panels. Have a look at the gardens in your area to see what grows well.
You might want to put a small veg or herb garden in your space, because we all know that nothing beats fresh! There are plenty of 'ready to assemble veg gardens' out there. Perhaps you might already have a suitable pot or container you might like to use as a herb pot.
Then have a think about what you can add to personalise your space and to make it truly your own. Garden ornaments, little statues, a birdbath for the birds, a fairy garden, a sundial or maybe a Buddha statue. What have you got that you could use to make your space really special?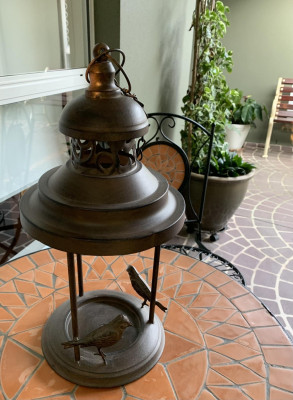 Have a think about lighting. Can your space be used in the evening or at night? Will a candle or two do the trick? There's loads of inexpensive fairy lighting, solar lighting or temporary lighting which can be used. A citronella candle can do double duty too.
If you don't have any shade you might like to get a lightweight umbrella to use. You can put it up or down and put it away in the garage when not using it.
Wear a hat if you have to sit out in the sun, and you don't have other shade, but it really is important to get a bit of sun each day as it provides us with our vitamin D as our body can't store it.
Other than that, you can make your space comfy with cushions. You could buy some cheaply from an op shop or you could make some if you can sew. Any of the major retailer chains or places like Spotlight, Pillowtalk, Kmart etc also sell cushions/cushion inserts/cushion covers.
A throw or two comes in handy if some shade comes over your space or the wind starts to pick up, then you can sit there for just that little bit longer if it starts to turn chilly. If you knit or crochet, there's a project for you to get started on whilst sitting and enjoying your new space.
These two photos are of the same space. The first photo is dressed with pillows and goodies and the second is completely bare. How much cosier do the pillows look?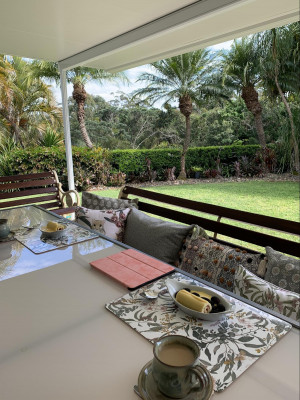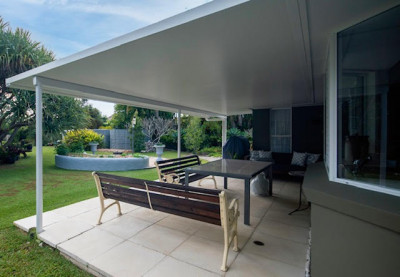 Make sure anything you put outside is safe from adverse weather. Check that it won't get wet or blow away in high winds.
Lastly, pop your earphones/earpods on, listen to your favourite music, get that kindle or good book out and grab a drink, relax or do nothing but admire all of your hard work. You've earned it!
You've now got yourself a lovely spot to have your morning or afternoon tea in, or to have lunch outdoors at, or to entertain in…even if you are dreaming of doing the entertaining after lockdown.
Next are some great food suggestions to enjoy in your outdoor area. First is a classic dip, fruit and cheese platter. Then Sandra's Mexican Rice Salad.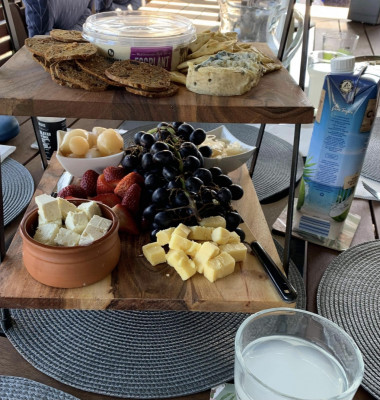 ---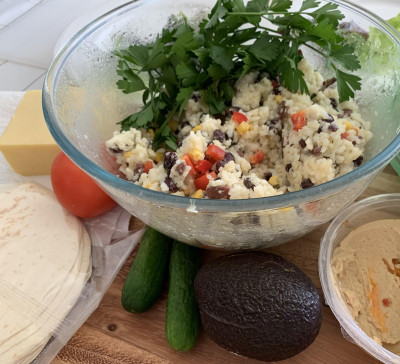 2 cups of cooked white rice ( 2 x 180ml cups of raw white rice cooked with 3 cups of water in a rice cooker)
1 X 400g tin of 4 bean mix or mexican bean mix, well drained
1 x 125g tin of corn kernels, well drained
½ red capsicum, finely chopped.
Combine the cooked rice, bean mix, corn and red capsicum in a bowl and mix.
Season with salt and pepper.
2 tablespoons of oil
2 tablespoons of lemon juice
2 tablespoons white vinegar
2 teaspoons of Spice mix for Tacos
2 teaspoons of white sugar
Place the dressing ingredients into a screw top jar and shake until combined.
Pour the dressing into the bean mixture and stir in well.
Keep refrigerated.
Serve with avocado, tomato, lettuce, grated cheese, avocado dip, sour cream, salsa or guacamole
In burritos, wraps, tacos, with fish, with grilled chicken, with chilli con carne, with pork belly, quesadillas, with BBQed corn cobs...Enjoy!