This issue includes:-
Sad Sally, Happy Hanna: Pot Calling the Kettle Black?
September: A Simple Retirement
COMPETITION: Your Best Tips for a Happy Retirement
Best of the Vault: Life After Work
Best of the Forum: Planning Ahead
Best Members' Blog: Be Flexible and Save
Best of SS Facebook: No More Credit Card Debt for Us!
Savings Story: Social Media Has Turned Me into a Super Saver!
---
Hi,
When putting together this newsletter we did a lot of research into this month's topic of retirement. We sought expert opinions and we learned a lot. We learned that saving and planning for retirement is not actually that hard or scary at all – but the longer you put it off, the more of a challenge it will be.
Even after all our homework we do not profess to be experts on retirement. However, there is one thing we are experts on and that is living simply. Whilst we may not be able to tell you when you should retire or how much you need, what we did find was that everyone we spoke to had one thing in common. The less money you fritter away every day on things that don't matter, the more money you will have when you retire to enjoy the things that do. Put like that, planning for retirement really IS easy!
We hope you enjoy your newsletter, have a great month!
All the best,
Jackie
---
'MARRIED TO THE JOB! TIL DEATH DO US PART' read Pete, spreading out his newspaper. 'Who's married? Anyone we know?' Sally went to read over his shoulder. 'No love, they're talking about Gen Y – you know, the youngsters. They reckon property prices mean that they'll have no savings and will have to work until they die,' Pete replied.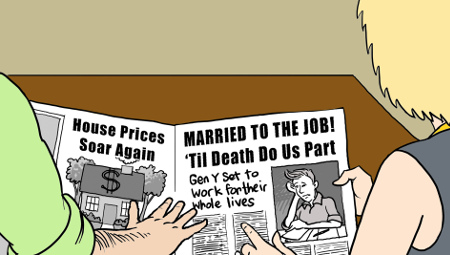 'Well I'm not surprised,' Sally said haughtily. 'It probably takes them twice as long to get any work done, they're always too busy sipping on lattes and going to fancy places or staring at their phones! Retirement isn't the pipe and slippers lifestyle our grandparents had, it's all motor homes and boats these days! How can they expect to ever be able to stop working when they all spend money like water?'
'That's very true,' said Pete, struggling not to chuckle at the irony of his wife's words. 'Who wants to work their whole lives, not me! All they care about is themselves,' Sally went on. 'They're all living for today and never sparing a thought for tomorrow. They've got no plan Peter, that's their trouble!' she told him, folding her arms smugly. Pete looked up at her innocently. 'You're so right, Sal. What's our plan again?'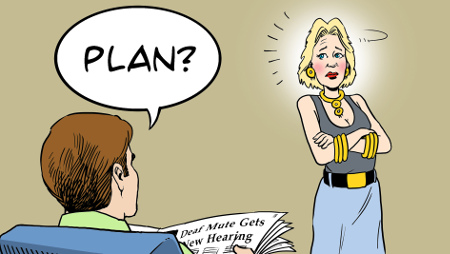 ---
People in glass houses shouldn't throw stones, so they say! And no doubt Sally HAS thought about retirement – just not much. We all know we have to think about it at some stage, but it's either too far off or there's too much going on now! Especially when you consider all the 'how long is a piece of string' questions such as 'when should I retire?', 'how much am I going to need?' and 'what am I supposed to do with my super and when?'. With brain frying dilemmas like that to ponder, it's no wonder the subject of retirement gets thrown into the too hard basket. The unfortunate thing is, once people do get around to giving their retirement some serious consideration, they realise they should have done it a long, long time ago.
Your life shouldn't change dramatically when you retire. The only real difference is you stop going to work. The biggest fear for most people is that the money they put aside to 'see them out' will not last as long as they do. After all, none of us know how long we are going to live for! It doesn't help when government and financial experts declare that the average person needs to have at least a million dollars in the bank in order to be able to retire comfortably. Before you go throwing your hands up in despair at the thought, be assured that many people do not achieve this, or even half this amount. Bear in mind also, that the government's idea of a 'comfortable retirement' may not be the same as yours. Not everyone wants or needs their own boat, or holiday home, or wishes to spend their golden years in a blur of travel. For many of us, a simple retirement is enough.
Whether you currently have a million dollars in your retirement kitty or zero, the important thing is that you keep moving forward. Control the things you can. The less you spend now, the more you can save. The simpler your lifestyle, the less stressful and more enjoyable your retirement years will be. As retired Simple Savings member Veronica says:
'I used to worry and think I would need to work forever. However, I find with cutting costs we live very well on little. I used to spend $250 week at the supermarket, plus takeaway, plus eating out. Now my food budget is $70 a week. This includes lots of beans, legumes, eggs from our chooks and veg. We eat very little red meat and everything is made from scratch. When you are not working you have time to do more yourself. I used to spend Saturdays shopping for fun with girlfriends and buying things on impulse. Now I stay at home on Saturdays, being self-sufficient, saving money and reducing our living costs.'
The other important thing (you knew we were going to say this, didn't you?) is to start saving today. No matter your age, don't put off saving for your retirement. If you don't know where to start reducing your costs and freeing up some extra money, head to the Simple Savings Vault and Forum for new ideas and inspiration. The earlier you start, the greater your chances of reaching that magic million in your retirement kitty. It might not be essential – but wouldn't it be nice?
---
When it comes to planning your retirement, you can never know too much – and this month we want to know, what's the most valuable tip you have learned when preparing for and making the most of your senior years? Share it with us and you could win $100 cash; couldn't be easier! You can enter as many times as you like. The competition closes at midnight, October 15th. Look out for the winner in next month's newsletter!
---
One of the most often asked questions as retirement draws near is 'What am I going to do with myself?' The Vault has plenty of suggestions for making good use of all that lovely free time, without breaking the bank.
There is no doubt that getting your finances in order prior to retirement is incredibly important but there are also many other aspects to retirement. The Retiring not Shy! blog www.retirement-planning.info is a series of posts which encourages you to explore your options and be inspired as you create your retirement plan. This plan then evolves over time, as you near retirement and as you move into and through your retirement. It also helps readers to consider and prepare for unanticipated influences which may affect your plan along the way, such as health and family issues. Jan and Rowan, the site's creators, provide a wealth of useful information in the hope of creating an enthusiastic likeminded community. 'Retiring not Shy!' encourages users to have fun, explore possibilities, expand horizons, wonder "what if", and share experiences and ideas. You can also find Retiring not Shy! on Facebook at facebook.com/retiringnotshy
Contributed by: Henny Penny
Just because we are mindful of saving for the future doesn't mean we can't still enjoy life now! We are trying to save for our retirement and travel so I have canned most visits to shows or expensive outings. However, we still get to enjoy some wonderful treats and outings through discount websites like GrabOne, which I search regularly for new and unique ideas. About once a month I look for something we would not normally do and buy a treat. Yesterday we went to a quarry garden which was the most unusual, bizarre garden I have ever seen. I'd never heard of it before, despite having lived reasonably near it for many years! It cost just $7.00 (normally $12) each and we had a great afternoon. Saving doesn't need to be joyless. Through being flexible and willing to try out new things, you really can enjoy the best of both worlds.
Contributed by: Kathy P
Here are a few ideas to help brighten up your retirement...
Keep your brain active by doing short courses, for example U3A, WEA, TAFE or home study.
Do crosswords, play scrabble, research the Internet, read books or travel to places of interest.
Consider joining a club such as Probus, View Club, Toastmasters, church groups and so on. Search the Internet and library to find out what's happening in your area.
Go to the movies with friends.
Go to clubs, pubs and nice restaurants as a treat.
Get active and go swimming or bowling.
Watch the sunrise and sunset at a beach or park.
Go picnicking with friends.
Do bus and train trips with friends.
Become a volunteer for a charity organisation such as Meals on Wheels or charity shops.
Spend time with your children and grandchildren.
Get a group of friends together for a weekly outing to interesting places.
Get some exercise and join a Zumba class, a walking group or aqua aerobics. Ride your bike, take beach walks, go bush walking, play tennis or go to the gyms you feel comfortable in. You could also try yoga and Tai Chi.
Contributed by: Dianne Nicholas
I am 75 and retired and am really enjoying it! It hasn't been difficult because I make sure I still get up at a regular time and keep my diary reasonably full. I still rise around 6.30am - or even 6.00am and take a 30 minute walk (unless the weather is really bad).
It's amazing how ready I feel to tackle the day ahead. After breakfast I do the immediate chores but don't get so carried away with housework that it diminishes my enthusiasm to do something I'm really keen to do, be it something at home or some activity outside the home.
I look forward to regular get-togethers with family or friends. It's nice just having time together to enjoy activities where you can use your expertise. I keep a diary for appointments to look forward to - this is very important. This may mean trying activities you've never had time for or haven't considered previously.
The important things for me, after retiring from a very busy job, were to:
Have a plan for the day ahead
Make an effort to mix with people (even briefly)
Be expected somewhere a couple of times a week
Indulge in some of the activities I could never find time for before retirement
Take time out for holidays, even if it's just a change of pace for a couple of weeks
Contributed by: Patricia F
Retirement does mean adjusting to living on a much tighter budget, but it can be done - and still give us a happy life! I am enjoying my retirement so much!
The first thing I did when I retired on the pension was to get to know my local library better. I found plenty of information there about organisations in Brisbane that I might want to join. I went to just about every talk and workshop I could. I ended up becoming very involved with a local community garden at Beelarong Community Farm at Morningside. My life changed from that time on as I have made some wonderful new friends at the farm and have even taken on my own allotment there so I have access to lots of fresh vegetables.
Another thing I do regularly is check out the Brisbane City Council (BCC) website where they have a mine of information about local free events. BCC fund the GOLD program (Growing Older Living Dangerously) and for a fee of $4.00 per workshop you can learn how to do all sorts of things.
Another worthwhile idea during retirement is to become a volunteer. This is very satisfying and another way to make new friends and keep our lives full and happy.
It's also important to make sure you keep fit and healthy. You don't need to join a gym, just get out there and walk. I bought myself a camera and wander around local parks snapping away. It's easy to stroll around for an hour without even knowing it! Each step you take helps to keep your joints working and your bones strong. When you first retire your doctor can give you a thorough check-up with on-going mammograms, pap smears, skin checks for skin cancer, blood pressure testing, and prostate checks for the men. It's all important because if we have good health, really, we have everything!
It's also important to keep our minds active. Look into U3A (University of the Third Age) who run all sorts of courses without breaking the bank.
Contributed by: Jean Burke
If you're planning retirement soon, this tip may help you make the most of it! I was browsing through my local library and found an old copy of 'Making the Most of Retirement for Dummies', author Julienne Garland. I picked it up, had a flick through and thought this is not a bad book, it's full of ideas and strategies! The book covers a variety of issues from finances to health, relationships, community, volunteering, moving and more. I'm finding there are lots of things I hadn't thought of and am now making plans, and changing some of my ideas about retirement too!
Contributed by: Leah Z
Probus is a wonderful way to enjoy cheap entertainment, friendship and mental stimulation if you're retired or semi-retired. My local group charges $30 membership per year which provides access to eleven monthly meetings each year with morning tea chat time and very interesting guest speakers from horticulturists to medical researchers and more. For a little extra you can participate in walks, theatre parties, movie outings, museum visits, dining out, wine and cheese nights, day trips and more. You can also join their book club or coffee club. Probus is sponsored by Rotary and aims to keep retired and semi-retired people active with mental stimulation and friendship. Find your nearest club at www.probussouthpacific.org
Contributed by: Suzanne Robinson
I have just stumbled across the website www.learnoutloud.com which has over 500 free audio and video titles for download and streaming. This directory features free audio books, lectures, speeches, sermons, interviews and many other great free resources.
It is often difficult to find gifts for older family members but to be able to download classics such as Orson Wells' original radio show 'War of the Worlds' and many others, I now have a wealth of original gifts at my fingertips for the cost of the CD I burn it to. This is indeed legal, as they are out of copyright.
Contributed by: Jane Louise
When you retire, the first thing you need to do is a budget so you can work out everything that must be paid each year and how much income you expect to receive each year. When you know what cash you'll have spare, you can then decide what you would like to do. And remember, retirement is a time to think about yourself for a change. Enjoy life!
Contributed by: Lorraine
The Vault contains many more helpful tips and discounts for retirees according to the area you live. If you are a Vault member, check out the Seniors category here for more opportunities to save in your area. If you are not yet a Vault member and would like to join, you can upgrade your membership here.
---
The subject of retirement and how to prepare for and survive through it is a regular discussion topic on the Forum. It's a terrific place to get sound advice from those who have 'been there, done that' and bounce ideas from others who are also going through the thinking and planning stages. Check out some of these interesting and enlightening threads for starters!
Grandma of 6 made the decision to retire – in one month's time! Read along as she prepares for her exciting journey to a new life in a new home.
read more...
Want to know if you're on the right track saving for your retirement? Forum member, ss lady, shares a handy retirement calculator that has everyone talking.
read more...
Jessica has a new job with a retirement plan which allows her to put aside 25% of her income. Should she or shouldn't she? An interesting discussion follows!
read more...
Geoff is gobsmacked to read articles which recommend a nest egg of a million dollars for retirement. Are they for real? If so, how is the average person supposed to manage it?
read more...
Fit and trim is counting down the months to her retirement and wants to know when others are planning to do the same. A fascinating and very informative thread!
read more...
Deliberate Creator has a message for those who complain they can't afford to retire, when they blow ridiculous sums of money on takeaway food – STOP!
read more...
Also recommended reading: SunnySarah's blog 'How to retire in 12 months'.
---
One of the many benefits of being a Vault member is that you can win $100 cash each month for your Simple Savings blog! Starting your own blog on the site is easy. All you have to do is log into the Vault, click on 'My Desk' at the top right, then 'Blog'. Then get writing! We love reading all your money saving trials and tribulations and really appreciate the effort that goes into each one.
This month's Blog winner is Looking for Wisdom with her post, 'Be Flexible and Save'.
'When looking to reduce costs and save money for whatever goal you have, whether it is to live within your means, reduce your debt, stay home with your family or save up to replace your car, instead of giving up something, swap it for cheaper (just like the ad for eating healthier). You want to be able to live with what you earn, you need to be flexible with your attitude, you don't want to buy things with money you don't have, you need to bend a little; it doesn't mean you have to go without.
Need or want new clothes? Instead of buying brand new, go to the op shop or swap with a friend. Assess what you have, take it all out and lay it on the bed or lounge and see what you really have.
Foxtel/Austar is pretty expensive, so swap it for Netflix or similar. OK, you can't watch that football game live and you may be a little behind on the popular TV shows, but who cares? At least you save a fair bit of money. Netflix is approximately $10 a month.
Swap your mobile phone plan for prepaid and be mindful of what you are doing.
If you are a book hoarder like me, the op shops often have quite new books for very little. Join the library too (ours also has a sale once a year), or download free or very cheap books onto your Kindle or tablet.
If you love having a garden but don't have the time or energy, plant in pots instead, just herbs and leafy greens are great. Get cuttings from friends and family, buy seeds. Save seeds from things like paw paws, pumpkin, watermelon, rockmelon, tomatoes and cucumbers. Regrow things from their bases like spring onions, celery and bok choy.
Keep checking with your phone and Internet provider; they often have deals they don't tell you about where you get more for less. We recently changed to the NBN and now have double the Internet download for $10 less. This isn't the first time that we have reduced our monthly bill.
It has been said before and I will say it again, turn everything off at the wall. If you aren't in the room, the light isn't being used by anyone. If you are a touch cold, put on a jumper rather than the heater. Turn computers and TV's off at the wall rather than let them stay on standby; we even turn off the microwave at the wall as it is not like we are using it all the time. We have never had any issues with any appliance by turning it completely off.
Enjoy having a beer? Buy a beer kit and make your own. It costs a bit to start but pays for itself pretty quickly compared to buying cartons.
There are many things you can do to change your circumstances without giving up enjoying life. Yes you need to change, and yes it will take a little work to do, but you don't need to live a dreary life with no joy to reduce costs and live within your means, just be a bit flexible.'
Thank you for those timely words, Looking for Wisdom! You can read more of our members' blogs here.
---
Love Facebook or hate it, the Simple Savers Facebook page is a great way to learn even more tips and enjoy reading of other members' successes. This month, Alexandra couldn't wait to share her news!
"I posted on here a while ago asking for budgeting advice so that my hubby and I could pay back $5000 in credit card debt in six months and... six months later (insert drumroll) WE DID IT! I'm so flipping happy. We earn a modest wage and have a small family but we knuckled down and cut that damn thing up as of yesterday. Thanks for all the budgeting advice folks, we took a lot of it on board and now we will be able to save for a long overdue holiday!"
Huge congratulations Alexandra and thank you for sharing. Your post really made us smile!
Joining our busy Facebook community is super easy. Either search up 'Simple Savers' on Facebook or click this link and request to join. Once you're in, let the fun begin!
---
Setting myself a monthly budgeting challenge and then telling everyone about it (via Facebook and my personal blog) has helped my family save thousands of dollars! The first two months focused on grocery savings. Month one was a 'no spend' month (with the exception of basic fruit and vegies) - basically a $21 Challenge on steroids! Month two was instigating a monthly shop (rather than my usual pop to the shops several times a week) with top-up fruit and vegies only. Over the first two months we saved approximately $1000 on groceries compared to our usual spend (which was, admittedly, out of control!). The monthly shop will continue! Month three the focus has been getting better deals on our utilities. I have saved us nearly $2000 for the year on our health, car and contents insurance and approximately $150 on our gas and electricity bills. There is nothing like a deadline to get boring jobs like calling up insurance and utility companies done. Month four will be focusing on getting our budget sorted and seeing a financial planner to establish some longer term goals. Month five will be on coming up with other ways (thinking outside the square) to reduce our current expenses. Month six will be a 'buy nothing new' month (which will be challenging but helpful in the lead up to Christmas). Hopefully by the end of the year our finances will be in order and we'll be in a good place to consider buying a property!'
Contributed by: Emma M
NB: You can keep up with Emma's progress through her blog 'Save My Budget!' at savemybudget.blogspot.co.nz
---
That's another newsletter done and dusted! We hope you enjoyed it and found it helpful. Be sure to check out the Vault and Forum threads mentioned in this newsletter, there is a real wealth of information there to get you started thinking about retirement. Don't forget to enter our 'Best Retirement Tip' competition too!
Until next month,
Jackie