This issue includes:-
Sad Sally, Happy Hanna: Christmas Comes Early!
September - Christmas Cheer is Here!
Hidden Gems Competition Winner
Best Members' Blog: This Month's Winner
Best of the Forum: Making a List, Checking it Twice!
Best of the Vault: Stuff Your Christmas Stocking!
Cooking with Mimi: Happy Hampers... Grinder Salts Infused with Herbs and Spices
Claire's Corner: The Gift of Not Giving
50c Indulgences - Preparing for Christmas
Rob Bob's Garden Blog: Planting out Some Presents
From Last Month: Variety is the Spice of Life
This Month's Help Request: Self Employment Help
Savings Story: Time for Change!
Goodbye for now!
---
Hello,
How are you? Great I hope. This month has been very busy in Simple Savings land. The Ye Olde Shoppe opened with a huge BANG and we have been quickly learning about stock levels, supply and postage rates. Thank you for everyone for being very patient with us and thank you to the great guys at Australia Post who have been very helpful. We truly appreciate it!
The good news is we now have the BluApples and Grunge-Free Sponges back in stock. But, we are still short of BluApple refills. We should be getting more BluApple refills in the next couple of days *fingers crossed*. We will send out an email when the BluApple refills and the sponges are back in stock - they have been very popular!
Thank you for your patience and your lovely emails. We have had some wonderful ones this month. Here are a few: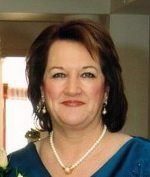 "Hi Guys, I just want to say this is my favourite site. I have told ALL my friends and even posted it on Facebook. I have started a book for myself with the hints, savings and great ideas that work for me. I'm 58 and it just shows you - you are never too old to learn new things. Love, love, LOVE the sugar soap cleaning tips. I have a spray bottle in bathrooms, laundry and kitchen. My kitchen sink has never looked so good for so long. The food storage ideas are amazing, the cleaning tips are wonderful and the money-saving tips are so helpful. I was amazed when I asked a question about my 'killer corner' (slippery tiles from spray starch) and I got an email within 24 hours giving me a solution... AND IT WORKED! Thank you so much for all you do." (Beverley)
"Hi Fiona, Matt and Band of Efficient Helpers! I just wanted to say a special thanks for a wonderful website which, apart from all the useful information, has brought many new friends into my life. Keep on keeping on." (Jo)
"After shopping around, following advice in the Vault, we have switched to Slingshot, saving a whopping $75 per month! Or put another way - my airfare next year to Thailand! Woohoo!" (Carmen)
"I feel what you are offering people out in the community is very important. So many people do not know how to manage their money. Keep up the good work." (Liz)
Have a great month! All the best
Fiona Lippey
---
"Anyone home?" Chloe and Tom peered around Sally's door. "Hello you two, were your ears burning?" grinned Pete. "Sal and I were just talking about you two!" "Oh really?" Chloe and Tom looked at each other, a little disconcerted. "Hope it was nothing awful!" "Not at all! We were just saying what lovely friends you two have become", Sally smiled. "And, if it hadn't been for last year's street party, you may never have met!"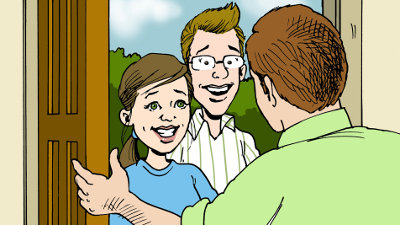 "AND if Sally's car hadn't broken down, you'd still be holding on to a big pile of OUR mail!" Pete teased. Chloe blushed and giggled as she remembered. "My, doesn't time fly? Actually, that's why I'm here. I thought we should make a start organising the Christmas street party and ta-daa - I've already done the invites!" Chloe waved them under Pete's nose.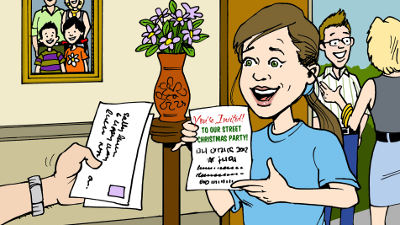 "That's terrific!" Sally smiled, reaching for the invites. "These look great, don't they Pete?" she said. "They sure do" agreed Pete, "except you've got the date wrong Chlo!" he chuckled. "Whaddya mean?" Chloe grabbed the invites back. "Nooooooo!" she stared at them in horror. "I made it for THIS Friday! Well there's only one thing for it", she looked at the others sheepishly. "Has anyone got a pen?"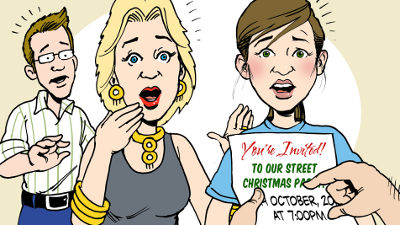 ---
If you want to have a fantastic Christmas instead of a frantic Christmas, this is the way to achieve it!
For the last two years, Simple Savings inspired street parties have been a huge success, with over 100 parties taking place throughout Australia and New Zealand all at once! If you haven't already done so, now is the time to start organising YOUR street party. We've made it easy for you to get started - just print out the invites and hand them round your street!

Here is the link to your Christmas street party invite. Print them out, fill them in and start dropping them in letterboxes now.
While we're on a roll, now is also the time to start getting your Christmas preparations ready. And yes, we do mean NOW, not in December! If you try to do everything in December when everyone else is doing it, it will take you ages! You will have to battle traffic jams in the car park, struggle to get things done between social events, find yourself constantly running out of time and end up getting so worn out that all the fun that should have been in your Christmas got zapped by a pile of over-stressed worry. Don't let that happen to you! This year, let's get the following straight, right now:
Your gift list: Write out a list of everyone you want to give presents to this year. Making a detailed shopping list NOW means you can start looking for sales and online specials. The shops are quieter and you will get the best prices as you have the time to shop around. Having a detailed Christmas shopping list also means you will not get sucked into impulse shopping - if it's not on the list, it's not in the trolley. It means you aren't doing that last minute panic buying at the shopping centre where you usually pick up something expensive because you have run out of time to pick something 'perfect'. As you cross items off your gift list, wrap them up too, so it is one less task to do in December.
Your party list: What are you going to do on Christmas Day and who with? How many people are you feeding? Who is going to help you? Work it out now so you can organise your food list early. Do all the thinking now while you have time and it will be one less job in December.
Your holiday list: If you are going away, make your packing list now. Sit down and think while you have the time and write down everything you may need. This way there are no surprises in December and no last minute rush to the shops that end up taking three hours.
When you leave making Christmas gifts until December, time can become your worst enemy. For many of us it all becomes 'too hard' and our best creative intentions go out of the window as we admit defeat and head to the shops. But if you start making your gifts now, time can be your best friend! You have plenty of time to make cool gifts, you can start planting seeds to give plants as presents, you can look for recipes to bake at your leisure... whatever you choose, do it now. It's a wonderful feeling to be able to take your time for once and plan those gifts, make them, then put them aside. Hand-made gifts are the best value for money and are always greatly appreciated too!
The sooner you organise Christmas, the better Christmas will be. So get to it!
---
Our Hidden Gems directory is designed to help members source the best deals in their area. Whenever you come across a real gem of a business, enter it in our Hidden Gems directory and you could win our monthly prize of $100 cash! This is our way of saying thank you for sharing your knowledge and helping other members save. The more information you can give us about your special store or business, the better.
This month's winner is Vella Postforming and Kitchens (Londonderry, Sydney) as nominated by Tinker.
'If you are after a kitchen bench top at a fantastic price then Charles Vella is the man to speak to. We decided to renovate our kitchen ourselves to save some money and went to different kitchen places to price up bench tops. Our local kitchen place came back with a quote of $1470! A friend put us onto Charles - he is a wholesaler so by going to him you cut out the middle man. He quoted us $700 and had it done within a week. It was an extra $100 for him to come and measure but that's not essential if you are happy to measure yourself (we wanted to be sure!). He can also fit the bench top for you at an extra cost. We were very happy with his customer service and the quality of the bench is fantastic.
Please note he only does laminate - no stone or wood - but he has hundreds and hundreds to choose from.
Vella Postforming and Kitchens is at Leitch Avenue, Londonderry, NSW, phone (02) 4572 0722
Well done Tinker on locating such a fantastic hidden gem and thanks so much for sharing.
If you know somewhere special you'd like to recommend, please write in and tell us. Send in your Hidden Gem here and you could be the next winner scooping the prize money. Thank you to everyone who entered and good luck for next time!
---
One of the many benefits of being a Vault member is that you can win a cash prize of $100 each month for your Simple Savings blog! Starting your own blog on the site is easy. All you have to do is log into the Vault, click on 'My Desk' at the top left, then 'Your Blog'. Then get writing! We love reading all your money saving trials and tribulations and really appreciate the effort that goes into each one.
This month's winner is Tradie's Wife for her inspiring blog "A Whole Approach - My rules: No car unless it's inter-town travel"
Now, those who read my little blog on here have probably noticed that I am really, really stoked to have a purposeful bike in the family, the cargo bike. But my fascination with these bikes extends past 'I've got a cool bike'. I intend to not use my car around town at all now. It is reserved for trips that are at least another town away. Anything over 10km = car use. Anything under 10km = bike use.
I've filled up my car today - $88 for a tank of fuel! Ouch. I'm hoping with my new biking enthusiasm I can make that last for quite a while. Yes, I took the car out to pick up my daughter from kinder 11.5km away. But I'm simply saying NO to getting around town in the car.
I've had a few 'oh, can't I use the car' moments. But once I'm on the bike, it's all smiles. Last night it was time to go to my usual gym session where I do a body pump class. It's only 6-7 blocks away at the most. But it was night. Oh well, deep breath, on the bike it's got lights. Getting up there was a great warm up for the class, and going home I hardly had to pedal all the way home.
Today was another 'should I take the car?' moment. I went to pick up the balance bike from the toy library. Oh, yeah, better get some sugar for that yummy raspberry cake that I saw on SS too. Then, maybe pick up some more fruit. A stop to story time at the library too. Should I take the car? Well, I said that I wouldn't, so I won't. All these places are in town.
So today, I headed out with my son while my daughter was at kinder. It was great, parking was a breeze. Getting from one place to another was easy. I even picked up a couple more plants for the vegie garden. But how on earth did we pick up;
One balance bike, one medium sized wooden fruit toy to cut up, water bottles, two small craft projects from story time, two loaves of bread, 1kg apples, 2kg mandarins, 1kg bananas, a punnet of strawberries, 2kg sugar, a punnet of herbs, a punnet of cucumber seedlings and a punnet of eggplant seedlings? Also, my little boy and myself. Surely not on a bike! Yep, we did, and it was fun. I've got the picture to prove it!
It is achievable not to use a car around town at all, and not live like a hermit! It's possible without thinking that you would be dependent on a bus route or taxis or even having your groceries delivered. It's possible even if you have children. It's just plain cool, and it is very much a simple saving.
Congratulations Tradie's Wife on such a positive change in your life. To read any of our members' blogs, click here
---
Get ready for Christmas with ideas from our busy Forum 'elves'! Christmas is so much more than puddings and presents - it is about celebrating with those you love. So take the time to plan now so you can be with your family and friends when it really matters.
This delightful thread will definitely put you in the Christmas mood - share our members' Christmas plans and ideas.
read more...
This thread is a treasure trove of ideas to help make your Christmas stress-free but just as special for your friends and family.
read more...
Everything's covered on this list except for ordering in the hay for Rudolph's midnight munch!
read more...
Lots of wonderful ways to show your loved ones how much you care this Christmas.
read more...
---
Fill your Christmas stocking with some of these great ideas from the Vault - make, bake, brew, stew, grow or sew something to put under the Christmas tree this year.
Be organised for Christmas all year round and save a bundle! With 20 people in our immediate families, we have it down pat now. Before, even spending $30 per person was $600 for Christmas alone, without the cost of wrapping paper and greeting cards! These simple tips help us keep the costs right down:
First, we have a 'Christmas box', where we store presents bought throughout the year (this applies to birthdays too). I buy as I find things on special or at discount stores. I keep a list of who gets what, so as the year goes on I know who I have yet to find something for (and saves me getting numerous presents for one person). Buying outside peak Christmas shopping time means I get things cheaper and the impact of the cost is spread over the year rather than all at once in December. We don't have credit cards on purpose, so we have to do something to be organised and not out of pocket!
Second, we buy cheap cards or make our own paper and cards. We used to get $1.00 birthday wrap and $1.00 cards from the discount shops, but now that my toddler loves painting, I get him to do it on really large pieces of butcher paper (I bought 50 sheets at an art shop for $30) to make wrapping paper. He also paints on the back of used A4 paper from the computer/printer, and I bought blank cards and envelopes from the craft section in Kmart ($6.00 for 10) and I cut a portion of my son's painting to put on the front of the card - they look very professional in a pre-schooler kind of way and everyone loves them! The paints only cost a couple of dollars from the $2 shop.
For Christmas cards, we save the trees by not using paper and card and compose a decorative email to send most people, though we do make some special cards for close family and friends. I take a digital photo of the kids dressed up Christmassy and edit the photo to fit two photos in one image. You could print them yourself on a colour printer, but I found when I made calendars one year that it cost me more in ink than it would have to have them printed professionally!
Each year different places have good deals on digital printing (search online). I send it to be printed and cut the photo in half so by putting two images in one photo print, I get twice the value for the same price, and using my blank cards, it costs me just $1.00 per very special card!
Our best Christmas tip (my husband gets the credit) is that every year I buy a big money box from a discount shop. It is a large tin type with a lid that does not come off, except with a can opener. Not being able to open it is really important - this scheme didn't work for us when we had a money box that opened, because I kept raiding it! Every day we put all his change into the money box. We don't open the tin until December. Every year we have upwards of $400 in the tin in coins! We don't miss what we can't see (or can't get at) in that tin. Those $2 and $1 coins sure add up!
We use that money for any presents we have yet to buy, for the extra costs associated with food, and for the travel up to see our family (seven hours drive away). Anything leftover is for our Christmas present to ourselves!
Christmas isn't about how much money you have to flash about! And it definitely isn't something to drown your credit card with! It's about giving and sharing special moments with your nearest and dearest. You CAN do it well and spend less money without being an absolute miser / Scrooge / bah-humbug about it! It just takes a bit of planning!
Contributed by: Susie M.
I saved an untold amount of money last year by not sending Christmas cards to my 100 work colleagues! Instead, I invested lots of time in perfecting a PowerPoint presentation; complete with Christmas wishes which I sent to everyone I work with. Many colleagues have thanked me for sending Christmas wishes with a difference!
Contributed by: Craig Maynard
Board games make wonderful gifts and are even more special if they are home-made! Here are some kids' games I have made in the past:
Snakes and ladders: Using a piece of 3mm MDF (you could use stiff cardboard) I divided the board into 25 squares and, using pencils and Texta, coloured in a board. When finished I covered the whole thing in contact. I bought counters and dice from a game shop. You could make as many squares as is suitable for the age of the child.
Fishing game: I got a piece of board and cut it into a circle (again cardboard would be just as good). I then cut out fish shapes from an old calendar and laminated them, then fixed on paper clips. I made fishing rods out of dowel, string and magnets.
Memory game: I printed up cards on the printer and then had them laminated. On the back of the cards I printed the child's name to make them individual. You could use shapes, family members' photos, dinosaurs or whatever the child is interested in.
Contributed by Claire W
I decided to host a tropical themed Christmas party but had trouble finding suitable decorations, especially place mats and coasters. To save expense and time, I decided to make my own.
While at the discount store, I saw beautiful frangipani wrapping paper for $1.00 per sheet. I cut the paper into place mats and coasters and laminated them. For $5.00 I ended up with 15 place mats, 15 coasters and even some left over flowers for decorations.
Making your own decorations not only saves you money but also ensures the decorations perfectly match any theme you choose.
Contributed by: Nichole Murray
Last year, I saved hundreds of dollars on Christmas presents for my family with this touching and valued gift. I spent some time with my grandma and wrote down her famous recipes for dinners, desserts and her beloved Christmas fruit cake. I did the same with my mum, dad, uncle and some close family friends. It cost very little to print out the recipes which I put into some cheap, brightly coloured folders. I included some family photos between the recipes and everyone was delighted to take home their own copy of our favourite family recipes!
Contributed by: Jenny Koch
Here are some more ideas on Christmas planning and projects for our valued Vault members:
Top 10 early Christmas preparations Contributed by: Christabelle
Fabric family heirloom gift to make Contributed by: Judith Woodlock
Christmas gifts that costs nothing Contributed by: Theresa Neill
---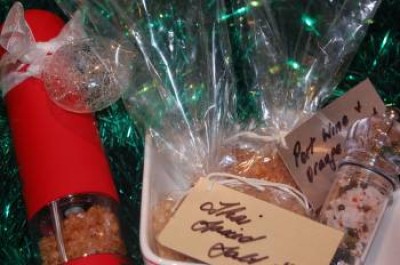 So it's the day before Christmas Eve and you suddenly realise you haven't bought Uncle George or Aunty Myrtle a gift. Ahhhhrrrgh! And of course the reason you haven't is because they're so dashed difficult to buy for. Most home-made gifts are greeted with a cursory 'Hmmm... nice' before being cast aside in favour of something far more interesting and shiny. Just like two-year-olds, are Uncle George and Aunty Myrtle. And every family has at least one of each.
I think I might have a solution for you...
I first saw little flavour-infused salts when I was nosing around in a deli near the beach. Those places always have the best and most interesting things, and I'm not kidding when I say 'nosing around' because they're such an assault on the senses, it's hard to know what to look at next!
They caught my eye because they were so pretty (most things I buy on impulse are purchased because I like the colour or scent of them... eek!), and it wasn't until I looked more closely that I was able to determine that they actually had a practical use.
Some had herbs and spices enclosed in the salt, some had flower buds and other flavourings, and some were just plain weird. I mean, who wants lavender and rosebud flavoured salt on their Sunday roast, I ask you! Clearly creativity had outweighed practicality in someone's kitchen!
Nonetheless, I was so taken by how decorative they looked and how good some of the flavours sounded, that I was inspired to try making my own. I mean, how hard can it be to pop some rock salt and pretty spices in a grinder, for goodness sake? It certainly wasn't going to cost me $49.99 either now was it?
These are so super simple and keep indefinitely, so they're a great gift to have on standby. If you have a George or Myrtle that falls into that 'difficult to buy for' category, or one that appreciates one spectacular or unusual gift over several so-so ones, then this could be the elusive DIY solution. The grinders are available online, in specialty stores and discount stores. Some are definitely better than others, so beware. Alternatively, these look just as pretty packaged in clear cellophane gift bags, where the lucky recipient can then pop them into their own grinder. Easy!
I try to infuse mine with better-known flavour combos. Lavender and rosebud would not be top of my gourmet list, nor, I suspect, on George and Myrtle's.
Equipment:
Cellophane bags, little clear jars or clear acrylic salt mills for presentation
Small bowl
Spoon
Baking trays for moist combinations
Ingredients:
Bags of rock salt or sea salt flakes
Whole herbs and spices of your choosing, ideas below
Suggested flavour combinations
Moroccan: 2 whole cloves, ½ whole nutmeg, cinnamon stick and juniper berries.
Use on lamb, chicken, beef or vegetables.
Italian: Dried rosemary, basil, oregano and sun-dried tomato (must be the dried version, not in oil).
Use in any Italian-inspired dish.
Thai: Dried lime peel, dried coriander leaves, dried sliced chilli and ginger.
Use as seasoning in rice, meat or vegetable dishes.
Asian: Star Anise, dried onion and garlic, peppercorns and dried mushroom.
Great over fried rice, noodles, fish or chicken.
Citrus: Dried orange, lime and lemon peel.
Fantastic over fresh fish.
Mexican c****hocolate: Chilli and cocoa.
Try this one over steak, chilli con carne or slow roasted beef. A surprisingly good combo.
Port wine and orange zest:
Gotta have it over steak, sausages or caramelised onion.
Balsamic v****inegar: Balsamic vinegar and black peppercorns.
Yummy over avocado or other salad ingredients
Method:
If you choose a combo that has freely available dry ingredients then all you really have to do is crush them slightly to allow the flavours to release and add them to a quantity of salt, combining them well in your bowl. One quarter of a cup of flavourings to each cup of salt is about right.
They're then ready to be spooned into your bags or grinders for instant gift giving.
If you've chosen something that has peel, fresh chilli, ginger or moist ingredients like port, then you'll have to spread these ingredients on a lined baking tray once combined with your salt and allow them to dry in a low oven for several hours. I find that 1½ - 2 hours on 140°C, will usually do the trick.
To make the port or vinegar infused variety, simply add a quarter of a cup of port, red wine or any vinegar to a cup of salt and combine well. Then you just spread your infused salt on a lined baking tray and allow it to dry in the oven. This is particularly lush used on steamed vegetables, roast or steak. Yummo!
So, now that you've worked out what to give Uncle George and Aunty Myrtle to keep them happy, maybe they'll stop giving you tea-towels and invest in a nice gift voucher or two for you. One can only hope!
Read more of Mimi's wonderful Christmas ideas and recipes in our Members' Blog area.
---
I don't know about you, but I can feel Christmas coming... and every year it seems to start just that little bit earlier. The first sign is when one of your super-organised friends cheerfully declares that they've done their Christmas shopping already, because after all, 'it's only 12 weeks 'til Christmas!' Next, you notice the Christmas card stands creeping into Kmart (even though it's only mid-October), and before you know it, jingle bells are ringing and the shops are brimming with festive decorations, Christmas discounts and sales galore! So before the madness begins in earnest, I'd like to share a little tip on how we managed to curb the spending and stress at Christmas.
About eight years ago, we decided it was time to do things a little differently. And it was the best decision we ever made. It came about after one particularly indulgent Christmas in which we'd all bought stuff that really, none of us needed - trinkets, gadgets, ornaments, jewellery, chocolates... by the time we'd all finished opening them, I felt uncomfortably... gluttonous. I couldn't help but wonder how many people were going without, while we sat there, stuffed on Christmas food and surrounded by a surplus of gifts that none of us needed. It just didn't feel good, knowing we'd all spend the last few weeks stressing, shopping, worrying and overspending on 'stuff' just for the sake it.
I mentioned how I felt to my mum a few days later, funnily enough she said she felt the same way. We agreed it was silly that we were all spending so much money, time and stress buying gifts for each other that we really didn't need. We got talking about the meaning of Christmas and how it has changed over the years. Mum told me that when she was young, Christmas was a time to enjoy the things families couldn't afford during the year. Like a roast chicken dinner (something they rarely had) and a fresh orange in their Christmas stockings - imagine, getting an orange for Christmas and being delighted with it because it was such a treat! But these days, we don't really go without anymore - not like a few generations ago anyway. So trying to make Christmas a special occasion means we end up spending a ridiculous amount of money and eating a ridiculous amount of food - so that we can 'indulge' ourselves for Christmas.
That's when we came up with a new way of doing things. We decided that really, Christmas is a time for children, so we agreed to only buy gifts for the kids in the family. Instead of buying gifts for the adults, we each buy an extra children's gift or two to donate to a local charity that needs gifts at Christmas time such as The Salvation Army. I get my kids involved with this - they help choose and wrap a gift and take it to the charity.
I also help the children make something in return for the adults. It's usually a little treat like Christmas biscuits, fudge or some other sort of sweet. We wrap them with nice cellophane and ribbons and the kids use their scrap-booking bits and pieces to make cards. I think it's good for them to give something that they've put effort in to themselves. We do the same thing for teachers, neighbours, coaches and anyone else that deserves a 'thank you' at Christmas time.
It was the best decision we ever made regarding Christmas. It means I only have to think about buying for the kids - which is more than enough to worry about! In the weeks leading up to Christmas I make lists for each child- so by the time I hit the shops I know exactly what I'm going to buy, I try really hard to buy things that they want or need and avoid rubbish that will just end up in pieces or forgotten about, although this is easier said than done!
It's such a relief not to worry about what to get for so-and-so, or thinking that you've spent too much or not enough. Plus, we also decided that if we want to, we can spoil each other with little 'just because' gifts during the year, rather than 'because I have to' gifts at Christmas. For example, earlier this year my aunt's favourite beauty therapy clinic had a huge special, so I bought her a voucher... 'just because'. It only cost me $10 (not that she knew that!) but she loved it.
I can't imagine going back to buying gifts for everyone in the family. It's so much more relaxed in the weeks leading up to Christmas without the pressure or worry of shopping for the adults. We all get lots of pleasure watching the kids enjoy their gifts and of course, we still manage to indulge ourselves with way too much food - well, it is Christmas after all!
The best of all gifts around any Christmas tree: the presence of a happy family all wrapped up in each other. Burton Hillis
Read more of Claire's Corner in our Members' Blog area.
---
September's Indulgences Under 50c theme has been about preparing early for Christmas. By starting early we reduce the stress and expenses and get to really enjoy the season and the time with our families and make memories instead of debt! We really believe this can be the most wonderful Christmas and the least expensive.
One huge area to save is gift giving. Home-made gifts are just lovely and presenting your home-made or home cooked gifts beautifully just makes them look wonderful. Cellophane bags add a professional touch and keep food fresh. At only a few cents each they are a good way of making things look great. Some of these ideas are easy enough to get the kids involved which is even better.
Every year I make coconut ice and cut it into slabs or heart shapes. Soft pink ribbon and rose buds make it a little bit more special. People ring me up asking if I am making it this year! Slabs of peanut brittle, toffee, fudge or a favourite slice all look great and are packaged easily.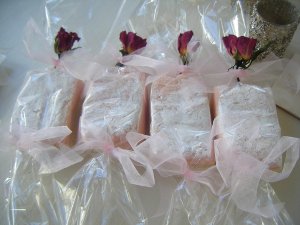 Sourcing containers from op shops or bargain stores makes presentation easy. Crystal decanters are inexpensive at op shops and are lovely for home-made bubble bath or even laundry liquid or fabric softener. They look stunning. I paid $2.00 for these bottles and filled them with home-made bubble bath. The recipe is on the thread and it is the most beautiful bubble bath I've ever experienced!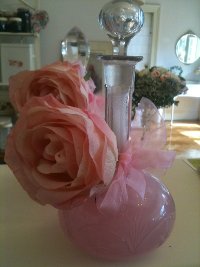 Cut and vintage glass bottles are suitable for herbed vinegars and oils, chocolate sauce and even home-made liqueurs. A very easy thing is to fill martini or crystal glasses with fudge and tie on a little spoon. These tiny spoons were a few cents each from craft stores. The cocktail glasses were a dollar and the little glasses were $0.20c each. Everyone I have given these to has loved them! Lots of cellophane makes easy presentation.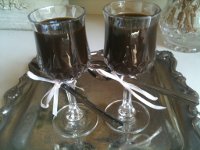 Right now is a good time to start collecting packaging supplies and prepare packaging ahead. As I know I'll be making shortbread and truffles, I've already stamped some paper bags and small boxes - a little glitter glue and everything looks festive! These are great projects for the kids as well and they love to help. Gift tags finish things off and recipes can be included as part of the gift.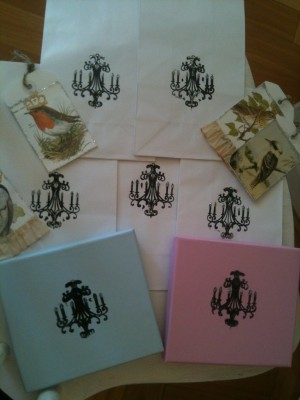 The Vault is full of all the Christmas recipes you could ever need, as is this month's 50c Indulgence thread. During October, the 50 Cent Army will be having fun with "I can make it for less". This is going to be a big month! Over the years I have found myself longing for all sorts of things I've seen in catalogues or magazines. The price tag is NOT going to stop me as I find a way to make it myself. Helen has a gift for copying her favourite looks so beautifully but inexpensively so it all looks magazine-worthy! From chandeliers to Christmas wreaths there's a way to make things for ourselves at a fraction of the price. Our mission this month is to help you finally have the look you've been dreaming of for your home, your clothes and even your jewellery! For some amazing ideas come and join us.
It has been a fantastic month with so much encouragement and so many great ideas as usual - come and join us at </fora/2857888>
Annabel
---
Pepinos
Decided to take a few cuttings this week to make the gift-giving season a bit easier on the hip pocket. Normally we give elaborate healthy treats made from cocoa, nuts and dried fruit with the odd additional sugary treat thrown in. Unfortunately we always leave the making of said treats until the night before we see family and friends so this year I thought we would do it a bit differently.
Pepinos were the plants that I really wanted to gift as they look great, provide a lot of fruit and the kids love eating them. I took 23 cuttings and tried two different ways of propagating these guys. The first way was by taking cuttings and trying to root them in a soil mix. Branches of new growth, about 12cm to 15cm long, were taken from the plant, trying to avoid any with flower buds.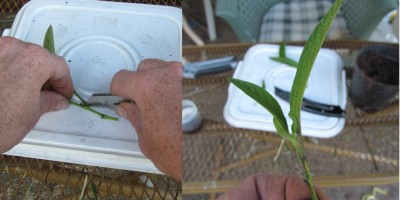 First step in the process was to remove all but the top three leaves from the 12cm/15cm cuttings using a sharp knife. I used a fresh Stanley knife blade that had been cleaned well with soap.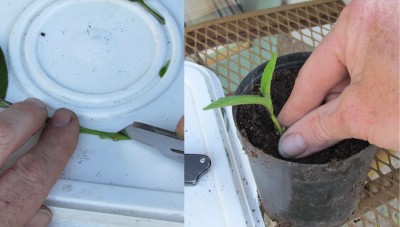 The next step was to make a diagonal cut at the base of the stem, then dip it in raw honey and firmly place it into the soil mixture. Rooting gel and powder could be used but I wanted to try the honey to see how it went. The amino acids and enzymes in the honey are said to give the cuttings a helping hand to set roots. The cuttings will be kept in partial sun for the next few weeks and misted with water twice daily to keep the soil moist.
The other method of propagation I used was to just sit the cuttings in a jar of water (right side of picture). Can't get much simpler than that.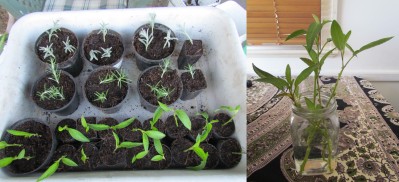 I really hope this method works as it is a lot simpler and there is no sitting around waiting and guessing if the process has worked as the roots are clearly visible.Ten cuttings each of rosemary andlavender were also taken so people can have a choice of what plants they would like.
Carrot tape
Another great gift idea for people who like to grow vegies was one that was mentioned again recently on the SS vegie patch thread by Janlo - carrot seed tape. Carrots can be a bit fiddly to thin (or maybe I just keep putting it off until it's too late) so using carrot seed tape can make thinning them out a breeze. It is a really easy project that the kids can get involved in that costs nothing more than a packet of carrot seeds, a strip of toilet paper and some flour.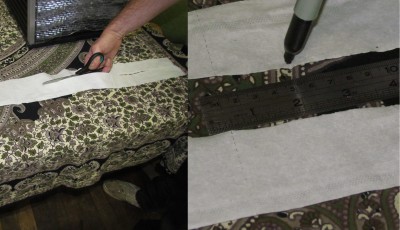 For this batch I used eight squares of toilet paper that was cut down the centre then marked out in 5cm increments.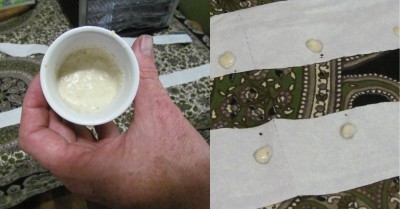 Next about 1tsp of flour was mixed with enough water to make a thick paste. A small amount of the paste was dabbed onto the paper next to the marks to one side of the strip.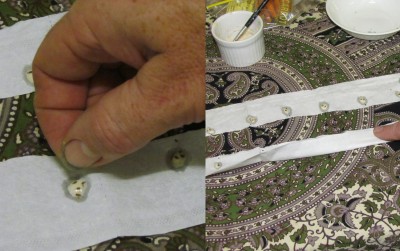 Add three to four seeds to the blobs of paste then fold the paper over using the excess paste to stick the tape together.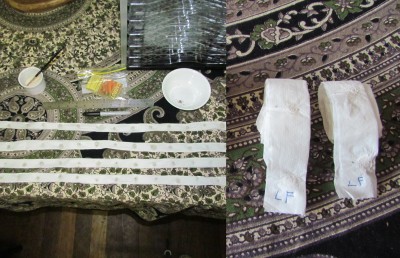 Labelling the rolls can also be handy if you are preparing a few different varieties at a time. These tapes can just be laid out onto a prepared bed and covered with a thin layer of soil or sand. We have made them before for ourselves and as gifts and they are always appreciated. The lettuce and spring onion tapes we made up didn't do any good at all so we just stick to carrot tape now!
That's about it for now...
Hope you all have a great weekend in the patch if you get the chance... **: )»**
Read more of Rob Bob's garden blogs in our Members' Blog area.
---
Last month Heather asked:
"I have a conundrum. We are both in our seventies. My husband has been seriously ill and is on chemotherapy. I am being constantly reminded that he 'doesn't like' stews or casseroles. He only likes grills or roasts. Consequently I am trying to cook something new and different every evening of the week, which I find thoroughly emotionally exhausting. He won't have a main meal in the middle of the day, which we should both have, as it's better for physical reasons. I would greatly appreciate some solutions!"
Thanks so much to everyone who wrote in to share their wisdom with Heather. Here are some of our favourites!
My husband was quite ill during radiation therapy for cancer on his face and needed lymph nodes in his neck removed. He also lost a few of his teeth and found it difficult to chew. He doesn't like stews or casseroles either, so I used to cook his steak or chops in the slow cooker, just like a casserole except I left the meat intact. Make sure you don't let the meat fall apart when it's on his plate, and definitely no sauce! Give him his own steamed or boiled vegies. He also ate a lot of rice pudding - his favourite!
Contributed by: Susan K.
Hi Heather, I too look after someone very ill. He is also not fond of stews or casseroles so I make a very large baking tray of lasagne, layer with white sauce, spinach and lasagne sauce. I give it to him one night then cut it up into squares and freeze for the next week. The cooking takes quite a while but it's worth it because I have one night that I don't have to worry about.
Also, the slow cooker is magic. Corned beef goes down well, I just put it on in the morning on low, with all the vegetables thrown in. I add carrots, cabbage, onion (whole but peeled) and potato (which I mash at the end). He also loves sausages done in the slow cooker. I use McCormick Slow Cookers - Tomato & Onion Sausages mix. I brown eight sausages and then just throw everything in that the packet suggests (onion, red capsicum and 400g crushed tomatoes), and cook on slow all day. I also chop a bit of parsley to throw in and bingo, it's done! I then mash some potato and put the sausages and sauce on top. For some reason he does not class this as a stew! Actually everyone that has eaten this just loves it. I'm not a packet person but this is a winner!
Contributed by: Lynne O'Donnell
We do hope your husband recovers soon Heather, meanwhile perhaps you could pre-cook your meals to reheat when needed. My 94-year-old aunt also has this problem and cooks quorn (available at Coles) and presents it as chicken. My uncle always comments on how nice his 'chicken' is, followed by I don't know how you eat that 'quorn' stuff (shhh... we are not telling him anything different!). I also make green smoothies to get heaps of nutrition into the family. For recipe ideas, just Google 'green smoothie'. Basically they contain apple, ginger, celery and lemon along with any herb and non-bitter greens.
Contributed by: K. Lowry
Hi Heather, I am 64 and have had cancer too. To add variety to your husband's grills, you could try various gravies to make it different such as brown onion, mushroom and pepper. You could also cook several chops in one go, then just heat them up with a different gravy each night. On the weekend you could have a roast and set aside the leftover meat for the weekdays. Lunches can be tinned soup with a piece of fruit, or a sandwich. My DS likes different vegies than I do, so I cook most of them in the steamer - peas, carrots and potato for DS, beans, cauli and sweet potato for me.
Contributed by: Lesley Forster
If you have someone in the family asking for variety in the weekly meal menu, here are a few cheap and easy ideas that could help.
Try lamb cutlets with salad and mini roast vegies. Cubed parboiled potatoes and pumpkin tossed in olive oil and seasoned before being finished off in the oven can be pre-prepared and frozen then reheated like frozen chips.

You could also make bulk rissoles and cook with gravy, mash and vegies as needed.

Omelettes filled with mushroom, cheese, fried onion and strips of low-fat sandwich ham and tomato slices are also a nice option.

Try stretching roast beef by freezing extra slices and then serving with gravy at a later time.

Experiment with different soup flavours such as chorizo sausages fried and sliced and added to starchy based soups like potato and pumpkin.
Contributed by: MeekM
Hi Heather, I appreciate the strain this is putting you under and the stress it must cause you. In order for you to cope better, and for him to have his needs met, you could do up a menu plan using a 'this goes with that' approach. Here are some ideas:
Vegetables: Choose from carrots, beans, broccoli, cauliflower, pumpkin and so on. Cook by roasting, grilling, steaming, stir-frying, mashing or baking.
Potatoes: Bake whole, make into chips or wedges, mash with gravy, slice and sautee or layer and bake with cream and cheese.
Salads: Choose from green, pasta, rice, couscous, carrot and raisin and lots of other combinations.
Main meals: Chicken - Choose from grilled thighs (marinate in soy and honey), grilled kebabs on a stick, chicken schnitzels, grilled breast meat made into chicken parmigiana with tinned tomatoes and cheese, chicken fillet burgers, chicken breast grilled with a bacon slice and an egg on top.
Lamb: Use the framework of the chicken ideas such as grilled chops, kebabs, butterfly roast and so on.
Draw up your menu and involve him in the selection of meat and which day he would like it and give him a choice of vegies or salad. The Australian Women's Weekly has some great cookbooks on grills and salads if you need recipe ideas.
To help solve the issue of when to eat the main meal, perhaps you could make up the salad or vegies in the morning and have the meat ready to grill. At lunchtime, throw yours on the grill and have your main while he has soup or a sandwich. Then in the evening, all you have to do is grill his meat and eat something light for yourself. Also Meals On Wheels may be an option to consider if you need some time free from cooking.
Contributed by: Jane
I have four boys and enjoy cooking and eating stews in winter, I usually serve it with potato or rice and they are quite yummy! But they hate it! However, I have a pie maker and find that if I put the same stew or casserole in these pies, everybody gobbles them up with no complaints at all! They even want thirds! Fantastic if you want something quick for lunches or a light dinner!
Contributed by: Alexia Fox
I visit my grandparents who are in their early '90s once a week with my twin daughters. As I had my hands full when my girls were babies, my grandparents used to make me lunch every week. But now that my girls are almost three, I have the time to cook for them. I have a few recipes in particular that I have cooked as Granddad watches on so that he can learn them. I specifically choose meals that are super easy and have lots of flavour and also meals that can be made in bulk and frozen for nights they don't feel like cooking. Here are a few of my recipes that I'd like to share.
Pesto Meatloaf
500g beef mince
3/4 cup grated cheddar cheese
3/4 cup breadcrumbs
3 tbsp water
2 tbsp basil pesto
1 egg, slightly beaten
1/4 tsp nutmeg
1/4 tsp pepper
Mix all ingredients in a bowl and press into a loaf tin. Bake at 180 degrees for 45-50 mins. I serve with steamed vegies. I've made other meatloaves and my husband always comes back to this one.
Tuna Mornay
Melt two tablespoons of butter in a pan and add one chopped brown onion. Simmer on medium heat until the onion is transparent. Add a quarter cup of flour and stir through. Take off heat and from a jug with 300ml milk add 50ml at a time, slowly stirring until milk is absorbed each time. When all milk has been added (add more if the sauce is too thick) add 400g tin of tuna, half a cup of tinned corn kernels, one tablespoon of Tuscan seasoning and stir until combined. Transfer to a casserole dish and top with breadcrumbs and grated cheddar cheese. Bake at 180 degrees for 15 mins or until cheese is golden.
One more suggestion is to add chopped zucchini, carrot and bacon to spaghetti bolognaise just to boost the flavour a bit.
Contributed by: Belinda Langdon
If you have someone in the family who is sick, or is just sick of the same old meals, meal times can become an exhausting process! Here are a few inexpensive tips to help make things easier.
Tip 1 - Plan ahead
Set up a weekly/fortnightly menu so you don't have to think too much. On shopping day, instead of packing the meat away, process it into the meals you are going to use and place in bags or containers. Another time saving device is a mandolin vegie slicer - it makes vegie processing very quick and because they cut so thinly, they also cook quickly. Find out more at http://www.dehydratorbook.com/vegetable-slicer.html.
Tip 2 - Juggling meal times
If someone in the family prefers to have a main meal at a different time, perhaps you could cook both meals at the same time, then simply reheat the meal that is to be eaten later.
Tip 3 - Adding variety
Try using different meats with the same sauce, and then the same meats with different sauces! Here are a few ideas...
BBQ steak with: honey & soy sauce, sweet 'n sour sauce, Italian herbs and garlic, Moroccan spices.
Moroccan spice: on beef and grilled, sprinkled on the roast, mixed in with mince for patties.
So if you were packing away your meat for the fortnight, you'd make three sauces (and lots of them) and then just do the round robin as you pack and freeze it all ready for defrosting and cooking.
Another idea is to make a rolled roast. The same cheap cuts you use in the stew can be made into a rolled roast which is very easy to make. Roll hammered BBQ/stewing steak in a large piece of flap and tie it as per normal. You might want to make a core of something interesting like a nut and bread stuffing, a few Italian herbs, garlic and so on. This will mean less meat and make it look a bit more expensive. Slice thinly so the quality is not too evident and use a good gravy. Jazz it up with super wonderful fluffy potatoes.
Contributed by: Tamara K
If you have someone in the family asking for a bit of variety for dinner, you can mix things up by adding a little flavour to the meat. Some ideas include seeded mustard (spread on the meat), honey soy, port and pepper or herbs crushed and mixed with a little oil and cooked on top.
Another idea is to jazz up sauces or gravies with sauteed onions, mushrooms, olives, capsicum, tomatoes or herbs. You can make these up and just add to the plate of those who want them.
Contributed by: Binda-j
Here's how I add a little variety to meal times - and give myself a few days off cooking! My husband likes roasts and chops, but isn't keen on stews, casseroles or pasta. So I cook two or more roasts at the same time and then make up quite a few different vegetables and gravies. I then freeze several different meals. It means that hubby can get the variety he wants and I get a couple of days off cooking - saving stress and electricity!
Contributed by: Barb Arnold
Buying a small roast is not always economical, so here are a few interesting ideas to help make the most out of your roasts...
Cook an average-sized roast in the usual way, then split it into three. Eat one third immediately with baked vegies. The second piece can be sliced up the next night and moistened with a little gravy from the original roast, or it can be frozen as a meal and served up later with freshly cooked steamed vegies. The last portion could be minced in your food processor or mincer with some chopped onions, plenty of seasoning, a tin of crushed tomatoes and made into spaghetti sauce, cottage pie or used as a beef pie filling.
Use the same process for a roast chicken. Have the thighs or drumsticks for the first meal with baked vegies, then chop the breast meat finely and mix with onions, chopped bacon or ham and mushrooms and moisten with a little yoghurt or creme fraiche. Add about one tablespoon of flour and form into patties. Allow to chill, then coat with crispy crumbs and freeze to eat later. Once defrosted, shallow fry in a little oil. Pop the carcass of the chicken, along with any scraps of meat, into a pan of boiling water and boil for about 15 minutes. Scrape off the remaining meat and mix with spinach, ricotta and grated parmesan and use as a stuffing for ravioli or cannelloni. These can be frozen until required. Defrost and cover with home-made tomato sauce and grated parmesan and bake in a hot oven.
Any meat that you buy in slices, such as steak, schnitzels, pork or lamb steaks, can be beaten out flat with a mallet and stuffed with your choice of filling such as breadcrumbs, cheese, ham, onions, mushrooms, spinach, celery, capsicums, herbs and lemon zest. Then just roll up to form mini-roasts and bake in the oven. Cover first with a rehydrated pack of soup.
This will give you nine basic meals, which you can spread out over the course of a month, and you can repeat them using different ingredients each time. You may find that, whilst you have only actually planned for three meals from one roast, you will have leftovers that you can stretch to make extra meals.
Contributed by: Norma King
If you're looking to add a little variety to your weekly menu with minimal effort, try using your slow cooker to cook a roast. This can then be used to make a number of meals. I have done this with some success, and I hate cooking meat of any kind! Here are some of the basic guidelines for my Sunbeam 4.5 litre slow cooker:
Beef or lamb: Cut away excess fat from lamb. Place the meat into the slow cooker and cook. Approximate cooking times for well-done are:
LOW: 2-2.5 hours per 500g
HIGH: 1-1.5 hours per 500g
There's no need to turn meat during cooking.
Chicken: Wash the chicken and pat dry. Stuff if desired and truss. Place the chicken into the slow cooker, dot with butter and sprinkle with paprika to add extra colour. Approximate cooking times:
LOW: 1.5-2.5 hours per 500g
HIGH: 1-1.5 hours per 500g
Contributed by: Elmarie Grublys
---
Verna would like to know:
"Are there any hints on Simple Savings about self-employment - the pros and cons, and any problems encountered? I have been offered work in home care (nursing, companionship, palliative) as a sub-contractor and have sought advice from my accountant; a big fat no! I'm just wondering if any other Simple Savers are involved in this growing field and would like to share their experiences."
If you have any pearls of wisdom you'd like to share with Verna, please send them in to us here.
---
"I looked at the site a few months ago and saw a great tip on putting your change aside. I did this and have just banked $340! I joined the Vault a week ago and the things I have done in a week are life-changing. I am now 55-ish and wish I had this knowledge when I was 18. At least now I can forward this information onto my kids. Once again, thanks for your great site." (Sue)
---
Phew! Well, that's a wrap on another Simple Savings newsletter. We hope you have enjoyed it and have been inspired by all the money saving tips. Our members are hugely important to us and we love hearing from you all! So next time you're on the website, why don't you get in touch and say 'G'day'! Let us know what you would like to see more of in our newsletter or any suggestions you have for something new to try. We love receiving your clever ideas!
Don't forget to spread the love around to your family and friends too by forwarding them our newsletter or letting them know about our website. Help make their lives easier and save them money too! Or tell them about us on Facebook by clicking the 'like' button on our Simple Savings Facebook page.
We hope you have a wonderful month getting organised for a joyous and stress-free Christmas - the more we do now, the more we can enjoy ourselves later.
Till next time...
All the best,
Fiona