---
>> The New SS Site is Here! <<
---
Chuck it or Flog it
New Competition: What is Your Proudest Simple Savings Moment?
The Dreaded Plastics Drawer
Competition Winners: Ideas for Spinach and Pork
Happy Chaos
---
Hello,
How are you doing? Life has been really hectic in the Lippey household. The last two months have been pure, spectacular and joyous chaos.
We have had more puppies, the school's strawberry festival, Miss Jacqui's new 3D pen obsession, fine tuning the kitchen, book week costumes, testing recipes, and Matt has been coding his fingers off.
Have you looked at our new site on your phone?? I'm so glad the new site is finally up!
Thank you for your patience and for sticking with SimpleSavings even though we have been unreliable the last few years.
Fiona
P.S. Did anyone spot the spider in the last newsletter? Just in case you missed it, I've snuck it in this one too :-)
---
October is Chuck it Or Flog it month and I made an early start. Two weeks ago I reduced 11 boxes in my garage to only two, and it felt great!
Not only did I recover a large chunk of space; I also found a treasure trove of cool bits like my grandmother's crystal vase, my 'Oh my God I have missed you' Copic art pens and my grandfather's Arlec Supertool, I have no idea how old the Arlec Supertool is, but my daughter Jacqui has adopted it for her 3D penning. (More about that further on)
The best part was it only took about two hours. I had avoided sorting through those boxes for... years! They had been sitting there all that time, taking up space. They had been silently nagging, harassing and weighing me down for a very long time and the problem was solved in two hours.
Is there anywhere else in your life where two hours can give back so much?
Think about it: Most days two hours doesn't go very far. Two hours is:
Getting the kids to school
Watching a movie
A shopping outing
A couple of levels of Candy Crush :)
Staring at puppies
Checking Facebook
But when you spend two hours decluttering you can:
Throw out four bags of junk from a child's room
Remove nine boxes from your garage
Remove two bags of clothes from a child's wardrobe
Get rid of the shoes no one wears
I challenge you this month to make some space in your brain, your house, or even your phone by decluttering.
Choose four tasks you can complete in two hours such as:
Clean out apps on my phone
Declutter small section of the garage
Declutter my plastics drawer
Remove a bag of clothes from my wardrobe
Remove weeds from garden
Complete one of these tasks each week, and by the end of the month you will have done four things you can be really proud of.
IMPORTANT: I really love hearing how you are doing! Please send in your decluttering photos and tips.
---
After I had reduced 11 boxes down to two small piles, I gazed at those two small piles and felt proud of my accomplishment. I thought about Simple Savings, all the wonderful things our members have accomplished over the years, and how much I'd like to hear about them. What is your proudest Simple Savings moment?
This month we are giving away four prizes of $50 each for the most inspiring stories. Please send them to competitions@simplesavings.com.au by 25th October.
---
You may remember from the last newsletter that I have been on a quest to reduce the amount of time I spend in the kitchen. First I bought some magnetic stainless steel containers for my spices, then created a colour coded labelling system for our pantry and bought a Thermomix. Here are some photos to remind you: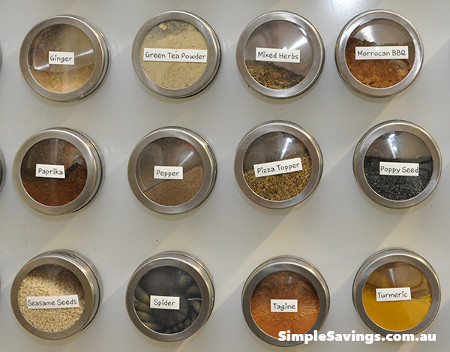 My spice system is going really well. It saves me time every day and every visitor who has seen it has admired it. I just remembered something else: It took me less than two hours to set up :-)
I'm also loving the labeling system. When I designed it I was worried I was wasting my time, that maybe we would use it for a week and then the system would fall apart. The good news is it's working perfectly. It was worth the time spent installing it.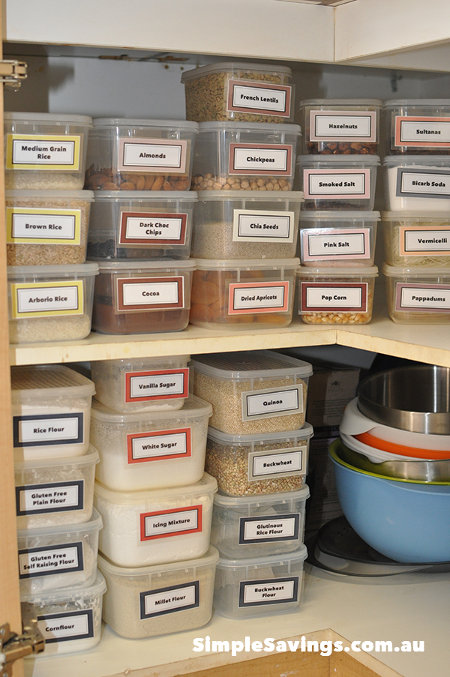 The Thermomix is also doing well. My kids have taken to it and are cooking more of their own food. Woohoo!! This means less time in the kitchen for me. We are using it 2 or 3 times a day. It was a good investment.
While I'm loving these improvements, the kitchen isn't 'there' yet. Example: the dreaded plastics drawer...
For years, finding plastic containers for school lunches has been a huge pain in the bum. I have tried to systemise it before (in truth, my MIL tried to systemise it). But, with six of us using the drawer it soon looked like this.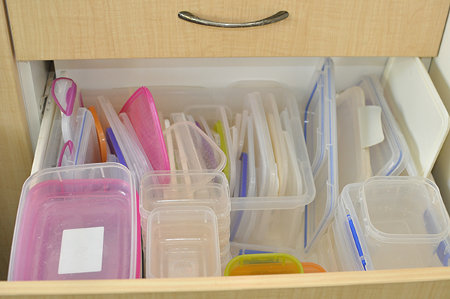 I'm very grateful my MIL tried to help me organise that drawer. She is a librarian and lamented "It is a shame we can't colour code the lids." She was right. Imagine how fantastic it would be if those lids were colour coded. Instead of riffling through all the blasted lids, I could just grab the correct lid right away because it would be obvious.
Thinking about this one day (while excavating looking for a lid) it occurred to me that I have oil based, permanent, mostly-dishwasher-proof paint markers. I can colour code the lids!
So I pulled them all out and started the big sort.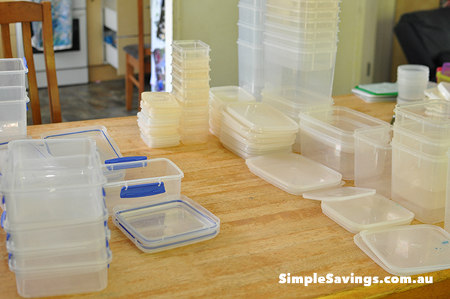 Then removed the ones I don't like or rarely use. This pile went into the camping stash or to the op shop.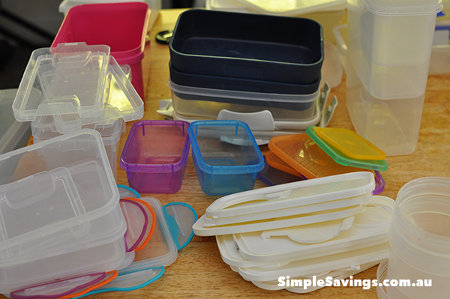 Grabbed myself some fresh markers from Office Works.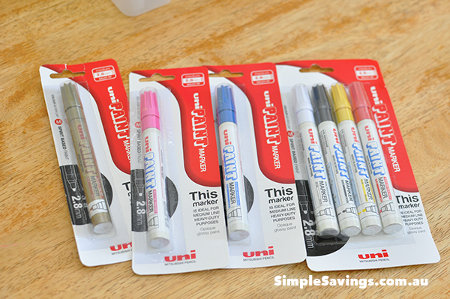 Drew a spot on the outside of the bottom of each container and coloured in the edge of each lid.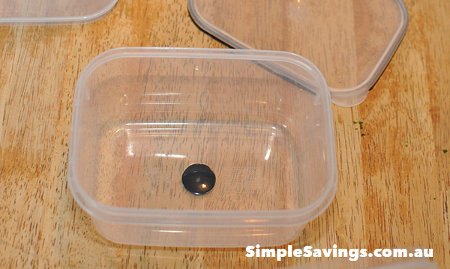 A few of these containers share lid sizes, such as the 1.75 litre and 500ml containers. Containers that share lids were made the same colour.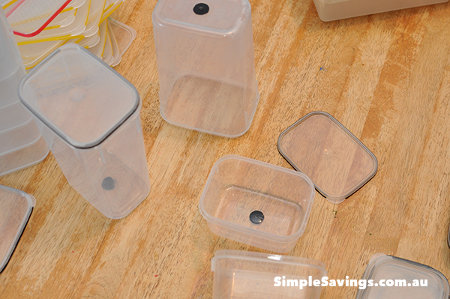 Pretty soon, they were all marked. Unfortunately some of the lids are a bit messy.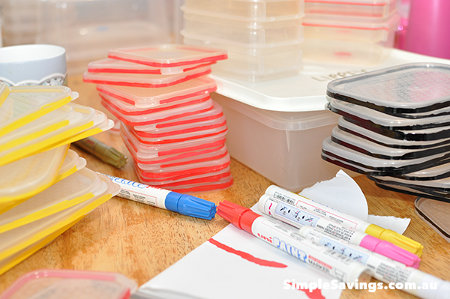 After some practice, I found I can use the edge of the lid as a guide for the pen, like in this photo: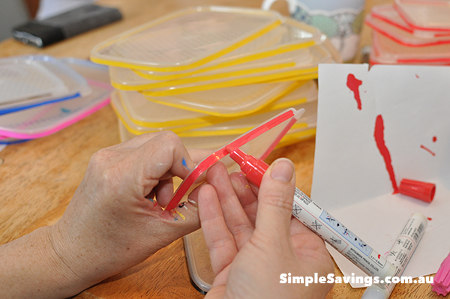 If you do it this way, you get a nice crisp consistent line.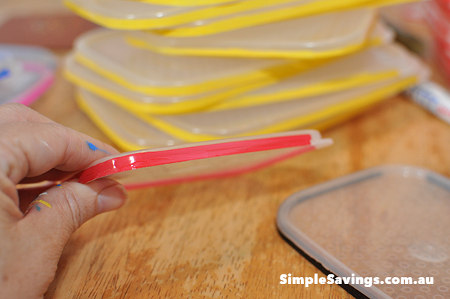 Once the paint was dry, I placed them back in the drawer and tadaa!!!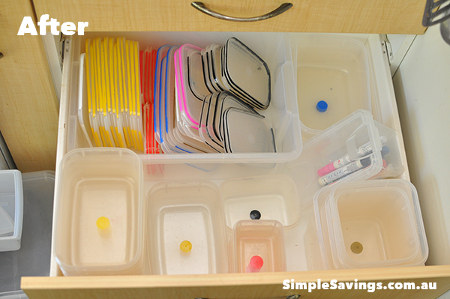 How much better is that?? Here is the before shot again so you can compare them.
We have been using this new system for a few weeks and it is absolutely fabulous. The kids love it and follow it, and the paint is holding up fine in the dishwasher. It is saving us a bunch of time and it took less than two hours.
That drawer has annoyed me for years and it only took two hours to fix :-)
You may notice I have left the box of markers in the drawer. This is because not all the containers were in the drawer. The kids have been colouring the rest in as they turn up.
If you give this system a go, please send before and after photos. We would really love to see your handiwork.
---
Thank you for your fantastic competition entries. We have tested some absolutely delicious meals lately.
The best silverbeet recipe winner was Pauline for her "Egg in a nest". I really like that it is a tasty, simple, easy, nutritious meal.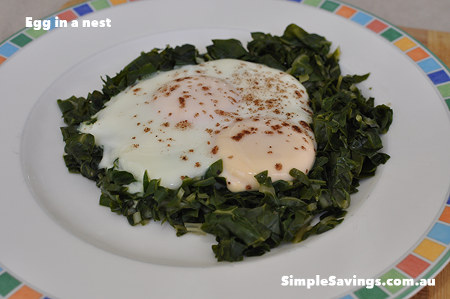 Ingredients:
Half a bunch of chopped spinach
2 eggs
Nutmeg
Method: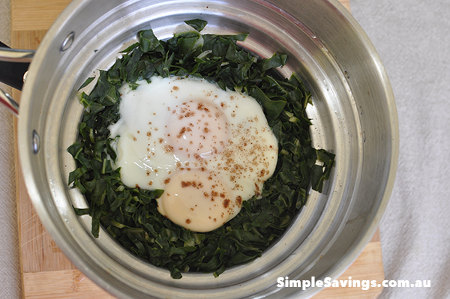 Lightly steam the spinach. When it is close to cooked, dig a deep well in the middle. Crack eggs into well, sprinkle with nutmeg and steam for about two minutes. It is like an instant quiche.
---
The winner of the best pork recipe was Liz Subasevski: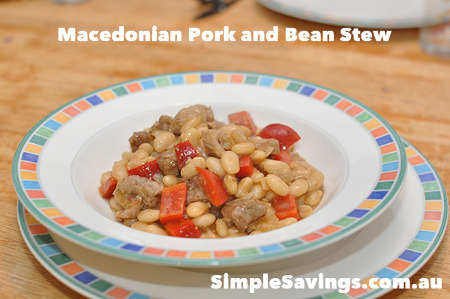 Here is my Macedonian pork and bean stew. My mother in law taught me how to cook this traditional dish for my husband when we were first married and I have been getting regular requests for this one for over 12 years now. It's simple but tasty and comforting, especially on a cold night. Give it a go!
Ingredients:
1½ cups dried white beans (I use the Marco Polo brand from Woollies)
1 onion finely chopped
1 heaped teaspoon minced garlic
2 - 3 stock cubes (beef or chicken will do)
1½ - 2 litres of water
1 heaped tablespoon gravox (or any other kind of gravy powder)
1 pinch chilli flakes (optional)
300 - 500g pork (Pork belly slices, pork spare ribs or pork sausages - or any leftover BBQ meats - are great)
4 tbs oil
1 tb Plain flour
1 tb Mild Hungarian Paprika
Salt
White Pepper
Method:
Combine beans, onion, garlic, stock cubes, water, gravox and chilli in a large pot or slow cooker.
Bring to the boil and simmer until beans are tender (1-2 hours if cooking on the stove).
Pan fry pork belly slices in a tablespoon of oil until golden brown. Leave the juices in the pan.
Slice the meat into bite sized pieces and add to the pot.
In same pan used to cook the meat, add 3 tablespoons of oil to juices, plain flour and the Hungarian paprika.
Cook until the flour is a little toasty and the paprika is fragrant, then add to the bean mix and give it a quick stir until stew just starts to thicken.
Simmer for at least another 10 minutes or so, and season with salt and plenty of white pepper.
Serve with crusty bread.
Notes:
I like to mash up some of the beans for a thicker texture.
I add a little less water to start with, and then I can add more at the end, if the stew is too thick or salty.
You can add some veggies to the stew while the beans are cooking - diced red capsicum works nicely.
This stew is brilliant the next day.
---
Congratulations to our winners!
Here are some of the other tasty meals we have tried:
(or if you prefer a fancy name, Pork Terrine)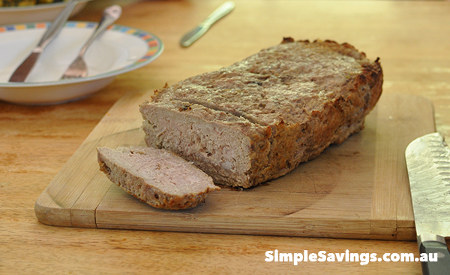 This recipe was sent in by Carol Woolcock. Thank you Carol :-)
Ingredients:
1 kg of minced pork (you could ask your butcher to mince 1kg of your roast or mince it yourself) Keep a little fat, say 50 grams per kilo for moisture)
1 cup of ground brown rice
2 cloves of garlic (optional)
2 medium brown onions very finely chopped
1 grated apple (any variety, and you can leave the skin on if liked)
1 egg
Method:
Mix everything together. It should be very moist as the raw rice will absorb a lot and expand. If it seems dry add a little milk.
Pack into a loaf tin that has been lined with baking paper (or butter wrappers)
Cover tightly with foil
Bake at 180 degrees for about 1 hour.
Allow to sit for 10 minutes then turn out and cut in 2cm slices to serve with steamed veggies or salad.
Now here come the variations:
Place 3 or 4 hard boiled eggs buried in the raw mix down the centre of loaf (looks cool when sliced)
Place half of the mix in the loaf tin then add a layer of mushrooms that have been briefly sautéed before adding the rest of the mix
Ditto with fresh asparagus spears
To make the meat go further you can add a finely grated carrot or zucchini to the raw mix
Any leftovers are delicious in sandwiches or on a ploughman's lunch platter.
---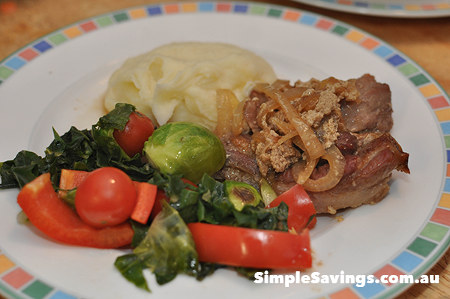 Thank you Tracy. We really enjoyed this meal and learned that we can get gluten free Teriyaki Marinade.
A yummy pork dish I do all the time and love it.
Ingredients:
Pork chops or slices
1 Onion
Milk (any type)
Teriyaki Marinade Sauce
Whatever veggies you want to go with the meat. I like potatoes and greens..
Method:
Preheat oven to 180 deg
Get an oven proof dish to fit all the pork chops or pork slices you want to use. They need to be laying down flat in one layer. (I do two at a time but have done 4 in a larger dish).
Cut up an onion into thin slices. You don't need a lot (I like using the small shallot onions).
Lay the onions in the bottom of the oven proof dish and put the pork on top.
Tip the Teriyaki marinade sauce over the pork. Once again you don't need to totally cover all the pork.
Pour milk in so it comes half way up the side of the pork.
Bake for approx 30-45mins. There's no need to cover the dish or put a lid on, and no need to turn the pork.
Cook mashed potatoes and veggies to go with the pork.
Use tongs to pull the pork out, and a spoon to scoop the onions and white left overs from the milk. This is a tasty sauce to top the pork.
And serve. It's a very tasty and easy dish to make.
---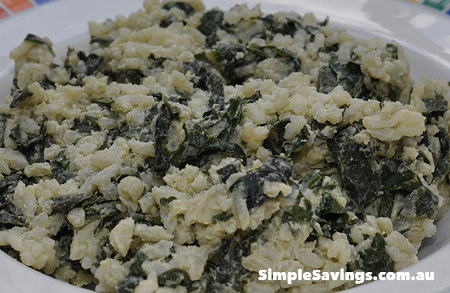 This recipe was sent in by Katie McDonell. This recipe was given to Katie by her mum :-) We are very lucky Katie shared it with us.
Ingredients:
A bunch of silverbeet, washed and finely sliced
150ml light cream
2 cloves garlic, finely chopped
knob of butter
1 cup of rice
Cook the rice using your preferred method (I cook mine in the microwave). Heat a saucepan on medium and add the spinach. Stir it occassionally until it wilts. Add the butter and garlic. Fry for 2-3 min, then add rice and stir to break it up and combine. Now add the cream and stir until heated through.
This dish goes great with rissoles, a piece of steak, a pork chop or just a huge bowl on its own. Comfort food at its best. Thanks mum.
---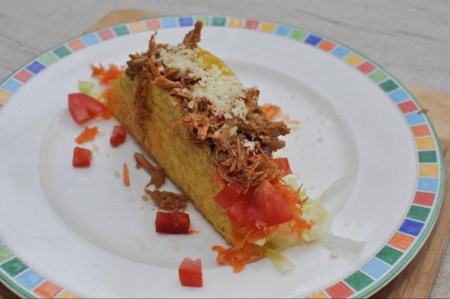 Here's a different way to make tacos:
Put a pork roast in the slow cooker and tip in a whole jar of green enchilada sauce. Cook on low for 8 hours. Shred with two forks and serve like street tacos (cheese, sour cream, lettuce tomatoes).
---
We received some very good general tips along with the recipes. Here is a selection:
I have found the best way to cook a pork roast to get really tasty crackle is to make small diamond shape cuts in the outer skin/fat layer using alternate diagonal slices about 25 mm apart over the whole external skin. Normally a butcher will only put a couple of slices across the skin some cm's apart! The more slices, the better is the crackle.
Then the external surface has a coating of oil and plenty of coarse salt rubbed in.
Preheat the oven to 240 degrees and cook for 30 to 40 minutes. This sets the crackle. Then reduce to normal cooking temperature to complete roasting.
I usually use an inexpensive hot air type roaster and find this gives perfect results - the glass outer lets you see what is going on inside. It uses less power too!
- Mal Cameron
With regards to silverbeet, I just wanted to say 'grow your own'. Of all my attempts at growing vegetables I've had the most success with silverbeet. Just throw in some seeds (pots or garden) and some will always sprout. The plants keep on giving year after year! They produce lots of seeds and self sow marvellously well too.
I like silverbeet quickly sauted in butter with almond slivers. But it can be sliced and diced and added to just about any meal you are cooking.
- Jan Naylor
I have discovered a good way to keep silverbeet fresh. When you get it home, trim half an inch off the bottoms of the stems. Fill up a large vase or jug with water and stand the silverbeet in the container like a bunch of flowers. Change the water each day to keep it fresh and just use the leaves as needed. You can add a teaspoon of sugar to the water to feed the leaves if you like. I have kept mine up to a week like this. If the weather is hot you can put the whole lot in the fridge. I also do this with bunches of parsley or other herbs.
- Nonab
In my house this is the most popular and easy weeknight pork dinner on the planet.
I buy either thick pork loin cutlets or pork scotch fillets; I keep an eye out for when these are marked down.
I simply cook them till just done, seasoning nicely, and remove them onto a plate to rest for a couple of mins. While they're resting I heat some baked beans in the same pan with all the lovely meat juices. That's it done !!!
Serve up some pork and beans for everyone with some nice crusty bread on the side... Voila! Quick, easy, nutritious and filling.
- Carol
---
At the start of this newsletter I mentioned life has been "pure, spectacular and joyous chaos" lately with puppies, birthdays, book week and Jacqui's new 3D pen obsession business.
I thought you might like to share some of our happy chaos with us. Let's start with puppies...
Here is one of the puppies in our house at the moment. He is four days old in this photo. How gorgeous is he?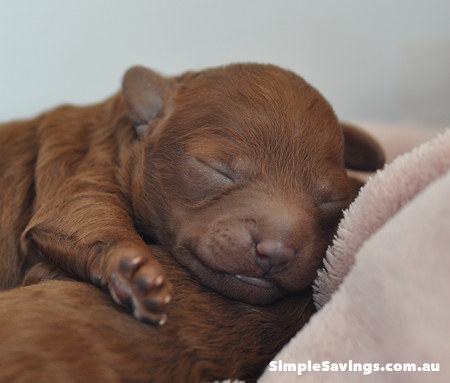 Friends have asked, "Do you ever spend all day staring at the puppies?" The answer is yes, absolutely, yes. And when they get bigger they get even cuter. This is Gigi when she was eight weeks old.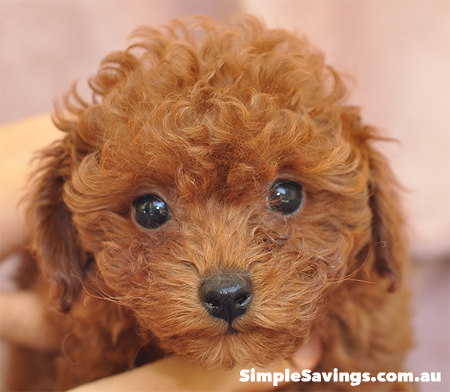 Do those eyes make you melt?
In between cuddling puppies and helping out at school, Miss Jacqueline has gone 3D PEN MAD!! She spends every spare second 3D penning. If you have never seen a 3D pen, it's a bit like a hot glue gun which spits out fine plastic filament. Here is a picture of a poodle she made.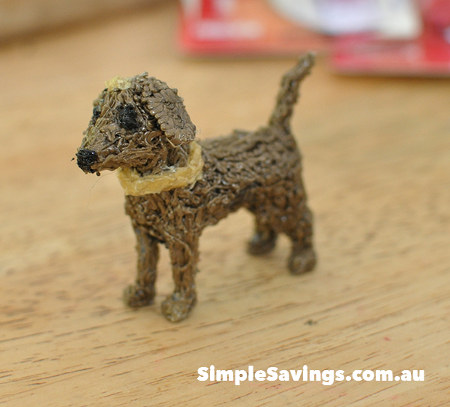 She has also been making wolves and dragons.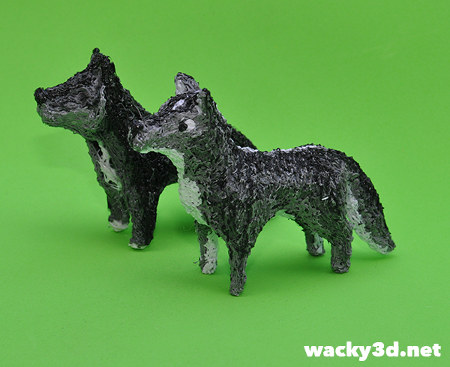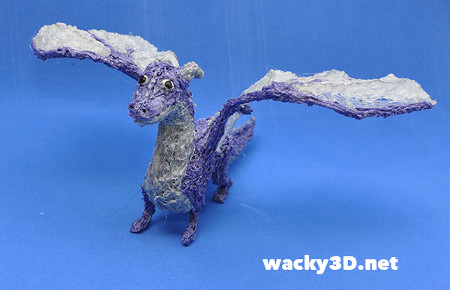 ...As well as a bronze oakleaf for Elora's book week costume. Elora is dressed as Maddie from the Ranger's Apprentice series.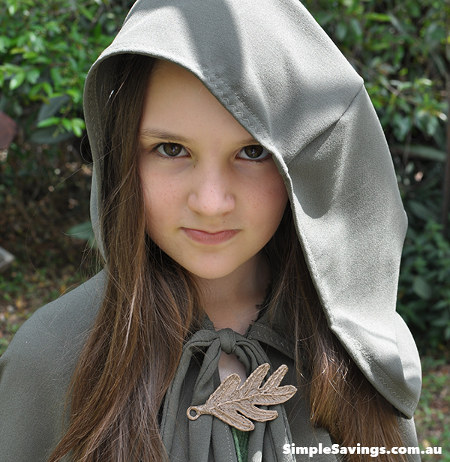 Jacqui has even started her own website and YouTube Channel, www.wacky3d.net She has also dragged Elora into her videos.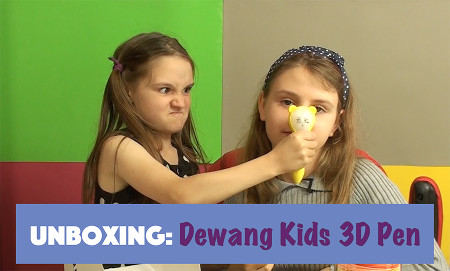 In true Simple Savings style, Jacqui has been searching for a high quality low cost pen with high quality, low cost filament. She still hasn't found a great pen, but when she does, the sky is the limit!!
(Important. Don't buy the pen in that video. It broke within two days.)
---
That wraps up another Simple Savings newsletter. With the new site up and running and some other hurdles out of the way, we're back on the newsletter wagon. So you can expect to hear from us again soon!
Happy decluttering!
Many grins,
Fiona
P.S. Did you find the spider? It wasn't posed for the photo. That is where the rubber spider has been living for the last four months. I guess the kids have some sinister plan, but I haven't dared ask.
---