This issue includes:-
Sad Sally, Happy Hanna: Bagging a Bargain
October: Do Bargains Control You?
Last Month's Competition: Your Best Tips for a Happy Retirement
Best of the Vault: The Golden Rules of Bargain Shopping
Best of the Forum: Bargains, Bargains, Everywhere
Best Members' Blog: Living a Life I Like
Best of SS Facebook: Someone Should Marry Me!
Savings Story: Still Saving and Hooked
---
Hi
How are you going in this fine month of October? Oh... Hang on a sec... it's November!
How are you in this fine month of November? I've been so busy chasing down bargains, I forgot to send the newsletter :-)
Okay, that is not entirely true. But I have been spending lots of time playing with a cute little puppy.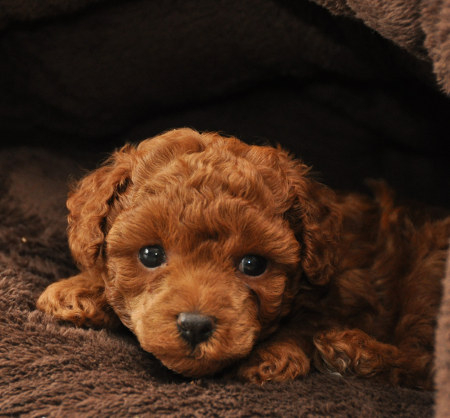 Have a great month :-)
All the best,
Fiona
---
"List? Check. Comfy shoes? Check. Brochure? Check. Red wine for later? Check", Sally muttered to herself as she looked around. "Right. I'm ready!" she announced, loud enough for Pete to hear. "Excellent. Ready for what?" he responded. "Christmas shopping!" Sally beamed. "But it's only October! Are you mad?" Pete asked his wife. "No I'm not mad - now is the perfect time!" she snapped back at him. "Besides, you're coming too", she told him, ignoring his expressions of protest. "I need someone to push the trolley!"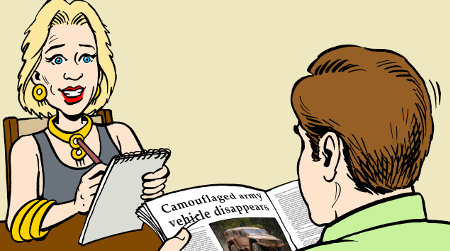 "NOW I know why you needed someone to push the trolley", groaned Pete three hours later. Sally was having a ball and the trolley was piled high with bargains. "Are we done yet?" "No. I need to go round once more and make sure I haven't missed anything. And I still have to check out - yikes!" she squealed, ducking behind the bath towels. "Hide!" she gestured frantically to Pete as she tried to push both him and the trolley into a pile of fluffy dressing gowns. "What the?" he spluttered in confusion. "It's Hanna! We can't let her see us!" Sally whispered.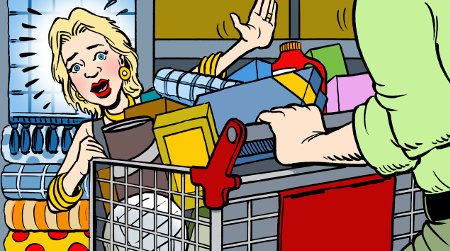 "OK. I think the coast is clear now", Sally peered out a few minutes later and saw Hanna strolling out of the shop. "What on earth was all that about?" Pete reappeared with his trolley. "Why are you hiding from Hanna? Everything you've bought is on sale. You're Christmas shopping in October for goodness sake, you're being organised! What is the problem?" Sally cast an embarrassed eye over her overflowing trolley and held up a list. "Well you see", she said. "I was only supposed to be buying ten things"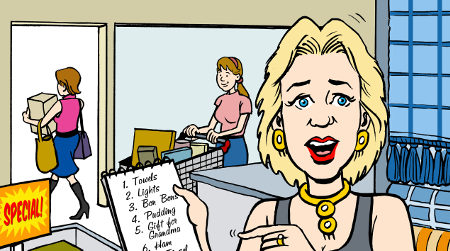 ---
Hanna may not have gained what she hoped from her shopping expedition but she still learned a valuable lesson. Having a good nose for a bargain doesn't necessarily make a person good with money! And buying something simply because it costs less than usual doesn't necessarily make it a good decision. Are you buying it because you need it - or just because it's cheap?
Just like any other impulse buy, op shops, daily deal websites and $2 shops can all entice us to spend money on things that, five minutes before, we didn't know existed, or that we 'needed'. And often not even at the best price! A few dollars here, a few more there and all those little bargain purchases can quickly add up to a lot. It doesn't matter if it's cheap, if you buy something without knowing for certain you will use it, or have a place for it, you are still potentially throwing money away. This simple checklist will help you to prevent that from happening again.
Know what you already own. One of the main reasons people buy things they don't need is because they have so much stuff already, they can't see what they already have. Before you spend another cent on what seems like a good bargain, do a thorough sort of everything you own - food, clothes, shoes, bags, stationery, tools, kitchen utensils and gadgets - everything. When all your things are organised and accounted for, it is super easy to check what you already have before spending money the next time you think you 'need' something. It doesn't matter how cheap something is, if you don't need it, don't buy another!
Know why you are buying. As already mentioned, buying something simply because it's cheap is not a good enough reason. We all know the effects of emotional shopping - people often buy stuff to fill psychological needs such as boredom, sadness, hunger or just the buzz of owning something beautiful. Nabbing an item on special works the same way; getting a great discount feels like winning a prize and releases dopamine which makes us feel happy. But bargain shopping is no more valuable or productive than any other kind of shopping if you are still buying that item without a purpose. If you can't come up with anything better than a vague reason why you should spend your money on it, (such as 'it's cute' or 'the one I have is old even though it still works perfectly fine' or 'I might have an office party to go to one day') put it back and save your money.
Stay ignorant. Bargain shopping is even easier and more addictive when you don't have to leave the house! The barrage of daily deals and online offers we receive in our email inboxes and see on the Internet put us slap-bang in the position of considering purchases we might otherwise never have noticed. If you find yourself frequently giving in to these, cancel your subscriptions and turn off the temptation of all those fabulous must-have bargains. They do not save you money - but no longer buying them will.
Stick to quality. Let's be honest here, a lot of things in today's world are cheap because they are crap quality and not made to last. Better to spend a little more on something which is built to stand the test of time than something cheaper and poorer quality which will need to be replaced in the short term and is likely to fall apart or malfunction.
Everyone loves a bargain - and rightly so! There is nothing more rewarding than being able to pick up just the thing you're after at an unbeatable price. Just make sure before you part with your money, before you click 'buy now' or 'proceed to checkout' you are truly walking the savvy shopper trail and not going for a wander down the wonky path to financial ruin. Remember too, that just like Hanna it's OK to buy nothing - even if you've been shopping all day. Sometimes it can feel as though we have wasted our time if we spend time shopping without buying at least something. But buying something you don't need, no matter how small or cheap, only makes for more waste. In today's world, virtually everything is discounted at some point. If you don't need it now, hold on to your money until you do!
---
We had a huge number of great tips sent in for this competition and choosing a winner was difficult. The winner is Jenny Robertshaw. Congratulations Jenny!
"The best piece of advice in preparation for retirement was from my financial advisor who said I should live financially like I was in retirement already while I was still working so I would learn the difference between a need, a want and a must have. The must have was to own our home outright to give us financial leverage when needed, the need was to be free from any debt going into retirement and the want was to experience what retirement would be like on a set income so we would be informed as to the lifestyle we wanted and the income we needed to support the want. I was 40 and pregnant with my first child when we had this chat with our financial adviser and now at 58 I am working because I enjoy it - all assets paid off, no debt and money tucked away.
"My husband and I live simply as do our 2 children but we have no money worries and at 62 my husband has positioned himself for transition to retirement based on the advice we were given 18 years ago. Best 3 words I learnt the true meaning and difference between - need, want, must have."
---
There's nothing more rewarding than nabbing something at a terrific price - but it's important to still remember the golden rules: A bargain is only a bargain if you were ALWAYS going to buy it - and don't forget to still shop around to make sure it really is the best price! The Savings Vault has stacks of tips on how to find a real bargain, how to spot a fake one and how to make sure you don't get carried away snapping up all those 'unbeatable' deals. Here are just a few:
For bargain hunters who like to shop at $2 or similar discount shops, I have found that they do not always have the best price. As an example, I purchased a 40ml brand name men's roll-on deodorant for $2.00, only to find that I could have bought it in a 75ml bottle in Woolworth's for $2.11! Just goes to show, it doesn't pay to assume the 'cheap' shops are naturally the cheapest!
Contributed by: Karen Webb
Be careful with the food prices in discount stores. Every time I have checked, they are more expensive than the local big supermarket. The only time they are not is when the food/drink is close to or past the use-by date.
Contributed by: Leonie Edge
Do not be mistaken in thinking that Kmart will give you the best bargain - I have been caught out twice in the last month alone! In a pre-Christmas, 40% off toy sale at Kmart I bought a Tonka toy - previously $39.99, sale price $23.99. I thought this was good value until the following day at The Warehouse I found exactly the same Tonka toy on sale - reduced from $24 to $12! I took the toy back to Kmart and got my money back.
I bought two Calidad cartridges in the Kmart 15% off sale - normally $29.95 each - for $25.45. I couldn't believe it when I went into Dick Smith to find the same cartridges at their NORMAL selling price of $19.88! Again, I returned to Kmart and got my money back. I will check Kmart prices much more carefully in the future.
Contributed by: SuzieQ
If you love bargain hunting at stores such as Cash Converters, but find you often come home with unnecessary items (and out of pocket), follow this simple rule:
My husband loves these stores, and this is the deal we struck - he can buy whatever he wants from these stores as long as no money changes hands. In other words, he has to SELL them something before he can BUY something from them!
Just last week he traded in a gadget he had barely used from his tool shed and returned with speakers for our surround sound system from Cash Converters. Valued at $300, he 'paid' just $45 - thanks to the credit from his tool trade, made just minutes before! He gets to keep bargain hunting, it doesn't affect our budget, and we get some great new additions to our home!
Contributed by: Christie Borg
Buying two computer games for $40 has stopped me from wasting money on online shopping, saving me so much that I have finally been able to get my teeth fixed! I would turn on the computer first thing in the morning and turn it off last thing at night, avidly checking all the eBay and Trade Me sites, and buying so many things I thought I needed that I never had any money left at the end of the week. Then I bought these games and they have become my new addiction! I no longer have time for online shopping as I have to keep my games up to date and the impulse to shop has disappeared completely.
Contributed by: Rosalie Bennett
I am saving at least $120 on unnecessary eBay purchases just by changing my password! I would make one or two purchases of $1.00 to $5.00 a week, plus one bigger purchase of around $100 a month, with postage costs on top. By changing my password to 'Sad Sally' I am reminded that unnecessary spending is robbing us of our precious savings, which stops me from buying! I also now search specifically for things I need to stop temptation. It's working and I now spend far less money and time on eBay. In case you're wondering, I have now changed my password again to something equally cautioning!
Contributed by: Ngaire
Before I let myself buy something it has to pass the 'use it test'. I imagine buying it, taking it home and taking it out of the packaging. I think about where I'm going to put it and what I'm going to do with it. Then I imagine if I'll still be using it in a few weeks, months or years. If you find this hard you probably don't need it as much as you think you do!
Contributed by: Anon
This is not so much a hint as a small rule to live by. Say this to yourself each time you are tempted to purchase a so called bargain.
"Use it up, wear it out, make it do or go without."
Think about it. It makes a lot of sense!
Contributed by: Andrea Mcintosh
My favourite kind of shopping is the kind where I don't actually spend any money! I love to shop for a bargain but as the saying goes 'It's only a bargain if you were always going to buy it in the first place'! So rather than going out to the shops for bargains on my wish list I now look online. I go to whichever store's website I am interested in and only look at the clearance markdowns. Whatever I find at a good price which is of use to me I will put into the 'cart'. I can shop happily for an hour or more! However, once I have finished bargain 'shopping' I have a final look through the cart and decide whether the item is actually a need or a want. I also think about whether I have anything at home which could be used as a substitute. More often than not I find that I have deleted everything from the cart and I don't actually 'need' any of it at all!
Contributed by: Natalie
I am saving up to $150 a month by cancelling my subscriptions to email newsletters from online stores. I used to receive several emails each week about special offers and deals from online retailers I had signed up to. I found myself tempted to buy things I wouldn't normally look for and when I actually reviewed my accounts with these stores I was shocked to see how much I was spending. I unsubscribed and I am now between $100 and $150 better off each month!
Contributed by: Terri Oneil
Asking myself one simple question is stopping me from spending money on things I don't need. Tempted by some lovely pyjamas which were heavily reduced in price, I asked myself 'Did I need those when they were full price?' The answer was a definite 'no'. I obviously didn't need them at the reduced price either, so I kept walking. That $14.95 I could have spent on something I didn't really need is still safely in my pocket.
Contributed by: Miss Belle
When shopping, I keep four things in mind that save me a lot of money:
I only purchase long-life items that I use daily when they are on special!
It's not a special if it goes to waste! For example, if I buy cereal on special that doesn't get eaten, it's just a waste of money!
It's not a special if it's not on the shopping list. Buying Tim Tams when on special is not really a special if you don't need it!
Need or want? Taking your time to think if you need it or you want it prevents wastage and money!
Contributed by: Mindy P
I used to find myself strongly drawn to the junk mail when it arrived in the house, and then feel compelled to chase up bargains or make purchases of 'unbelievable value' when they were advertised, because surely they would come in handy at some stage!
To combat these impulse buys, I have built up a wonderful group of op shops that I regularly visit, and amazingly just about everything that I have cause to require seems to pop up at amazing times and even in quite remarkable condition. This doesn't mean of course that things just appear automatically as you need them, but it is amazing how many times I think that an item would be useful or that I would like to find one in the future and it turns up, eventually! This has now made junk mail perusing veritably yawnable!
Sure, when I really need something I may take a bit of a look - but the urgency and burning need to find a bargain in them is not there. I know what good value the many items are that I have bought in the op shops. I have also become good friends with the people who run them and they really look after their customers - unlike some of the department stores! Finally, it has taught me a great deal of patience in waiting for a real bargain and losing the drive of having to find that thing I need right now! It amazes me how even my interior decorating has fallen into place quite well (and very cheaply), and has a real uniqueness and charm to it. I know that many people are aware of the benefits of 'op shopping', but I think there is also a lesson in here of appreciating the little things in life and being able to alter ones' surroundings gradually and within ones budget - not the way encouraged by the big stores with their endless junk mail and get-yourself-in-over-your-head credit schemes!
Contributed by: Jenny Errey
Resisting those unnecessary supermarket specials is adding up to big savings for our family! Like most people, I love to take advantage of specials at the supermarket and will stock up when there's a big saving to be had, but my downfall is when things like chocolate biscuits, ice cream and other treats are on special. For example, sometimes 16-packs of Nestle Drumsticks are on special for $15, that's just $0.94c each - it seems too good to resist!
However, I could do without the extra calories and the money could be better spent elsewhere. So I've had to change the way I think about these sorts of specials. Instead of thinking about the savings on the full price, I think about how much I am saving by NOT buying them. For example, if I resist stocking up on six packets of Tim Tams at $1.69 each, then I'm saving $10.14. If I resist those Nestle Drumsticks, then that's another $15 saved - so that's a total of $25.14! If I add up the total saved over a year by resisting unnecessary specials, I'd easily be saving several hundred dollars!
Contributed by: Gloria K
I have realised that one of the best ways for me to save money is to leave all my store loyalty cards at home. While cleaning out my bulging purse recently, I realised that it was bulging for the wrong reason. Instead of being full of cash, it was full of loyalty cards! Over the years the marketers had worked their magic on me and as a reforming Sad Sally I was upset with myself. For example, if you are a VIP with Sussan, for every $500 you spend there they give you a $50 voucher - which expires in three months. I realised I had been shopping there for women's fashion to the exclusion of most other stores and over two years had spent a whopping $2500 to get $250 in vouchers! That's $105 per month and while good quality, I have since realised similar items in other shops cost less at normal price.
Even more annoying was the number of times I had gone there and bought garments at full price because I knew I'd get VIP points, only to find the same items a couple of weeks later on their reduced racks, making the justification of their points useless.
So I decided that from now on all my loyalty cards will be kept in a wallet safely at HOME. If I want something I will shop around for it. Most stores have hold times so I can always go back if it's in one of the 'loyalty' stores. So far I have saved two months of cruising the racks of Sussan and other stores. That's $210 I've managed to hold on to so far and still counting!
Contributed by: Olivera Sands
Sometimes spending more means spending less.
That cheap frying pan you buy at the bargain store may bend out of shape the first time you put it on the hot-plate. Instead go to places like David Jones or Myer and make note of their better brands. Then look for those brands at garage sales or on eBay. Even second hand these brands might cost more than cheap stuff from a bargain store, but you'll save money in the long run by not having to replace the item so often.
This applies to just about anything. That $200 sewing machine might be a cheap buy but how long will it last compared to a better built $700 machine?
Think carefully. And always remember, you get what you pay for.
Contributed by: Sarah
---
As you might imagine, our Savings Forum is a brilliant place to learn about bargains. Our members are quick to share the good ones - and just as quick to point out the bad ones! Check out some of these interesting and thought provoking threads.
Northern Gal has set herself a challenge to be more conscious of the things she buys without thinking - and is encouraging others to do the same!
read more...
Trine wants to know, what can you really not do without? Or at least THINK you can't do without!
read more...
Briony thinks she has spotted a good bargain - but she's not sure if it really is worth the money. There's just one thing to do. If in doubt, ask the Forum!
read more...
Fairy says, 'do we need all this stuff?' She thinks we don't - because if we did then why are there so many of us decluttering? An interesting thread with plenty of food for thought!
read more...
Julie WJ has a good question for the Forum. How do you tell if something is a really good bargain? What is a good rule of thumb when bargain hunting? The members are quick to help answer these and more.
read more...
Many people head to websites like eBay to pick up bargains - but they don't always go our way! Chili Chick shares her experience.
read more...
Lizzyloo gets tired of watching her family members get sucked in buying stuff they don't need time and time again. But much to her delight, after all these years it seems as though her advice is finally sinking in!
read more...
---
One of the many benefits of being a Vault member is that you can win $100 cash each month for your Simple Savings blog! Starting your own blog on the site is easy. All you have to do is log into the Vault, click on 'My Desk' at the top right, then 'Blog'. Then get writing! We love reading all your money saving trials and tribulations and really appreciate the effort that goes into each one.
This month's Blog winner is Nicki C with her inspiring post 'Living a Life I Like'.
"I'm Nicki, and this is my first blog post, my first blog ever.
A few kind SS'ers gave me some tips on "what makes a good blog", and I've been mulling it over for a while, wondering whether I have anything original to add to the already diverse discussions.
But we all have a story, don't we? And mine is not extraordinary, but it is mine, and so it is precious.
I'm a single mum, with two teenagers who live with me part time, a son (15) and a daughter (14). I've been a single mother for 10 years now, and when I left my ex-husband I had $700 in the bank, I was on disability pension, and had nowhere to live. I had friends who gave us a place to stay for a few weeks, and other friends who put us up after that. But it was a really stressful time.
Trying to rent in the private rental market is difficult if you don't have a good income. I tried to make my applications look more appealing by including references from my former neighbours about how good I was to live next door to, and writing a cover letter about my circumstances and my reliability. This helped me to get a place to live.
I was in the private rental market and struggling to keep up with the rent up until January 2013 when my name came up on the public housing list. When I had initially put my name down all those years before, I was told I may well have a 10 year wait. So I was pretty resigned to having to pay full market price to keep a roof over our heads.
This was really hard to do on the pension. I got some cleaning work and then got a small job in a friend's family business, but the pay was very low. It was hard to keep up with the demands of work when I was also trying to manage my mental health (I live with depression and anxiety). I was extremely unwell at times and the added pressure of high rent and no child support really weighed on me.
I was very fortunate in having good friends who helped me. When I first moved out on my own, different people supplied just about everything we needed for our home (much of which is still with us today). People left us presents on the doorstep at Christmas, Coles gift cards were anonymously left in our letterbox, people gave us lifts places (I don't drive).
When I was severely depressed, the outside hours school care people came and picked my children up before school, gave them breakfast, gave them afternoon tea and dinner after school, and then dropped then home. We were fortunate to be part of a small school (100 students) where everyone looked out for everybody else.
People brought me meals. One friend (who is like my substitute mum) paid my bills and my groceries a few times. Another took me to places where I could get emergency food relief. It was difficult to rely so heavily on others, and there were many times when I doubted my decision to leave my marriage, and really found it so hard to keep on going.
Trying to get child support was impossible. My ex-husband evaded the child support agency, refused to honour agreements he'd made, and refused to talk to me about money. Finally (about six years down the track) the agency began to garnishee his wages, and my life became a little bit easier financially.
When I moved into my lovely public housing home, I had very little in the bank. Most of our money had just been spent on a family holiday down to Melbourne to see my sisters, my mum and the cousins. I had enough to organise ute hire and help with the exit clean, and that was it. I hadn't even seen our house (except on Google) before I signed the lease! So I was a bit nervous and it felt a little bit like starting out all over again.
Our house is the most gorgeous house I have ever lived in! It has three bedrooms, polished floor boards and a big backyard. Our last house had two bedrooms and my son slept in the sleep out. I have made a nice garden with lots of pot plants, and there is heaps of room for our two chooks.
It is safe and warm and dry. Every night when I go to bed I feel so happy to live in my own little house where I can lock the door and no one can come in that I haven't invited. Having had several periods of being homeless in my past, I appreciate this.
Since moving in here and paying subsidised rent ($125 per fortnight; yes I know how fortunate we are) we have been able to save just over $15,000, plus give money back to people who helped us in the past. Loving people who didn't expect repayment, but it made me so happy to be able to do that, and to help other people in turn.
Over the last few months I have been trying to wean myself off the free fruit and vegies I'd been getting from our local community centre (CommunifyQLD - check their web page to see if you are eligible for food assistance). Because the food pantry worked on the principle of "food sustainability" not just "emergency relief" I was able to get this free produce without having to be "in crisis". Although some people might see this as questionable, it didn't really present any problems to me. I only got fresh food that would have been thrown out anyway, I put my name at the bottom of the list and I volunteered there as well. I didn't take food vouchers or tinned/non-perishable goods that had been donated by the public. And the co-ordinator of the service knew my situation and was fine.
Initially it was difficult to pay for things that I knew I could get for free, but I feel I have given myself an important gift in moving on to the next part of my financial journey. I know it is there as a back-up if I really need it, and I am grateful for the help I got from there over the last couple of years.
I am enjoying trying different grocery stores and fruit and vegie stores looking for the best prices, and I like treating myself every now and then to top quality produce that I wouldn't usually buy. It is amazing the difference I am finding in the quality and how long things last now I'm not always getting the things the supermarkets give away.
Over the last few months I feel like I am really stepping out from under the label of "Poor Single Mother with a Mental Illness" and embracing the idea of myself as just a person, part of a family, and a person who lives very successfully within her own limitations. Just like everybody else."
Nicki we love your story; thank you so much for sharing! We look forward to hearing more from you.
You can read more of our members' blogs here.
---
Love Facebook or hate it, the Simple Savers Facebook group is a great way to learn even more tips and enjoy reading other members' successes. One of our favourite posts this month comes from Cassie, who shows what can be achieved with a little planning and organisation. A huge saving and we imagine one very happy husband!
"Someone should marry me! Here are my husband's lunches for the next 13 work days. Two roasts, frozen vegies, pumpkin and zucchini plus a few hours in the kitchen = approximately $50 for 13 lunches. As opposed to the ready-made frozen roast meal equivalent, which at $8.00 each would cost $104 for the same number of lunches. I'm winning!"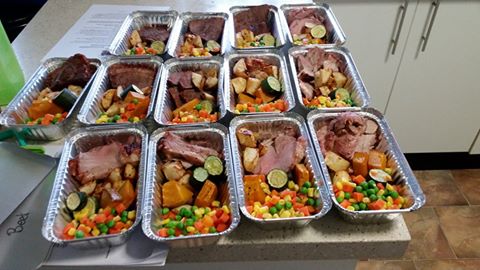 You most certainly are Cassie, that's a fantastic effort! Looks delicious too!
Joining our busy Facebook community is super easy. Either search up 'Simple Savers' on Facebook or click this link and request to join. Once you're in, let the fun begin!
---
"Hard to believe it's been just over a year since joining the Simple Savings gang. I'm loving the great hints and tips that come with being a Simple Savings member. I feel like I've come a long way since then. I thought it was going to be too hard to save and live well on one income, what with a big mortgage, but the proof is in the pudding/savings!
Living cheaply doesn't mean going without - well in practice it takes a bit to get used to but I've been enriched by this experience and hope to be saving a whole lot more to come. It's in the everyday simple things like eating like a queen by menu planning and eating what you have in your pantry/fridge. Looking at the resources you have on hand, for example growing your own vegetables. Thinking twice when you are in the shops and realising in that moment when you're about to purchase that item 'is it needed or do I simply just want it?' It's going into a second hand shop with your head up high, knowing that your small purchase will be going towards supporting a good cause like the local women's refuge. And, seeing the savings accumulate for future needs like a new fridge or washing machine when it breaks down and knowing that it's paid with whole hard savings and not put on to your credit card.
It's in those moments that you can just simply breathe with a sigh of achievement. It's those small moments when you ditch the designer café lattes and get your caffeine hit with just as much punch with the $1.00 coffee made with 100% Arabica beans at your usual petrol station. It sure feels good to be still hooked by these simple changes that are just in my every day moments. So a big thank you to one and all for believing that I too can be a simple savvy saver!"
Contributed by: Kerry H, reproduced from her Simple Savings blog. We thought it was too lovely not to share!
---
That is all folks :-) I hope you enjoyed this newsletter. Don't forget to send your favourite hints in to our 'Hint of the Week' competition. You can enter as many times as you like and you could win a 12-month membership to the Vault. We really appreciate each and every tip we receive.
That's all for now, have a fantastic month!
All the best,
Fiona