Sad Sally, Happy Hanna: Happy 10th Anniversary!
October: Liven up Your Lunchbox!
Best of the Vault: What's Cooking?
Best of the Forum: Thinking Outside the 'Lunchbox'
Best Members' Blog: Cooking for Klutzes
Cooking with Mimi: Quick and Easy Veal Scallopini
Rob Bob's Gardening Blog: Growing Asparagus, and a Very Quick Soup
---
Hello,
How are you going? It's a very special newsletter this month as we celebrate 10 years of Sally and Hanna cartoons! The ladies have had many money-saving adventures during the last 10 years thanks to our wonderful cartoonist Steve Panozzo. Thank you, Steve! You can see more of Steve's work here.
We love hearing from you - here are our favourite emails this month:
"I don't know where I'd be without my newsletters! Some of us struggle with 'consistency' in the things that inspire us and Simple Savings inspires us to keep focused." (Izabella)
"Thank you for the great ideas and fantastic support on the Forum. I'm still learning something new every day." (Meaghan)
Have a great month!
All the best,
Fiona Lippey
---
"You know what Hanna- it's been 10 years since we were first drawn together. I've learnt so much about saving money from you, I can't thank you enough!" Sal hugged her friend close. "Sooooo," she said, "What say we go out for lunch and celebrate?!"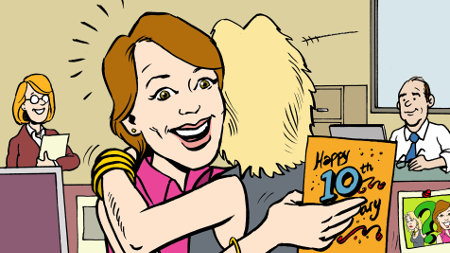 Hanna laughed, "Sally, I think that's a great idea! We've brought lunch to work almost every day this year, I think we deserve a celebration. Let's go!" Sally and Hanna grabbed their handbags and marched out of the office.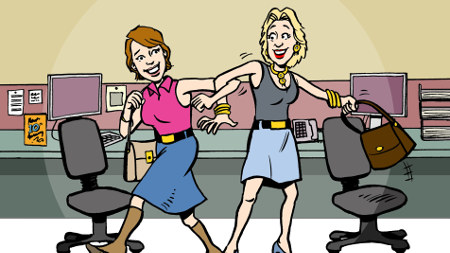 Finishing their decadent dessert and coffee a little while later, Sal sighed, "I feel guilty - I just spent $40 on lunch." Hanna smiled, "It's OK Sal - we've saved over $4000 on lunches this year between us. We really have earned this lunch out!" Sally brightened up, "Hey, does this mean we can have a second dessert?!"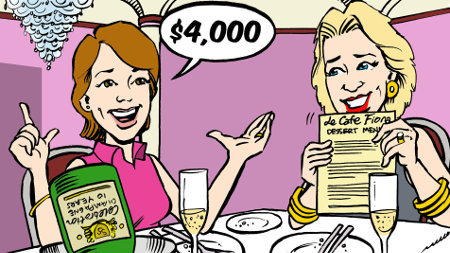 ---
Sally and Hanna saved themselves $4000 per year on lunch, and you can do it too! Lunches, snacks and drinks at work cost a fortune and add up very quickly. If you take your own lunch every day, you really can afford the luxuries of life - it's time to save some money and liven up your lunchbox!
The biggest tip to beating the lunchtime blues is to get organised and find yourself a system that works for you. We have put together a list of lunch systems for you to try.
Make extra serves of every evening meal and store fresh and frozen portions so you have a growing variety to choose from for your lunchbox. Pasta, stir-fries, casseroles and even roast and vegies are even better the day after.
Homemade salad tubs are really popular. Have a look on Pinterest for great ideas.
Next time you do the groceries, have a section on your list for 'lunches' and include items you can take to work at the beginning of the week such as tinned tuna/salmon, crunchy crackers, fruit, yoghurt, microwavables and so on. There is no excuse not to have a quick, healthy lunch when it's sitting in your top drawer or the office fridge.
Smarten up those sangers with zingy relishes, different breads, croissants or wraps and start trying some new ingredients. It is OK to spend more on ingredients when you are taking lunch to work.
It can be hard to stick to your 'make at home' lunch routine when the rest of the office is racing down to the local cafe. So bring the cafe back to your workplace buy getting everyone to put in a few dollars to buy great ingredients then share a delicious lunch together.
And, remember how much money you are saving. Each time you take your lunch to work you are saving around $8.00. If you do that five days a week you are saving $40 a week, $2000 a year and $20,000 every ten years. Now, that's something to chew over!
---
It's time to get excited about your lunchbox! Making your own lunch is a sure-fire way to save money on buying lunch out. Here are some great ideas from the Vault:
Why buy lunch? With recipes as good as this, there's no need! I make this egg slice every few days to take to work, and I thought you might like to try it too.
Ingredients:
2 cups vegetables - just about anything will do. Leftover roast vegetables, steamed vegies, wilted salad... even raw stuff like grated carrot or chopped up tomato.
1/2 cup leftover meat, for example, bacon, fish or chicken
4 eggs, beaten
Grated cheese
Method:
Spread the vegetables and meat over the bottom of a greased square baking dish. Pour over the beaten egg, top with grated cheese and bake at 170C for about 30 minutes.
I take a quarter of this slice and some salad to work every day - it's yummy hot or cold. Thanks to the wide variety of vegetables you can use, no two slices are the same. It costs less than a dollar to make and the vegetables and protein keep me going for hours.
Contributed by: Maryrose Hocken
I save $45 per week on work lunches with a little help from my slow cooker! I used to buy my lunch at a nearby cafe, normally costing $10 per day, which added up to $50 per week. - However, with my slow cooker I have been able to make 10 yummy lunches for a total of $9.50. - Enough for two weeks!
These days I just pull out the trusty slow cooker and use it to make curry or casserole, then freeze it into portion sizes for lunches. I eat much healthier, I am much more organised, and sometimes if I get home from work late with no energy to cook from scratch, I can now simply pull out a frozen meal. Knowing that there are meals ready to go in the freezer stops me from ordering expensive and unhealthy takeaway.
This week, I spent a total of $9.50 on raw food - some of which was already in the pantry.
$5.00 on free range chicken drumsticks, added carrots, potatoes, peas, onion (total cost about $1.50)
$1.00 for coconut milk
$1.00 on spices
$1.00 of rice (in pantry)
I am sharing this secret with friends and we now exchange recipes. Savings all round!
Contributed by: Josie Coraci
At work four of us contribute $10 each a week for food and drinks for the five days we're at work. This amount provides us all with a fulfilling lunch each day. It usually entails buying bread/salads/cold meats; we also buy soup for those cold days. With the money left over, we buy spreads and communal products such as cordial and biscuits.
Not only are we saving money by not buying our lunches each day but we also get time to sit together. We do not have to worry about how much money we are spending each week on takeaway food or about what we will prepare for lunch the next day. This interaction at lunchtime is also good for peer relations.
Contributed by: Kristy Adnum
---
Sometimes we know WHAT to do, we just need a little motivation to help us actually DO it! The best thing about our Forum is the encouragement and support our wonderful members give each other. Here are just a few examples...
Our wonderful Claire M does a fantastic job with the Challenge threads to keep people motivated and help them share ideas - jump in!
read more...
We don't know what it is about Mimi but she just keeps coming up with delicious recipes and ideas - some great lunch ideas here!
read more...
Do you want to know just what that coffee and cake could buy you otherwise? Catslave's thread is a real eye-opener and makes you realise how precious every dollar is - we love it, Catslave!
read more...
---
One of the many benefits of being a Vault member is that you can win $100 cash each month for your Simple Savings blog! Starting your own blog on the site is easy. All you have to do is log into the Vault, click on 'My Desk' at the top left, then 'Your Blog'. Then get writing! We love reading all your money saving trials and tribulations and really appreciate the effort that goes into each one.
This month's Blog winner is Lesley for her blog about learning how to cook:
"So you are not a good cook? Stand in line, sister. Good cooks are not born; they have to arrive there after much trial and effort. My first cooking experiences were less than sterling. Before marriage, I had learnt how to cook grilled chops and to boil vegetables. Afterwards I had to do what we all do, and learn!
I stood in my kitchen one day and thought about living my lifetime hating the kitchen, or making it into a challenge. So, I went down to the shops... lol. In those days all the shops used to have a free TV program, with little tidbits inside including reader recipes. I took it home and started trying things. Not all of them were a success, I must admit. Fortunately, my husband was not fussy!
Since then I have managed to go to the electricity cooking classes where I learnt to make meals from around the world. I have dabbled in preserves, cake decorating (not good), making my own bread, and last year I made my first marmalade. And it only took me over 50 years... lol.
The main thing to do is try things! But make it easy on yourself. Choose a recipe which is the simplest you can find. If it is successful, then add it to a file in your kitchen drawer. Once you have mastered it, then you can try adding personal touches to it.
Do not try to do too much to start with. Try one or two new recipes a week. I believe in applying the KISS principle - Keep it Simple, Stupid!
Two of the simplest things I know to make are soup and pasta.
A soup requires vegetables, enough stock to cover them, some salt or herbs to flavour (taste it first) and at least an hour to cook it. I prefer to use barley in chicken soup and soup mix in vegetable soup, as these help to make the soup thicker and more filling. They do, however, make the cooking time longer.
Pasta is very versatile. I keep spaghetti, shell macaroni, and fettuccine in my pantry.
Spaghetti is self-explanatory - you can make a bolognaise sauce, add tomatoes and cheese or even a pinch of tomato sauce.
Shell macaroni can be made into a pasta bake. Pre-cook the pasta, put in a casserole, then add all those little bits and pieces in your crisper. Pour over some evaporated milk, some cream or coconut milk. Then add enough stock to cover it, and bake.
Fettuccine can be cooked, and with diced onion, diced bacon and cream, it becomes Fettuccine Alfredo. I like to add in some mushrooms as well.
There is a myriad of recipes on this site, all from people who cook good meals, which are inexpensive. Just think of some ingredient (like bacon) and type it into the search engine. You will be surprised what comes up. :-)
Well done, Lesley, we love your enthusiasm and great ideas - thank you for sharing!
You can read more of our members' blogs here.
---
I buy veal steaks quite often here. I can usually get a tray of five huge thin veal steaks for under $10. Those five cut in half, make a generous schnitzel, so a tray will feed ten of us for one meal, or three of us for three meals. That's cheap and healthy eating.
I'll often coat them in almond meal in place of breadcrumbs, or make my own gluten-free ones with the crusts of the (expensive) gluten-free bread. So it's a great way to use up the crusts that would otherwise not get eaten. You could do the same with your normal bread of course.
The other night, I didn't really feel like going through the rigmarole of flour, egg and breadcrumbs, so I made this instead. The mushrooms are inexpensive here just now, and I know that veal and mushrooms are a good match. This takes less than 10 minutes to prepare.
You'll need:
1/2 large veal steak per person, pounded thin
Plain flour, seasoned with a little salt and pepper for coating the veal
Generous drizzle of olive oil
1 tbsp butter or margarine
As many mushrooms as you like, thinly sliced (I use about 3 cups mushrooms per person)
A pinch of dried garlic, or 1 clove, crushed
1 level tsp dried sage leaves
1 level tsp tarragon, or zest of one lemon
Fresh chives or green shallots, sliced thinly
1 chicken stock cube, dissolved in 1/4 cup boiling water
1 dsp mustard (any will do... I've used both Dijon and wholegrain)
1/2 cup cream, sour cream, Greek yoghurt or evaporated milk
1 tsp white vinegar
Steamed rice or mashed potato and a side salad or vegies to serve
Then just:
Have your side dishes ready to go as this really takes no time to prepare.
Sprinkle each veal steak with a teeny bit of salt and some pepper. Leave it to sit for five minutes. This just tenderises it slightly.
Spread the flour on a flat plate and coat each veal steak generously with the flour. Set aside.
In a large, deep pan, drizzle your olive oil and margarine and allow it to melt. Add the sage and tarragon (or lemon zest), garlic, chives or shallots, white vinegar and chicken stock and bring to a simmer. Add the sliced mushrooms and pan fry them till brown.
Add the mustard and stir to disperse. Add the cream, yoghurt or evaporated milk, and bring to a low simmer.
Add the flour-coated veal steaks, turning them after 60 seconds. Put a lid on the pan and allow to simmer for no more than a couple of minutes. They're super thin remember, so they take no time at all to cook. If you're cooking more steaks than fit in one layer in the pan, do two layers, just give them all a turn at sitting on the bottom, and swap them over to ensure they all get cooked through.
Serve the steaks over rice or mash, drizzle with the mushroom sauce and serve immediately.
Yum.
You can get updates on Mimi's new blogs on the Simple Savings Facebook page or in our Members' Blog section.
---
and a Very Quick Soup
Asparagus is one of our favourite perennial plants to grow and will live for up to 20 years depending on variety and how well it's cared for. They are also my favourite plant to graze on as I walk the patch in the morning at this time of year.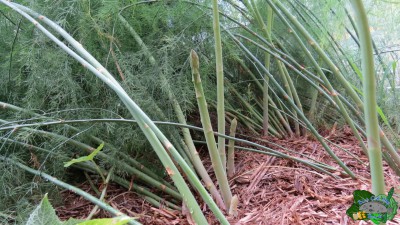 We bought our original plants as advanced bare root crowns and were also lucky enough to get some gifted to us a few years ago as excess seedlings (thanks Tammy!). They can also be grown from seed but take a few years to establish themselves before they're ready for harvest so most folks choose to start plants using the advanced crowns.
Growing from seed is very straight forward. Individual seeds are best started off in small pots or punnets in spring and then transplanted out into position later. All you need to do to start them off is fill a small pot with some good quality seed raising mix and sow the seed about 1½cm / ½" deep in the soil then keep moist.
Once the plants are about 15cm / 6" tall they can be transplanted out. You can also sow directly into position but I find seedlings easier to care for in a mini nursery area.
Asparagus like a fairly neutral soil pH (6.5-7) so the addition of garden or dolomite lime can help raise the pH if the soil is slightly acidic. Adding some elemental Sulphur (sometimes sold as flowers of Sulphur) will help lower it if the pH is too high. These products usually have fairly straight forward instructions on the packaging to help guide you with application rates.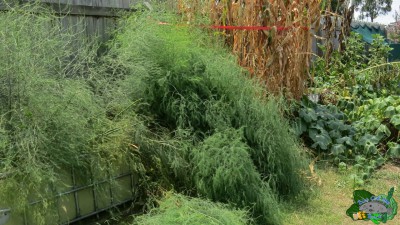 The plants themselves can grow very large and are heavy feeders so I like to feed the soil up well before planting and then a few times during the year. The beds were prepared by digging through a large feed bag (40-50L / 10-13gal) of well-aged/semi-composted horse manure (cow, sheep, goat work just as well). This adds organic matter to the soil and helps to feed the microorganisms and worms that make the nutrients available to the plants. If no manure is available good quality bagged compost would work just as well.
Planting out advanced crowns is very straight forward. As their roots are rather long it's recommended that you plant them out on a bit of a mound.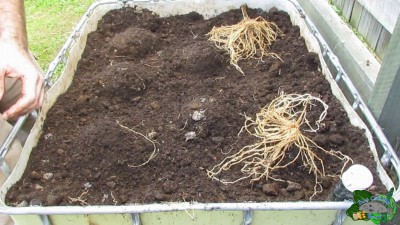 This allows the roots to spread out a bit and helps the plant to establish itself. Spacing between the plants is generally about 50cm or 18" apart. I've planted them a lot more intensively in the wicking bed (9 in aprox 1m²) as a bit of an experiment so like to feed them regularly with a basic compost tea to keep them well fed. Below is a bit of a look at how I planted out the seedlings I received from Tammy for those folks interested in how we planted out our small wicking beds.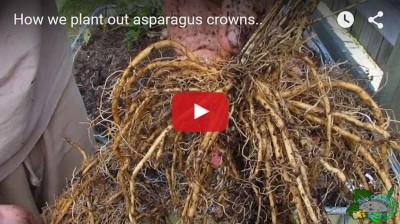 Planting out seedlings you've started yourself is also straight forward. As their roots aren't as developed as the advanced crowns they can be popped straight into a hole. To get our seedlings off to a great start I also like to work in a few good trowels full of compost or worm castings into the hole before popping the plants in.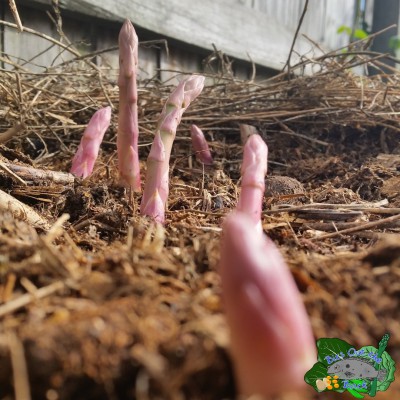 The hardest part of growing asparagus is waiting the two years after planting before harvesting. It really does pay to let them establish themselves before picking the first lot of spears so the plant has time to develop a healthy crown. Harvesting the spears is fairly straight forward, with snapping them off at soil level to be the easiest. Some recommend using a knife to cut them off below soil level but I prefer not to just in case I damage the crown itself. A good rule of thumb to follow is to stop picking the spears once the new ones are the thickness of a pencil. Letting them grow into ferns once they reach this size will allow the crown to replenish its energy to provide you with spears for the next season.
To store the spears we've been popping them into a mug with some water in the base and leaving them on the bench. I find that while it's cool this will keep them fresh for four to five days if need be. Once things start to warm up a bit the mug will be placed in the fridge to help keep them fresh and crunchy. I have also been extending our harvest a bit by picking some of the underdeveloped growing tips on the ferns themselves which I show in the clip below.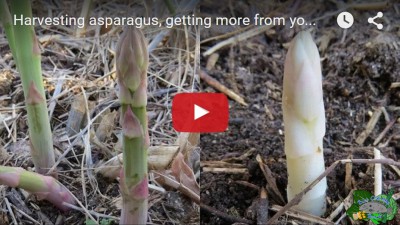 The clip has a bit of information on the difference between male and female plants towards the end for those who are interested.
One word of warning about letting the berries ripen and fall to the bed - they can cause a bit of an over-crowding issue so it's a good idea to transplant them out to a new location or gift them to friends.
At the end of the growing season the ferns will start to die off. I like to trim them off about 10cm / 4" above ground level, chop them up and use the trimmings to mulch the bed. This is also a great time to feed the bed with some compost or aged manure to feed the soil ready for the next flush of spears in the following spring. As ours is a tad crowded I also like to give them a feed at the start of summer at the end of the spring flush as well just to keep them going.
One of our favourite meals to whip up is an Asian-style chicken soup that gets poured over raw vegies picked from the patch. What I love about this dish is that we can duck out the back, pick some vegies and have the soup in the bowl ready to eat in less than 30 minutes. It is also the base soup we use for our won ton soup. The types of vegies used depend on what we have growing in the patch at the time.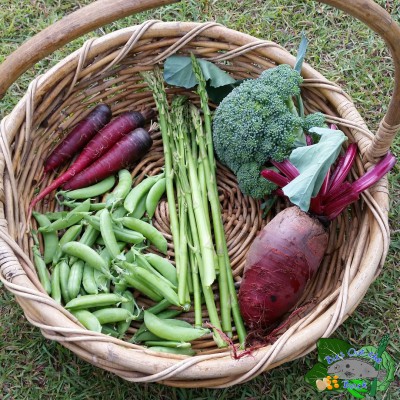 Some of my favourites are peas, beans, carrots, green onions, chard/silverbeet, chillies, broccoli, Thai basil, cauliflower, Okinawan spinach and celery. The last batch we made up included asparagus which made a great addition. The soup base is very easy to make. In the past we've used the frozen stock made from poaching chicken thighs and quite often we use commercial stock as well. Here are the quantities we use to make up the soup for our family:
3cm / 1¼ piece of ginger, minced
2 cloves of garlic, crushed
1L chicken stock
2 chicken thighs, diced small (1 thigh for 2 people)
1 tbsp soy sauce
1 tsp sesame oil
For the vegies it's as easy as gathering the selection and quantity your family likes, or what you have available in the garden.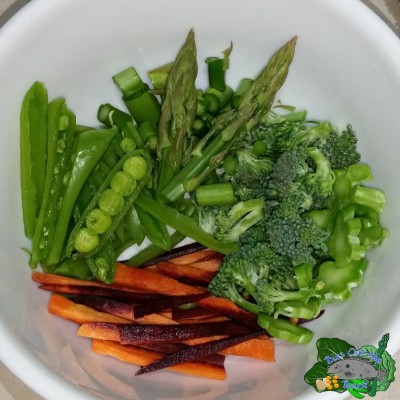 Slice vegies thinly, about one and a half to two cups for each adult and about one for the kids. This may come in handy in some households as it lets different family members add the vegies and herbs that they like.
To prepare the soup, add the stock, garlic, ginger, chicken and soy sauce to the pot and bring to the boil. Reduce to a high simmer for 10 minutes. Just before serving I like to add the sesame oil and stir through. The soup is then poured over the raw vegies in the bowls and served. I really like that the vegies come out semi blanched and crisp as I'm not a fan of cooked vegies. Just to be different I added a bit of extra sesame oil and some fish sauce to mine. ;-)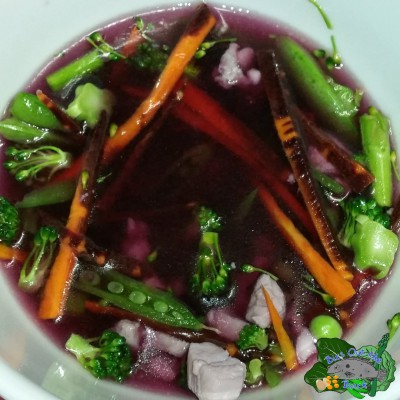 We got a bit of a surprise with our last batch when the purple pigment from the Dragon carrots started to bleed out into the soup. It was a novelty for the kids and even made the chicken turn purple after a while.
Here's a bit of a look at the pickings we've been getting from the patch over the past month or so.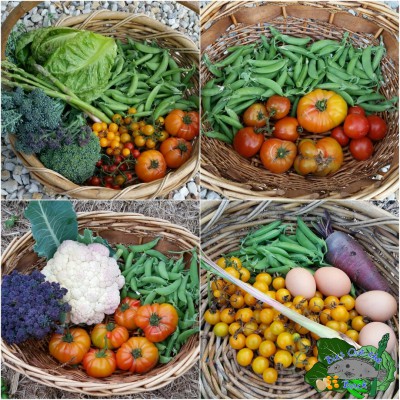 I have been very impressed with how well the sugar snap peas have gone for us in the aquaponics and Root Pouch. The plants were due to be pulled this week as they have started to slow down their flower production and have been battling a powdery mildew outbreak on the aquaponic plants. I will be planting out some ginger and climbing beans in its place I think. The Wherokowhai tomatoes are still giving us a few fruit every week and the various volunteer yellow currents are still yielding well.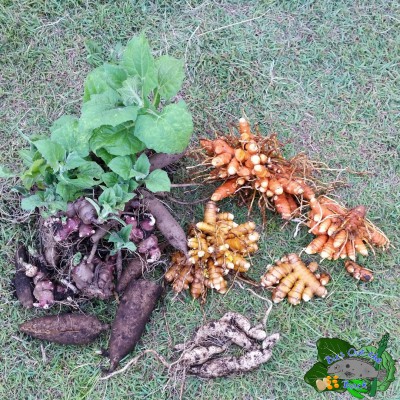 Here's a small harvest of turmeric, yacon and sweet potato from last week. They came from the wicking barrels that were cleared out to make way for two different types of taro. The turmeric is yet to be processed and the yacon plant was split up to share between two friends. I have had the yacon tubers aging a bit to let the sweetness develop but they should be ready to snack on tonight.
The beetroot from the aquaponics has made its way to the dinner table a few times over the past week or so.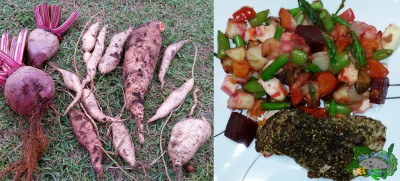 One of our favourite ways to cook it up is in a roast vegie medley with whatever's ready for harvest in the patch. This one was made with beetroot, sweet potato, peas and asparagus from the patch along with some store-bought onion, potato, capsicum/sweet pepper and pan-fried haloumi cheese. It was served beside some Za'atar dusted chicken thighs which have become a bit of a favourite in our house.
I harvested the aquaponic ginger and was very impressed with the yield. Some plants didn't provide as much as others but I think that came down to the size of rhizome I used to start them off. This time round I've chosen larger pieces with a few shoots on each to plant out.
It would be rude of me to sign off without a look at the asparagus that's been harvested from the patch methinks. ;-)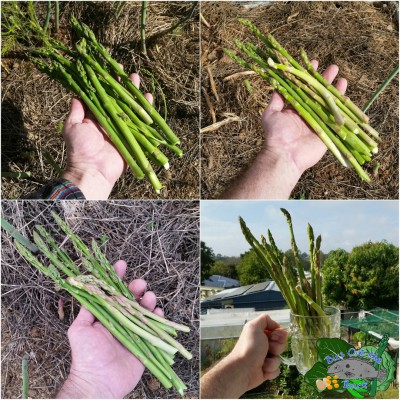 We are down to picking ten or so spears every second or third day but that is more than enough to add to meals without the kids getting sick of it. ;-) I have been really impressed with the yield so far and I think we'll be harvesting spears for a few more weeks to come.
So there you go, folks. Hope you're all enjoying the warmer weather and getting out into the patch when you can. Have a great one all.
Rob.
You can get updates on Rob Bob's new gardening adventure blogs on the Simple Savings Facebook page or in our Members' Blog section.
---
Well, that's your Simple Savings Newsletter for October 2015 and we hope you have enjoyed it. Don't forget to check the Forum and Facebook for challenges and inspiration to help you with some great lunchbox ideas and don't forget to let us know!
Our members are hugely important to us and we love hearing from you all! So next time you're on the website, why don't you get in touch and say 'G'day'! Let us know what you would like to see more of in our newsletter or any suggestions you have for something new to try. We love receiving your clever ideas!
Don't forget to spread the love around to your family and friends too by forwarding them our newsletter or letting them know about our website. Help make their lives easier and save them money too! Or tell them about us on Facebook by clicking the 'like' button on our Simple Savings Facebook page.
Till next time...
All the best,
Fiona