This issue includes:-
Sad Sally, Happy Hanna: 'Lemon Wonder' to the Rescue!
October: Chemical-Free!
Ye Olde Shoppe: Closing Down Specials!
Penny Wise: The Big Scheme of Things
Best of the Vault: Get Back to Basics
Best of the Forum: Get Keen and Clean 'Green'!
Best Members' Blog: Simplifying My Life - Chickens, Vegies and Leaving the Daily Grind
Mimi's Golden Honey Mustard Sauce
Rob Bob's Gardening Blog: Some Spring Starts and Beating the Bugs the 'Chem-Free' Way
From Last Month: I Want to Work From Home
This Month's Help Request: Instant Entertaining
---
Hello,
How are you going? I hope you have had a great month! Last month we celebrated my mum's 70th birthday. YEH MUM! And, this month we celebrate my son Sam's 13th birthday. We are about to enter the 'teenage years'. Also you may remember; Simple Savings was launched on Sam's 1st birthday. This means Simple Savings is 12 years old. WOW! Simple Savings is almost a teenager too. I hope it behaves itself and doesn't start chasing after boys.
Thank you to everyone who has stuck by us and supported Simple Savings for all those years. Your emails and savings stories keep us going! They encourage us to do more and try harder. Thank you! Here are some favourites from this month:
"I have been getting your newsletters for a long time. Recently I decided to join the Forum - I loved it so much I bought gift memberships for my two daughters. I am very happy to think this gift might give them help with their finances." (Tess)
"I just needed to email you and say THANK YOU. Since joining the Forum, I have finally got a budget that works and I am actually saving money at last." (Josie)
Have a great month!
All the best,
Fiona Lippey
---
"Yoohoo, Chloe!" Sally yelled from the front door. "I'm in the bathroom, Sal, just come through," Chloe huffed. "My parents are coming to stay tomorrow and I can't get this bath clean - and I just KNOW what my mum will say..." Sally giggled, "Oh dear, a 'Mum Clean', we have those too! Now, what's the problem exactly?"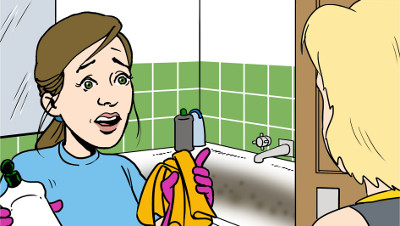 "It's this awful brown stain in the bath - nothing will shift it. I've tried Ajax, Gumption, bleach... nothing works!" Chloe wailed. Sally took a look and nodded authoritatively, "Yep, you've got yourself a bad case of lime scale there - you need to bring out the big guns to get rid of that sucker!" Chloe finally smiled, "Really? What's it called? Where can I get it?" Sally giggled. "Well, it's called 'Lemon Wonder' and I bet you've already got some in your kitchen!" "No, I've never heard of it." Chloe shook her head, "Just tell me where I can buy it Sal, I'm getting desperate."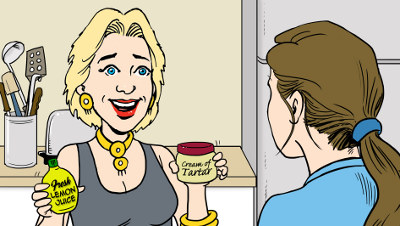 Sal marched Chloe out of the bathroom and started rummaging in the kitchen cupboards. "Found it!" she yelled, holding up a packet of cream of tartar and a bottle of lemon juice. "This is 'Lemon Wonder', Chloe, and it really does work!" Sally crowed. "That's amazing," said Chloe, "and will it work on the taps as well?" "Ohhhh no," Sally tsked, holding up a bottle of vinegar, "You'll need some 'Crystal Clear Bathroom Magic' for that job..."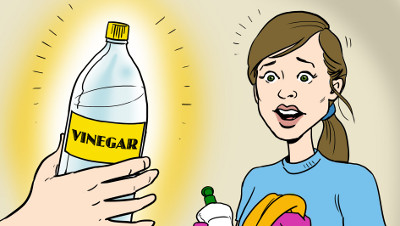 ---
Wouldn't Sally make a great marketer with her 'Lemon Wonder' and 'Crystal Clear Bathroom Magic'! And just like Chloe, many of us just want an instant solution, regardless of the cost to our purse or the environment. It is very easy to fall for marketing jargon and want our homes to be 'sparkling clean' and our toilets '99.9% germ-free'. We have become conditioned to believing we NEED these products to be 'clean'. The truth is we don't. This month we are going to show you some frugal and chemical-free alternatives to the expensive nasties in your cupboards.
Here is your challenge - every time you pick up a cleaning product this month, we want you to stop and think of a better way to do the job. To motivate you even further, we want you to track the money you would save by doing the 'chemical-free switch'. We've made a table of common cleaning jobs and products and some great chemical-free alternatives to try instead. And it's not ALL bi-carb and vinegar, although of course they are standards that any chemical-free home can't do without! We've listed rough approximations of usage and costs over the year to show you the savings you can make.
Are you ready to free your home from chemical cleaners - let's get going!
Cleaning Job
Chemical Product ($)
Amt/yr – Price/yr
Chemical-free Alternative ($)
Amt/yr – Price/yr
Savings per year
Bathroom
Tiled recess
Easy-Off Bam
$6.44/bottle
6 bottles/yr $39/yr
Wipe down shower every day (free!)
Bi-carb ($3.84kg) and vinegar ($1.17 2L)
3 replacements/yr $15/yr
$39
$24
Shower screens
Windex Shower Cleaner $5.90/bottle
6 bottles/yr - $35/yr
Use old stocking rolled up in ball to remove soap scum (free!)
Few drops eucalyptus oil in warm bucket of water, $2 Shop window squeegee
½ bottle/yr $6.29/bottle plus $2 squeegee -$5/yr
$35
$30
Mould
Exit Mould
$6.98/bottle
2 bottles/yr - $14/yr
Add 2 to 3 drops of clove oil to a spray bottle of water – apply _**(Warning – do not use clove oil during pregnancy)
**_ $10/bottle. lasts 3 years - $3/yr
$11
Toilet
Cleaner
Toilet Duck Cleaner
$4.30/bottle
10 bottles/yr - $43/yr
Vinegar $1.17 2L
5 bottles/yr - $6/yr
$37
Kitchen
General spray cleaner
Jif Easy Lift Kitchen Spray
$7.15 (750ml)
6 bottles/yr - $43
2/3 cup white vinegar
1/3 cup water
Few drops eucalyptus oil
Mix and use in spray bottle
18 mixes/yr (makes 250ml)
Vinegar $1.80 3L; Oil $6.29 bottle x ½ bottle $10
$33
Kitchen wipes
Pledge Kitchen Cleaner
$7.51 (20 wipes)
26/yr - $195/yr
Washing and re-using cloth wipes soaked in vinegar, sealed in plastic container
Vinegar $1.17 2L and chux wipes $4.00
6 times/yr - $31
$164
Stainless steel appliances
Stainless Steel Wipes $6.42 (20 wipes)
10/yr - $64/yr
Clean thoroughly, apply olive oil with a soft cloth
$7.15/bottle - $7.15/yr
$56
Floors
Washing tiles/lino floors
Handy Andy
$3.50/bottle
6 bottles/yr - $21/yr
Juice of one lemon or 40ml lemon juice and few drops olive oil in bucket of hot water
Lemon juice $1.39 (250ml)
6 bottles/yr - $8
$13
Washing timber floors
EarthChoice Wooden Floor Cleaner
$5.69/bottle
6 bottles/yr - $34/yr
One capful 100% eucalyptus oil
Two drops 100% lavender oil
½ bucket hot water
Approx $10 for each bottle, one bottle eucalyptus oil used $15/yr
$24
Wood floor polish
Pledge
$7.08 (500ml)
6 bottles/yr - $42/yr
1/2 cup olive oil, 1/2 cup vinegar, 10 drops essential oil (optional)
Mix and use
Olive oil $7.15 bottle, Vinegar $1.17 2L
$8/yr
$34
Carpet deodoriser
Airwick
$3.49 (500g)
12 bottles/yr - $42
Bi-carb soda & essential oils (optional)
Sprinkle, leave overnight and vacuum
Bi-carb soda $3.84kg
3kg/yr - $12
$30
Carpet spot cleaner
Vanish Preen Carpet Cleaner
$10.45/bottle
2 bottles/yr - $21/yr
Soak up the spill and cover with salt. Leave overnight then vacuum.
Salt $1.20/kg
2kg/yr - $2.40
$19
General
Air Freshener
Ambi-Pur
$6.44 (275g)
12 bottles/yr - $77/yr
Equal amounts of lemon juice and water and mix in a spray
Lemon juice $1.39 250ml
6 bottles/yr - $8/yr
$69
Cockroach traps
Mortein Cockroach Baits
$11.81 (12 baits)
Replace every 3 months
$48/yr
Grease margarine containers/glass jars and put dribble of honey in bottom
$6/450ml honey
1 bottle/yr - $6/yr
$42
Flea control
Mortein Flea Bomb
$16 (2 pack)
6 applications/yr - $96/yr
Peppermint or lemongrass essential oils – use in oil burner, dilute in floor cleaner and fabric spray
$13/25ml - $13/yr
$83
Ant spray
AntRid Ant Killer
$4.40 (50ml)
6/yr - $26/yr
Cucumber peelings – peel long strips and place at the point of entry
Save your kitchen scraps – free!
$26
Windows
Windex
$4.57 (500ml)
12 bottles/yr - $55
2/3 cup white vinegar $1.17/bottle
1/3 cup water
25 drops eucalyptus oil
Vinegar $1.17 2L Oil $6.29/bottle
4 applications/yr - $8/yr
$47
Some 'natural' ingredients such as clove oil cannot be used during pregnancy. As with any new product, please test on an inconspicuous area first. Many of these combinations work due to the chemical reactions that take place - please use gloves and make sure the area is well ventilated. When using a different product on your floor, test a patch first to ensure the finish is not slippery.
We really hope you give some of these chemical-free alternatives a try this month. Many of them won't foam, bubble or smell like the products you are used to - but they will work. And, you might surprise yourself by looking through the list and realising you really can do without some of these cleaners, such as air fresheners - just open a window! So, go chemical-free and tell us how much you save this month - we worked out that if you tried ALL of these alternatives, over a year you would save $760! So get going, we can't wait to hear how many bottles of 'Crystal Clear Bathroom Magic' you get through and how much you save!
---
We still have some great bargains in the Shoppe so get in quick for some early Christmas presents - you have until the end of November!
Ice-block moulds $4.00 per set (saving $21 per set, original price $25 per set)
"The $21 Challenge" books $10 (saving $15, original price $25)
GameTag $4.00 per set (saving $16, original price $20)
CreaClip $25 (saving $15, original price $39.95)
---
My last day in isolation, woohoo! I must be on the mend because I've been feeling bored and can't wait to get my money saving mojo back. I think the boys have been quite impressed with the dinners I've been managing to come up with during my convalescence; even the dogs and cats have been eating home-made feasts like little kings and queens! However, I feel this is largely to do with the fact I own no other books other than cook books so have simply been lazing around all day reading about food. If I had been able to leave the house to go to the shops I probably would have made ALL of Mimi's wonderful recipes this week! Do make sure you have a look at her blog as she has really been cooking up a storm and the recipes are all too good to miss!
I have to admit, it has been rather nice just to stop and smell the roses for a wee bit and spend a decent bit of time browsing the many avenues of Simple Savings. The great thing about SS land is that it is constantly moving and evolving - of course anyone who spends any time in the Forum knows this, we have our work cut out just trying to keep up! However, I never realised how different we are to other money saving resources until this week. You see, as it turns out I know a lot about saving money. A LOT. Who knew?! Of course you can KNOW as much as you like about it; it will only actually do you any good if you USE it. If the success of saving money was based on knowledge alone I would be a millionaire by now; you have to practise what you preach and I have a lot of catching up to do after my misspent years enjoying comfortable income and complacency! But I never actually KNEW how much I knew. As a Simple Saver you kind of just assume it; all the tips we constantly share and add to our repertoire add up to a pretty decent amount over time and we know we have the edge over non-SS'ers. But in my recent days of inactivity and without books I found myself scouring the Internet for new money saving inspiration; stuff which would inspire me and I could add to my 'must try' list. And I found - nothing. I searched and searched but everything was either old information, pinched from somewhere else, had already been covered at least 50 times before or dare I say downright stuffy and boring. Horribly pompous it may sound but I literally knew EVERYTHING. Which in some ways is brilliant isn't it - I mean, I really shouldn't complain! But I wanted more. I was used to getting more, I wasn't used to knowing it all! So back to SS I went and immediately I felt right at home again. Next month I will have been a member for 10 whole years and I think that's pretty good that after a decade I can still jump in anywhere on the site and find something which motivates and inspires me. It doesn't matter if the tips are five years old or five minutes old, I am constantly still finding new things. Not to mention the people here are lovely!
Which brings me to a rather important point Penny adopts serious face. It has been brought to my attention that some of you wonderful, kind hearted adorable people have been wanting to help the boys and I out. The three of us are truly deeply touched, bless you all but our little household is just one of many in SS land and that is why I feel able to share as honestly as I do, because I know that we are not alone and there are a lot of others out there contending with everything we are and much, much more. They just choose not to ramble on about it the way I do! I can't stress enough that members really are already giving us all the support and encouragement the boys and I need; we are so lucky to have this special place. Remember too that if it wasn't for you all sharing your tips and advice and cheering us on, I would never have been in the position to raise two hulking great larrikins by myself AND have managed to hang onto our adorable Nawtypoo these past 18 months! Just like Dory says in 'Finding Nemo', we have to just keep swimming, just keep swimming. I hope that one day I will also be able to say or do something to help someone else on here the way so many of you have helped me but please, no more talk of donations! If you want to donate anything at all, send me your favourite frugal recipe, I can never have too many of those and they will help us for years to come! In exchange I must direct you to this wonderful recipe from one of my heroines, Chelsea Winter. I tried them on one of my first nights home from hospital and she isn't wrong when she says they are the best meatballs ever. They are epic and I didn't even have any red wine, fresh basil, thyme or tomato paste. Considering I didn't have much more to work with than beef stock and balsamic vinegar they turned out amazing and very frugal!
I'm not sure what this has to do with saving money, probably nothing but on the subject of 'there's always someone worse off than yourself' there are a couple of people I met in hospital last week who inspired me so much I really want to tell you about them. On my last night in hospital I ended up getting moved from isolation to a ward with two other women a good 30 years my senior. My throat was incredibly sore, I could hardly speak and to be honest the last thing I wanted to do was talk to anyone, I was enjoying feeling sorry for myself in peace thank you very much! Fortunately at around 8.30pm I figured my two senior roommates, Robyn and Joyce would be pretty much ready for bed. How wrong I was. 'Welcome to the party!' grinned Robyn from across the room. 'We stay up late but don't mind us!' Joyce said, waving her magazine. 'You're going to love these two', smiled the nurse and proceeded to hook all three of us up to our various drips. Well, I have to say it was the latest I've stayed up in longer than I can remember, the three of us were having so much fun, chatting and laughing! They really were hilarious and funniest of all was that ALL of us were having trouble with our drip alarms going off every five seconds. Our room looked like a disco with all the flashing lights and the poor nurses were in and out so often we told them they may as well just hop onto the fourth unoccupied bed in the corner and take up residency! What a couple of hoots they were, with their wonderful cheeky sense of humour and a youthfulness which far belied their age. I didn't know until the next day that Robyn's hips and legs were full of steel or that she was in hospital because she had fallen and broken her back and lain on the floor for two days, unable to reach her alarm to call for help. I didn't know that all her family lived overseas or far away, that she was on her own and that her nearest neighbour is away for four months at a time. I did learn, however, that she lives less than half an hour from me so I have made a promise to myself to go and visit her.
As for Joyce, what a wee pocket rocket she was! This tiny lady was so full of laughter and kindness. But she was fragile; so fragile her bones could literally break with the slightest movement. The day I was allowed home she was also discharged and while she was happy to be going home, she was really scared and I was scared for her. Why was she being allowed home on her own when she was unsteady on her feet and unable to do so many things for herself? She only lived half an hour from me in the other direction and if I hadn't been stuck in home isolation for a week I would have been on her doorstep checking up on her. My boys and I might make a bit of a rickety team sometimes but I felt so grateful to be going home to them; both these lovely ladies had so much more to contend with than I did, yet were going home on their own.
And then there was the Purple Plum. I have a feeling I'll be introducing you to her properly one day! Her real name is Maree and it was Joyce who introduced me to her the next morning when she burst onto our ward. I would estimate Maree as being around my age but the huge smile on her face and twinkle in her eye could make her look anything up to 20 years younger. Like all of the health care assistants she was bright and breezy and compassionate but Maree was really larger than life and rather than just passing through or ducking in and out, she always took the time to sit and chat with the patients for a couple of minutes and impart some little story or joke to make them laugh. 'This one is such a ray of sunshine you know,' Joyce told me. 'Always full of the joys and got a smile on her face!' she nodded to Maree. 'Ah well, I never used to be like that you know,' Maree replied. 'I used to be so shy, I never spoke to a soul! Then I got bowel cancer a few years ago. I beat it and decided I wanted to give something back. I wanted to cheer people up who were sick and in pain and make them smile so I quit my job as a chef and spent the next five years training as a health care assistant. Guess you could say I went from a shrinking violet to a Purple Plum!' She roared with laughter, gesturing to her bright purple uniform. Who would have guessed? Talking to Maree continued to be fascinating as she shared how, when she was younger, she bought a tumbledown miner's cottage. Everyone thought she was mad but bit by bit she saved and did it up on the cheap. Four months ago she married her Prince Charming. She sold her tiny house and the two of them now live in their dream house in the bush among the wildlife. Every morning she still wakes up and pinches herself at her good fortune and then heads off to work to spend her day making others happy.
So many wonderful people to cross my path in just a few short days and all of them have dealt and continue to deal with far greater challenges than me but nothing has made me count my blessings more than this heart wrenching post from another young mum who coincidentally also had bowel cancer but sadly was not as fortunate as Maree:
I warn you, it is incredibly sad to read but it is worth it. It is possibly the best piece of writing I have ever read and is a wonderful reminder that in the big scheme of things, many of life's trials are both manageable and temporary. I might even print it off and stick it up somewhere to remind me how lucky I am next time I feel the slightest bit sorry for myself. And on Monday I shall jump out of bed and attack this money saving lark and life in general with even more renewed vigour; just watch me!
You can get updates on Penny's new blogs on the Simple Savings Facebook page.
...or in our Members' Blog section.
---
It's time to look at that cupboard full of expensive, chemical-laden cleaners and think about getting back to the basics. There are some wonderful, inexpensive and gentle solutions that will do exactly the same job without any harmful side effects. The Vault is full of fantastic ideas to get you started!
I have come across an excellent formula for mould spray that is cheap and safe and works like a charm. Just add two or three drops of clove oil to a spray bottle of water and spray on the offending mould. That's all there is to it! If it is really bad, it may take a couple of attempts and a wipe down but once the initial treatment is done, it is then just a matter of spraying it lightly to keep it away for good. Nothing could be easier, it also leaves the room smelling fresh and clean!
Note: Clove oil should not be used during pregnancy.
Contributed by: Julie Cox
Soapwort is a herb which is simple to grow and can save you a lot of money. Use it to make your own washing liquid. Just boil up the stalks and leaves and simmer for five minutes or so. Strain this liquid and use it to shower with, wash your hair (apple cider vinegar or egg are great conditioners to use after this), wash your hands, use on the dishes and use in the laundry!
The active ingredient that causes the washing and the suds is saponin. There are other plants that do this as well, but I have found soapwort the easiest to grow. This saves me LOTS of money!
Contributed by: Meredith D
I have found this home-made cleaning product to be the most economical and effective I have ever used. It can be used on any surface within the home. It's safe for allergy suffers, safe for young family members and is so cheap and easy to make. Note - this should be made up and stored in a glass jar, rather than plastic.
1 cup bicarbonate of soda
1 tbsp of any dishwashing detergent
1 tsp essential oil - for example, lavender or eucalyptus
Mix ingredients thoroughly together and you're ready to go! Just sprinkle over the required surface, add a little water and clean away. Perfect for bathrooms and kitchens or wherever you like!
Contributed by: Jennifer W
For a cheap and easy chemical-free floor cleaning solution, just fill a bucket with hot water, squeeze the juice of one lemon into it and add a few drops of olive oil. Then wipe over as usual. The lemon leaves a pleasant fragrance and the olive oil will make your floor shine!
Contributed by: Yasmin
If you wash your dishes by hand, here's how you can get two-litres of 'washing-up liquid' for the same price as a 500ml bottle - and get those dishes even cleaner than before!
We ran out of dishwashing detergent this week, four days before 'shopping' day. I forced myself not to go into Woolies just for detergent (as we all know that never works!). I also didn't want to go to the local corner shop as I would have paid a ridiculous amount for a little bottle of detergent. Then I remembered the tip we received at work from the health inspector - hot water and vinegar! We use this at work as a rinse for our dishes as it's cheap and it sanitises. So I thought I'd try washing my dishes with it. Wow! It cuts through grease better than any detergent I've ever used - and my dishes are sparkly clean!
I used what I had on hand, which was brown vinegar - about an eighth of a cup (or a quick 'sploosh') in with hot water! As the health inspector told us, as long as you can smell the vinegar in the water, you have enough.
With two litres of vinegar about the same price as 500ml of detergent, and with less elbow grease required - I don't think I'll ever buy detergent again!
Contributed by: Doofybear
---
You don't have to be a Greenie to know that the chemicals we bring into our home can be harmful to us and to the environment. There are some fantastic and effective alternatives that will do the same job - but you won't have to wear a face mask to use them! We're not going to fall for marketing any more, we're going to save money and breathe deeply! Here are some great ideas from the Forum...
Much cheaper and greener than supermarket ones and you can make them smell just the way you want them to!
read more...
Give it a go - you might be nicely surprised!
read more...
The expensive commercial variety are full of all sorts of nasties - why not try making your own dishwasher tablets?
read more...
We can't do this yucky job for you, but we can give you some ideas!
read more...
Essential oils are an 'essential' part of the chemical-free cleaning toolkit!
read more...
---
One of the many benefits of being a Vault member is that you can win a $100 store credit in Ye Olde Shoppe or $100 cash each month for your Simple Savings blog! Starting your own blog on the site is easy. All you have to do is log into the Vault, click on 'My Desk' at the top left, then 'Your Blog'. Then get writing! We love reading all your money saving trials and tribulations and really appreciate the effort that goes into each one.
This month's winner is Tinker for sharing the exciting and enormous changes she's making in her life!
"So as Dave Ramsey says, I got 'sick and tired of being sick and tired'. I have two kids (four and one) and after an epic winter of illness and the stress of DH and I covering their time off day care and feeling tired of being rushed constantly and not spending quality time with the kids, I realised enough was enough. I have decided to leave my day work and start doing night fill. I'll be working both jobs until the end of the year to pay off our personal loan then after Christmas the plan is that I'll resign from my day job.
I'm a bit anxious about it but feel in my heart that it's the right decision for us right now. I'm looking forward to not stressing when the kids get sick, actually getting on top of the housework and not being constantly tired. I'm looking forward to slowing down my family's life and bringing quality back. For too long now we have fallen to takeaway and processed snacks because we are time-poor and tired. We spend money on things we can't find simply because of the clutter we can't seem to get through. Our days off are spent trying to get on top of things rather than spending quality time together. Some people are fantastic at juggling the work/life balance with kids but I just really struggle.
So in preparation and as part of my re-focus we got a couple of chickens and have made up some large vegie beds. So far we are growing corn, lettuce, spinach, snow peas, capsicum, baby beets, leeks, spring onions, celery, rockmelons, watermelons, chillies, tomatoes, cherry tomatoes and miscellaneous herbs. On the agenda to plant are beans, cucumbers and salad mix. This is my second time at giving vegies a really good go so fingers crossed! Last time I tried, everything got annihilated by little white butterflies!
We are LOVING the chickens and this week we found our first egg! They have such personalities and are great at turning our scraps into fertiliser. We let them out to free range when we are in the yard but otherwise they are kept in a movable coop. You can see where they have been in the yard because there is lush grass sprouting up.
DH and I have also given up Facebook and reconnected with each other. No more mindless scrolling instead of talking.
I'm excited about this next chapter in our lives. All of my friends and family work days (most are career-driven) so I kind of feel like I am going against the norm and I know that financially we will be much tighter. I will be going from $31/hr to $20.65/hr for starters and dropping to 16 hours per week. It will be harder financially (DH isn't on the best wage) but we're willing to have a tighter budget for (hopefully) more sanity.
So onto the next few months and juggling two jobs. The end is in sight though and I simply cannot wait to switch gears."
Well done Tinker - we'll be following your new adventure and cheering you on every step of the way!
You can read more of our members' blogs here.
---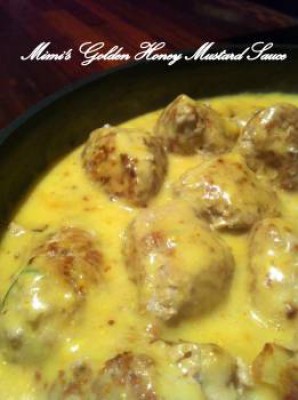 You know that blobby stuff in the jar that makes chicken taste heavenly and elevates meatballs to something glamorous?
I make my own and I thought I'd share it so you too can stop paying $4.00 a jar for something that costs cents to make. :)
My recipe has no cream in it, unlike many other home-made versions, and uses ingredients that most of us have on hand.
Here it is:
1 1/2 cups milk
1/2 chicken stock cube
2 tsp wholegrain mustard (or a combination of two different kinds if you want)
2 tbsp honey
1/2 tsp turmeric
2 dsp cornflour, mixed to a paste with a little water
Then just:
Whisk all the ingredients together in a small saucepan and stir until it bubbles and thickens.
That's it.
Serve over meat, vegetables or chicken or use as a simmer sauce.
You can get updates on Mimi's new blogs on the Simple Savings Facebook page
or in our Members' Blog section.
---
Now that we are in spring and the weather is warming up, I thought I'd start off with a bit of a round-up on the patch over the last month or so.
We currently have quite a few new seedlings in the propagation trays of varying age and size.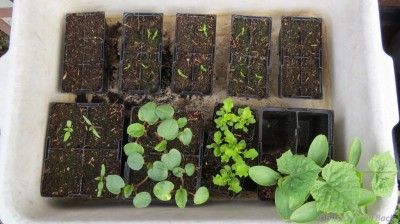 A couple of weeks ago I planted out a few different varieties of capsicum, Egyptian spinach, burpless 'Tasty Green' cucumber, giant tree tomato, burgundy okra and coral lettuce. All have germinated except for the Egyptian spinach but I still have my fingers crossed they will make an appearance soon. Half of the cucumbers have been planted out at my parents' place and the remaining two will be going into a wicking bed down the back later today I hope.
Round two of starts were sown out into trays the other day. This lot included some purple asparagus, Armenian cucumbers and red and sugarloaf cabbages. A few of these have already started to germinate which is great.
A few plants have already been planted/sown out where they are to grow in the patch. There are four bags of purple Congo potatoes at the back stairs with another two bags planted out in a wicking bed down the back next to two bags of Desiree spuds. I decided to try a growing method I saw on a great YouTube gardening channel called "Allotment Diary". What Dan does is bury the bottom 15-20cm of the potato grow bag into the garden bed so the potato roots have access to more moisture and the nutrients in the soil.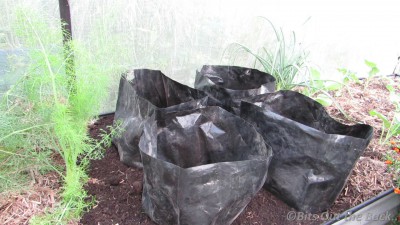 I have tried this method before but didn't have much luck. I think it came down to using poor soil and tubers that time round. This time I've spent a few extra dollars and purchased a good quality compost to mix through, and think that will make all the difference. Keeping the water up to them will help out a bit as well I think. ;-
The last lot of potatoes that were planted out were some Desiree spuds that went into an old worm farm barrel.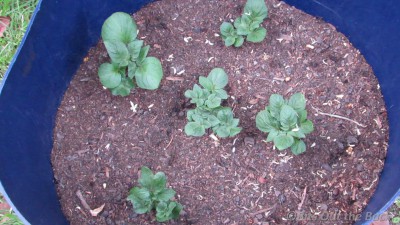 Five spuds were planted on top of the remaining worm castings and they look to be going great guns. As the stems on the potatoes grow, I'll remove the lower growth and top up the bags and barrel with a compost rich soil mix. Hopefully this will encourage more tuber development up the stem of the plant. Our potato harvests can be a bit hit and miss (as you will see in a picture below) so I am hoping these do a lot better.
The first lot of corn was sown directly into an IBC bed in the front yard. We had a great germination rate with nearly all of them sprouting.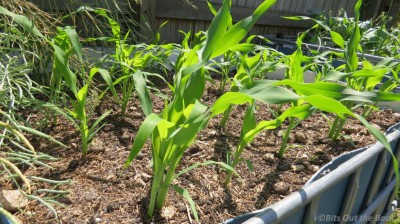 This F1 variety is called 'Bicolor' and is the first of the season's three sowings of sweet corn. I hope to follow this crop with a sowing of another F1 variety called 'Max' and then another of the 'Bicolor'. I am not growing any of the coloured 'Aztec' corn this year until the end of the season. I want to do an experiment to see how they grow through autumn and winter here.
The first of the yacon rhizome have sprouted in some pots I used to start them off in.
I am not sure where all of them are going yet but these two are in a wicking barrel by the back stairs. The rest will probably end up going into wicking barrels around the patch at this stage as garden space is at a bit of a premium this season.
A few weeks ago we finally got all the fish moved over into the new fish tanks and brought the new filters online.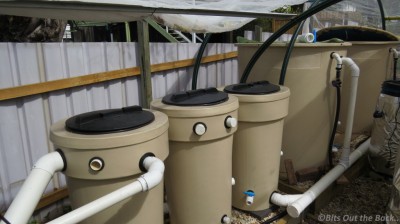 The fish handled the move fine with no major dramas at all. I still have a few small bits of hose work to fix up but other than that, the fish tank and filter side of the build is all done. I've posted a bit of clip on moving the fish over and how the system turned out for those that would like a closer look.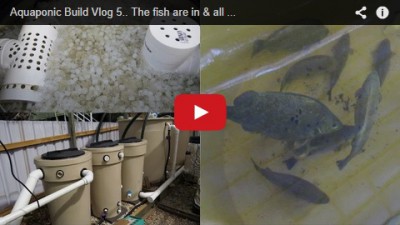 Now I can start to sort out the new grow bed and layout for the system as well as make up the new growing methods that we will be trialling. I think mainly leaf green crops will be planted out in the system with a few capsicums, so we can do a comparison on growth between soil and aquaponics methods. I am hoping to have a few grow buckets and tubes knocked off before the kids go back to school.
Keeping the patch pest-free without the use of purchased chemicals can be a bit of a challenge at times so thought I would mention a few that we have used or have been recommended to me by family and friends. One of the most common pests in the patch is aphids. These little sap suckers love to feast on your plants and can increase in number very quickly. Some aphids are Parthenogenetic, meaning that the females can give birth without the need of the egg to be fertilised.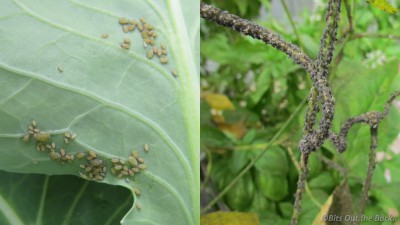 These pests can actually be rather easy to get rid of - one of the quickest ways to get a handle on a large population is as easy as blasting them with a garden hose. As Aphids have soft bodies, the water pressure will not only knock them off the plant but will also crush them. Another treatment is a simple soapy water spray. It's as easy as mixing a teaspoon of pure liquid dishwashing soap into a litre/quart of water and spraying the little blighters. The soap in the water washes off the protective waxy coating of the aphid, causing them to dehydrate and die.
White oil is another product that many folks use in the garden to control pests like mealy bugs, white flies, mites, scale, aphids, citrus leaf miner and caterpillars. While I haven't used white oil much myself I do know a few gardeners who use commercial white oils. You can also make it yourself from household ingredients. Gardening Australia's Jerry Coleby-Williams has a recipe that uses two cups of vegetable oil and half a cup of washing up liquid. All you need to do is pour the two ingredients into a jar and give it a good shake to combine them. This simple white oil will last for about three months before a new batch needs to be made. To make up a batch to use in the patch you add two teaspoons of oil mix to one litre of water, shake and spray on the infested plants. The oil mix works by blocking the spiracles (breathing pores/tubes) on the pest, suffocating them very quickly.
Mildew is another problem we face here during the more humid months. Powdery and downy mildew normally affects the squash, zucchini and pumpkins in our garden. If caught early enough they can be managed with a very cheap home remedy using an active ingredient found in most SS pantries or cleaning kits - bi-carb/baking soda. The bi-carb raises the pH, killing the mildew and its spores. This is one remedy I have used for a while now and found quite effective. I like to spray all the susceptible plants in the patch at the first sign of an outbreak. The spray is made by adding one tablespoon of bi-carb to two litres of water and adding in a few drops of dishwashing liquid to help the mix stick to the mildew. I have also used a commercial potassium bi-carbonate fungicide (called 'Eco Fungicide') in the past to treat mildew on the plants. It is actually quite expensive to use when compared to bi-carb soda so now only use it to raise the pH and potassium levels in the aquaponic system. ;-)
Just a quick reminder to always test-spray a leaf or two of any plant you want to treat to make sure there will be no adverse reactions to the remedies being used. If the leaf still looks fine 24 hours later you should be good to proceed with treating the whole plant. Another thing to remember is that they may need re-applying after rain as they will wash off.
Encouraging beneficial insects like lacewings, ladybugs, hoverflies and parasitic wasps into the garden is another way to help control pest outbreaks in the patch for very little cost.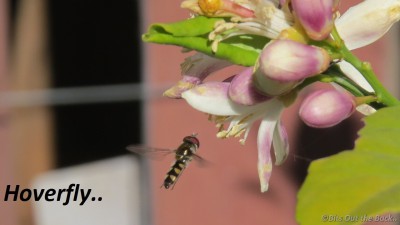 You can do this by planting out flowering plants that attract them, such as Queen Anne's lace, tansy, lemon balm, dill, fennel, coriander, brassicas (broccoli, cauliflower, mustard greens etc) and others that will help bring these insects into the patch.
We have also left aphids alone on some plants when we noticed an extraordinary number of ladybugs and their offspring feasting on them...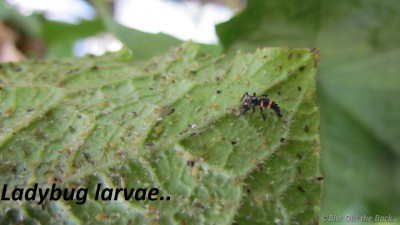 We figured that in doing so we were creating a ladybug nursery that could support a large population of these aphid munching machines! Ever since then we have found ladybugs all through the patch and have seen very little aphid activity.
Another chemical-free option is to exclude as many pests as you can from accessing the plants (I have covered this before in a recent blog post). While insect netting and hoop houses can initially be costly to set up, good quality netting can last for five plus years, making it very cost effective. This would have to be my favourite option as it keeps out some of the more troublesome pests like cabbage butterflies and the dreaded Queensland fruit fly. It also frees up time that would normally be spent inspecting the plants for outbreaks and spraying them.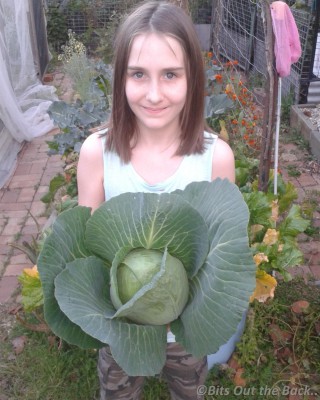 What makes the cost all worthwhile is when you can pick vegies that don't include 'leaf ventilation' and haven't needed to be treated with any sprays at all.
Our youngest DD let one of her purple carrots go to seed just to see what would happen. The amount of flowers the plant has produced has really impressed us and we hope to collect a load of seed to see how they go. Here's a quick look at how spectacular the flower of the humble carrot can be.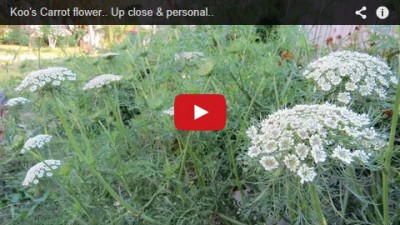 I hope you all have your spring garden planned and seeds ready for sowing. I know I shall be busy over these school holidays preparing a few beds and sorting out the next few rounds of seeds to sow out.
Cheers & have a great one,
Rob
You can get updates on Rob Bob's new gardening adventure blogs on the Simple Savings Facebook page
or in our Members' Blog section.
---
Last month Janine emailed us about ideas for working from home:
"I am a struggling single mother who only works two days a week and am trying to find more work. I have been trying for other jobs for the past seven months but am having no luck. I was wondering if you could ask your subscribers about jobs you can do from home with minimal start-up costs. I just need to find something that would be a good fit for me and which would bring me in a consistent regular extra income."
We got some fantastic ideas - thank you for sharing your wisdom with Janine. Here are some of our favourite replies:
You don't have to travel to an office to be a personal assistant! If you have a background in administration, access to a computer and Internet, you can pick up work as a 'Virtual Assistant', where you are assigned admin jobs to do at home. Once you build a reputation for being reliable, you will grow your client base and therefore your income. For more information check out thevirtualassistant.com.au
Contributed by: Kylie O
For an easy and convenient way to earn extra cash, consider taking in ironing. People always need a hand with their busy lives and finding work can be as easy as pinning a notice on a supermarket notice board or in a school newsletter. People can either drop off to you or you can pick up and deliver. Charging by the hour is the best way to go; you'll be surprised at how it can mount up!
Contributed by: Suzette B
If you want to make some extra money from home, take a look at your skills or hobbies. What can you make that you could sell at markets or online? Facebook has many buy, swap or sell sites that don't cost you anything to advertise. There are many craft groups on Facebook as well that can help you. I wanted to work from home for a long time but I didn't want to make items to sell. I also wanted to do something worthwhile. So I became part of a team that is helping change children's lives through our Social Entrepreneurial program; our aim is to end childhood malnutrition. I have found my passion and love what I am doing!
Contributed by: Kylie Wilson
If you are looking to make some extra income from home, consider respite care. I did this from home when I was a single mum. There are many families with a special needs family member that can do with a break, and in NZ there is funding for respite care. I was able to combine this while caring for my own children and, best of all, there are no start-up costs!
Contributed by: Michelle Jennings
If you are a good touch-typist you can earn extra money in your own home doing online transcription. You do need to be able to commit to a few hours each day during business hours, but it is something you can fit in around your other responsibilities. The start-up cost (apart from your computer) is around $400 for all the software and foot pedal and so on, although some companies may be able to offer you the equipment as a rental. I have a few friends who do this; one is self-employed and does a few hours in the evening a few days per week. Works for her!
Contributed by: Sarah Wise
Here are a few suggestions for making some extra money that can fit around other responsibilities. Some of these are very handy for fitting around existing activities or to do working from home. Some are just good for making some extra dollars without committing to ongoing days/work hours.
Mystery shopping. A couple of good companies I can recommend are KPI Retail Services. They employ men and women of all ages and pay $30 to simply visit a store and assess the cleanliness and helpfulness of the staff. Stores include homeware outlets like Matchbox, Kookai (women's clothing) and Oakley (men's sunglasses) as well as hunting and camping stores and so on. They send you assignments which you can choose to complete; this works well if you can take on several assignments in the one place so they can all be done together. Another great company is ShopAngels. They have a huge variety of assignments and you can earn between $6.00 and $12 making a two-minute phone call to assess customer experience over the phone, for example, fake enquiries to P&O cruises and Contiki. Coles and Woolworths use them to assess customer service and will give you $10 vouchers for shopping there. Caltex also use them to assess customer service and give you up to $15 vouchers for petrol. It all helps!

For those with a later model car, how about car advertising? There are endless companies out there looking for people with cars less than five years old to advertise on. Also companies such as Sheen, Michelin tyres and local tradies/building companies will pay weekly/fortnightly for advertising. The only inconvenience to you is a small sticker on your back wind shield.

Promotional events. Companies such as KRAFT pay people to be at events serving bubbly, all you need is a cheery attitude. You can get paid as much as $150 for two hours' work. Crown also hold a lot of events/parties and need ladies to simply greet people.

Online surveys. There are heaps of these available. Companies such as 'Your Voice' or 'Survey Village' give you vouchers to complete surveys. Whilst it can take a bit of time to get a voucher, it can be done from home and at whatever time suits.
For more information, simply Google! You'll be surprised how many opportunities are around.
Contributed by: Carly Welburn
A brilliant way to pick up some extra hours working from home is to register with an online organisation called Odesk. They have hundreds of different projects available for you to do from your own home; you simply choose what hours you want to do. There is something for everyone and no special skills are needed.
Signing up is free and you'll be surprised at the availability of work you can do. I have a friend in Bulgaria who replaced her full-time income easily! For more information, check it out here: www.odesk.com
Contributed by: Happy Jan
---
Karyn has emailed asking for some help! She writes:
"Please help! I work really hard at sticking to our food budget so there are rarely treats or fancy food in my fridge. While this is fantastic for our budget, I am sometimes caught out when unexpected guests drop by and I really don't have anything 'nice' to give them (unless they are happy with frozen home-made biscuits or vegie sticks and mayonnaise!). I'd love some ideas for savoury, quick entertainers that I can keep stocked in the cupboard, freezer or long-term in the fridge so that I can serve something tasty for those 'pop-in' visitors. Does anyone have recipes or ideas?"
If you have any pearls of wisdom you'd like to share with Karyn, please send them in to us here.
---
Well, that's your Simple Savings Newsletter for October and we hope you have enjoyed it. We hope you'll find some chemical-free cleaners that work well for you and become a part of your house cleaning arsenal!
Our members are hugely important to us and we love hearing from you all! So next time you're on the website, why don't you get in touch and say 'G'day'! Let us know what you would like to see more of in our newsletter or any suggestions you have for something new to try. We love receiving your clever ideas!
Don't forget to spread the love around to your family and friends too by forwarding them our newsletter or letting them know about our website. Help make their lives easier and save them money too! Or tell them about us on Facebook by clicking the 'like' button on our Simple Savings Facebook page.
Till next time...
All the best,
Fiona