This issue includes:-
Sad Sally, Happy Hanna: Christmas is CANCELLED!
October: Christmas Cheer, HERE!
PowerCooking: Get Ready for a PowerChristmas!
Ye Olde Shoppe: Easy Gift-Giving!
Penny Wise: When Life Hands you Donuts
Best of the Vault: Simple Gifts From the Heart
Best of the Forum: Now's the Time to Glue, Stew, Brew and Do!
Best Members' Blog: Winning the War on Debt One Hand Grenade at a Time!
Hidden Gem: Harvey, WA
Cooking with Mimi: Scrummy Quinoa Salad... Really Easy and Delicious
50c Indulgences: It's Time to Plan
Rob Bob's Gardening Blog: No Dig Gardening
From Last Month: How to Get Rid of that Doggy Smell?
Help Request: How to Cut Down Costs of Hospital Visits?
---
Hello,
How are you going? Things have been busy in Simple Savings land. We have been giving our site a facelift. If you would like to come and have a sticky beak. Go to SimpleSavings.com.au
If you are a member, you will only be able to see the new site while you are logged out of the Vault. The new site is a work in progress and we would love to know what you think of it, for better or for worse ;-)
We love hearing from you - here are some of our favourite emails this month:
"Thank you for the prompt delivery of the Eeezee Freezee ice-block moulds. The kids just loved them and Granny has asked for a set for her place for little summer visitors!" (Grace)
"I am a new member and although I got your newsletters for ages, I just didn't like the idea of 'paying money to save money'. Well, I'm so glad I finally joined! I have saved over $100 just in my first two weeks, but even more than that, I feel as if my head is finally in the right place to make the right decisions when I am trying to save money. Thank you, Simple Savings." (Tahlia)
"My sister joined me up to Simple Savings for my Christmas present last year. I have read so many tips and learned so much that this year I'm giving memberships to two of my closest friends. I can't wait to talk to them about the site and everything we'll learn together!" (Elisa)
Have a great month!
All the best,
Fiona Lippey
P.S. We're hard at work on the 2014 Calendar - it's going to be a whopper! Our Forum members wanted lots of challenges, support and encouragement for each month's themes so watch out for those on the Forum and on Facebook. Now we just have to work out how we're going to fit everything in!
---
"Are you alright, love? You look a bit pale," Pete asked as Sally hung up the phone. "That was Aunt Edna," Sally told him, sinking down into her chair. "She said Christmas is at her place this year and the whole clan's going to be there. Good grief, this is going to be a nightmare!" "Oh come on, Sal, I'm sure it will be fine!" Pete said cheerfully. "The rellies aren't THAT bad. Well, except maybe your sister... but at least it gets us off the hook doesn't it? All we'll need to bring is a plate!"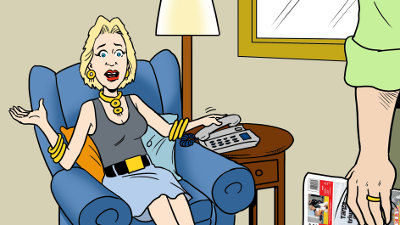 "I'm not worried about the food, it's the presents!" Sally sighed. "There's going to be 30 people there Pete - 30! Can you imagine what that's going to do to our budget? Christmas is expensive enough as it is with just the four of us! I just don't see how we're going to manage." "We will," Pete smiled. "Think positive! We'll just stick to a gift budget of $10 per person. That's a total of $300 for absolutely everyone and that's all we spend. Easy!"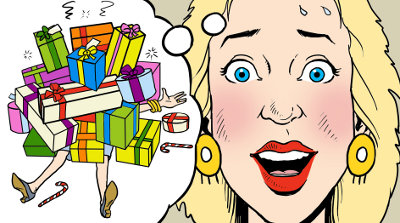 "We can't do that!" Sally protested. "Jim and Ruth are going to be there - the rich cousins." She rolled her eyes. "They always give every one HUGE presents. How are we supposed to compete with that?" "We don't!" said Pete. "It doesn't matter what they spend, that's up to them. We don't have to keep up with the Joneses - or even the Wilsons," he grinned. "Honestly , Pete, you just don't get it do you!" Sally wailed. "I refuse to be seen as the poor relations. There's nothing else for it. We'll just have to pretend we're all sick and stay at home!"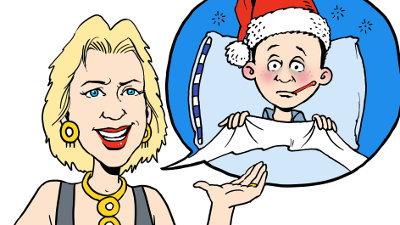 ---
Sally's reaction may be characteristically over dramatic, bless her, but many of us do feel under pressure to 'pull rabbits out of hats' at Christmas. Every year has to be bigger and better than the last and there's always that desire to impress our fellow loved ones and rellies. The thing is, you don't need to have pots of money to be able to do that. Sally may not have a huge bank balance but she still has something else on her side - TIME. And this month, we want you all to make the most of it!
Much of Christmas stress comes from leaving things until the last minute. Rushing out to buy any old thing in a desperate attempt to please, often going horribly over budget just to get it out of the way - not to mention having to brave crowded malls and queuing for hours with thousands of other disorganised and disgruntled shoppers! But if you plan in advance you can avoid ALL this, find the perfect gift AND save stacks of money. If you have time on your side you don't need to spend a fortune to impress your loved ones.
So this month, make a list of who you need to buy for this Christmas. Think about what kind of person they are, their likes, interests and hobbies and what kind of gift you would normally buy for them. Then think about what you could make for them instead! The Simple Savings site contains MASSES of ideas in the Vault, Forum and Newsletter Archives to help you. Here are three of our favourite gift ideas which would cost $30 and upwards to buy from stores but cost $10 or less to make from home!
If you haven't heard of the wonders of macadamia oil yet, where have you been?! It's quite simply the best and most economical skincare product you will ever come across. Grab yourself a litre bottle from our Ye Olde Shoppe for just $23 and use it to make a whole heap of beautiful luxurious face and body scrubs for your friends! All you need is sea salt (or sugar), macadamia oil and a few drops of your favourite pure essential oil such as lavender. Put your sugar or salt into a bowl (however much you require), then slowly add enough oil, stirring gently to make a paste. Add your essential oil and mix well, then simply transfer your exfoliant scrub into small pots or jars. Add a home-made pretty label with instructions for use - simply wet skin, massage in gently and wash off, couldn't be easier! Your recipients will love it and so will their skin!
These posh bottles of chocolaty goodness cost a fortune to buy in the shops but you can make your own for next to nothing using this brilliant recipe from Mimi's mum!
Mimi's Mum's Chocolate Syrup
1 cup water
1/2 cup cocoa
1 1/2 cups sugar
2 tsp vanilla essence or extract
Combine water, cocoa and sugar in a small saucepan, whisking thoroughly to remove lumps. Bring to a boil over medium heat and reduce heat to very low, simmering for 5-6 minutes. Remove from heat and add vanilla essence. Allow to cool slightly and pour into bottles or jars. Makes about 500ml.
Multiply the recipe to make a larger batch. Easily doubles, trebles or quadruples.
Use as a topping for desserts or as milk flavouring.
This recipe turns a single home brand Christmas cake into several unique and very stylish gifts. Great for a Christmas plate too, Sally could take this to Aunt Edna's and feel great!
250g cooked Christmas cake (you can buy one or use your own home-made, doesn't matter)
2 tbsp brandy or rum, Cointreau, whatever you have (or for an alcohol-free version you can use orange juice)
Two-litre tub of vanilla ice cream
Take the ice cream out of the freezer and allow to soften enough to be able to mix easily (don't let it melt though!) Pop it out of its tub and into a large bowl. Rinse the empty tub and dry thoroughly, then line it completely with cling film, so it overlaps over the top and leaves enough spare to cover the top too.
In a separate bowl, crumble your cake (as rough or fine as you like) and then pour the spirits or juice over the top and let soak in for a few minutes. Add this to the ice cream and then gently mix together until well combined. Now transfer your mixture back into the lined tub and smooth over the top. Cover with the excess cling wrap, then pop the lid back on and put back in the freezer to re-freeze until required. To serve, simply turn out onto a platter, remove the cling film and cut into slices. To jazz it up for a Christmas table or party, you can decorate with strawberries, sprigs of mint or whatever you like!
Making your own beautiful gifts really is so rewarding. What better way is there to spend Christmas than relaxing, knowing there is no need to dash to the shops or stressing out about starting the new year in masses of post-Christmas debt? Do yourself and your loved ones a favour and gift them a gift made with love. They really will thank you for it - but get onto it now!
---
PowerCooking continues to gather fans and we keep getting wonderful emails from people who have done their first Power Hour and can't believe what they have achieved! With the Christmas rush and large family gatherings not far away, imagine how many dishes a few Power Hours could put in your freezer. Wouldn't it be wonderful to wake up on Christmas morning knowing you had main dishes and accompaniments all ready to go - what a wonderful gift to yourself. Don't forget to take a look at Kate's fantastic tips and hints to help you get prepared early.
You can grab a free membership and build your own Power Plan here.
---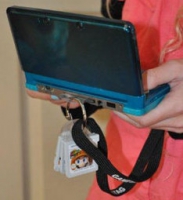 Do you know anyone with a Nintendo DS? We have a great gift for them for just $5. It is a Gametag and it helps kids keep all their games in the one place.
The normal price is $19.95. We are selling them for ** $5 till stock runs out!** That's below cost!
---
Apologies for this post not being strictly money related - well it kind of is - but whether it is or not, it still means enough to me to want to share it. This week has been without a doubt the hardest week of my life. No, I don't want to talk about it but suffice to say I haven't wanted to talk to anyone, see anyone, go anywhere - if I had had my way I would have happily spent the rest of my life living under a rock. So it was rather inconvenient that Liam was scheduled to play the most important and prestigious rugby game of his life last night. Even as excited as I was, getting in that car and driving two hours to get there, then sitting through the game with my all-consuming emptiness and depressing thoughts was going to take every bit of my strength. Still, I made it and I'm glad I did as I had never been prouder of my eldest son as he took to the field with his team at Waikato Stadium. This was the stuff childhood dreams are made of! And with perseverance, dedication and unlimited love and encouragement from his family, it was a dream which had come true.
Anyway, I survived the first half without falling into a heap and watched with amusement at a small boy who looked just like the Milky Bar Kid and spent the entire half time interval hip hop dancing at the bottom of the aisle. When the second half started, I thought I had better go closer and get some photos of Liam whizzing up and down on the wing and went and stood next to the boy. 'Hey, I liked your dancing, you're really good!' I told him. 'Thanks! I won a prize for it today!' he grinned. 'It's the first prize I've ever won!' 'Oh well done, that's awesome!' I said. 'Yeah, my mum doesn't even care though. She's up the back with two bottles of bourbon. Have you got bourbon too?' 'No, I haven't got any bourbon,' I laughed. 'She's got food too - but she won't give me any. I'm starving! But she only gets it for herself,' he said, wrinkling his nose.
At that point our team scored a try and I turned my attention to photographing Liam and his team mates. 'That's my son there - number 14,' I said proudly. 'Wow, he's really tall!' the boy replied. 'I'm watching my brother, he's on the other team - number 20. This is the first time I've seen him in two years. Today is the 15th time I've seen him in my whole life.' I already knew who his brother was; I had seen the fat oaf in the first half abusing his little brother as he ran past. 'Ooh, donuts!' he grinned, running up to the young girl who was selling bags of them for $5.00. I wished I had some money to get him some but I didn't have any cash on me.
'Maybe Mum will give me some money - oh, she's eating a pie now!' he said unimpressed, nodding his head towards the back of the stand. 'She spends so much money. Do your kids get pocket money?' 'Not any more, they have jobs now,' I smiled. 'But they used to?' 'Yep, they used to. Not that they ever did anything for it!' I laughed. 'I've never had pocket money - and I have to do everything! Do the dishes, feed the dogs, feed the pigs, put the washing out, take the washing in; heaps of stuff. But I've never had pocket money. So you really don't have any bourbon then?' 'No, I really don't,' I laughed. 'I don't drink it - but I have to drive two hours home so I couldn't if I wanted to!' 'Two hours? That's MILES away! I've lived here my whole life, here in Hamilton. But we're moving to Taupo soon. I don't want to move. Nobody even asked me!' 'Yeah, grown-ups are crap like that,' I sympathised. 'But Taupo's cool! I love Taupo, there's heaps to do there.' 'Yeah right, you don't have to say that just to make me feel better,' he looked at me wryly. 'Not like I'll ever get to do any of it anyway.'
I was at a bit of a loss for words after that and wasn't having much luck taking photos so moved back up the stand where Liam's grandfather was sitting watching the game. 'You made a friend?' he chuckled. 'Yeah, poor kid - our two boys don't know how lucky they are!' I said, telling him the story. For the remainder of the game, the two of us watched my poor little Milky Bar friend run up to the donut cart twice more and look in hopefully before running up the stand to his sour-faced, purple haired mother, still sat stuffing her own face with her partner. How could she let her own kid go hungry like that? The game ended and as we stood up to leave, the girl with the donut tray came and stood on the step next to us. The boys' granddad and I looked at each other. 'If I had $5.00 I would get that poor kid some bloody donuts!' I said. 'I was thinking just the same thing!' he said back. 'What's up? Oh, that boy,' she smiled. 'Is he yours?' 'No he isn't, the poor kid's starving!' I said sadly. 'Yes, I know, I saw him. Do you want to go and give him some? I'm not supposed to do this but'... she quickly swiped a bag of donuts out of her tray and handed them to me.
'Thanks so much!' I beamed and looked around for my little friend but he had palled up with two other boys also watching the game and had climbed over to the next enclosure. I was stuck with this bag of donuts I could no longer pass on to its rightful owner! 'Is there a problem?' asked the security guard. 'I need to give something to that kid over there, the one with the glasses. Can you pass it over to him?' 'I wish I could! But I'm not allowed to leave my post,' he looked around apologetically. 'And I'm not allowed to let you in this part either.' Oh heck, all that for nothing! 'The poor little fella's starving,' I explained. The guard looked around one more time, then quickly opened a small gate. 'Quick, before anyone sees you!' he said. What a sight I must have looked clambering over and under railings and hopping over walls, all the time yelling 'OI!' as I didn't know the boy's name. At last I managed to catch his eye and he pointed to himself 'Do you mean me?' before scampering over. 'Here you go. I've got to go now but I thought you might like these,' I grinned. 'Are these really for me?' he said in total disbelief. 'Did you get some for your son too?' 'Nope, just you,' I smiled. He gave me the biggest Milky Bar Kid grin I had ever seen and took off with the donuts, pausing to yell 'THANK YOU!' and wave at me madly before I jumped back over the rail.
I made my way through the stadium and was about to leave when the donut girl caught up beside me. 'That was such an awesome thing to do!' she said. 'And do you know what? He went straight and shared them with those two other boys he just met. He was so hungry himself but he still gave some to his friends. I think you're one of the nicest people I've ever seen!' 'Oh well, I've got two boys and they've been through a tough enough time lately but that kid just broke my heart. Thank you for making it happen!' I replied. 'You've got two boys? They're so lucky to have a mum like you. Here - take them home these,' she handed me two more bags of donuts. 'And make sure you have some too, you deserve them!' She gave me an awkward hug across her donut tray and I finally left the stadium, full of warm fuzzies and warm donuts.
And it was that small, insignificant but very rewarding event which restored my faith in human nature but more than that, my self-confidence and self-respect. It doesn't take much to be a good person and in that instant I knew I was one. It's going to take a little time but thanks to the Milky Bar Kid and the donut girl I no longer want to spend the rest of my life under a rock. Being happy in your own skin really is all that matters and I've finally realised I am.
You can get updates on Penny's new blogs on the Simple Savings Facebook Page
or in our Members' Blog Section
---
The Vault is full of amazing ideas to help you 'make' Christmas extra special this year! Why spend your hard-earned dollars on mass-produced tokens when you can make something special if you start now? Get going - there are lots of ideas to explore!
Plain candles cost little to buy, but they can be turned into beautiful personalised gifts for all types of occasions. This is an enjoyable and relaxing pastime which is fun for both adults and children to make. You can use all sorts of cheap and even free materials to decorate them, such as paint, metal mesh, carving, beads, wax appliqué, pressed leaves, and other materials.
Look in your library for books on the subject, such as 'Decorating Candles' by Terry Taylor. Ready-made decorated candles can be very expensive to buy in gift stores, but by decorating your own, you get the same results for a fraction of the price!
Contributed by: Tammy
I have saved heaps while decorating my house by making my own beautiful artworks! I got some scrapbooking supplies and some frames from the op shop. I brought them home, made up my own 'pages' and placed them in frames. This has brought a fantastic designer look to my home for very little cost!
Contributed by: Rachaek
I am saving heaps on gifts for my family and friends. I love making beaded jewellery for them all but it can be quite an expensive hobby by the time you buy all the tools and beads. However, I have recently started searching local op shops and found some amazing 'treasures' of gorgeous glass, wooden and resin beads and buttons. I just take them apart and then re-design them. The recipients all love their unique 'vintage' pieces!
Contributed by: Carolynne
I came up with a perfect present idea for my friend at the 'perfect' price when I found an old viny l collection in an op shop recently. Each record was just $2, and when I spotted one by my friend's favourite artist I grabbed it, knowing that would make the present extra special. I then bought the cheapest clock I could for just $3 at Kmart. (You will not actually need the clock face itself but buying a clock at a store like this saves up to $20 on purchasing the separate clock mechanics, so it's important that you buy one that just 'pops apart' from its mechanics.)
The hole in the centre of the record was the perfect size for the clock mechanics, and I was able to slot them neatly into place. For just $5 I had created a meaningful, retro and very cool timepiece for my friend. I now often give a 'vinyl clock' as a gift, and I customise it to suit the recipient's taste. I may jazz it up with a touch of spray paint or stickers, or keep it simple and classic by just adding numerals.
Contributed by: Kelly T
---
Somewhere along the way we have fallen into the marketing trap of thinking that the 'cost' of a gift is equivalent to the 'thought'. If we give someone a gift that only costs a few dollars, it must mean we don't think much of them. Well - we are going to turn all that on its head with this year's Christmas planning! It's going to take some courage, some hide and a lot of gluing, stewing, brewing and doing - but this year, we are going to give gifts that actually mean something. They won't cost a lot of money, but may take more time than a visit to the shops. They won't be shrouded in hard plastic, need $10 worth of batteries or light up a TV screen. Here's to simple gifts from the heart and wonderful ideas from the Forum to help you make them:
Nothing says 'Merry Christmas' like a personally decorated, home-cooked Christmas cake!
read more...
Some fantastic ideas in here to get you going!
read more...
How about something completely different for the young people - and not so young - in your life? Make a personalised pinata and fill it with lollies or small stationery items and then, most importantly - stand back!
read more...
Join in the planning fun to save money and not get caught this Christmas - they've thought of everything!
read more...
Beautiful Christmas gift idea!
read more...
---
One Hand Grenade at a Time!
One of the many benefits of being a Vault member is that you can win $100 to spend in Ye Olde Shoppe for your Simple Savings blog! Starting your own blog on the site is easy. All you have to do is log into the Vault, click on 'My Desk' at the top left, then 'Your Blog'. Then get writing! We love reading all your money saving trials and tribulations and really appreciate the effort that goes into each one.
This month's winner is Bettyboof for her first blog and awesome start to turning her finances around!
This is a big day for me - my first ever blog post! I've been kicked into action by a combination of all the great stories on SS and my own flagging motivation in the face of a rather large debt. I have been overwhelmed by the 'war' on our debt, believing that if I couldn't launch major debt rockets, I was never going to get anywhere. I know now that this isn't true and am instead focusing on winning small battles and lobbing as many 'hand grenades' (small monetary amounts gained in lots of different ways) as I possibly can at the debt. I'm also working on getting all our ducks in a row in terms of admin generally and decluttering like it's going out of fashion. With this in mind, yesterday I claimed my lost Super and $739 will be added to my Super fund soon. I also cleared and closed all dormant Super accounts, something I've been meaning to do for a long time. I feel like a very large box of mental clutter just got taken to the tip. Today I called up and asked for $6.16 we had sitting in our old electricity account be paid back to us - I'll pay this amount off the (first of four) credit cards. I also got some new quotes for contents and car insurance which will save us $23.27 per month. I'll add this to the debt repayment once the changeover goes through. Not bad for a day or two's work, I think my plan may just work...
Well done Bettyboof - keep up the great work!
You can read more of our members' blogs here.
---
This month's Hidden Gem is just a bit different! It's a small town south of Perth called Harvey as nominated by Dee
One Hidden Gem I have found that's an absolute treasure is the picturesque rural town of Harvey. It is an easy 90 minute drive from Perth and is very well known in W.A. for dairy products and orange juice, but it also has some other delicious local produce! One of our favourite places to visit is the Harvey River Bridge Winery where you can taste a wide variety of wines and buy wine for as little as $60 a dozen:
Another place we always visit is Harvey Bizee Hands which sells locally made craft, such as hand towels, door stops, aprons, baby clothes and tea cosies. You can also buy jams, pickles, relishes, biscuits, slices, home grown fruit and vegetables and fresh eggs. Bizee Hands is open 9am-4pm daily except for Wednesday and is situated on the corner of King Street and the South Western Highway.
The third place we make sure to visit is Harvey Cheese Factory, a family-owned business, which has a Brie called OMG and believe me that's what you'll be saying when you taste it, it is so unbelievably creamy! They also hold cheese-making classes which are usually advertised on a blackboard at the front door. They have free tastings of most of their cheeses and make Haloumi, Romano, Feta, cheddar and flavoured cheeses with chilli, garlic, sundried tomato and other spices and herbs in them. They also sell ice cream, coffee, cakes, small goods and condiments. The two camels and friendly sheep might come and say hello over the fence as well!
If you want lunch there are two good bakeries and a few cafes to choose from and the visitors centre has loads of pamphlets suggesting picnic spots and BBQ areas. The visitors centre also has a 'Moo Shop' and an interesting display relating to May Gibbs, who lived in Harvey in 1885 and 1886. There is memorabilia and her books are for sale including 'Snugglepot and Cuddlepie' which is still a children's favourite. Behind the visitors centre is a butterfly tree with a board showing the life cycle of the Monarch Butterfly which abounds in the area.
We usually make sure we take our interstate and overseas visitors to Harvey as it is a place we enjoy sharing.
Thank you Dee on locating such a fantastic hidden gem and thanks so much for sharing.
---
Really Easy and Delicious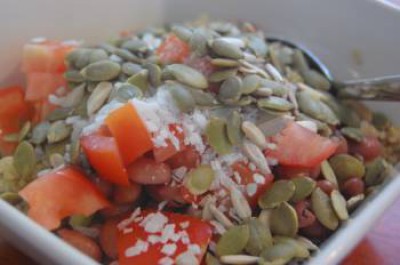 We're in love with quinoa.
We had a brief flirtation with it a few years ago, but I really wasn't using it to its best advantage back then and we put it in the too hard basket.
A renewed interest in gluten-free grains led me to put together this salad for dinner last night.
I wanted something that could be served meat-free as a meal or as a side for the carnivores in the family and this got a big thumbs-up.
I had it plain with some chopped toasted almonds on top, my 13-year-old daughter had it with a squeeze of lime juice as dressing and some avocado slivers for decoration. She scooped the salad onto baby cos lettuce leaves and ate it like tapas, proclaiming it yum like that, and the man of the house had thinly sliced pan-fried kabana to garnish his. We all agreed that no matter the variation, this one's a keeper.
For four serves and enough quinoa leftover for another salad, you'll need:
3/4 cup quinoa
1 2/3 cups water
Pinch salt
1 tin cooked beans such as red kidney, cannelli or borlotti, drained and rinsed until they stop foaming (I actually buy dried beans when I can, and presoak and precook them ahead before freezing them)
1 stick celery, thinly sliced
1/4 small onion, peeled and grated
1 small clove garlic, peeled and minced
1/2 tomato, diced
1 tbsp pumpkin seeds
1 tbsp sunflower seeds
1 tbsp shredded coconut
3 tbsp olive oil
Then just:
Add the quinoa and water to a large saucepan. Bring it all to the boil and seal it with a close fitting lid before turning the hotplate OFF. Leave the pan on the stored heat of the cooling hotplate. Check the quinoa after 20 minutes and fluff with a fork. It should be perfectly cooked. If there is liquid remaining or the quinoa is not soft and fluffy, reheat it gently until steaming and replace the lid before allowing it to sit for another five minutes.
Once cooked, spread the quinoa onto a large platter and allow it to cool to room temperature.
Once it's cooled, add the minced garlic, grated onion and the olive oil, tossing it well to infuse the quinoa with the flavour of the garlic and onion. Add the other ingredients and toss if you wish. We prefer to put the quinoa in the bottom of our bowls and add as little or as much of the other ingredients as we like, gently tossing it to combine before we eat it.
You can vary this by adding different seeds, nuts and beans. It doesn't need any dressing as the flavours are already so complex and appetising.
This is a brilliant do ahead salad and one large container done up on a Sunday night would do for lunches and dinners for a couple of days. It's a great healthy lunch to take in tubs to school or work too, as there is no dressing involved to make it go soggy.
Healthy, delicious and inexpensive to boot :)
You can get updates on Mimi's new blogs on the Simple Savings Facebook Page
or in our Members' Blog Section
---
October has been a month of planning in the Indulgences under 50c thread! Two wonderful quotes that have inspired us this month are, 'A goal without a plan is just a wish' and 'She turned her can'ts into cans and her dreams into plans'! Both are so true - we need to plan for the things we want in our lives. From small things like making sure we drink enough water to stay healthy every day to large things like saving a deposit for a home or a holiday. Writing things down is a great way to focus on our goals and work out the steps we need to take to achieve them.
My first goal was to use my planner better. I have a really nice planner but I just didn't use it enough. During this challenge I watched YouTube videos on how to use planners effectively. I realised I didn't use it as it didn't appeal to me. In my case that means it wasn't pretty enough! So I spent an evening personalising my planner, writing in all the information I needed to have at my fingertips and added some pretty pages. I included goals for the week, an exercise tracker, a record of daily glasses of water, birthdays and so on... all the things I need and are helpful to me. By the time I finished, my planner was suddenly very useful to me and I have used it every day since.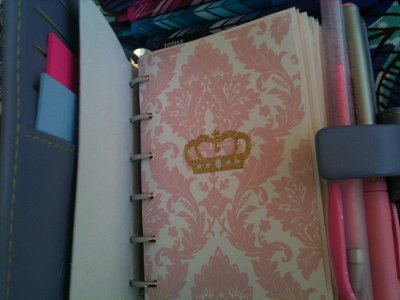 Having goals for the week really helps me realise my bigger goals. A little progress every week really adds up. Plus, having written your goals down, you can actually see your progress.
Another area of planning that saves a lot of money is menu planning. I try to keep all my best recipes in one folder to make them easy to find. Thinking about what's on special and what is in season, I go through my folder and pick some recipes for the week. We all know shopping with a list saves money (and confusion!). There are beautiful free templates online for all kinds of menu planners and shopping lists. This one is from sweetbellaroos. Whatever you would like in a list is available and this includes pages for your diary or planner. All you have to do is a quick internet search for ones that will suit the planner you have or the type of list you would like. Some are gorgeous!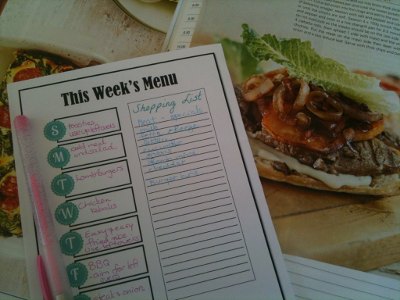 During the week I keep a list on the fridge of things that have run out and things that need doing. A little planning saves petrol as well as I try to combine things and save trips. The list I use is free from The Creativity Exchange.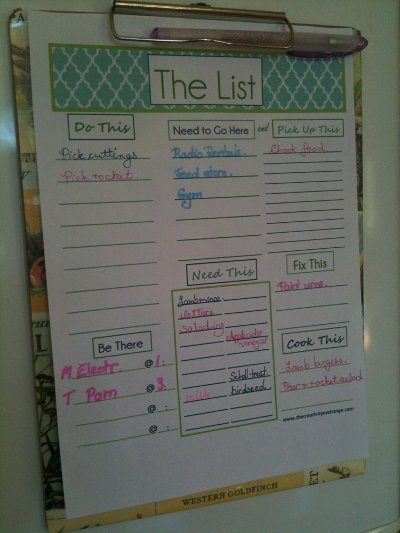 I read recently that for every hour of planning you save four hours of work. I know it saves money and I know it helps me reach my goals. For ages I was trying to lose a few kilos and nothing happened. Finally I wrote down a plan, made myself a chart and filled it in daily. As soon as I began this I lost the weight! It was a perfect illustration of 'a goal without a plan is just a wish'.
Annabel and Helen have done a fantastic job inspiring others to enjoy life's little luxuries in the forum for the last three years. But the time has come that Annabel and Helen would like a break from managing the 50c Indulgences threads in the forum.
We hope they don't go too far away. We will miss their kindness and wisdom.
A new thread has started in the forum for people who would like to continue celebrating in life's little luxuries:
One in, All in
---
After making a few small no dig beds this year I wanted to try growing potatoes in a no dig barrel. No dig beds/gardens are based on stacking different organic materials on top of each other. The different layers then slowly compost down, releasing nutrients for plants to take up. The bed I have seen set up had organic matter constantly added in the form of mulches, compost and manures to help increase its fertility. It was set up on very compacted, rocky ground and over time the ground beneath slowly began to transform into great looking rich humus as beneficial microorganisms, fungus and worms moved in. I think it is a great method of gardening and one I would like to try on a more suitable piece of land in the future but for now will be trying it out in a wicking bed.
I planted out two lots of potatoes this week in two different spots in the yard using the no dig method. The first were popped back into the re-worked no dig bed out the front and the second went into a barrel out the back under the Tahitian lime tree. The barrel already had a load of holes in the base and was really easy to set up. I started off with a recently harvested worm barrel that had a thin layer of castings and worms left in the base.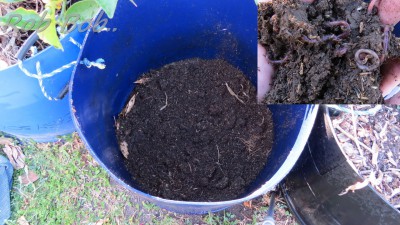 The castings still had lots of composting worms in it which will help to break down the layers of manure and straw into more plant available nutrients. Compost would do just as well I think but as I have a fair amount of castings on hand I thought I would give that a shot.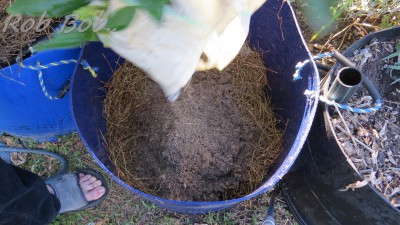 Over the top of the castings I added a 10-15cm layer of lucerne/alfalfa hay, then the same amount again of broken up horse manure.

Each layer was also well watered to help keep the barrel nice and moist as the hay and manure were both rather dry. On top of the manure layer a couple of handfuls (about a cups worth) of CBM organic fertiliser (chicken compost, blood 'n' bone and minerals) were added.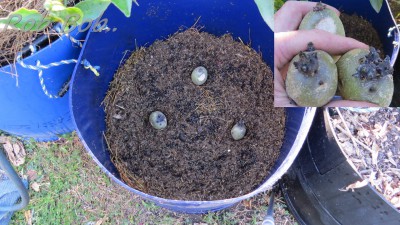 The potatoes that we have had chitting (letting shoots grow) under the house were then positioned on top of the manure layer with the sprouts pointing up.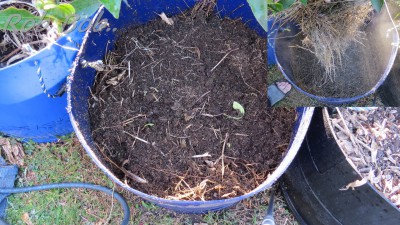 They were then covered with another layer of hay. A 5cm layer of worms and castings was then spread on top before another load of horse manure was added. Another bonus of adding all the worms is that once the plants are harvested all the bedding turns back into a worm farm again :)»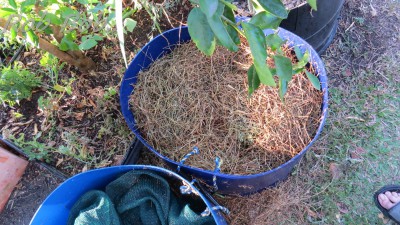 To finish it off another layer of hay was added. The level of contents in the barrel will fall over the coming weeks so it will be topped up with layers of manure and hay once the shoots make an appearance at the surface.
We now have two no dig lots on the go with another two wicking barrels with spuds in them that have already sprouted. Another no dig barrel will be set up in a few more weeks so we can try to continually harvest some spuds over the summer months.
Hope you all get a chance to play in the patch over the coming week.
Cheers,
Rob : )»
You can get updates on Rob Bob's new gardening adventure blogs on the Simple Savings Facebook Page
or in our Members' Blog Section
---
Last month Kerrie emailed us about ideas to help her get rid of the doggy smell in her home:
"I have a three-year-old spoodle and although no hair is shed and he is washed weekly, my home, carpet and soft furnishing around her bed always have a doggy smell. I am very conscious of this smell and notice it most when I return home from being out. I have burned essential oils, sprayed fragrance sprays, steam clean and deodorise the carpet every four months but I can't get rid of the smell. Please help!"
We got some fantastic ideas - thank you for sharing your wisdom! Here are some of our favourite replies:
Doggy smells are a protein-based odour so use the same solutions you might use for 'eggy' odours. Spray vinegar, eucalyptus oil, eucalyptus-scented disinfectant or Glen 20 air freshener as they will all work.
Contributed by: Lisa
You can buy eucalyptus scent in a surface spray which you can use on any surface. Leave the window open afterwards to the smell can dissipate. You could also try changing the dog shampoo you use to an oatmeal-based one.
Contributed by: Squishy Squishy
Try sprinkling bi-carb soda on furnishings, leave overnight then vacuum up. Also try adding essential oils to water when washing floors (whatever fragrance you prefer). Just a few drops is usually enough and the whole house will smell lovely! The cheap stores sell these for around $1.50 and a bottle lasts me around 6 months.
Contributed by: Madmum
I wash my dogs (outside working dogs and indoor dog) in Black & Gold wool wash. I wash their bedding in it as well and it keeps that eucalyptus smell for nearly a week and saves money on flea treatment. I wash our bedding in washing powder with a few drops of eucalyptus oil in with the powder as well. I do this once a week on the weekend.
Contributed by: Heather
I wash my Maltese dog with a two-in-one baby shampoo and we don't seem to have dog smells unless he's really wet. He's not washed every week (lazy mother and father)! A friend uses one of those automatic sprays to make the room smell better but I find that the baby shampoo makes him smell really nice. Maybe he's being washed too often and is 'over-compensating'!
Contributed by: Anna
---
Penny has emailed asking for some help! She writes:
"We are expecting our first baby in December. We have been told he will be in hospital between two and six months due to CDH. I'd love some ideas on how we can cut costs during this time. For example, parking at the hospital is $24 a day and it is unlikely we will get reduced rate as it is a privately owned car park. So if you have any ideas on how we can get through this time and spend our money wisely, I'd love to know."
If you have any pearls of wisdom you'd like to share with Penny, please send them in to us here.
Good luck Penny - we hope everything goes well.
---
Well, that's your Simple Savings Newsletter for October 2013 and we hope you have enjoyed it. We hope you can find some ways to start getting Christmas organised early and make, grow or craft some thoughtful and unique gifts for your friends and family! Please let us know how you go!
Our members are hugely important to us and we love hearing from you all! So next time you're on the website, why don't you get in touch and say 'G'day'! Let us know what you would like to see more of in our newsletter or any suggestions you have for something new to try. We love receiving your clever ideas!
Don't forget to spread the love around to your family and friends too by forwarding them our newsletter or letting them know about our website. Help make their lives easier and save them money too! Or tell them about us on Facebook by clicking the 'like' button on the Simple Savings Facebook Page.
Till next time...
All the best,
Fiona