This issue includes:-
Sad Sally, Happy Hanna: A Tale of Two Lasagnes
November - Nude Food!
Hidden Gems Competition Winner: Dapto Community Farm
Best Members' Blog: This Month's Winner
Best of the Forum: Clued up on Nude Food
Best of the Vault: You Mean I Can Make That Myself?
Cooking with Mimi: Nude Food... Dessert Sushi with Dipping Sauce
Claire's Corner: Waste Not, Want Not
50c Indulgences: Making it for Less
Rob Bob's Garden Blog: Creepy Crawlies and Getting Nude with Food
From Last Month: Self-Employment Help
This Month's Help Request: Adjusting to Retirement
Savings Story: Thank You SS!
Goodbye For Now!
---
Hello,
How are you? Great I hope. We have had a fantastic month at Simple Savings celebrating our 10th birthday. That is right - 10 years of Simple Savings! Can you believe it - wow. Thank you for your help and your support throughout the years and cheers to many more!
When we first started Simple Savings, we only had one child, Sam, and he was one year old. Now we have four and Sam just turned 11!
And the chaos continues!
Thank you for your support throughout the years and your fantastic emails - they make a huge difference. Here are some of this month's favourites:
"I was a member of Simple Savings three years ago - I guess I figured I had learnt everything your site could offer. I continued to receive emails and they convinced me to renew my membership within the last few months. I am so glad I did renew! Simple Savings has so much helpful information. Thank you for all the effort you and your team go to." (Sharon)
"Think of how many lives you've changed and continue to change - what a great family Simple Savings has become." (Kathlene Sheen)
"I love you Simple Savings. You have changed my life for the better in so many ways and you make saving money fun. I'm always thinking, 'What would the SS girls do?' My next step is to buy the $21 challenge book. Thank you so very much." (Elise Henrickson)
Have a great month!
All the best,
Fiona Lippey
P.S. Ye Olde Shoppe update - the BluApples and Groovee Grunge-free sponges are both back in stock. YEH!! Click here to order.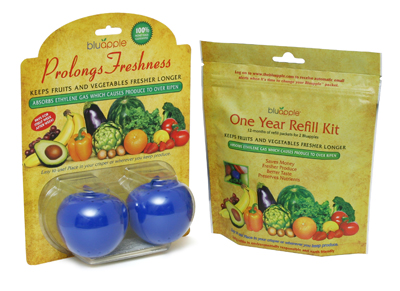 ---
"Thanks Hanna, that was great to get everyone together - even if we both made lasagne!" Chloe giggled as the three of them cleared the table. "That's OK, everyone always loves lasagne," laughed Hanna. "Hmm, looks like they loved yours more than mine though," pouted Chloe. "Look - all yours is gone but there's still half of mine left. You'll have to tell me your secret."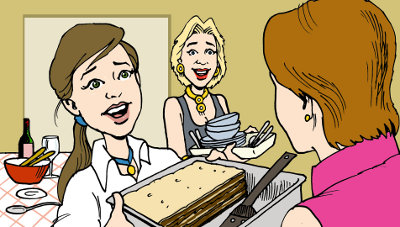 "Oh, there's no secret," smiled Hanna. "I just sauté the onion and garlic with the meat, throw in the tomatoes, mushrooms, basil, oregano, a good sprinkling of Parmesan cheese and then some..." she trailed off as she caught sight of Chloe staring at her in open-mouthed amazement. "What - you put all that in yourself? You didn't use a jar? I'd never thought of doing that! I just use one jar for the meat, another jar for the cheese sauce. You have to give me your recipe."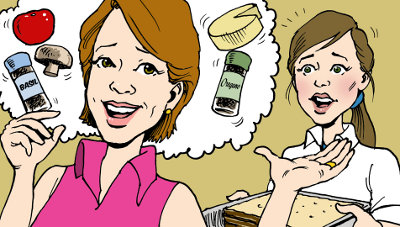 "Here it is," grinned Sally. "I knew you were about to ask." Chloe laughed, "Thanks. But, I am a bit afraid of making it. I have never made anything from scratch before."
---
Chloe is still learning how to cook and didn't realise how delicious food made from scratch is until she tasted the difference - and the difference is huge. Sure, nobody is ever going to say "Yuk, this is horrible, it's out of a jar!" when you serve up a slopped-together lasagne but the simple fact is you can't beat cooking from scratch. When you make things such as pasta sauce yourself, you can be happy in the knowledge that:
It's cheaper;
It's better for you;
You know exactly what is in it;
You have a valuable skill which will always keep you well fed and save you money; and
It tastes SO much better!
Cooking from scratch can sometimes take a little more time and effort but don't let that put you off. The results are so well worth it. Apart from the fantastic taste and overall quality, making delicious dishes yourself is so much more rewarding. You can watch the wonderful colours, flavours and aromas develop with the addition of each ingredient and enjoy the feeling of accomplishment with every meal you create. Let's face it; you don't get the same feeling of satisfaction from plonking a jar of ready-made sauce on top of your mince, do you? Then there's the small matter of knowing what is actually in that ready-made sauce. If you knew what went into most of those jars, you wouldn't want to eat it! As a small test, try reading the list of ingredients on the label and see how many you recognise.
The real test, however, is in the taste. Just like Chloe, once you experience real home cooking, you'll never want to go back to jars and this month we want to prove it. See if you can learn to cook four new dishes this month - that's just one per week, made completely from scratch. To get you started, here are two fantastic recipes which you will love - a home-cooked lasagne just like Hanna's and the perennial family favourite spag bol. Try them and we guarantee you will never want to go back to using jars again! Once you have the skill of cooking from scratch it is yours and can never be taken away from you. So embrace the joys of real cooking this month - and be sure to let us know how you and your family enjoy the results.
Buon appetito!
Nancy was a caring mum who wanted her bachelor son to cook and eat well. She gave many wonderful recipes to her son, including this one which he passed onto us. Nancy, bless her heart, has long since passed away but I will always be grateful for the recipes she handed down. This recipe makes a big lasagne and is great reheated for lunches. You can halve the meat sauce cooking time if you are in a hurry but it's well worth it if you simmer it for the full hour as the mince becomes so fine and absorbs the flavour better. Everyone who tries it says it's the best lasagne they've ever had - oh, and thanks to this recipe I learned how to make cheese sauce from scratch too!
Serves 8
Ingredients:
225g lasagne sheets
½ cup grated cheese (for the top)
Meat sauce
1 tbsp oil
1 clove garlic
500g minced beef
2 x 400g tins tomatoes
1 small onion, chopped
125g mushrooms, chopped
1 tsp oregano
¼ tsp basil
¼ tsp rosemary
1 tsp salt
Cheese sauce
60g butter
4 tbsp flour
500ml milk
1 cup grated cheese
Pinch nutmeg
Salt and pepper to taste
Method:
First, make the meat sauce as this part takes longest. Heat your oil in a large saucepan over a medium-high heat, then add your mince. Stir constantly until the meat is brown all over, then add both tins of tomatoes along with your onion, mushrooms, garlic and herbs. Bring to the boil, stirring, then reduce the heat to low and simmer uncovered for 60 minutes, stirring occasionally.
While the meat sauce is cooking, make your cheese sauce so it is ready to go when the meat is done. Melt the butter in a medium sized saucepan. Once it's sizzling, add your flour and stir constantly for one minute. Slowly add your two cups of milk (it does sound a lot but you need to make a lot of sauce!). Keep stirring all the time until all the milk is added and the sauce boils and thickens. Remove from heat, add nutmeg, salt and pepper and stir in the grated cheese until melted and smooth.
Turn your oven on to 180C. Grease a large rectangular ovenproof dish and place a third of your lasagne sheets in the bottom. Spread with half the meat sauce, then gently spread half your cheese sauce across the top of the meat. Repeat the layers, then sprinkle your half a cup of grated cheese on the top. Pop into the oven and bake for 25 minutes until golden. Delicious served with salad and crusty bread!
This recipe may take a little more time and effort than simply pouring a jar over some mince but boy is it worth it! As with the lasagne you can cut the time in half but the longer you cook it, the better it will be. Quite simply, this is the best spag bol you will ever taste. Once you try it, you'll never go back!
Serves 4-6
Ingredients:
500g spaghetti
Grated cheese to serve (or Parmesan if you have it)
1 medium onion, chopped
1 large carrot, chopped
2 stalks celery, chopped
3 tbsp olive oil
500g minced beef
1 tbsp butter
2 cloves garlic
2 x 400g tins tomatoes
2 bay leaves
200ml chicken or vegetable stock
250ml milk (yes, milk!)
Salt and pepper
Put the olive oil in a large pan over a high heat so it gets really good and hot. Add your meat and stir it around (don't worry if it sticks, those are the good bits which add flavour to your sauce!). Once your meat is browned all over, use a slotted spoon to remove it and set aside in another dish.
Turn the heat down. Add your butter to the pan you just took the meat out of and melt until sizzling. Add your onion, carrot and celery and a good sprinkle of salt and mix all together well. Cover with a lid and cook your vegetables for 10 minutes over a very low heat, stirring occasionally.
Add your garlic to the pan and cook for a minute or two, then add the tomatoes, bay leaves and a good pinch of black pepper. Return the meat to the pan and stir in the stock and the milk (the milk will make it look a bit funny to begin with but trust me, it will turn out fine!) Bring the mixture to the boil, then cover and cook over a very low heat so it cooks gently. Let it bubble away for at least an hour, preferably two to allow the flavour and texture to really develop.
Cook your pasta according to directions and serve with your delicious, authentic, made-from-scratch pasta sauce and a generous sprinkling of grated cheese.
---
Our Hidden Gems directory helps members source the best deals in their area. Whenever you come across a real gem of a business, enter it in our Hidden Gems directory and you could be in the draw to win our monthly prize of $100 cash! This is our way of saying thank you for sharing your knowledge and helping other members save.
This month's winner is Dapto Community Farm as nominated by Dianne Boulton.
The Dapto Community Farm is a not for profit community farm. To fund their organisation they sell boxes of organic fruit and vegies for $29. Some are grown at the farm and some are sourced from nearby growers or the markets. They are very helpful and you can order by phone or SMS the day before. Pick up is from Tuesday till Friday from 2pm. The price is definitely cheaper than anywhere else I've seen and the vegies are really fresh. They also allow you to omit certain vegies/fruit from your selection if you don't like them.
They are situated on an old flower farm and have over a hundred garden beds you can hire to grow your own vegies. They charge a monthly fee for rental of the plot and ask only that you use organic methods. The people involved are really friendly and helpful with gardening advice as well as ideas for how to use any unfamiliar produce.
Dapto Community Farm is at 29 Darkes Road, Dapto, NSW. Call (02) 4262 8733, email daptocommunityfarm@hotmail.com or visit www.daptocommunityfarm.org.au.
Well done Dianne on locating such a fantastic hidden gem and thanks so much for sharing.
If you know somewhere special you'd like to recommend, please write in and tell us. Send in your hidden gem here and you could be the next winner scooping the prize money. Thank you to everyone who entered and good luck for next time!
---
One of the many benefits of being a Vault member is that you can win a cash prize of $100 each month for your Simple Savings blog! Starting your own blog on the site is easy. All you have to do is log into the Vault, click on 'My Desk' at the top left, then 'Your Blog'. Then get writing! We love reading all your money saving trials and tribulations and really appreciate the effort that goes into each one.
This month's winner is HappyHomeMaker for her inspiring blog,"Reflections on owning a house - one year in".
It is close to one year after moving into my house and I thought I would share my thoughts.
So what has been the reality of day to day mortgage repayments? In all truthfulness, it is not unlike saving for the deposit. At the moment, I've paid about $15,000 in principal off the mortgage - not hugely impressive, but it's OK. I have a small inheritance coming through in the next week, and the majority of that will be put in my offset account.
It is funny looking back and I actually have accomplished things. I have felt broke, but not in any way resentful of the mortgage repayments if that makes sense? I would like to really start breaking the back of my mortgage in the coming year. I feel like the inheritance has put a bit of wind in my sails, and I can't wait to get further stuck into it.
I need to keep thinking:
A dollar I pay off in principal is a dollar that I will never pay interest on.
Every dollar I pay off is an increase in my net worth.
Every dollar I pay off is a step closer to financial independence.
When I got the place I wrote up an enormous list of things to do on the house. I haven't done even half of them, actually, possibly not even a quarter. :-( I still want to upgrade my fridge, put floorboards down, put new curtains up and buy a BBQ and an outdoor setting. In good time I guess. Other things I would like to do are to get a bathroom cabinet as there is no storage in the bathroom and also to change my power points (they are cream and I've painted the house white). Oh, and I need paintings for the wall. It is kind of amazing what you can live without! I still don't have a microwave and I went nearly six months without a TV until Mum bought me one!
The reality of bills. I've put aside money for mortgage repayments and all of my bills. I've paid them, it's been OK. I stupidly, stupidly, stupidly decided to get an interest free credit card for six months. And of course at the end of the six months there was $5000 more owing on my credit card than there was sitting in my offset account. Epic fail. I've frittered away quite a bit of money on house stuff, but I'm pretty much at the end of the cheap things I can buy.
I've struggled with having an offset account, which I put all of my bill and mortgage money into. The balance jumps around so much that it is hard to get a handle on where I'm at with saving for bits and pieces. Also, to make matters worse I have a keycard for this account and occasionally dip into it. Oops! But when I get my inheritance I'm going to put a bit of money in my day to day account and leave my keycard for my offset at home.
I have to say that having my own place is a good life. I'm only about a 10-15 minute drive to work and can walk in about 35-40 minutes. My area in the inner west of Sydney is gorgeous. I love looking out on the old terrace houses across the street. It still feels like an incredibly surreal adventure at times. I love having friends come to stay and having a myriad of bars to choose from just up the road. But it is also surprising at how often I stay home. After trying to break the habit of going out so often to save money for my place, it is hard to get back into the habit.
Having the shops so close is terrible. I love book stores and I walk past four on my way home! I've at least gotten better and write down the names on my mobile and look up the prices on booko.com.au when I get home. I have been doing a fair bit of walking and I can walk to the markets to get my fruit and veg, which I love.
I love my bedroom; I put down charcoal carpet and painted the walls white and the doors a light aqua colour. A close friend gave me some gorgeous aqua towels as a housewarming present and I remember the first time hopping out of the shower and seeing the fluffy aqua bath mat and the new carpet in the bedroom. I almost wanted to squeal - I felt like I was in a 5 star hotel! :-)
I must say I do feel a bit lost without a goal anymore as saving for the house deposit was all-consuming for such a long time! All in all, having my own place is excellent. I am incredibly proud of this accomplishment. Life is good. I'm looking forward to continuing to pay off my mortgage and to doing things up. :-)
Congratulations HappyHomeMaker on your special anniversary and thank you for sharing your thoughts! To read any of our members' blogs, click here
---
Nude Food is all about going natural! What is more 'natural' than cooking with fresh nutritious ingredients and using as few processed items as possible? You'll throw away less packaging, eat fewer chemicals and pay fewer dollars. Here are some great ideas from the Forum about cooking from scratch, clever recycling and putting you in the mood for some Nude Food!
Surely the ultimate nude food and all 'round' good guy - the humble egg.
read more...
Find out about eating as naturally as possible in this thread about 'clean eating'.
read more...
This long-running thread is a firm Forum favourite - member Paula first wrote two years ago about trying to make something at home from her shopping list each week. Now you can browse this behemoth of a list for your own favourites - taco seasoning, crumpets, ice magic, Up & Go drink and so on...
read more...
Learn about kefir, sourdough starters and other fermented favourites in this thread.
read more...
---
Enjoying nude food means cooking from scratch and using as little processed food and packaging as possible. Leftovers, making your own pre-mixes and learning to cook some of your favourite staples are a great way to 'go natural'! Here are some great ideas from the Vault for making your own nude food:
To save money on lunch meat, I use this variation on a recipe for Aberdeen Sausage.
Ingredients
250g bacon (although I used two ham steaks in the freezer)
500g topside steak mince (I used pork mince on special)
1 cup breadcrumbs (I used bread crusts)
1 tbsp tomato sauce
1 tbsp chopped parsley (I used mixed dried herbs from the pantry)
Pepper to taste
1 tsp salt
1 egg
Extra breadcrumbs for rolling
Method: Mince the bacon in a food processor, then mix with all other ingredients except the extra breadcrumbs. Make into a sausage shape. A traditional recipe calls for this sausage to be floured well and rolled in a scalded floured cloth; however, I wrap it in a layer of cling film, roll it up well in an old clean tea towel and tie with string. Place this package in a pot of boiling water and boil for two hours. Once this is done, unwrap the boiled meat and roll it in the extra breadcrumbs. Bake in a slow oven for 15 minutes. Let it cool completely and slice.
Contributed by: H20
We all know that dried beans save money. A packet of dried beans costs roughly the same as a 400g tin but produces the equivalent of around five 400g tins. However, beans take a long time to cook from scratch - all that soaking and boiling, while a tin is ready and waiting whenever you fancy a bean salad or tacos for dinner. I have recently discovered that the crockpot cooks beans easily without pre-soaking. Simply throw a packet of beans into the crockpot with about five cups of hot water, set to 'high' and cook for two to three hours (check after two hours). This works for any type of beans except kidney beans, which contain an enzyme that can only be destroyed by boiling. Boil kidney beans for around 15 minutes before placing them in the crockpot, then proceed as usual. Once the beans are cooked, drain and cool and then pack into resealable bags and freeze. Into each bag, pack the amount that you would normally use for a meal. I find that half a cup (packed into the smallest size zip bag) is just enough for a salad or soup for one. I make up a new batch every couple of weeks or so, varying the types of beans so that I can grab a few different bags from the freezer and create instant three-bean mix!
Contributed by: Msspam
Here's a hint to help you use up those dribs and drabs of leftovers in a way that makes them really quite appealing!
It came about on the last day of our recent holiday in a friend's farmhouse. We'd been there nearly two weeks and had a fridge full of leftovers. These included bits of dips, bolognaise sauce, taco sauce, small portions of cheese, baked beans, tuna mornay, sour cream and assorted others. None of them were sufficient to make a meal out of, and lots of them didn't really go together.
Then I remembered in the UK that baked potatoes with various toppings were a great hit when I was there many years ago. So I decided to create something similar. I bought a large bag of huge potatoes from the local farmers' market for $3.00, put them in the oven for a couple of hours to bake them in their jackets, and then set out all of the leftover bits and pieces in separate dishes with a spoon in each, and invited the hordes to make their topping selection. It was really popular and used up just about all of the leftovers, which meant much less waste and cleaning up when we went home!
Contributed by: Troglodyte
By making my own baking 'packet mixes', I'm saving between $230 and $520 per year! I love baking but sometimes feel pressed for time and am tempted to buy packet mixes for patty cakes. These cost up to $6.00 each and I have noticed the supermarkets no longer stock the cheaper plain ones in their store brand (which I used to buy for as little as $0.69c each!).
Recently I began making my own pre-mixes and storing them in the cupboard ready to go whenever I want to bake! I spend about 10 minutes a month making the base up for eight mixes. All I have to do is pour out 220g of the mix, add the wet ingredients, mix well and bake. Too easy! Here's my recipe for chocolate patty cakes (makes eight batches):
6 cups plain flour
2 cups cocoa
4 cups caster sugar
16 tsp baking powder
Sift all these ingredients and ensure they are well combined before storing them in an air tight container.
When you're ready to bake, simply measure out 220g of dry mixture and add:
1/2 tsp vanilla essence
80g softened butter
2 eggs
1/2 cup milk
Beat well until combined. Scrape down the sides of the bowl and beat for another two minutes. Pour into patty pans (makes 12 large or 24 minis).
Contributed by: Dragonfly
If you have teenagers who are resisting the tight food budget and moaning about wanting expensive, instant snack foods, try some of these simple methods to 'trick' them for a while before they start to realise they're better off!
Use the small appliances you have to keep their tummies full of nutritious snacks. Try making bagels, focaccia and pull-apart breads with your breadmaker; cheese and tomato toasties or bacon and eggs in the George Foreman grill; banana and berry smoothies in the blender or popcorn with a little butter and curry powder in the popcorn maker. Kids love using gadgets and my teenagers are now really happy with home-made versions of 'trendy' food. These appliances can be found on special throughout the year or are perfect for Christmas and birthday wish lists if you don't already have them.
Another trick I use is to make takeaway-style food for Friday nights. Again I get my appliances working for me! I whizz up home-made burgers in the food processor and add all the trimmings, make pizza dough in the breadmaker with yummy toppings or crumbed fish with oven fries. All home-made of course but easy as long as you plan in advance! The real benefit is that after a while, they start to prefer home-made and it's great for boosting those fragile teen egos when they learn to make it themselves!
Contributed by: Sarah Gilmore
Here are some more ideas on 'going natural' for our valued Vault members:
Clever tip for making iced coffee Contributed by: chilliNchick ( living on the smell of an oily rag)
Stop wasting food with a 'penalty tin' Contributed by: Lee M
Easy peasy sweet n' sour stir fry Contributed by: Xiau Fan
Super-easy breadmaker loaves Contributed by: Kerry Mundt
Homemade pocket bread - $0.60c for 12! Contributed by: Simone Wright
---
Despite my nagging about eating 'nude' this month, and fruit being the natural nude choice, said fruit is not usually at the top of this family's list of 'things I really want to eat'. Usually the list of 'things I really want to eat' is headed by chocolate and ends with pizza and chips. Funnily enough though, sushi is right up there too. Even Husband will eat good sushi.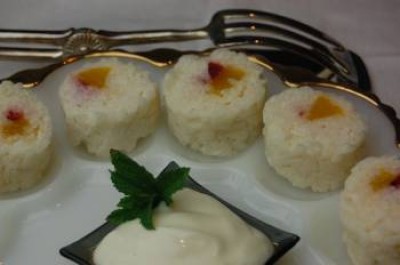 So you can imagine their faces when I said we were having sushi for dessert. I know what you're thinking. Off her rocker this time. I mean, who eats something savoury for dessert? Well, there is cheese ya know. Quite the done thing in some circles. But the sushi I'm making is creamy, lightly sweetened coconut rice, wrapped around fruity pieces and served with a honey vanilla yoghurt dipping sauce. Seriously good stuff.
Start this one the night before you want it or at least several hours before. It's easier to cut and will hold together better after several hours of chilling.
Serves six (or one very greedy person)
To make this you need:
Cling wrap
Room in the fridge for storage
Medium-sized microwave-safe dish
Spoon
Measuring cups
Sharp knives... one or two for slicing fruit, and a nice, thin straight edged one for slicing the 'sushi'
Tall glass full of hot water to clean your knife, and a clean cloth to dry it between slicing
Plus these ingredients:
1 cup rice. Sushi rice is best, but even normal long grain rice will do.
1 cup milk
1 tin coconut milk
1 heaped dsp sugar (optional)
Fruit, cut into slivers e.g. strawberries, melon, pear, mandarin, halved blueberries
1/4 cup natural Greek yoghurt
1 tsp honey
1/2 tsp vanilla extract
Tip your rice and milk into the microwave-safe dish and give it a stir. Add the sugar and half of the coconut milk and stir again. Pop it into the microwave and zap it for six minutes on 'high'. Give it a stir. Now depending upon the type of rice you've used, you'll probably need at least another 1/4 cup of coconut milk added, and another nuke for six minutes. It should be like slush, and the grains should be tender. If necessary, add the remainder of the coconut milk and microwave again, just for three minutes this time. It should now be perfect.
Set it aside for an hour or so to cool. Once it's cooled to room temperature, it's ready to handle.
While the rice is cooling, prepare your sheets of cling wrap. These are going to act like the bamboo mat in traditional sushi making and hold your sushi together neatly while it chills and sets. So you'll need three 45cm long sheets of cling wrap, doubled back on themselves. This gives you three bamboo mat sized sheets, of double thickness, with which to roll your sushi.
If you haven't already drafted help from the ranks, now's the time to arm those old and savvy enough with knives to assist with cutting the fruit into neat little slivers. This is a bit labour and time intensive so it's a case of all hands on deck. Little, round ended pate` knives are safe enough for even little hands, and do a reasonable job of cutting up softer fruit like strawberries, kiwi fruit and grapes. I think it's important to involve the rest of the family, so they come to realise that the food doesn't arrive on the table, straight from the market or supermarket ready-made. We mums do all the good stuff!
Divide your coconut rice equally between the three sheets of cling wrap and flatten it out with clean hands. Then, as you would for normal sushi, spread your slivers of fruit horizontally, along the edge closest to you. Then using the cling wrap as a guide, flip the rice over on itself, encasing your fruit slivers, and covering it with cling wrap, tug it towards you to firm up the 'roll'. Continue rolling then enclose firmly in the cling wrap, twisting the ends to seal. Refrigerate for several hours or overnight.
When you're ready to eat dessert, make up your dipping sauce by simply mixing the honey, yoghurt and vanilla together and popping into a teeny dish.
Remove your sushi from the refrigerator and carefully undo the cling wrap, then, using a very thin, sharp knife, cut the roll in half, then in half again to yield four rounds. Make sure you clean the knife carefully between slices for the neatest cut.
Line them up, all pretty on a serving platter, and let the hordes loose. And you know that egg platter that you inherited from Aunty Mabel that you never could find a use for? Well, it's perfect for serving your dessert sushi... who knew?
Sushi for dessert could become a regular on the menu for you as it is for us. Our personal favourite is slivers of Lindt Strawberry Intense chocolate, with fresh strawberry slivers, and honeyed Greek yoghurt for dipping... shhhh.
Toodle-oo, as my mum used to say. I'm off for a loooooong walk. That dessert sushi needs to be worked off!
Read more of Mimi's wonderful ideas and recipes in our Members' Blog area.
---
As much as I enjoy having time with the kids over the school holidays, it's always nice to get back to the trusted daily routine. Hubby is also back at work having had knee surgery earlier this year, although he's still having pain and swelling, so I'm preparing for the fact that it may not be permanent - which would be a huge shame because after spending six months at home, he was starting to go a bit loopy and is thrilled to be back at work.
And the really good news... our eldest has joined the ranks of the employed! Yep, I reckon the most wonderful words parents with school-leavers can hear are... "I got a job" And that's exactly what my 18-year-old came home and declared recently! It was a wonderful moment - I'm sure I heard the angels singing, "Hallelujah!" as my heart burst with happiness! Just a few weeks after returning home from his intensive LSV course, he managed to get an interview with a fence building business and score the job. It's a HUGE relief to us for so many reasons. Firstly, it means he'll be paying us board (which will help cover his immense eating costs), he'll also be busy all day instead of drifting around with nothing to do, and he can buy himself stuff! He still plans to join the army or air force next year, which will be even better for him, but until then, he's a working class man! Hurrah!
So this morning, the 'lunch assembly line' was in full swing... bread rolls, ham, salad, fruit, snacky bits... all lined up and ready for distribution in to lunch boxes. But this term, I've decided to do things just a little differently. Our youngest daughter's primary school is encouraging parents to provide 'rubbish free lunches'. No cling film, no chippie bags, no yoghurt cartons... you get the idea. Yep, this term's lunches were going to be completely nude!
So over the weekend, I made a mission of clearing out the container cupboard. It boggles my mind that no matter how often I sort out all the mis-matches, the next time I do the clean out there are more stray lids, odd-bod containers and a general hodge podge of unusable containers! However, I did manage to locate two perfect sandwich containers, several 'just right for fruit and nuts' containers and a pile of EasiYo pots that all had their lids! (Which also served as the perfect reminder to make up a container of yoghurt in time for today - my current favourite is plain vanilla with a small handful of dried cranberries added - yum!)
I had to curse myself quietly, however, when I realised that, despite having the containers all lined up and ready to be filled, I had already packaged two rolls into cling film without even realising it! It seems I forgot to disengage my lunch-making auto pilot before starting! Hmmm... as I write this, I'm thinking it might be a good idea to put the cling film away somewhere so I don't do it again tomorrow! I'll go do that right now...
I'm aiming to make it through the entire term 'rubbish free' so here are a few ways I'm going to rid myself of wrappers!
No more multi-pack chips. I'll buy the occasional big bag and divide it up into airtight containers.
Sammies and rolls fit nicely into the containers I already have.
EasiYo yoghurts instead of store-bought pots! So much cheaper and nicer! Check out the Vault for great tips on how to make your sachets last twice as long!
I'm breaking the 'wrap every little thing' habit. As long as the lunch box is clean and closes properly, you can probably get away without wrapping most things.
I'll be trying to extend our rubbish-free practices around the home too. We certainly have plenty of containers - with perfectly matched lids - just waiting to be used! I can see that it's going to be a great reason to stop buying a lot of the junk that fills the kitchen cupboards too!
Surprisingly enough, I found the perfect quote to finish off my 'rubbish-free' blog - written in 1959 no less!
"If civilization has risen from the Stone Age, it can rise again from the Wastepaper Age."
- Jacques Barzun, The House of Intellect, 1959
Read more of Claire's Corner in our Members' Blog area.
---
Welcome everyone to another busy and fruitful month of indulgences at the Under 50 cent thread. This month we thought about our wish lists and whether it was possible to find an alternative that we could make and still satisfy the material girl in us! There were heaps of ideas that included beauty, clothing, home decor, gift giving and more.
Here are a few things that have been keeping me busy for the last week or two: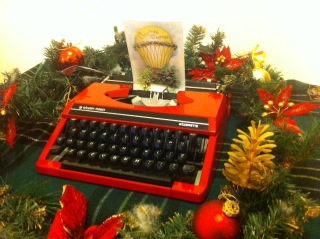 A red vintage typewriter! I saw a photo online where one was used as a charming Christmas addition. When I looked at how much they were on eBay, I was shocked to discover there would be no change out of $400! The most expensive I saw was $1300! So I Googled and found I could actually paint a typewriter myself as they are metal. With a bit of hunting this one was found locally, and my husband was enlisted with a $7.50 can of red spray paint. As you can see the results are stunning, and with a free print out of a vintage Christmas card I now have a treasure that we will use for years.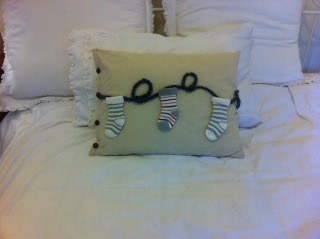 I have discovered Pottery Barn and I know that many of you love this American store. They have a delightful Christmas stocking cushion which retails for $60. I found myself adding this to my wish list for Christmas. I Googled knock-off tutorials - and found one - and ended up making it for less than $5.00! The Christmas stockings are baby socks from Pumpkin Patch, the seeded calico is from the remnants bin at Spotlight and I already had the buttons and yarn. I can add small chocolates or little treats for my son (whose room it is in) as the socks all open at the top.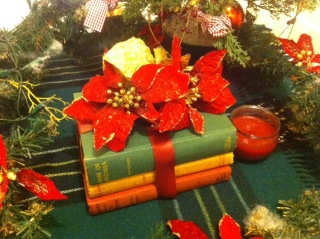 Here is a vintage Christmas decoration that is free! I saw a similar image online and as I studied it, I realised that I had all the items needed. The books are vintage favourites from our library, the burgundy cross grain ribbon is from a Christmas gift last year, and the clip-on velvet poinsettias were purchased at the after Christmas sales last year at 3 for $1.00. Five minutes later, a Christmas decoration that reflects our love of reading!
Please join us in November as we explore Home Comforts and all the delights of Everyday Grace - come and say hello at </fora/2882131>
Helen
---
Yesterday we made another step closer to becoming more self-sufficient with animal feed by setting up a small Black Solider Fly larvae farm. The larvae make a very protein-rich feed (40%+ protein content) for fowl and fish alike. I had a friend from the community garden come around yesterday and we made up a couple of the farms. A few different ideas from the Internet were gleaned and then used to help make them up. On the lid of the farm there is a pipe assembly that allows the female flies to come in and deposit their eggs. We decided to follow the recommendations of experienced BSF farmers and wrap corrugated cardboard around the pipe entering the lid.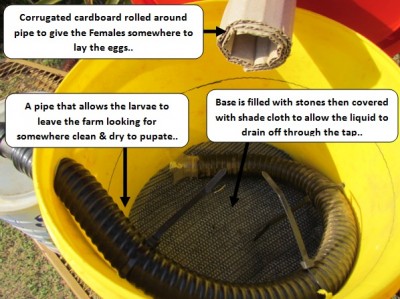 The eggs hatch very quickly (about four days) then fall onto the food and start feeding straight away. They can grow to maturity in about two weeks during the warmer months but it can take a few months to 'mature' when it is cooler.
I think the best thing about these little crawlers is that they clean themselves off then climb up a ramp in an attempt find somewhere dry and clean to pupate.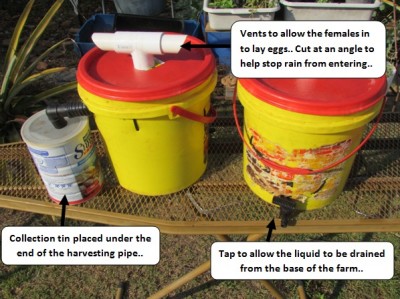 This makes them easy to harvest as they crawl up a pipe then fall down another into a container filled with some dry bedding material like wood shavings or coconut coir/peat. They stay here until collected to be fed to the fish or chooks. I think a few modifications will be needed. I will show these on a clip once the whole farm is finished and the first larvae have been harvested.
Bianca suggests that you avert your eyes about now as we are heading into Nude Food month and we have a back yard full of it.**Blushes**
A relatively new phenomena that I really don't understand is the wrapping of vegies like zucchini, beetroot, beans and snow peas onto foam trays. The waste that is involved with this is rather disturbing to me... I am one of those crazy people who refuse to place 'naturally wrapped' bananas into plastic bags and would prefer to check my beans and snow peas to see if they are as floppy as a defrosted squid. It was recently suggested to me that if bags are required for vegie purchases to grab and use the brown paper mushroom bags as they can easily be composted or fed to worms. Just make sure that the person at that counter doesn't charge you the mushroom price for your beans...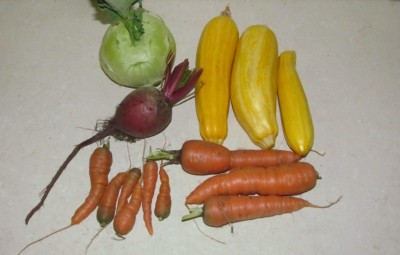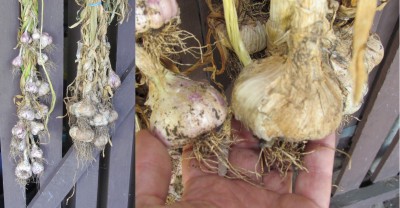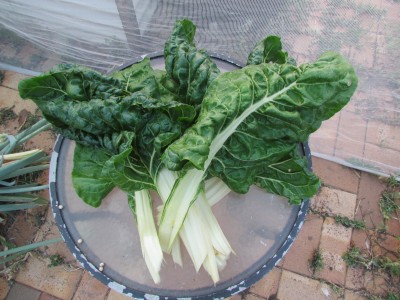 We got to pick the first of the beetroot from the barrel this week as well as the first of the White Vienna Kohlrabi and Gold Rush Zucchini. The kohlrabi, beetroot and carrots were all chopped finely in the food processor to make a wonderful raw Nude Food salad. We also harvested the second barrel of garlic.
While it didn't grow as large as the bulbs from the first barrel that we harvested a few weeks back (right), it was still a decent crop I think and much better than last year's. The silverbeet has been growing great guns at the moment.
This lot was added to feta, olives, sun-dried tomatoes and our own garlic and then made into pastries. The chooks have also been enjoying it and some has also been blanched and frozen for later use.
That's it for this week. Have a great one all.
**: )»**
Read more of Rob Bob's garden blogs in our Members' Blog area.
---
Last month Verna asked:
"Are there any hints on Simple Savings about self-employment - the pros and cons, and any problems encountered? I have been offered work in home care (nursing, companionship, palliative) as a sub-contractor and have sought advice from my accountant; a big fat no! I'm just wondering if any other Simple Savers are involved in this growing field and would like to share their experiences."
Thanks so much to everyone who wrote in to share their wisdom with Verna. Here are some of our favourites!
If you're planning to venture into self-employment, my first piece of advice is to look for an accountant who specialises in small business. I have always worked for myself (as a private teacher) and couldn't imagine having a job. My husband has worked as a sub-contractor for the past seven years also. But there are pros and cons of course!
Pros:
Flexibility of work hours. We can work in the evenings if necessary, or swap one day for another which is great for short illnesses or child care.
We have better working conditions in our home offices.
We feel in control of our own destinies. If one source of income dries up, we cultivate another.
Our accountant estimates that we would have to earn a quarter more if we worked for a wage.
The Cons are:
We have to be more disciplined with spending as our income can change from month to month.
We ALWAYS have to put aside money for any tax, Super and Workcover we expect to owe in a separate account and NEVER borrow from it. My husband is very disciplined in this area.
There is always something more to do and you can't get away from it in a small house.
The temptation to check your emails before bed - don't do it!
It is so important to have the right accountant. Some of them think saving $50 is not worth the effort. Ask your hairdresser, butcher, plumber and anyone who is in small business for referrals and then interview them. With good advice and a lot of financial prudence, being in business for yourself is a freedom and a joy!
Contributed by: musicalsay
I've worked from home for a long time now and if it's something you're considering, here are a few basic tips that can help:
Be organised - use a diary to keep a track of bookings so you don't get double booked and can easily see where you have free time.

Be prepared - depending on the work, make sure you have what you need, not want, to operate with. It's too easy when seeking the tools we need to see other things and think 'maybe I'll need that!' But the chances are that impulse buys will just sit there and not be as useful as you thought. Also, keep a journal to log any expenses incurred and be sure to keep all receipts.

Be dedicated - if working from home, make sure you don't get caught up in housework and such. Make time each day to do the necessaries around the house, but also set hours that are for work only. The biggest problem I have found is time-wasting. It is so easy to get distracted. Unless you get strict with yourself, time passes and before you know it the business isn't progressing. You need to make sure you're firm when it comes to telling others that you are working.
Contributed by: Bronia Gaujenieks
Hi Verna, I was a self-employed contractor (as a sales representative) on a part-time basis for 18 months and for the most part I enjoyed it as the contract was fair and I was sufficiently insured and compensated. If you have not been self-employed before, talk to as many people as you can with business experience that you trust. Also, speak with people in the home care industry to find out the pros and cons specific to this industry. Your local union representative may have some good advice. You may also like to consider talking to a lawyer to ensure the contract is fair and reasonable. Certainly, err on the side of caution.
The thing that would concern me most with this type of self-employment would be having sufficient insurance coverage should an incident occur on the job. Additionally, I would check that your payment is sufficient to cover all your expenses. I understand the job market is incredibly tight everywhere at the moment and it is easy to take on a bad deal out of desperation to not rely on welfare. Unfortunately, there are many business owners who use contractors as a way of paying less than people are entitled to, and these operators do not tend to care about your personal safety either. I have seen many more bad deals in this area than good, and have not taken on opportunities for this reason. Personally, I would not want to be self-employed in the home care area as I think the risks outweigh the benefits.
Contributed by: Lara d
I am self-employed as a primary school tutor and although teaching is my passion, self-employment has many pros and cons. Here are a few that I have experienced:
Pros: You get to work around your family when you choose to and are available. I love this and for me it is the only way I can work at the moment as I have a child with a disability. The tax deductions are great, I am able to show less earnings and therefore able to keep more of my family benefits. In ten years' time my husband may work with me. Our kids will be grown up by then and I will have established a good business. It takes time!
Cons: It's a learning curve when it comes to knowing how much to charge, and it is not always as profitable as people think. As a general rule of thumb, you need to charge at least double to triple what you actually want to earn. Realise too that you don't get paid for sick leave, holidays, workers comp, super and so on. People also cancel on you so you need to take all this into account.
It takes time to build up your business so you need to consider whether you can afford to earn less to start with. Worksafe-wise there is very little danger of injury in my occupation and this is something that needs to be looked at too. The home care industry could have a high percentage of injury in the long term. This may be why they want to sub-contract this type of work out.
Contributed by: Elizabeth Blyth
Hi Verna,
My first tip would be to see another accountant! With a little bit of organisation and a good accountant it is very simple to operate under your own business name. We have done this for several years in a few different fields and there are a lot of benefits. Firstly, set yourself up a separate, no-cost bank account for the business only. Use this to deposit income and make sure all business expenses are taken from here. Don't forget the little things such as travel expenses, office items (to manage your book-keeping) and time spent on the computer and telephone in pursuit of the business.
You need to be a bit daring with it all, and yes you will have to report tax at every quarter end, but with a good book-keeping system in place this is easy to manage. Good luck!
Contributed by: Cass Nicholas
---
Dianne has sent in this cry for help:
"How do I adjust to retirement?"
If you have any pearls of wisdom you'd like to share with Dianne, please send them in to us here.
---
We are sharing these wonderful words with the kind permission of Em, one of our Forum members - thanks Em!
Over the last 18 months I have had a lot of ups and downs. During this time I have realised just how much I have relied on SS to help me through these times and I wanted to publicly thank everyone who has helped me - I started to list names, but honestly I was so scared I would forget someone that I have decided not to, but I think you all know who you are. Thank you!
I was thinking about how SS is so much more than a site about saving money and how fortunate I am to have such an amazing community around me and, as odd as it sounds, I feel like people on SS are my true friends. I love that the partial anonymity allows me to be who I really am, talk about my hopes, dreams, fears, problems and share my ups and downs and through all of that all I get is support, compassion and advice and I rarely feel judged. Out here in the 'real world' my 'friends' don't know who I really am... They have no idea if I am sad, angry or frustrated because I always put on a happy face and I am the person who seems to never have problems because I never confide in anyone - in the 'real world' I am very good at helping with other people's problems but I can never share my own.
I remember reading in books about being successful, that you should surround yourself with like-minded people who inspire you and you aspire to be like, and I feel like SS is the only place where I am surrounded by people who fit this bill. Even my closest friends are so different in their values, beliefs and ambitions that, at times, it is just difficult to relate to them. A great example is that a friend of mine was bragging about spending $10,000 in a bar last Saturday night - that was for five people... Me, I just can't get my head around that, I wouldn't spend $100 in a bar! I love them, but they just don't 'get' me.
I know that we talk a lot about the savings we make from reading hints and tips in the Vault and on the Forum, but I know that I truly underestimated the true savings (and value) that I got from my membership and specifically the Forum. For me the biggest savings are not the $10 I save per week by buying generic instead of branded items or the $15 per week I save by baking more and not buying packet items... The biggest savings are; the hundreds I have saved by not ruining dinner by asking a quick question (substitutes, cooking time and so on), the thousands I have saved on phone calls, drinks, dinner, entertainment, fuel and so on by not having to leave my computer to chat to friends and ask for support, the thousands I have saved on not having to make dozens of psych appointments to deal with the life challenges I have faced over the years I have been a member, the thousands I have saved on educating myself on saving and investing, the 'opportunity cost' savings I have made by getting advice on a product or service that otherwise would have taken me hours to research, the hundreds I have saved on nutritionists by reading allergy and diet tips, the thousands I have saved on personal trainers by being encouraged with fitness, the hundreds I have saved on travel agent fees by getting travel hints and tips, the thousands I have saved in interest on my mortgage by having the encouragement and motivation to pay it off faster... I have saved what my membership has cost me thousands of times over, mainly because of YOU!
So thank YOU for supporting me, motivating me, 'getting' me, being my accountability partner and helping me save. YOU have all made me a better, stronger, smarter person and I don't think you can put a price tag on that.
---
Phew! Well, that's a wrap on another Simple Savings newsletter. We hope you have enjoyed it and have been inspired by all the money saving tips. Our members are hugely important to us and we love hearing from you all! So next time you're on the website, why don't you get in touch and say, 'G'day'! Let us know what you would like to see more of in our newsletter or any suggestions you have for something new to try. We love receiving your clever ideas!
Don't forget to spread the love around to your family and friends by forwarding them our newsletter or letting them know about our website. Help make their lives easier and save them money too! Or tell them about us on Facebook by clicking the 'like' button on our Simple Savings Facebook page.
We hope you have a wonderful month learning some nude food recipes - we'd love to know what recipes you have mastered!
Till next time...
All the best,
Fiona