This issue includes:-
Sad Sally, Happy Hanna: Fun & Games!
December is Old Fashioned Fun Month!
Hidden Gems Competition Winner: Lachlan Valley Meats
Best Members' Blog: Weight Loss Challenge
Best of the Forum: Fun is IN!
Best of the Vault: The Good Old Days
Cooking with Mimi: Healthy Banana Splits... Yumbo Retro Heaven!
Claire's Corner: Like a Kid on Christmas Morning!
50c Indulgences: Everyday Grace
Rob Bob's Gardening Blog: Putting the Spice Back into Life!
Homeopathy Corner: Back to Basics
From Last Month: Adjusting to Retirement
This Month's Help Request: Starting a Non-Profit Organisation
Savings Story: Help us Reach our Savings Goal of $1 Million
Goodbye For Now
---
Hello,
How are you? Great I hope. We are getting into the swing of Christmas by knocking off early. The Ye Olde Shoppe will be closing on 8th December. If you want anything please order it before then.
We have also been very busy making you a calendar for Christmas. *fingers crossed* It shouldn't be much longer. I will email you as soon as it is done.
This month we have received some of the most amazing compliments. Here are a few:

"I wanted to respond to Sarah's recent hint titled '$12 spray saved my iPhone from the bin'. My two girlfriends and I have done just as you suggested and all three iPhones are now working well - how good is that! We surely saved a lot of money by not having to get new ones. Thanks Sarah, for your awesome tip!" (Mell A)
"Hi Fiona and Matt, thank you for all your support and help on this site. You are amazing the way you go about your business. This site has made a great difference to my life. The empowerment that people receive through the information is wonderful." (Ann-Marie Harris)
"Great newsletter and website, been a member for years, best low-cost investment ever!" (Maggie L'Estrange)
Have a great month!
All the best,
Fiona Lippey
P.S. Discounts for Pensioners - difficult
We are often asked if we can give discounts on Vault memberships for pensioners. We don't because it is really hard to manage. There is no easy way to check if someone would or wouldn't be entitled to the discount. So instead we are going to give a discount to everyone.
DISCOUNTS FOR EVERYONE instead
From now until the 10th of December we are dropping the price of joining the Vault from $47 to $21. This is a massive saving of $26. So if you are a pensioner and you would like a Vault membership now is the time. To buy a Vault membership for $21 click here.
---
"This is a great idea Chlo, thanks for inviting us," smiled Sally. "Normally we'd be watching TV!" "Oh, you're welcome. Tom and I often have game nights, it's heaps of fun," said Chloe. "I'll warn you though, Tom fancies himself as a bit of a Monopoly expert - I haven't managed to beat him yet!"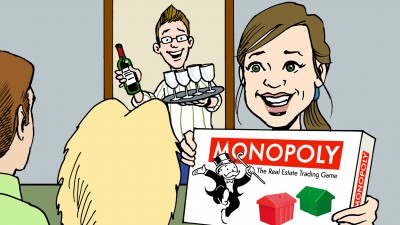 Sally took her seat nervously at the table. She had never played Monopoly before, how on earth was she going to compete with the likes of Tom? "Don't worry, Sally, there's nothing to it. It's all about spending money," grinned Tom. "Ha - that's right up your street, Sal!" Pete laughed. Sally glared at them both. The cheek of it! "Right, I'll show you two!" she thought to herself.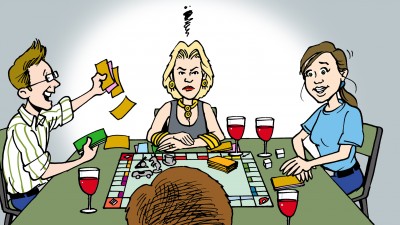 Two hours later, Sally was wearing a self-satisfied smile. "I can't believe you won - first time too!" Chloe said gleefully, nudging Tom. "Oh there was nothing to it," said Sally. "I just used some basic principles from our savings group!" "Well it certainly did the trick, well done!" said Tom. "Yes, well done love." Pete gave her a kiss on the cheek.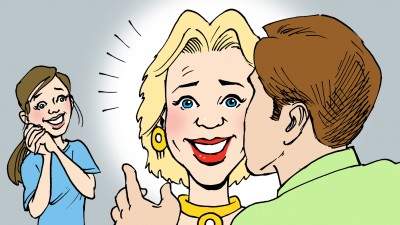 "Now we just have to get you to do that with REAL money!"
---
It was not only Sally who won that evening - everyone playing and having fun won! In many ways, this kind of old fashioned fun has gone from our lives. We are all so busy just trying to get by and making a living that we forget to stop and just have fun. What few spare hours we have we end up hanging out on screens, but this just sucks the fun out of our lives. Playing on screens is nowhere near as much fun as playing with real people.
Your goal this month is to find some real people to have some real fun with and have a ball! Here are some things you can do this month:
Call a friend and make a Christmas cake together
Play a game of cards with someone
Buy bulk wrapping paper and wrap up Christmas presents with a friend
Go for a walk with family/friends
Cook biscuits with someone
Invite your neighbour over for a cup of tea
Volunteer to help a charity
There are so many things you could do. There is only ONE rule - turn the screens off!
Old fashioned fun is all about being with other people and enjoying spending time together. When you are with someone else, make sure you are entirely WITH that person! And you will feel the lovely beautiful warmth that you only get from having fun with real people. Go on, get out there and have some fun!
---
Our Hidden Gems directory is designed to help members source the best deals in their area. Whenever you come across a real gem of a business, enter it in our Hidden Gems directory and you could be in the draw to win our monthly prize of $100 cash! This is our way of saying thank you for sharing your knowledge and helping other members save. The more information you can give us about your special store or business, the better.
This month's winner is Lachlan Valley Meats as nominated by Lynda Hargan.
These friendly people sell restaurant quality meats and smallgoods. Rump steak, sausages and chicken breast fillets are usually at least $5.00 to $7.00 per kilo cheaper than other stores. They also sell ice, which has been important for me as I live 64km away from any shops. When I go shopping to fill up the freezer I can take the big esky and top the meat up with ice to get it home safely. They also offer discounts for charity events like school sausage sizzles and so on.
I put aside $50 a week for bulk meat and roughly every three months spend between $200 and $300. I buy everything from mince to roasts as they have almost everything I want cheaper than elsewhere. It is easy to shop there and if you get there before say 10 in the morning, they sometimes have cancelled orders which are further discounted! Sometimes their chickens are more expensive than supermarket specials but overall in the last six years I have saved almost $2000 per year using Lachlan Valley Meats.
Address: 129 Canberra Avenue, Griffith, ACT
Phone: (02) 6295 3410
Well done Lynda on locating such a fantastic Hidden Gem and thanks so much for sharing. Lachlan Valley Meats is well worth checking out for people in the Griffith area.
If you know somewhere special you'd like to recommend, please write in and tell us. Send in your Hidden Gem here and you could be the next winner scooping the prize money. Thank you to everyone who entered and good luck for next time!
---
This month's winner is a bit of a special one. Although this blog is not about saving money, it IS about inspiration, dedication and commitment. We are sure you will be just as much in awe as we are of Liane. Here is her blog:
Weight loss challenge - week 43, 41.5kg gone
Some of you may remember my 24 week challenge to lose 24kg (which I blasted through!). Well I'm happy to report the weight loss continues. I love Weight Watchers! After 43 weeks of being on the program, I haven't plateaued yet. It's amazing! I did have a bad month in July (birthdays and holidays) where I only lost one kilo for the whole month, although it wasn't the diet's fault, just my lack of focus! But in general I've managed to keep going... one kilo at a time, and now I'm getting close to my goal.
In total now I have lost 49.5kg from my heaviest, 41.5kg since Dec 27th last year. I have lost over 20cm from around my hips alone this year! I look like me again and I love it!
I'm still generally just doing my 20-30 minute walk each day. I started horse riding lessons last term (when I got below 95kg) which was an item on my bucket list for when I got lighter. I've only had about six lessons so far but I've managed a rising trot so I'm pretty chuffed! Everything else has been pretty consistent. I eat well, actually I eat heaps! My poor partner still can't work out how I've lost this much weight with the amount of food I eat. But he's stoked about my weight loss, and happy that he's getting his healthy partner back again.
So now I only have around 11kg to go to get to my healthy weight range. I'm hoping now to make it to 48kgs for the year - double the initial challenge. It seems like a good goal really. I'm not going to be upset if I don't make it, I've come so far this year so it really isn't going to be a stress if I only lose 45kg!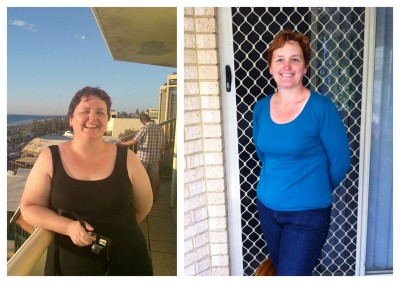 Congratulations Liane - what an incredible achievement! To read any of our members' blogs, click here
NOTE: One of the many benefits of being a Vault member is that you can win a cash prize of $100 each month for your Simple Savings blog! Starting your own blog on the site is easy. All you have to do is log into the Vault, click on 'My Desk' at the top left, then 'Your Blog'. Then get writing! We love reading all your money saving trials and tribulations and really appreciate the effort that goes into each one.
---
It's all about rediscovering those old fashioned joys. Whether it is time with friends or family, there are lots of wonderful ideas in the Forum to help you celebrate good old fashioned fun. Try some of these with your favourite person...
Some great ideas here to enjoy old fashioned fun AND wake up without a headache in the morning!
read more...
Here's a chance to do something fun with a friend or your family as well as sending some support to our troops overseas and away from their families at Christmas.
read more...
There are so many ideas here to make wonderful home-made Christmas presents. Why not share some of the magic of Christmas preparation with a friend!
read more...
You will need a pedometer and a friend and off you go! Enjoy the benefits of walking and talking with a good friend.
read more...
Sometimes new friends are right next door... as one of our members found out recently
read more...
---
Ah, the good old days! Bring them back with some of these great ideas from the Vault. Whether we want to enjoy time with our family (and WITHOUT their game consoles) or spend special times with favourite friends, try some of these old fashioned fun ideas:
Find all the best spots in your area to view beautiful sunsets. Pack a nice picnic supper, take along some favourite music and stop letting the sunsets pass you by. These lovely memorable times with loved ones are truly priceless.
Contributed by: Lexie Walker
If you frequently entertain, enjoy a low-cost night with a difference by hosting a murder mystery party! A chance for you and your guests to be 'someone else for a night' and have some fun while taking part in some detective work. These are making a real comeback! I enjoy having friends over and have run a few murder parties but they can be costly to buy, even second hand. However, I stumbled upon this helpful website which has seven free games to download. It even gives hints as to how to write your own murder mystery game. Take you and your friends into the heart of a Ruth Rendell novel and fill your evening with role-play, scandals, accusations, greed, affairs and murder!
Contributed by: LJM
Our group of friends are having a wonderful time and saving a bundle on evening classes while learning new skills which save us even more in everyday life. This year my gorgeous girlfriends and I decided to get together once a week at someone's home and have craft nights. We all have some skill or another - one can teach folk art, another is a great cook, another one sews, one can knit and some have very little skills at all! We all work full time and lead very busy lives but we are going to mend all the clothes that need mending, cook yummy gifts for birthdays and Christmas and make lots of gifts as well. We are also going to make things to raffle at work to contribute to our favourite charity (the Cancer Council's Relay for Life) which we fundraise for all year long. We have also vowed not to buy lunch at work and contribute $5.00 of the money we used to waste on lunch to a lottery every week. The rest of the money that was wasted on lunch is going into a little account we have opened for a girlie weekend away. At the moment we are all making a scrapbook photo album for the grandparents this Christmas. None of us really know what we are doing but, what the heck; it will turn out alright in the end! We laugh (tears running down our faces at times), chat and generally have a blast. We all love that time together and we do this every Wednesday from 7pm-9.30pm. So come on girls! Get out there, round up those girlfriends and give yourselves a fantastic experience as well as saving lots of money in the process.
Contributed by: Brenda Dawson
My husband and I are enjoying fun, low-cost entertainment and have saved over $800 this year along the way! We were struggling to think of creative entertainment ideas and would end up spending a lot on food and drinks and/or impulse purchases. So I decided to simply add a column to our weekly menu planner for low-cost weekend entertainment. This way we can plan ahead and still have fun! So along with our dinner this Friday, we plan to play chess and on Saturday (if the weather permits) we may go down to Blues Point in North Sydney with a bottle of wine and picnic basket. Next Saturday we may do the 'Bondi to Coogee walk' or have dinner at home with a couple of friends. We avoid hanging out at the mall (too much temptation!).
Planning and writing these things down on the weekly menu made it more exciting and easier to organise. I have found the local tourism board and Google useful resources for ideas.
Contributed by: Harini
This is the first school holidays I've had off with both of my children and I'm determined to make it lots of fun, but on a budget! I sat down with my three and six-year-old on the first day and we have brainstormed a list of things to do. We have so many ideas on our list that we'll be able to use them on the next holidays too! We are going to rate everything we do so that we can redo our favourite activities again. Our list includes:
Create, practice and perform our own concert. We need to make props and invites too so it will be a big project.
Fruit Salad Day. We'll walk to the fruit shop, select our favourite fruits and bring them home to make a fruit salad with. After our yummy treat, we'll colour pictures of the fruit we put in the fruit salad.
Make Spongebobs using sponges, google eyes, pipe cleaners and PVA (all stuff I have in my craft box).
Make and post invitations for a picnic with friends at a park.
Even though the weather is still a bit cool we'll visit the beach to collect some shells to make into wind chimes. After our beach visit we can also write down some of the other interesting things we saw at the beach.
Explore all the parks around the city and make our own list of parks to visit with Dad on the weekends.
Check out a couple of the local museums.
Visit local shopping centres to see what kids' activities are on offer.
Have a mini Olympics day. We'll plan our activities using sports equipment we already have.
Have a board game day.
Set up a treasure hunt around our house and backyard.
At the end of each day we're going to sit together and write or draw what we did that day so when we go back to school and kindy we can share it with the teachers. We're very excited about our 'cheap' holidays!
Contributed by: Elizabeth Nielson
How much do you really know about the region you live in? Family activities can be expensive but it's staggering how much free stuff there is to see and do in your neck of the woods.
We have recently discovered the joys of strolling along the boardwalk while the kids have fun on their scooters. We've gone a little further afield to explore mountain country and to enjoy picnics at a couple of the major dams in our region. We've spotted some vineyards on these travels which we'll visit in the near future. We've also found some awesome parks for the kids to play, including one where they can ride on their scooters and BMX bicycles.
We are now on a mission to find other places that can entertain us for little or no cost. I challenge you to do the same and discover your part of the world!
Contributed by: Miss A
And here are some extra goodies for our valued Vault members:
Homespun fun Contributed by: Monica Robertson
Workshop with friends and save Contributed by: Sue Wallman
With a little help from my friends Contributed by: Tenaya Atanasov
---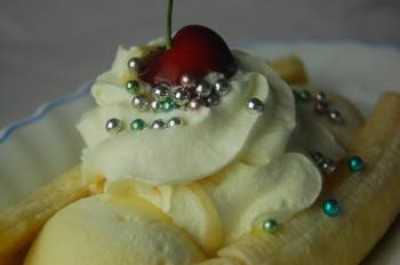 Yes, I know healthy and fun don't always belong in the same sentence. I know my mid-section can attest to a little more fun than healthy at the moment. Dash it all, the festive season does this to me every time! The brains says no, but the other brain says 'go on, one won't hurt'!
So here's something that's not all bad, a bit of good and a bit of fun, all rolled into one; a very traditional looking banana split, but with a difference. Authentic scoops of ice cream sneakily replaced with sweet labna and drizzled with honey. A match made in heaven.
You'll need:
A clean Chux cloth, cheesecloth or piece of muslin, rinsed and wrung out
A large sieve with fine weave mesh
A large jug that the sieve will sit on without falling through
Small ice cream scoop
The yummy bits are:
1 litre of thick Greek yoghurt, bought or home-made
Honey
1 banana per serve
Whipped cream if you want
A real, fresh, in season cherry to garnish the top of your 'nana split
Long dishes to serve
Then you just:
Drain your yoghurt. It's best to do this overnight, so you end up with a lush, thick, luxurious, creamy blob of deliciousness.
Make room in your refrigerator for your jug. Line your sieve with your damp Chux, and plop in half of your Greek yoghurt. Drizzle it with honey. Plop in the other half of the yoghurt and drizzle with more honey. Sit the sieve over the top of your jug, and pop into the refrigerator. The whey will drain from the yoghurt over the next several hours, leaving you with a super thick, super creamy 'ice cream' to use in your banana splits. We actually adore soft brown sugar in place of the honey too. The brown sugar turns all fudge-like and adds a delectable flavour and texture to the yoghurt cream. Luscious!
Grab your dishes. I sourced mine from the local thrift shop for $0.50c each, but similar shapes can be found in kitchenware stores. Assemble your other ingredients on the bench. Scoop two blobs of sweet labna (yoghurt cream) into each dish. Peel your bananas and slice them in half lengthwise. Sit them up on the edge, either side of your scooped labna.
Then, decorate as you wish. We love those little metallic pastel coloured cachous that cake decorators use, a real, fresh cherry or berry instead of a glace one, and a bit of that whipped cream from a tin. I know, I know... terrible stuff... but we're talking fun food here. And the cream in a tin is fun to use, fun to eat and surprisingly economical. A puff here, a squirt there... No, you're not allowed to squirt it straight into your mouth, no matter what Kirsty Alley did in that movie!
Oh my goodness... retro heaven, made healthy. Well, healthy-er, anyway.
See ya. I'm off to make some more blast from the past fun stuff. As soon as I finish my banana split!
To read more of Mimi's wonderful recipes, visit her blog at: </blog/>
---
I've discovered a new passion. I can't believe I've never tried it before! It happened at my daughter's school camp a few weeks ago and I can't wait to do it again!
In my experience, school camps fall into one of two categories; arduous or awesome. From memory, all of my own camps as a kid were arduous and involved a lot of tramping, swimming in freezing rivers and dish washing. But it seems school camps have come a long way since my day. In fact, the kids weren't even allowed in the kitchen - no cleaning duties for this lot!
Despite feeling nervous at the very thought of spending the best part of a week with 50 kids, minimal sleep and no 'real' coffee within walking distance, I had the time of my life (as did my daughter!). Our camp was on Kawau Island, a very loud 30 minute bus ride followed by an equally loud 30 minute ferry ride. If you've ever been to Kawau Island, you'll know what an amazing place it is. Apparently the entire island was once owned by Governor George Grey in the late 1800s. Now this chap had quite the life. Not only was he a politician and soldier, he was also an intrepid traveller and explorer (with the means to go wherever he wanted to!). During his travels he would collect exotic plants and wildlife which he brought back to his island. Today, peacocks, wallabies and kookaburras, descended from his collection, still roam around the island (very rare for New Zealand!). Apparently the zebras and elephants didn't fare so well.
According to the teachers, the whole idea of school camp is to challenge the kids to 'try new activities, expand their skills, push their boundaries and discover new-found confidence'. And there were certainly plenty of experiences on offer to achieve all of the above with kayaking, sailing, archery, high ropes, orienteering and fishing. As parent helpers, our role was to supervise, encourage and prevent any blood loss.
I started out on archery. Well, let's just say it was lucky most of the kids had done it before because I couldn't even work out how to get the arrow to fire. It was a challenging experience to say the least! After a few hours of chasing stray arrows and doing my best to prevent the kids using each other as targets, I was able to choose another activity to supervise. And that's when it happened. After much encouragement from other parents and assurances that I had a good chance of staying dry, I set foot inside a kayak for the first time ever. And within a few paddles I was hooked! Along with another two parents, we took our little group of eager kids out into the safety of the cove and explored the coastline. It was so tranquil, so beautiful and so much fun!
I overcame my fear of making a complete egg of myself and realised I was actually pretty good at it. It may sound a bit corny, but I was like a kid who'd just been given the best ever toy on Christmas morning. I'd forgotten how wonderful it is to really, truly enjoy something like you did as a kid. For the rest of the camp I was out there on the water at every opportunity. I know the camp was about the kids challenging themselves and discovering new confidence, which they all did in abundance, but I didn't expected to tick all those boxes myself!
The kids just loved getting back to nature. No TV, no computers or phones, no technology at all! And of course, they didn't miss it one bit. They played, talked, sung songs, made up games, climbed trees, explored and just enjoyed being kids. All stuff that doesn't cost a cent yet makes for the happiest memories ever!
On the ferry ride home it struck me that as adults, we don't have enough 'fun'. The kind of fun that makes you feel like a kid again! Fun that makes you forget about your worries for a bit and just makes you feel good. We get so wrapped up with work, parenting, house-keeping and just getting through the day that 'fun' often doesn't get a look in. So, this month I'd encourage you to get out there and find something that makes you smile from ear to ear. I'd never have thought kayaking was my thing - I'm not keen on boats and I'm a bit of a scaredy cat. But I just love the peace and quiet of being out there on the water, of seeing the world from an entirely new perspective. Maybe there's something out there you've never done that just might be 'your thing'. And if you ever get the opportunity to go on your child's school camp, I'd thoroughly encourage you to give it a go. Who knows what you might discover?
My quote this month comes from anthropologist Lionel Tiger, I think he's onto something...
"Human beings need pleasure the way they need vitamins."
Read more of Claire's Corner in our Members' Blog area.
---
Hi Everyone,
Happy November! This is the month when our friends in America stop and give thanks and thought to the things that enrich their lives. We have chosen our own mottoes as a guide for this delightful month: Home Comforts, Earthly Delights, Vintage Bliss, The Thrill of Thrift and Everyday Grace. Here is how I have used these wonderful words this month to enrich our family life!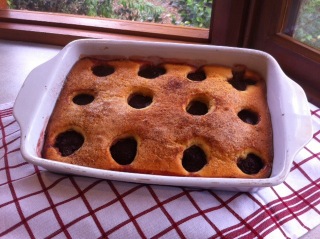 This is the delicious Plum Bake that graced our table this week and added some 'Earthly Delight' to our fare. I have discovered that discount stores such as Crazy Clark's often have Australian fruit at excellent prices. Ardmona plums were $0.66c each for a 850g tin. Now that's a bargain that makes our grocery budget smile and brought cheers from my family!
Here is the recipe: Plum Bake
120g butter
½ cup sugar
2 eggs, beaten
2 cup self raising flour
½ cup milk, approx.
1 tsp vanilla or almond essence
850g tin plums or fruit of your choice
Grease a pie dish. Cream butter and sugar. Add egg, then flour and sufficient milk until you get a soft consistency. Add vanilla or almond essence and pour into the pie dish. Sit plums in the batter. Bake in a moderately hot oven (375F/190C) for ¾ to 1 hour.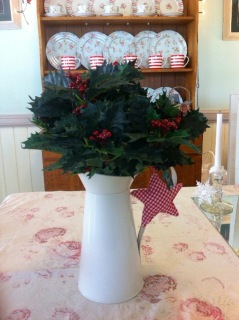 Moving on to 'Vintage Bliss', well that found its place in our home with these gorgeous bunches of holly. They were $1.00 in total and the red gingham star was another bargain for $0.50c. These were the result of a happy forage at our local op shops. They are a great place to find vintage Christmas decor.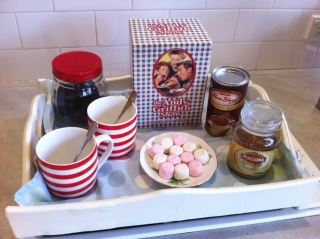 'Home Comforts' such as movie nights are an affordable indulgence in our home. We have bought several TV series such as the Andy Griffith show, which works out at under $0.50c an episode. We make up a tray of our favourite snacks and drinks and, if it's a little chilly, we light the fire as well! Snug on our comfortable lounge, it keeps everyone in the family happy and we can indulge in rest and recreation for pennies.
Next month is all about Christmas, 'The Gift of Christmas' in fact! So come and join the wonderful ladies of the 50c Army at:www.simplesavings.com.au/fora/2910607
Helen
---
Harvesting & planting spice plants
We decided to harvest a small clump of Galangal this week to allow some small turmeric a chance to get some sunlight. Galangal is a member of the ginger (Zingiberaceae) family and a great addition to the garden if you like to cook Thai, Indonesian and Malay-style curries and dishes from scratch. It can be quite hard to find in the shops and quite pricey when you do, but it is so easy to grow. We use slices of it to make teas with lemongrass and I am going to try to make up some lacto fermented galangal and lemongrass beer this year. It is a non-alcoholic soft drink made on the same principles as lacto ginger beer. If you are interested in trying to grow it yourself, find a good piece in the shops, maybe with some young shoots, and give it a good wash before planting. Now is a great time to plant it out and in the southern states, probably best to plant in a warm spot in the garden.
Another great spice plant to grow is Turmeric (Curcuma longa). It is another spice from the ginger family and gives curry powders that distinctive yellow colouring. It can also be eaten as a vegetable once it's lightly steamed and also used as a yellow dye. It will also stain bench tops and cutting boards fairly easily. Turmeric has enjoyed a long history in the Indian Ayurvedic medical tradition and has just recently started to be studied by western medical institutions. They have found it to have some anti-cancer constituents as well as other healing properties. A quick 'Google' will put you onto a few of these studies if you are interested.
Lemongrass is another plant that we use in a lot of Asian curries and dishes. This week we also divided a neglected clump to share out with some community garden members and an online friend. This is one of those plants, along with thyme, rosemary and basil, that I love to pick and smell while working in the patch. The part of the plant we use the most is the base of the stalk. Our eldest loves to use the green leaves and stems in herbal tea infusions and, as I said above, I think it would make a great lacto fermented drink along with galangal. It is also said to have insect repelling properties thanks to its citronella content, so makes a great plant to pot out around entertaining areas.
One of my favourite dishes to use all three in is a beef rendang curry.
Paste
4 cloves garlic, chopped or 5 tsp of minced garlic
2 x 10cm stalks lemongrass, chopped
3cm piece fresh ginger or 2 tsp powdered
5 cm piece fresh turmeric or 1 heaped tbsp of powder
¼ cup size piece of fresh galangal, chopped
Chillies to taste (I use 1 heaped tsp of paste or 2-3 fresh medium heat ones from the patch)
1 large onion, chopped
3 tsp coriander powder
3 tsp cumin powder
Water (enough to help ingredients combine in processor, no more than 1/3 of a cup normally)
Add all above ingredients into processor and blend into a paste, adding water if needed.
Other ingredients
500g diced beef
400ml tin coconut cream
1 tbsp tamarind sauce (½ tsp tamarind paste with 1 tbsp rapadura or brown sugar make a good substitute)
Method
Fry off the paste in a pot until aromatic (2-4 minutes).
Add beef and coconut milk and bring to a boil.
Reduce heat to a medium simmer for half an hour, stirring every 10 minutes.
Reduce to very low and simmer for about half an hour or until the liquid has been evaporated and forms a thick sauce.
Serve with your favourite rice or as we do over lightly steamed cauliflower & broccoli.
Here's our own Rob Bob with a recent harvest... for giants!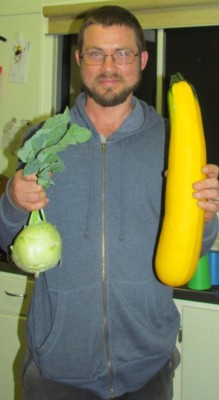 Have a great one all
Rob Bob **: )»**
Read more of Rob Bob's garden blogs in our Members' Blog area.
---
Homeopathy has been terrific for me and my family. It has fixed numerous health problems and saved us squillions.
Before homeopathy our medical bills were enormous so I started to look around for an alternative - and that's when I stumbled across homeopathy. In the beginning I used to see practitioners like Fran but after learning a little about the remedies I decided to try them for myself. There was no turning back. I now treat many of my family's health problems myself - not the big serious things like heart problems or athritis but all those little things that interrupt the flow of family life and keep us all awake at night - the tummy upsets, twisted ankles, earaches, coughs and colds - things like that.
This brings me to this month's homeopathy article; Fran is going back to basics. She is starting back at the beginning and showing everyone, step-by-step, how to use homeopathy.
If you have always wanted to try a little homeopathy but it all seemed too hard, this next series of articles is just for you. Fran starts them off this month by teaching you how to use homeopathy for all those sporting injuries and first-aid problems. Take a look at it because by the time you get to the end of it I am betting you won't be thinking that homeopathy is hard at all but easy!
To read Fran's article: homeopathyplus.com.au/homeopathy-made-simple-first-steps-to-first-aid
---
Last month Dianne sent in this cry for help:
"How do I adjust to retirement??"
Thanks so much to everyone who wrote in to share their wisdom with Dianne. Here are some of our favourites!
Retirement can be a great opportunity to do the things you've always wanted to do. When my husband and I retired, we bought a motor home and travelled Australia. After we'd experienced what we set out to do, we sold the motor home and bought a 50-foot yacht. We are now on holiday for the rest of our lives and loving it! We leave Bundaberg this month and are heading for The Sandy Straits then up to Darwin and onto Broome. We love our lives and our seafood!
Contributed by: Kay P.
Hi Dianne,
I'm beginning to struggle with this one myself. I'm not yet retired but am planning for it and I'm a bit scared about it! I was browsing through my local library and found an old copy of "Making the Most of Retirement for Dummies", author Julienne Garland. I picked it up, had a flick through and thought this is not a bad book, it's full of ideas and strategies!
It is outdated, however, it is easy to read and covers a variety of issues from finances to health, relationships, community, volunteering, moving and more. I'm finding there are lots of things I hadn't thought of and am now making plans, and changing some of my ideas about retirement too! You might find it useful as well. Good luck and happy retirement!
Contributed by: Leah Z.
If you're planning on retirement soon, here are a few of my top tips!
Keep in touch with a small group of your friends who are also retired and go out for coffee or have them over often. This will keep you from going batty due to watching too much television!

Volunteer at a place you can walk to. It may be a school, a hospital, a library or a resale shop, but you'll meet new people every day this way. You'll also be able to share your knowledge and learn new things daily. This keeps your brain from going to mush - and often your body as well! Just one tip... don't volunteer where you formerly worked. It creates hard feelings amongst those with their noses still to the grindstone!

Take up a moderately intense sport you never had time for while working. Bowling, lawn bowling, badminton, horse-shoe pitching, slow-pitch baseball, recreational skating, cross-country skiing, moderately-paced walking or hiking, bicycling (with an electric bike if your joints are shot!) and swimming all suit the retired lifestyle. And don't forget, you can do most of these activities at any time of the day, any day of the week!

Read a good national or city newspaper at least once a week. The Saturday or Sunday edition is usually full of lengthy editorials and insightful articles into important issues in your country and the world. Subscribe to Internet blogs about topics of interest. One of my favourites is ecogeek.com. It presents short articles on many issues and inventions that are helping improve our environment.

Find free and cheap stuff to do in your neighbourhood or beyond. The University of Toronto's Music Department gives free noontime concerts by students every Thursday, and a once-monthly evening concert on Mondays. Perhaps a university in your city does something like this too. A big cinema chain near my home has $2.00 movies on Saturday mornings at 11am.

Avoid sleeping in too much on weekdays. Get up and participate in your home, your neighbourhood and your community.

Make a list of home improvement projects you've always wanted to do and find the least expensive ways to do them. Recruit friends to pitch in or find students in the area who want to make a few dollars under your supervision.

Now is the time to get a pet. Don't buy a purebred dog or cat, get an orphaned mixed breed from the animal shelter. They are low-maintenance compared to purebreds, and you can take good care of them easily. A dog will help you get out for walks and see your neighbourhood. You'll meet neighbours and strangers who will ask about your pet and you can make another new friend.
Contributed by: Carol S.
If you're about to retire and you're wondering how to use your time, here's a few tips to help. First, make a list of all the things you glanced at while hurrying to work and thought 'I'd like to have a look at or do that one day when I am not in such a hurry'. These ideas might help jog your memory...
Volunteer at your local op-shop. You'll meet lots of interesting people!

Join a gentle exercise class. Try contacting local churches as classes are often run in church halls. The prices are very reasonable and you'll meet people of a similar age with similar interests.

Go to meetings, for example, shareholder meetings, even if you have nothing to contribute, you might find it really interesting (and will usually get a nice morning tea!).

Walk every day and try to vary your route so you see new things, possibly meet new people and enjoy different gardens.

Look out for free open days. These are often advertised in shop windows or local newspapers, especially in the city centres. Once you get there, you'll see plenty of other things to do.

Adopt a pet from an animal shelter. A dog will need walking daily, or a cat will provide good company.

Use your free train travel voucher from the government if you get one. Go somewhere you've always wanted to, but have never been.

Visit a good op shop to hunt out some good books.

Buy a book of crosswords or puzzles. These are often on a sale table at Target.

Depending where you live, buy a daily travel ticket and travel around on a tram one day. Get off at whatever takes your fancy. Make a list of places you want to revisit.
Contributed by: Leanne Baxter
I retired early this year and the novelty of every day seeming like a Saturday soon wore off. But as I had lived on my retirement budget for two years before retiring, at least the reduced income did not come as a shock. I was also able to save more money for my retirement nest egg.
I've found the biggest challenge has been the lack of social contact that going to work provided. I live on my own and moved to the coast within a week of retiring so the task has been to create a whole new life. This has been both exciting and daunting!
The first step is to look after your health. Have regular check-ups, get plenty of exercise and eat a good diet. It's a good idea to set some goals in regard to what you want to do with your life. This of course will be determined by available funds.
You'll also want to have a plan for what you're going to do each day so you don't just drift. Look for free or low-cost activities such as volunteering. Save money where you can, for example take food and drink with you when you go out.
It's also good to create little treats for yourself so you have something to look forward to. And be sure to stay in touch with people - letters are cheaper than long distance phone calls. If you are having trouble adjusting to this major change in your life, don't hesitate to see your doctor and get a referral to talk to someone.
Contributed by: Jaye
I am 75 and retired and am really enjoying it! It hasn't been difficult because I make sure I still get up at a regular time and keep my diary reasonably full. I still rise around 6.30am - or even 6.00am and take a 30 minute walk (unless the weather is really bad).
It's amazing how ready I feel to tackle the day ahead. After breakfast I do the immediate chores but don't get so carried away with housework that it diminishes my enthusiasm to do something I'm really keen to do, be it something at home or some activity outside the home.
I look forward to regular get-togethers with family or friends. It's nice just having time together to enjoy activities where you can use your expertise. I keep a diary for appointments to look forward to - this is very important. This may mean trying activities you've never had time for or haven't considered previously.
The important things for me, after retiring from a very busy job, were to:
have a plan for the day ahead
make an effort to mix with people (even briefly)
be expected somewhere a couple of times a week
indulge in some of the activities I could never find time for before retirement
and to take time out for holidays, even if it's just a change of pace for a couple of weeks.
Contributed by: Patricia F.
When you retire, the first thing you need to do is a budget so you can work out everything that must be paid each year and how much income you expect to receive each year. When you know what cash you'll have spare, you can then decide what you would like to do. And remember, retirement is a time to think about yourself for a change. Enjoy life!
Contributed by: Lorraine Ellis
Here are a few ideas to help brighten up your retirement...
Keep your brain active by doing short courses, for example U3A, WEA, TAFE or home study.
Do crosswords, play scrabble, research the Internet, read books or travel to places of interest.
Consider joining a club such as Probus, View Club, Toastmasters, church groups and so on. Search the Internet and library to find out what's happening in your area.
Go to the movies with friends.
Go to clubs, pubs and nice restaurants as a treat.
Get active and go swimming or bowling.
Watch the sunrise and sunset at a beach or park.
Go picnicking with friends.
Do bus and train trips with friends.
Become a volunteer for a charity organisation such Meals on Wheels, Smith Family or charity shops.
Spend time with your children and grandchildren.
Get a group of friends together for a weekly outing to interesting places.
Get some exercise and join a Zumba class, a walking group or aqua aerobics. Ride your bike, take beach walks, go bush walking, play tennis or go to the gyms you feel comfortable in. You could also try yoga and Tai Chi.
Pamper yourself by having soothing massages, get your hair done and buy yourself a special outfit to wear somewhere special.
Contributed by: Dianne Nicholas
When my husband and I retired, we found that most of our friends were people we'd met through work. Many lived on the other side of the city, making regular contact difficult. The biggest thing I missed after we retired was social interaction with people around my own age, so shortly after I retired we joined a Probus club. The club had just started up and they were looking for volunteers, so I volunteered to edit their monthly newsletter. Our club has now been going for over 10 years and we've never looked back! We now have the most wonderful friends who are a source of great companionship and help during times of illness or personal crises.
Costs for membership and activities are minimal, apart from week-long holidays and an annual overseas trip, but you can still have a good time whilst only paying for your bus fare on a day outing. You can also travel by car or train to a craft, computer or walking group.
Many of our new friends are also volunteers for community organisations such as op shops, the Smith Family, Vinnies, Red Cross, the local hospital and scouting and surfing clubs - yet another way to make friends and get the most out of life! Some of them also attend classes at our local community college and many local councils have courses specifically aimed at seniors. It pays to keep not only the body, but the brain, fit and healthy!
It has now got to the stage in our lives where we don't know if we'd ever be able to fit time in to go out to work!
Contributed by: Norma King
Retirement does mean adjusting to living on a much tighter budget, but it can be done - and still give us a happy life! I am enjoying my retirement so much!
The first thing I did when I retired on the pension was to get to know my local library better. I found plenty of information there about organisations in Brisbane that I might want to join. I went to just about every talk and workshop I could. I ended up becoming very involved with a local community garden at Beelarong Community Farm at Morningside. My life changed from that time on as I have made some wonderful new friends at the farm and have even taken on my own allotment there so I have access to lots of fresh vegetables.
Another thing I do regularly is check out the Brisbane City Council (BCC) website where they have a mine of information about local free events. BCC fund the GOLD program (Growing Older Living Dangerously) and for a fee of $4.00 per workshop you can learn how to do all sorts of things.
Another worthwhile idea during retirement is to become a volunteer. This is very satisfying and another way to make new friends and keep our lives full and happy.
It's also important to make sure you keep fit and healthy. You don't need to join a gym, just get out there and walk. I bought myself a camera and wander around local parks snapping away. It's easy to stroll around for an hour without even knowing it! Each step you take helps to keep your joints working and your bones strong. When you first retire your doctor can give you a thorough check-up with on-going mammograms, pap smears, skin checks for skin cancer, blood pressure testing, and prostate checks for the men. It's all important because if we have good health, really, we have everything!
It's also important to keep our minds active. Look into U3A (University of the Third Age) who run all sorts of courses without breaking the bank.
If you're in Queensland and are about to enter retirement, here are a few tips to help keep you safe.
The police department in Queensland have a Community Safety and Crime Prevention unit. They will send a police officer out to assess your home and see if you have any areas (doors, windows and such) that make you vulnerable to a break-in. I had a lovely young police woman visit my unit, she pointed out a couple of vulnerable areas which I was able to fix. Here is the link to the police website for home security: http://www.police.qld.gov.au/programs/cscp/homeSecurity/
Another organisation worth checking out is run by the Queensland State Government and is known as the Home Assist Secure project. They will (and I quote) "assist with essential repairs for safety, security and wellbeing for any person over the age of 60 years". They don't charge a call-out fee or for labour, they just charge you for parts. They'll do security checks, install smoke alarms, do lock repairs, minor plumbing work and minor carpentry work. In Brisbane phone (07) 3254 0355, tell them what suburb you're in, and they can tell you about your local branch.
Other states may offer the same services.
Contributed by: Jean Burke
I planned my retirement for over eight years before actually doing the deed. In fact, I might still be at the daily grind if my brother hadn't developed a particularly aggressive, rare and nasty form of cancer which made me realise yet again that life is not a dress rehearsal! I worked out where I wanted to live and how I would manage it financially (boring but necessary).
Part of the planning was taking time to sit down and think about what really matters to me, what my passions are in life and how to apply them to my new status as a retiree. My bucket list read:
Get involved with and contribute to my new community (I moved from Sydney to rural bliss on the NSW north coast)
Explore my passion for protecting Australian wildlife and the environment
Play around with community theatre and get back into my writing and music
Today I'm a member of:
The Rural Fire Brigade (a wonderful way to become involved and accepted in my community and learn incredible life skills).
WIRES (specialising in bats!)
My local musical theatre group and about to go on stage as Mrs Potts in 'Beauty and the Beast'
I also write for local newsletters and online blogs
Only problem is, I think I may have tried to tick everything off my bucket list at once and may have to go back to work for a rest!
So I guess my advice would be - take the time to work out what's important to you and get out there and do it! In our society there's far too much emphasis placed on your work life - people make judgements about you based on what you do and what your salary level is. But there's so much more to you than work! This is your chance to re-invent yourself. It's a time to take up your passions and at last, do what you've always wanted to do - for yourself!
Contributed by: Jenny Beatson
---
Bea Davidson has sent in this cry for help:-
"I am looking at starting up a non-profit organisation for youth in my area. I would love to hear ideas about getting a business off the ground with as little outlay as possible. I need to know about everything from finding premises, outfitting, setting up and then day-to-day running as cheaply as possible. We need to save as much money as we can so we can pour our profits back into the youth activities. Thanking you all in advance!"
If you have any pearls of wisdom you'd like to share with Bea, please send them in to us here.
---
This week's Saving Story is a special one. Wonderful things happen in our Simple Savings Forum when like-minded people get together to encourage, support and celebrate each other's journeys. Thanks to a special member called Freedom, the '$140K mortgage down to $0 in 12 months' threads have been inspirational to many of our Forum members. Now this team of gung-ho savers wants to help even more members.
Freedom writes:
"I started this thread in January this year in the hopes of sharing my journey with fellow Simple Savers as I paid down my mortgage. It started out as one person working hard to achieve a dream and has ended with a fantastic team of wonderful ladies who have decided to join me on my personal challenge. We are achieving big things on this thread and in October we managed to reach the goal of $250K in just one month! This included any money we managed to save as well as monies paid off mortgages and other debts. November's target is $500K and in December we want to reach $1 million. We need to get more Simple Savings members working towards this amazing goal in December - every dollar counts! Come and join us in our thread at:
Freedom, we are in awe of what you and your group of Super Savers has managed to do so far - we're sure you'll reach your $1 million goal with everyone's help!
---
Thank you for reading all the way down the to bottom.
We hope you have an awesome month and enjoy some good old fashioned fun!
Till next time...
All the best,
Fiona