This issue includes:-
Sad Sally, Happy Hanna: Hide the Evidence!
May: Bake and Feel Good!
Best of the Vault: Baking Beats Bought Every Time!
Best of the Forum: Home Baking Takes the Cake
Best Members' Blog: Time Flies
Cooking with Mimi: Tough Times Meal Ingredients
Rob Bob's Gardening Blog: Mini Urban Farm Update
From Last Month: Let's Get Saucy!
---
Hello,
How are you going? I hope you have had a lovely month. I have been having fun playing on the Simple Savers Facebook Group this month. If you have five seconds free, come and pop in. We love hearing from you - here are our favourite emails and favourite posts this month:
"I just wanted to post a big THANK YOU to everyone on this page...you guys have inspired me nearly every post...because of your influence I now know where every cent is and can account for every $ spent...we have hit a bump in our road called life but I'm seeing the positives as it as taught me a lot. I can see a light at the end of the tunnel! THANK YOU ALL!" (Louise, Facebook Simple Saver)
"I did three $21 Challenges in April and only ended up spending $150 on my groceries for the month. And to think I used to be a $21 skeptic!" (Riley)
"Thank you, Simple Savings for showing me so many ways to save money. More importantly, you've given me the motivation and encouragement to do it." (Helena)
Have a great month!
All the best,
Fiona Lippey
P.S. Come and join the Simple Savers Facebook Group for hints, tips and giggles.
---
"Good morning, Sal!" sang Hanna as she hurried into the office. "Sorry I'm late again. I just can't seem to get going in the morning," she sighed. Sal looked up, chewing, "It's OK Hanna," she took another bite of her muesli bar and sipped at her coffee, "Besides, I'm just having breakfast myself."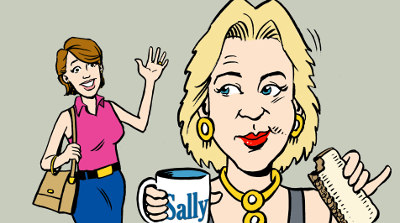 "Ooooo, that looks like one of those breakfast bars - can I get the recipe?" Hanna asked. Sal swallowed and went a bit red, "Um, yes, um, breakfast bar... recipe? It's at home. I'll... um... email it to you tonight." "Sounds delicious, Sal, I'm so proud of you! There was a time when you would have bought breakfast." Sal swallowed even harder and changed the subject.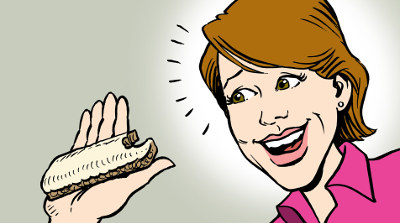 "The boss was looking for you before, Hanna. I think she is in the lunch room." "Really? Thanks, Sal," Hanna smiled as she went searching for her. Once she left the room Sally breathed out "Phew! I thought she would never leave... now how am I going to hide this wrapper?!"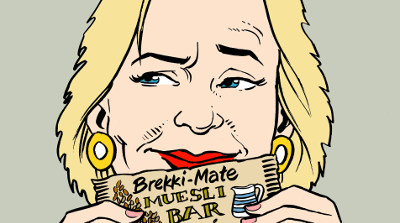 ---
Sally isn't the only one who buys breakfast bars or muesli bars because she can't be bothered making them. We all do it sometimes but it is important that we only do it sometimes because shop-bought baked goods cost a fortune and it is so much smarter to make them yourself.
This month we want you to set yourself the goal to not buy anything you could bake yourself (except bread, unless of course you want to bake your own bread!). So, let's start with Sally's breakfast bars and find how baking them at home would have saved her money and been better for her. We know the shop-bought ones are handy and convenient - but they cost between $17 and $85 per kilogram. Instead, you can make them yourself for $5.40 a kilo with this super, slack, nutritious, budget friendly recipe:
2 cups trail mix
5 cups oats
1 tin sweetened condensed milk
Vanilla essence
60 minutes
Pre-heat oven to 160 degrees (fan forced). Line baking tray with grease proof paper.
Lightly chop one and a half cups of the trail mix (leave half a cup aside). Add chopped trail mix, oats, condensed milk and vanilla essence to bowl. Mix together with hands. Press mixture into baking tray. Sprinkle remaining half cup of trail mix on top and press in place. Bake for one hour. Let cool for ten minutes, then slice into breakfast bars.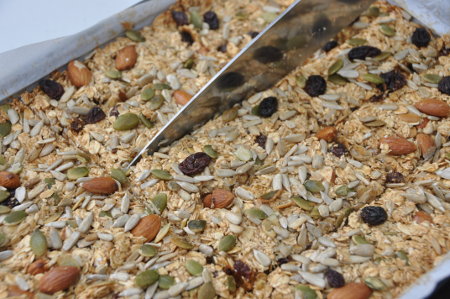 This will give you 1.2 kilos of muesli/breakfast bars and costs $5.40 per kilo.
In comparison:
Uncle Toby's Muesli Bars cost $13.30 - $23.70 per kilo.
Coles Variety cost $11.20 - $13 per kilo.
Coles Smart Buy $10.40 per kilo.
Nature Valley $23.50 - $25.10 per kilo.
Be Natural $22.90 - $28.90 per kilo.
Carman's $19.90 - $29.70 per kilo.
Weight Watchers $33.20 per kilo.
Cadbury Brunch $21 per kilo.
Meganuts $18.39 per kilo.
Nature Valley $35.10 per kilo.
Freedom Foods $22.10 per kilo.
Thankyou $9.20 - $9.60 per kilo.
Celebrity Slim $85.80 per kilo
We've used rolled oats in this recipe because most muesli has over 20% sugar. We have used condensed milk because it's quick and easy but you can also try other binding ingredients such as butter, honey, syrup or eggs. This one is a balance of cost, nutrition and simplicity to help get you started!
Now, keep going! Think about your most recent shopping trip and make a list of those muffins, cakes, pikelets, slices and so on that you would normally buy. Your goal this month is to try and cook a batch for 'now' and a batch to freeze for 'later' when you might need it but feel too tired to cook. Lunch boxes, visitors, late night nibbles, desserts - all taken care of by YOU!
We want you to enjoy baking, to appreciate those wonderful aromas wafting around your home and the feeling of satisfaction of a job well done! Share it with your friends and family - nothing says 'I'm thinking of you' like home-baked goodies. Go on, get baking - it can be as healthy and as easy as you want it to be. Please let us know how you go, and share your triumphs and photos with us on the Simple Savers Facebook Group or the Simple Savings Forum
---
Nothing beats the smell of home baking, and it's usually cheaper and healthier than store-bought as well. With the help of some great tips from the Vault, you'll quickly have a freezer full of home baked goodies!
I am $88 better off this month thanks to my new rule about buying bakery treats. The rule is if I can bake it I can't buy it. Having a baby made me determined to save and my main spending vice was buying snacks while out. Now I dig out recipes and make my own. In the past month I've made banana and passionfruit muffins (with passionfruit from our own vine), cupcake cheesecakes and pizza scrolls. These would have cost me $114 to buy but cost just $26 to make!
Contributed by: Kochanski
Here's a yummy (and forgiving!) recipe for pizza or focaccia; it's great for lunches and dinners!
Ingredients:
1 ½ cups self-raising flour
½ tsp salt
1 tbsp butter
1 cup shredded or mashed vegies
2 tbsp tomato paste
½ cup grated cheese
Method:
Rub the butter into flour and salt then add vegies. I use grated zucchini, shredded silverbeet or whatever is left in the fridge! If the mixture is too dry, add a splash or two of milk until you have dough. Press the dough onto a baking pan; I make it as large as needed to accommodate the toppings I have. Next, spread on some tomato paste (I have also used dips such as olive or hummus, just use what you have!). Finally, add your toppings and sprinkle with cheese. Bake at 160 for about 15 minutes and enjoy.
Contributed by: Hound Girl
Here's the easiest, most economical chocolate cake you'll ever make! All you need is three eggs and 160g of chocolate!
Preheat your oven to 160 degrees. Grease and flour a 10cm cake tin. Next, separate the egg yolks from the whites. Melt the chocolate in a bowl over simmering water, mix in the egg yolks and set aside. Beat the egg whites until stiff peaks appear. Fold the egg whites, a spoonful at a time, into the chocolate mixture. Pour the mixture into your cake tin and lightly tap tin against the bench to release any air bubbles. Bake for 30 minutes (cake does sink slightly when cooling).
Contributed by: L P
My mum always used this recipe for making sponge-style cakes. It is easy to remember and it's great for when you want to make something but only have one or two eggs left. Depending on the size of cake you want (or how many eggs you have left), use one, two, three or more eggs. Weigh the eggs together in their shells and use the same weight of each of the following:
Butter (or margarine)
Sugar
SR flour
Cream the butter and sugar, add eggs one at a time and beat in to the mixture (put a spoonful of the flour in with each egg, to stop the mixture from curdling). Fold the flour in with a metal spoon. Add a little milk or water if the mixture is a bit thick. You can use this mixture to make any of the following:
Patty cakes - cook at 180C for 10-15 minutes (small cases) or 15-20 minutes (large cases).
Baked sponge - put jam, stewed apple or tinned fruit in a Pyrex dish and put the sponge mixture on top. Cook at 180C for 30-40 minutes or until cooked.
Microwave 'steamed' sponge - prepare as per baked sponge but cook in microwave on full power for about 10 minutes until the centre is cooked. (It may need longer if it is a larger amount.) With this method there may be a thin layer of moist sponge left on top but the sponge underneath should be cooked through.
As you can see, this is a very versatile recipe! You can add your favourite flavours, such as mashed banana or chocolate chips or take out some of the flour and replace it with cocoa. I have also used one of the other ingredients as the 'weight' if I have been short on something or want to use something up that is close to the use-by date.
Contributed by: Lesley Smith
---
So you don't have enough time to bake something? Well, ten minutes is usually enough time to get something in the oven - a cake, biscuits or a slice. And then all you have to do is sit back and wait for the mouth-watering results. Here are some ideas from the Forum to get you started!
Quick, easy and versatile, who doesn't love a home-made pizza scroll!
read more...
Perfect for BBQs, dessert or afternoon tea - and you can freeze them too.
read more...
Nom nom... we'd love to... nom nom... tell you how good this recipe is... but we'd have to stop eating it first!
read more...
---
One of the many benefits of being a Vault member is that you can win $100 cash each month for your Simple Savings blog! Starting your own blog on the site is easy. All you have to do is log into the Vault, click on 'My Desk' at the top left, then 'Your Blog'. Then get writing! We love reading all your money saving trials and tribulations and really appreciate the effort that goes into each one.
This month's Blog winner is Paula who writes about her midnight gardening exploits!
"I have made some more progress and thought it was time to post again. It's very uplifting to see people have read what I've written so far, so thank you to those who have. :) Thank you for the encouragement and advice too. I hope I can offer the same to others once I figure some stuff out.
As to the progress... Granny told me that the Warehouse had punnets of vegies for good prices, so I went in the other day. (Who am I kidding? It was night. Working until 5:30, then feeding my son at my sister's, then buying potatoes and eggs THEN buying plants meant it was definitely night.) One punnet for $3.19. I got home after traffic delays at about 7:30, cooked tea for everybody, put my son to bed and then went out into the garden. No, auto-correct, did not make that up.
Gloves on, trowel out and planting in the dark.
I had read that it's better to plant at night so the plants have a better chance of bedding in (or something), so that's what I did. There were other contributing factors to this night-time green-fingered-ry, one of which was that I have a horrible tendency to just let the plants die in their punnets. This sounds wasteful but our gardens aren't actually big enough to hold all the broccoli, cauliflower and silver beet that my husband decided to purchase. (Bless him. He built the garden beds and wanted to fill them...) I'm not entirely sure the small nation that all those plants could feed would actually have enough land mass to bear that many plants, but there we go. (Although there are those vertical gardens that they do in Guatemala...) I digress. Frequently. Wait, one more: pet peeve - why do they sell you six tomato plants in a punnet? Is that to compensate for a supposed plant mortality rate, or is it for the obviously-more-dense-than-I-realised Italian population in Whangarei, that will be making mama's passata by the barrel-full come harvest time? And not just tomatoes. Who needs six heads of broccoli at once? Or THAT MUCH SILVERBEET? *breathe*
Where was I? Ah yes, planting in the dark. Another reason for this was that it hadn't rained for quite some time (days, you understand, this is Whangarei after all), and I didn't want the poor things (two broccoli, two cauliflower and two cabbage) to wither up and die. So planted, watered and slug baited beyond reasonable doubt, I left my little darlings to it and went to bed.
In the morning (who am I kidding. It was night...) When it finally got light enough to see next day...I looked out my kitchen window, was momentarily confused by all the green (did I mention the slug-bait?) and the plants WERE STILL THERE. This may not sound amazing, but given that the last lot of lettuces I planted literally disappeared overnight (picture me standing by my garden bed, looking confusedly at six empty spaces, hoping desperately that a dose of baby-brain hadn't caused me to IMAGINE planting lettuces...) The subsequent mass-murder of the local snail and slug population was regrettable, but also quite satisfying. Anyway, now you understand my excessive use of slug bait. The point is, so far, so good. And it rained. Kinda hasn't stopped really. Not such good news on the washing front, but my plants are happy. Including the self-seeded tomato that I have put a support-framey-thingy up around, even though I know it's not the right season, because frankly, it looks good there, in my half weeded, half planted garden bed.
What else have I done? The rose garden (it's as much an 'old iron wood stove' garden as a rose garden, but 'rose' is easier to type), has been (mostly) weeded. I did request that the latest lot of lawn clippings be put on it to keep the weeds down, but some people need their instructions one-at-a-time, at-the-time, so it didn't happen. Gives me a chance to get rid of the bark and weed mat and throw on some banana peelings before the next mow, though, so: 'positive thoughts'
Must go. Have chocolate mousse to test, (dairy-free, gluten-free), vegies to roast and a (Dad's) birthday dinner to get ready for.
Have a good week (or so) everybody."
Well done, Paula - we look forward to following the rest of your adventures!
You can read more of our members' blogs here.
---
We're now moving into the slow time of the year for our seasonal business, so I'm scouring the fruit market for bargains to turn into yummy meals. I'm adding to my pantry stores, so that we've got a bit of a stash of loo paper, toiletries and dog food. We're trying to follow the Michelle Bridges' plan too, so this is an additional challenge! We've also saved long and hard to go on a cruise later in the year, so making sure we have spending money and a well-stocked pantry and freezer to return home to, is a priority.
This week I found a whole range of 'ugly produce' at my local fruit market, which was all priced at just $0.99c a kilo or thereabouts. I snapped up four kilos of Roma tomatoes, three kilos of plums, a kilo of limes, two kilos of beans, four kilos of sweet potato and some beetroot. Then I spent one entire morning peeling and preparing it all, to make it easy and accessible. This really is key with cheap fruit and veg and also with less expensive cuts of meat. It keeps better, looks more appetising and, with correct storage, will last as long as the 'perfect' stuff that's twice, three or four times the price. Also if it's all ready to go, then simple delicious meals or snacks are as available, tasty and fast as the more traditional and far less healthy snack foods or fast foods. So there's another saving on not having to include those things in the grocery budget.
First up was roasting the Roma tomatoes. I lined three baking trays with baking paper, sliced the tomatoes lengthwise, getting four or five slices from each one, and lined them up closely on the trays. A sprinkle of balsamic and a grind of pepper and into the oven they all went, for around an hour to an hour and a quarter, at 160C fan forced for the first 45 minutes, then at 190C fan forced for the last 15-30 minutes. This ensures that the tomatoes dry slightly, then caramelise without shriveling up to nothing.
Keep an eye on them for the last 30 minutes though so they don't burn black. As they're done, you remove the trays from the oven and use tongs to pick them up and transfer them to a sealable container to refrigerate.
I did this three times... yes... nine trays of roasted tomatoes...but they do shrink down so it's not as hard to store them as you might imagine. I just put mine in a shallow rectangular container with a lid and into the fridge they went. So far, we've eaten them as:
Snacks:
Corn thins with smooth ricotta and roasted tomatoes.
As a topping on toast.
On plain rice crackers instead of cheese.
Lunches:
With gluten-free macaroni, a little Parmesan and some fresh basil.
Tossed through a rocket and spinach salad.
Chopped and baked with an egg and some seasoning into ricotta to make a loaf to slice and have on toast, over a salad or on crackers.
Dinners:
On turkey mince burgers (really yummy).
On top of fish fillets which I then wrapped in foil and baked... delish.
As a stuffing for chicken breast fillets with a little cubed feta... just cut a pocket in the chicken breast and push the filling in, then bake.
Stirred through risotto.
Sandwiched in between sweet potato hash browns with a bit of ricotta and baby spinach leaves.
So four dollars' worth of tomatoes and a bit of effort has formed the basis of three snack ideas, three lunches and five dinners for us this week. There are three lonely slices left now, and I'm hoarding them for my breakfast tomorrow. :) They were so yummy that I'm hoping I can score a similar bargain this week.
The plums were eaten as is, chopped into home-made yoghurt for breakfasts, poached to have as a healthy dessert or snack, and some frozen for later. I zested and squeezed a couple of the limes for meals on the menu for the week and candied the rest, adding the candied limes to trail mix for DD and DH. The beans were a little tedious, but I topped and tailed them all, discarding a very few, put them into resealable bags and put them in the crisper to blanch as healthy snacks, additions to salads or sides for meals. I peeled all of the sweet potatoes, diced some and froze them, cut some into lengths and roasted them for a roasted vegie bake and grated some to make the sweet potato hash browns. The beets I just baked whole in foil, then peeled and quartered and we eat them like fruit. Yummy.
What bargains have you found and how have you made them stretch into a meal or several meals?
You can get updates on Mimi's new blogs on the Simple Savings Facebook page
or in our Members' Blog section.
---
Hi there folks. A bit has happened since the last blog post here on SS so thought I'd give you all a bit of a short tour through the patch to catch you up.
A month and a half ago we managed to harvest a couple of very nice sized fish from the aquaponic system.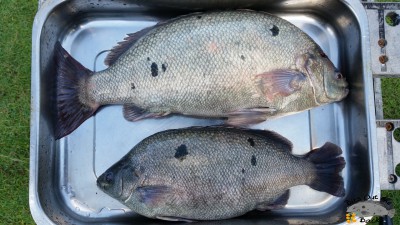 The largest of the Jade perch was around 1.5kg/3.3lb and the smaller one was around the 800g/1.75lb mark.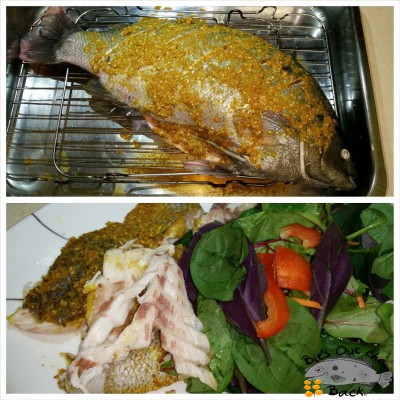 We cooked up the largest fish, dressed in a paste made with home grown turmeric, galangal and shallots. It went down really well with a side of home grown salad.
A few days later I had a very large mishap with the system. I was showing some folks our large two plus year old Jade perch and turned off the water flow into the tank so they could get a better look. I got distracted and moved onto another part of the garden, forgetting to turn the water back on. The next morning I came out to 10 x 1kg+ fish all dead in the tank.
I must say that I was truly upset with myself for making such a basic mistake but it is one I'll never make again. On the up side, after the fish were buried under a future garden and the tank was scrubbed out, around half the fish from the aquaculture/fish farm were moved into the aquaponic system. I was very pleased with the size of a few of the fish that were weighed.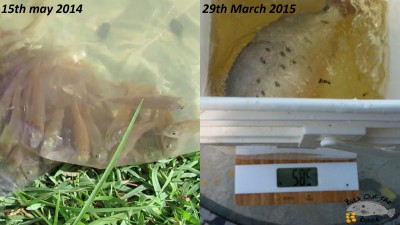 One of the goals I had when this system was built was to raise a plate-sized fish (500g/1lb) in 12 months. While the majority of the fish were under that there were quite a few that were over the 500g mark.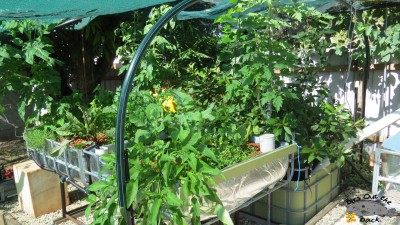 The rest of the aquaponic system is powering along. It has been supplying us with loads of Okinawan spinach, sorrel, flat leafed parsley and kang kong (Chinese water spinach). Since the last blog I've also added some collards, rice paddy herb, carrots, upland cress, beetroot and some Malabar spinach and mushroom plant, that were given to us by a couple of very generous visitors who came to check out the system and patch (thanks again Darren and Neil).
The ginger in the aquaponics is also going great guns.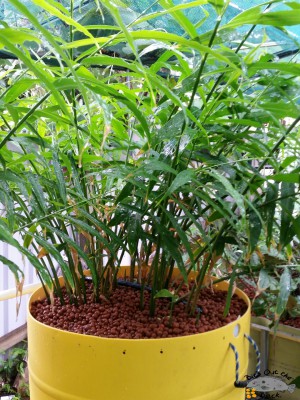 I think it will give us slightly more than the plants out in the soil beds by the look of it. Seeing how well it's performed so far, it has got me thinking I might set a few barrels like these aside just for ginger and galangal production next season.
Dad and I just finished a new stand for a fourth media grow bed that will be home to some celery and other greens.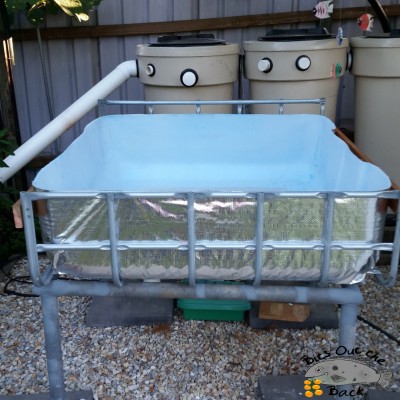 I was hoping to have it finished by Sunday (today) to show a local Permaculture group coming to have a look at the aquaponic system but ran out of time unfortunately.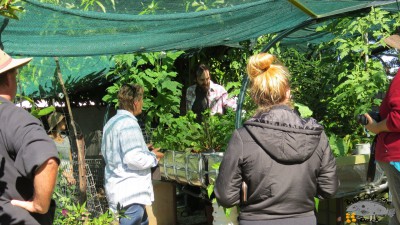 It was great to have more folks come through to check out the system. I do tend to get caught up in the technicalities at times so I hope I haven't scared any of them off the idea of having a go at raising their own fresh fish and produce. ;-)
The carrots that were just sown out in the previous blog are doing marvelously at the moment.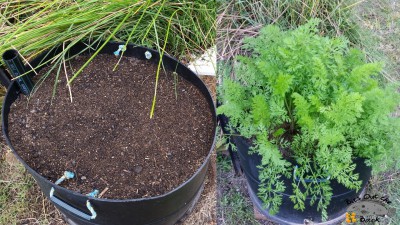 These were the mix of saved seeds and some that were sent to me by a mate from up north. So far I've been very impressed with how well Kira's have gone and am really looking forward to using them in a few meals. Not all the other seedlings from the last blog fared as well as the carrots. We have been hit fairly hard by grasshoppers this season and lost a number of the seedlings to them unfortunately. I did manage to save the collards, upland cress, okra, most of the cauliflower, broccoli and perpetual spinach but lost the squash, angled luffa and miners lettuce.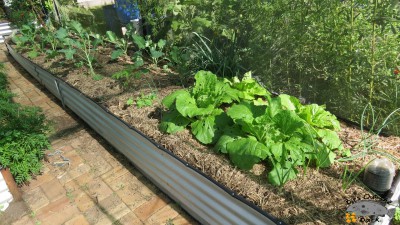 I managed to pick up some more cauliflower and broccoli to fill the gaps so not all was lost, with four of the broccoli making it to a wicking bed in the front yard.
I have started to get a bit of cabbage butterfly caterpillar damage on a few of the brassicas so I sprayed them with some BT 'organic' caterpillar mix, and it looks to have kept them at bay for now. I hope to have the insect netting repaired and in place over the main beds by next weekend. I'm also sowing out some more American upland cress' as a bait crop to attract and knock off the cabbage butterfly caterpillars that may decide to feast on the brassicas out the front.
The dwarf tomatoes that were planted out in the soil patch were only wee babies when the last blog was posted but have shot up well.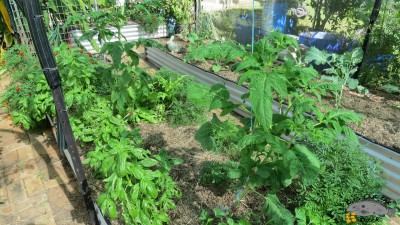 None are fruiting yet unlike their sisters in the aquaponics but they have started to set a few flowers.
For those who are interested, at the end of the clip below there is a comparison between the growth of two lots of tomatoes that were planted out in the soil and aquaponic beds at the same time.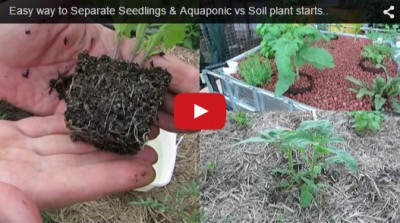 The plants in the aquaponics now have a few fruit set with more flowers appearing regularly.
Around 50 cloves of garlic have been planted out into the patch this season.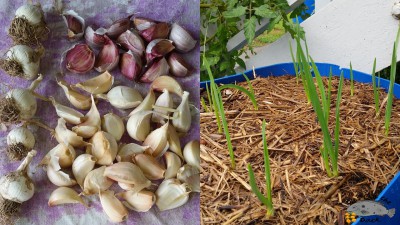 I have popped in five of our 'volunteer' Glen Large garlic from last season along with some Red Creole and Silver Skin varieties. The five Glen Large went into a bed in the main patch with the two other varieties going into wicking barrels. As we live in a warmer climate I like to chill down (vernalise) the cloves for three to four weeks before they go into the ground. This process tricks them into thinking they have been through a cold winter and I've found they perform a lot better, grow more vigorously and give us larger bulbs/cloves come harvest time.
The Tahitian lime tree has been a great producer for us over summer.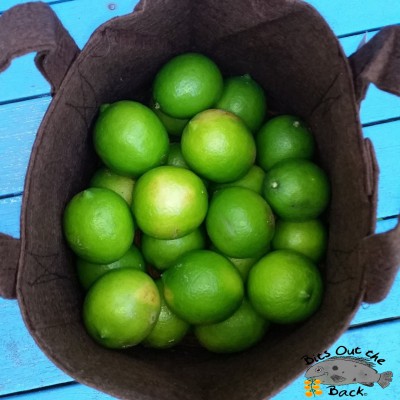 At the moment we're taking around 10 fruit off the tree a week. Many have made it into juices with a few going into Bianca's work as giveaways.
While walking the patch today Bianca came across a praying mantis egg sack, or ootheca, on the lime tree.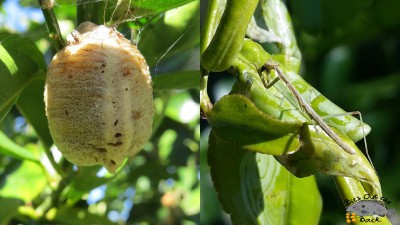 I have seen a huge increase in the amount of praying mantis over the warmer months so am hoping these little fellers will help keep a few pests at bay. I have found a few on the other citrus like the Kaffir lime in the picture above.
Seven pouches of potatoes have been planted out up the side of the house this week. Luckily here in subtropical SE Queensland we are able to plant out spuds twice a year; spring and autumn. This position was chosen as it faces north and will receive the winter sun.
This time round I've used ten store-bought potatoes in five pouches and six of our own home-grown purple Congo potatoes in another two pouches. I know many folks suggest you should use certified seed potatoes as there is a chance you could be introducing diseases into your soil with store-bought produce. As I only grow in containers and not the garden beds I'm not too concerned about this. If you're concerned about introducing diseases into your patch you'd be better off sticking to certified disease-free seed potatoes from reputable suppliers I think.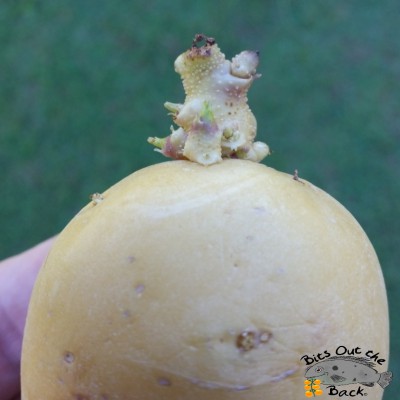 These spuds were left to 'chit' or sprout in the pantry for about eight weeks to give them a bit of a head start before planting out.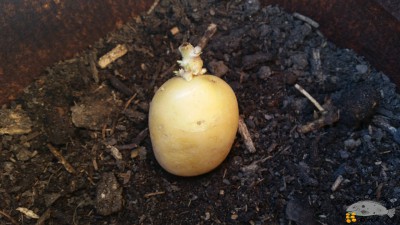 All but the strongest looking eyes were removed from the potatoes and they were popped on top of 150mm/6" of compost with the growth points facing up. The pouches were then filled until the sprouts were covered with 50mm/2" of compost. Once the greenery gets to be about 200mm/8" high more compost will be added to encourage spuds to form along the stem.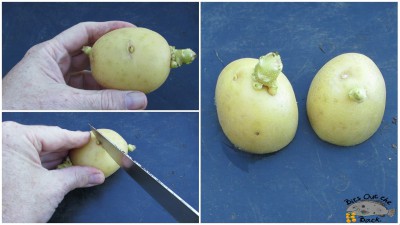 Some folks like to cut up their seed potatoes so that they have an 'eye' or growth point on each piece to increase the number of plants they grow from a single potato. Once cut into sections, they are left for a while until the wounds have healed before planting out. I've found that method doesn't work well for us here, I'm not sure if it's due to our warmer climate or something I'm doing wrong. ;-)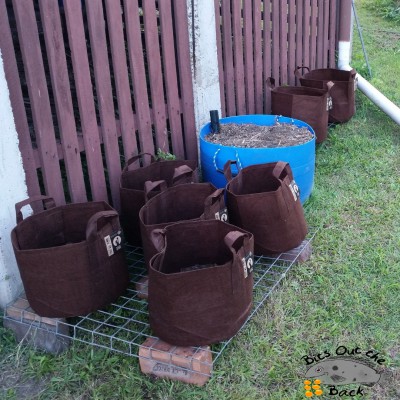 Hopefully we'll get a half decent amount of spuds from these by the end of winter.
The poor old banana plant got battered in a storm and the 'branch' with the fruit ended up lying down.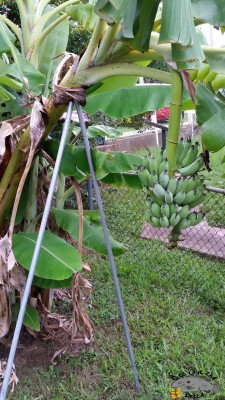 I didn't do the best job at propping it up and think I killed off the stem completely.
The bananas had to be cut from the plant a bit early and I don't think they had developed fully and were a tad small.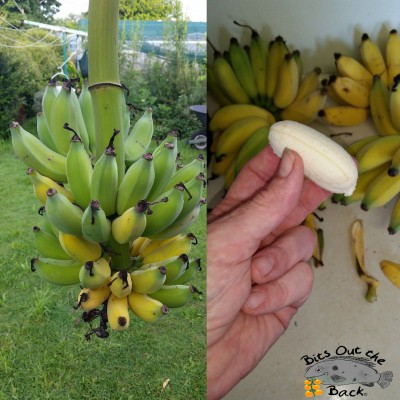 The bunch was hung up under the house for eight days before the first fruit started to look ready. Surprisingly though, the rest of the hands started to colour up overnight and it didn't take long for the majority of them to be consumed. I did leave one hand aside to see how long they would still be edible and was rather surprised that while the skin looked black on the outside the fruit itself was still very tasty after another week and a half, much longer than store-bought fruit. I'm unsure though if this is due to the variety or the fact that the fruit was harvested prematurely from the plant.
Another harvest we've had from the front patch was the sweet corn.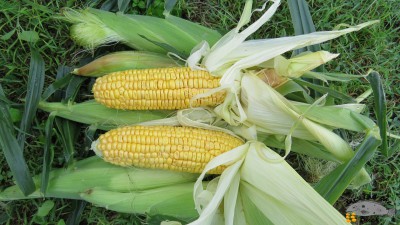 While the corn hasn't done fantastically well for us here this season we have enjoyed the small harvests. This lot was left on the plants a week too long I think by the look of the slightly dimpled kernels but still tasted great when cooked up.
So there you go, folks, there's a bit of a brief update on how things are going in the patch mid-way through autumn. I hope you enjoyed the wander through the garden and are having fun tending your own no matter how large or small it is.
Have a great one,
Rob : )»
You can get updates on Rob Bob's new gardening adventure blogs on the Simple Savings Facebook page
or in our Members' Blog section.
---
Last month Teena emailed us asking for Simple Savers' favourite sauce recipes:
"My family loves sauce with their meals, all sorts of sauces! It occurred to me recently that I could be making my own for a fraction of the cost and they'd probably be tastier and have less sugar. So I'd love to ask fellow Simple Savers to 'get saucy' and share their favourite sauce, gravy and even chutney recipes - mint, tomato, BBQ, black sauce and so on. I'd love some tried and true recipes."
We got some fantastic ideas for Teena! Here are some of our favourite replies:
One of my recipes that everyone in the house loves (especially the little kids - amazing!) is a super one and very simple!
Get a lot of capsicums at the time of year when they are ridiculously cheap (red, orange and yellow taste best). Remove the pith, de-seed them and slice into halves or thirds length-wise. Grill skin side up under quite high heat and moderately close to the flame/heat source. When skin is burnt black, flip over to cook flesh until soft.
Once cooked, put into ice-cold water and peel off the skins. Chop strips and put in blender to blend for either a chunkier sauce or a finer soup. Simmer in a pot on medium heat - now you're ready for either pasta sauce or soup.
For a pasta sauce, you can add for taste: tomatoes (tinned/fresh), garlic, onion, oregano, salt, pepper, sugar and a small amount of stock. As the sauce cooks it will get sweeter as the tomatoes, garlic and capsicum break down. I use the sauce over some beautiful artisan pasta, but of course you can use cheap pasta or make your own. It goes really well with chopped chicken breast and can be served over a breaded chicken fillet like chicken Parmesan. I also like a bit of a sharp cheese sprinkled on top as well.
For soup, add cream and more stock (preferably chicken). You can also add carrots or celery and serve with a bit of Parmesan cheese on top and crusty bread.
Generally the serving size per person is half a capsicum for sauce, one capsicum for soup.
The beautiful part of this recipe is that you can freeze into quantities as you go along - grilled capsicum, capsicum puree, sauce or soup. Nothing like a beautiful capsicum pasta when capsicums are costing $5.00 each and you bought yours at just $0.50c each!
Contributed by: L Barr
Easy tomato and zucchini (or red capsicum) relish
6 tins diced tomatoes
2 medium zucchini, grated (or 1 medium red capsicum, finely diced)
2 large onions, finely diced
2 tsp each of paprika, mixed spice, curry powder and salt
1 tsp each of crushed garlic and white pepper or chilli flakes
2 cups white sugar
2 1/2 cups vinegar (white, brown, apple cider or spiced white)
2 heaped tbsp arrowroot or cornflour mixed to a paste with a little vinegar
Mix arrowroot or cornflour and extra vinegar in a small jug and set aside.
Put remaining ingredients into a large pot, stir well till sugar is dissolved and bring to the boil. Reduce heat to medium and simmer for 30 minutes, stirring occasionally and skimming foam from the top.
Meanwhile, wash and rinse 10 x 375ml jars and lids in hot water and put in an oven on 100 deg celcius to sterlilse.
After cooking time, add enough arrowroot or cornflour paste to mixture to thicken then bottle and seal whilst hot. When cold, label and date then store in a cupboard. Refrigerate once opened and enjoy. Makes about 10 jars. Lasts at least 12 months.
Contributed by: Linda P
I make this sauce for the vegans that stay at the camp I work at. (All I have to buy is an egg plant as I don't grow these).
Vegetable sauce
2 large green capsicums, thinly sliced
6 tomatoes, skinned and sliced
2 zucchini, thinly sliced
1 eggplant, cubed
1 cup celery
3 onions, diced (I only use two and grate them)
2 tbsp oil
Cook the onions till golden. Add the rest of the ingredients and simmer for about one hour. Serve over pasta or rice.
I make this when the vegetables are in season and freeze it.
Contributed by: Robyne N
---
Well, that's your Simple Savings Newsletter for May and we hope you have enjoyed it. We hope you enjoy your baking challenge this month and we can't wait to hear all about it!
Our members are hugely important to us and we love hearing from you all! So next time you're on the website, why don't you get in touch and say 'G'day'! Let us know what you would like to see more of in our newsletter or any suggestions you have for something new to try. We love receiving your clever ideas!
Don't forget to spread the love around to your family and friends too by forwarding them our newsletter or letting them know about our website. Help make their lives easier and save them money too! Or tell them about our Simple Savers Facebook Group.
Till next time...
All the best,
Fiona