Hi,
Hello and welcome to our March newsletter. How are you going? I hope you had a great February. This month we are going to focus on saving the planet and fattening our wallets by reducing the packaging in our lives. But, before we go there we would like to send out huge congratulations to our Simple Savers Facebook moderator Josh Wood and his wife, for being such brilliant SSers, doing all of the Simple Savings things and purchasing their very own first home, as a young newly wedded couple. They are off to a great start!
You can see the post here in our Simple Savings FaceBook group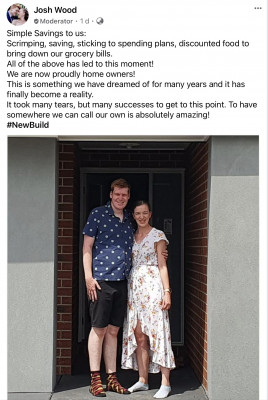 ---
Our March calendar challenge is to reduce, reuse and recycle our packaging. This will help you save money, save the planet and help your home to be a beautiful place.
One area people often waste money on is buying supplies to wrap gifts. A way around that is to create your own gift wrapping stash by rounding up all of your gift giving bits and pieces and storing them in one place. Some things that could go in your stash are:
Paper bags
Ribbons
Fabric scraps
Cardboard
Tags
Bows
Glitter
Paint
Pencils
Paper
Stamps
Fiona used to think cling wrap was essential. Something everyone used and every kitchen needed. But, since the Simple Savings first Reduce, Reuse and Recycle Challenge. She almost never uses cling wrap. She has learned there are loads of things you can use instead. These are:
Easy to stack reusable containers
Upside down lid on a bowl
Upside down bowl on a plate
Washable zip lock bags
Glass jars
Sandra used to use plastic wrap in the microwave till she bought two plastic microwave plate covers, from IGA for half price. They're also great for covering meals when eating and entertaining outside.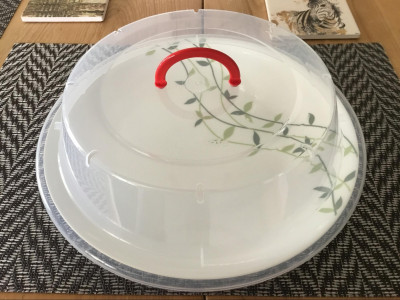 Sandra also bought herself some reusable snack bags. They can be taken out of the house and snacks can easily fit into a handbag or backpack without being too bulky and they'll flatten when they are empty. They can be easily wiped out, and reused and it saves throwing plastic wrap away.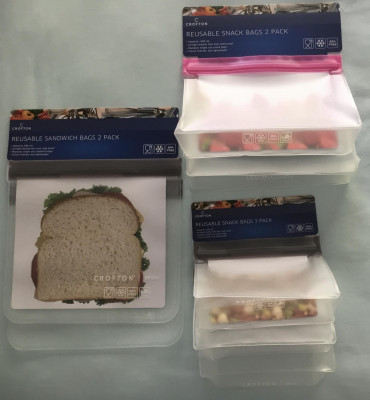 ---
When Sandra thought about the 'reduce the packaging challenge' she decided she could stop using plastic bags to line the bin on her tea.
For many years Sandra kept a 'little itty bitty' lined bin, at her tea and coffee station, to put any used Tea Bags, and foil from milk tops and so on, in. She used to line the bin with small freezer bags. But, decided the bin liner was wasteful and wanted to stop using it. She found a pair of unused white 'easy to wash' Latte Mugs in the cupboard and started using them as 'linerless' bins.
Sandra's Mr likes to reuse his teabags because sometimes some tea bags can be a bit too strong. He puts them into the little dish.
Sandra doesn't have a fancy tea and coffee station because her Mr likes to cling and clang things. So she uses Mason Jars with screw top lids (as pictured).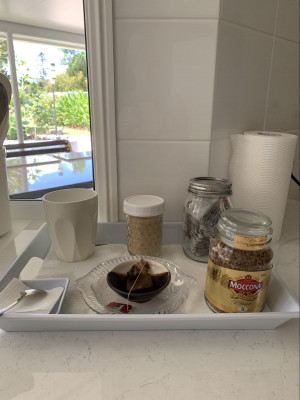 What do you use for storing your tea, coffee and so on? Do you have a fancy setup on your benchtop or do you have a special other place to keep them out of sight?
Sandras is simple, cheap and effective. They don't have a very big kitchen, so often there's not a lot of room for two people to stand in it and open cupboard doors, so this is very convenient.
If you would like to chat about your tea station or how you're cutting excess packaging from your life. Come and join us in the Forum.
---
We're sure that many of us are counting down the days until we can go on holidays or that we can travel again sometime in the future. This one will be most useful for then…
'Glenda says she packs 6 wire coat hangers, plastic pegs and a bar of Sunlight Soap.
Glenda says that she takes the bar of Sunlight Soap as normal soap suds up too much.
Wash clothes each night and peg/hang the clothes onto the hangers. It's amazing where you can 'stick' a thin coat hanger. She's placed them on the air/con slats, up under lamp shades, off curtain rails. Are you getting the picture? Yes, and even on pictures.'
What a great hint! We're sure it will help us all to pack less, because we can wash things. It will help to use up some of those hangers because they seem to like to breed.
Contributed by Glenda H
I'm sure us girls like to pack a lot into our handbags, especially if we are going somewhere.
One thing I don't want to be caught without these days, are the accessories needed for my iphone. I never know when I might need them.
So keeping in line with our packaging challenge, and always thinking about reusing, reducing and recycling. I had a good look to see what I could find at home to put in my handbag, to keep things together so I don't lose these things. Face it, they're too expensive to lose or to have just floating around in a handbag.
I had tried to find a pencil case at the shops for my iPencil but none were long enough or small enough width wise to carry with me. So after a good look around at home I found this, clear plastic case with a zip, which was the packaging for something else. It does the trick perfectly and I can see what I need easily without having to dig around.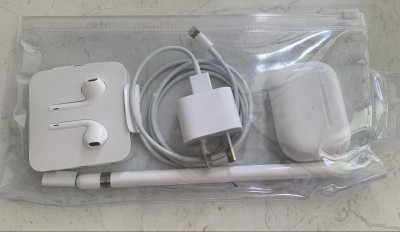 ---
Here is a great example of re using some packaging, by Suzy Caddy from over on the Simple Savings Forum. Suzy writes…
Here's a tip for making placemats from toy packaging boxes. Instead of throwing away the boxes that your kids favourite characters come in.
Carefully cut out each character or section.
Then using a laminator, and a glue stick, glue a spot on the back of the cardboard cut out and place it on the inside bottom of the laminator sheet, to keep the characters in place.
Then laminate.
Looks great with the clear plastic around the characters and kids love having them.
It only does A4 size, but that's a great size for toddlers.
Suzy writes that she just made these for grandson using Marvel Characters from the box their Christmas present came in. As she had to split the characters up between each boy.
---
Claire is running this month's packaging challenge in the forum. If you are a Simple Savings VAULT member and you would like to join in. Here is the link
---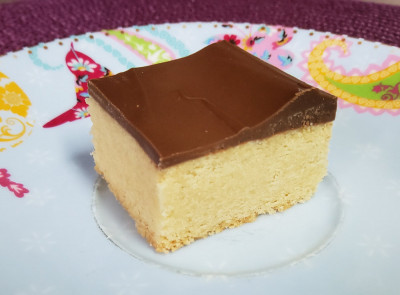 Here is a super easy Shortbread Recipe that you might like to try.
230 grams of cold butter, cut into cubes
60 grams of caster sugar
60 grams (½ a cup) of pure icing sugar
1 ½ level tablespoons of cornflour
300 grams (2 cups) plain flour
Pinch of salt.
100 grams cooking chocolate
2 x Loaf tins or baking tray
Grease proof paper
Preheat the oven to 170⁰C - 180⁰C.
Line your loaf tins with greaseproof paper.
Put the butter, caster sugar, pure icing sugar, cornflour and plain flour into the bowl of a food processor. Add in a pinch of salt.
Secure the lid. Push start and process until it forms a dough ball.
Scrape out of the bowl straight into the loaf tin. Push the unbaked shortbread mixture into the tin and mould with your fingers, flatten and then bake for 20-40 minutes until golden brown.
While the shortbread is cooling, very carefully melt 100 grams of cooking chocolate by breaking up the chocolate and placing it in a bowl. Then zap in the microwave for 30 seconds and stir gently.
Then zap again at 10 second intervals, making sure you don't seize the chocolate, until it's all melted.
Then carefully pour the melted chocolate over the cooked, slightly cooled shortbread.
Lift the chocolate coated shortbread out of the tin when the chocolate has set.
The messy chocolate edges will come off with the paper.
Cut the shortbread into slices, very carefully, using a sharp knife.
PS - if you like more chocolate then double the amount of chocolate.
Thank you for joining us for another newsletter.
Sending out another really big thank you to all of those people who take the time to write to us!
We hope that you have a jam 'packed' month full of great Simple Savings thoughts and ideas to help get you where you financially want to be.