$21 Challenge Mystery Recipe
Free $21 Challenge Tools
Elora's Favourite Bits
New Competitions!
No-Spend Challenge Competition Winners!!
The $21 Challenge Book - Get One Before They're All Gone
---
Hi,
How are you going? I hope you are having a great Easter. Our newsletter for this month is dedicated to the powerful $21 Challenge. In March 2009, nine years ago, I wrote the $21 Challenge book while pregnant with my youngest child, Elora. This March, in 2018, Elora found a copy of the $21 Challenge book on the shelf. She glanced at the title, opened to the first page then devoured the whole book. She loved it, reading and commenting all the way to the very last page, "Mum, this book is really good", "Mum, this is heaps funny!", "Mum, have you heard of ingredient blindness?", "Can we make 'Fiona's banana thickshake' but make Tristan do all the work?" and "Mum, can we do a $21 Challenge?".
It was incredible. I can't believe something that we all built together, could travel so far and for so long.
This month, I would really like to hear your $21 Challenge stories.
How has the Challenge affected your life?
What was your best Challenge moment?
And, what is the strangest thing you have ever eaten on a $21 Challenge?
To encourage you to send us your story we are giving away 6 x $50 prizes. (More info below.)
I look forward to reading your stories and sharing them with Elora.
Happy Easter :-)
Fiona
P.S. We have about 200 copies of The $21 Challenge book left in stock. If you would like one, click here.
---
Q. What do you get if you cross a tin of asparagus with a cup of rolled oats?
A. $300.00 safely saved in your pocket.
(This is not a random joke, it's a consequence of doing the $21 Challenge.)
Have you made it this far into the newsletter but are cursing, "WTF is a $21 Challenge!"? Read on!
The $21 Challenge is a fad diet for your wallet. You limit your food spending for one week to $21. The average weekly grocery bill for a family of four is around $320.00. That's how you safely save $300.00 in your pocket.
The simplest way to do the Challenge is to plan your meals and snacks using the food you already have in your fridge, freezer, garden and pantry. At the start of the week, this is easy. But, as your week progresses, your ingredients will start to run out and you will need to get creative. By the end of the week you may be asking yourself, "What can I do with a can of asparagus and a cup of rolled oats?".
It is funny you should ask that because I've got a great recipe for Asparagus Oatcakes. (And they are delicious.)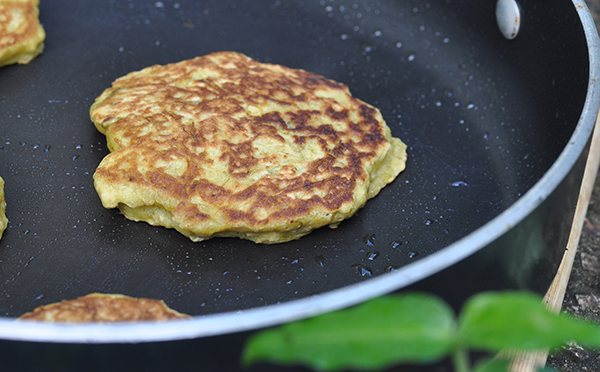 Asparagus Oatcakes
Ingredients:
60g melted butter
1½ cups self-raising flour
½ tsp bi-carb soda
½ tsp salt
1 cup of quick cook oats
1 tin asparagus
2 eggs
1 ¼ cups milk
2 tsp crushed garlic
1 tbspn sweet chilli sauce
Dash of olive oil
Method:
Sift flour, bi-carb and salt into a large bowl. Add oats to the bowl and stir them through. (Dry bowl)
Drain tin of asparagus. Mash asparagus in a medium sized bowl. Add eggs, milk, garlic, sweet chilli sauce and melted butter. Stir them together. (Wet bowl)
Add ingredients from wet bowl to dry bowl. Stir them together.
Heat a large frypan to a medium heat. When warm, add a small drizzle of olive oil. Dollop spoonfuls of mixture into the pan. Cook for about 3 minutes on one side, then turn the oatcakes. Cook for another 2 minutes or until golden brown.
Serving suggestion: The oatcakes taste delicious with a Thai dipping sauce.
---
We have loads of free printables to help you on your Challenge. Click on the image to download the printable.
---
Elora reminded me that when I wrote the $21 Challenge book I wanted it to be inspiring as well as useful. Sometimes it can be hard to see the forest for the trees so, when writing this month's newsletter, I asked her; "Elora, what are your favourite parts of the Challenge book?"
"I bookmarked them Mum," she said, "I'll grab the book and read them to you."
And, off she ran.
Elora read her favourite parts of the $21 Challenge book to me. Here they are:-
Husband 'training'
I decided this week was going to be a $21 Challenge week in our house. You should have heard my hubby!
Elora: "It says hubby, but I'm pretty sure it means husband."
First, he asked when I was going shopping because there was no peanut-butter, although we had vegemite and three types of jam. Then he complained there were no apples - I told him there were fresh pears and tinned peaches. Next I got told there was no cheese. Which really meant there was no sliced cheese as there were two blocks he could slice himself. Finally, he tried to tell me there was no bread, so I directed him to the 36 burger buns, 36 hot dog rolls, 6 bread rolls and 12 pizza scrolls in the freezer. But, let's not forget, "The cupboards are empty"! (Page 25)
Fiona's Banana Thickshake
When it comes to making banana thickshakes for breakfast in Fiona's house, two year old Tristan has declared he is in charge of the morning ritual. He gets the milk from the fridge, hands his mum the eggs, then puts the sugar, bananas and ice in the blender jug. Then he puts it all away again and heaven help anyone else who tries to do any of this without his permission. The rest of the family are allowed to help by opening the fridge door because he can't do it himself and Fiona does all the dangerous bits, such as attaching the jug to the blender and switching it on. The hardest part is keeping a straight face! (Page 111)
Fiona's life planner (Page 100-101)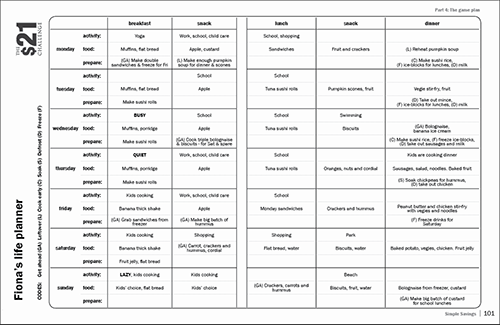 If you would like to see the full size version of this life planner, click on the image.
---
This month we are running three competitions. Each competition has 2 prizes of $50.
To enter, send in your story by April 20th. Email your entries to: competitions@simplesavings.com.au
Competition 1: How has the $21 Challenge affected your life?
Competition 2: What was your best $21 Challenge moment?
Competition 3: What is the strangest thing you have ever eaten on a $21 Challenge?
We are really looking forward to hearing your best, worst, funniest and most creative results from doing the $21 Challenge.
---
Here are the winners from our No-Spend Challenge competitions. We had so many fantastic entries. Thank you to everyone who shared their experiences and tips. We hope you'll agree that this month's winners are well-deserving of their prize and title.
Our winner for "How I avoided 20 non-essential purchases" is forum regular, Bargain Hunter. Here is how she did it. Amazing!
Emailed friends rather than phoning or texting.
Made a cake for a special occasion instead of buying one.
Offered labour (helping friend to paint) rather than buying a present. Knew this was a much more practical gift for her.
Borrowed party platters instead of buying new or disposable ones.
Made homemade Baileys rather than buying a bottle. It is surprising how little alcohol is actually in homemade Baileys. There are loads of recipes for this on the internet.
Borrowed chairs instead of hiring.
Used proper cutlery I already had rather than buying disposable ones.
Used cloth napkins and tablecloths rather than buying disposable ones.
Decorated with fresh flowers and greenery from the garden rather than buying balloons or fresh flowers.
Used our Christmas fairy lights rather than buying party lights.
Have made a plan with friends to babysit for each other instead of buying presents.
Have made a plan with friends to borrow and lend my gardening tools (lawn-mower, chainsaw, lopper etc. in exchange for borrowing their pressure washer, whipper snipper etc.).
Poured boiling water on weeds instead of buying weed spray. So much nicer than the smell of all those chemicals and the weeds died instantly too. Will never go back to using weed spray.
Used wasted shower water in the garden (saved the water usually wasted while waiting for the shower to heat up).
My garden tap was leaking. I bought a new washer and replaced it myself using YouTube videos rather than calling a plumber. So easy.
Planted some Cosmos flower seeds that will flower in time for my daughter's birthday so that her party surroundings will look beautiful. I won't have to buy expensive plants for her party.
Two free second-hand ceiling fans with lights from Gumtree. Saved me buying fans for our bedrooms.
Washed my doona in my washing machine and dried it on the line rather than taking it to the launderette or having it dry-cleaned.
Carefully washed my daughter's debutante dress in the bath, with wool wash, instead of dry-cleaning it.
No buying café coffee/tea.
Our winner for "How did you avoid 50 non-essential purchases?" is Di Mill.
Well done Di!!
Frugal February was perfect timing for our family. It is a quiet time of the year for us financially (sales rep) so a great month to both watch what we spend and focus on not spending on non-essential items. Watching and focusing turned out to be what we needed because a family member ended up quite ill and in hospital at month's end. As he is intellectually impaired we made daily hospital visits. We have another family member staying with us until the illness and hospital stay is resolved. If we hadn't been doing a 'no-spend' month, I think we would have been under financial stress. It is a stressful time anyway, without worrying about paying bills and the like. Here is what we did to avoid spending money on non-essential items:
Skin care/beauty
I ran out of organic face moisturiser. To replace it was $60. I found a recipe online and made my own instead. I love it!
I used up my favourite face cleanser but after cleaning out my bathroom cabinet I found another that works just as well.
I needed to buy foundation. I had previously tried mineral powder but didn't like it. After some research, I read that you could add serum or moisturiser to the mineral powder to make it like liquid foundation. It worked perfectly and I'm happily using it every day.
I was out of blush - I used cocoa powder - it works!
My favourite facial scrub was depleted but at $65 to buy another, I found a recipe online and made my own.
I ran out of facial serum ($80 to replace) but I found an online recipe using essential oils I already have so I made my own.
I was overdue for a pedicure but I made a foot-soak from a recipe on Pinterest and did my own pedicure.
I was due for an eyebrow wax, but I plucked them myself.
I had booked a facial but I cancelled the appointment - a luxury I could not afford.
Food
Kombucha - I usually buy a bottle every few days ($6.80); I made my own instead.
Bliss balls - I love to buy them from the health-food shop as a treat - I made my own using ingredients I already had - I like mine more than the store-bought ones.
I have an early ballet class once a week followed by breakfast with a friend. I prepared a green smoothie and took with me to the café instead of ordering food.
Menu planning has stopped random take-away nights (due to not having food in the house or the time to organise a meal).
Instead of buying Gravox, I made gravy from scratch.
I love ice-cream. I made ice-cream using frozen banana, cacao powder and peanut butter. It was delicious.
Instead of buying cauliflower rice, I made it using fresh cauliflowers and froze it in packets - ready for future meals.
I dragged out my yoghurt-maker and made yoghurt instead of buying it.
A recipe called for tomato sauce but I substituted tomato paste.
We usually buy a few bottles of soda water each week. I remembered we have a soda stream - I bought a new gas bottle. Now we have a never-ending stream of sparkling water.
Instead of buying bottled water while I am out, I take my water bottle with me each day.
I often grab lunch at a café while working. Instead, I made lunch each day and took it with me.
We ran out of hand-wash. I found a recipe to make my own and used the same 'foaming' dispenser.
We used the last dishwasher tablet, so I made my own dishwasher powder (not as good as the tablets but it worked well enough to see the month out).
Instead of taking my car to the carwash, I washed and cleaned it myself, outside and in.
Entertainment
My husband had booked a restaurant for Valentine's Day. We decided to stay home and I cooked a lovely meal and made dessert instead.
For my daughter's birthday I bought gifts using a gift card I had received as a Christmas work bonus.
For my daughter's birthday instead of the tradition of going out and spending up to $300, I cooked her favourite dinner at home and made her cake.
I love 'table scaping' my tables for any special event. For my daughter's birthday I looked on Pinterest for ideas on using what I already had. Using lots of small bottles and jars with tea-lights and simple greenery I found in our yard and herb garden, the table looked beautiful and didn't cost me anything.
I am an avid book-lover and often do not have the patience to wait to receive them for birthdays etc, so I used my library extensively this month including the library's eBooks.
My husband and I go for a bushwalk every second Sunday and it became a habit to stop at a café or pub for lunch. This month I packed picnics and we have really enjoyed sitting in the outdoors and enjoying healthy hearty food.
I enquired about learning French at a local language school but downloaded a free language app instead and have been practicing every day.
I wanted to learn a particular piano piece and found free sheet music and YouTube tutorials.
Our city council prints a monthly "what's on" at local libraries. I enjoyed a very interesting lecture by an author as well as learning how to make cheese - all for free.
I started jogging instead of buying a gym membership. It is much more enjoyable as it's outside, early in the morning. For toning I found YouTube videos that don't require equipment.
I found a great yoga channel on YouTube that I follow a few times a week.
Miscellaneous
A client gave me two peace lilies (Spathiphyllum). Using a perfect sized white ceramic pot I now have a lovely table centrepiece.
I made my own new business cards instead of getting them professionally printed.
I cancelled an online business subscription ($50/month).
For new clothes I searched Pinterest for stylish looks that use similar clothes to mine - just layered and combined in different ways.
Instead of buying market flowers I used greenery and flowers from my garden. And took my secateurs on walks around the neighbourhood to find flowers along the footpath or the side of the road that I clip and take home.
I unsubscribed from numerous email lists which has stopped many temptations. If I don't see it - I don't want to buy it.
The ATM at the Saturday morning farmer's market costs $3.00 per transaction. I've used a 'friendly' ATM each Friday and avoided extra fees.
I wanted to buy a particular cookbook but found it at our library. I test and write down recipes we have enjoyed.
I made my own household cleaner (I had the ingredients at home) and I love it; won't ever go back to a store bought one!
One of my cloth shopping bags needed a handle repaired. Normally I would have thrown it out and bought a new one, but I dragged out the sewing machine and restitched it.
Instead of buying expensive new fabric for a patchwork class I rummaged through my fabric stash and used the class for practicing technique with my 'free' fabric instead of making a quilt from expensive new fabric.
Hospital visits
Street parking is half the price of the hospital car-park. I drive around to find a street park. On weekends street parking is free.
I take snacks to the hospital so I'm not tempted to use the snack machine or café.
The hospital offers free tea and coffee in the visitor's lounge.
I take work or a library book to pass the time on visits rather than buy new magazines or books.
Our third winner for No-Spend February is Chelsea Leech. Inspirational work Chelsea!
I love a good No-Spend month to get the bank balance looking a bit healthier after the holiday season. I'm 31 years old, have a 10 month old baby, I own my own home (mortgage paid off in 7 years) and have no debts. My husband and I recently started a small plumbing business with our own cash and I'm planning to be a stay-at-home mum for the next few years. I'm a teacher by trade and have even paid off my HECS debt. I have been reading this newsletter for years and have used many tips to live well and reduce my spending. My husband and I love the freedom that debt-free living has given us. I also love the blog 'Down to Earth' and the Barefoot Investor. Here are a few things that have helped me:
Mantra: use it up, wear it out, make it do, or do without
Principle: less is more
Make a game out of it: even with money in the bank choose not to use it
Adopt a 'cradle to grave' mind-set: make sure you can afford to care for a product, and its upkeep, and its repair or disposal
Say no: no to junk-mail, avoid temptation
Reframe 'fun': see shopping as necessary not a 'recreation' activity
Buy the best quality you can afford then look after it well
Prepare a list of 'needs' for the month before buying
Be organised and know what you have to avoid double-ups
Make food from scratch: avoid chemicals
Invest in reusable items
Kitchen
Reuse items e.g snap lock bags (Source: Litterfreeliving)
Use old enamel plates (very fashionable) and retro cutlery for bbqs and picnics instead of disposables (Source: Op shops)
Use cloth napkins (Source: Op shops, old fabric overlocked)
Reuse baking paper or use compostable paper
Use bowl covers instead of plastic wrap (Source: 4myearth)
Carry a drink bottle instead of buying bottled water (Try: Onya, Kleen Kanteen)
Use reusable bags instead of 15c bags at supermarket (Try: sew old fabric into bags)
Cook two things at a time (Try: boiling eggs with a steamer on top)
Make butter from cream (Try: a Thermomix) (Source: 'TM31' on Gumtree, FB)
Microwave a 1 minute mug cake to hit sweet cravings
$21 shop every week (Try: cleaning out the freezer and pantry)
Swap ingredients with others doing the $21 Challenge (Tip: I swapped with my mum)
Get chooks = eggs
Make milk powder in the milk carton (Tip: Hubby didn't notice)
Prepare bread/pizza dough (Tip: I use a Thermomix)
Mix Mexican/Italian/Greek spices to replace packet mixes (Source: FB skinnymixers)
Process own sauces to replace store bought sauces (Source: sistermixin, thermobexta)
Peanut paste in thermomix (Source: cookbook)
Veggies from local co-op (Tip: we swap our eggs and soap for veggies)
Start a culture of swapping with friends
Homemade muesli from the pantry (Source: Well Nourished recipe)
Preserve strawberry jam with $1 a punnet strawberries
Empty the herbal tea 'drawer' before buying new tea
Ferment home-made kombucha, flavour with fruit (Tip: Find scoby on Gumtree)
Substitute ingredients, change the dish, make do
Only grocery shop once a week
Crochet dish-cloths (Source: Down to Earth blog 'crochet dish cloths')
Bamboo cloths instead of wipes
Ban rubbish bags: instead compost, chook scraps, recycle
Cleaning
Use essential oils, vinegar, salt, bicarbonate, reusable spray bottles (Source: Doterra)
Make foaming hand-wash (Source: 'foaming hand wash' on Pinterest)
Old rags are cleaning cloths - wash and reuse
Bathroom
Buy bamboo toothbrushes in bulk (Source: Environmental Toothbrush)
Swap needed toiletries with a friend for your home-made ones
Reusable make-up remover wipes (Source: Enjo)
Buy makeup on special once a year (Tip: Try the Priceline sales)
Reusable safety razor instead of disposable (Source: Shaver Shop)
Have low a maintenance hair-style and no hair colour
Try multi-use beauty products (Tip: bulk coconut or macadamia oil)
Render home-made soap (Source: Down to Earth)
Leisure
Use an online library to read magazines (Tip: rbdigital app with my local library)
Borrow books from friends
Go for pram walks instead of gym classes (Tip: find a pram rain-cover on Gumtree)
Walk everywhere, forget the car
Use TV catch-up apps instead of Netflix (Tip: SBS/ABC/Ten play)
Clothing
Borrow items from friends for special events
Freshen up old items with funky accessories
Baby
Modern cloth nappies (Tip: 'baby beehinds' Gumtree)
Cloth wipes (Tip: fold so they pop out like in the wipes boxes, YouTube)
Make nappy balm (Source: Pinterest, Doterra)
Dress with hand-me-down clothes from friend's babies
Borrow and swap toys (Tip: find a toy library)
Ask for baby shower gifts that are second-hand or reusable
Reusable pads and menstrual cup (Source: Lunette, Cloth Pad shop)
Business
Trade skills (Tip: we swapped website design for plumbing)
Use online accounting software instead of paying accountant to do BAS
Search 'small business grant' for free business advisor meetings
Buy work clothes from Op shops
Make do to create a small home office area
Reuse old folders, recycle paper/pens instead of buying new
Gather freebies (e.g. pens) from trade stores
---
Some people call it their 'second bible' but unlike the proper Bible we won't be printing any more copies of The $21 Challenge when this lot has sold out. There are about 200 copies left so get in quick.
You only have to read the first two chapters of the book (you can read them for free; see below) to see that the $21 Challenge is relevant to EVERYONE, no matter their income, status or situation. These two chapters will tell you all about the Challenge and why it is so brilliant.
The first chapter explains the story behind the Challenge and its mystical $21 figure. It also tells you exactly what the Challenge is, how you are going to accomplish it and answers some frequently asked questions, as well as helpful tips for newbies.


First chapter
The second chapter gets your brain ticking! What do you want to get out of your $21 Challenge? In this chapter, members share their experiences and the many benefits they found during their Challenges to inspire and motivate you.


Second chapter
The $21 Challenge book gives you the tools to become a legend in your own kitchen. Once your family experiences the awesome job you do of feeding them and have applauded your culinary skills, why would you ever want to go back to throwing money away on takeaway or cooking out of a packet?
Own your piece of the $21 Challenge legend and change your life; order your copy, or buy a copy for a friend, by clicking here.
---
I'm excited to hear from you about your culinary inventions and imaginative solutions to creating your brand of success in the $21 Challenge. Remember, there is no failure: your $21 Challenge victory is only the sum of your dedication and short-term sacrifice. Go forth and not shop!
Fi