This issue includes:-
Sad Sally, Happy Hanna: Revenge is a Dish Best Served in a Takeaway Container!
March: Create-away
Best of the Vault: Takeaway Temptation
Best of the Forum: I CAN Cook THAT!
Best Members' Blog: Onwards and Upwards
Mimi: Frugal Fridays and Fillet-o-Fish... What Did You Do To Save Money This Week?
Rob Bob's Gardening Blog: Planting Out the Cool Weather Plants
From Last Month: Secret Linen Business
This Month's Help Request: Keeping Our Seniors Safe
---
Hello!
We hope you had a fantastic February getting nude in your kitchen - carefully of course! Thank you to everyone who had a great time taking part in the quiz, we loved hearing your results! We'd like to welcome all our new Simple Savers Facebook group members as well; it's really worth popping along to see all the fantastic hints and ideas everyone has come up with. You can join in the fun here.
I always love hearing your savings ideas and stories and tips! Here are some of my favourites this month:
"I joined Simple Savings after finding your new Facebook page, and I just wished I'd known about this website before! I can't believe the 'wealth' of information and support." (Annie)
"Hi Fiona, I had to write to you and let you know how Simple Savings has helped my husband and I in retirement. We've made so many small changes that don't really change the way we live, but boy they make a difference to our bottom line!" (Carmella)
Have a great month!
All the best,
Fiona Lippey
---
"Ahh, time for lunch," Hanna said, sitting down next to Sal in the lunchroom. Sal looked over and did a double take, "Chinese takeaway, Hanna! You NEVER fork out money for a takeaway! What's going on?!"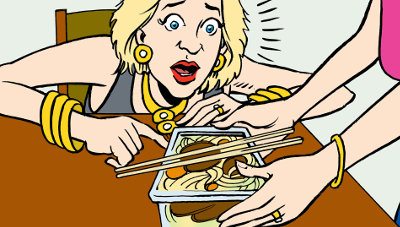 Hanna smiled, "Well you know, Sal, sometimes you just have to lash out and today I really felt like Mr Wong's Mongolian lamb." Sal looked perplexed. Hanna NEVER wasted money on takeaway. Something must be wrong. Really, REALLY wrong! Maybe Pete had an affair?! "Hanna," Sally put her hand gently on her arm, "You know you can tell me anything don't you. Is there a problem?"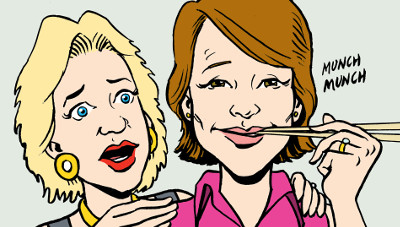 Hanna sighed, thinking back to how Sally tricked her last week with her silly 'nude' email. "Problem, Sally? No, no problem," she said breezily. "Would you like some of my lunch?" she offered. Sally was still frowning but had a taste, and then another, and kept going, "Yum, I love Mr Wong's. When did you pop out and get this?" Hanna laughed and decided to come clean. "I didn't buy it, it's a copycat recipe." Sally was relieved, "Thank goodness, I thought something was wrong!" Hanna frowned, "Well, there IS something wrong, Sal - you've eaten all my lunch!"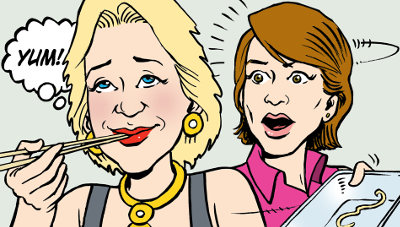 ---
Whether it's Mr Wong's Chinese or a tasty curry, it's easy to fall into the takeaway trap when we are busy and overwhelmed. And while a quick, hot meal on the table is great, we know it puts a big dent in our wallets. And it can be a VERY BIG dent - we worked out Fiona's favourite takeaway curry costs $60 for eight serves but she can make it at home for $20. That is a $40 saving for just one takeaway meal! So this month, we have a challenge that will help you say 'NO' to takeaway - we like to call it your 'Takeaway Insurance Policy'!
Your challenge is to pick one of your favourite takeaways each week and recreate it at home. We want you to find the most delicious recipe, get the ingredients and cook up a storm. As part of your Takeaway Insurance Policy, make sure you make enough to freeze at least one serve. This means at the end of four weeks, you'll have four different takeaways to choose from.
We have a yummy Beef Massaman Curry recipe to start you off, and there are other fantastic recipes on the PowerCooking site.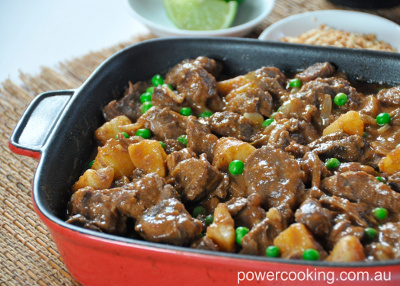 This is the recipe for 8 serves.
Ingredients
1-1.2kg casserole beef, gravy beef, chuck or skirt steak, cut into 2cm pieces
2 large onions, cut into thin wedges
4-8 tbsp massaman paste (we use Valcom)
4 medium potato or sweet potato, peeled, cut into 2cm cubes
1½ tbsp lemon or lime juice
1 tbsp fish sauce or salt
2 tbsp sugar, brown or palm
2 tsp cinnamon
1 cup coconut milk or cream
Sauce thickener: mix 1 tbsp flour in 2 tbsp cold water
1½ cups peas or green beans, fresh or frozen (optional)
Prepare and cook:
Set oven to 180C (160C fan forced) to preheat.
Chop onion into wedges and set half aside for later. Chop beef and potatoes and place in casserole dish with all remaining ingredients. Mix well to combine.
Cover and cook for 1½ hours (4 serves) or 2 hours (6-8 serves) Uncover, add remaining onion wedges, stir and cook a further 30-40 minutes.
To finish off:
Add sauce thickener, a little at a time, stirring well until thickened to your liking.
Taste and correct seasonings if needed.
Remove from heat and stir through peas or beans.
Skim fat from surface if needed.
Create-away Tip: Don't forget to include extras such as pappadums, naan bread and relishes for the whole Create-away experience!
We can't wait to hear how you go and would love to hear your Create-away experiences and favourite recipes on the Forum or on the Simple Savers Group Facebook page. What are you waiting for - get creating!
---
Here are some delicious ideas from the Vault for the next time you are tempted to get takeaway! A few simple items in your kitchen will have a meal on the table in no time!
We bought our sushi ingredients from an Asian warehouse and saved $63! We love sushi, it is my daughter's favourite takeaway meal but it can be expensive. Even the pre-packaged sushi kits in the supermarket can be costly and often contains preservatives. We found an Asian store that sells all the ingredients we need and then used leftovers from the fridge for the fillings.
Here's what we bought:
10 sheets of Nori $2.50
Small straw mat to roll the sushi $4.00
Enough sushi short grain rice for our Nori $2.00
Sushi seasoning - a mixture of rice vinegar, water, sugar and salt $2.50
We already had soy sauce at home and chose not to purchase Wasabi and sushi-ginger. Making the sushi is lots of fun and we fill it with left over chicken, avocado, a slice of capsicum and cucumber and add sesame seeds on top.
We spent $11 on the sushi ingredients and as there are 10 Nori sheets in a packet, we could make 10 sushi meals from it, add to that about $1.00 worth of leftover food. Buying those meals as takeaway would cost $75 but we can be sure we are eating a preservative free meal!
Contributed by: Marietjie Swart
My husband is Nepalese and we cook with spices a lot. To keep the cost down we buy straight from Indian shops and with just a few staple spice ingredients, we create a variety of yummy dishes.
Staple Spices:
The main staple spices we buy are turmeric, cumin seeds and coriander seeds. Once every couple of weeks we grind one and a half parts coriander seeds with one part cumin seeds in our coffee grinder and use for lamb, beef, pork or chicken curry, or for marinating lamb chops or other meat.
For Curry:
For one kilogram of meat, fry one onion until a little brown and then add 1/5 teaspoon of turmeric. Fry for 30 seconds and add four cloves of garlic and an equal amount of fresh ginger (can be kept in freezer if you don't use much) and fry for 30 seconds. Add two to three teaspoons of ground spice, fry for another 30 seconds and then add meat and brown well. Add half a tin of tomatoes and equal part water and simmer for 30 minutes to one hour. If necessary add more water. You can top with fresh coriander or eat as is. I have estimated all ingredients, but there is no right or wrong here! It just depends on your taste, I would say more rather than less though. You can also add a little bit of cinnamon stick, star aniseed and cardamom pod to your curry for a really lovely flavour.
Meat marinade:
Mix two tablespoons of canola or vegetable oil, one to two teaspoons of mixed spice, half teaspoon of turmeric, two garlic cloves and a pinch of salt. Marinate meat overnight.
Dahl:
Fry one teaspoon of cumin seeds until brown (30 seconds or so) in hot canola or vegetable oil before adding washed lentils (we use red lentils a lot or any other kind of Dahl would be fine) and water - this will add a lovely nutty flavour to your Dahl. You can also fry cumin seeds or cumin/coriander mix with onion and add to Dahl after Dahl has cooked.
Chai:
Crack a couple of cardamom pods, a little cinnamon, a pinch of fresh ginger and simmer with a teabag or tea leaves in half milk and half water ratio for about five minutes until flavour has infused. You could use soy milk or no milk if you prefer.
Hot Milk:
If you run out of Milo or hot chocolate, use a couple of cardamom pods and a pinch of ground cinnamon in milk and simmer for five minutes. It tastes lovely.
Contributed by: Steph M
I am $88 better off this month thanks to my new rule about buying bakery treats. The rule is if I can bake it I can't buy it. Having a baby made me determined to save and my main spending vice was buying snacks while out. Now I dig out recipes and make my own. In the past month I've made banana and passionfruit muffins (with passionfruit from our own vine), cup cake cheesecakes and pizza scrolls. These would have cost me $114 to buy but cost just $26 to make!
Contributed by: Kochanski
---
We buy takeaway because it is quick and easy and solves a big problem at the end of a busy day. But many of us don't attempt to cook takeaway-type meals at home because, well, we're a bit scared! It isn't difficult - you CAN do it, and here are some ideas from our clever Forum members that might help.
Financially Fit Mum is on a mission to avoid expensive takeaway - and she wants to be prepared!
read more...
Claire asks for ideas on what she can do with shredded chicken - some great Create-away ideas here!
read more...
If there's something you don't know how to do - ask away!
read more...
---
One of the many benefits of being a Vault member is that you can win $100 cash each month for your Simple Savings blog! Starting your own blog on the site is easy. All you have to do is log into the Vault, click on 'My Desk' at the top left, then 'Your Blog'. Then get writing! We love reading all your money saving trials and tribulations and really appreciate the effort that goes into each one.
This month's winner is Amy (and the cheeky monkey) for sharing her blog about saving money. Good on you, Amy, we certainly think you are going 'Onwards and Upwards'!
"Being financially responsible is addictive. Once you get your first taste it hits you, 'Why haven't I done this sooner?'. The thrill of even an extra dollar saved would confound your pre-frugal self. Anything more than that feels too good to be true. You gain a totally different perspective on your life and find yourself wanting to do more, save more, be more.
This week, between my first post and now I have managed to stash $618 into my emergency savings account. An absolute feat! This was achieved through a combination of selling unwanted furniture, chasing down a refund on my registration as I'm now on a single parent payment, and sticking to my new budget. I am ecstatic and feel like giving myself a big pat on the back, but now is not the time to lose track of the end goal because I'm feeling flush over a small victory. Because of this, I've decided to write down all the tips, hints and advice I am implementing to ensure this good fortune continues into the future.
Money tin
52 week savings challenge
Rounding my bank account down to the nearest $5.00 each night and transferring the change to my credit card
Sticking to $0.50c indulgences
Packed lunches for playgroup
No takeaway food
Keep track of No Spend days
Implement No Car days
No pre-packaged snacks, all home-made
Savings Diary to keep me motivated
I've also been successful in curbing my spending this week. I went to a friend's Body Shop party on the weekend, and enjoyed the pampering, but walked out without buying a single thing. I even managed to score a free gift by playing one of the games. I've also put off shopping. I got paid on Thursday but decided to hold off on food shopping until I absolutely had to. I still haven't gone yet and DS and I have been eating great, lots of home cooked dinners and snacks. I've been using up all my leftovers and odds and ends. I did have to stock up on milk on Saturday, but that's it. Feeling pretty good about my progress.
This is just the beginning...
Well done, Amy!
You can read more of our members' blogs here.
---
Friday is a great day to reflect upon the week we've had.
I find that if I list all that I've done to save money, and how much I've saved, it helps me to remain inspired and motivated.
So each Friday, I'm going to post my list here, and it would help me if some of you would join in with your own lists.
The other great thing is the things that we find most simple and obvious in our routines and lives are often not obvious in other people's lives, so it's a great way to share new ideas.
So here's my first list...
I keep hearing from friends in other states about their free harvests of stone fruit. Unfortunately, no free produce here, but I did have a big saving by defrosting my refrigerator. I know that sounds odd, but we were told a year ago that we would have to buy a new fridge as ours was on its last legs. Well here we are, it's still going, and all I have to do is defrost it about every eight weeks and it keeps kickin' along! It's great discipline too as it forces me to deal with all those unidentifiable containers with murky contents, most of which turn out to be something really yummy like my home-made refried beans or pumpkin soup, which we then get to enjoy totally unexpectedly. Savings on new fridge purchase of $2000 over the last year, plus savings of $20 on unexpected meal findings.
I've made McDonald's-style fish burgers with home battered fish, which meant that one single fish fillet fed three of us generously. Savings of $20 on takeaway. They are really easy.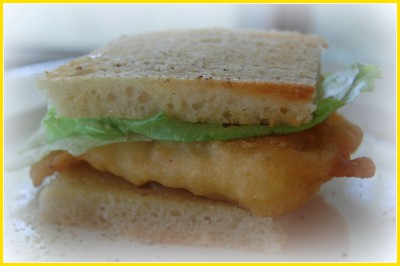 You need:
1 large fillet of white fish, cut into three
1/2 cup flour
1 egg
Sufficient water to make a thick batter... 1/4-3/4 cup
Rolls halved or 2 slices bread per person
1-2 large iceberg lettuce leaves
Mayonnaise or tartare sauce
1 cup vegetable, canola or sunflower oil
Paper towels
Then all you do is:
Toast or grill your rolls or bread if you wish. I used gluten-free bread, so I toasted ours and trimmed the crusts just to make it look and taste more authentic. Spread the rolls or butter with mayo or tartare sauce and set them out on plates.
Trim or fold the lettuce so it fits the rolls or bread slices neatly. Set them aside.
Mix the flour, egg and water, and mix to a gluggy batter. You want it about the consistency of thick soup. Lumps are fine. Season it with salt and pepper.
Put the oil into a medium saucepan and allow it to heat to medium hot. I found that my fish fillets took a while to cook all the way through, so don't make it smoking hot. Bring it up to heat, then turn it down to about one third full power.
Carefully dip the fish into the batter, coating well on both sides and lower gently into the hot oil. Don't overcrowd the pan. I fitted all three small pieces into my pan, but any more would have lowered the temperature of the oil and made the fish batter greasy.
Turn the fish regularly to ensure it cooks evenly. Give it 3-6 minutes each side depending upon how thick the fillets are. The first time you do this, you might have to sacrifice one and cut into it to check for done-ness, but after that you'll get a bit of a feel for how long your fish fillets take.
Drain the fillets well on paper towels and season with salt and pepper.
To each roll or slice of bread, add a fish fillet and top with a lettuce leaf. You could add cheese slices too if you wanted.
Serve immediately.
We had ours with oven baked potato gems and my daughter had a home-made smoothie. Very yummy and, although it sounds fiddly, it took no more than 15 minutes. It would have taken us longer to drive to McDonald's and back!
I made my own Greek yoghurt which provides us with breakfasts and desserts for several days for just pennies. Savings of $9.00 on DH's favourite bought Greek-style yoghurt.
I planted some coriander, parsley, basil and sage. Savings of up to $70 on buying herbs for the next three months.
I made some gluten-free gnocchi which we ate with fried sage leaves and brown butter for dinner last night. I served it with exotic multi-coloured tomatoes on the side and it looked fabulous and tasted even better. Savings on a bistro meal at Coffee Club or the local sporting club of around $60. It's ridiculous what they charge for a simple pasta-style meal!
Overall, a very productive week with potential savings of around $100, plus the ongoing saving of not having to purchase a new fridge at $2000.
I hope you all have some ideas to share too. :)
You can get updates on Mimi's new blogs on the Simple Savings Facebook page
or in our Members' Blog section.
---
It's time to get cracking on planning the winter/cool weather crops for the patch and I thought I'd run through a few of the seeds, as well as how they will be started off. One of the reasons I like this time of year so much is that it's brassica time. :-) Over the past few years I've tried to get least three progressive sowings of brassicas (cauliflower, broccoli, cabbage and kohlrabi) through the patch. This is called 'succession sowing' and is basically a way to stagger the sowing of your seeds so the crops won't all be ready to harvest at once. While some folks I know, due to climate restrictions, do like to harvest a crop all at once and preserve their pickings, like Wendy at 'Grow Your Own Food', I find that, as we have a year-round growing season, succession sowing works best for us here.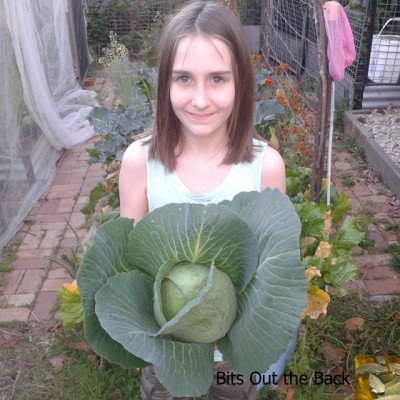 The first brassica seeds to be sown out were broccoli, cauliflower, sugar loaf cabbage, kale, collards and wombok cabbage. I am also looking at sowing out some Tuscan Kale and collards as continual cropping brassica greens. I'm going to be more diligent with starting off new batches of cauliflower, sugar loaf and wombok cabbage seeds with a couple of seeds sown out every week or so. This way I hope to be able to successively sow out enough of these plants to see us picking some every few days. A quick tip I learnt for planting out brassica seedlings is to firm down the soil at their base. I heard about this method a while back from a fellow YouTube gardener and have found that it does help form larger firmer cauliflower and broccoli heads. I've run through this process in a clip a while ago, for those interested at a closer look.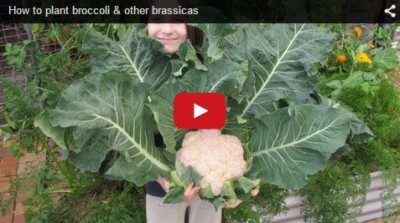 A few of the other plants that were sown out at the same time were okra, acorn squash, perpetual spinach, angled luffa, miners lettuce and land cress (Barbarea verma). I am also looking at sowing out Rosella seeds after we received some as a gift. They will hopefully be a part of a garden bed I will be expanding soon.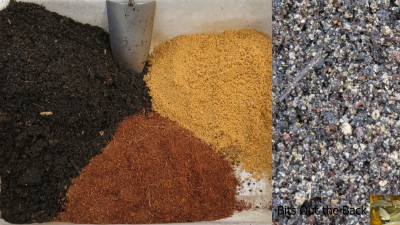 To start the seeds I've decided to make up a fairly basic seed raising mix from some ingredients I had on hand. This lot was made up of four parts home-made compost, two parts coarse river sand and one part coconut coir. The resulting mix is fairly loose yet will retain a decent amount of moisture. I am thinking that next time I might only add half the sand to see how the mix turns out.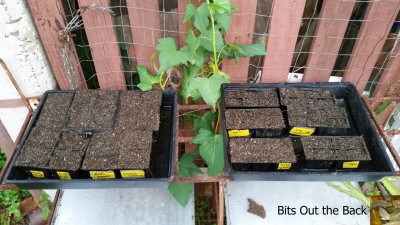 The plants were placed into a tray in a warm position down the side of the house and a little bit of water was added to the tray so it can wick up through the base of the plants, keeping the mix and seeds well hydrated.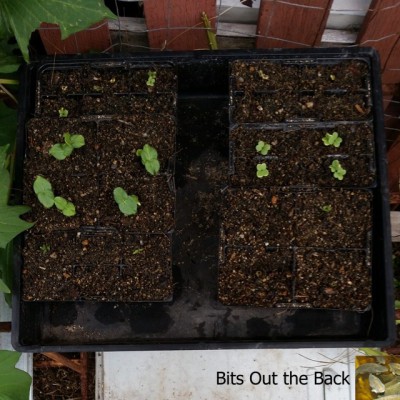 I am happy to say that after four days of being in the tray we have a few punnets that are showing signs of life.
Some saved and purchased carrot seeds have been sown into a purpose-made wicking barrel. Carrots like a nice loose soil texture so this barrel had some course sand added to it.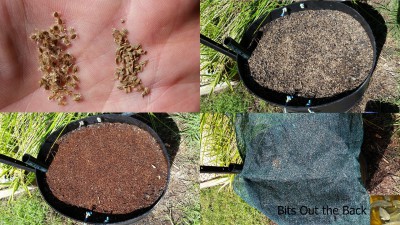 Into this went around the same amount of seeds saved from Kira's carrot plant (left) and some seeds a mate sent me (cheers Nathan). After they were scattered on the surface I covered them lightly with some more coir, gave it a light misting and laid some shade cloth over the top to help prevent the soil from drying out. I'm not 100% certain that Kira's seeds will produce the greatest carrots as there was only one flower blooming at the time and they normally require a lot more to prevent inbreeding depression. I suppose there is only one way to find out through. ;-) Something folks may not know is that carrot greens are edible so when it comes time to thin the seedlings out, the green tops will be used in salads and not go to waste at all.
For those folks that find thinning out carrots a chore you could always have a crack at making up some carrot seed tape.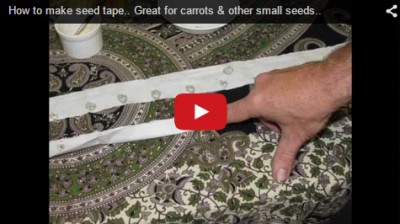 It's a great project to do with the kids and makes a great gift for folks who have issues working with small seeds.
Here's a couple of planting guides that might help folks work out what seeds you can start to get ready for the coming season.
For Aussies, the Gardening Australia planting guide is also a valuable resource as it covers all climates and a load of plants.
The Gardenate guide is an international guide that covers all the climatic zones in Australia, New Zealand, North America, the UK and South Africa. I have found this to be a very helpful guide as it covers a few vegies other guides don't.
Both guides also provide you with cultivation details to help you with specific plants which I've found quite useful too.
The aquaponic system is going really well at the moment.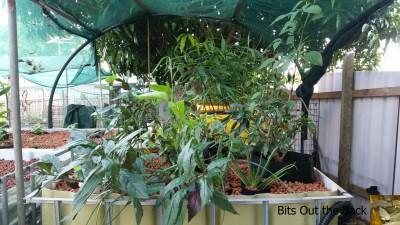 The Okinawan spinach and Kang Kong (water spinach) have been harvested quite regularly to be used mainly in salads. The growth in the ginger and jalapeno chilli has been quite noticeable. I was very happy to see a few fruit already set on the jalapeno so will need to bag them up soon to keep the Queensland fruit fly from them. A fair amount of my spare time over the past three weeks has been spent cleaning out beds and modifying the plant growing side of the aquaponic system. Two new beds have replaced some that I wasn't very pleased with and I have also moved a few others around to make room for a small expansion. One bed has been planted out with a few tomatoes and herbs with the second bed yet to be sorted out. I have included the latest update clip of the system for those who are interested in a closer look at how the system has changed.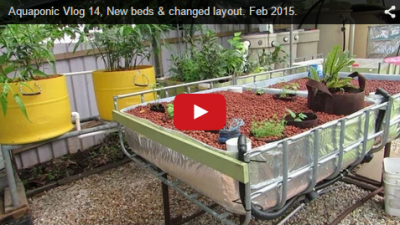 That's about it for this blog methinks. Hope everyone is prepared for the coming season and has their seeds organised and ready to go.
Cheers and have a great one.
You can get updates on Rob Bob's new gardening adventure blogs on the Simple Savings Facebook page
or in our Members' Blog section.
---
Last month Siobhan emailed us about ideas for the perfect linen closet:
"I need some help with linen! I cleaned out my linen cupboard recently and sadly realised everything was mis-matched, poor quality and bought without much thought. For example, the fluffy white towels for our family of mechanics were probably a bit silly, as were the brightly coloured (cheap!) sheet sets that feel awful and don't wear well. It's time to do some shopping to buy replacements that will last, look and feel good and, well, spoil us just a bit! So I need your BEST ideas for linen - what brands to buy, what to look for, tips, storage, washing and so on. Please let me know your 'secret linen business'!"
Thank you for your wonderful ideas for Siobhan. Here are some of our favourites!
Good quality linen should last you a long time and will end up saving you money because it won't pill or wear quickly.
I find bed linen from Harris Scarfe is some of the best quality for price value. It is worth spending a bit more on bed linen which will last you up to ten years and which you enjoy sleeping in. For me, bed linen is one of my luxuries in life I am not prepared to compromise on and in the past have spent almost $1000 on just one set of bed linen ($1000 on sale!). However, I have found that spending around $300 at Harris Scarfe on 300-800 thread count linen to be a worthwhile investment. Lots of other cheaper shops, such as Target, sell high count linen but not all are created equal. You absolutely need to open the packets and feel each linen to gauge the strength and texture and trust your instincts when choosing.
Look after your sheets and they will last for many years. When washing linen do not use harsh chemicals or bleaches. Always use less than the recommended detergent and wash in warm water (not hot) as sheets absorb a lot of body oils, so warm water cleans better in this case. Wash sheets separately as heavy items such as towels will tangle and pull them. Line dry sheets, don't put them in the dryer.
The other thing that will help your sheets last longer is having a mattress protector underneath your sheets.
You also may find that you end up with more top/flat sheets over the years as the fitted sheet tends to wear out first. If you do not sew, take your flat sheets to an alteration shop and ask them to put elastic in the corners to turn them into fitted sheets. This is also a great way to convert quality sheets from op shops to make single fitted sheets for your kids' beds. Here's a tutorial from online.
Contributed by: Simone
I cannot sing the praises of Aldi's towels highly enough! We prefer the bath sheets but at approximately $25 a pair they are excellent value and thick and fluffy.
Contributed by: Larraine
Becoming a Spotlight member is a good way to get great linen deals. There are also monthly draws for each member and catalogues are posted out, which is great if you are outside the 'junkmail zone'. A few times a year there are 40% off vouchers or 15% off scratchies.
They also have plenty of in-store offers and you can often buy good quality sheets at about half price. It is also one of the few places where you can get individual sheets so if you have some good top sheets you can just get fitted sheets or vice versa. I don't worry too much about matching, as you can use dark blue and light blue items together and they look fine. For quality, look for the thread count - this is the number of threads per inch or cm and the higher the number the better the quality.
With towels, again don't bother about an actual colour match. For example, if you've got some good cream coloured towels, just mix and match with a pale green or lilac - they'll still look nice together and will save you buying so many.
Contributed by: Helen H
For good quality linen and towels at very good prices try Canningvale. It is a local WA company which specialises in mail order.
Contributed by: Judith
I am a great believer in buying plain cream or white sheets with a thread count of 1000 or more. A new set of these sheets can cost around $170, but Target and Spotlight often have half price specials, so look out for them.
When you first get the sheets, they feel almost like canvas, but they wash up soft and silky against your skin and improve with age, so they are a real investment. If you stick to only white sheets you can bleach out any discolouration if necessary, but always stick to the same colour if you can. If you want bright colour, then a $50 doona cover set goes a long way, as it doesn't get as much hard wear as the sheets.
When you wash your sheets, put them on the line to dry, then bring them in and fold them up immediately (this way you won't get as many creases, so no ironing). Some lighter, coloured quilt covers benefit from a 'delicate wash' as this doesn't crease them so much.
For storage, fold up a fitted sheet, a flat sheet and one or two pillow cases in one bundle, and the same for your quilt covers and matching pillow cases. Use any 'orphan' pillow cases and sheets to make cushions or laundry bags using fabric paints or dyes (if you have any children, get them gainfully employed!). Keep single and queen size sheets in separate sections of your linen cupboard or a separate section in each bedroom cupboard.
Contributed by: Norma
I have bought queen sized 1000 thread count Egyptian cotton sheet sets on special from Target for $80 and nine years later they are still going strong and feel so lovely. On the other hand I have bought cheaper Target towels and they have lasted and feel good too.
Contributed by: Jackie
I try to purchase sheets and towels when stores are reducing prices by at least 30%. I purchase pure cotton sheets for that 'good feel' but make sure that they are a generous size and that the fitted sheet has a 40cm side wall. As I always wash in cold water this allows for any shrinkage that may occur.
I also find that Egyptian cotton towels stay beautifully soft and fluffy and mainly buy them at Target when they are on special at half price.
Use your tape measure before going shopping and think carefully about colour co-ordination and practicality for your individual household - I try to enjoy the feeling of being smart with our money and getting the best value possible.
Contributed by: Helen
I used to get frustrated matching and storing different sized fitted and flat sheets. I bought some plastic shoes boxes to store each sheet set in. I named each box Queen/King/Single and now my linen cupboard looks lovely and organised and it saves me a lot of time searching for the right matching pair!
Contributed by: Gail J
I always buy good quality bed linen as I think it needs to stand up to a fair bit of wear and tear, however, I am increasingly frustrated by the elastic in the fitted sheets. After only a few launderings, the sheets never fit as well and I have spent hours at the sewing machine trying to improve them.
I am going to go back to the 'old fashioned' way and just buy plain flat sheets. It's really not that hard to tuck them in, especially if you buy the next size up, which are often a similar price. This also means you can alternate which goes on top and bottom so one doesn't get worn through before the other.
Contributed by: Judith
The best time to buy linen is in the massive sales after Christmas. David Jones, Myer and all the specialist manchester chains all have some remarkable bargains. Do some preliminary scouting first so that you know a bargain when you see it. Another good place to buy linen is at the group factory outlets like DFO and BrandSmart, although there is a much smaller range.
Tip - With sheets, thread count is important and the higher the thread count the better. Also percale (a type of fabric finish) is very good.
Contributed by: Jill
I always look for sheets and pillowcase sets which have a 240 thread count or higher. I allow three sets per bed; one on, one off and one in the wash. For towels, I gravitate towards browns, dark blues or greens. I find that one per person is plenty as they usually wash and dry in a day and I keep a couple of spares for visitors.
Contributed by: Lesley
I have two pairs of sheets for each bed; one set on the bed and a spare which I fold and place in one of the pillow cases and store in each room. This saves sorting different size sheets.
I do the same with towels, allowing two towels per person in colours that match each room and they are kept in the bedrooms with the sheets. Wet towels are returned to the rooms as well, to be hung up and dried overnight.
Contributed by: Colleen
Don't go past op shops or garage sales for 'new' linen. Recently I bought a beautiful new, mint set of queen size bedlinen at an op shop for $6.00. They are an excellent heavy quality with a slight sheen.
I also found a gorgeous thick fluffy bathmat at a garage sale for $3.00 as the family had got tired of the colour!
Contributed by: Leith
I won't go back to buying cheap linen ever again! No matter how tight my budget is (and believe me, it is TIGHT!), it is no saving to scrimp on horrible, scratchy bed linen or towels. I will always save up and host a Lorraine Lea Linen party. Yes, when you look at the prices you have a bit of a heart attack but the quality is second to NONE!
I bought minky blankets for the family 21 years ago. I've washed them in my washing machine, hung them on the line to dry several times a year and they are STILL going strong.
When it comes to sheets, Lorraine Lea Linen has 'deep wall' fitted sheets which stay fitted to the bed and don't roll up. The quality of the sheets is fantastic - even after 20+ years of washing and line-drying, there are no threads unravelling, no fluff balls and the elastics are still going strong.
Contributed by: Muirin
The best sheets I have purchased are bamboo sheets from the Morgan & Finch Home Collection (from Bed Bath n' Table). They feel heavier than normal sheets but are so lightweight when they are on top of you. My husband also sleeps a lot better in them in the middle of hot Queensland summers. I paid $160 for a queen set on sale but I feel that they are so worth it.
Contributed by: Jodie
When it comes to linen, I only buy the brands KAS or Designers Guild, and only on sale. I buy cotton sheets as polyester is very hot. Spotlight often has great KAS sales.
Contributed by: Liz
When you are looking for linen, buy all-white and pure cotton. You then have pillow cases which can be used on all beds and there's no problem deciding which sheet goes with which. Buy as high a thread count as you can afford - a minimum of 350. You can buy better at sales and often the higher thread counts (for example, 1200) will have a bigger discount. There's nothing more luxurious than slipping into bed between fresh, fine-weave cotton sheets!
For your bathroom, choose a main colour and buy to mix and match with this. Always choose plain and not patterned (unless it's in the weave) and the best you can afford, preferably made from Egyptian cotton. Price usually indicates quality, but you can also tell by generosity of size and thickness.
Pure cotton anything always launders well, although it will probably take a wash or two to get rid of all the dressing in the material. Hang outside on the clothesline to dry and fold and put away immediately on bringing back inside. I iron pillow cases and occasionally, when new, the wide hem at the top of the sheet.
Contributed by: Lyn
---
Jilly has emailed asking for some help! She writes:
"Can I please ask your subscribers for help? I am trying to help my elderly parents stay at home as long as possible and wondered if people had ideas and tips to make their home 'safer' for them. I'm also looking for ideas so we can make life easier for them as well."
If you have any pearls of wisdom you'd like to share with Jilly, please send them in to us here.
---
Well, that's your Simple Savings Newsletter for March and we'd love to hear all about the Create-aways you made this month!
Our members are hugely important to us and we love hearing from you all! So next time you're on the website, why don't you get in touch and say 'G'day'! Let us know what you would like to see more of in our newsletter or any suggestions you have for something new to try. We love receiving your clever ideas!
Don't forget to spread the love around to your family and friends too by forwarding them our newsletter or letting them know about our website. Help make their lives easier and save them money too! Or tell them about us on Facebook by clicking the 'like' button on our Simple Savings Facebook page.
Till next time...
All the best,
Fiona