Fabulously Frugal June - Winter Wellness
---
Hi,
How are you going? I hope you have been having a great June. This month's calendar theme is Winter Wellness and this month's newsletter is packed with tricks and tips to keep you healthy through the cold months. Starting with Sandra's tips for a happy and safe winter, then onto some great recipes and our competition winners.
All the best,
Fiona
---
Sandra has put together a collection of her favourite tips she uses to stay healthy during this time of year. Such as, keeping the germs away, wearing warm clothes, warming her house, finding indoor activities, eating well and caring for her skin.
Protecting yourself and others from germs:
wash your hands and use sanitiser
wear a mask
if you feel ill stay at home
cover your face if you need to sneeze or cough.
Getting cold makes us vulnerable to flus. So stay warm by:
Wearing layers. Such as, thermals, singlets, tights, scarves, jackets, hats and gloves
Wear a good jacket and boots.
If you are needing more warm clothes. A great place to look is the op shop. There's often plenty of brand new items or barely worn things at good prices and most op shops will give you an extra discount if asked.
There are simple things we can do to keep our house warm without sending your powerbills through the roof. Such as:
sealing up draughts
covering windows
only heating rooms you are using
keeping doors and windows closed
hunting for free firewood
using extra blankets
cooking biscuits and tasty treats in the oven.
Stay healthy by finding ways to entertain yourself inside when going outside is likely to lead to illness. Such as:
snuggling on the lounge with a heat pack, blanket and a good movie
start a knitting or crocheting project
play games
work on a jigsaw
make next year's Christmas gifts
catch up on your reading
listening to podcats
list writing and vision board checking
debt busting, chart checking or budgeting.
Sandra's favourite indoor activity is sitting by the fire drinking hot chocolate and eating Tim Tams.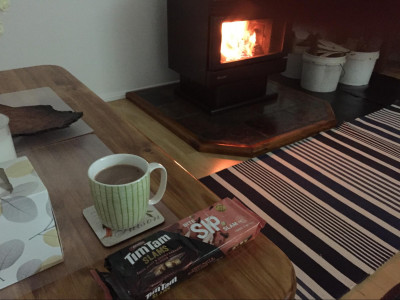 Eating nourishing food helps strengthen your body. Such as:
consuming plenty of vitamin C by eating citrus fruits like oranges, mandarins and lemons
hearty soups and bone broths
drinking lots of water
making hot lemon, honey and cinnamon tea.
A delicious and affordable way to add spice to your drink is to soak a cinnamon stick in your tea while it brews. When done, take out the cinnamon and put it into the fridge to re-use next time.
Germs and viruses can get through damaged skin. Stop the cracks by:
drinking lots of water
using lip balm
use plenty of moisturiser.
These are some of our favourite Vault tips for this time of year.
Keep colds and flu at bay with this inexpensive disinfectant room spray. In our efforts to stay well, we tend to reach for expensive store-bought sprays, filled with goodness knows what, but there's no need. You can make your own natural version using essential oils. Cheaper to make and no chemical nasties!
Ingredients:
15 drops lavender oil
8 drops orange or lemon oil
2 drops eucalyptus oil
1/4 cup water
Combine all in a spray bottle; shake well before each use. Mixtures can be sprayed into the air.
Because my mum has an auto-immune disease, she is prone to colds, flu and pneumonia and takes an average of 12-18 tablets a day. As I don't want Mum to get sick or have to take more tablets, I needed to think up a way of boosting her immune system. So I started to make ordinary chicken soup, but it wasn't potent enough. That's when I came up with this recipe. I think that it tastes delicious and has plenty of flavour.
8-9 chicken lovely legs, skinless
8-10 chopped cloves of garlic
1 chopped onion
2-3 small red chillies (Remove the seeds if you don't like it too hot as they're the hottest part, or just use one chilli.)
2 teaspoons grated ginger
Oil
2 litres Continental chicken stock
2 finely chopped carrots
1-2 handfuls corn
1 cup macaroni pasta
2-3 handfuls baby spinach
Heat the oil in a stock pot and brown the chicken, garlic, onion, chilli and ginger.
Add the chicken stock, carrots and corn.
Bring to the boil, and if needed add water. Simmer for 15-30 minutes. Take out the chicken, pull the meat off the bone, break meat into small pieces and put back in the pot. Add macaroni and simmer for 15-20 minutes or until pasta is cooked. Add baby spinach, taste, add salt and pepper if needed, then serve.
Since I've started to make this recipe, my mother has had fewer colds. When she has been sick it has not been for as long and has meant fewer hospital visits - not to mention fewer doctor's visits. Between the savings on medical bills, doctor's bills and hospital visits, I cannot begin to imagine what our savings have been but I don't doubt that it's been in the thousands of dollars.
Last month we held a competition for the five best contributors to the Forum and Facebook group. Our x 5 Competition Winners from May, have each won $20. The winners are:
For her ideas to assist Fiona in using up the odd things from her fridge and pantry AND for doing an outstanding decluttering job in our Chuck Out Frenzy Calendar Challenge. Claire truly is a wonderful and amazing person.
For the great ideas sent in to help Fiona with her odd food.
'These Banana chips are meant to be eaten as they are like ordinary banana chips. They sound like they might be spicy.
Buckwheat can be ground and used as a flour for pancakes
I add a tablespoon of Chia seeds to my yogurt the night before and then have it for morning tea. I buy large tubs of yogurt and spoon into a container for individual serves to be eaten at work.
Chia seeds can also be added to oats soaked overnight like a Bircher muesli.
Marinated figs - what are they marinated in? Can they be used as part of a cheese board?
Fish crackers to be eaten like prawn crackers.
Kimchi as part of a poke bowl with a Korean twist or with cheese in a quesadilla or toasted cheese sandwich
Lime pickle as a condiment with poppadoms
Mung beans are used like you would red lentils in dal but soak them first.
Thai crackers eat as they are.'
For her lovely ideas for using up unusual ingredients.
'Chia seeds are lovely mixed with any type of milk (coconut, almond etc) with the grated rind of a lemon and frozen raspberries.
Mix and leave in the fridge overnight (or longer)
Google chia puddings for more lovely ideas.'
Also had some great suggestions.
'Seasoned Banana Chips: They are chips. Just like potato chips, but made of thinly sliced bananas and fried. Eat them like potato chips. Don't make them into flour. You'll be wasting already good snacks. They are usually savoury, but can be a little bit sweet too depending on the recipe.
Fish Crackers: Well, you got the hardest type of fish crackers. The taste is pretty mild. The way we eat them is just like that as snacks, just like prawn crackers. But Indonesians love chili sauce a lot, so we usually dip them into chili sauce/sambal and eat them.
Kimchi: They're sides when eating a meal. You might be put off by the smell the first time trying it. They taste sour and spicy, refreshing. You can either eat it to cleanse your palate before having a different dish, or eat it with rice. But you eat it when you have your meal. Either rice or noodles, or the famous korean bbq.
Thai Crispy Rolls: They are snacks. Crispy, thin and sweet.'
For the best post in our SS Facebook Group.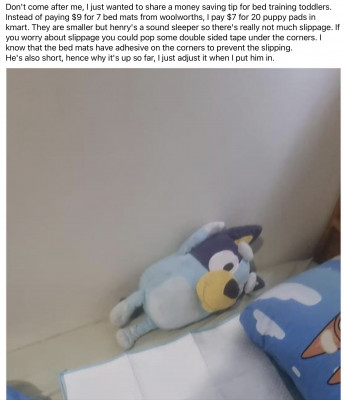 Two lovely threads for this time of year are:
This thread contains delicious tried and tested, true favourites. Perhaps you will find some great ideas there!
May's decluttering Challenge went really well and members are still clearing and cleaning.
Sandra has shared two of her very tasty soup recipes with us.
This tasty Mediterranean soup is full of flavour and has enough nutritious ingredients to be a whole and hardy meal. Serves at least 6
2 Bay Leaves
1 teaspoon of dried Rosemary
1 teaspoon of dried Oregano
1 teaspoon of freshly ground black pepper
Some freshly chopped parsley
3 rashers of chopped Bacon (OR some chunks of ham if you have some)
1 x 140g can of tomatoes
2 tablespoons of tomato paste
½ cup of pesto or tomato based pasta sauce
1 x 400g tin of kidney beans, or similar, rinsed and drained
2 finely chopped onions
2 cloves of crushed garlic
¼ pumpkin peeled and chopped into cubes
2 carrots, peeled and diced
1 potato, peeled and diced
4 cups of water
3 cups of stock (I add 2 teaspoons of Vegeta stock powder to 2 cups of water)
250g macaroni pasta
60g grated cheese
Put the bay leaves, rosemary, oregano, ground black pepper, parsley, bacon, tomatoes, tomato paste, ½ jar of pesto or tomato pasta sauce, kidney beans, onions, garlic, pumpkin, carrots, potato, water and stock into a slow cooker.
Turn the slow cooker on high and put the lid on, and cook for 3 hours and 30 minutes.
(Or you can cook Minestrone in a large saucepan for an hour)
After 3 hours and 30 minutes add in 250 grams of macaroni to the pot and continue to cook for 30 minutes or until the pasta is cooked. If you need to add a little more water, as the pasta cooks and thickens.
Check your seasoning and add salt and pepper if you need to.
Ladle into soup bowls and sprinkle with grated cheese.
Serve with Grissini sticks for some crunch, or with the usual fresh bread or rolls.
To reheat Minestrone you may need to add a little more water/or stock if you like, as it will thicken on standing. Don't forget that soup often tastes better the next day as the flavours have time to really develop.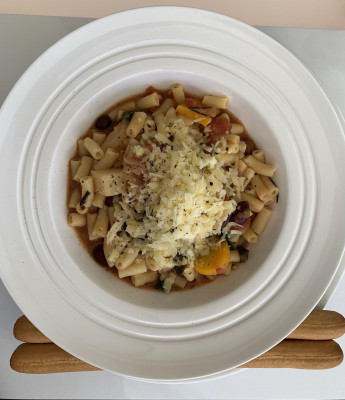 This would be a great use of a bargain cauliflower or cheap broccoli.
Ingredients
1 leek trimmed and sliced - oil to saute it in
3 generous cups of cauliflower florets (or broccoli)
2 ½ cups of vegetable stock
¾ cup of cream
¾ cup of grated cheese
Saute the sliced leek in a large saucepan until tender.
Add the cauliflower (or broccoli) and stock to the saucepan.
Bring to the boil and simmer for 10 minutes until tender.
Using a stick blender, carefully process the soup in the saucepan, until it is smooth.
Add the cream and ½ cup of cheese to the soup in the saucepan and stir.
Add a little salt or pepper to taste.
Reheat the soup gently, without boiling it.
Serve in bowls with snipped chives for a bit of colour if you have some.
Note - For a lower fat version use milk instead of cream.
Lactose free milk also works well.