This issue includes:-
Sad Sally, Happy Hanna: If I Could Turn Back Time
June: Design a Life
COMPETITION: Brainwaves and Forehead Slaps!
Best of the Vault: Out There Doing It
Best of the Forum: Planning For the Future
Best Members' Blog: Mummy Brain vs Consumerism
Best of SS Facebook: Meat Needn't Be Off Limits!
Savings Story: Living the Good Life on a Budget
---
Hi,
Jackie here again, standing in for Fiona. It was great to receive all your feedback after our last newsletter; thank you to everyone who wrote in to share their experiences with insurance companies. If you haven't dug out and inspected your insurance policies yet, please do!
This month's newsletter has been a lot of fun to write and we have a great new competition which we hope will be as enjoyable as it is thought provoking. So without further ado, read on!
Wishing you a wonderful month
Jackie
---
"Tickets all booked! Bali, here we come!" Hanna waved them in her hand excitedly. "Honestly, Sal, I can't wait, we haven't had an overseas holiday since before the kids were born! We've always been too busy paying off the mortgage, putting money aside for the kids' education - but now it's our turn. Time for some FUN!"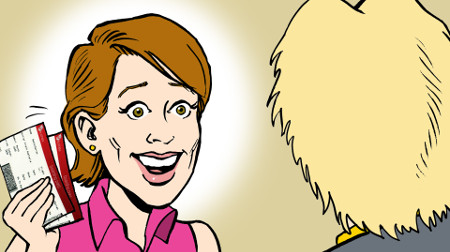 "That's wonderful, you really deserve it." Sally smiled to see her friend so excited. "In a few years you and John won't know yourselves! No kids, no debts - I can't even begin to imagine what that would feel like. When I think of all the money I've frittered away over the years. All those dresses, all those pairs of shoes and expensive dinners. If only I could turn the clock back!" she said wistfully.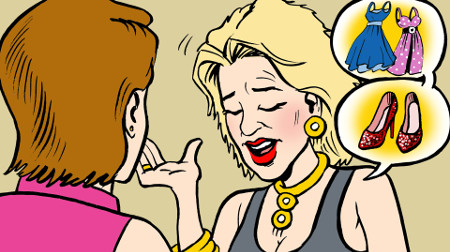 "Aw, don't be so hard on yourself," Hanna smiled sympathetically. "John and I still live the designer life, we just do it differently." "You do? But - how?" Sally stared at Hanna in amazement. "Well, we decided years ago that instead of a designer life, we would 'design a life' and work towards the things we really wanted. You get what I mean?" "Design a life - I like the sound of that!" Sally looked thoughtful. "Do you think Pete and I could still do that?" "Of course!" Hanna smiled. "Excellent!" beamed Sally. "I can't wait to get home and tell him he really DOES have a designer wife at last!"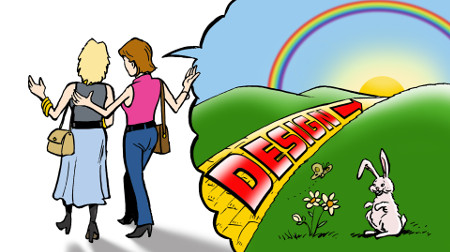 ---
Almost everyone wishes they could turn the clock back at some point. Whilst we can't undo what is in the past, we CAN change the present and work on the future and our finances are no different. For years, Sally has allowed her priorities to be sabotaged and driven off course, sacrificing the things she really wanted for short term thrills in the form of new dresses, handbags, shoes - anything or anyone that jumped out at her and convinced her that she would be happier, prettier, thinner, more popular or that her life would be better for owning it.
It's no surprise that Sally's scenario is an all too common one. As our April competition 'Impossible Promises' showed, wherever we go, wherever we look there are carrots being dangled in front of us, making the vision of the designer life more desirable. We all want the most out of life but often we spend so much time putting things into it and filling it with stuff that means nothing and only gives us pleasure for a short time, that in the long run we actually deprive ourselves. Imagine how different Sally's life would be now if she had kept all that money instead?
The great news is, it is never too late to change. If you want to design your own life, grab a notebook or piece of paper. Then follow these three simple steps:
Write down the things which are really important to you. What will really make you happy and content? What will really make you comfortable and secure? What are your true priorities for yourself and your family? Hanna and John chose to pay off their home loan but you can choose whatever you like - whatever is important to YOU.
Once you have your list, number the things you have chosen in order of importance. Which do you want to make happen first? Which will give you greater peace of mind? Which ones will make your life easier? Only you have the answers to these questions, remember you are the designer!
This is a very important step. Work out who or what it is that could possibly sabotage your efforts or has done so in the past and write these down too. It could be anything from buying lunch every day to online bargains bombarding your email inbox, high maintenance friends, your partner, even your kids. This process will help you to clarify in your head who and what to look out for from now on and help to keep your mindset strong.
Once you have completed these steps, give yourself a big pat on the back. You should now have a clear idea of the kind of life you want, congratulations! From now on it is up to you as the designer to focus on and implement your goals and to keep those saboteurs at bay. We have many fantastic tips and stories in the Vault to help you, starting with this newsletter!
---
There is an old and often quoted saying which goes "There are no mistakes in life, only lessons". This is true enough, however, I prefer this one - "Once a lesson, twice a mistake, three times a forehead slap!" You see, despite her best intentions, the main reason why Sally isn't yet living the life of her dreams is because she keeps being pulled into the designer trap and making the same mistakes over and over again, without recognising them for what they are - big old forehead slaps!
We all have forehead slap moments - things we have done or bought and later down the track thought, 'What was I THINKING?!' This month we want you to share them - but the fun doesn't stop there! This is a two part competition. As well as sharing your worst financial blunder, we would love for you to share your best financial brainwave too. In other words, "the dumbest thing I ever did with money was..." and "the smartest thing I ever did with money was..."
The best entry wins $100 cash so get your thinking caps on! Competition entries close at midnight on July 16th.
---
When it comes to planning the life of your dreams, there's nothing more motivating than reading about others who have already got theirs underway. These tips from the Vault will inspire you to get straight on to it!
Thinking ahead about my family's future is really paying off. After being lucky enough to be a stay at home mum for the last six years I started thinking about the future as both my children will be at school full time next year. I didn't want to have to do the day care thing and we have no family to look after the children, so first I got a job waitressing of an evening until I finally got a position doing night fill at a supermarket. Hubby comes home from work and I go to work three or four nights a week. It's not my dream job, but looking to next year it has many options and I'm hoping to secure a day time position during school hours. Plus, there are great career opportunities if I choose to go down that path in the future. We also move around a lot and companies like this are everywhere and there is the option to transfer.
The best thing is, when I started receiving a wage, instead of spending it I arranged to have it paid into a completely different bank account and simply ignore it. We've lived without that second wage for so long we just kept living that way. As a result, we have just got back from our first ever overseas trip to Bali!
Contributed by: Sally J
I bake every day because I enjoy baking and my family of five enjoy eating. This has saved us thousands over 11 years. We have paid cash for two new cars and we have owned our house outright after only five years of mortgage. To save money, grow a vegetable garden and flowers for enjoyment, shop for specials and buy in bulk - but not so much that it expires before you can use it.
Contributed by: Tracy Gillard
Over the past four years I have been fighting my way out of debt. I was left with a large amount of debt when my marriage ended and it seemed I would never find a way out, working nights to support myself and five children and trying to reduce the debt in some way. Then, instead of just reading Simple Savings I began implementing as much of it as I could. Along the way I found that things I previously thought were impossible are just every day now!
Two of my children have now left home and are independent and I have three daughters still living with me. I have found new ways to feed them and, where once they would have balked if I offered them home-made soup after school, they now eat it with relish. A home-made frappe was dessert last night and they were happy and satisfied with that. Fruit jellies, home-made scrolls and calzone, along with the batches of muffins, bikkies or cakes I make, are average snacks and lunches. School lunch today was home-made soup with home-made pizza scrolls. It certainly took a while to change their views from believing that everything had to be store-bought and chips were the afternoon snack.
I am now debt-free and have savings - something I never thought I would have! Bulk toilet paper, bulk washing powder, skim milk powder, and bulk meat buys at a discount butcher and fruit from the growers has saved me a small fortune.
I recently moved in with my partner to his home with the girls and together we have been able to make more and more changes which once would have not been thought possible but with small steps we have cut out television unless it is a special documentary or one of the two shows per week we deem suitable. The girls now play outside or they garden, read and do homework after school instead of being glued to the 'box' and they haven't asked to play Nintendo for weeks now. Water or weak cordial is the staple drink, with the occasional juice for a treat.
I am now a stay at home mum and as long as I can feed this family, pay for petrol in my car and keep the girls clothed for under $500 per fortnight it will stay that way. I am working hard to make sure these dreams come true.
In reality there is no sacrifice - you just need to know what you want and aim for it every day.
Contributed by: Mona
Changing circumstances and a growing family all added up to us paying a whole lot less off our mortgage than we would have liked. Pretty soon we would have started to go backwards. It was crunch time!
Using the Simple Savings calendar I identified our most expensive habits, and was astounded to see the amount of money that could have been saved. Our grocery bill was always around $200 or more per week. This amount did not include meat or bread that we get from the butcher and bakery. The trouble was, my husband loved all the expensive name brands for items such as chocolate biscuits, lollies and savoury snacks and was convinced that the cheaper or no name products would be tasteless and boring. Week after week I would just automatically reach for these items, without even glancing at the alternatives. I knew as soon as my husband saw the packaging, the goods would remain in the pantry unopened, and he would then go and buy the brand name items anyway.
One week I kept mentioning to him that I was going to do a big clean-up of the pantry and I was finally going to utilise all those assorted Tupperware containers that I had never used. That week I substituted his expensive brand of snack foods with cheaper versions, emptied them into the assorted airtight containers and threw the plain packaging out before he could see them!
I also applied this technique to several other items; I would fill cheaper dishwashing liquid into Morning Fresh bottles, no-name hand wash into saved Palmolive dispensers - you get the picture. Our grocery bill went down from $200 to $140 per week - a saving of $240 a month!
When I finally fessed up to what I had been doing, my husband admitted that most of the snacks were just as good as the name brands, you just have to try a few out. All it took was a creative (ok, and somewhat deceitful) way to present the changes, but we have never looked back. Why would we, with a saving of $3120 a year? Plus of course, one very neat pantry!
Contributed by: Selda Olmez
I believe you can have a fabulous life if you use your brain and you carefully plan your money.
We both have a wonderful lifestyle (mostly due to the Vault hints!) and we live on only $910 per fortnight. Our rent is $370 per fortnight which doesn't leave much left over for luxuries, but with some creative spending we always seem to have more than enough.
I have the Internet, make frequent STD calls to family members, my daughter always wears the latest and cutest fashions, I have my hair coloured and styled regularly, my car is fully paid off (and it's only five years old). I always have an abundance of food in my cupboards and we never, ever cannot pay our bills!
We have a good life and all my friends are envious of the amount of time that I am able to spend with my daughter. I have read the entire Vault and I regularly implement the tips to have such a fortunate life.
I shop for specials regularly, I bulk buy what I can and utilise lay-by facilities, I am never afraid to negotiate or fight for a bargain or my rights, I regularly check up with companies like Telstra to see what they can do for me for being a loyal customer. I hunt around in op shops for barely worn designer clothes (which are VERY easy to find). I fill my petrol tank when it's the cheapest, I pay my rego yearly and put money away for servicing every week. I have friends and family members do favours for me like maintenance, in return I watch their children and I make nutritious healthy meals on a budget. Best of all I have the most priceless thing of all, spending quality time with my daughter!
Contributed by: Persephone
By identifying my real needs instead of succumbing to the negative 'keeping up with the Joneses' behaviour, I have saved our family $25,000.
We have a new baby arriving soon and so for the last six months I have been whining about getting a new car - and I have been looking at my friends' cars as examples; all cars worth $29,000 or more!
Our car is worth $6000 and would fit three baby seats if need be and even though it is a little on the small side it has only done 90,000km and is extremely fuel efficient.
After almost getting my husband to agree to a massive new loan, I identified the exact things that annoyed me about our car and realised that I could fix all these things without adding $25,000 to our mortgage. Instead of forking out tens of thousands we paid a total of $3500 for new car mats and seat covers; a CD stereo system, roof racks and container for more storage space when holidaying and some window tinting.
I am more than pleased with the results and even saved money by purchasing the CD system second hand (and almost brand new) from a young guy upgrading to the latest technology.
With a new baby in the family it really wasn't the right time to be putting ourselves into more debt!
Contributed by: Nicole Havelberg
Our wonderful daughter is a saver on the grandest scale. At 29 years old and earning a modest wage, she is building her first mortgage-free home on five acres; as well as flying out to Bali for a holiday! She has had several serious health problems but is amazing in her efforts to follow her plan, thanks to the support of her equally admirable husband. Their two horses and two dogs are greatly loved and their lifestyle is totally free of unnecessary expenditure. They own their block of land, furniture and vehicles as they need them to drive to work.
To save rent while rebuilding they bought a duplex then removed junk, scrubbed, painted and renovated by finding the best way to build fences, roof a pergola and fix the faults. Meanwhile they have fenced their own block of land, installed gates, had a bore sunk, built open stables themselves with salvaged material and negotiated the big expenses of shed, driveway and site costs.
They are not without experience as she purchased her first property at 19, a unit which she and her father gutted and renovated. Her husband joined in and renovated a property, then they renovated a joint property before they purchased five acres, built a house and developed it for resale so that they could buy their current land. Recycling has included rescuing old baths for horse water troughs, finding a kitchen sink for a fish cleaning bench and rebuilding an old horse float. They planted and watered tube stock trees, had family members grow cuttings and even used the horses to mow the lawns. In fact one horse was purchased for the knacker's fee and the other was free.
No, she hasn't benefitted from a first home buyer's grant as she was too young at the time of her first unit, or from family gifts. Just planning, following her dream and sticking to the budget. It works!
Contributed by: Marg. Mansfield
I find it hard to believe I am the same girl who, five or six years ago, spent all my income and more, was always in debt, struggling to pay my credit card each month and frittering away my future. Three years ago my partner and I left our jobs and opened our own retail business. We pay ourselves less than we were paid in our old jobs (and we both had 'normal' incomes then, not high at all) yet we are saving more. I have often asked myself how this can be, and friends are amazed to hear that we live on only one of our incomes, completely saving the other for our house deposit. I can only put it down to living frugally by planning ahead and keeping our eyes open for bargains, stocking up and being happy with what we have and valuing the simple things in life (clichéd as it sounds).
We make our lunches most days (having a small kitchen and fridge at work helps, however, I had that in my old job too) and buy our lunch for a treat, not every day as we used to. We also have saved a lot of money by stocking up on items we use when they are on special and meat specials from the supermarket which fill our second hand chest freezer. We always plan our evening meal the day before, take the meat out of the freezer and make sure we have all the ingredients. I often will design the meal with ingredients we have at home to use them up. We like a glass of wine and buy our favourites when they are on special at the supermarket. If it's a really good special we buy a case and put it away. That is another thing that has amazed me about our more frugal lifestyle. We have money building up easily in our savings account, always pay our bills on time and have the pantry, store cupboard and freezer fully stocked. It is thanks to Simple Savings and other inspirational sources like magazine articles, frugal living books (from the library, and I purchase with gift vouchers if they're a 'keeper') and staying focused on what we want (get married, have a baby and be a stay at home mother, buy a house). That girl from just a few years ago is no more!
Contributed by: Fiona Macdonald
---
There's no getting away from it, our Forum members are one very savvy bunch! Whether planning for a new baby or heading towards retirement, they have their futures well in hand and are happy to share how it's done. Check out some of these enlightening discussions!
'Not your typical Gen Y' is rather peeved at an article she's read which insinuates all people need to do to afford to buy a house is stop buying their work lunch and bring it from home. Surely she's not alone in thinking it's not that easy? Our savvy members are quick to offer their voices of experience.
read more...
Dollarmite's hubby has just revealed his plans for helping their children out when they leave school - and she's panicking. A car? Uni? House deposit? Where will it all end? - More importantly, how will they ever afford it? Here's hoping the members can help!
read more...
Mary and her husband are in their senior years and trying their best to plan a secure future. There's just one problem - too much interference from everyone else! Fortunately our clever and savvy members have plenty of good tips and advice to share.
read more...
Lorax doesn't need to plan her retirement - her 11-year-old daughter has been busy doing it all for her! A humorous, yet still very thought provoking discussion!
read more...
Thinking about the future can be a daunting prospect, but Bev not only thought about it, she took action and is now reaping the rewards. An interesting and helpful read.
read more...
---
One of the many benefits of being a Vault member is that you can win $100 cash each month for your Simple Savings blog! Starting your own blog on the site is easy. All you have to do is log into the Vault, click on 'My Desk' at the top right, then 'Blog'. Then get writing! We love reading all your money saving trials and tribulations and really appreciate the effort that goes into each one.
This month's Blog winner is Tradies Wife with her post "Mummy brain vs consumerism. Spinning the wheels and getting nowhere in a consumer life."
"Hi There!
I need to get this off my chest so here goes.
I'm back working full time. Three days as a teacher and two days helping out my husband in his business. Both require me to do extra hours outside those days. We also have three children and a mortgage... still!
So... I'm not earning great money. Teaching pays, then the slap of child care expenses comes and chews it up. Yes, down the track, once a year I may actually get some of my money back. But it is a long time between drinks. Figures - Earnings $1300 a fortnight. Child care - kept to a minimum at the moment but we are struggling for after school care for my elder children. $350 per week, for my little one. Then I'm looking at $35 a day per child for after school care... yep, 2x children with after school costs another $350 a week. So per fortnight, ummm... hang head in shame, child care is around $1400 a fortnight. LUCKY that I haven't been able to hook up after school care, so far I've managed the children to be dropped off. The way we are operating doesn't seem sustainable.
It's called the middle class hamster wheel... work harder, work more, work more efficiently... put more effort in so that you can obtain a few spare hours. Time poor some might describe this as.
It comes with a few hidden costs too. Just letting you know. To present yourself for work, although you can turn up in that worn out t-shirt and jeans... yep... a few new pieces of clothing to replace those that have worn out during the mummy days. Some make-up. And a whole lot of, what on earth is for dinner? Do we need to shop again? Pre-packaged food in lunch boxes (well my oven isn't working at the moment, and I don't have time to fix it). As well as buying students' rewards and classroom supplies, oh yeah, 21st century public education.
The other costs of this lifestyle are harder to access. While the kids are learning more independence, I am missing their time and their laughter. They aren't getting to their homework, and reading readers at night is pretty hard when I have four week cycles of report writing to contend with. I can't get to my children's sports practice and I've had to cut out any swimming lessons that they can be involved in. I simply just can't get there.
We are spending more and more in our food budget. It creeps up. Stealthily. Along with everything else no doubt.
I NEED off this hamster wheel for long enough to plan and really assess if it is for me. I can't simply be working for a tax return to put some of my child care money back into my pocket.
While I LOVE teaching it gives me a sense of self-worth and I believe in making a difference to my students and doing the best for them, it's difficult in more ways than one.
More than ever, I need Simple Savings. I've renewed my membership today, hoping that it will lead to a positive direction to take what options we do have, make the most of them and feel like we are working our butts off for something."
Good luck Tradies Wife and thank you for sharing!
You can read more of our members' blogs here.
---
Love Facebook or hate it, the Simple Savers Facebook group is a great way to learn even more tips and enjoy reading other members' successes. One of our favourite posts this month comes from Yvonne, who shares some valuable insights to shopping for and cooking meat on a budget, including how she turns $50 worth of meat into 55 meals!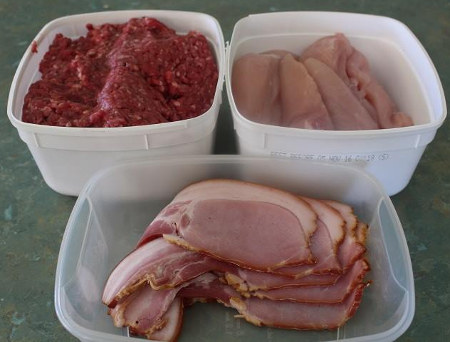 "Meat is expensive. I read many posts about bargains to be had buying marked down meat. I never comment as it does not apply to my situation. Today I want to share my story and show a different way of looking at it. I understand that many people are on very limited incomes and/or feeding large families.
I buy my meat at a local butcher in the small town where we live. Today I bought:
4 free-range chicken breast fillets @ $17.99/kg
1.5kg premium mince @ $13.99/kg
6 rashers of free-range bacon @ $24.99/kg
The total cost was $50. I have calculated that this will make 44 serves (plus 11 x lunch serves using leftovers). This is a total of 55 serves which works out at $0.91c/serve for the meat component of the meals. This is what I will make:
Sweet and sour chicken (2 serves)
Green chicken curry (2 serves)
Chicken tacos (2 serves)
Tumeric chicken (2 serves)
Sweet and sour meatballs (2 serves) plus 1 lunch
Hamburgers (2 serves)
Shepherd's pie (2 serves) plus 2 lunches
Chilli con carne (8 serves) plus 2 lunches
Lasagne (6 serves)
Cauliflower and bacon soup (10 serves) plus 2 lunches
Bacon and broccoli risotto (2 serves)
Fried rice (2 serves)
Bacon, broccoli and mushroom quiche (2 serves) plus 4 lunches
The shepherd's pie, lasagne and chilli con carne are all bulked out with red lentils. The meals will be interspersed with some fish and vegetarian meals.
I am not suggesting that you abandon buying marked down meat if you can get a good deal, however, make sure that it is food that you will be able to use wisely to feed your family. Also, think about adding lentils and/or extra vegetables to some mince dishes to stretch them further as well as some vegetarian meals which can be very cheap and filling.
Just because an item is expensive per kilo, it does not need to be off-limits. Think about how much you use and how many meals it will yield."
Fantastic stuff, Yvonne, thank you for sharing! Joining our busy Facebook community is super easy. Either search up 'Simple Savers' on Facebook or click this link and request to join. Once you're in, let the fun begin!
---
Living in a remote regional area with only a small supermarket and butcher can be challenging enough without the added challenge of being a one income family on a variable income due to hubby's shift work.
To make every dollar count we are careful with how and where we spend our money. We try to shop locally when we can to save money, petrol and time. We carry cash with us whenever we can, and leave our cards at home to avoid over spending. Placing a dollar value on our travel time and petrol costs to our nearest regional centre (115km away, 230km return) makes us plan ahead for big shopping purchases, generally every two to three months, and challenges us to substitute ingredients and plan carefully, thus avoiding expensive impulse buys.
We buy quality, nutritious food and look for ways to stretch our dollars. I cook all meals from scratch, and try to make each meal stretch. If I roast a chook, leftovers become chicken curry, chicken stir-fry or chicken a la king. Brown rice to accompany makes the meals more filling and nutritious. I make chicken soup using the carcass, juices from the roast pan, salt, two stock cubes, 1/2 cup brown rice and leftover vegies from the crisper. They are cooked on low in the slow cooker for 6-8 hours before removing chicken meat from bones and portioning soup into containers for the freezer for lunches or emergency dinner. Leftover lamb or beef roast becomes stir-fry, curry or shepherd's pie. Lamb bones go into the freezer to make lamb and vegetable soup at a later date. I try to cook extra meals to freeze each week and freeze all leftovers to reduce food wastage. I shop with a list and stick firmly to that list. We generally only buy UHT milk and powdered milk, we drink plain filtered tap water, plain mineral or soda water and home-made cordial. Hubby occasionally drinks low alcohol beer which we try to buy on special.
For cleaning, I use vinegar, bicarb soda, cloudy ammonia, dish detergent, borax, gumption and micro fibre cloths. I make my own marmalade, cordial, lemon butter, jam, spreadable butter, salad dressings, mayonnaise, gravy, white sauce, custard, gluten-free cakes, biscuits, gluten-free bread, desserts and fire starters. I challenge myself to only buy the advertised supermarket catalogue specials I need each fortnight, and to plan my meals around these items whenever possible. Hubby only takes home-made lunches or dinners to work. As we are paid fortnightly, we shop fortnightly, but lately I have been challenging myself to shop monthly at a bigger supermarket 40km away, to get more value and variety as I am both gluten and lactose intolerant.
We walk wherever we can (free exercise and the dog gets a walk too), borrow all our books, DVDs and magazines from the local library and read daily news online. I try to buy chemist items such as sensitive toothpaste, dental floss, psyllium fibre, Panadol, aspirin, Mintec and flea treatment for our dog online from Discount Chemist or eBay after careful price comparison.
Recently we have started a small vegie garden to supplement fresh vegetables; growing silverbeet, bok choy and parsley for salads and stir-fries. I plan to freeze any excess. Many of the plants in our garden have come from cuttings my husband has cleverly propagated, saving lots of money and many neighbours have commented on our garden. We have been careful to grow plants such as succulents, rosemary, lavender and geraniums, which thrive in our harsh, dry climate. All are easy to replant into pots and hanging baskets or to swap with neighbours.
It takes practice and dedication to live on a budget, but by being careful we can make our dollars stretch, helping our disabled son with his living costs, while continuing to pay off our modest mortgage and live the good life in a small country town.
---
We hope you have found this month's newsletter helpful. Don't forget to enter our competition with your favourite brainwaves and forehead slaps! One competition which never changes is our 'Hint of the Week' competition. Simply send in your favourite money saving tip (you can enter as many times as you like) and you could win a 12-month membership to the Vault. We really appreciate each and every tip we receive.
That's all for now, have a fantastic month!
All the best,
Jackie