This issue includes:-
Sad Sally, Happy Hanna: Never Enough Hours in the Day
July is Double Dinners Month!
Hidden Gems Competition Winner: Home and Giving
Best Member's Blog: Why I Re-Subscribed to Simple Savings
Best of the Forum: Make-Ahead Meals
Best of the Vault: Simply Scrumptious Suppers
Cooking with Mimi: Double Dinners... Triple if You're Game!
Fifty Cent Indulgences
Claire's Blog: Little Changes, Big Results
Rob Bob's Gardening Blog: Hello and Welcome!
Homeopathy Corner: Pricey Pets
From Last Month: Gluten-Free Diet
This Month's Help Request: Post Chemo Hair Care
Savings Story: How We Adjusted to Big Income Cuts
Goodbye, Goodbye
---
Hello,
I hope you are having a great month. We have an exciting newsletter for you with some lovely new folks for you to meet. First, let me introduce Claire, our new Simple Savings blogger. Claire has been working behind the scenes at Simple Savings editing hints and helping out since December. This month you get to meet her for the first time. She is lovely :-)
We have been having trouble thinking up a name for Claire's new blog. If you have any suggestions, we would love to hear them.
Secondly, I'd like to introduce someone you may have met before, the wonderful Rob Bob, our resident garden expert. Rob has been blogging about his garden in the Simple Savings members' area for almost two years and we thought it was about time he got a promotion. Yeah, Rob Bob!
We are very lucky to have you Rob and Mimi, Annabel, Helen and Claire M, and all the fantastic people in the Forum. Can everyone please give them a huge round of applause because they are wonderful and they deserve it.
While we are enjoying the warm fuzzies, I want to thank you for helping and supporting us through the years and share with you some of the lovely compliments we have received this month.
"I stumbled on to Simple Savings just a few days ago in my quest of seriously reducing household expenses. Oh my goodness, what a godsend. While I've always been careful with money, I love the fact that you have organised your website so beautifully to give people like myself focus and direction on how to really save! My deepest thanks and appreciation to you!" (Ilona)
"I would just like to say a huge thank you to the person who provided the tip for cleaning suede. My husband and I are both on a pension, so have a limited income and are so grateful to Simple Savings for saving us so much money on cleaning our suede lounge suite. The arms on the sofa and chairs were quite badly marked, as well as the head rests on the arm chairs. It was getting to the point that I was thinking we may have to purchase a new one which is really not on the budget at this time. I bought a spray can of suede cleaner for shoes as advised which cost $5.99. To my great surprise the arms and head rests look amazing! Now my lounge suite looks as good as new again. What a saving!" (Joan Millen)
Thank you to everyone who has supported us.
Have a great month!
All the best,
Fiona
P.S. Fiona was on Today Tonight with Justine Davies this month. If you would like to watch the segment here is a link
P.P.S. There was also an article about Fiona and The $21 Challenge in the Financial Review this month. Here is a link to the story. If you want a real laugh, check out the comments at the end. Some people will never get it. LOL
---
"Anyone home?" asked Hanna, poking her head inside the door. Sally smiled, "Good timing! I don't suppose you've got any more of that chocolate?" Hanna laughed, "Of course I brought chocolate! How are you going?" Sally looked really down. "Oh you know how it is - by the time you do a day's work, take the kids to hockey practice and get home, it's dark and you're tired but you still have to cook dinner! Wouldn't it be nice if we could just put our feet up, have a block of chocolate and a glass of red wine instead!"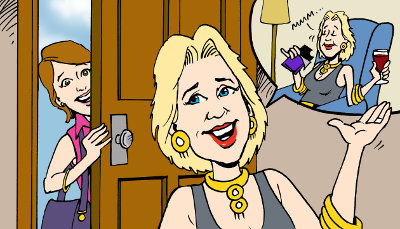 "I know how you feel," Hanna said peering into Sally's saucepan. "Chocolate every night would be fantastic! What are you cooking?" Sally answered miserably, "It is supposed to be stroganoff. Ugh! And, now this stupid thing is sticking to this stupid pot!" grumbled Sally. "It looked so easy on MasterChef!" Hanna laughed. "Turn the heat down." Sally glared at her. "I know, I just wanted it to cook faster."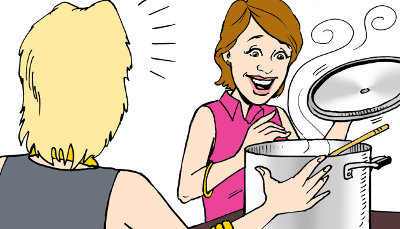 "You know, some days I wish I was a polygamous bride." Sally moaned. "That way there'd be five of us to cook dinner and I would only have to do it every fifth night." Hanna started laughing. "Sal, what TV shows have you been watching? I don't think that's the answer. Cooking in bulk and freezing it would be easier." Sally moped, "I guess you're right, Hanna. I mean if I had to share Pete with four other women there would never be enough chocolate!"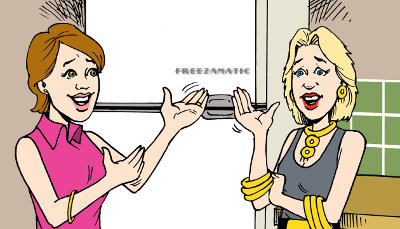 ---
Isn't it funny how TV can change the way we do things and view the world. Just like the way it tricks us into thinking takeaway is a smart choice and buying frozen meals will make your life easier, when they don't. What will make your life easier is this month's Double Dinner challenge. This is where we ask you to cook double quantities of every meal so you only have to cook 15 nights instead of 30 and you can claw back a big chunk of time and money.
This is the third year we have done the Double Dinner challenge. In past years we have explained how it all began, summarised how it saves you time and money and how to do it. But, the thing we have never done is timed it and added up exactly how much time and money you will save. So that is what I have done this year.
This week I cooked one night's worth of spaghetti bolognaise. The next night I cooked a double quantity of the exact same meal and Miss Jacqueline timed it. These were the results:
One night's
spaghetti bol.
Two night's
spaghetti bol.
Collecting the ingredients
2:15
2:31
Getting out the equipment
(turning on the stove and heating the water)
1:36
1:30
Preparing the vegetables
6:03
8:38
Cooking while standing at the stove
7:32
10:06
Simmering and cleaning up
2:21
2:33
Simmering unattended
1:20
6:46
Draining, serving and/or packaging up
1:41
2:52
Total hands on time
21:28
28:10
Total time
22:48
34:56
Reheating and serving second meal
4:00
(approx. Matt timed it)
When you look at those times you will see that my actual time preparing the second meal was only an extra 6 minutes and 42 seconds. By investing that much extra time in one night's meal I got the second night off cooking. YES! I GOT THE SECOND NIGHT OFF COOKING. The whole second meal was done and dusted in four minutes. And, even better, I didn't have to do it. Matt did the second dinner. He reheated the bolognaise on the stove and poured hot water on the already cooked pasta and nuked it. Heaven!
I was able to do other things, while Matt prepared and served dinner. HEAVEN!
If you would like more information on how you can make your own Double Dinners here are links to some of our past newsletters and scroll down for Mimi's recipes.
June 2010: This one has photos of Naomi's very impressive freezer filled to the brim with meals. I love that photo.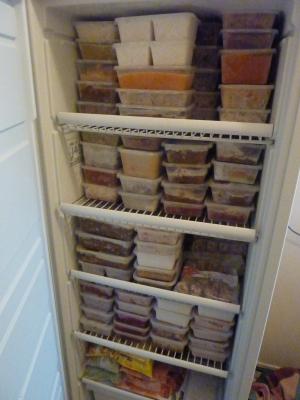 May 2010: This one starts out with a cute photo of Elora when she was just ten months old. Ahhhh... She is almost three now.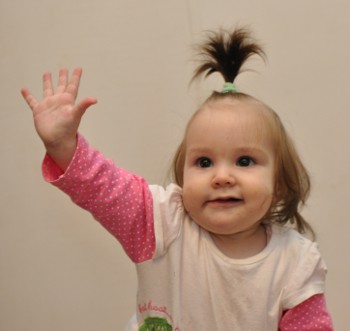 It explains where the Double Dinner idea came from. May 2010 Newsletter
---
Our Hidden Gems directory is designed to help members source the best deals in their area. Whenever you come across a real gem of a business, enter it in our Hidden Gems directory and you will be in the draw to win our monthly prize of $100 cash! This is our way of saying thank you for sharing your knowledge and helping other members save. The more information you can give us about your special store or business, the better.
This month's winner is Home and Giving as nominated by Rachel Steele.
Well done Rachel on finding this gorgeous shop and sharing it with us.
Foodland Shopping Centre Shop 3, 2 Victoria Cres, Mt Barker SA 5251, Australia
(08) 8391 6600
Home and Giving is a Hidden Gem in the Foodland Complex of Mount Barker. There is no other store like it! It is full of beautiful and unusual items from all around the world. You can spend hours browsing the store if you have the time - there are just so many interesting things to see! Maggie, the owner, goes out of her way to create beautiful displays, which are always changing.
What I really love about this store though, apart from the wonderful things in the store, is the fantastic customer service. Maggie and the other assistants go out of their way to help you find the perfect gift for someone by finding out the kind of person the gift is for. It's a great help for really hard-to-buy-for people! They also wrap your gift for free with gorgeous paper and ribbons. They truly take the time to get to know their customers and treat them like family.
I cannot rave about this store enough. Those who are lucky enough to have found this store know what I am talking about!
Home and Giving often have incredible sales in which you can grab amazing bargains. Maggie also keeps a VIP list, which anyone can put their name on, and she will send you a letter prior to each sale.
You can always find something special here and give your loved ones meaningful gifts that are just right for them, and not something that everyone else has.
If you know somewhere special you'd like to recommend, please write in and tell us. Send in your Hidden Gem here and you could be the next winner scooping the prize money. Thank you to everyone who entered and good luck for next time!
---
One of the many benefits of being a Vault member is that you can win a cash prize of $100 each month for your Simple Savings blog! Starting your own blog on the site is easy. All you have to do is log into the Vault, click on 'My Desk' at the top left, then 'Your Blog'. Then get writing! We love reading all your money saving trials and tribulations and really appreciate the effort that goes into each one.
This month's winner is Simply Blessed (Mum of 9), one of our UK based members, for her inspirational savings adventure 'Why I Re-Subscribed to Simple Savings':
Discovering the Simple Savings website on the Internet in early 2011 was very exciting to me! After spending many happy hours trawling through everything I decided to take the plunge and become a fully paid up, aka gold member. This wasn't a typical decision for me as I am a business woman (read 'tight') and will usually only pay for what I believe to be a good investment. In fact this is the only website that I have ever paid to belong to!
After joining Simple Savings I spent even more hours reading all the things that I couldn't access before as a visitor to the site. Looking at the huge amount of hints and tips waiting for me in the Vault was exciting, even if I couldn't read them all at least I could use the search if I needed a specific tip for my current situation. To encourage us to add new hints and tips to the Vault there was the chance to enter the monthly hint competition where the winner gets 12 months free membership or else just send in hints of their choice. I even managed to submit some hints of my own, such as; Cycle your way to free family fun and Nothing to lose and everything to gain! ...here
The Savings Diary was a good reality check for me as just entering the amounts that I spent each day was a reality check in itself. I could feel myself getting uncomfortable and thinking; 'you spent how much?!' Just little bits that we kid ourselves (well, I do anyway) are 'essentials' don't feel quite so essential when you have to tick the essential box at the side of the entry on the day's spending sheet. What do I do, if I tick it as essential and it's not really then I will feel guilty but if I don't then it will look bad in the monthly total spend (go figure!). As those who use the Savings Diary on a regular basis will already know, all the daily figures that you enter get automatically added up by the program (clever thing) so it saves getting the calculator out. The point of this is so that you can see at a glance exactly how much you have spent in total already that month and how much of it was essential spending and how much was non-essential. So on day one it looks very healthy as it only has that day's spending entered, by day fifteen you could be forgiven for thinking; 'but it's only half way through the month and I've spent that much already, how much more am I going to spend?' At this point you can either stick your head in the sand and stop entering the data or get creative about slowing down the spending to get you through the rest of the month in line with your goals. The choice is yours.
For more variety in our family diet there was the Recipes section where everything was neatly categorised for easy access, my online recipe book! Here you can find everything from exciting savouries to mega batches of easy cook biscuits. Here are some examples; Home-made Vogel's bread - no knead, slow rise for breakfast, Divine cauliflower balls as a change for lunch, Anzac slice for a snack, Chicken cacciatore for dinner and 5 minute chocolate mud cake for one as a special, albeit fattening, dessert. There are even Gluten-Free and Lactose-Free recipes for those who cater for special diets, very impressive!
The Simple Savings calendar in the Wealthy Habits section is full of helpful tips and fun challenges with daily squares to tick off as you go along. Fiona (our lovely site owner) has prepared many encouraging tips geared towards saving us all money, time and even the planet. You don't have to use it of course but it is included in the subscription and it is fun to use, so why not!
All the savings that Simple Savers make can be entered into the Save-O-Meter, simply state what you did to save the money and enter the amount saved and it will be added to the amount saved by members as a whole. I don't know how many members actually use this feature but the amount saved would look even more exciting if everyone used it, just a thought. At the time of writing the total amount saved by Simple Savers members as a whole is a whopping; $26,382,847 which figure will obviously go up all the time!
The monthly newsletter was always received eagerly and devoured quickly! One of the main features of the newsletter of course being our very own Penny Wise with her blog posts also found collectively in Penny's Blog. Such an interesting writer with a lovely personal style so that the reader feels that they 'know' her and her family and the real problems that they face. (Of course we all know that she is really called Jackie Gower but that doesn't make any difference, it's the personality that matters, not the name). Sadly, Penny is no longer with us but on a positive note her blog posts are still here to re-read and we can still follow her and her family on her new blog at: http://laughingisfree.blogspot.co.nz/
The Hidden Gems section is a great idea even if it isn't quite so helpful to myself as I live in the UK but I believe that there would be heaps of gems (good stores with reasonable prices) there for people living in Australia or New Zealand, if you haven't looked there yet why not check it out!
The $21 Challenge, this may have started with a joke by Barb's husband but thanks to her undertaking the Challenge and succeeding it is now held up as an amazing way of handling those emergency crisis times! Instead of crying or borrowing cash to spend on groceries and getting into more debt in the long-term, simply eat carefully from your stash and make it last until your next wages comes in. Sounds really simple but actually it is not obvious to most of us, especially when you are in the thick of the situation and panicking! Fore-warned is fore-armed, so read up on it now and you will be prepared if the worst happens. Alternatively you could just do the Challenge for fun now as a trial and use it as an excuse to use up all those foods that you couldn't resist buying when in the shops but seemed boring once you got them home (how do you think I know that one!).
Did you know that in the Downloads section you will find that amongst other helpful tip sheets and tools, the first two chapters of the $21 Challenge book can be downloaded for free and samples pages of the other chapters too. Plus firm favourites like 100+ Things to with a pound of mince beef and the simple menu planner that can be a lifesaver if you choose to use it. There are so many good ideas in this section.
Then of course are the Members' Blogs which is the area that I personally love, here you learn about other people's savings in a deeper and more personal way. You get to know people and how they live, what their priorities are whether it's clearing debt, saving for a house or learning to dress like a goddess but on a budget. It is good that you can leave comments on the posts if you want to simply encourage the blogger, give some friendly advice or even sympathise when appropriate if things aren't going too well for them. You don't have to be female to blog either; we have all enjoyed Rob's garden contributions and Tracey D's husband's humorous family posts too.
What about the Savings Forum I hear you ask? Well of course that is where we start threads or join in with others. This is where the main action takes place, where the community chat to each other and share each other's burdens or joy. This is the place that needs to be a 'safe and happy place' like in a family home or else it could soon turn sour with members being hurt or offended. Fiona rightfully has the role of 'mum' here, as creator of the site, and like it or not, her decisions should be accepted just like in a family. I am sure that we don't all agree with decisions that our mums made or that our boss at work makes but Fiona is 'boss' here and we need to respect her decisions as such. Personally, she has not offended me in any way and admittedly has never pulled any of my posts or threads which I understand has happened to others but even then we still have to respect that action as it is probably for the long-term good of the site. It can't be easy having to make hard decisions which may upset people (as a mum of nine I have been there done that many times over) and I can see it from both sides. I am sad that people have left over past hurts but am glad that I was temporarily offline at the time when this happened as I haven't been emotionally affected by it and can still see the site for what it really is and what it actually offers to its members.
So, in answer to the questioning title of my blog post; why did I re-subscribe to Simple Savings? Well, after reading all of the above I think that you already have a fair idea! Apart from the Simple Savings website being incredibly addictive I still need the encouragement of others towards achieving my goals whether it be money saving, weight loss or decluttering the house. This is a rare group of like-minded people who understand how hard it is to stop spending and save instead. Whereas other people around us just think you are mad if you share your problem with them, it's like; 'why not just spend then?' they just don't get it, sigh. Also I haven't finished reading all the tips in the Vault yet and I still want to use the blog to post my thoughts and the Savings Diary for accountability for my pennies and pounds. Besides, we are a community now, how easy is it to give up friends that you come into contact with on a daily basis, even if it is 'virtual friends'?
As a business woman I also needed to ask myself if it had been a wise investment, I mean paying $17 for a website subscription, really! Well, I got that back many times over from one simple blog post in the August 2011 newsletter called; Celebrating Free Food Month: A month of strawberries! which is basically about our family's strawberry tradition. I actually won 100 Australian dollars for writing about strawberries? I know, I couldn't believe it either at first, it was like pinch me somebody, is this for real! Poor Matt too as he had to work out how to get me the funds in GBP but he got it to me, good old Matt (perhaps less of the old he's probably younger than me ;-). By the way Matt does a grand job keeping the site ticking over doesn't he? Always there to sort out our techno problems, I know that he has helped me get out of a pickle in this area, thank you Matt!
Now all I have to do is go Tell a Friend all about the many benefits of Simple Savings and I could get three months free subscription on top of what I have already purchased, now that's brilliant!
Here's a simple blessing to Simple Savings;
'May you continuously grow in members, may your Vaults be overflowing and peace to all in the Forum'.
All the best, from: Simply Blessed (Mum of 9)
Congratulations Simply Blessed (Mum of 9) for such an awesome and inspiring blog! To read any of our members' blogs, click here
---
Making meals ahead of time is a fantastic way to make life easier as well as saving time and money. By investing just a few extra minutes and cooking double quantities, you can earn yourself a well-deserved rest on those days when you have no energy left for slaving in the kitchen! It's a great feeling to know you have home-cooked, nutritious meals waiting in your freezer ready to be heated and served whenever you need them. Too easy!
Here's a great thread for those of you who love to get the jump on food preparation and save even more time!
read more...
Our inspirational Mimi strikes again with not Double Dinners, but TRIPLE Treats!
read more...
More of our clever members have been inspired to cook just once and have the rest of the month off (well, almost!). Why not follow their lead with gorgeous recipes such as Honey Mustard Chicken, Mongolian Beef and Italian Meatballs... delish!
read more...
Here's all the inspiration you'll ever need to dust off that slow cooker or crockpot and get cracking in the kitchen! Be inspired by the time and energy savings our lovely members are making by cooking beautiful bulk recipes.
read more...
A true Double Dinners thread explaining the ins and outs of preparing two different recipes at the same time! Now that's what I call smart cooking.
read more...
---
We all love coming home to a warm and cosy kitchen infused with the delicious aromas of home-cooked comfort food. Soul-soothing soups and stews, rich roast dinners and risottos, piping hot pastas, potatoes and pumpkins... yum! Our Savings Vault is your 'go to' place for stacks of Simple Saving supper ideas like these:
I made one medium-sized chicken (costing just $8.79) into 23 adult-sized servings! After reading about Double Dinners in the latest newsletter, I found the inspiration to transform the frozen chicken defrosting on my bench into multiple meals for the family.
First thing in the morning, before I went to work, I roasted the chicken. Then that night I added two small onions, three carrots, two potatoes, two kumara, three celery stalks and a tin each of pineapple, crushed tomatoes and cannellini beans, a cup of peas and a cup of corn. I thickened the casserole with maize cornflour and made a big pot of rice to accompany it. We enjoyed a fantastic meal and hubby even delivered a batch to some poorly friends, which helped them out and didn't cost us any extra time or effort. There was enough casserole left over for one more meal which we froze for another day. But it didn't stop there. The chicken carcass spent the day simmering on the stove with some fresh herbs, and I later turned it into a hearty vegetable soup. I then removed the bones, gave them another simmer and made them into a second batch of stock to make a cream of kumara soup. That super chook literally fed our family for days!
Contributed by: Amy Diffey
I always cook our family's dinner one day ahead; this simple trick makes cooking dinners stress-free and eliminates the need to dash out for takeaway. For example, I make Monday night's dinner (usually a crockpot dish) while cooking dinner on Sunday. On Monday night I prepare Tuesday's and so on all week. By doing this I am running a day ahead of myself and takeaway dinners are now a thing of the past!
Contributed by: Christina M
As a family of two adults who cook often with a large crockpot, we regularly find ourselves with a heap of leftovers. So, instead of filling it with enough food for one meal several times over, we now take two oven bags and divide our meat between both bags. We add different flavourings to each bag then arrange them both in the slow cooker and cook on low for eight hours. I have just made Chicken Korma in one bag and Mediterranean Chicken with olives in the other bag. The conflicting smells are surprisingly delightful and the final result is two deliciously different meals cooked using the same amount of power to cook one. We freeze any leftovers to use for a later meal.
Contributed by: Linda P
I'm making big savings on meat by making it go further and using every single piece productively! Now that our family is smaller, I decided to do without the usual big Sunday night roast. Instead, using a $10 pork roast (at $4.99kg), I was able to make three meals for four people. I cut off all the crackling and fat then cut it into chunks and made twelve two-inch thick pork steaks. I then sliced the rest up into thin strips and crumbed enough to feed four. There was even enough left to make a stir-fry!
I also apply the same principles to chicken in order to get more for my money. A whole two-kilo chicken, which costs about $10, can also be used to make multiple meals. Breasts can be sliced and crumbed or made into mignons, stuffed with ham and cheese, or stir-fried. Small pieces such as wings and off-cuts can be marinated. Legs and thighs make a hearty casserole or taste great oven-baked. I cut the thighs in half so there isn't as much waste. I often use the small pieces of chicken I trim from around the bones to do a chicken risotto as a little bit goes a long way. The carcass can be boiled for stock which makes a great base for soups or casseroles. My family is enjoying our new varied and tasty menu and I'm enjoying the minimal waste and the impressive savings I'm making along the way!
Contributed by: Mumma G
Imagine being able to make nine meals from two plain roast chickens! We buy two size 18 frozen whole chickens for about $5.00 each and roast them. We then divide up the meat and bones to make five main meals and four lunches:
Roast chicken dinner
If you're short of time or don't like to make stuffing, use an orange to stuff the chicken! It adds a lovely flavour. Add a little salt and oil and roast at 150°C. When serving your roast dinner, use the legs and thighs and slice a little breast for smaller children if necessary.
When the remaining chicken has cooled down after dinner, pull the meat off the bones (be sure to turn it over and get the meat off the back too). Chop the meat up and divide it into one-cup portions. Any remainders can be used in sandwiches with salad. Put the bones in a large pot of water with onion, garlic, celery and salt and boil for about 45 minutes. This should give you around 8-10 litres of chicken stock (valued at around $20!). You will need to keep two litres of the stock in the fridge to use in the chicken risotto and three litres for the soup. The rest of the stock can be frozen.
Chicken risotto (about 10 serves)
The risotto is easy to put together in about 20 minutes with a portion of chicken, two litres of stock and rice and vegetables of your choice. Leftovers make tasty lunches, even served cold!
Chicken noodle soup (delicious - serves 8)
Make your chicken noodle soup by bringing three litres of stock to the boil and adding finely chopped root vegetables such as potato, carrot, parsnip and sweet potato. Boil for around five minutes and then add your choice of green vegetables. Next add your cup of chicken and two cakes of rice noodles. Simmer for a few minutes more and serve.
Chicken in white sauce
To make the chicken in white sauce, cook some pasta of your choice in boiling water. Sautee some chopped vegies with garlic and onion for a few minutes. Make the white sauce by melting a tablespoon of butter in a saucepan and adding three tablespoons of flour. Cook, stirring for one minute, then gradually add 1.5-2 cups of milk, stirring continuously. If you want to use less milk you can substitute half with chicken stock. Add the chicken and vegetables and stir and then add to the cooked pasta and mix through - if you make a large batch of pasta this will give you enough for lunches as well.
Chicken pizza
We make our own pizza base although you can use plain ready-made ones or pita bread. Chop up some pumpkin, corn, zucchini, tomato, shallots and garlic and fry together for about five minutes. Top your pizza base with tomato paste, cheese and chicken, followed by your vegetables and another sprinkling of cheese. Grill until cooked through and the cheese has melted.
Contributed by: Sharne Roby
A couple of extras for our valued Vault members:
Freezing food website Contributed by: Keith Blayden
Double duty foods Contributed by: Kellie m
Cook and freeze Contributed by: Margret Mcpharlin
One humble pumpkin makes a myriad of meals Contributed by: Sue M
Freeze containers of stew Contributed by: Barry Gundon
---
I don't know about your family, but my husband, in particular, has an aversion to anything that looks remotely like leftovers. This is possibly a trauma left over (no pun intended!) from his childhood when his dear mum would cook dinner at 9am and leave it warming in the oven until 5pm, which was 'teatime' back in the 60's. Of course in the 60's there were no microwaves and good material on how to cook ahead was probably a bit scarce on the ground, so I'll forgive her on that basis.
Nonetheless, this means that I cannot simply cook one humongous batch of the same thing and serve it up over a fortnight in its original form. It would be eyed most suspiciously as leftovers and pushed to one side, with complaints all round.
So, I've had to get a tad sneaky, and recycle these frozen meals as a completely new dish, to circumnavigate any whines and whinges.
Here's a lamb one I've come up with. I use lamb offcuts on the bone if I can get them, lamb neck chops or diced lamb when it's on special.
This idea gives me a Lamb Curry in round one, Middle Eastern Lamb and Rice in round two and the big KO in round three, Lamb Pilaf.
These quantities will serve four adults for three incarnations.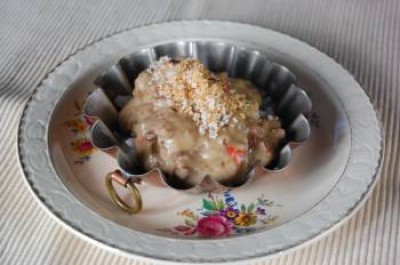 Round One
Equipment required:
Resealable or freezer bag
Large non-stick frying pan
Slow cooker or large casserole dish
Measuring cups
Sharp knife
Saucer
Microwave-safe dish with lid or cling wrap to cover
Ingredients required:
2 kg lamb offcuts, chops or cubes
2-3 tbsp oil
3 tbsp flour (I use cornflour for gluten-free)
1 large onion, sliced (or you can use three tablespoons of my onion confit if you make it)
4 cloves garlic, crushed
1 heaped tsp minced or grated ginger
1 red chilli, finely sliced
1/2 cup any curry paste, I used Massaman
1 cup water
4 stock cubes
1/2 tsp cinnamon
3 bay leaves
1/2 cup desiccated coconut (optional)

1 cup coconut milk or see *note* below

I make a reasonable coconut milk/coconut cream substitute by mixing one cup of milk powder with half a cup of warm water and three teaspoons of coconut essence. It's a little sweeter, but gives a lovely depth of flavour to the curry. Just use this amount to substitute the coconut milk if desired.
Method:
If you're using a casserole dish, preheat your oven to 170C and have your casserole dish ready on the bench. If you're using your slow cooker, plug it in and have it ready to be filled close by.
You're also going to need some steamed rice and vegetables to serve this one within a few hours, so check out what's going on in the fridge and use up some of those limp veg!
Put your meat and flour into your resealable or freezer bag and shake it around until your meat is well coated.
Heat your non-stick pan over a hotplate heated to high and add a tablespoon of your oil. Pan fry your meat in small batches until it's browned well and remove each batch to your casserole dish or slow cooker.
Add your garlic, ginger and onion to the pan and cook, stirring until it's all brown and aromatic. Add the chilli and curry paste and stir the lot until it's fragrant. Add the stock cubes, cinnamon, bay leaves and water and stir until it's bubbling merrily, then tip the whole mixture over your waiting browned meat in your dish or crockpot.
Allow your pan to cool and then wash it up as you're going to need it again in a tic.
Pop your casserole into the oven or the lid onto your slow cooker. Cook until tender. For oven, you're probably looking at around 2-2 1/2 hours. In your slow cooker, an hour on high, then 3-4 hours on low will do the trick.
While that's simmering away to its flavoursome conclusion, heat your cleaned non-stick pan over a hotplate heated to high and toss in your desiccated coconut. Stir it around for a minute or so, until it's nicely browned, then tip it on to a saucer so it doesn't burn. This is going to garnish your Lamb Curry and give it an extra boost of flavour. Yum!
You've got plenty of time to steam your rice and vegies, but don't leave it too late!
When the meat is all tender and soft it's ready to serve, but remember, you're only removing a third of the quantity you've cooked. Remove the right amount to a microwave-safe dish, along with a portion of the cooking liquid, and add your coconut milk or substitute.
That coconut milk will have cooled your curry a little, so while you're serving the rice and piping hot vegies, pop your curry into the microwave and give it a quick zap for 60-90 seconds to restore it to a steaming serving temperature.
Dish up your mouthwatering cubes or pieces of meat with a good ladling of sauce and garnish it all with the toasted coconut.
Resist the urge to go back for seconds or thirds or there goes your double and triple dinner... arrrrrgh!
Round Two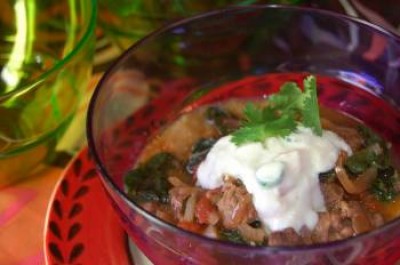 Equipment Required:
Large frying pan, wok or saucepan with lid
Sharp knife
Tin opener
Measuring cups
Spoon
Brightly coloured bowls for serving if you like :)
Ingredients required:
1/3 of your quantity of Lamb Curry including some of the juices
1 large onion sliced or 1/2 cup onion confit if you make it
1 x 800g tin peeled tomatoes
1 cup water
1 beef stock cube
4 leaves of silverbeet, spines removed and sliced, leaves torn into large pieces
Couscous
...for the spiced yoghurt, you'll also need:
1 cup natural yoghurt
1 small onion, finely diced
1 small green chilli, finely sliced (replace with lemon zest if you prefer)
1 tsp mustard
1 medium tomato, finely diced
Pinch of salt
Method:
Prepare your spiced yoghurt first to give the flavours a chance to infuse. The day before is great if you think of it. Just mix the ingredients in a small bowl and leave it covered in the refrigerator until you're ready to serve this one.
Heat your pan or saucepan over a medium-high hotplate and toss in your sliced onion or onion confit. Stir it all until it smells good and add your lamb curry, along with the tinned tomatoes, water and stock cubes.
Turn down the heat and simmer uncovered, until your liquid and juices have reduced by about half. This will take 10-15 minutes, and make your house smell like a Moroccan Kasbah. Toss in the silverbeet in the last few minutes and stir it until it wilts. Let it heat through before you serve.
While that's simmering, prepare your couscous according to the instructions on the packet. I like to prepare mine with chicken stock and toss in a few currants and slivered almonds for authenticity, but plain is fine too.
Get out your mismatched bowls and put on your jangly bangles, fling a colourful sarong or tablecloth on the table and scoop some couscous, a big ladle of Lamb and Silverbeet and a blob of spiced yoghurt into your dishes.
Voila! Well, French is the second most common language spoken in Morocco you know.
Round Three
Equipment Required:
Microwave-safe dish, large
Large saucepan with lid
Wok or second large saucepan or frying pan
Large flat platter and bowls for serving
Ingredients required:
2 cups long grain rice
2 beef stock cubes
1/2 cup slivered almonds
1/2 cup dried apricots, cut in half
3 carrots, peeled and chopped
1 onion, finely diced
2 tsp turmeric
4 cardamom seeds
Final third of your Lamb Curry
Fresh herbs for serving
Method:
If the last of your lamb is on the bone, remove it from its juices and shred the meat, discarding the bones.
Peel and dice your carrots and onion and cut your apricots in half.
Steam your rice in your large saucepan with lid, using your favourite method. I like to add 3 3/4 cups of water to my two cups of rice, along with a pinch of salt. Then it's just a matter of bringing it to the boil, covering it with a firm lid and switching it off to let your stored heat do the rest. If you resist the temptation to peek, you'll have perfect, fluffy rice in about twenty minutes. Fluff it with your fork to loosen the grains.
Spoon your lamb curry and the remaining sauce in to your microwave-safe dish. Add your apricots, cover your dish and microwave on high in two-minute blasts, stirring between each blast, until it's piping hot.
While that's warming, add the oil to your second saucepan, wok or frying pan and get it heated well over a hotplate heated to high. Toss in your carrots and onion and stir them until they're browned, add the turmeric and cardamom seeds. Stir this until it smells good. Add your steamed rice and the hot Lamb and toss it all until it's well combined.
Tip the whole shebang onto your large serving platter and garnish it with your almonds and fresh herbs. Coriander is our favourite, but parsley, mint and chives are all good as well.
Lay it out on the table with big serving spoons and colourful bowls. We love eating this from multi-coloured bowls, rescued from the thrift shop along with our Splayds, also adopted from there. Splayds are a sort of combo fork and spoon with one bevelled edge for cutting softer meat and veg. Perfect for Pilaf!
Thus ends my tale. Thank goodness. My fingers are all typed out!
Enjoy!
Here are links to other blogs in the members area by Mimi this month:-
Mimi's home-made sweet chilli sauce and ways to use it!
Playing nice in the real world or how loyalty and integrity saves me money!
---
So how did you go with your 50c Indulgences Challenge last month? Did you take time out to spoil yourself each and every day? I made myself a huge container of chocolate syrup. It made the house smell delicious! And it was TASTY! What delights did you indulge in? You know you deserve it, so don't hold back! Feeling good and honouring yourself is essential to a happy and healthy life filled with chocolate syrup.
Last month, Helen and Annabel's 50c thread introduced us to the delights of a 'snuggery'. This is a cosy, comfortable place in your home where you can slow down, recharge your batteries and capture that 20 minutes of 'me' time, anytime. Beautiful places to comfort and nurture your soul.
One of the best snuggeries was made by our marvellous Mimi who snazzed up her bathroom by repurposing an old DVD/CD cabinet into a stunning spot to store her perfumes, toiletries and bathroom goodies. Check out her photos, aren't they gorgeous!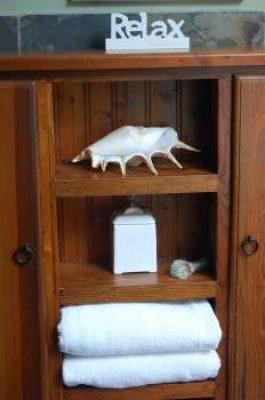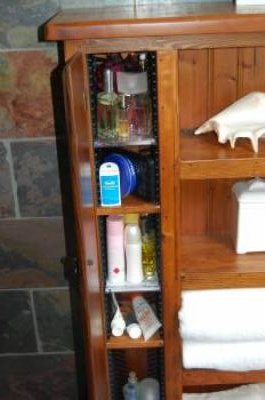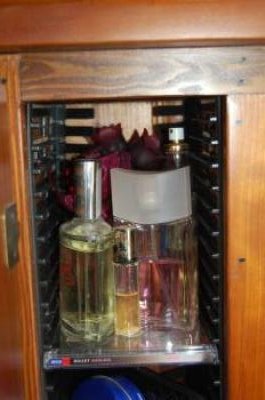 This month, Helen and Annabel's 50c Indulgence thread is encouraging us all to make yummy food and spice up our kitchens. Does this mean I can make even more chocolate syrup? My kids are going to be very happy - yummm! Annabel has gotten the ball rolling with her baker's rack revamp: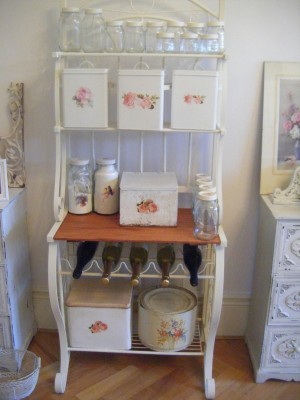 How beautiful (and useful) is that!
Make sure you drop into the thread and join in the fun. Come spoil yourselves!
---
Over the past few days I've been pondering how to launch into this blog - I want it to be inspirational and interesting, honest, humorous and full of fabulous savings titbits and amusing anecdotes that will change your life... or at least make you want to read past the first few sentences! As I was pondering, waiting for inspired brilliance to spring forth from my fingertips, I got to thinking about how I came by Simple Savings, many years ago when debt was a dirty four letter word, even though 'putting it on the plastic' was cool, kinda like how smoking used to be...
I'm sure all you Kiwis will be familiar with Campbell Live, and for you Aussies, picture a goofy Labrador with a touch of determined Chihuahua. John Campbell hosts our daily current affairs show. Personally I love the show, especially when it features real people with real problems. And it was my introduction to Simple Savings. This particular show featured a couple who, like many of us, were struggling to make ends meet and were undertaking the $21 Challenge. I couldn't believe what I was hearing - how on earth could anyone manage on $21 a week? Seriously! I was intrigued. But I was also very relieved - relieved that not only was there someone else out there going through a financial struggle like us, but they were prepared to share their struggles and their plans to get back on track with the nation. Bear in mind, this was pre-GFC, back in the days when being in debt or struggling to make ends meet was not something you admitted to, you just kept clocking up the debt and stayed quiet about it.
Like many of you out there, we're an average family with average incomes. I met hubby (Karl) when I was 17 when we both had decent incomes, no kids and a busy social life. At one stage we both received a redundancy pay-out which would have made a nice deposit on a house. But instead we bought cars and frittered the rest away on goodness-knows-what. We had plenty of opportunity to save, but we didn't. We learnt the hard way that our parents were right and that we should have planned for the future! 20-odd years on, we have three wonderful kids (18, 14 and 10), a whopping Auckland-sized mortgage and our fair share of extra debt! But little-by-little, we're getting back on track and working hard to shed some of that debt.
Just like many of you, Simple Savings quickly became a wonderful source of support, much like Weight Watchers, but for losing debt! Actually I joined WW a few years back, in fact it was about the tenth time I joined, but this time, for some unknown reason something clicked and I managed to lose 25kg. That's not to say it was easy, there wasn't any one dramatic change that did the trick, no magic ingredient or special exercise regime, just lots of little changes and a determination to keep pushing through those inevitable challenges along the way. I left WW as soon as I hit my goal weight, and in the years since I've put about 12kg back on! But in May this year I re-joined and am slowly getting back on track (3.7 kg down over the past seven weeks!). It's much like the SS approach to losing debt... it's the little changes you make that add up to big results over the long term!
I look forward to sharing my little changes with you over the coming weeks and months, the first being how much we'll be saving now that our teenage son (who can eat a size 16 chicken and a loaf of bread for lunch and still be looking for more) has headed away on a six-week military-style camp... watch this space!
---
This month we would love to introduce our brand new gardening blogger, Rob Bob and his fabbytastic yard!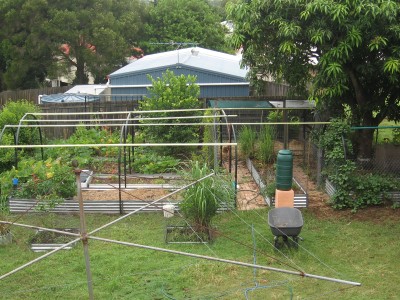 Rob has been playing in the Forum and blogging about his garden for a while now and I confess I am envious of him. I often look at his garden photos and wish they were photos of my own garden. He's doing a brilliant job. So we have promoted him to our official Simple Savings Garden Blogger. YEH!
This is going to be fun :-)
If you have never met Rob here are some links to a few of his blogs in the members' area. :-)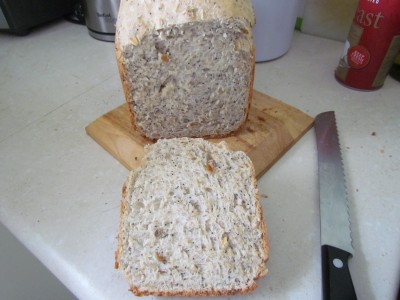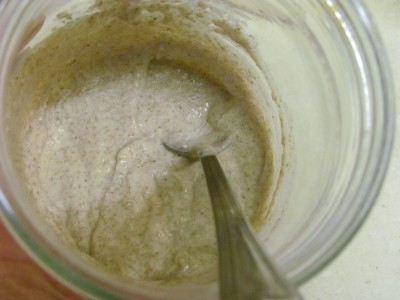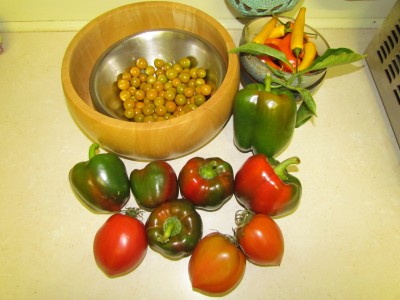 ---
Nothing can destroy a budget like an unwelcome vet bill. They seem to climb higher than a loose helium balloon, which is why this month's article is really interesting. It shows us how good homeopaths can also treat animals. Here, Fran shares a case study from a pet dog in her clinic who was so ill she was almost bald. To read the article click here:-
http://homeopathyplus.com.au/a-dogs-life-mollys-mange-eczema-and-lack-of-confidence/
---
Last month Wendy from Victoria asked:
"My husband has recently been diagnosed with a rare auto-immune condition called 'Relapsing Polychondritis'. I have been told a gluten-free or wheat-free diet would help. Do you have any tips for gluten-free eating on a budget?"
Thanks so much to everyone who wrote in to share their wisdom with Wendy. Here are some of our favourites!
Nearly a year ago we had to take my daughter off gluten. My husband had just received a huge pay cut at work, so rushing to the shops to buy everything gluten-free was out of the question. We've learned lots about GF foods and our grocery bill has not gone up at all. So, yes, you can eat gluten-free on a budget. Here are some tips and recipes I've gathered along the way:
Go back to basics. Meat, vegetables and fruit are all gluten-free.

Rethink lunch. Sandwiches can be swapped for soups, baked potatoes, stir-fries and leftovers.

Make your own bread. We found this recipe and it is extremely tasty and cheaper than buying GF bread. You have to use a bread machine, but if you don't have one, ask around. Someone probably has one tucked away in their cupboard.
1 tbsp sugar
1 cup warm water
1 tbsp yeast
3 eggs, slightly beaten
1/2 cup milk
3 tbsp margarine or oil
1/2 cup buckwheat flour
1/2 cup tapioca flour
1 1/2 cups brown rice flour
1/2 cup potato starch
1 tbsp guar gum
1 tsp salt
Dissolve sugar in warm water in the bread machine pan. Sprinkle yeast over the top and let proof for five minutes. Add remaining ingredients in the order listed. Use the basic bread setting with a light crust. You do need to scrape down the sides of the bread pan while the machine is kneading the bread to help mix in all the flour.
Make your own pasta. This is SO much cheaper than buying packet GF pasta, and it's easier than you think!
3/4 cup tapioca starch
3/4 cup cornflour
3 tbsp potato starch
3/4 tsp salt
4 1/2 tsp guar gum
3 eggs
1 1/2 tbsp oil
Mix tapioca starch, cornflour, potato starch, salt and guar gum together in a bowl. In a separate bowl, beat eggs and mix in oil. Add the egg mixture to the flour mixture and stir until it comes together in a ball. Tip out onto a floured surface (use potato starch) and knead for 1-2 minutes. Roll out into desired pasta shapes, and drop into boiling water for 3-4 minutes. Roll into sheets and use for lasagne (no pre-cooking needed).
Contributed by: Beth W
I'm saving $6.00 per kilo on gluten-free flour by buying it in bulk and dividing it amongst friends and family who are also gluten-free! By buying from places like PFD, Goody's Food Market or organic shops that sell in bulk, I pay just $6.00 instead of the $12 that supermarkets charge!
I am both gluten and dairy-free. I now eat a lot more fruit and vegetables and make my own muffins, cakes and breads. Libraries are a great source of gluten-free recipe books. And for really good savings, there is even a gluten-free '4 Ingredients' cook book. I find I can cook a varied, nutritious diet that is gluten and dairy-free and most people don't even know!
Contributed by: Felicity A
I have coeliac disease and need to be on a totally gluten-free diet. But it can be expensive, so here are my tips to share with fellow gluten-free people:
Gluten-free pasta is expensive and usually tastes awful, so when making pies, try using a potato topping instead, just like a shepherd's pie.
Rice noodles from the Asian section of the supermarket are very easy to cook. They can be a little bland but this makes them ideal for soaking up lovely pasta sauces. In fact, the Asian market is your friend! There are lots of wonderful rice-based products available and you can also get millet, buckwheat (which does not contain gluten) and sometimes quinoa there for half the cost of a health food shop.
Porridge can be made from quinoa or rice flakes as a substitute for rolled oats. It is also quite easy to make GF muesli starting with a base of puffed rice and adding millet or buckwheat (toasted buckwheat give it a crunch) and then adding your favourite dried fruits and nuts.
Lots of recipes use breadcrumbs and I find that often, they aren't really necessary. Have a look at your recipe and decide whether it actually needs them. If so, you can use cornflake crumbs (cheapest to buy cornflakes and put them in the electric whiz. Check they're GF though, some cornflakes contain wheat!). You can also substitute with polenta, both are readily available and not too expensive.
Contributed by: Kate Aplin
I make as many of my own gluten-free creations as possible. The first book I started with was Everyday Gluten-Free Cooking by Bette Hagman. It's a great place to start. Here's the best flour recipe I've found from a recipe book:
2 cups white rice flour (Asian supermarket varieties are finer than the regular supermarket brand)
2/3 cup potato flour (also called potato starch)
1/3 cup tapioca flour
You need to add xanthum gum to make the product soft and springy like wheat flour:

For bread 3/4 teaspoon per cup of flour.
For cakes 1/2 teaspoon per cup of flour.
For biscuits 1/4 to 1/2 teaspoon per cup of flour.

For self-raising, add GF baking powder (check the label on the supermarket brand).
Mix thoroughly and store in a sealed container.
For lunch and dinner, I always have rice or potato as the carbohydrate. Occasionally I have quinoa but it is expensive. For breakfast I tried boiled sago for a while but couldn't get it to taste good enough. But it is very cheap and you can add different fruits/honey and such. I now make my own muesli with puffed millet and buckwheat, quinoa and GF cornflakes. Check supermarkets and health stores. I like Coles best for the variety of GF cereals.
Contributed by: Fiona Teudt
I've been making gluten and (mostly) dairy-free meals for over five years as my daughter has coeliac disease and lactose intolerance, and I am gluten intolerant. It took a few months to get into the swing of things but now it is second nature. It opens up a whole new world of cooking as you are forced to look for new and interesting ingredients. Here are a few of my tips:
There are many different flours that can be used, for example rice, tapioca and potato flour. Buckwheat flour is great in savoury dishes. Commercial GF flour, although more expensive than wheat flour can be easily substituted in most recipes. Coconut, seed and nut meal can also be used instead of flour and are more nutritious.
We buy a bread mix at the supermarket which works out at about $2.50 per loaf, is easy and much cheaper than GF bread. Muffins and pancakes are also easy to make.
Rice flake porridge with fruit is yummy for breakfast.
I use thinly sliced potato instead of lasagne sheets.
Try to make extra food for the evening meal that can be used for the next day's lunches. That gives variety and reduces bread consumption.
I have a large vegetable garden so we have fresh vegetables and herbs every day. We have great food on a low budget!
Contributed by: Gail Foster
Before going gluten-free, I suggest getting a definitive recommendation on what diet is the most suitable. That way you and your husband can be confident you are both heading in the right direction. There are many books available from shops and libraries about gluten and wheat-free diets. Thankfully, major supermarkets have a large area for alternative ingredients and eating out is better these days with many restaurants and cafes offering GF meals.
Contributed by: Beverley Bakewell
Going gluten-free has more than halved our food budget, from $120 per week to $50, because we are eating so much more 'whole food'! It can be a bit of a shock at first, but it's been great for our budget and our health! The key thing is to become okay with finding new treats instead of replacing pasta, pizza, cookies and other flour goods with expensive store-bought gluten-free versions. For example, most of our food now comes from the green-grocer instead of the convenience aisles (we splurge on interesting fruits instead). I've learned to cook from scratch, which saves money on pre-packaged foods and is better for us than the junk food we used to eat. The butcher is a great source of naturally gluten-free ingredients too. Learn to use starchy vegies for baking (like potato bread or yummy bean-based chocolate cake).
Contributed by: Paula Van Rhyn
Eating gluten-free on a budget can be done with some forward planning! A good first step is to ask your GP or gastroenterologist if you are entitled to a free session with a dietician from Medicare. The dietician can be a really valuable source of information such as how to get sufficient fibre intake on a GF diet, portion size and how to eat a balanced diet.
Next, I would recommend finding the Coeliac Society in your state, they produce eating-out guides together with a pocket-sized booklet called 'Ingredient List' which is regularly updated. Teach yourself to read and understand product ingredient labels, this is probably the most important skill you will need to learn.
Search online and at your local library for GF recipes. Some good websites include fedup.com.au and taste.com. When eating out with friends, bring a meal you can share. Often people won't know the meal is GF unless you tell them.
To eat and shop GF on a budget, I make my own yoghurt using a yoghurt maker and the EasiYo recipe hints from Simple Savings. For breakfast, I use Lowans Rolled Rice Flakes with a tablespoon each of LSA, chia seeds, sultanas and a chopped unpeeled apple. Just cover in hot water and microwave in a bowl for 2-3 minutes. It is delicious served with milk and keeps me satisfied till lunchtime. This amount makes enough for two serves.
For lunch at work I have a sandwich made from Zehnder GF Multigrain bread with chicken, tuna, salmon or ham and cheese, and a small tub of home-made yoghurt. I alternate this with leftovers from the previous night. Snacks can be as simple as fresh or dried fruit, seeds or nuts or diced cheese.
On the weekends I make a batch of GF muffins (which I freeze) and a crockpot of soup. I often make an extra crockpot casserole to freeze when I have a busy week planned.
Dinners are easy once you know your ingredients are GF! Yummy crockpot casseroles, roasts and stews can all be made into GF versions from your favourite recipes. Use Aldi GF pasta and Aldi stock cubes instead of wheat based products.
Get to know the health food section of Woolworths, Coles, IGA, Bi-Lo and the local health food shop and Asian food stores. They are all a great source of cheap GF flours and rice noodles.
Stock up on GF products when they're on special, but try products first before you stock up. Just because a biscuit or cereal is GF doesn't mean you will like it! If you're fortunate enough to have a neighbour, friend or family member also on a GF diet, use this opportunity to share and trial new recipes and products.
It is a challenge to eat GF on a budget, but with a menu plan and a shopping list it can be done!
Contributed by: Dollar Stretcher
In our family of seven, four of us are coeliac therefore most of our cooking is gluten-free. Here are a few of my tips:
We joined the Coeliac Association. This costs about $100 a year but membership entitles you to various GF specials including 20% off certain products at Coles. You'll also receive valuable information about product ingredients, free recipes and more.
Check out 'The 4 Ingredient' recipe book for GF cooking.
Aldi has a range of GF ingredients that are reasonably priced compared to other supermarkets. Our local store also said that if people made a point of buying these products regularly and in decent quantities they would expand the range.
We discovered a local baker who would make some GF bread for us loaded with dried apricots, sultanas and other dried fruit. We love it toasted as a snack.
GF baking doesn't last long fresh. We make cookie dough and freeze in pre-rolled balls to make baking quick and easy.
Most foods in their natural state are a great place to start, for example fresh vegetables, fruits and nuts. We love our boiled eggs, or omelettes with capsicum or tomatoes.
We have divided our freezer and pantry to accommodate both gluten and GF food areas.
When making GF muffins and slices I often bulk them up a little with some GF fibre powder or GF psyllium husk. This is also great if you're watching your weight or bowel health.
GF cooking is often not only expensive, but time consuming. Cooking in bulk a few times a month and freezing in portions will save time, money and eliminate the risk of being stuck with nothing suitable to eat.
Contributed by: Tenaya Atanasov
---
Sandra has sent in this request for help. It is one that we hear often but is difficult to solve. Do you have any suggestions?
"Hi Guys. I would love to put in a request to your readers/subscribers...
"I have recently finished 5 months of chemo and my hair is just beginning to grow back. It is only stubble at the moment but as it grows again I'd like to use a natural shampoo with less chemicals etc but I don't want to pay huge amounts for the privilege of going 'organic'. Any suggestions on a cheaper option that will be healthier for me and my hair?
"Any suggestions on skin care etc also very welcome as my skin is extremely dry from the chemo and radiotherapy...
"I did look at using baby shampoo, but aside from the no-more-tears formula (simply the same ph as your eyes) it still had all the chemicals... "
If you have been in this situation and found a solution you'd like to share with Sandra, please send them in to us here.
---
Our family of four lives very happily on one very average wage, but it wasn't always this way! Seven years ago we had our first child and it was the first time since I was 15 that I didn't have a job. Our income had halved and I 'contributed' by shopping most days and buying loads of stuff we didn't need! Two and half years later we had our second daughter and hubby started a new job involving a huge pay cut. This meant moving back to Mum's house and renting out ours. It also meant an end to all the unnecessary shopping! I picked up some work packing shelves at night and tried not to fall asleep during the day with the kids. Thank goodness for Mum!
Today we've moved home and the kids are now at school. Although we do get a little from Centrelink, we still live on almost a quarter of what we earned when we had a double income and no kids! Sure times are tough but we get by. Here are some of the things we do to save...
I get a lot of our clothes at op shops and hand-me-downs from friends.
I shop with a list, menu plan, compare prices and don't usually get all of my groceries at the same place.
The kids don't get or expect 'stuff' each time we go to the shops.
We cook all meals from scratch and rarely have takeaways.
We turn off all the lights and appliances when not in use.
I turn the dryer on only at night and it warms the house at the same time.
Once a year I gather all our unwanted or unused 'stuff' and take it to a flea market to sell.
We now have a nice new car, decent furnishings and a good computer so I can work from home while the girls are at school. We all genuinely appreciate the things that we have and look after them accordingly. And guess what?! We are all happy, healthy and rich in ways that money can't ever buy. My husband and I always have a laugh and say we so didn't marry each other for our money so it must be love, and it's true! Mum always says she doesn't know how we get by on what we do. I tell her it helps to keep in mind that you reap what you sow and money is not everything!
Contributed by: Tara Semple
---
Good bye! I hope you have a fantastic month, filled with happiness and loads of chocolate.
Till next time...
All the best,
Fiona