This issue includes:-
Sad Sally, Happy Hanna: Change of Scenery
July: Financial Weight Loss
Last Month's Competition: Brainwaves and Forehead Slaps!
Best of the Vault: Lighten the Load
Best of the Forum: Anything is Possible
Best Members' Blog: Coming Out of Crisis Mode
Best of SS Facebook: Decluttering the Pigsty!
Savings Story: Our Sea Change
---
Hi,
At this time of year it's easy to get stuck in the doldrums. If you're finding your usual money saving enthusiasm has been waning lately, this month's newsletter should help to bring it back! With plenty of tips and success stories to inspire you, we hope you enjoy reading it as much as we have enjoyed putting it together.
Wishing you a terrific month ahead,
All the best,
Jackie
---
"Sal, come and look at this," Hanna waved Sally over to her computer. "Ooh, very nice!" Sally said as she took in the property on the screen. "Nice bit of land, water views, not too far out of town" "We're thinking of renting it," Hanna smiled. "You're WHAT?" Sally almost dropped her coffee cup. "But you already have a perfectly good house! Good grief, first you're going on overseas holidays, now this - Hanna what's happened to you? I can't believe you're frittering so much money away!"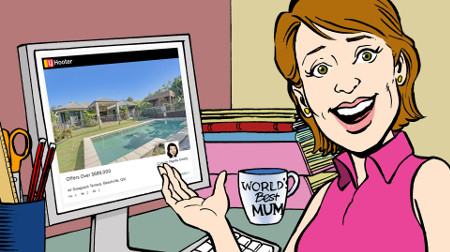 "I'm not frittering any money away! If we rent our house out, we can rent this one instead. We'll actually be lowering our weekly expenses," Hanna grinned. "What on earth makes you think that?" Sally said disbelievingly. "Look at the size of that place, the rent on it must be huge!" "Not at all, you'd be surprised," Hanna explained. "We've done some homework and we can rent out our house for considerably more."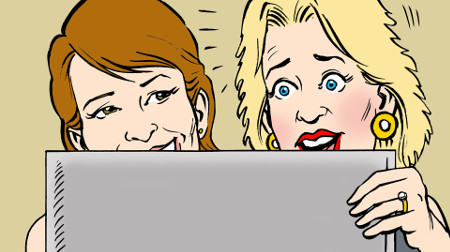 "I don't get it - how can a place like that possibly be so much cheaper?" "Location, Sal!" Hanna smiled. "John and I may have to drive an extra 15 minutes to work living further out of town but it's a small price to pay compared to how much we'll be saving. Plus we'll have more land so we can be more self-sufficient. We really will be better off than before!" Sally still looked doubtful, then a thought suddenly occurred. Of course! What else could it be? She bent down and whispered furtively in Hanna's ear. "It's okay, your secret is safe with me. You've won the lottery haven't you! I won't breathe a word..."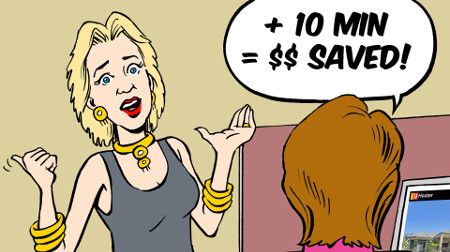 ---
Appearances can be deceiving. At face value, Hanna's idea may seem incredibly decadent - but it really isn't at all. She isn't thinking about a bigger kitchen or an extra bathroom, she's aiming for freedom. In a nutshell, Hanna wants to lose weight. Financial weight, that is!
Think of it this way. The biggest weight around most people's neck is their mortgage. Even thinking of the word 'mortgage' can automatically make us frown, or wrinkle our noses! After all, once you have one, you're stuck with it. We accept it as an unavoidable expense; something which is not flexible, not optional. Or is it? As with most things, there are always alternatives. You just need to step back, be open to ideas and think... maybe. That's exactly what Hanna is doing. Here are just some of the ways you can reduce that financial weight. Whilst some of them require major changes, others don't; but they can all be very worth it.
Consider selling your home and buying a cheaper one with a smaller mortgage. Instant weight loss!
Look at where you live. Can you relocate to a cheaper area? This doesn't have to mean 'less nice' or moving miles away; as Hanna demonstrates, you can find your own new patch of paradise relatively close to home. It may cost you a little more in travel, but if it means reducing your mortgage by $100,000 or more, it's well worth it.
Take in a boarder. Make that spare room in your home work for you! Another popular option is to take in an international exchange student. Many schools welcome the offer of a local host family and as a rule it is a well-paid role.
Rent out your spare room. Organisations such as Air BNB are great if you have a spare room but don't want a permanent visitor. Another option is to rent out your home when you go away on holiday. This is becoming increasingly popular and enjoys plenty of positive feedback.
How small can you go? Think you can't possibly fit everyone in a two bedroom unit? Think again. If you can live in a smaller space you can reduce the weekly pressure of a mortgage and/or really high rent. Over the years members have shared some fantastic stories of how they have used their existing space to create another bathroom or extra bedroom, rather than buying a larger home or renovating. The key is to solve the problem without increasing expense.
As you can see, that mortgage millstone around your neck doesn't have to be so heavy. You're not stuck with it - you CAN change it. You don't have to do what everyone expects of you; there is always a choice. Like any 'weight loss' plan, you just need to find what works for you. Then go for it!
---
Last month we asked you to share your biggest financial brainwaves and blunders. We had a feeling this would be a popular competition and you certainly didn't disappoint! We thoroughly enjoyed reading each and every entry. They made us laugh, they made us cringe and it made us smile to read of each triumph over adversity. Choosing a winner was extremely difficult but the cash prize of $100 goes to Irene Bird, who told us:
"The dumbest thing I ever did with money was to spend ALL of my FIRST EVER pay check, at 16 years old, on the most fabulous pair of black and white shoes. I was in heaven! The only problem was they had six inch heels and I couldn't walk in them! I never did wear them, but oh I thought I would be the girl with the most beautiful shoes in the whole wide world! Needless to say I was heartbroken, and my mum, well, she was speechless!
"But the smartest thing I have ever done with money was to remember that stupid mindless purchase and to never be seduced into such a mistake again with my hard earned money. I am now 69 years old and I can still remember how I felt that day, and now I think before I hand over my money for anything.
"A great lesson learnt very early in life that has stood me in good stead."
Congratulations Irene and good on you for learning from your experience first time around. A big thank you to everyone who took the time to enter, we loved reading all your stories!
---
If you love the idea of reducing the weight of your mortgage but don't know how or where to start, head to the Vault to check out inspiring stories like these and many more. This month we bring you a bumper selection of some of our favourites as they're all too good not to share!
We saved almost $60,000 on the cost of building our new home! We are just about to move into the house we owner built. We are both in our sixties and knew nothing about building. Rather than take on a mortgage, I did an Owner Builders Course online and we got stuck into building our house with the cash we have. We bought heaps of things from Gumtree and soon discovered cash is a great bartering tool. It has ended up costing us $126,000 to get to the stage the builders were going to charge us $185,000 for, so we have pretty much saved a third of the cost with the added bonus of no mortgage! We have had some fun along with some drama but even though it was quite hard work, it has been well worth the effort. It goes to show, you CAN teach old dogs new tricks; especially if they are willing to learn, and if you have the time to resource things yourself, you can save a heap of money.
Here is a link to the course I did (in WA) but you should be able to find one for your state: Absolute Education
We also did a White Card course through Urban E-Learning
Contributed by: Yvette Summers
My new 'granny flat' addition will see me mortgage free! I currently have two homes; my owner occupied home and my investment property that my grandparents live in and pay me rent for. The houses are side by side and we enjoy this convenience.
I recently worked out that because one block has a huge back yard for suburbia (a quarter acre) and plenty of backyard, I'd actually be best to build them a granny flat, letting us move into the house they currently live in, and we'll sell our owner occupied home.
For a short period, we will be stepping into a smaller home, but we will be 100% mortgage free once we have sold our house. That gets me out of $375,000 debt and saves me all the interest that I pay each year!
We'll slowly do our own renovations and extensions as we save the money, which we will be better able to do without that massive debt hanging over our head. Sometimes it's better to downgrade a little.
Contributed by: Wishful thinking
Our story is a great example of how thinking outside the square has enabled us to get ahead, even through the toughest of trials. My husband is on a disability pension receiving $450 per fortnight and I work 20 hours per fortnight earning $397. I have chosen not to apply for Centrelink benefits due to the numerous requirements. Our uninsured home burnt down 10 years ago leaving us homeless (I went into premature labour and spent six weeks in hospital with complications so I had somewhere to stay but my partner lived in our car with our two dogs for this time). We were at the lowest point ever and could not imagine how we were going to survive. We were advised to go bankrupt, which we did but we were now unable to get finance (in hindsight an absolute blessing) to get another house.
We did what most people do and rented a house in the suburbs thinking this was it for us. After three years of this we decided to look elsewhere and found a house in 'woop woop' which was $6000 (pre-real estate boom). Using my first home owner grant we purchased our house and although it was two hours from anywhere good, it was ours outright. This in itself is a handy hint to look outside of the box - our 'woop woop' town had a doctor, a supermarket and a school so it was fine and we lived there happily for another three years. At this point the real estate boom happened and we sold our house for $48,000 and decided to look outside the box once again. We ended up 2000km away from home in a place two hours from Adelaide. We still live here happily and after four years the value of our property has gone from $35,000 to $95,000 (I swear getting our first home owner grant was like winning the lottery).
But we still couldn't save any money so two years ago I cancelled my fortnightly family tax benefit from Centrelink (approx $200 per fortnight). It was hard - very, very hard for the first eight months but then it was tax time and I was very surprised when I received a tax return of more than $7000 with my lump sum FTB part A and B. We paid our bills and bought a second hand car. This year I paid a little extra tax each week ($10) and was pleasantly surprised by an $8000 tax return. With this we bought a block of land 30 minutes down the road (in a bigger town closer to Adelaide). The value of this block is double what we actually paid! Some people say we were lucky but luck had nothing to do with it - we were just prepared to live in very yucky houses in areas no one wants to live. Three months ago a house in our town sold for $21,000 which is around the same as the first home owner grant now and there are still others which would be around the same price. We don't have sewerage or town water but we have a school and a pub so it was certainly a change in lifestyle.
Other people have asked how we are doing so well now and I just laugh! We are earning $845 per fortnight and I have chosen not to work extra hours so I can still be a stay at home mum to our diabetic 10-year-old. We have private health cover, Internet, insurance, power, phone, petrol expenses ($100 fortnight), rates, medical expenses and even private school fees to pay but we still have enough to go around and often support other people with food, even though they are making much more than us. This year we plan on buying a second hand relocatable house for our block with our tax return. It may be a form of forced savings by not getting a fortnightly benefit but when it comes in it is amazing. Thanks to careful budgeting and Simple Savings we easily survive!
Contributed by: Lee
A while ago, after clocking up more than six years in a city office, I was on a downward spiral. Working in the city exposed me to the temptation of worldly things that I thought I needed at the time, for example, expensive clothes, shoes, parties, after work drinks and so on. My credit card was on a knife's edge until I eventually came around. I changed my tactics and gave up my pride. I left the city lights, applied for a government job close to home and have never looked back.
I've been saving at least $3640 on yearly travel expenses, such as petrol and train tickets. My new job offers me free travel on all public transport around Sydney city and suburbs.
My annual pay packet has almost tripled, compared to the petty minimum wage I was getting at the office.
I can now get up later, and get home earlier. This allows me to prepare meals I can bring to work the next day, saving me at least $50 a week, or $2600 a year!
I've sold the 'worldly' things I accumulated over the years at garage sales I've held, earning me a couple of grand in total.
I've paid off my credit card and my car within a year of working at my current job.
I've just bought a house which I'm renting out. I hope to pay it off in 10 years.
Finally, the self-confidence I have gained from all of this is priceless.
Sometimes, we don't need to look very far for opportunities. Not everything can be offered by the bright lights of the city...
Contributed by: Corinne Tullao
Our family of seven is living proof that a second bathroom is an unnecessary luxury. A simple shower curtain has saved us thousands. Many people can't believe that we cope quite adequately with a single bathroom, particularly with three teenagers in the household.
Our toilet is located out of the bathroom and often people need to wash their hands or brush their teeth in the bathroom, while others are using it. With a good solid coloured 'non see-through' curtain, even the teenagers don't mind the bathroom being invaded as no one can see anything.
It also helps to have mirrors in each of the bedrooms, particularly with teenage girls, so they can do their hair and makeup in their rooms and not at the bathroom mirror. Some of us shower in the morning and some in the evening. Planning this saves a rush for facilities all at once. Sharing a single bathroom also teaches family members valuable lessons in sharing, consideration and co-operative skills.
When you consider that, at the most, people spend perhaps half an hour in the bathroom each per day, having a second bathroom with all the extra facilities is costing thousands of dollars that perhaps could be saved and put towards other things you may require. Plus of course cleaning one bathroom is much more preferable than two!
Contributed by: Tenacious1
We have saved thousands on accommodating our family (two adults and four children) into our small three-bedroom home. With four daughters ranging from two years to 13 in age, it is essential that they have their own space, but building an extension was not an option. Here in Tasmania we were looking at up to $12,000 per square metre!
A larger home (with a larger mortgage) was also out of the question, so some careful planning was needed. We managed the perfect solution for less than $1000!
We sorted out the sharing of bedrooms as best we could according to age and personality. We then placed two sets of second hand steel bunks in each of the girls' rooms. We took out the bottom bunk of each set and made an under bed study/privacy area for each of the girls.
We got material and made curtains to surround the study areas in colours of the girls' choices. They all love their bedrooms and appreciate the privacy this setup has given them.
Just as we got sorted, my teenage sister came to live with us! After a week or two of her sleeping on the couch, we had to re-assess our situation. We looked around our small home for any wasted spaces that were being overlooked and found one.
We were using the back end of the lounge behind the couches as a toy/play area for our small toddler, but with a bit of planning, we have turned this area into a small bedroom for my sister.
Instead of dividing the room with a permanent wall, we have partitioned off the room with cupboards, three facing the lounge room and one facing into the 'bedroom', to be used as a built-in robe, all backed with burnie-board to the ceiling.
We then put a cavity sliding door off this new room, which leads out into our hallway and runs along the wall of our lounge. The new bedroom is big enough for a single bed, computer desk and has a nice new white built-in wardrobe.
We now have a new wall of storage cupboards in our lounge/dining area that looks neat and tidy. The cavity door cost us $180 in kit form from our local building/timber store. The new plaster to put up after the door installation cost us $40. Installation cost us nothing because we have a handy brother in the family. The four pantry/wardrobe cupboards cost $180 each. Based on the prices of houses in our area, we have saved between $40,000 and $100,000 in mortgage debt and in excess of $80,000 in house extension costs, based on builders' quotes.
Our living areas are now a little cosier than before but as everyone has their own little areas to disappear into as the need arises, we are so far managing very well.
Long-term, as our finances allow and the girls need more space and independence we are planning a relocatable cabin for the back yard. Timberworld has a plan for a fully self-contained cabin (kitchen/ensuite/laundry) with two bedrooms fully insulated, plumbed and wired, available for around $39,000. Compared to the price of extending our home, it is a huge saving. The girls will never have to be in a rush to leave home due to lack of space and they will have the best start in life that we can give them.
The only problem we have right now is three teenage girls and only one bathroom - but I'm sure we'll think of something!
Contributed by: Angela Duggan
I bought my first house at 22 years old, and had paid the mortgage in less than eight years. The key is to get flatmates!
I had two spare rooms and acquired two flatmates paying $60 each per week. This eased my financial burden of a mortgage and made all the difference - it allowed me to save money.
At the time, my mortgage was $800 per month but I was receiving $480 per month from rent - so I only had to pay $320 per month. In effect, I was paying just $80 per week for myself; only $20 per week more than my flatmates, for a house that was mine!
My flatmates were friends of mine, who appreciated paying me a lower rent than they would have to pay anywhere else. We did this for five years which amounted to $31,200. If I had continued to live alone, it would have been zero! Not to mention, the savings I made on costs of telephone, power and gas, which were all split three ways.
Sure, at times it can be hard sharing house but it is definitely worth the sacrifice. My focus was to pay my mortgage off as soon as possible, as it is a loan that is not tax deductible. I used an offset account so I could take advantage of saving interest, but in the event that should something break down I could access the funds.
I never purchased furniture or expensive cars - I drove a bomb that was reliable, I shared living expenses and rented rooms, enabling me to stick to my plan to pay off the mortgage within eight years.
My income was only average, and I was single. It is not what you earn; it is what you do with it that counts! The beauty of buying a house is that while you are paying it off, it appreciates in value. A great investment - unlike purchasing a car, which only depreciates.
Contributed by: Afina
We bought three houses on a low budget income, still having a Health Care Card. Finance was the hardest thing to overcome. I love to look at houses in the papers and would always feel bad as I knew I couldn't afford to buy anything. When I spotted a two bedroom house for $59,000 five years ago, half an hour from the city, I withdrew our four children's savings ($10 each a fortnight for two and a half years). I told them they could make a lot more interest (predicting about 10%) if they invested in Mum and Dad's house.
We managed to convince Keystart (the savings was what convinced them). We did all our own work - even the children got paid to dig the trench for the sewerage connection. We turned the kitchen into a playroom and the back room into a kitchen (we bought a nice kitchen out of the Quokka for $350 from a rich suburb).
We enclosed the front verandah and bought and stripped four french doors to make a nice third bed/sunroom, stripped wall paper, pulled up carpet, sanded and lacquered the house. We painted the outside white with $100 of old paint. We paid $1.00 per metre for nice dress material and made lovely curtains throughout the house for $20 plus hooks and tape.
All up, our renovations cost $5000 (and I don't even know how we found that over 18 months!). The only regret is that we sold the house too cheap before the price hike, but three and a half years ago we sold it for $95,000 (remember we bought it for $59,000).
We bought our next house in a similar scenario. At $70,000 they thought it could only be bulldozed, but a bit of elbow grease can do wonders! Everything was dark brown inside - walls, ceilings, carpet and wallpaper. We spent very little and lived there for a year. We are still renovating that but it is tenanted for $140 a week.
I wanted to live back in Perth and searched for a low doc loan as I was not happy with the service with Keystart; very slow to get finance if you are in a hurry. After some research I found Morgan Brooks and got a 6.75% low doc loan instead of 12% and was able to borrow more. No papers required to prove income, just an estimated amount for the year.
We bought our first brick home in 2005 for $160,000 after lots of negotiating, 13km from the city. We saved $4500 on the previous offer because we had finance nearly approved and had no house to sell. We were able to get the loan because by that time, the other house had increased its value from $70,000 to $140,000!
Five months in our new home we are feeling a little tired of renovating but now need two more bedrooms for four teenagers. The main reason for this is their huge private school fees. What happened to their savings money I withdrew five years ago? The kids now all have $10,000 invested - I think that's a lot more than the predicted 10%!
Contributed by: Kathleen Smith
---
This month we asked some of our Forum members to share ways they had managed to reduce their mortgage and/or make it more manageable. For some it meant making major changes; for others it required little effort - but they all worked! Here are just some of their responses:
"We have just bought a house in a different suburb, but still have our house to sell. So we haven't downsized our mortgage - yet. We will be moving from a four-bedroom, two-bathroom new house to a three-bedroom, one-bathroom 1960's house. We wanted to reduce our mortgage but also the house is in a more convenient area for our life 'at the moment'.
We have decluttered and are quite minimalistic. We don't have to have all the latest techno gadgets and have realised that we as a family don't really take up as much room as we thought. It will be different but not impossible and we are looking forward to the move. Financially, we have reduced our mortgage by about $70,000." Claire
"We have 'reduced' our mortgage by resisting peer pressure in inner Sydney to take on large scale renovations. Instead we repair and focus on small changes that make big improvements to our quality of life.
Big renovations with borrowed funds may turn out to be worthwhile in capital gains for others who have taken that route, but for us it's more important to be debt-free, work less (or retire earlier) and spend more time with our kids." Batsy
"We moved to a cheaper house, which just happened to be directly across the street, and reduced our mortgage by $80,000. We haven't altered our repayments since interest rates have dropped, and use an offset account. I also rang and asked for a rate reduction, thinking we could get a loan with another lender (didn't work out) but we did get a 0.03% rate drop; better than nothing!" Penelope Pitstop
"I was committed to paying my home loan early so looked at the timeline, then got calculator out and did some calculations. The balance owing in the timeframe equals how much per fortnight I would have to pay to get there. My two sons also had to contribute their share even though they are on Centrelink so we all paid 33% of power and water and they paid all the Telstra bills.
"I live away from home as it was the only way I could earn enough money to reach my financial goals. I then decided with the house I rent in NT, having two housemates to share with me would mean keeping my actual costs minimal. I set up direct debits so I never saw my money and with this in mind I reached my goal a lot quicker than I thought possible.
"I do have sanity money and this makes me feel I'm getting small rewards immediately not just two, five or 10 years down the track. A budget/money plan is a must or you don't get a true picture of your financial situation.
"I think internet banking and rounding down whenever possible started me in believing I could do it. I am now mortgage-free and after a couple of months catching up on bills and topping up the emergency fund I will be using the same principle with my super." Fit & Trim
"I moved from a small two-bedroom flat in Sydney to a three-bedroom house in a regional city. I still had a mortgage in Sydney, but I am now mortgage-free!" Sue P
"We started two years before we even got a mortgage - we lived in a terrible flat that had very cheap rent, and lived on one wage and saved the other. We had a large enough deposit to avoid mortgage insurance.
"We bought a house on the outskirts of Melbourne, as we wanted to be able to pay it back on one income.
"When my first baby was due to be born, my husband was offered a full time job, an hour's drive from our house, so we rented it out and found a rental for ourselves close by his work. He walked to work, so we went down to one car and one mobile phone.
"In this time interest rates were dropping, but we kept our repayment amount the same. The rent we got in paid the mortgage and we were able to claim a lot of expenses on tax. The rent we paid was quite low, and we were able to put extra on our mortgage.
"I used my sewing skills to make clothes for my children out of remnants and adult clothes. We were given or lent a lot of baby stuff, and I haunted the op shops.
"I learnt to cut my own hair.
"We went on holidays, but stayed with family members or went to a caravan park and made our own food (instead of eating out).
"When we got close to paying it off, we stopped buying anything unnecessary. I used broken washing baskets for at least six months.
"Our house was paid off in 10 years.
"I couldn't have done it without the wealth of knowledge and support I found here, particularly the threads 'Run My Freedom'." Shelstar
"A friend of mine has paid $20 extra a week on top of her mortgage and this has reduced her loan by $22,000!" PlanB
Read the full thread here: How have you reduced your mortgage?
Another highly recommended thread is 'Home finance basics' from super savvy member Stephen Lake.
"This thread has some golden rules for quick mortgage reduction - basically they say it all! Over the years I've done almost all of the points Stephen has raised and have paid off in total five mortgages by doing these." Seachange
---
One of the many benefits of being a Vault member is that you can win $100 cash each month for your Simple Savings blog! Starting your own blog on the site is easy. All you have to do is log into the Vault, click on 'My Desk' at the top right, then 'Blog'. Then get writing! We love reading all your money saving trials and tribulations and really appreciate the effort that goes into each one.
This month's Blog winner is Mona with her post 'Coming Out of Crisis Mode.'
"Much to my surprise I found that upon reflection I had been living my life in crisis mode. This has happened to me few times in my life; once when I separated from my husband and found myself a single parent to five. I was left with no assets and huge debt. From the day we separated I struggled to get through each day. With days merging into weeks, months would go by in a heartbeat and there was little joy in my life. This was a shock and a life altering event as was a vicious assault two years later that left me reeling and finding it impossible to manage. So how did I end up just surviving once again? I really cannot tell you and rather than one event, multiple occurrences built up and the proverbial straw indeed broke this camel's back. I had ill health, lost my job, family issues, the aging and poor health of my parents and the financial burden of being a low paid and aging woman. I looked up and there it was - I found that I had gone from a happy woman to a very sad lady struggling to get by.
"Supported by friends and my wonderful online team of virtual friends I have fought my way out. I have so very much to be grateful for and now that, God willing, I am recovered I am wanting to put things slowly back together again. The house that resembled a hoarder's haven is slowly getting back to the happy home it should be. A menu plan and home-cooked meals are replacing that last minute dash to buy takeaway. The insecurity of casual work has given way to permanent work, though at a lower rate per hour by a fair amount, it is regular and as safe as any work can be in our times. I am finding joy once more in the simple things; a drink in the garden and playing with the dog, even that one last child living at home is as delightful as it can be. How does coming out of crisis mode increase my financial security? Well the answers are numerous.
"I can now menu plan and on the days I have off I can cook several meals in advance and add them to the freezer. I am able to look for specials at the stores and go with a detailed shopping list. I have the time to keep an eye on the fridge and what ingredients need using up are used and not left to waste. My budget is done and stuck to. I no longer look to spend money to 'make myself feel better'. I am always reflecting on things I need to do and in ways reaching out to my children to keep contact up and to keep myself abreast of their lives. I am able to settle down and make gifts with the many craft items I already own.
"The most important thing is that I am living my life, not surviving it. I also was very much shocked to find that I, in my turn, am capable of making a huge difference in other people's lives. Twice in the past few days an elderly acquaintance told me I made all the difference to his life, and that he looked forward with great pleasure to see me walk into his room. The daughter of another elderly lady said that I always made her mother smile. Work colleagues began to remark that my happy countenance and joy in coming to work lifted their own spirits. My mother commented only yesterday that she looked forward to my phone calls and that my upcoming visit was the one thing in life she had to be joyful over. My youngest daughter's friends left me a note to say they loved coming to visit at my home because I was 'awesome'.
"We never know how our smallest word or deed impacts others. A simple smile or friendly word can make the lives of those we know or even just pass by, so very different. Without knowing it we can make or break the spirit of others. SO, from today on I am devoted to making each moment count and hopefully I can go on and bring a small ray of sunshine into the lives of those I pass on this wonderful journey of life."
What a beautiful and inspiring post, Mona, thank you for sharing!
You can read more of our members' blogs here.
---
Love Facebook or hate it, the Simple Savers Facebook page is a great way to learn even more tips and enjoy reading of other members' successes. This month, Chels discovers the joys of decluttering and can't wait to share it with the rest of us!
"I just wanted to say how proud of myself I am. I got tired of seeing my house look like a pigsty. I had no homes for lots of stuff so this week I have gone through nearly everything (including linen, kitchen cupboards, bathroom cupboards etc). My kids' rooms were disgraceful, they were so messy. We managed to get rid of so much stuff and donated a lot of it to people in need.
"There was so much junk. So much material junk. Stuff I really didn't need but purchased because I wanted it. I have not had an urge to shop at all since because I am enjoying the space and downsizing.
"This has been a big eye opener for me. And I guess a big 'savings journey' because now I know how much money I have wasted over the years I don't want to spend a cent on things I no longer need again!"
Good on you Chels, great work! Joining our busy Facebook community is super easy. Either search up 'Simple Savers' on Facebook or click this link and request to join. Once you're in, let the fun begin!
---
Last month one of our members, Linda Stapleton, wrote to tell us how she and her hubby were working on downsizing their mortgage and preparing for their retirement. We wanted to share her story with everyone to show what can be achieved when you think ahead and think outside the square.
"I wanted to share the story of our 'sea change' with you. Some time ago we purchased our new retirement/investment home. It took a while and we had a few fumbles... some solicitors simply shouldn't be practising. We came out of the sale in a better position financially than we thought we would, having over-estimated the amount of 'emergency/fees back up money' we may need. We now have a nice nest egg, a small mortgage and are now landlords with enough rent to pay all of our expenses such as mortgage, insurance, rates and so on. It can be done if you research it and are realistic about your 'wants'.
"We had to adjust our perception on what we needed to retire. To begin with, we were judging what we needed on what we had now. Then we realised we would be a lot older, less agile and would have a completely different lifestyle, slower and less demanding. Our perspective on what we would 'need' changed dramatically. Downsizing our 'needs' changed our view on what sort of home we would buy and changed the price dramatically as well. It also changed the income potential, effectively increasing how much we would earn in relation to our outgoings. We had to weigh all of this up when looking at every property. Basically it was the bigger the property, the bigger the mortgage but the amount of rent we could get was about the same as what we could get for the smaller property in the same area - actually some of the cheaper places brought in more rent than a larger property could bring in. We found a place that brought in the same rent as a larger property and was half the price but of course half the size. However, there are only two of us so half the size and less outside maintenance actually suited us better anyway. It is an individual decision, of course.
"Thankfully this is now all in the past and we have our home. It is rented and we are ready to sort our belongings, weed out what we don't need and begin the process of preparing to retire. We have ten years to do this but have years of stored and accumulated 'stuff' to sort out. We are now decluttering and re-purposing our belongings to suit our future.
"I will start having garage sales and selling on eBay, which will be a new experience for me. I will be doing an inventory on my 'stuff' to see what I have and what I can make with it. I will also use techniques I have learned with Simple Savings to reduce my belongings and to make money on them.
"Our sea change is now inevitable. How smoothly this transition occurs depends on how much hard work I can pull off in the next ten years!"
Linda, you are one very organised lady! Congratulations, we look forward to hearing of your progress.
---
That's it for another newsletter. We hope you have found it helpful and has got you thinking of ways you can reduce the weight of your mortgage or other debts. Don't forget you can enter our 'Hint of the Week' competition every week too! Simply send in your favourite money saving tip (you can enter as many times as you like) and you could win a 12-month membership to the Vault. We really appreciate each and every tip we receive. See you next month!
All the best,
Jackie