This issue includes:-
Sad Sally, Happy Hanna: Just Like Mum Makes!
July: PowerCooking
Competition: Food Photographers Wanted!
Penny Wise: Life With Gilbert
Best of the Vault: I PowerCook... What's Your Super Power?
Best of the Forum: Tea on the Table in Two!
Best Members' Blog: The Best Thing in the World Has Happened To Me
Mimi: PowerCooking and Ten Things To Make With Flour and Eggs + Simple Ingredients
Rob Bob's Gardening Blog: Backyard Fish Farm and Pests in the Patch
From Last Month: I Smell a Rat!
This Month's Help Request: Help Me with the Winter Blahs
---
Hello,
How are you going? I hope you are not too cold, this cold snap is something else! I always feel guilty switching on the heater, so instead, I have been cooking cakes and doing some Power Hours to warm up the house. Now we have a stocked freezer and full bellies. If you haven't heard of Power Hours it doesn't mean I've been weight lifting at the gym! I've been PowerCooking using fantastic easy recipes from our sister website powercooking.com.au. These recipes have all been designed especially for cooking in large quantities so that they can be enjoyed fresh or frozen in portions for when life gets too hectic or you feel like having a night off from cooking. There's never been an easier, tastier way to cook! These beautiful recipes are all free for you to try out, so make sure you give them a go this month.
After last month's newsletter people sent in the most beautiful emails. Here are some of them:
"I thought we had done as much as we could to get our spending under control - and then I joined Simple Savings. The biggest change since I became a member hasn't just been saving a lot of money, it's actually been the way my husband and kids and I have started to look at our spending. We no longer hire DVDs, waste money on takeaway or quick trips to the shop to buy chocolates. I know I'm giving my kids a gift for life. Thank you SS!" (Layla)
"This is really just a thank you note from one happy pensioner. With your sensible suggestions on the site and in the newsletters, I am able to eat well. Thank you, Mimi and thank you Simple Savings for helping to make ends meet on a pension." (Margaret)
Have a great month!
All the best,
Fiona Lippey
P.S. All the recipes are now free at PowerCooking.com.au
If you would like to add Apricot Chicken, Beef Bourguignon and Mexican Style Mince to your Power Hour. They are now free!
---
Pete couldn't get in the door fast enough. It was freezing! He couldn't wait for dinner; hopefully Sally was making something hearty and warming after such a long, cold day! Speaking of which, where WAS she? All was quiet; there was none of the usual singing or chatter - and no comforting smell of dinner wafting through the air. Pete suddenly caught sight of a note on the table. 'Gone out with friends. Dinner on bench. Love Sal.' On the bench were three containers, each bearing a note. Was he seeing things? It looked like Sally wanted HIM to cook dinner!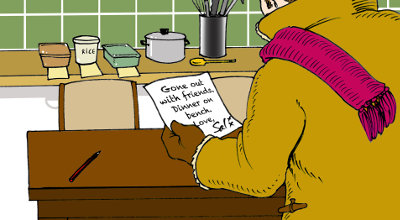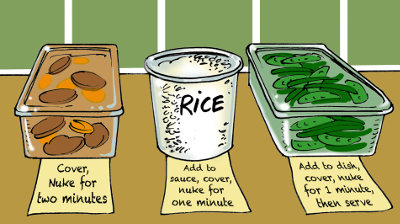 "What are you doing, Dad? Hang on - are YOU cooking dinner?" the kids asked as they arrived home. "Yes, that's what it looks like, doesn't it?" replied Pete, as he popped the first container in the microwave. "But - do you even know HOW?" they asked, more than a little worried. "Of course I do! See, the sauce is done already!" he pointed out as the microwave pinged. "Right, now I have to add the rice. Why don't you two go and get cleaned up? Dinner will be ready soon," he told them. As soon as they were out of sight Pete sneaked a nervous taste and was pleasantly surprised. This was proving to be a doddle!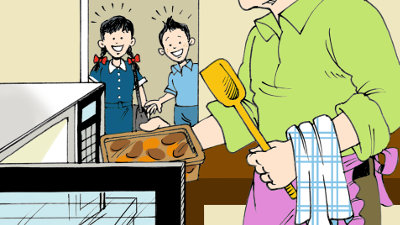 "Dinner's ready!" Pete called and the kids sat at the table in trepidation. "Let me present to you, Beef Curry a la Dad!" "Hmm, smells alright," the kids nodded to one another before taking a tiny bite. "Wow, this is really good Dad!" they grinned, "In fact - it's just as good as the one Mum makes!" "Oh really? I'll have to tell her that!" Pete chuckled. He had to admit, his first foray into cooking was a great success. "Where is Mum anyway?" Sarah asked. "She's out - I guess she'll be back soon," said Pete. "Oh no worries Dad," James piped up. "If all your dinners are THIS good, Mum can go out whenever she likes!"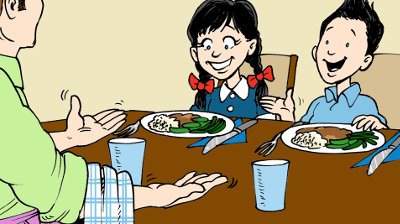 ---
Sally taking the evening off and escaping is just what PowerCooking is all about. And, I love it! However, lately it has been a lifesaver for us more than ever. As you probably know, I was in a car accident three months ago and Matt had to hold things together for six weeks while I lay uselessly in bed. Fortunately our PowerCooking meals got us through. I had done three power sessions the weekend before my accident and all that food was already on hand to get us through the first two weeks. It was brilliant!
You may wonder how I did three PowerCooking sessions in a weekend. Easy! The dishes are so easy to make, my kids do two-thirds of the cooking. Sam (aged 12) does one oven dish, Jacqui (aged 10) does the other and I do the stove dish and potter around cleaning and helping where needed. If you haven't given PowerCooking a try yet, please do! Aim to cook at least one of the oven style dishes from our PowerCooking range. They have been especially created to make life easier and are so delicious they will blow your mind.
Once my freshly cooked meals are out of the oven, I pop most of them in single serve containers and put them in the freezer until required. A few more are put in the fridge so I don't have to cook for the next few days and some we enjoy straight away. Easy and so tasty!
With PowerCooking you can literally turn a freezer meal into a restaurant-quality meal! All you need to do is grab your pre-cooked rice, reheat your pre-cooked base meal, chop some fresh vegies and nuke them together. A fantastic meal from the freezer to your table in just a few minutes. You could never buy a ready-made freezer meal this good!
...and it will do the same for you - so give it a go! All recipes at www.powercooking.com.au are free at the moment and we will be adding more to the system just as soon as we find ourselves a food photographer. See the competition below!
---
We have a big pile of great recipes we would love to add to the PowerCooking system, but we are lacking one thing - fantastic, mouth-watering photos to go with the yummy recipes!
Below is one of the PowerCooking recipes waiting to go onto the site at www.powercooking.com.au. Cook and photograph this. Make it look as tasty and inviting as possible and the winner will get $400 and may also end up a core member of the PowerCooking team.
(8 serves)
4 medium onions, chopped
3 cups of potato, sweet potato or combination, chopped into 1.5cm pieces
5-6 cups of mixed vegies, chopped into 1.5cm pieces. Choose from cauliflower, pumpkin, eggplant, spinach, tomatoes
8-10 tbsp Korma paste (Pataks is milder)
½ cup currants, sultanas or cranberries (optional)
½ cup cashews or almonds, chopped (optional)
4 tsp stock powder, vegetable or chicken
¾ cup water
2x400g tins of lentils or chickpeas, rinsed and drained
To finish:
Cream or yoghurt
4-5 tbsp beans or peas, fresh or frozen
Sauce thickener: mix 1 tbsp flour in ¼ cup cold water
Set oven to 180°C (or 160°C if fan forced) to preheat. Wash, peel and chop vegetables and add to casserole. Add rest of ingredients, except beans and cream, and stir well.
Cover with a tight fitting lid and cook for 1½ hours (8 serves). Remove the lid, add beans and cook a further 20 mins without lid to allow the sauce to thicken.
Remove from oven, add cream and sauce thickener. Stir.
Please send your photos to competition@simplesavings.com.au Competition ends 20th July. We will announce the winner in next month's newsletter.
---
My first anniversary as a solo homeowner is coming up soon. I can hardly believe it! More's to the point, I can hardly believe I've MADE it with everything that's happened over the past year but by some miracle I have and a huge part of that has been thanks to my SS skills. I can hardly believe how little I spend on food these days, maybe once every six weeks or so I might have to go and do a decent food shop but on the whole I get through most weeks on between $40 and $60. Which I don't think is bad at all considering I'm feeding two hulking great larrikins as well as myself! The funny thing is I don't think we have ever eaten better either! As well as a filling nutritious meal, the boys also enjoy home-made dessert each night, which we've never really done before and the baking tins are always full.
I have to admit, I'm a bit of a hermit these days. If someone had told me a couple of years ago that at the tender age of 41 my favourite way to spend an evening was sat in front of the fire watching Food TV I would have fallen over laughing. I don't really get it myself to be honest! With two largely independent teenagers and a circle of friends who love going out dancing and partying, you would think I would be itching to kick up my heels along with the best of them. Not so however, quite the opposite! I very rarely go out; in fact I don't even like going out; I would rather stay at home warm and toasty with my boys in my beloved Nawtypoo. I've lost count of the invites I've turned down in favour of spending the evening at home making double fudge chocolate brownies or some other homely delight. Besides, what's the point of going out when I'm yawning my head off by 9.30!
I do consider myself to be extremely boring - but the thing is, I'm happy! My life is very simple and I like it that way. And, independent as my boys may be, I know that they love having their mum at home, especially when she spends so much time making yummy food for them! I love the fact that every time they walk in the door the fire is lit and they are greeted by the smell of home cooking. I never imagined that cooking would keep me sane but it really does! It empowers me, makes me feel valuable, that I'm doing a good job. Good grief Penny, what a nana you sound! You'll be walking around with a hair net soon! Still, boring or not, my lifestyle has had some big changes over the past couple of months. Long-time readers of my blog may remember long periods of ill health over the years. I've been diagnosed with Chronic Fatigue Syndrome, glandular fever, you name it, someone's clutched a straw at it and while I never felt in my heart that the medics had it quite right, it was nice to be able to at least put a name to the rubbish way I felt so I went along with it.
Over the past three or four months, however, I began to feel as though something once again wasn't quite right. I had no energy; it was a struggle every day to force myself out of bed. After suffering from insomnia for years, I had gone to the other extreme and could sleep for 13 hours straight and still feel I needed much more. I began to get nasty, burning abdominal pains most nights and extreme debilitating nausea during the day - but most frightening of all was my intolerance to alcohol. After a misspent youth, alcohol consumption was something I was always very conscious of and I tried hard to limit what I had and how often but the past six months had been ridiculous. My friends had long teased me for being a lightweight but gradually I had become worse and they would watch absolutely flabbergasted as just one glass of wine would cause extreme memory loss and if I had two, I literally couldn't stand up. I became very worried that something was dreadfully wrong and after the last episode, which saw me unable to get out of bed for two days following two glasses of wine, I went to the doctor in fear and trepidation. This was a different doctor to the one I usually saw but I didn't care who it was, I just wanted to know what was wrong with me!
First she weighed me and was surprised to see that since moving to Whangamata in 2010 I had lost 32kg - particularly as I had stopped running in 2011! I was surprised too, I knew I had lost around 20kg but I didn't realise it had been THAT much! Then she listened carefully to everything I had to say and when I had finished she asked 'Have you heard of Gilbert's Syndrome?' I most certainly hadn't, so she sat me in front of her computer and brought up some information. 'It's a genetic liver disorder. I think this is you,' she smiled. I stared at the symptoms on the screen in amazement. This WAS me - this was absolutely me. For the first time since I fell ill back in 2008, I felt that someone had finally hit the nail on the head. I was delighted! 'I've never known anyone to be happy about having a liver disorder before!' the doctor laughed. She immediately referred me for tests and over the next two days I had 13 different blood tests but we already knew she had the answer and the results confirmed it. What do you know - turned out my year-round 'golden tan' wasn't due to living at the beach but jaundice! I spent a few more nervous days waiting for nastier complications such as hepatitis and cirrhosis to be ruled out, then got on with living my new life with Gilbert.
My diagnosis was 51 days ago and I haven't touched a drop of alcohol since. I never will either because I know I just can't and I never, ever want to feel that way again. I have also cut out a lot of carbs from my diet, as well as red meat and fried foods and have come to recognise many of the triggers that make me feel bad or lack energy - it can be something as simple as a potato but it is nice to finally know what is going on with my body and make changes accordingly. I am very lucky compared to a lot of Gilbert's sufferers and I am extremely grateful for my health. I guess this has contributed somewhat to my hermit behaviour; not because I have the condition but because I am so glad that I found it and it has made me so thankful for everything I have, in particular the simple things but most of all my children. Now I no longer go out or spend my evenings in front of the TV with a glass of wine, I bake! Every afternoon or evening you'll see me poring through recipe books or scouring the Internet for something yummy to make. Nine times out of ten I end up making something from the Forum, such as Peach Cobbler or Marshmallow Chocolate Muffins. Whereas I used to be someone who tended to stick to the same old recipes, I'm no longer scared to try new things. I think a lot of people are scared to try new things for fear of failure, that it might go wrong or turn out yuck and I used to be like that but no more, now I'll give anything a go if it sounds nice and I have it in the cupboard!
Another great thing about my love and passion for cooking is that when there is baking in the house, the boys are never hungry and they never complain 'there's no food!' I remember Fiona saying this several times over the years and she's absolutely right. It seems a funny thing to say but life really is so much easier and less stressful when the tins are full! I can't believe I used to think that baking was so time consuming and awful when it only takes me 20 minutes to make enough lunchbox and after school goodies for a whole week. This hermit would much rather spend 20 minutes in the comfort of my own kitchen than brave the supermarket!
So seeing as I'm all domesticated and confident-like, I have decided it's time for a new culinary challenge. I looked out of the window the other day and all of a sudden a multitude of oranges, lemons and mandarins had appeared on the trees in the garden. Seriously, how lucky am I to have all this free stuff? I gave a ton away last year but this year I thought I should really make the effort to do something more with them myself as well. I wanted to make lemon honey and marmalade but I hadn't done any preserving since the kids were babies and had given away all my jars and seals and what-not. That was an expensive enough outlay the first time round, I didn't want to fork out for those again! Then to my delight I saw a lady on our local Facebook Buy, Sell and Swap page giving away a whole box of jars and seals for free! I went and picked them up and promised the kind lady a full jar or two in return, she was very happy with that! So now I have no excuse not to make marmalade. I can't wait to get stuck in and see how it goes! There's only one small problem - no one in our house likes marmalade!
You can get updates on Penny's new blogs on the Simple Savings Facebook page.
...or in our Members' Blog section.
---
You might not be able to control everything else in your life, but you CAN have a nutritious and delicious meal from freezer to plate in a very short time. All it takes is a bit of preparation...
On Sundays I go to the fruit and vegetable market and buy lots of vegetables in bulk. I then spend approximately one hour Sunday afternoon chopping up all the vegies and placing them in a huge Tupperware container lined with paper towel. This then provides our family for four nights (Mon-Thurs) with fresh vegies already pre-chopped. All I, or my husband, have to do is grill some chicken, cook some steak or fish and cook some of the pre-cut vegies with it. It saves on time during the week, money because I am buying in bulk, and the vegies do stay fresh and crisp. It also means I do not have to think or worry too much about dinner, especially with other commitments during the week.
Contributed by: Desley Spencer
Here's a great way to save money and time. By buying your vegies and meat in bulk, you can peel and chop them all up, mix together with spices and marinades or just leave and divide into smaller portions. Then simply fill re-sealable bags with portions, label and freeze in preparation for future slow cooker meals! It's the perfect way to save time, money and energy after a hard day... especially if you set the meal to cook the night or morning before!
Contributed by: Breanna
I always have plenty of cooked rice on hand to make quick and economical meals. Once a week I cook three cups of rice in my rice cooker. I then use re-sealable bags to freeze portions for the two of us. This way I save electricity, water and time. We are a pensioner couple, so tips like this add up to a big saving. You can also do the same with cooked pasta - it freezes well and is always on hand when you need it!
Contributed by: Marilyn
My mum has a great hint for quick and tasty roast vegetables which are approximately 90% cheaper than the frozen variety you buy at the supermarket!
Buy a bag of potatoes when they are reduced in price, wash them and chop into pieces. You can do this with any other roast vegetables too, such as sweet potato, pumpkin, carrot and so on. Par-boil the vegetables and when nearly cooked, drain and tip onto a baking tray. Sprinkle with herbs such as rosemary or Italian herbs and cook in a very hot oven. Once crisp, remove and serve or allow to cool, then bag and freeze. To serve later, remove from bag and reheat in the oven at 200C. This recipe can also be modified for making potato wedges!
Contributed by: SunnySarah
---
The three most disliked words in the English language may well be 'What's for dinner?' Here's how to get a meal on the table with minimum hassle - and a smile!
Need a delicious and nutritious dinner in a dash?
read more...
Freshly baked bread rolls anyone... nom, nom, nom!
read more...
Forum member Little Red Engine gets some great ideas for instant meals from the freezer to you!
read more...
Forum members help Jan with some ideas about 'bulk' cooking for one - some great recipes and ideas here for everyone.
read more...
Sometimes a little organisation saves a lot of money.
read more...
---
One of the many benefits of being a Vault member is that you can win a $100 store credit in Ye Olde Shoppe or $100 cash each month for your Simple Savings blog! Starting your own blog on the site is easy. All you have to do is log into the Vault, click on 'My Desk' at the top left, then 'Your Blog'. Then get writing! We love reading all your money saving trials and tribulations and really appreciate the effort that goes into each one.
This month's winner is Catslave for sharing something a bit special!
No, I haven't won the lottery. I have something better; much, much better.
I have fantastic parents. I don't know if it's just my age (and the hormones are going haywire - I'm 48), but at least once a week, recently, my parents actions have reduced me to tears - happy tears, grateful tears, thankful tears, I am so lucky tears.
This morning, yet again, I have cried because my parents have helped us out. DH's car won't start (electronic key issue) and he has to drop it off into the dealership to get it sorted. I am at work and have no leave left. DH was at home with DD. DH can get the car to the dealership but it's 30 minutes drive away and public transport to where we live is almost non-existent.
A quick call to my parents and my dad has picked up DD to take her to his place (she goes every morning before school) and will pick up DH at the dealership and bring him home. Not a problem, no worries, not even a sigh from Dad. Just a 'yep, what time and where?'
When both DH and I were working I would drop DD at Mum and Dad's in the morning in her PJs. They would give her breakfast, get her ready for school, pack her lunch and take her to school. After school they would pick her up, help with homework, give her a bath and get her back in her PJs. If I was going to be even a little late getting home, DD would have been given dinner and I would have a dinner waiting for me as well if DH was on nights. For the first year DD was at school I never washed a school uniform. I could go home and relax and enjoy spending time with my daughter without domestic chores competing with our time.
We went on a cruise in January, pre-booked and paid for long before DH became ill. My parents looked after DD for a week and when I came home, my house was the cleanest it has ever been. All washing was done, food in the fridge and a big fruit basket on the kitchen bench.
Over the years they have loaned us money. When we were so broke I was searching the ashtray of the car for money. They have taken DD at the drop of a hat when we have had to go out unexpectedly or when DD would rather go visit Grandma and Poppy than go to a hardware shop. We have called them late in the night when DH was so ill that he had to go to hospital and Mum has come to our place and slept on the lounge so that DD wasn't disturbed from her sleep.
And they had no hesitations in offering for us to stay with them whilst we are sorting out trying to get our shed converted to a habitable building to live in. There are so many stories I could tell of how they have individually or together, gone way out of their way to help me.
So today I have realised that I have something money can't buy, I have parents that would help out their children and grandchildren with their last breath. Even though I have a lot of worry and stressful things happening in my life right now, I wake some days and spend a couple of minutes being thankful of two things in particular. A child I thought I'd never have, born seven months after my 40th birthday, and parents who give me the greatest comfort knowing that no matter what life throws at me, they will be behind me to catch me if I fall.
Well done Catslave - we're pretty sure your mum and dad feel exactly the same way!
You can read more of our members' blogs here.
---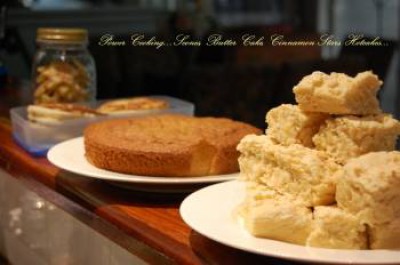 I have just had a pantry cleanout and stocktake.
I have four bags of flour and a huge jar of milk powder.
I've also just been given four dozen eggs.
So it got me thinking. How many meals could I make using just those three ingredients as the base?
White sauce to which I could add any odds and ends of things; sliced boiled eggs or vegetables to make a mornay. A mornay could be served as a meal in a ramekin, as a filling in crepes, as a topping for pasta or rice or thickened to make croquettes.
Gnocchi. Fresh gnocchi is far superior to those little lead lumps you buy at the supermarket and only needs some butter and herbs or a simple tomato-based sauce and parmesan cheese to make it gourmet.

Scones would be on the list for sure. They're so trendy these days; we're paying $4.00 for them in interesting flavours from gourmet bakeries.

Crepes for certain too. To eat as a dessert with Nutella, jam or honey, as crepes stacked into a cake, as a meal with the mornay filling or other yummy stuff rolled in to them and as a substitute for lasagne sheets in a traditional or open lasagne stacked with a slow simmered ragout.
Hot cakes. Egg-free ones so we could save the eggs to make Impossible Pie.
Impossible Pie. An old favourite that makes a great lunch for school or work or a quick meal.
Old-fashioned dumplings for soup, especially at this time of the year. Such a great comfort food and tummy filler.
Spaetzle which my Nanna used to make for me and which are sort of dumpling, sort of pasta-ish and delicious served with a warming casserole or tossed with tiny chunks of diced bacon and thin ribbons of Kale, in a frying pan as a complete meal.

One bowl butter cake. A simple cake that can be iced or decorated dozens of ways to vary the flavour.

Rolled cookies. So easy. Three ingredients. Chill. Cut out and bake. Done.
So two and half hours today saw me whipping up the delicacies you see above, and a few more.
My refrigerator stash now includes a jug of crepe batter to use for dinner tomorrow. We'll use some of the batch of microwave white sauce I made to make a mornay with which to fill the crepes. I also have the gnocchi dough chilling for tonight. The gnocchi will go in to the black lentil and vegetable soup that I got simmering before I started baking.
So the schedule was:
Preheat the oven to 160C for the butter cake.

Make the bickie dough so it could chill.

Bickie dough recipe:

1 1/2 cups butter
1 cup icing sugar
3 cups plain flour
1 tsp vanilla essence

Mix the butter and icing sugar with a spoon. Add the flour and combine well. Tip on to a sheet of floured baking paper and fold the soft dough over gently four or five times to gather it together. Scoop in to a ball and chill for at least 15 minutes while you do other things.

Make the butter cake.

Butter cake recipe:

Preheat the oven to 160C if you haven't already done so.

To a medium bowl add:

1/2 cup butter
1 cup caster sugar
3 large eggs
1 1/2 cups plain flour
1/2 tsp baking powder
1/2 tsp bicarbonate of soda
1/2 cup milk

Mix well until combined.

Prepare a 20cm round cake tin by lining it with baking paper.

Pour into the cake tin and bake for about an hour. Test after 50 minutes for doneness. If it springs back in the middle when touched lightly, it's done.

Allow to cool, remove from the tin and transfer to a serving plate. Dust with icing sugar and edible rose petals or ice with a simple glace (icing sugar and liquid) icing.

Make the white sauce.

White sauce recipe:

In a large microwave safe jug, melt two dessertspoons of butter or margarine. Add two heaped dessertspoons of plain flour and mix well. In a separate microwave safe jug, heat two cups of milk (powdered or fresh) for two minutes or until steaming but not boiling. Add the hot milk to the flour and butter roux and whisk until smooth. Microwave on High for three minutes, whisking at 60 second intervals. Season to taste, cool and store in a sealed container in the refrigerator.

Make the crepe batter:

Crepe recipe:

3/4 cup plain flour
1/4 tsp salt
3 eggs
1/4 cup vegetable oil or melted butter
1 cup water

Whisk all ingredients until smooth. Store in the refrigerator until ready for use. This needs at least 30 minutes resting time to improve the texture of the crepes. Overnight is even better.

Put a knob of butter on a square of paper towel and heat a non-stick frying pan. Rub the wadded paper towel over the base of the pan to grease it very lightly. Flick a few drops of water on the pan and if they sizzle it's ready for crepe making.

Pour about three tablespoons of batter into the pan and working quickly, swirl the pan to cover the base. Cook until the crepe dries out on top and the edges start to lift. Cook for thirty seconds on the flip side and slide on to a platter to cool.

Continue with the rest of the batter.

Fill these with the white sauce to which you've added ham and cheese, leftover chicken and vegetables, tinned salmon or tuna, corn kernels and shallots or anything else you have on hand. Fold them over, sprinkle with cheese and bake in a moderate oven until bubbling and hot. Yum.

Make the hotcakes.

Recipe in the February 2013 newsletter:

Rest the batter while you prepare the gnocchi dough.

Make the gnocchi dough.

Gnocchi recipe:

250g ricotta cheese
1 - 1 1/2 cups flour
2 eggs
Cracked pepper

Combine all ingredients in a bowl, adding a little extra flour if necessary, to create a soft dough.

Tip the dough onto a well-floured bench and fold over gently four to six times to incorporate the additional flour. It should be very soft and pliable, not elastic and smooth like bread dough. Gather into a ball and enclose in cling wrap. Refrigerate for at least 30 minutes.

When you're ready to cook the gnocchi, dust the bench with flour and remove the dough from the cling wrap. Form it into a sausage shape and cut into short lengths. Press a fork into the surface of the gnocchi to make grooves to catch the sauce you serve it with.

Bring a pot of water to the boil and drop the gnocchi in. Once they float to the surface they are done. Toss them with butter and pan fried sage, a simple tomato sauce and parmesan or olive oil, garlic and chilli.

Make the soup (this was for our dinner tonight).

1 cup lentils

1 tbsp dried onion flakes or 1 onion, peeled and diced
1 tbsp cumin
1 tsp ground coriander
Pinch dried chilli seeds
1/2 tsp dried garlic granules or 1 clove garlic, peeled and minced
1 cup tomato sauce
2 stalks celery, sliced thinly
1 large carrot, peeled and grated
2 chicken stock cubes
6 cups water
Pan fry the celery and onion in a little oil. Add the cumin and coriander and stir till fragrant. Add the other ingredients and simmer for one hour. Drop the gnocchi or dumpling dough in to the steaming soup just before serving.
Make the cinnamon stars with the bickie dough that's been chilling in the refrigerator.

Cinnamon stars recipe:

Halve the chilled cookie dough and keep half for another day. Roll the chilled dough out between sheets of baking paper. Use a cookie cutter in any shape to cut the dough into as many biscuits as possible. I got 35 small stars from half the batch of dough.

Line a biscuit tray with baking paper and transfer the biscuits to the tray. You may need to roll and cut the dough a second time and use a second tray depending upon the size and shape of your bickies.

Sprinkle with cinnamon sugar or caster sugar.

Bake them at 180C for 15-18 minutes until firm to touch. These bickies do not need to be browned, they just need to be firm to touch. That way they'll be crisp and delicious. They're brilliant made with gluten free flour too.

Turn the oven up to 220C to bake the scones.

Make the scones. I do mine in a slab and cut them into squares. That way everyone gets a soft edge. We like the soft edges.

Scone recipe:

3 cups flour
6 tsp baking powder
1 tin reduced cream or 1 cup fresh cream
1 cup sparkling soda water
2 dsp sugar

Prepare a large casserole dish to bake the scone slab in. Mine is 25cm square. Just give it a generous coating of cooking spray and set it aside.

Mix all ingredients in a bowl. Do not over mix. A light hand means light scones. Tip out on to a well-floured bench and fold the dough half a dozen times, then ball it up and transfer it to the casserole dish.

Flatten it out gently, it doesn't need to be smooth. These are nice kind of rustic looking.

Bake them for about 20-25 minutes or until the middle of the surface is firm and it sounds hollow when tapped.

Remove from the oven, allow to cool slightly, then use a very sharp knife to cut the scones into 16 neat squares.

Serve immediately with jam and cream or ice them with glace icing and enjoy later. Freeze any uneaten scones.

Make the hotcakes.

While the scones are baking, make the hotcakes according to the recipe, using the batter you've made and rested. One batch of batter yields 6-8 fluffy hotcakes.
Well, that was my 2 1/2 hours done. I didn't get to the Impossible Pie, the Spaetzle or the Dumplings for the soup, but I still managed to fill the fridge and freezer with enough goodies for the weekend and week ahead for mere cents per serve and a little bit of effort.
The more you tackle the idea of power cooking, the easier and more rewarding it gets.
Give it a try. :)
You can get updates on Mimi's new blogs on the Simple Savings Facebook page
or in our Members' Blog section.
---
I have spoken to a few folk online who loved our aquaponic set-up and the idea of raising their own fish and vegies but just didn't have the available space for the grow beds, and/or have a climate suitable to raise fish outside. Many did, however, have access to garages or basements where they had just enough room to set up a fish tank and some filters.
This led me to search YouTube where I came across one chap who had built a rather impressive indoor fish farm. Not long after that I went to a 'How to build a simple fish farm workshop' at a local community garden that was hosted by a leader in Aussie aquaculture design, Paul Van der Werf. After seeing how easily the system went together I decided to have a crack at it myself.
The system basically consists of two fish tanks, a Radial Flow solid waste filter, a biofilter and a sump tank.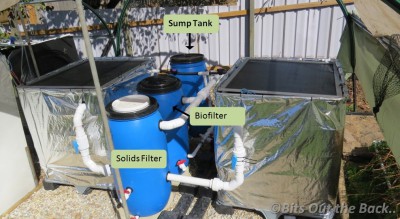 The system itself may look a tad complicated with all the pipe work, but is actually very basic in its components. Here's a quick explanation of how they all work together.
The fish excrete two forms of waste; a solid which passes though the digestive tract and ammonia which is excreted through their gills.
The water flows out of the fish tank via gravity into the Radial Flow solids filter at the front of the system. The solids 'fall/precipitate' out of the water as the flow is disrupted and slowed down on its way through the filter. The clean water then flows through to the biofilter where the ammonia is processed. In this filter there are 85 litres of biomedia which becomes home to naturally occurring bacteria that process the waste ammonia.
One family of bacteria (nitrosomonas) transforms the ammonia (which is toxic to fish) into nitrite (also toxic to fish) and another family of bacteria (nitrobacter) transforms the nitrate into the more fish-friendly nitrate. The media we use in this filter is a commercial media used in water processing plants and I have also seen folks use nylon bird netting, plastic bottle tops and a few other recycled goods to help keep the cost down. From there the water flows into the sump tank to be pumped back up to the fish tank to make its journey around the system again.
There are a few things that need to be monitored while starting out, like the ammonia, nitrite and pH levels in the water, but once the system ages a bit and the bacteria colonies establish themselves and process all the waste ammonia, only fish feeding and minor maintenance is required.
In this system we decided to raise 50 plus Jade perch (25 or so in each tank) as they are a fast growing species and also have the highest omega3 levels according to CSIRO research. We hope to have them to plate size (600g) within 12-15 months and after that the fish farm will be turned into a second aquaponic system for the patch.
This update is a more in-depth look at how the fish and system are progressing.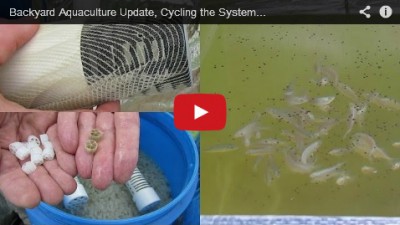 One of the common pests folks have in the patch at this time of year is the white cabbage butterfly (Pieris rapae).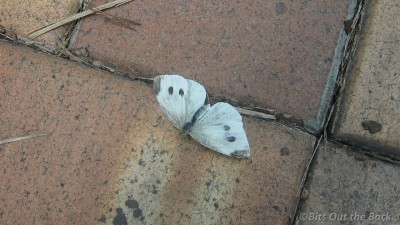 While they can be quite fun to watch dance through the yard, it is their progeny that we find ourselves declaring war on every autumn and winter.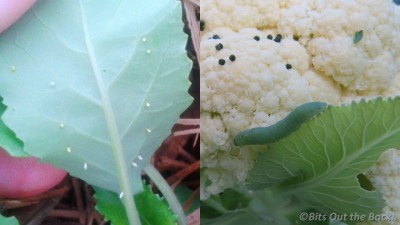 You will find their eggs stuck to the underside of the leaves of your cabbage, cauliflower, broccoli and other brassica plants, and when found are normally squished upon discovery. The caterpillars can be a bit trickier to find as their colouring lets them blend easily into the leaves. One thing that does give them away is their tell-tale balls of frass (insect poop). I may not have found the little blighter in the above picture if it had relieved itself elsewhere. ;)
The two best ways I have found to control these pests are by excluding them from the vegie patch using insect netting and by using the bacterial insecticide BT (Bacillus thuringiensis) on the plants outside the hoop house.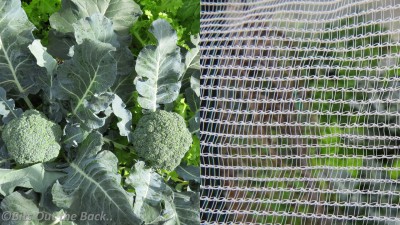 Vegie netting would have to be the best method for keeping the butterflies out of the patch and plants free of caterpillar damage. We have been using the current netting for three seasons now and it should quite easily last another three plus years. It also doubles as a light shade cloth come summer and I have read that it will help protect against light frost too. The first netting we used was the old mosquito netting from the girls' cot and, while this worked well, it only lasted one summer in the full sun. I have also seen folk recommend fabrics like tulle as it is cheap. The one down side is that they do deteriorate in the sun and will probably only last a season or two. I have also found that if you shop around you can get the proper UV resistant vegie net for the same price if not cheaper than the other fabrics like tulle.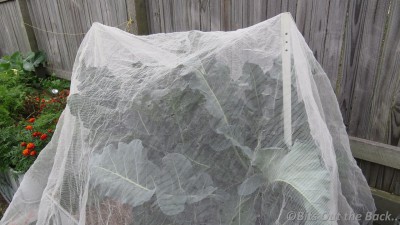 Using netting can be as easy as pushing some stakes into a garden bed and draping the loose netting over the top.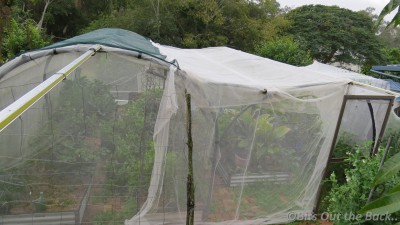 Or you can go all out and make a basic hoop house to cover a few garden beds like we have. A semi-permanent structure like this comes in handy over summer as it only takes half an hour to throw a couple of lengths of shade cloth over the top to take the sting out of the sun.
A down side of having a vegie net hoop house is that it also excludes beneficial insects like bees, lady bugs and praying mantis. I find that I need to manually pollinate the tomatoes in the hoop house at the moment (tapping the flowers every day is my method) and I have also noticed that aphids tend to flourish in the hoop house with no predators to keep them in check. Nothing a quick liquid soap spray can't fix though. ;)
The BT insecticide is my weapon of choice for protecting the brassicas outside the hoop house. This powder is available from most garden/hardware stores and is very easy to make up following the directions on the packet. It is also safe for use around mammals, birds and fish and is used by certified organic farmers all over the world.
The one down side of BT is that it will also kill caterpillars that are not pest species, so I tend to only spray the plants I want to protect and not the whole garden. Another is that it needs to be reapplied every few weeks and can wash off in the rain, but as winter is traditionally our dry season that isn't too much of a problem up here.
Hope that give folks a few ideas on how they can control these nasty little beasties.
Well, it's time to do some landscaping for the new aquaponic system between the light showers of rain. Hope you've enjoyed the quick description of the fish farm and feel free to ask any questions you may have.
Cheers folks & have a great one,
Rob
You can get updates on Rob Bob's new gardening adventure blogs on the Simple Savings Facebook page
or in our Members' Blog section.
---
Last month Susan emailed us about ideas for getting rid of an unwanted smell:
"I need help getting rid of the smell of a dead rat. My husband has been up in the ceiling twice but cannot find its body. The smell is particularly bad in one of our bedrooms. We heard a rat in the ceiling above the bedroom, but now there is no noise, just an increasingly bad smell. I would appreciate any advice or tips."
We got some fantastic ideas - thank you for sharing your wisdom! Here are some of our favourite replies:
My husband deals with pest control and his advice is to get de-odour bags from your local pest control supply store such as Garrards or Globe here in WA. They cost about $20 per bag. Put them in the roof as close to the source of the smell as possible and they will absorb the smell. You can also get this type of bag from epestsupplies.com.au. Hope it helps!
Contributed by: Allison
When it comes to removing smells such as this in unreachable areas, there isn't much you can do except wait for the smell to gradually die down unfortunately! However, in the meantime you can try placing a few toilet freshener blocks around where the smell is. It might just help!
Contributed by: Melissa B
Having had the same problem I do sympathise, the smell is terrible! Have you tried checking under the insulation in the ceiling? My husband has always found the dead rats under the insulation in the ceiling. You just have to let your nose guide you to which section of insulation it may be under. Not a pleasant task but this immediately gets rid of the smell! Otherwise you just have to wait for the smell to eventually pass but be warned, it may take a month or two.
Contributed by: Binnie
This home-made carpet deodoriser is cheap to make and is great for absorbing all kinds of unpleasant odours, even dead rats! I make this by combining bicarb soda with cornflour 50/50, say a cup of each. To this I then add a good sprinkling of lavender essential oil, enough to make the scent STRONG (use the pure stuff, not the cheap, watered down variety). Mix it all together using an egg whisk as this breaks up any lumps, then let it sit in a screw top jar with the lid on to ensure good distribution of the scent through the mix. Sprinkle this through the roof cavity that is nearest to the smell. If you don't really like the idea of the powder stuff floating around on loose surfaces, use takeaway containers or similar and place strategically in the roof cavity. Also keep some of this in a few small bowls and place them in the room that the smell is worst in. You can also do this with eucalyptus oil for a really clean smell, or lemon essential oil is another good one. Good luck!
Contributed by: Lyn
What a nasty problem to have! The smell of a dead rat rises so there is a good chance it is either under the house or in the wall cavity. Hope you are able to find it and put an end to the smell!
Contributed by: Margaret
Dirty rats! Whilst our problem wasn't exactly the same, it may help. We had a very bad rat urine smell and stain in the ceiling of the linen cupboard. My husband crawled into the roof space and found where the stain was. He could hardly move in the low pitched roof and I was tapping the location saying 'here it is'! He then poured a litre of bleach on the stain. I could see the bleach soaking through the underside of the ceiling, so I soaked my mop head in hot water with a good shake of eucalyptus oil and propped it up on the underside overnight. The smell has now gone and while we will need to seal it and then paint the affected area, hopefully that will be the end of it!
Contributed by: Shelagh
---
Treena has emailed asking for some help! She writes:
"Please ask your members for some ideas for me! I get the 'winter blahs' all through winter. I hate the cold and the rain, and it is dark when I get up and dark as soon as I get home. I really need some ideas on managing this time of year and staying chirpy. I hate the winter blahs!"
If you have any pearls of wisdom you'd like to share with Treena, please send them in to us here.
---
Well, that's your Simple Savings Newsletter for July and we hope you have enjoyed it. We hope you'll do some PowerCooking of some sort this month and see just how much easier it makes life in the kitchen!
Our members are hugely important to us and we love hearing from you all! So next time you're on the website, why don't you get in touch and say 'G'day'! Let us know what you would like to see more of in our newsletter or any suggestions you have for something new to try. We love receiving your clever ideas!
Don't forget to spread the love around to your family and friends too by forwarding them our newsletter or letting them know about our website. Help make their lives easier and save them money too! Or tell them about us on Facebook by clicking the 'like' button on our Simple Savings Facebook page.
Till next time...
All the best,
Fiona