This issue includes:-
Sad Sally, Happy Hanna: You've got the Power!
July: Cook Smarter
Competition Winners: Making a Difference
Penny Wise: Eating My Words!
Best of the Vault: Be a Smart 'Cookie'
Best of the Forum: Recipes for Success!
Best Members' Blog: Doing it Differently
Hidden Gem: MicroGram Computers
Cooking with Mimi: Putting PowerCooking Through its Paces!
Claire's Corner: Inventive Meals from Bare Cupboards
50c Indulgences: The Thrill of Thrift
Rob Bob's Gardening Blog: Feeding the Beds and our Bellies!
From Last Month: Natural Shampoo
This Month's Help Request: How to Secure my Home?
---
Hello,
How are you going? Guess what – it is HERE! We finally made it and I thank you for your patience. It's ready for you and it's called PowerCooking!! PowerCooking is a great way to save money, save time and avoid needing takeaway. I hope you really love it!
We love receiving your emails and Facebook messages. Here are some of this month's favourites:
"I have just renewed my subscription after debating as to whether I could really afford it. I have come to the conclusion that I couldn't afford not to! I am excited that I can once again access the Vault. Keep up the good work." (Pamela)
"Thanks for The $21 Challenge. The recipes and hints in the book are fantastic. The first things I made were the curry puffs - amazing to think they came out of 'nothing'! My husband nearly ate the lot and said, 'Don't lose that recipe'!" (Lyn)
"Thanks for the change in the Blogs (on the Facebook page). You all do a marvellous service for anyone who is open to your help. I have enjoyed being a member for years now, I wonder how long I have been part of your incredible membership? Thanks for all you have done. Hugs all." (Glenys)
Glenys, you have been a member since 2004 – thank you for your support!
Have a great month!
All the best,
Fiona Lippey
P.S. If you want to jump to the new PowerCooking site without reading the rest of the Newsletter, here's the address www.powercooking.com.au
---
"Wow, it smells good in here!" said Pete, following his nose to the kitchen as he arrived home from work. "I'm starving too – good grief, what on earth's going on here?" Sally's kitchen was a hive of activity. Pots bubbled, timers beeped and recipes and Post-It notes covered the bench tops. Music blared and Sally was singing at the top of her voice as she stirred. She jumped as Pete tapped her on the shoulder.
"Oh hello, Love!" she grinned, still holding a dripping spoon. "I'm PowerCooking!" "Is that right?" chuckled Pete. "Looks like total chaos to me!" "Not at all, I know EXACTLY what I'm doing," Sally told him loftily. "I am cooking ALL of this week's meals in just one hour! Our whole Savings Group is doing it. It's brilliant!" "I'm sure it is," Pete said drily. "I still remember your last cooking splurge. We ate spag bol for six nights in a row!"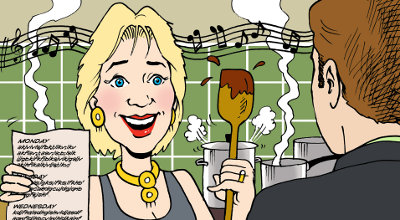 "You can tease all you like!" Sally poked out her tongue at him. "For your information, I am indeed making spag bol – but also beef bourguignon AND beef stroganoff. All in one hour!" She said proudly. "Really? OK, well we'll see," chuckled Pete. Sally scowled and turned her back on him. "Honestly, some days you really do bug me." "Sorry, Dear, what was that?" Pete asked. Sally spun around and beamed at him. "I said come over here and hug me!"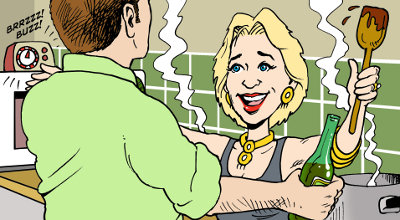 ---
Pete is right to be afraid, very afraid, of Sal's rampant enthusiasm in the kitchen! Most of us have flirted with bulk cooking or once-a-month-cooking and ended up with a freezer full of spag bol and nothing else! But Sal is actually on to something that will fill her freezer with a VARIETY of delicious meals for her family. And it will take her just one hour. Pah you say, can't be done! Well, we'd love to introduce you to a clever new concept we have called 'PowerCooking'. This little life saver will let a single person cook up to 24 single serves, a couple 12 serves or a family up to six main meals in just one hour. But we can't tell you any more until we introduce you to Kate.
Hi Kate! You have met Kate Andrew before in our newsletters and now she's back! Kate helped Fiona and the team with ideas for the $21 Challenge – she is a fantastic and clever cook. After the $21 Challenge hit the shelves, a lot of single people kept asking about a cooking system that would help them save money. Kate volunteered to help out and devised a system so single people could cook a batch of meals on the weekend so dinner would be 'ready' when they came home from work tired or were busy or just couldn't be bothered cooking. Fiona started talking to people about Kate's cooking system and EVERYONE else wanted it. Everyone wanted to be able to cook lots of delicious meals in one quick session! Kate started modifying the system for couples and families and so began 'PowerCooking'.
But what you really want to know is... how? Well, it is magic! I'm sure aliens are involved. What? You don't believe me? OK. Here's how it works - Kate has designed some incredibly clever recipes which can be cooked concurrently on your stove top, in the oven and so on. All these recipes taste fantastic right away; or a couple of days later from the fridge or after you have frozen and reheated them. Kate has also created cooking schedules for you to follow during your Power Hour and shopping lists so you can buy all your Power Hour ingredients in the ONE shop.
The recipes' freedom and versatility is beyond clever. But, instead of me going on about it here, go over to our new site www.powercooking.com.au.
(This system is so clever it deserved its own site.)
---
In our June newsletter we wanted to hear how you made a difference to someone's life during June. We were overwhelmed with your wonderful stories of giving and caring. These are the three stories we chose to each win $50 credit to spend in Ye Olde Shoppe.
I donate my breast milk to the Mercy Hospital breast milk bank. This is for the babies in intensive care whose mums haven't got enough milk for them. Each week I express, freeze and deliver breast milk to the hospital's milk bank. I know I will never meet the babies or mums who are the recipients of my pasteurized breast milk but just knowing that the babies have a chance is good enough reason to be an anonymous helper.
Contributed by Jenny Gee Wah
I walk along Swanston Street Melbourne three mornings a week and there is a homeless woman who lives there with her little dog, Roxy. She has rejected attempts to place her in more suitable accommodation as she cannot take Roxy with her. I bring her a small item each day I pass, such as some dog food, packs of wipes, a polar-fleece throw, a packet of biscuits, some fresh fruit and so on. I always chat for two or three minutes. I realise my actions don't solve her difficulties, however, I always chat for two or three minutes unlike the majority of passersby who just avert their gaze. And she has commented that Roxy likes me, so I must be OK!
Contributed by Carol Woolcock
It was just on three years ago when I spotted a stall outside my local supermarket. They had beautiful coat hangers and other sewn goods, for which I am a sucker, and a brochure promoting their community program. I signed up and was matched with a resident of a local aged hostel who has no friends or family to visit her.
My friend Dorothy is about to turn 93 and I visit her at least once a fortnight. In the beginning I was a volunteer doing community service for a cause which I am passionate about (aged care). Lucky me - I am now proud to call Dorothy my friend and she has taught me so much. I am constantly engaged and inspired by the stories Dot tells me. She has led such a life and I am so lucky that she chooses to share her stories with me.
Contributed by Christine Anlezark
Thank you for all your wonderful contributions.
---
I admit, I am a bit of a stubborn sort. When it comes to all things Simple Savings I am more than happy to give most things a go but there are a few things I still haven't quite managed to get my head around even after all these years. Buying in bulk has never been my forte; to me that always looks as though it requires far too much organisation and thinking ahead and somehow I never manage to think ahead too much further than a few hours, let alone a few weeks! Once A Month Cooking just SOUNDS too darn massive a mission for me to investigate, let alone contemplate and I am ashamed to confess that even though it has been a Simple Savings calendar challenge for several years now, I have yet to give Double Dinners a go.
Not so Fiona. She LOVES to shop in bulk. Her pantry is insane. I don't know if anyone has ever envied a pantry before but I do. Maybe one day she will give in to my nagging and share a picture of it because you have to see it to believe it. Fi also loves to cook in bulk. Double Dinners is one of her favourite challenges and for some time now she's been trying to convince me to get excited about a new concept she likes to call PowerCooking. While I liked the name from the start, she has really had her work cut out getting me to give it a go. You see, PowerCooking not only involves cooking meals in bulk; it asks you to churn them all out in the space of an hour! Whilst Fiona insisted this was a total breeze, my instincts all immediately screamed "Eek! Too hard, too hard!" I mean honestly, my kitchen is the epitome of chaos most of the time as it is, without trying to cook up a week's worth of meals as well!
Fi even sent me through my very own PowerCooking Plan to try, with three perfectly delicious sounding recipes - but being the stubborn sort I am, I don't like being told what to eat. You see, menu planning is fine with me because even though you have to plan your meals in advance, I get to choose what I want to eat. Not that I'm a control freak or anything. I tried several thinly veiled excuses – I couldn't go food shopping, I'd already been food shopping for the week and couldn't go again, I didn't have any dishes big enough, blah blah blah. But something kept nagging at the back of my mind – what if this PowerCooking lark was actually any good? And there was another major draw card – Kate's recipes. Kate is one of these people who just 'gets' food. She contributed several recipes to the $21 Challenge book and I've lost count of how many times I've made them. Her recipes are always amazing and in the end curiosity got the better of me and I had to try some more of them out.
So, even though I had been given three recipes not of my own choosing and was grumbling inwardly about HAVING to make Beef Bourguignon, Apricot Chicken and Asian Chicken and Corn Soup, I duly trundled off to the supermarket with my list of supplies to get, including all the meat and red wine needed for the beef recipe. The total came to $78 and I grumbled inwardly about that too – until I realised that I was getting 24 meals for my $78. And we're talking complete meals here, with vegies and rice/pasta – even bread rolls for the soup. Even so, I was struggling to get enthusiastic about cooking Apricot Chicken. I've never liked that dish in my whole life. And how was I going to go with the Asian Chicken and Corn Soup when I don't like corn and there were two whole cans of the stuff in it?! But there was nothing else for it – I had the food and now I was going to have to cook it.
I had all my instructions and recipes set out on the bench. First I had to make the Beef Bourguignon as it had the longest cooking time, then the Apricot Chicken and finally the soup. I stood there for all of five minutes throwing onions, mushrooms, bacon and so on into a big pot and then covered it in foil and put it in the oven. Was that really it? That couldn't be right – it seemed too easy! Did I really have to just chuck everything in like that and then forget about it? Apparently so. And then I spied a problem. At the end of the recipe it said to thicken the sauce. But I didn't have any sauce! Well, kind of but you could hardly call a cup of wine much of a sauce in a massive pot full of beef! I was a bit worried – something must have been left out, surely? I told Fiona my concerns but she seemed unfazed and assured me Kate would have known what she was doing. I had no choice but to stew for a couple of hours along with my beef.
A few more onions chopped, this time along with some apricots, sweet potato and other goodies and wham bam, my Apricot Chicken was done and in the oven in a matter of minutes. This time I didn't have to worry about the sauce, there was heaps! I just had to worry about how on earth I was going to get the kids to eat sweet potato where I had failed miserably for the last decade and a half. Still, by now I was two dishes down, just the soup to go! As I had now done twice before, I threw everything into a big pot, including the two tins of dreaded corn and then sat down and read a magazine while I waited for everything to do its thing. This alone is worth a mention because I never have time to sit down and read a magazine, let alone when I'm cooking dinner, but here I was! And as an extra bonus I still had a couple of glasses of Pinot Noir left over from the Beef Bourguignon, what decadence!
After a while I popped back into the kitchen and there was no denying, the smells wafting out of the oven were spectacular! Before I knew it, the Asian Chicken and Corn soup was done and I tested it nervously. I was particularly curious about this recipe as Fiona had told me how wonderful it was but I had never had this type of soup before – and it had CORN in it to boot! Still, I took a sip – and then handed Ali a spoon. "You HAVE to try this soup, it's amazing" He agreed – and the two of us scoffed a whole bowl each just like that. Well who would have thunk it!
Thirty minutes later the Apricot Chicken was ready and I had to admit, it looked and smelled divine. I was planning to serve this up for dinner and in hindsight I should have probably stashed the extra portions safely away in the freezer first because I hadn't counted on Liam to like it quite so much. As it was, I just put the whole enormous dish on the table and let everyone help themselves. Which Liam certainly did – he helped himself to three enormous platefuls! I'd never seen anything like it! This is the kid who does not 'do' apricots or sweet potatoes. But this dish totally won him over and by the end of the meal I only had enough left to fill one container for freezing!
By the time the Beef Bourguignon was finished we were all way too full to try it but Fiona was right, a tonne of rich, dark sauce had magically appeared for me to thicken. And we were done! My very first PowerCooking experiment was complete – and you know what? It felt really, really good. It felt good that night to open the fridge and the freezer and see all this glorious, really good food stacked in it. It felt really good the next morning to know that I had delicious soup waiting for me for lunch that day and any other day I wanted. It felt really good to go away for the night and be able to tell the boys they had Beef Bourguignon and pasta already cooked for their dinner, not crummy takeaways or a frozen pie. And it still feels good to know I have all this yummy food ready to scoff whenever we feel like it!
At first, I thought to myself that while my PowerCooking experiment had definitely been a resounding success, I probably wouldn't do it again. One thing WAS for sure, I was going to keep making the recipes as we enjoyed them so much there was no doubt that we would make them a part of our regular family dishes. But as for the whole shopping/cooking/freezing in bulk thing? I still wasn't sure how much I would realistically do that. I'm the sort of cook who wakes up in the morning and thinks "Right, I want to eat THAT today" and goes and does it. But in the days that have followed I think this PowerCooking lark might just have won me over! For starters, the boys and I all have such different schedules. Ali works several nights a week and gets fed there. This is technically a good money saver for us but isn't so good in the way that Liam and I usually end up eating rubbish because we think "Oh stuff it, it's only the two of us tonight, we can't be bothered going to too much trouble!" From that perspective, PowerCooking would actually be a better, healthier option for us. Liam also gets home late from rugby training two nights a week and this is about to increase even more as he has just been selected to represent Thames Valley U18's. Having PowerCooking meals easily available to him means he will always have good food available to him fast when he comes home starving! It also means that on the rare occasion that I DO go out or am away from home, I know that my boys are very well provided for and I will no longer come home to '"MUUUUM! There's no food in the house!" It could just be that PowerCooking suits our household perfectly!
So there you have it. Fiona's biggest PowerCooking skeptic has been converted. But I had to try it myself to see, taste and understand why it is so good. Maybe you will too, but the great thing about it is that there is something in PowerCooking for everyone. If you are already a super organised shopper and cook, try it out for the recipes if nothing else; they really are awesome! And if you're hopelessly disorganised like me and have previously put all thoughts of bulk cooking in the too hard basket, give it a go. Because it's actually very, very easy and can really help make your life easier. Which is what Fiona's been trying to tell me the whole time, funny that! Did I mention I was stubborn?
You can now read Penny's blogs on the Simple Savings Facebook page or in our Members' Blog section
---
You're tired and just want to put your feet up after a long day. You are fighting very hard not to drop by the takeaway or buy a frozen meal or something else 'easy' on the way home. All is not lost! Here are some fantastic ideas from the Vault to help you be a smart 'Cookie' and save those dollars, save that waistline and put something quick and delicious on the dinner table!
My 'double duty foods' save me time and money in the kitchen because they have several uses. I make up a large container of shredded cabbage, carrots, capsicum and spring onions which can be used to make a quick coleslaw (take out what you need and add dressing or mayonnaise) and can also be used for adding to a quick stir-fry. This will last in the fridge for at least four days. Another 'double duty food' is an Asian dressing that can be made up and kept in the fridge for up to two weeks, and can be used on coleslaw, grilled chicken, as a marinade or as a vegetable dip. To make it, mix together the following ingredients:
2 tsp sesame oil
1 tbsp peanut oil
2 tbsp lemon juice
2 tbsp kecap manis (sweet soy sauce)
3 tbsp sweet chili sauce.
If you have any leftovers at the end of the week, they can all be thrown in together to make a pot of soup!
Contributed by: Kellie M.
We are a family of only two adults who cook often with a large crock pot. However, we do find ourselves with a heap of leftovers after cooking a pot full of food. So, instead of filling the crock pot with enough food for one meal several times over, we now take two oven bags and divide our meat/chicken/fish between both bags. We add different flavourings to each bag then arrange both bags in the slow cooker and cook on low for eight hours. I have just made Chicken Korma in one bag, using drumsticks that were on special with an extra pinch of cinnamon and some chilli, and Mediterranean Chicken with olives in the other bag. The conflicting smells are surprisingly delightful and the final result is two delicious meals both cooked with the same amount of power I would have used for one. Any extras we don't consume straight away I simply freeze and save for a later date.
Contributed by: Linda P.
We're saving about $30 a week (more than $1500 a year!) just by changing one meal a week! We've ditched the expensive takeaways in favour of a much cheaper, more fun option… fake-aways! Here's how you can do it too...
List every takeaway option your family loves (for example, Subway, pizza, burgers, fish & chips and so on).
Each week on a 'danger night' (when you know you won't feel like cooking and cleaning up) choose a 'fake-away' option.
Include in your shopping list, all the items you'll need to achieve this fake-away meal so you have them ready to go.
When making your fake-away meal, get everyone involved so the meals are ready as quickly as possible.
Important: Wrap or package your food in paper bags, serviettes, or paper plates to give the authentic feel of takeaway. This also means minimal clean up afterwards.
Important: Take your meal somewhere other than your normal dining table - outside in the backyard, in the cubby house, on the front steps for example.
Enjoy your fake-away knowing that you're saving loads of dollars, and having fun with family at the same time!
It's a fun challenge, and I'm inspired by how excited my family gets about fake-aways!
Contributed by: Kathy L.
Craving cake during the Challenge? Don't waste your limited funds on buying a packet mix – make your own cake mix and stay on track during the week!
Ingredients:
6 cups self raising flour
3 cups sugar
1 cup powdered milk
1/2 tsp salt
250g margarine, softened
Method:
Combine first four ingredients and then rub in margarine lightly until the mixture has a fine texture.
Keep in an airtight container in fridge or freezer. When it's time to make a cake, add one egg to two cups of mixture, plus 125ml of water. Add dried fruit, spices, essences, toppings, coconut or chocolate. Pour into greased, papered tins and bake in a moderate oven.
Contributed by: Elaine Spence
---
The Forum is a wealth of information because there are people from all walks of life sharing ideas and experiences. Here are some great discussions about doing things just a bit differently in the kitchen...
Not sure just what to do with that packet of pearl barley in the cupboard – here are some great ideas!
read more...
Time to get out those clever contraptions and USE them! Here are some ideas that will get you cooking.
read more...
They don't have to be ripe to use them – time to think outside the square!
read more...
Here's a fantastic shortcut to making beautiful pancakes, muffins, cakes and so on.
read more...
Think the 'cupboard is bare'? Think again! The wonderful Claire M. has catalogued an amazing number of fantastic recipes made with the humble Weet-Bix. Think truffles, cakes, savoury slices, sausage rolls and even drinks!
read more...
---
One of the many benefits of being a Vault member is that you can win a cash prize of $100 each month for your Simple Savings blog! Starting your own blog on the site is easy. All you have to do is log into the Vault, click on 'My Desk' at the top left, then 'Your Blog'. Then get writing! We love reading all your money saving trials and tribulations and really appreciate the effort that goes into each one.
How many times do we hear the word budget, or financial plan and run in terror at the thought of enforcing the 'rules' like some sort of dictator. I had to live like that for a while, when DH was studying and I was at home with DD, from birth to two years (with some very sporadic work ) we had very little money for anything other than essentials. We had one car, our sanity and luxury.
I don't want to go back to that life. It was one that spoke of deprivation and going without. What I love about being frugal though, is that one size doesn't fit all. We could buy bread very cheaply from the supermarket. Something like $1.00 per loaf. But it makes us sick, and does not nourish our bodies. Eating no bread, well that is also challenging, and costly, 'cos you don't have a filler (we did it for 12 months). Our compromise is that we buy rye sourdough twice a week... it costs $7.00 per loaf, but we don't have any negative health impacts (that we know of at this stage).
The expense is insane. Today I started our rye sourdough culture from a bag of organic rye flour. The flour was $23 for 5kg, I imagine it will make quite a few loaves. I used to make bread that was 50/50 wheat and rye flour years back using commercial yeast. It is quicker, but the fermenting process is what helps the grain flours be better digested and less damaging to our gut. So sourdough attempts will be starting next week.
Also we have started taking raw apple cider vinegar daily, for me I take some a few times a day, before meals. This costs $7.00 for a 300ml bottle! Eeeks. However, I bought a bag of organic apples ($8.00) cut half of them up and used the cores and peels for apple cider vinegar production. You also need chlorine-free water, so I bought some water $2.00. Then you need time for fermentation. I'm guessing I will have 1.5L of apple cider vinegar for $6.00... big saving.
Every shift counts, every time you do something, ask yourself am I doing this the smartest way? Could I save money and have a satisfactory result? It's all a cumulative effect. From little savings big savings grow!
On the budget front, well school holidays saw me derailed. Bills were paid, but sadly I lost my footing, and money was spent, and sometimes frivolously! One look at bank account today, less than $10 put any daydreams I had of taking the family to the cinema today in the can. Instead we will have a DIY movie night, to celebrate the end of the school hol's, and how lucky we are to have each other.
Well done Kim – keep up the great work! You can read more of our members' blogs here.
---
Our Hidden Gems directory is designed to help members source the best deals in their area. This month's Hidden Gem is MicroGram Computers as nominated by Leanne Rose.
After being told I would need a brand new computer to replace my nine-year-old computer, I visited MicroGram Computers to obtain a second opinion. Keith at MicroGram had a look at my old computer and worked out what needed replacing and what needed upgrading. He had the quote ready within the hour and my computer upgraded and working within a day. His after sales service was exceptional as was his communication throughout the quoting process.
I had a budget to stick to and he stayed within my budget by asking what I used the computer for. As I love to produce home movies I needed lots of memory and faster processing but I didn't need advanced or professional programs so this eliminated the need to purchase parts I just wouldn't use.
MicroGram Computers is a Hidden Gem! Just a small shop but BIG on service!
Where: Unit 3 / 7 Tumbi Creek Road, Berkeley Vale NSW 2261
Contact: (02) 4389 0200
Well done Leanne on locating such a fantastic hidden gem and thanks so much for sharing.
---
I have a special place in my heart for a big cook-up. Being from a European background means that a kitchen buzzing with activity equals love and caring in my books. So naturally, it makes me all warm and fuzzy when there's a fridge, freezer and pantry full of goodies, available for my family. So I'm no novice to the concept of an afternoon preparing meals ahead of time, to make our week run more smoothly.
PowerCooking takes all this to new heights though. I have my own patterns and habits and have refined them well over many long years of use. But this idea has just helped me tweak and refine those routines to really make the most of my time and my budget.
In just one hour, I was able to prepare three significantly different dishes, from which I was then able to generate nine completely new meals. Not only did I have dinners and lunches nailed for a week, but we never got bored either.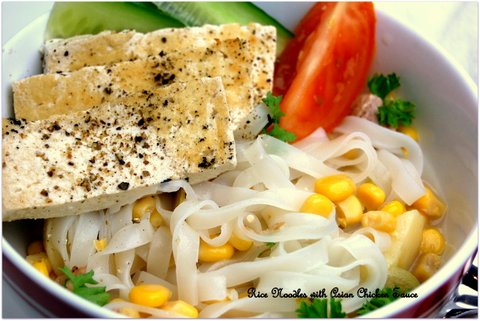 Using my own routines, and following The PowerCooking idea is like the difference between going for a stroll with the dog on a lazy afternoon, and donning the headphones and really getting stuck into walking up and down hills to make the walk worthwhile. Nothing wrong with either one, but whilst the former is cosy and comfortable, you get more noticeable results with the latter.
My adventure with the Asian Chicken Soup from the PowerCooking library, yielded a delicious soup for dinner, lunch for The Musician Husband and I the next day, and a fresh and lush rice noodle dish a couple of nights later.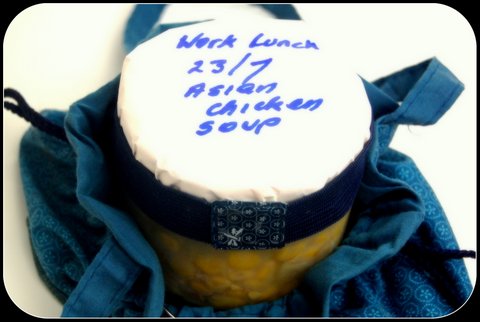 A flirtation with Honey Mustard Pork fed us like kings one evening, made tortillas another night, and saw us licking our fingers over pork skewers on a bed of coconut rice for Saturday lunch. The lamb shanks, which were eye poppingly meaty, made dinner, sandwiches and a to-die-for lamb and vegetable soup. The combinations are only limited by your imagination.
Give it a try. I bet you like it as much as I do.
You can read more of Mimi's blogs on the Simple Savings Facebook page or in our Members' Blog section.
---
I love the fact that some of our best meal ideas have been created in hard times. I guess there's something about just having to use whatever you have available that results in some amazing meals! Often, a meal idea is sparked by the leftovers of whatever we had for dinner the night before. Although, in all honesty, we don't often have leftovers (given the appetites of my hubby and teens!), so it's a matter of thinking ahead and cooking a little extra (and then hiding it away before it's found and scoffed!).
A few weekends ago, we had a huge pot of mashed potato and corn left (DS didn't come home for dinner – hence the plentiful bounty of leftovers!). So come Saturday, I wracked my brains trying to think up a tasty way to use them for lunch. The cupboards were a little bare, but we did have a small tin of smoked tuna in the pantry which inspired me to make tuna and potato fritters. I'd never really made them before, but I figured they couldn't be that hard. I threw in a few tablespoons of flour, an egg and some chopped herbs from the garden and fried them up with a salad on the side. They were totally delicious, and the cost of the tuna was about $1.60! I've since used the same recipe but with chopped mussels instead of tuna (a bag of frozen mussels from the supermarket costs about $5.00 – you get heaps!). Also totally delicious! The fritters are really filling and the kids love them too. I've now decided that whenever I cook mashed potato, I'll make a little extra and pop it in the freezer for weekend fritters.
Another 'leftover' meal maker we've been having a lot of lately is frittatas. I usually do a roast chicken with roast vegies on Sunday night (I always cook up two chickens for our family!). Before I serve up dinner, I put aside half a chicken for the kids' sandwiches, plus a bowl full of pumpkin, potatoes, kumara and whatever green vegies we're having, to make a frittata. Then it's just a case of chopping them up, adding a few extras like chopped tomato, pouring over some mixed eggs, cooking it all up in the frying pan and voila! A healthy, hearty lunch for work the next day!
One of my absolute favourite 'creations' is one I came up with about 18 years ago, when my son was just a baby and we were living on $80 a week. I discovered that our local supermarket sold meaty chicken frames for a few dollars (and they still do!), and wondered what I could make with them. The result was a meal that has become a family favourite, especially during winter or if someone has the flu. It's so simple, so tasty and costs just $5.00 to feed our family of five for dinner (with seconds) plus lunch the next day! The chicken does need to cook for an hour or so, but I promise it's just so tasty that it's worth it!
5-6 chicken frames (we get meaty frames with the necks (these add lots of flavour) from the butcher or supermarket for about $3.00 a pack)
1 onion, chopped
1 pack spaghetti noodles
Plenty of pepper (this is the 'secret' ingredient!)
Salt to taste
Put your frames in a large pot with the onion, salt and pepper. Cover with water and bring to the boil. Simmer for at least an hour, until the meat falls off the bones.
Here's the fiddly bit – once the frames are well cooked, you need to pull the bones out of the water, allow them to cool and pick off the remaining meat. You'd be amazed at how much meat you'll get – especially if they have meaty necks. The meat and stock is super tasty – don't be tempted to try the easy route and use breasts or thighs – the flavour just isn't the same.
Bring the water back to the boil (I sometimes top the water up a little if needed). Add the spaghetti noodles and boil until cooked. Add your chicken meat back in with a little extra salt and pepper if desired. I like plenty of pepper!
If you leave it overnight, the noodles tend to soak up the stock, so be sure there is plenty of stock. Delicious the next day!
I recently showed my mum how to cook this dish – it's now one of her favourites. And because it's just her to cook for, she freezes the rest in batches which means she has loads of lunches and dinners for the weeks ahead.
You can read more of Claire's warm and wonderful words on the Simple Savings Facebook page or in our Members' Blog section.
---
The Thrill of Thrift has been our topic this month on the Under 50 cent Indulgence thread and what a joy it's been as so many have shared ideas on how to save a penny or two! We wanted to honour that great army of women - our mums and grandmas – who lived through two world wars and the Great Depression. We know they knew a thing or two when it came to living well for less, but it's not just about saving money, it's also about saving time, simplifying life and reducing things like nasty chemicals from our lives.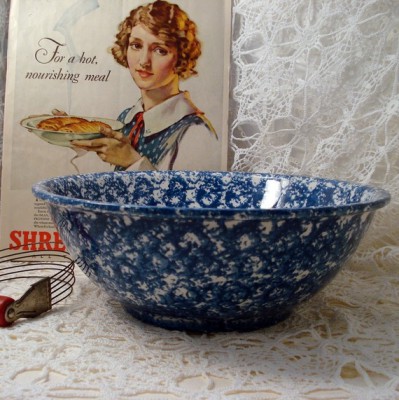 This past few weeks, I have been digging out my cookbooks as well as haunting the op shops looking for old recipe books. You know the ones, those cookbooks that have been put out for school fundraisers, community groups and the like. There are such treasures in there such as recipes for 'Spotted Dick', a simple pudding with breadcrumbs, dried fruit, milk, eggs, sugar, salt, flour and butter. There are those other well remembered treasures such as Golden Syrup Dumplings and Creamed Rice that are low on cost yet warm and filling and send the hunger pangs packing!
Another thrifty idea is one we often do on days we are busy - enjoy breakfast for dinner! Let me introduce you to the wonderful concept of breakfast casseroles! The beauty of these is that you make them in the morning and then let them sit in the fridge throughout the day, and they are ready to pop in the oven for a tasty, easy dinner. Of course, if you prefer them at breakfast, you simply assemble them before you go to bed, and it's an easy breakfast that can be cooking while you are all getting things done at the start of the day.
A favourite in our home is Mexican Breakfast Casserole. It's made with pantry staples and is easy on the hip pocket as well.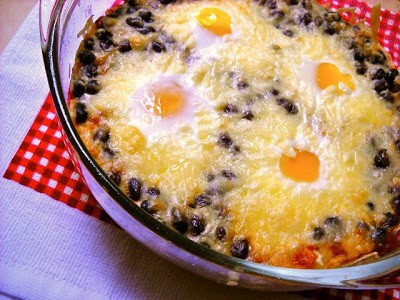 Serves 4
1 cup cooked rice
1 tin kidney beans
1/2 cup salsa
1 cup grated cheese
4 large eggs
Herbs or spring onions for garnish (optional)
Method
Cook the rice or use leftover rice.
Grease a pie plate and mix the rice and salsa together.
Sprinkle one quarter cup of the grated cheese over the rice and salsa mix.
Drain the kidney beans and rinse them well.
Spread evenly over the top of the grated cheese.
Sprinkle another quarter cup of grated cheese over the beans.
Cover with cling wrap and refrigerate to cook later or continue cooking!
Heat the oven to 180 degrees Celsius.
With the back of a spoon, make four indentations in the mixture and carefully crack your eggs into the indentations.
Sprinkle the dish with the remaining half cup of cheese.
Bake for 35-40 minutes.
You should be able to tell if the egg whites are set by giving the dish a little shake.
Garnish with spring onions or herbs if you have them.
An easy breakfast for the weekend is French Toast Breakfast Casserole. The beauty of this is that you can use up bread that you might throw out.
1/4 cup butter, melted
3/4 cup brown or raw sugar
1 loaf of bread, cut into 1 inch pieces
8 eggs
1 cup full cream milk or you can part substitute some cream
2 tsp vanilla extract
1 tsp cinnamon
1/2 cup chopped pecans or walnuts
Method
Combine the butter and brown sugar and pour into the base of a greased 9"x 13" baking dish.
Layer the bread on top, overlapping if necessary.
Mix the eggs, milk, vanilla and cinnamon and pour over the bread.
Sprinkle nuts on top.
Cover the baking dish with cling wrap and chill overnight in the fridge.
In the morning, preheat the oven to 180 degrees and bake the casserole until bubbly and brown.
Let it stand for 5-10 minutes.
Serve with maple syrup or a favourite home-made syrup and enjoy!
You can adjust the quantities to suit your family.
You can drop in and join Helen, Annabel and the Under 50c Army here.
---
Made a bit of a head start on getting the main beds ready for the warmer season's crops this week. After trying this method on a few beds for the cool season crops and being pleased with the results, I thought I would use it on the larger beds.
It is a very basic no-dig method where the soil is fed from the top using manures, compost and mulches. This also makes it a very economical way to build up nutrients in the soil, as you just can't beat bagged manure for the price. Feeding the beds this way is thought to be better for the different microorganisms that live in the soil as they are left undisturbed. When soil is tilled and left bare you can risk losing valuable soil/nutrients from wind and water erosion which is never a good thing when trying to build up fertile beds. The layers of compost and mulches on the surface provide food for worms and help to reduce evaporation of moisture from the soil as well. It also means I don't need to do my back in again digging all the goodies into the soil. But that's not the real reason … Honest ;)»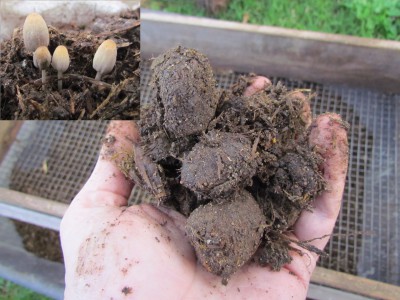 For this bed I thought I would go with straight horse manure topped with cane mulch. Other fertilisers, like worm castings and compost, will be added when the seedlings are planted out and will give them an extra boost. The horse manure we have been buying comes in two different 'grades'. We have the choice of stable scrapings, containing a lot of sawdust/shavings, or straight manure that is collected from the yards. This time we bought the straight manure and were very happy to see some healthy looking mushrooms growing in a few of the bags. To me that's an indication that there is a healthy level of microorganisms, like bacteria and fungus, in there that will help in breaking the manure down into plant available nutrients.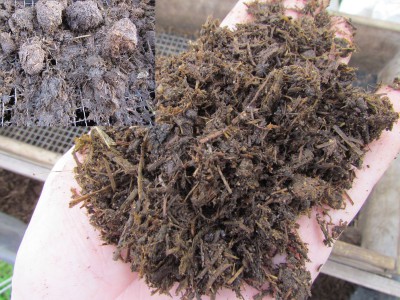 I would have liked to run over the manure with the lawn mower to mulch it up quickly but it just wasn't to be. The bags are being stored in the open and have unfortunately soaked up a bit of moisture from the rain. Screening can be a bit time consuming but I think it's worth it in the end, as it allows the manure to break down faster on the garden beds, releasing its nutrients quicker.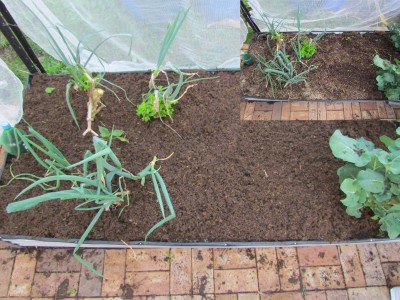 I decided to start off at the end of the large wicking bed. The few weeds from the area were pulled and fed to the chooks. The 'market' chilli plant was also cut back to just above the lowest point of new growth, so I think it will really appreciate the feed. The manure went straight on top of the left over mulch from the previous crop and was laid about 75-100mm thick.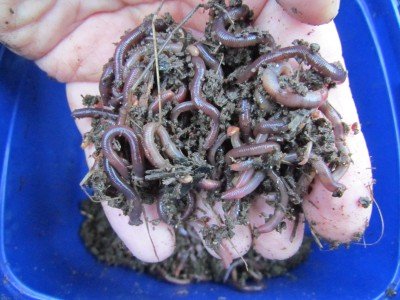 While weeding the bed I noticed that the worm population wasn't as dense as I would have liked, so thought it best to add some more. A few small handfuls collected from the worm barrels under the lime tree, and any small cocoons found were spread over the top of the manure. I am sure that they will be most happy with all that fresh food and start to multiply quick smart.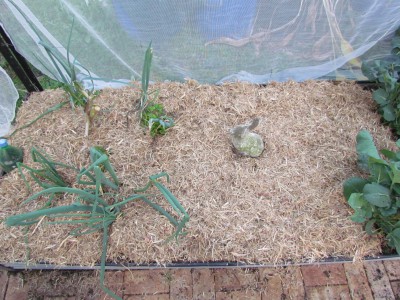 The top of the manure was then covered with a layer of mulch about 75-100mm thick to help keep the moisture in. It also helps to suppress any weeds that might shoot from seeds that are nearly always present in the manure.
I'm waiting for the broccoli at the other end of the bed to finish being harvested, before I give it the same treatment but with one added extra - Biochar will be added at that time. I've got a 25 litre bag of it and because it needs to be activated before being used I decided to wait so I can use it all at once.
Making the most of what we grow has been something we have always strived to do. When we first started to garden at the last house, we were not very adventurous and only grew what I call the 'meat and three veg' vegies. Peas were grown for the fruit, broccoli for the heads and beetroot for the root. All the vegie 'scraps' like leaves and stems went to the chooks or into the compost heap. We didn't know any better because that is how vegies were prepared for us when we were young.
Over the past 10 or so years our tastes and wallet led us to explore different vegies, as well as alternate uses for bits of vegies we would normally toss to the worms or chooks. It started off small by buying fresh whole beetroots and adding the leaves to salads, while the roots were roasted the next night. We started adding the stem and leaves of cauliflower and broccoli to stir fries, at first to bulk out the meals and save some money.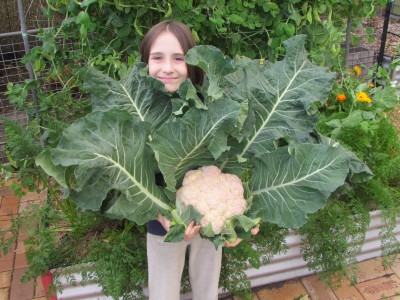 Later it dawned on us, that we were doing our bodies a favour by eating more vegetables. We have taken this further and are now looking at other ways we can prepare the plants we are already growing.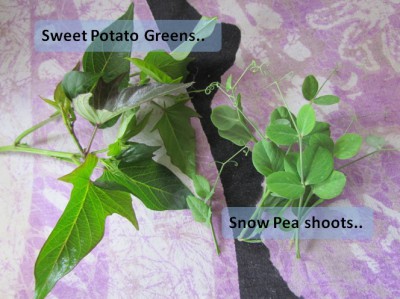 Green manure crops like peas can have their growing tips snipped off then added to salads. We add the new growth on sweet potato vines to stir fries and fried quinoa dishes. The stems and leaves of the broccoli and caulies have been added to vegie smoothies for breakfast and morning snacks. Brassica, pea and bean flowers are also a great addition to salads and have the added bonus of being jam packed with nutrients. We were rather pleased with the flavour of the wing bean flowers we tried this season as they had a slight mushroom flavour. We are really looking forward to using the turmeric leaves to cook with as well. We plan on wrapping some fresh harvested whole Jade perch in the leaves before putting them in the steamer. It is said to add a nice flavour to the fish. Pumpkin leaves are another green I have been told about but am actually yet to try. When I do so I shall be sharing how it went.
I think being able to get as much food from the patch as you can by trying to utilise normally unused portions of the plants is a great way to stretch the weekly shopping budget and save you a few $$ while providing you with healthy nutrient-rich foods. While it may not make a huge difference all at once to your bottom line, over time the savings will add up.
That's about it for this week. Was planning to go out and screen some more manure for the beds today but the bags got a bit wet with the rain this morning so that didn't happen.
It was good weather for walking the fish though...
Have a great one all.
Rob : )»
You can read more of Rob Bob's gardening adventures on the Simple Savings Facebook page or in our Members' Blog section.
---
Last month Victoria emailed us about ideas to help her with ingredients for natural shampoo:
"I'm Hoping someone can help me! I am looking for a recipe for shampoo from ordinary cupboard ingredients. I have tried baking soda and water but got a terribly itchy scalp. I also tried a recipe with a small amount of coconut oil in it and my hair was soft but really greasy. I have a very sensitive scalp and am at a loss as to what I can use and I'm sick of paying supermarket prices! "
We got some fantastic ideas – thank you for sharing your wisdom! Here are some of our favourite replies:
I've discovered a great, natural ingredient that leaves my hair soft and silky without costing the earth! I've tried many shampoos made using pantry ingredients but find they often strip my hair and irritate my scalp. But I now use a totally natural hair cleansing product called shikakai - a powdered herb from the acacia plant. The cheapest place to buy it is the Indian grocer where it costs about $2.50 to $3.00 for a 100g box.
You simply mix as much as you need with really hot water (at least a tablespoon) to make a paste (to a yoghurt-like consistency) and massage it into your scalp well. It doesn't foam up like shampoo but I promise it does a lovely job of cleaning the hair. It's a bit gritty and hard to rinse out but the results are soft silky clean hair. I used to suffer from dandruff and hair loss but using shikakai over time has made a noticeable difference to my hair. My hairdresser commented on how healthy my hair is now!
Contributed by: Caroline
It's easy to make your own shampoo - it costs pennies per use and leaves your hair feeling great! I buy soapwort and make a herbal rinse. Soapwort contains saponins which are similar to soap in the way they lather when agitated. This infusion can also be used as a skin cleanser if you wish to avoid soap altogether. In this recipe I have included lemon verbena (or lemon balm) for a nice fresh citrus fragrance, and if you also include some catnip this will promote healthy hair growth.
Ingredients:
500ml distilled water
3 tbsp dried soapwort root
1/2 tbsp dried lemon verbena or lemon balm
1/2 tbsp dried catnip
Method:
Boil the distilled water and then add the soapwort root. Cover and allow to simmer for 20 minutes. Remove from the heat, add the other herbs and replace the lid. When cool, strain into a bottle and keep refrigerated.
Contributed by: Marta
I haven't used shampoo for over four years, saving myself around $100 a year on shampoo and conditioner - and eliminating my dandruff problem!
It isn't really necessary to use shampoo. By rinsing your hair thoroughly in the shower every day, the natural oils in your hair will keep it soft and shiny. It does take about six weeks for the balance to be restored, during which time it will get rather 'manky' - but if you need to keep it looking tidier, you can 'wean' yourself off your ordinary shampoo by going a few days longer between washes each time until you no longer feel you need it.
Contributed by: Claire L.
If you're getting an itchy scalp after using bi-carb it could be because you're using too much or you're not following it with a rinse of apple cider vinegar. You really don't need much of either ingredient. I put a teaspoon of baking soda into an old one-litre yoghurt pot, add warm water to the top, rinse this through my hair and give it a good massage, then rinse well with water. Next I mix up a tablespoon of the vinegar with water up to the top of the container and rinse this through my hair, also giving it a good rinse with fresh water. I find my hair is actually more manageable with baking soda and vinegar than with shampoo and conditioner - these seem to make my hair too silky and it loses its bounce. I love the ease of using the baking soda and vinegar and can't believe how much I save by using this mixture!
Contributed by: Mary
I've recently started to make all my own bathroom and household products such as shampoo, conditioner, hand creams, cleaning products and so on. My hair is thick and long, so I have experimented quite a bit and have found a winning natural shampoo recipe!
To start with I bought a bottle of liquid castile soap ($10 from a health shop) and a small tin of coconut milk. I mix two tablespoons of the soap with two teaspoons of coconut milk and apply it to my hair. It's a little runny but it lathers up really well and feels thick and creamy. Once you've massaged it into your scalp and hair, just rinse it out and you'll have very healthy, squeaky clean hair!
Contributed by: Kabby
I haven't used shampoo for over a year and a half! After talking to a client's mother who had been using vinegar for years, I swapped to using vinegar. At the time I was using bi-carb and water. I have dark hair so I put half a cup of apple cider vinegar in a bowl of warm water, I then lean over a big basin and tip the vinegar water over my scalp. I repeat this 8-10 times massaging it through my hair and into my scalp. It helps with dandruff and itchy scalp as well. If you have blond hair, use white vinegar. The smell goes once your hair is dry.
Contributed by: Isabel
Nettle tonic is a great way to get your hair nice and shiny and help control dandruff and other skin conditions!
To make it, simply take a bunch of fresh nettle (at least a cup) and boil for 10-20 minutes. Strain the leaves and let the remaining nettle water cool. Add two tablespoons of apple cider vinegar and store in the fridge. Spritz on your hair and scalp after shampooing. Let it sit on your head for a few minutes while you wash the rest of your body. Once your hair dries you won't smell the vinegar. You can use it on your hair every other day or as needed.
It has also been suggested that this will return your hair to its original colour. I have only started using it so can't confirm that yet!
Contributed by: Rods
Here's my recipe for home-made coconut milk shampoo.
Ingredients:
1/4 cup coconut milk (see note below)
1/3 cup liquid castile soap (such as Dr Bronner's)
1/2 tsp (or several capsules) of vitamin E oil (optional)
20 drops of essential oil (choose your favourite - I've used peppermint, lavender, rosemary, orange or a combination of these)
For dry hair, add 1/2 tsp olive or almond oil (optional)
Method:
Combine all ingredients in an old shampoo bottle or jar of some kind (pump dispensers and even foaming dispensers work well for this). Shake well to mix. Keep in your shower for up to a month. Use about a teaspoon every time you shampoo (shake before each use). If you use a foaming dispenser, it also makes a great shaving cream - just dilute with 1/4 cup distilled water!
Note regarding coconut milk: My preference is an organic and BPA-free variety. A couple of readers mentioned that the tinned variety did not work well for them, but that home-made coconut milk worked great, so depending on your hair type, home-made may be better for you.
Contributed by: Mi C.
After having a few issues with perfumed things like toilet soap and shampoo, I switched to using Sunlight Soap to wash my hair. I remembered that it was all I ever used when I was young - shampoo was unknown until the late 1940s. My hair is in the best condition it's ever been in, no itchiness or dandruff! Plus, the soap is easy to pack if you're traveling. Hairdressers often comment how good my hair is!
Contributed by: Toots
It's possible the bi-carb-only method was leaving your scalp too alkaline. Try washing with bi-carb and water and then adding a rinse of diluted apple cider vinegar (a splash of vinegar in a cup or two of lukewarm water). This balances the pH and is good for the scalp (and the face!). If that doesn't fix the itchiness, try one of the following:
Wash with a beaten egg (rinse with lukewarm water so it doesn't cook into your hair).
Rub mashed cooked lentils through your hair then rinse out.
Try a strong infusion of soapwort (a herb containing high levels of saponins, which lather in water). For a conditioner, beer works wonderfully and contains lots of B vitamins. Pour it over after washing and wring out your hair without rinsing.
Strong rosemary tea is also a great fragrant post-wash rinse. Just pour boiling water over a few sprigs of rosemary before showering. Add cold water if necessary before scooping the rosemary out and tipping over your head.
You could also try using water only. Unless your hair is very oily or dirty, your scalp should balance itself out after a few weeks to produce enough natural oil for shiny hair.
Contributed by: Rachel
Here's my recipe for a natural herbal shampoo:
1.75 litres boiling water
1/2 cup witch hazel
1 tsp chamomile oil
450g pure soap, grated or chopped
1 tsp rosemary oil
Combine the boiling water and grated soap in a large non-aluminium saucepan and bring to the boil. Reduce the heat and leave the mixture to simmer gently for a few minutes until the soap has completely dissolved. Remove from the heat and stir through the witch hazel and essential oils. Pour the mixture into a jar or bottle while still liquid. When cool, the mixture thickens like toothpaste, so you should be able to squeeze it out of a soft plastic squeeze bottle.
Contributed by: Virginia
---
Rachel has emailed asking for some help! She writes:
"I have moved to a different area and am living by myself. I would love some ideas on how to inexpensively secure my house. I'm happy to spend some money on window locks and the doors already have good deadlocks. Besides getting a big guard dog, what other things could I do?"
If you have any pearls of wisdom you'd like to share with Rachel, please send them in to us here.
---
Well, that's your Simple Savings Newsletter for July 2013 and we hope you have enjoyed it. ;-) Don't forget to think about how you can do things a bit differently in the kitchen to save yourself time, money and sanity! Give PowerCooking a go and let us know what you think!
Our members are hugely important to us and we love hearing from you all! So next time you're on the website, why don't you get in touch and say 'G'day'! Let us know what you would like to see more of in our newsletter or any suggestions you have for something new to try. We love receiving your clever ideas!
Don't forget to spread the love around to your family and friends too by forwarding them our newsletter or letting them know about our website. Help make their lives easier and save them money too! Or tell them about us on Facebook by clicking the 'like' button on our Simple Savings Facebook page.
Till next time…
All the best,
Fiona