Happy New Year. Welcome to 2021!
Are you ready for a fantastic, frugal New Year?
This is Sandra and I will be helping with the newsletters this year.
I have been a Simple Saver for a very long time and I'd like to share with you some ideas about how we save money.
This month is 'Use it Up' month. We are going to be giving you tips and recipes to use up ALL of your food. Especially Christmas leftovers. As well as talking about the most exciting things that have been happening in our Forum and Facebook this month.
A week ago you should have received an email from us with your calendar. Just in case the SPAM filters caught it or you haven't downloaded it yet. Here is a link to it.
/p/Simple-Savings-Calendar-2021
I hope you have a happy, healthy and frugal month and year.
All the best
Sandra
PS. Using up your food doesn't mean 'make yourself sick'. If food hasn't been stored properly or has gone off. Throw it out.
This month we want you to stretch your money by stretching your food. Which means using the food you already have before going out and buying more.
Most people only eat their favourite food and ignore the rest of the ingredients in their kitchen. Leaving sad and lonely tins in the back of the cupboard and science experiments in the fridge.
This month we want you to turn that around. We would like you to eat every scrap of food that can be eaten before buying more. What does that mean?
NO more buying fruit and veggies until you have eaten or cooked all the veggies.
NO more buying snacks until you have eaten ALL the snacks and used up the ingredients you have to make snacks.
NO more buying meat or protein until what you already have is gone.
NO more buying carbohydrates until all the rice, potatoes, bread, etc you already have has been eaten.
This means eating the fridge bare before restocking it.
AND, with the money you save. Stash it away because no one knows what is around the corner.
Just in case, that sounds too difficult. Here are some tips:
Go to your pantry and fill up a small box with food you don't normally cook with and find some recipes which use those ingredients.
Re-organise your fridge. Move all the rarely eaten food to the front.
Stock take your fridge, freezer and pantry. Re-introduce yourself to food you may have forgotten is even in there.
Make a checklist of quick ideas from the following things that you might have on hand.
Read or re-read the $21 Challenge. It is a great way to use up ALL your food. Just in case you don't have a copy. It is on Amazon as a Kindle eBook. https://www.amazon.com.au/21-Challenge-Crisis-survival-disaster-ebook/dp/B086J87CD4
Be flexible, creative and fearless in the kitchen. Here is an example of Fiona pushing her boundaries and making something tasty out of almost nothing.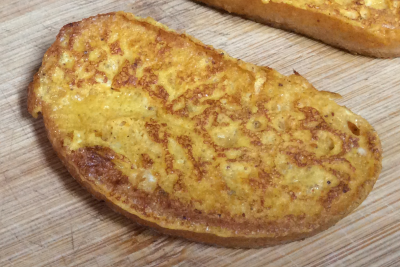 Yesterday Fiona went hunting through the fridge and found half a stick of french loaf that everyone was avoiding. The bread was asking to be thrown out. But Fiona was hungry and craving something savoury. So she decided to whack a few things together and it was so delicious her daughter Elora called it, Curried French Toast
1 tb Curry paste
1 egg
1 tsp sugar
1 dash vinegar
Pinch salt
Stale bread, sliced thin
Oil
Start heating the fry pan to medium-low.
Whisk curry paste, egg, sugar, vinegar and salt together in a shallow bowl.
When the frypan is heated, put in a splash of oil.
Dip bread in egg mixture. Put bread in the frypan. Repeat till the frypan is full.
Brown bread on one side and then turn.
When cooked. Serve up.
People usually have too much food left after Christmas, so what things can you do with your leftovers?
Do you have some leftover cooked chicken or turkey? Even a little of each, carefully wrapped and frozen can be reused later to make a meal or two. Thawed out in the fridge and served with a salad, it will help you to keep the heat out of the kitchen.
Defrost some chicken, or turkey and make up some hot chicken or turkey bread rolls with the leftover, reheated meat. Add a little instant gravy and they are good to go, just like the takeaway chicken shops sell.
Do you have any Cranberry Jelly, Mint Jelly or Apple Sauce left over? If there's just a bit of those things, don't waste them. You can put them into ice cube trays or small containers and freeze them for use later. If you manage to bag a bargain lamb chop or sausage somewhere along the line to BBQ, you can pull those things out and use them then, to make the lamb or sausages a little more special.
Christmas cakes last a long time but they can get a bit dry. Here is a handy trick for bringing back and making cake taste even better than it did when it was fresh.
Single serve
1 Knob Butter
1-2 tb brown sugar
1 slice cake
Add butter and sugar to a small frypan.
Stir and heat gently.
Add cake.
Heat for 5 minutes or so.
This will give you a moist cake coated in a yummy caramel sauce to serve for a morning or afternoon tea treat for one.
NOTE: If you would like to prepare two or three slices of cake. Double or triple the ingredients and heat up in a larger frypan.
Do you have any leftover biscuits in those fancy tins or gingerbread cookies, but they are a bit stale or have lost their crunch? Use them to make Biscuit Crumble by putting them in a food processor with some cinnamon, cocoa and/or coconut.
You can use it as a topping on ice cream or a cheesecake base, or layer the crumbs with some chopped up summer fruit. You can also freeze the crumbs for later use too.
Have you ever tried a potato salad melt? If you have some leftover potato salad turn it into a toastie.
Butter the 'outside' of two slices of bread, spread the inside with potato salad and add a slice of cheese. Then toast in a sandwich toaster. It's devine! Try it and see.
---
We have put together some tips and some recipes for you, just in case you still have left over Christmas Ham.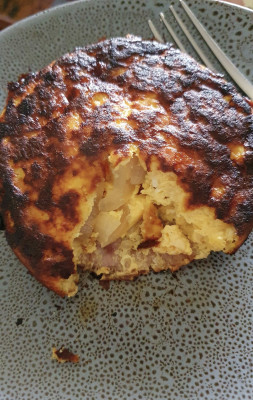 150 gm ham
1 tb butter
1 finely chopped onion
½ cup tasty grated cheese
4 eggs
200g Greek or natural yoghurt
Extra butter for greasing
Chop ham into small pieces and put it into a mixing bowl.
Heat butter in a small pan and saute onion.
Cool a little, and add it to the mixing bowl.
Add cheese.
Add eggs and mix well
Mix in yogurt.
Preheat your pie maker and grease the holes if you need to.
Fill them to the three quarter mark, with the ham and egg mixture.
Sprinkle a little cheese on top and close the lid.
Cook in the pie maker for 20 minutes.
Serve with salad, crusty bread or chips
If you bought ham with a bone, and you would like to save it for later, make sure that you have wrapped your ham bone up really well, so you can freeze it. If you save it you'll be able to make some nourishing pea and ham soup for our JUNE Winter Challenge.
Another thing you can do is to make some stock out of your ham bone. A lot of people make chicken stock and we can use the same method and make ham stock. It is super easy to make.
You could use the bone by itself, or add some onions, carrots, celery or parsley. Just don't add any more salt. You can add peppercorns if you like and add some water to at least cover the bone.
We have written you a quick "Use it Up" style Ham Stock recipe.
Dash of Oil
1 chopped onion
Ham bones
Veggie (Scraps or leftovers or whatever is in the fridge)
2-3 litres water (Enough to cover bones)
Herbs (Anything you like)
Lightly brown onion in frypan. Throw in a pot.
Lightly brown ham and bone. Throw it into the pot.
Lightly brown veggies. Throw into the pot.
Add 2-3 litres of water. Enough to cover ingredients.
Throw in a tablespoon of dry herbs or a cup of fresh herbs.
Bring to boil. Cover, turn on low and simmer for 1.5 - 3 hours.
Check regularly so it doesn't boil dry.
Strain Stock. Allow to cool. Freeze it, in suitable sized containers for later use.
NOTE: The longer you boil it the stronger the flavour.
Another ham idea is to chop up any leftover ham and use it, or wrap it well and freeze it into small serving sizes. When you are looking for a quick, cheap meal, instead of buying takeaway you can put some ham onto a homemade pizza base, and add some other healthy toppings for a yummy quick pizza.
Leftover chopped ham makes a great topping on hot baked potatoes. But, roasting a potato in the oven on a hot day is too difficult. So here is a cheat recipe.
Potatoes
Chopped Ham
Sour cream or left over dip
Grated cheese
Wash potatoes well and dry. Poke with a fork all over.
Microwave a potato or several, for about 5 minutes, and then flip potatoes over with a pair of tongs, check for doneness with a fork and cook for a few minutes longer if they aren't quite cooked.
When the potato is cooked. Add chopped, toppings and cheese.
Serve with salad for extra goodness.
Other ideas are to slice some ham, add to some bread, or Panini or Turkish bread, and butter the slices to make a sandwich. Add some sliced cheese. You can freeze them and there's a 'brown bagged' lunch ready to go, or a toasted sandwich ready to put into a sandwich toaster.
A scrap of leftover Camembert or Brie will make it even more special if you want to eat a melty toasted sandwich straight away. Not forgetting that ham also makes the best bacon - there's a yummy family breakfast right there!
Small pieces of ham taste delicious mixed with lettuce, onion, cherry tomatoes and avocado drizzled in dressing.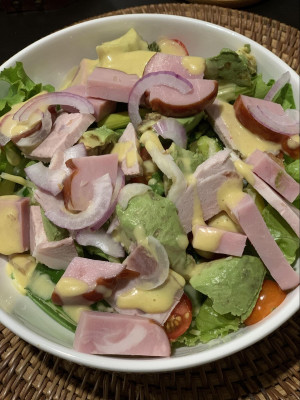 This tip by Kylie Anne King has been travelling around the world this week. When writing this newsletter this tip had been viewed 5.4 million times. It is so good I had to share it with you.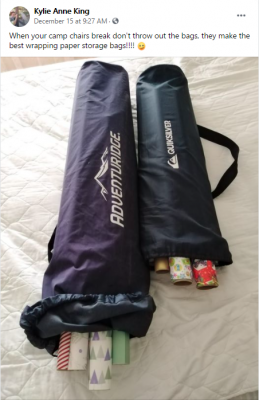 Advertising on Facebook
Facebook approached us to ask if we would like to include paid collaborations in the Facebook group. Such as, arranging discounts for products. We have always had a very strict no advertising rule. But, we are genuinely considering it and would like to know how you feel about having advertising in the Facebook group.
Do you think it is a bad or good idea?
If we could arrange discounts on products for everyone. What sort of discounts would you want? And, are there any companies you would like us to approach?
Can you please have a think about it and tell us what you think in an email?
Just a reminder. The mortgage smashers will be at it again in the forum this year.
Here is a link to their thread if you would like to join in.
The forum is part of our Vault members area. IF you click the link and it doesn't work it means you are either not logged in or it could be time to buy or renew your membership. To buy or renew go to www.simplesavings.com.au/order
Thank you for joining us for another newsletter.
I hope you have a great year.
Sandra