This issue includes:-
Sad Sally, Happy Hanna: I Love a Man in an Apron
January: Meat and Two Veg
Penny Wise: Three's Company
Best of the Vault: Best Value Bargain Hunting!
Best of the Forum: Making the Most of Your Two Meat and Veg!
Best Members' Blog: Looking Forward to 2015
Mimi: Mango Sweet Chilli Turkey Breast
Rob Bob's Gardening Blog: Container Gardening and Update on the Patch
From Last Month: Help Me Plan 2015
This Month's Help Request: Recipes Using Non-Perishable Ingredients
---
Happy New Year!
We hope 2015 is going to be a fantastic year of savings and success for you! Things are busy in the Lippey family with Sam starting high school and Elora starting Prep - our family is growing up! We've got some great plans for the Simple Savings family as well - stay tuned!
Thank you for your Christmas wishes and your wonderful emails - I love hearing your savings ideas and stories and tips! Here are some of my favourites this month:
"I just want to add my thanks to the thousands you must receive. About seven years ago I found Penny Wise in a magazine and joined the same day. We are not spendthrifts but not entirely frugal either, so the whole package of tips and good living philosophy was very welcome and a couple of years later when DH was retrenched we were quite comfortable that we could manage and we did. Three years later and after a few false starts, DH at 64 found good employment in his field and I was able to retire. SS again became my favourite reading and I am applying lots of ideas and getting ready for when DH finally decides to retire too. Not all SS stories are dramatic but there are very few people who have not improved their lives after being in contact with your site. Thanks again." (Glenda)
"Thank you Simple Savings - I received a membership for Christmas and am on here every day. I just know that 2015 will be MY year to start saving." (Candice)
Have a great month!
All the best,
Fiona Lippey
P.S. If you haven't downloaded the 2015 Calendar, you can download it here.
---
"Hey Hanna, do you have time for a quick coffee during lunch?" Sally asked, tidying her desk. "Sorry Sal, I'm off to do some grocery shopping," said Hanna, grabbing her bag. "I found the BEST butcher, just around the corner from here - he's wonderful!" she sighed, staring into space.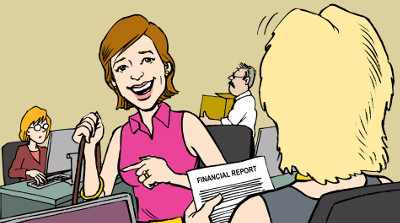 "Um, let me get this right - you're doing GROCERY SHOPPING during your lunch hour?" Sally quizzed. "That's right, Sal," Hanna smiled smugly, "I got so tired of paying huge prices for poor quality meat at the local supermarket. Then a few weeks ago I found Fred, just around the corner from work. So I just buy my meat, put it in the work fridge and pop it in the car after work."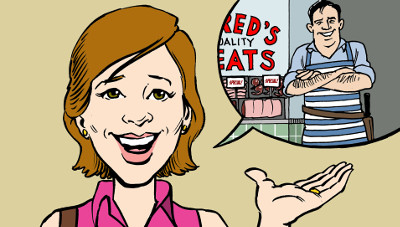 "That's great, Hanna - can I come with you and have a look as well?" Sally asked, getting excited at the idea of some good bargains. "Good idea, Sal! Then we can visit Stan at his fruit and veg shop, and then Steve at the deli while we're out." Sally stopped and looked wide-eyed at her friend. "Hanna, I have to ask, have you been shopping for groceries or boyfriends?!"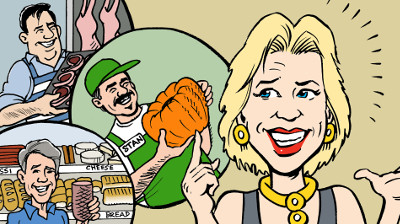 ---
Everyone has a brilliant butcher in their neighbourhood - but most people never go to him. Instead they convince themselves that it is easier to buy their meat and fresh food at the supermarket when they do their normal shop. But it really isn't easier - it is costing you time and money and leaving you vulnerable.
What is easier is to find the best prices in your area and shop there from now on. Then you can save yourself money every time you shop.
There are two ways to find the best places; you can do the leg work yourself or you can ask around. This month we want you to do both.
First we are going to give you some tips on how to do the leg work. Then, we will look at 'phoning a friend', SS style.
Grab your phone book and ring each one. Ask for the prices of your favourite cuts. Make sure to ask if they do bulk discounts. Write down all the prices and hang on to them.
Next, go to your supermarket and compare similar quality meats. Then ask the supermarket employees what times of the week they discount their meat. Check those out and compare the prices. Buy meat from the places that have the two best prices to find the best value.
When searching for the best fruit/vegies you are going to have to get in the car and drive around. The quality can vary from store to store so you will need to use your own eyes. Aim to visit three fruit/vegie stores and two markets. Compare the price and quality and then ask the staff if they have discounts.
If you can find a good place to get your fruit/vegies and your meat you will easily save yourself $50 a week, which adds up to $2500 per year.
The other way to find the best deals, shops and prices is to ask your frugal friends. Your frugal friends will have already worked out the best spots. And, this month we are focusing on sharing those tips and special spots and asking you to help us grow the Simple Savings Directory to cover as many areas as possible. So by the end of the month, we will all have a list of the best shops in our area so we can save money all year.
Please have a browse through the present Directory and add any shops which deserve to be included. If we include your entry, you will have earned yourself a six month membership to the Savings Vault.
P.S. Don't forget to join in the "January: Meat and two veg challenge" thread in the Forum.
---
Sometimes I swear my life is crazier than a soap opera. Which is why I haven't written anything lately, I just can't keep up! The last month alone has seen me perilously close to losing my house before bouncing back in the nick of time, then before I could recover from that I went from being given the opportunity of a lifetime - an all-expenses paid trip around Asia - to having it pulled from underneath me less than 24 hours before I was due to check in at the airport! That's a story that's too long to share and it's neither here nor there anyway; the wonderful thing to come out of it was that instead of whizzing halfway around the world at breakneck speed, I got to instead spend a leisurely extra couple of weeks preparing for Christmas with my boys and as I realised almost immediately with the cancellation of my trip, that was where I truly wanted to be.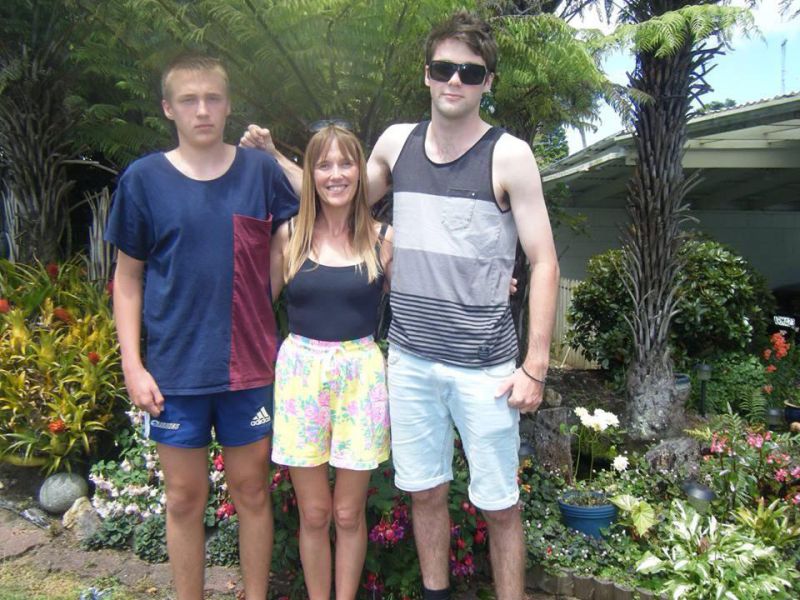 Ah yes, my boys. As you can see they are rather large these days. And biased though I may be, they are pretty fab. I remember when their dad and I first split up and people would pat my shoulder and say knowingly 'it's the first year that's the worst'. So I wasn't too impressed when that first milestone passed only to have people once again say in a knowing voice 'it's the first TWO years which are the worst!' Who knows what the future holds from here? The past two years have certainly been extremely challenging for all three of us but one thing is for sure, we have learned a truckload about people and about life. My boys are kind, they are empathetic, they are protective, they are grateful, they are incredibly strong, they are tolerant (especially of me!), they are pretty much completely unflappable and having had things as tough as they have the past couple of years, they take nothing for granted.
However, what I love most about them is their perceptiveness. They see and understand so much more than I give them credit for. For example, the other day Ali got paid $20 for mowing lawns. He had been without money of his own for longer than I could remember but when he came home he no longer had it. He told me that when he had finished mowing he went around to his friend's house, who lives just with his dad. 'He opened the fridge and they had NO food, Mum,' he said seriously. 'I mean, I know we don't have much but they had even less. So I hope you don't mind but I gave them my $20 and told them I didn't want it back. At least they can go and buy bread and milk now.' I was so touched and so proud of him I burst into tears. I'm pretty sure that back when I was 16 I wouldn't have even noticed what my friends had in their fridge and have gone and blown the whole lot on make-up and CDs no sooner had that $20 been put in my hand. But that's Ali for you, he just sees things.
As for Liam, my gentle giant, well he's gone and surprised us all lately! Whilst perfectly capable, he's never thought of himself as an academic. However, Liam's problem for some years has been that he has been unable to find his niche in life, something he's truly passionate about. It really troubled him greatly and affected his school attendance badly, as he truly had no idea why he was there, other than the fact that he couldn't find anything else he wanted to do either! Much as his dad and I loved him, we were starting to really despair of him EVER finding anything - and then three weeks from the end of school - his last few weeks of school EVER - he found it. And instead of finishing his 13 years of school on a mediocre note, he changed overnight and began working like a Trojan, staying late after school, working weekends and spending every spare minute doing everything he could to ensure he passed the year with the necessary qualifications he needed to study his dream course, a three-year Bachelor's degree in Creative Media Production.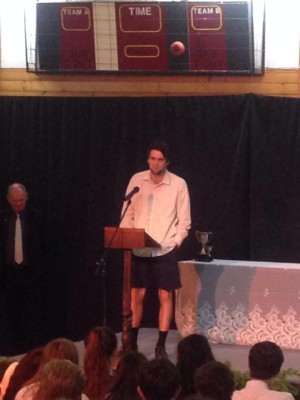 You see what I and many others didn't realise about Master Liam is that he is actually a very creative soul. All this time everyone thought he was up in his room just wasting his life away playing Xbox, he wasn't. OK some of the time he was! But the rest of the time he was working on his artwork, his graphics, his movies and animation. And, his writing. I had absolutely no idea but he writes stories and poetry - and he's really good; what a dark horse! The only other people who knew about this were his classmates, where his comic talent is well known. So nobody was more surprised than me and his teachers when unbeknown to us, Liam - super shy Liam, who never says boo to a goose - suddenly got out of his seat at his graduation prize giving and took the stage in front of hundreds of people. And there, relaxed as anything and chuckling to himself as he went, he read out a poem he had written himself about every one of his class mates and what the future held for them next. It was hilarious, the whole place fell about laughing and he got the biggest cheer of the night! I was absolutely flabbergasted and as his teachers all came up and hugged me, it was obvious that they were too - even some of the men were in tears! And it was that night I realised that he had finally found his niche - and that he was ready to leave home.
So 2015 is going to be a very different year for us! Eight weeks from now Liam will be starting life as a uni student in Wellington and it will just be Ali and me here. Who knows what the year will bring but one thing is for certain, all three of us will be living off the smell of an oily rag! Everyone is conscious that the time we have left together is precious but for now everyone is working all hours coping with the summer influx here in Whangamata. Liam is working at one of the local motels as a jack-of-all-trades doing everything from ground maintenance and painting to laundry and stripping beds. It's a great way for him to brush up on all his domestic skills before leaving home. As for Ali, we're working together! I'm still at the Whangamata Club by night pulling pints but during the day I've taken on yet another job cleaning holiday homes for one of the real estate companies and the demand is such that Ali and I work together, doing as many as four homes every day before I can quickly dash home and get changed into my bar staff uniform. It's not glamorous but it's fun and I feel like all three of us are doing the best we can. Heaven knows it would be nice to start the New Year off on the right foot!
As you can probably tell, I don't get too much time to put 'pen to paper' at the moment! There are a million things I would love to say and will no doubt kick myself for forgetting to mention them but I couldn't end the year without thanking each and every one of you who has taken the time to read my ramble and support us this year. It's been a year of ups and downs to be sure, but for every down there has been more than enough ups to make up for it and the boys and I are truly humbled by the kindness shown to us, particularly by Simple Savings members. To those of you who used your super powers to make our festive season extra special, thank you so, so much. You know who you are, even if some of you insist on staying anonymous! I did say thank you via Facebook to my Christmas fairy who magicked beautiful new towels and a shiny new frying pan to my workplace but I don't know for certain if she (or he!) saw it so I do hope you see it here. Not only will Liam no longer have to take holey towels to uni, you have no idea how much of a lifesaver our new frying pan was when our oven was broken for three weeks! We are truly grateful. Once again this wonderful community of savers has helped us to survive the year in so many, many ways. From Liam, Ali and myself, we wish you all the very best for a prosperous 2015!
You can get updates on Penny's new blogs on the Simple Savings Facebook page.
...or in our Members' Blog section.
---
Your challenge this month is to find the best value butchers and grocers in your area. All you need is an idea of what you buy already and a sense of adventure! You just never know what you might find...
I've managed to save an extra $10-$20 on the cost of my bulk mince just by asking the butcher for a discount! I used to buy my mince in little 500g packs from the supermarket, but as my family grew and started eating more, I began buying in bigger 3-5kg packs. However, this meant driving about 20 minutes out of my way to a 'discount' butcher. One day when I was out of mince and in a hurry, I called into my local butcher and asked if he'd knock down the price if I bought five kilos of mince. It was advertised at $7.00/kg but he said I could buy five kilos at just $5.00/kg! That's a saving of $10 and even cheaper than the 'discount' butcher! After about a year I plucked up the courage to ask if I could have the low-fat mince discounted too and managed to get it for $8.00/kg instead of $12 (for five kilos)! I divide the mince into 500g bags and pop them in the chest freezer. Since then I've tried other butchers and have always received a discount when buying bulk, anything more than two kilos is considered bulk!
Contributed by: Havva T
I've found a great way to save at least $20 on the cost of organic chicken! We eat a fair amount of chicken and like to source the organic, free range kind. It can get very expensive though, so I started hunting for reduced-price whole, uncooked chickens and started cutting them myself. One chicken turns into two chicken fillets, two thighs, wings and legs and a carcass for stock making or chicken soup. I generally will buy at least two chickens at a time to make them easier to use in meals. I cut them and then freeze the portions.
Contributed by: Sim1
I saved $26.45 on potatoes when I bought my spuds in bulk! I had seen potatoes for sale in my normal supermarket at $6.49 for 4kg, so my eyes nearly popped out of my head when I spotted a huge 20kg bag of potatoes for only $5.99 at my local fruit and vegetable shop recently! I couldn't pass a bargain like that by so I bought one of the bags, rolled up my sleeves and lugged it out to the car!
When I got home, my hubby took one look at the bag and said, "So I take it we'll be living on potatoes for the next month then?" But I had a plan for those spuds! The first thing I did was go through the bag and sort them into baby, small, medium and large potatoes. The weeny ones would be perfect to use whole as side dishes. The large potatoes were huge - just the right size for baked potatoes. I then peeled and cubed the small potatoes and put them into saucepan-sized bags to freeze and be used later for mashed potato which I also froze. Finally I peeled and sliced the medium potatoes lengthways to use for fries and bagged them into 1kg bags. I was delighted with my potato stockpiling! My $6.00 bought me:
1/2kg of baby spuds
4kg of baking potatoes
5 x 800g bags of cubed potato for mashing
10 x 1kg bags of fries
I worked out my basic savings by comparing the price of a 4kg supermarket bag of potatoes ($6.49) with my bulk bag, meaning I saved $26.45. However, buying ten 1kg bags of supermarket chips (at $3.50 each) would have cost me $35 alone, so all up I worked out I actually saved a grand total of $48.41 on potato products!
Contributed by: Emma K
Trying to feed my family on a limited budget can be a challenge but I have found that fish and seafood is cheaper than meat when I shop at large Asian supermarkets. Fish pieces, cleaned calamari, frozen prawns and fresh mussels are all sold in large packs which can be divided up over a number of meals. I use this seafood economically in spaghetti marinara, fried rice and potato-based chowders. Mussels are great when steamed open and then baked or barbecued with garlic butter.
It's nice to know the family can enjoy delicious seafood so look out for Asian supermarkets in your area. You'll be surprised at the variety and the low cost.
Contributed by: Leonie P
---
The Forum is a wonderful place to get answers and ideas - you just never know what you'll learn! Here are some great threads about making the most of your two meat and veg... you may just be surprised...
Follow Loz's journey into cost-cutting in 2015 - we dare you not to learn something new along the way!
read more...
Our SunnySarah discusses her adventure looking for 'the perfect meal plan' - definitely lots of food for thought here!
read more...
Need some ideas for a great value chicken dinner? Look no further!
read more...
Join Claire and forum members in their grocery challenge to cut costs as much as possible.
read more...
---
One of the many benefits of being a Vault member is that you can win $100 cash each month for your Simple Savings blog! Starting your own blog on the site is easy. All you have to do is log into the Vault, click on 'My Desk' at the top left, then 'Your Blog'. Then get writing! We love reading all your money saving trials and tribulations and really appreciate the effort that goes into each one.
This month's winner is Ebony C for starting 2015 with a bang!
"I am planning to be on top of things for the new year.
"I've begun by printing the Simple Savings calendar and putting it on the fridge. I've spoken with DH about the first few months and what we can do. This year we are saving for a holiday for our 11 year anniversary (I'm hoping for it to be a honeymoon, but not getting hopes too high). We wanted to be in Thailand now, but a dental emergency put a dent in those plans and our bank balance. Lucky (thanks to the tips from this site) we were able to use our savings for the dentist and not have to look elsewhere for the money.
"I got some mince in bulk last week and made some meals for the freezer. I was able to stretch 1.5kg mince into lasagna, shepherd's pie and spaghetti bolognaise. I added heaps of vegies to the shepherd's pie to make the 500g mince for it stretch into two pies. I'll top them with mash when I reheat them.
"I looked at March on the calendar and saw it was create-away month. I spoke with DH and we thought we could make mini pizzas, have little boxes for noodles or fried rice or even fish and chips. I'm a bit nervous about No Spend Month, but figure that we will learn to go without the items that are not necessity. I lost my job earlier this year and stopped buying paper towel (I clean with microfibre and Chux cloths instead) and we haven't really missed it (I lost my job in March).
"I'm looking forward to eating better and watching our bank balance not dwindle away.
"Here's to a Happy New Year!"
Well done Ebony - we'll be following your progress and cheering you on every 'step' of the way!
You can read more of our members' blogs here.
---
Post-Christmas there are always stacks of turkey breast marked down to next to nothing near me. Turkey breasts are huge and one can feed two to three people if you go about it the right way. I got a tray of two turkey breast fillets for just $6.00 on Boxing Day and it fed six of us.
I 'butterflied' the breast by cutting it as if to slice it into two thinner fillets BUT stopping about 3cm short of slicing all the way through. You then fold the top flap out and you have one huge thin fillet, connected in the middle. Now mash a soft mango or mix up some cream cheese and herbs or a cup of breadcrumbs, herbs and an egg. Then spread this thinly over the entire surface of the breast fillet.
Cut yourself a couple of pieces of kitchen string about 25cm long and slip them under the length of the breast, short edge to short edge. This will make it easy to tie the breast up once rolled. Carefully start to loosely roll the turkey fillet up Swiss roll style from short edge to short edge. That sounds weird but will make sense when you come to do it. :) Tie the string pieces firmly to retain the rolled shape. If any stuffing has squeezed out when you rolled, just push it back between the layers with clean fingers. Stab the whole thing all over with a sharp pointed knife to allow the sauce to permeate the breast as it cooks.
Sit the rolled turkey breast in a baking dish sprayed with oil and drizzle with a generous amount of sweet chilli or BBQ sauce. Bake, covered in an oven preheated to 180C fan forced or 190C normal, for 30 minutes. Remove the lid or foil and bake for a further 20 minutes. Baste with juices and sauce every ten minutes.
Remove from the oven, allow to sit for five minutes, then cut into neat circles, removing the string as you go. Serve with a crisp salad and crusty bread, steamed rice or baby potatoes. This is a super posh looking meal that's really inexpensive and so easy to do. :)
You can get updates on Mimi's new blogs on the Simple Savings Facebook page
or in our Members' Blog section.
---
Just because you live in a unit or are renting a house and are not allowed to have a garden, doesn't mean you can't grow some of your own food. Container gardening is a great way to grow a few herbs and vegies that doesn't take up a lot of room or require you to dig up any lawn. When it comes to containers to grow in, you are only limited by your imagination!
While Bianca and I were renting, we started out growing in garden pots, broccoli boxes and tree propagation bags then moved on to bathtubs, buckets, barrels and also got a tad creative with the larger 'container' beds that we built. ;-)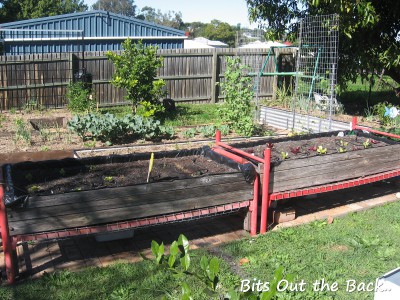 We have grown everything from thyme to pawpaw (papaya) trees in containers and haven't found many plants that don't do well.
Keeping the size of the pots under 60L will come in handy if you need to move house, especially if you don't live on the ground floor of an apartment building. ;-)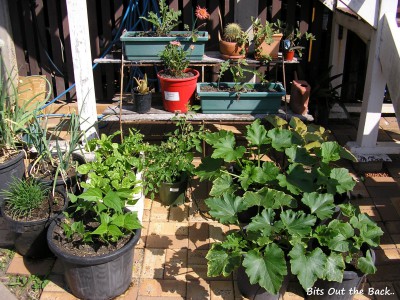 When we moved from our last rental we decided to gift the bathtub we had to the neighbour who turned it into a duck pond for his feathered friends. We thought it was a lot easier to manhandle it next door than to relocate it to the new house. ;-)
The first step towards a bountiful harvest from your containers really does start with the growing medium you will be using. Not all potting mixes are created equal so it is a good idea to shop around to see what brands are available in your area. I try to stick to reputable brands with blends that include compost and natural fertilisers like 'blood & bone'. A quick search on gardening forums and groups should be able to help you in sorting out the reputable brands from the dodgy ones. ;-)
When using potting mixes I still like to add a few extra goodies to make sure that they have good drainage, are packed full of nutrients and have a few extra micro-organisms in the blend. The last batch I made up consisted of two parts commercial potting mix, one part worm castings/compost and one part hydrated coconut coir. The worm castings will add some organic matter containing beneficial microbes as well as nutrients to the mix, and if you're lucky, maybe a worm or two. The coconut coir will help keep the mix moist as it has great water holding capacity. I have also added some course sand to other mixes in the past to aid in the drainage, but felt that it wasn't needed this time round as the potting mix looked to be nice and loose.
Another option is to investigate your local landscaping supply yard to see what sorts of garden soils they have available. If you are looking at starting up a sizable potted garden this may be one option you might want to look at to save quite a lot of coin.
If you are lucky enough to have access to compost and/or worm castings, you could always make some of your own with other goodies mixed in.
While the 'recipe' I use changes depending on what we have on hand, I think this is a fairly good all round blend to grow most vegies in:
2 parts compost
2 parts rehydrated coir
1 part worm castings
1 part course sand (can be bought in bags)
1 part aged mulched up horse manure
An important aspect in growing in containers is keeping them well hydrated without over-doing it. When we first started I really had no idea and drenched every pot twice a day which was far too much and looking back now, probably washed a lot of the nutrients out the drain holes. Over the years we have used a few methods to keep the soil moist for the plants.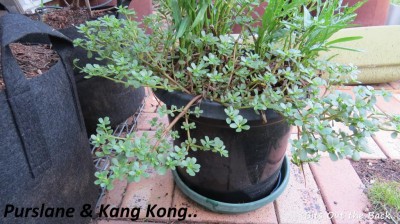 The easiest would have to be a simple tray under the pot which allows for a small amount of water to be wicked up into the soil as the plant requires it. One down-side to having water laying around in a situation like this is that mosquitoes might breed in the still water. To stop this, it is a good idea to let the trays dry out ever few days to kill the mozzie wrigglers.
Irrigating with drippers or spray heads is another option if there are no restrictions on the amount of water available to you. In the past we have mainly used the Wetpot sub surface irrigation emitters, due to our climate and frequent droughts in SE Queensland.
Self-watering wicking containers are also another great low maintenance way to grow food that keep the plants well hydrated.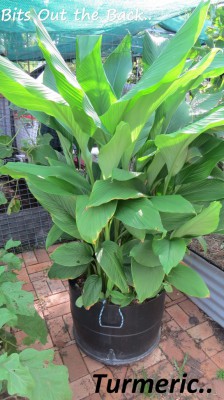 If you've read my previous blogs then it's no surprise that these would be mentioned. ;-) Wicking containers/gardens are basically a self-contained bed/container that has a reservoir at the base. From this reservoir, water is wicked up into the soil for the plants to use. This way they not only provide the plant with constant moisture but lessens the amount of moisture lost due to evaporation.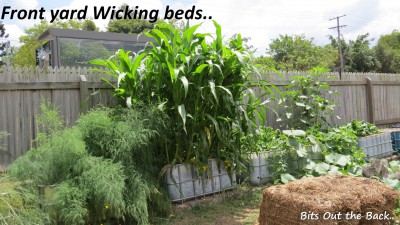 Over the past few years we've made small wicking buckets, a wicking bath, wicking barrels and larger wicking IBC container gardens. While the larger IBC beds would be a bit of an effort to relocate they are still technically a container so don't think a landlord could really complain. ;-)
Another form of container gardening we have been playing around with over the past year or so is air pruning. Air pruning is a great way of growing plants in containers without letting the roots of the plants become pot bound, allowing you to grow larger plants in smaller pots.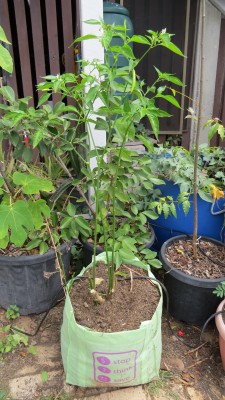 To start off with I transplanted a chilli plant into a reusable green shopping bag (that may be familiar to some). ;-) The idea behind planting into a fabric bag and air pruning is that the roots from the chilli plant will grow to the outside of the bag, hit dry air and die off. Further back on the roots a number of new roots will sprout to replace the dead one, allowing the plant more access to nutrients and moisture.
Another DIY version of this is our hybrid air pruning/wicking barrel that we are growing our pawpaw (papaya) tree in. The video below has a bit of an explanation on air pruning and how this hybrid barrel was made.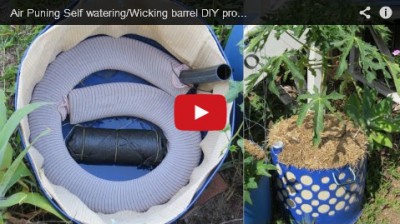 I am so happy with how the pawpaw has gone that I've decided to pot out some of our dwarf fruit trees into fabric Root Pouches** It will be very interesting to see how the air pruning effect will go with these trees and I hope they will be as productive as the pawpaw looks to be.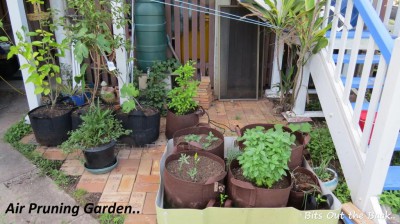 We are also using the cloth pouches in a self-watering/wicking style garden bed. I got the idea for this from watching Larry Hall's Self Watering Kiddie Pool Grow System on YouTube. The idea behind this system is to have the base of the bags sitting in a few centimetres of water.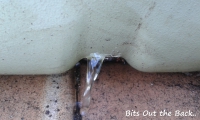 Water height is regulated by drilling drainage holes where you want the 'high tide' point to be. The water can then seep through the bag and wick through the soil, keeping the plant well hydrated. To stop mosquitoes and evaporation being an issue, the base of the tray will be filled with small rocks to help insulate and stop the bugs from easily accessing the water. I also plan to set up a float valve to help keep the base topped up.
Just a quick mention too on hydroponic growing - while it's been 16 years since our last attempt at hydroponic gardening, I do think that it is one option that would appeal to folks that can't garden in the soil. It can be set up outside or inside under lights and plants can grow very quickly. If it does interest you, there are a few folks I follow on YouTube who are very knowledgeable in the ways of hydroponics. Both Brock Hughes and MhpGardener have impressive systems that could easily be scaled down to a small balcony or indoor system.
Since the last update I have unfortunately had a hard drive crash in my computer so have lost a great deal of harvest and progress shots from the patch. I did post a bit of a round up clip of our small backyard farm if anyone is interested.
Harvest wise, we did get our best sweet corn harvest to date which made the girls very happy. :)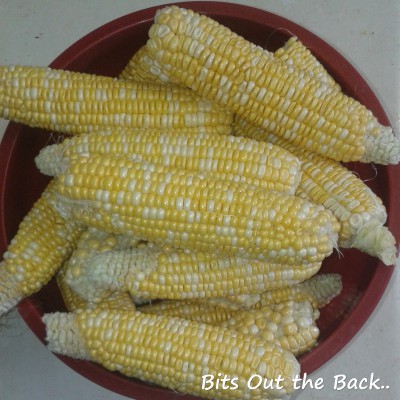 We have some seeds to plant out of another variety to see which we like the best. We might even try to squeeze in a 'Painted' corn crop at the end of the season. ;-)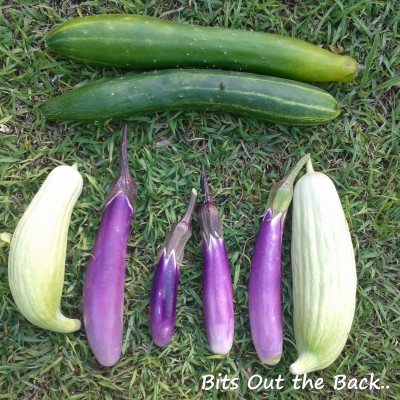 The cucumber vines we had on the go have slowed down and we did lose the Armenian cucumber to mildew and 28 spot lady beetles.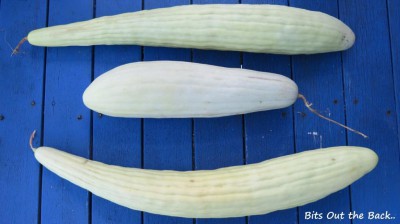 We do have three nice, large fruit we will be saving seeds from. The largest weighed in at 1.8kg/4lb and we will be saving the flesh to add to our morning juices. If history is anything to go by, the plants grown from our saved seeds will hopefully have a lot more vigour. ;-)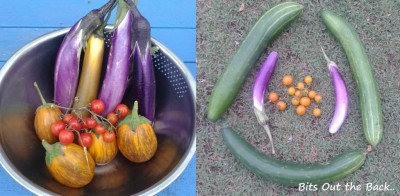 The one eggplant bush is supplying all our needs at the moment which is fantastic. We have left a few of the fruit from both types of eggplants on the plants to mature so we can replenish our seed stocks with fresh seeds.
The lime tree is laden with fruit here at the moment, with a fair few fruit ready to pick now.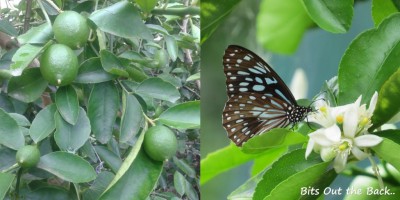 It is also now covered in flowers after the recent rain we have had here in SE Queensland. I finally managed to get a shot of the blue tiger butterflies that like to frequent the citrus trees.
That's about it for this month. I would like to wish everyone all the best for 2015 and hope you all get the chance at having a crack at growing some of your own food or trying to grow something new.
Cheers all & have fun in the patch,
Rob.
**Disclaimer - I have recently taken on the role of a retailer for Root Pouches in Australia. This blog post is in no way to be taken as an ad and I encourage folks to save their coin and experiment with DIY methods.
You can get updates on Rob Bob's new gardening adventure blogs on the Simple Savings Facebook page
or in our Members' Blog section.
---
Last month Iris emailed us about ideas for planning and organising in 2015.
"I am so glad to say goodbye to 2014 - I have wasted so much money and time and energy because I CAN NOT get organised! It's almost the start of another year and I have some time to sit down and plan 2015. Can you please ask your members for their best tips on getting and staying organised? 2015 is going to be the year that I stay on top of things - please help!"
Thank you for your wonderful ideas for Iris, here are some of our favourites:
If you want to get organised and stay organised, keep things simple! Use ONE system - such as an online calendar - and keep all your notes, appointments and so on in that one place. I was trying to use several and ending up in a muddle. Now I put everything onto the calendar which is part of my email program and I have suddenly stopped missing appointments and forgetting important things. If it is a busy day I just print that page and keep in my handbag for when I am out and about. Easy!
Most importantly, however, don't be afraid to DELEGATE. I always feel bad about mess in the house. Recently I decided just to change myself, put things away immediately and so on. That made a difference. When other family members ask 'where are my shoes/the remote/bag/book?' or whatever I now just ask them to recall where they were last and look there. The kids love it because I am empowering them more rather than taking over and best of all I no longer see myself as responsible for others' mess!
Contributed by: GoGo Goanna
To help me stay on track with my busy schedule, I have an exercise book with a list in it. My list is quite detailed, but yours doesn't have to be. The list consists of daily chores arranged in a kind of timetable. Next to the list I have ruled columns for each day, and as I progress through my day, I put a cross in the box next to the completed chore for that day.
I now use this system for many things, such as my pantry where the pantry list has everything that usually is kept in the pantry, and then it is given a cross when used, and ticked when replaced. This is very helpful for budgeting and for doing those challenges. It would be easy to apply this method to many things.
Contributed by: Gusta T
My best tip on getting and staying organised is to get a really clear idea of where you are right now. Looking back through the year, I consider the things that I'm pleased with and what worked well. Then I make a list of what I didn't get to and honestly answer whether I'll get around to each one. While I'm making my 'wins' list and my 'procrastinated' list I get insights about what works well in my life and what I've moved on from or will never get around to. I make notes about these so I remember them later and stay on task. Somehow doing the review clears my mind so I have a much clearer idea of where I'm headed, than I had before the review. It stops me making the same mistakes over and over!
Contributed by: Judith
If you're serious about making your life easier and being more organised, I can highly recommend you pay Flylady a visit! Visit her www.flylady.net website for more information on loving yourself while getting things done effortlessly; getting organised with daily decluttering and following your own routines; saving your money, energy and your valuable time to enjoy life with your loved ones. Become a free member and you will be thankful you did. Just follow the instructions and you will be 'organised' before you even realise!
Contributed by: Mithila
I have found the best thing to keep your mind on target is a vision board. You can use paper or cardboard, draw or cut out the pictures you want and hang it in your bedroom so you see it at least twice a day. Also, make yourself a money thermometer to use for savings - put the total amount at the top and colour it in as you save until you reach your goal. You can also make one to help keep your goal with paying off debts too. Seeing it regularly can help keep you focused and see the financial changes happening. Great motivation!
Contributed by: Simone
You can help everyone in the household be more organised by getting a big calendar which has enough room for multiple entries for each day. Put it on a wall in the kitchen, somewhere that is close to the fridge or kettle so every day you are looking at it multiple times a day. Write everything on the calendar for everyone - appointments, birthdays, events, late night meetings, school dates and so on. This way everyone can see clearly what is going on. You won't be running late for anything and the kids will be sent to school with correct uniforms, forms, money, equipment and everything else. It also prompts you to pre-cook meals for any busy evenings. Also, make it a habit to spend 15 minutes each night planning the next day - pack bags, organise paperwork and so on. You'll find mornings are a lot smoother!
Contributed by: Kelly
To help me be more organised I have bought a five-subject notebook, in which I have made the following sections:
Yellow - to do list
Green - home business
Pink - personal
Blue - grocery and menu planning
White - financial
I look at my book every day and know what jobs need to be done, what personal matters I need to attend to, where my home business is at, what we are having for dinner this week and what I need to buy and my financial goals for the year, with what I need to do to achieve them.
When setting yourself tasks however, be sure to know yourself and your limits. A decade ago, I was able to save all the housework for the weekend and would stay up until 2am Saturday morning getting it done - but I wouldn't have to do it for the rest of the week and could focus on my full time job and part time study. These days I have medical conditions and run out of energy quickly, so little and often works best for me with house cleaning, I need frequent rests. Whatever works for you!
Contributed by: Living like noone else
If you want an easier, more organised daily routine I can highly recommend making a three-weekly meal list. This means, write out seven dinners, then another seven, then another seven and label them week 1, 2 and 3. Next, write out a shopping list for all of the ingredients for each list for each week. No more brainstorming what to have when, and because there are 21 different meals, by the time you get back to week 1 you're not sick of the same old thing! You do just one shop per week with your permanent list for the relevant week and simply bring along a small list of toiletries, breakfast and lunch foods. Save time, energy and money!
Contributed by: Olivia S
---
Cherie has emailed asking for some help! She writes:
"A group from our church wants simple recipes for meals made from non-perishable ingredients to give to families who find it a struggle after Christmas. Some ideas we had were pasta bake and tuna casserole but we'd love some more."
We think Cherie's help request would also be a fantastic resource for camping and emergency kits! If you have any pearls of wisdom you'd like to share with Cherie, please send them in to us here.
---
Well, that's your Simple Savings Newsletter for January and we hope you get a chance to find your best value meat and two veg!
Our members are hugely important to us and we love hearing from you all! So next time you're on the website, why don't you get in touch and say 'G'day'! Let us know what you would like to see more of in our newsletter or any suggestions you have for something new to try. We love receiving your clever ideas!
Don't forget to spread the love around to your family and friends too by forwarding them our newsletter or letting them know about our website. Help make their lives easier and save them money too! Or tell them about us on Facebook by clicking the 'like' button on our Simple Savings Facebook page.
Till next time...
All the best,
Fiona