This issue includes:-
Sad Sally, Happy Hanna: Wake-Up Call
February: No Spend
Ye Olde Shoppe: The $21 Challenge - The Ultimate No-Spend Guide!
Penny Wise: The Low Cost of Joy
Best of the Vault: Stop, Think, Save!
Best of the Forum: Hey, Big Spender!
Best Members' Blog: I Just Paid off My Mortgage!
Cooking with Mimi: Wind Down With Herbal Iced Teas
Rob Bob's Gardening Blog: Home Grown Compost
From Last Month: Party Time!
This Month's Help Request: Help With Grime Fighting!
---
Hello,
Hello! How are you going? It has been wonderful to see so many of you taking on the Challenges in the January 'Get into Gear' Newsletter on the Forum and we'd like to thank Claire for the wonderful job she does putting all the information together - thank you, Claire! Here's to making your February a 'No-Spend' one - we hope you'll find some tips, ideas and motivation here to get you going.
We love hearing from you - here are our favourite emails this month: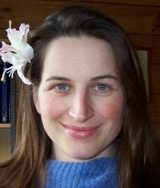 "I have been a member of Simple Savings since 2008 and have recommended your site (and gifted the $21 Challenge book) to many friends. I always look forward to your newsletter and read it from top to bottom. I find it really helpful for keeping sensible spending top of mind! I download your 'Calendar of Awesomeness' every year and incorporate into our lives. You always provide something fresh and invigorating. In short, you have provided so many of us with the means and mechanisms to really get in control of what we spend (and therefore what we save) and I am so grateful to you for making it simple, fun and community friendly. Please keep up the good work." (Melanie)
"I just wanted to thank you for this wonderful site. It keeps me motivated to stay focussed, especially the newsletters I receive via email. This year I am hoping to stick to my goals and learn to save more. I have learnt how to save money, be frugal and live sustainably. With all the January sales happening (and that Dyson vacuum cleaner I really want!) it is a great feeling to think, 'Do I really need this, or do I want this?', and walk away knowing it can wait or it is an impulse buy." (Stephanie)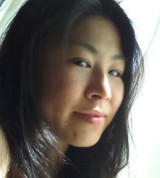 Have a great month!
All the best,
Fiona Lippey
P.S. We have reached 15,000 likes on Facebook - come and join us for even more hints and help!
Simple Savings Facebook Page
---
"Hanna - how do you hide things from John? You know, as in things you've bought?" Sally asked from across her desk. "Um, I don't know, I don't really hide anything from him!" laughed Hanna. "Apart from birthday and Christmas presents of course - what sort of 'things' are we talking about?" "Oh, nothing really," Sally tried her best to sound casual. "I've just got this friend you see. She bought some things - sort of big things - and she thought she needed them but then she realised her husband wouldn't approve and now she's stuck with these things that she can't show him and still has to pay for them too...".
Hanna smiled kindly at Sal. "Sal, are you sure it's a friend you're talking about?" "Ohh it's me," Sally groaned. "I went shopping with Chloe last month and bought a heap of bargains at Henry Newman's but I got the bill this morning and it's almost $700! Honestly Hanna, Pete would go mad if he knew, we're supposed to be saving!" "How come he doesn't know already? Surely he would have noticed all the new stuff?" asked Hanna. "No, he hasn't seen it yet. It's still in the boot of Chloe's car - I haven't dared take it out!" Sally confessed. "I mean, how do you hide something like a vacuum cleaner?"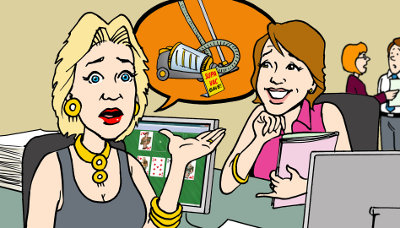 Hanna couldn't help herself, she burst out laughing. "It's not funny! What should I do?" Sally scowled. "How on earth am I going to come up with that sort of money?" "Well if everything is still boxed and in Chloe's car and you still have the docket, why don't you return it? That way it won't cost you anything and Pete need never know. It can be mine and Chloe's secret," Hanna grinned. "But Sal - you've had a really lucky escape. Why don't you show Pete just what an awesome saver you can be. Time to pull out all the stops lady!"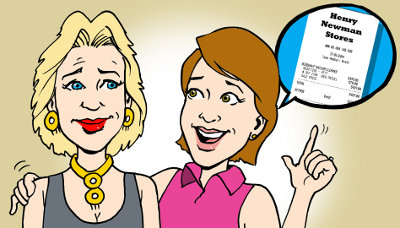 ---
It would be lovely if life was smooth sailing ALL the time! Unfortunately for most of us it has a habit of throwing a spanner in the works and whether it be through unforeseen circumstances or through our own doing as in Sally's case, sometimes the need arises when you really do need to 'pull out all the stops' in order to get through. Fortunately at Simple Savings we know the perfect antidote for senseless splurges and monetary messes - No Spend Month!
Believe it or not, this year marks FIVE years of No Spend Months at Simple Savings! When coming up with the challenges for the 2014 calendar, this was the first 'must have' challenge we picked to go in it. Why? Because members love it and it really does work. The results speak for themselves year after year. It's drastic, it's regimented, it's harsh - but it can also be great fun, it can bring out the creative streak in your household and bring you closer together in a common goal and very importantly, it can get you out of a financial hole.
If you haven't heard of or participated in No Spend Month before, the rules are simple. Your mission is to avoid spending money on ANYTHING in February other than the absolute essentials for your work, education or survival. Obviously there will be some things you cannot avoid, such as basic food and prior bills but apart from that your mission is to make sure you don't buy anything that is not essential.
For example, this month you should NOT be buying:-
Take away food of any sort
Lollies or chips
Dips
Soft drinks
Magazines
Books
Frozen dinners
Movies or DVDs
Fancy brands
Bought cakes
Pre-made food
Ice cream
Clothing
Beauty products
Alcohol
Things you CAN spend money on:-
Rent or mortgage
Basic food
Utilities
Insurance
Petrol
Car
Health care
School essentials (meaning uniform, camps or stationery requirements, NOT money for the canteen!)
Other prior bills (we don't want you incurring late fees!)
It may sound harsh but that's because it's meant to be! No Spend Month brings results. Instead of thinking about 'going without', focus on the positives and imagine how much you would save by NOT buying anything on that top list for a month. Imagine how much headway you could make. Imagine all the things you could do to get ahead financially if you managed to keep all that money in your bank instead of automatically handing it over to shopkeepers for things you don't need. You could use it to pay off a credit card. You could pay some extra off the mortgage and save yourself some interest. You could use it to create an emergency fund to bring a little extra peace of mind. You could use it for a reward or holiday for your family. Put like that, isn't it worth the effort for a few short weeks? It's also a great way to teach younger family members the difference between a 'want' and a 'need' because let's face it, we all get a little confused between the two sometimes and confusion can be very costly!
We started the year gently by using Get into Gear month as a time for planning, organising and goal setting. Now it's time to show what you can REALLY do! Join us in No Spend Month by doing the following:
Fill in your free Savings Diary. If you haven't already been doing this in January it's not too late to start. This is a particularly valuable tool during No Spend Month as it really helps to highlight where every cent is going, how much of what you spend is essential - and how much isn't. Brilliant for strengthening that steel resolve! You can fill in your own personal spending log every day of the year here.
Print off your free Purchasing Planner. Being organised is one of the big keys to saving money. Planning your day in advance will help you avoid getting caught out and having to part with money unexpectedly. Download and print off your planner here and fill it in each night or before you leave the house to make your No Spend days as easy and productive as possible.
Fill in the Save-O-Meter. Every time you find a way NOT to spend, enter in your results on the communal Save-O-Meter on the Simple Savings website. All those 'we were going to but we didn't' amounts really add up! Seeing your savings mount up this way also makes it easier to fill in your own personal Save-O-Meter for your household (found in your 2014 calendar). Watch those dollars grow!
Join us in the Forum. The Simple Savings team is always on hand to support and advise you but if you are a Vault member you can get even more from our monthly challenges by keeping an eye on our Forum challenge threads. You will be inspired, you will be motivated, you will be encouraged and most of all, you will be welcomed! You can't miss these threads; you'll find them at the top of the Forum every day of each month and are brilliantly run by Simple Savings superstar Claire M. Whether you choose to stay in the background or jump right in, there is much to be gained from these friendly discussions.
Last but not least - Don't spend a cent you don't have to! Best of luck with your No Spend Month - be sure to let us know how you go!
---
The Ultimate No-Spend Guide!

"The $21 Challenge" book is the ultimate No-Spend Guide! Find instant money by doing a $21 Challenge and make meals from next to nothing from ingredients lurking in your cupboards, freezers and fridges. Find out why everyone is talking about 'Baked Heaven Pastries' and learn the tricks of stretching those grocery dollars until they twang!
You can read the first two chapters for free here
Or purchase your own copy of The $21 Challenge here.
---
It's 8.30am and the smell of freshly baked banana cake is wafting around me as I type. It's for a certain sleeping giant, who is blissfully unaware, still tucked up cosy with his beloved little dog. Yes, Liam is home! It's been a week already and the wonderful thing is, it's as though he's never been away. He's happy to be back and Ali and I are very happy to have him back. And, as another bonus (well, kind of), he cannot stop eating! Whilst this is not so good news for the budget, it's certainly good news for this worried mum, as in the weeks before he left, he literally existed on next to nothing so I'm hoping that this massive increase in appetite is due to the fact that my boy is finally feeling settled and happy. Long may it last, hooray!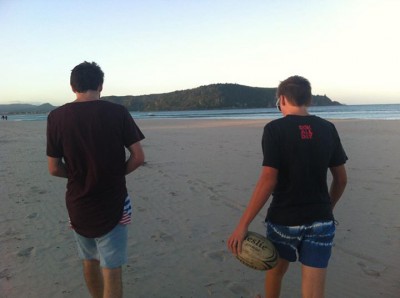 Everything just feels better now the three of us are back together - even the dogs are happier! We've been going for walks on the beach all together in the evenings and it's just lovely. The boys kick a rugby ball around, Hubble rushes about like a mad thing and Minnie trudges along stoically next to her mum, nose to the ground, completely oblivious to everything and everyone around her. As any Simple Saver knows, it's the simplest things which are often the greatest and most precious and it's times like these I treasure. We still have a long road ahead - Nawtypoo is still ours but we still have to work hard to keep her! Still, at least now we're all together and on the same page, understanding and supporting one another it doesn't seem quite so daunting. And, as the saying goes, there is always someone worse off than yourself. I sent an old school friend a Happy New Year message the other day on Facebook. Like me, his marriage had ended last year and he had also just been made redundant from his job as a chef before Christmas to boot. I wished him a happier and far less stressful year than the previous one. My heart broke when I received a message back almost immediately, 'I had to make myself bankrupt today'. And I thought I had it tough! I wanted to slap myself in the face. I've always known I had it easier than a lot of solo parents but this really made me count my blessings a thousand times over. Even so, I was really impressed by his positive attitude. If anyone deserves a break this year it's this chap and I really hope he gets one.
I've been on a bit of a health kick lately - that's a whole other blog! But one of the new joys Ali and I have discovered is tramping. We've been quite a bit over the past few weeks and love it. We're fortunate to have plenty of beautiful walks in our area and we can pretty much take our pick from 90 minute tracks to three and a half hour hikes and beyond. Apart from the teensy cost of petrol to get there it's basically free, we just pack a few snacks and water bottles and off we go! The other day we went to a place called Luck at Last Mine, less than 10 minutes drive from our house. It was beautiful! Although I have to say it has definitely been given the right name because you're flipping lucky if you ever find that mine. After four hours of puffing, sweating and climbing seemingly to no avail we had seen enough of the great NZ bush and traipsed our way back but even so our enthusiasm has not been dampened and already we are planning our next adventure!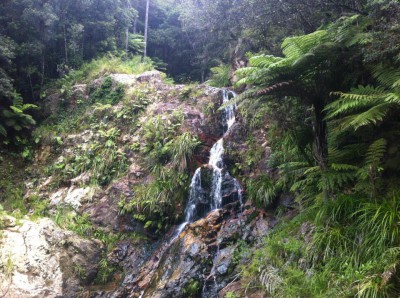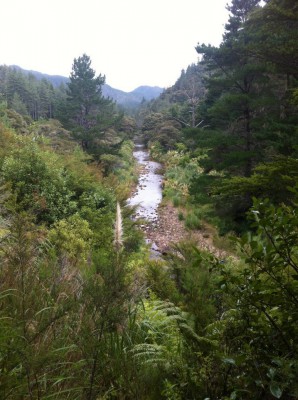 Not a bad way to spend a weekend. I just wish there were more weekends in the week! The school holidays are flying by and the boys have been working crazy hours but Ali has just enjoyed a wonderful week being a Simple Saver the best way he knows how - by catching his own food. In the five days he has shot a deer for the freezer, waited patiently in a creek and caught, prepared and cooked his own brown trout for dinner, then went fishing with a friend and brought home two snapper, which we simply pan fried in butter and lemon pepper and served with broccoli, beans, potatoes and salad, ALL freshly picked from my garden. Made me feel very self-satisfied and abundant I can tell you! Although I'm off to the op shop this morning to see if I can pick up any old net curtains as the pesky birds will NOT leave my tomatoes alone. I wouldn't mind if it was just the odd one but they get to EVERY ripe one before I do - and I feed the little blighters every day as it is!
If there's one thing all three of us seem to have learned from being apart it's that we appreciate each other and what we have a lot more. The best times we spend together cost nothing and whereas it was always me who seemed to do everything when it came to taking care of Nawtypoo, the boys are also more pro-active around the place now and like to keep it looking nice. With all the trees and gardens to take care of it does feel like a large and never ending job but they have really stepped up with things such as pruning back trees, chopping firewood, weeding and mowing lawns - even if it means we have to have a cricket pitch in the middle of the back yard! We were fortunate enough to meet some lovely neighbours just before Christmas who have a holiday home next door to us. They only come to stay every few weeks and often less but they have been so sweet to us from the start. The first time they popped their heads over the fence it was to ask us if we wanted a free Christmas tree as they were about to chop down two large pine trees on their property. Unfortunately we already had a Christmas tree - but we did need firewood! As it turned out, the husband is a qualified arborist and the boys went round to help with the felling of the trees. In return we got a whole shed full of firewood for the winter and an enormous pile of free mulch for the garden. In fact, there is so much mulch that they even offered it as a money maker for the boys, selling and delivering it to keen gardeners in the area. Such kind and generous people! The boys and I have been mulching the gardens together and it's a great feeling to know that even though it's the height of summer, we already have all the dry firewood we need to keep us warm all year when winter comes around.
As you can probably tell, I'm feeling a lot more positive than in recent blogs! The pressure is still on though of course and I'm still hoping to get an evening job. Unfortunately whilst Whangamata is still relatively busy it is a lot quieter this year; the volume of people has already diminished a lot (which is brilliant if you're a resident but not if you're a business owner!) This means that most of the businesses are not having to take on any more extra staff but still, will keep an eye out for anything which comes up and the boys are very supportive as they understand how important it is. They both get paid weekly and were flabbergasted recently to learn that it's not the same for everyone and their mum has to make her payday last a whole month. 'That's such a long time! How do you DO it?' they asked. Exactly, I winked! All of a sudden they understood far better why NOT spending money really is so important and that Mum isn't just a boring old party pooper!
Amazing to think that this year I will have been a Simple Saver for 10 years! And I have to say that with the exception of the first year, where the concept of saving money (and indeed HAVING to) was almost an alien subject to me and I was like a sponge, soaking up every tip I came across, this year is proving to be the most valuable and rewarding - and it's only January! The tips are just as important now as they ever were and I love seeing all the new ones which come in and taking on board the ones which are relevant to me - but this year it's the inspiration from other members I am finding most valuable. I was so excited to read of Claire M's thoroughly well-deserved new kitchen! And GoGo Goanna's post-Christmas vow 'Re-evaluate luxuries and enjoy as you save' has already saved our family so much money - it really is so true. So many wonderful stories, too many to mention but my ultimate dream is to be a Shane O'Donnell. Shane is a Simple Saver from several years back who saved $30,000 in a single year. While this might be a far-off dream for me at the moment, I really like how Shane went to the trouble of sharing exactly how she managed to make such a huge saving, even including some of the frugal recipes which helped her. I remember Fiona interviewing Shane in a podcast back in the day when Simple Savings had its own weekly broadcast and it was amazing to listen to. If I can be a Shane O'Donnell in the home and a Felicity Kendall in the garden I will be one very happy and productive Penny Wise!
You can get updates on Penny's new blogs on the Simple Savings Facebook page
or in our Members' Blog section.
---
Make the most of No-Spend month by planning and tracking every dollar. Ask yourself if you are about to spend your precious dollars on a 'need' or a 'want'? Even 'needs' can often be done less expensively by substituting, op-shopping or borrowing from friends and family. Here are some great tips to get you started on your 'No Spend February'...
I have just started doing the $21 Challenge, and today when I went shopping I took only the maximum amount of cash I was willing to spend. In the past, I've found it was too easy to just keep putting items in my trolley, and I'd come out being disappointed for spending money I didn't really have. That meant, of course, that I had less money to pay my bills. So today, I went in with my list and only the cash I was willing to spend and still came out spending less than I had planned!
Contributed by: NightOwl
This year is the year for improved financial diligence and discipline in our family. My husband and I both work full time and watch our money - although in the past, we sometimes felt that we were watching it disappear! Not anymore.
We're continuing to watch what we spend, but with a twist. This year, we're keeping track of how much money we spend each day and writing that amount on the calendar. It only takes a few minutes to do and is eye-opening and motivating!
Not only are we challenged to reconsider what we buy, but we've also worked out on which days we spend the most money. For example, by the end of the working week we're more likely to buy our lunch, so we've put steps in place to combat this by taking extra lunches to work on Wednesday so they're already in the work fridge for Thursday and Friday. Our daily money watch also motivates us to increase our number of 'spend-free' days.
This trick is free, takes very little time, and is working well for us. It makes saving money more fun as we try to come up with creative ways to spend less money and, of course, it's very rewarding to look back over the days and see the amounts we've spent getting smaller.
Contributed by: Katy R
After reading 'The $21 Challenge', I now take a second look at my shopping list to see if I can make further savings. For example, I had butter on my list recently, but realised I could extend what I already had by beating it in warm water. This is a trick my mother used during the Depression, but such extended butter cannot be used for baking. This enabled me to take butter off my list!
I swapped raisins for sultanas, which are cheaper, and decided I could make an eggless cake, so the eggs came off the list too. I also had condensed milk on my list, but crossed that off when I saw the condensed milk substitute in 'The $21 Challenge'.
By taking another look at my list I was able to make further savings of around $8.00 - a real help on a tight budget.
Contributed by: Brenda Winchester
---
It can be hard to change ingrained habits without support, ideas and inspiration. Look no further than our resourceful and encouraging Forum members to get some help with your 'No Spend' February (and don't forget to use your Save-O-Meter to watch those savings grow!)
Your 'No Spend' challenge is incomplete without a word from Cheshire Cat and fellow members who continue Joan's legacy of living fully and frugally! (We miss you Joan!)
read more...
Poppy and friends have some wonderful ideas to help you break that expensive lunch habit - get organised and get saving!
read more...
Mimi and fellow members help each other with those everyday spending decisions that can make or break a budget - some great motivation for your 'No Spend' challenge.
read more...
Share your ideas with Claire and other members... substitute, reduce and a bit of imagination are all ideas to keep those dollars in your pocket!
read more...
Don't think it can be done? Well, let Persephone and friends show you differently with ideas for frittatas, crunchy Asian salads and stuffed potatoes!
read more...
---
One of the many benefits of being a Vault member is that you can win a $100 store credit in Ye Olde Shoppe, or $100 cash each month for your Simple Savings blog! Starting your own blog on the site is easy. All you have to do is log in to the Vault, click on 'My Desk' at the top left, then 'Your Blog'. Then get writing! We love reading all your money saving trials and tribulations and really appreciate the effort that goes into each one.
This month's winner is one of our members Frogdancer who reached a longed-for milestone with this triumphant announcement!
Seventeen years ago, I bought a little 1950's weatherboard with my then-husband in a quiet suburb in Melbourne's South East. We had four sons aged five, three, two and a three-week-old baby. The house had one lounge, one bathroom, one toilet but four bedrooms and we figured that as time went on we could extend. The mortgage was 96K.
A year later we divorced and I had to buy him out. The court set the figure at 18K so the mortgage rose to 115K. The next few years were very hand to mouth as I was a single SAHM till the last son started primary school. I then started teaching again casually and then got a nine month full time teaching contract at my local high school. Our car was falling to bits so I bought a three-year-old Ford station wagon. The mortgage went up another 15K. I vowed to have the mortgage down below pre-car levels by the time the contract ran out. I did.
I kept getting contract after contract. Meanwhile, I cleverly fixed the mortgage for five years, only then to see interest rates plummet. D'OH! Still, I consoled myself with the fact that at least I knew how much my payments were. I kept on. When the school offered me a permanent position, I knew that now we were safe. I took the boys on a holiday to Bali (then Thailand the next year because we had so much fun) and I started renovating. I was going to pay off the house first and then save for a new bathroom and kitchen but then I thought it'd be better to get it done while they were all still living with me and we could all get the benefit. So the mortgage rose to $199,995. There's no way I was going over the 200K level.
Since then I have been chipping away at it, enjoying each time it fell another 10K. At first it was slow, but then momentum started to build up. I chose not to do a lot of things on my way towards freedom, but one choice made a huge difference. I went to a Thermomix demonstration and I bought one. Three weeks later I became a consultant. From memory, my mortgage was hovering around the 100-90K mark. This was two years ago, just before Christmas. During 2012 I worked full time as a teacher and was a demonstrator on the side. I earned a free trip to Hong Kong which I was rapt about. Travel was one of the sacrifices I'd chosen to make to get rid of the mortgage.
Last year I swapped my mortgage to a different bank. It was 77K and the lower interest rate made a HUGE difference. The principle started melting away before my eyes. I re-doubled my efforts and started hurling every dollar I could at it. My house has a leaky spot in the guttering, it needs painting and my curtains are so dated it's embarrassing. It needs awnings out the front. But I kept patting her, saying, 'Don't worry, hold it together. Let me pay you off, save for Europe in 2015 and then I'll look after you.'
In 2013 I took on a Group Leader position in Thermomix and dropped a day of teaching so I could attend fortnightly meetings. I was scared to drop my wage, but I gave it a go, thinking that if I was able to double what I was losing, then I'd be happy. I did that. I also earned another free trip, this time to Sun City, South Africa.
Yesterday I looked at my statement and couldn't help but notice that my savings were $10 more than my mortgage of $12,330. It was more than flesh and blood could stand. I paid it all across.
I have no emergency fund, no holiday savings; nothing. But I have my freedom. It took 17 years.
Well done Frogdancer - we salute you!
You can read more of our members' blogs here.
---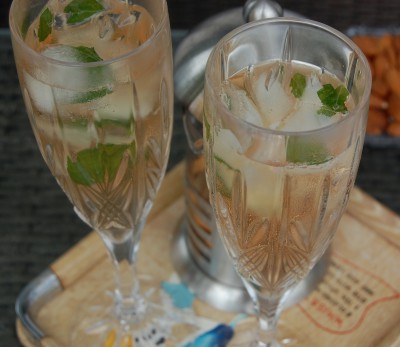 Lighting a few candles at dusk, enjoying a chilled champagne flute of lightly sweetened herbal tea, the gentle tinkle of ice cubes with fresh mint suspended in them adding to the enjoyment. It's our new favourite way of winding down.
Add a little crystal dish with a tablespoon or two of Rice Snacks in it, a conversation with our daughter about her day, hand watering our pot plants, picking a few fresh herbs for the evening meal, and you've got the perfect scenario for a peaceful evening.
Relaxing and winding down doesn't have to mean drinking alcohol. When I was young, no-one we knew routinely drank alcohol in the evenings. We were aware that other families made it part of their routine, and their budget, but it wasn't on most families' list of priorities. Things are different now, and these days, relaxing means a glass of wine. Socialising means a few glasses of wine. It doesn't have to be the case.
We're making a stand against this idea in our house. We love a nice cold glass of Sav Blanc as much as the next person, but it's a poor example to set for our 14-year-old daughter, and we're determined to show her that 'relaxing' or 'socialising', doesn't have to mean 'alcohol'.
Our strategy is to have other options available. Most evenings it will be an iced herbal tea of some sort. Other nights, it might be a chilled soup in little teacups like a Gazpacho (chilled tomato soup) or a Vichyssoise (chilled potato soup) as a sort of early entré, which means we'll only want a light evening meal too. A light mocktail like a Virgin Mary or a fruity punch may make an occasional appearance. If we have guests, they'll be offered the same, and I actually think they'll enjoy the change.
As with everything, the presentation is important to make it really feel like a treat. So break out the fancy glasses, a pretty tray, a sprig of flowers and some serviettes.
Here's my favourite recipe for herbal tea, served chilled.
You'll need:
1-2 litre jug or container of some sort
Ice cube trays
1 lemon, sliced
1/2 small cucumber, sliced (you can replace the lemon and cucumber with other fruits or herbs to enhance the flavour of your tea if you prefer)
Sprigs of fresh mint, berries or other sweet herbs or fruit
6 herbal teabags of choice; a combination is nice. Try mint and chamomile or peach and raspberry
Sugar or Stevia
Pretty glasses or champagne flutes and a tray or platter of some sort
How to do it:
First thing in the morning or the night before, pick some fresh mint, hull some berries or halve some grapes and add them to ice cube trays, filling the trays with water and freezing them.
Then fill a pretty jug or container with water and add lemon and cucumber slices. Let that steep for a couple of hours.
At around lunch time or when you get home from work, get your six herbal teabags... all the same or a mixture and make up the tea 'concentrate'. Add the six teabags to about 500ml boiling water and allow it to brew for about 10 minutes. Add two to three teaspoons of sugar or some Stevia to the brew if you want a touch of sweetness, remove the teabags and chill it well.
Remove the lemon and cucumber slices from the water, drink a glass or two of the flavoured water to make room for the tea brew and add the brew to the chilled jug of water. Then it goes back into the fridge.
Get a tray ready with a little crystal dish of rice snacks or similar if you wish, a flower or sprig of herbs for decoration and set up your champagne flutes or pretty glasses.
Then all you have to do is add the ice cubes and pour out your herbal iced tea. Top up your glass as desired, guilt-free.
You'll feel more refreshed and relaxed and you'll be doing your waistline and your wallet a huge favour.
Enjoy!
You can get updates on Mimi's new blogs on the Simple Savings Facebook page
or in our Members' Blog section.
---
We've had to reign in the garden budget at the moment due to the cost of setting up the new re-circulating aquaculture system (fish farm). I'm lucky that we have free fertiliser just lying around and growing in the yard just waiting to process and use.
One of the easiest and cheapest ways we can feed up the beds is by cleaning out the chicken pen and yard. Greens from the patch, tall grass from the fence line, kitchen scraps and lawn clippings from the back yard all go in to their pen on a regular basis. At the moment they are also being treated to a self service tomato bar and a fair few mangoes that have been knocked down by possums and flying foxes.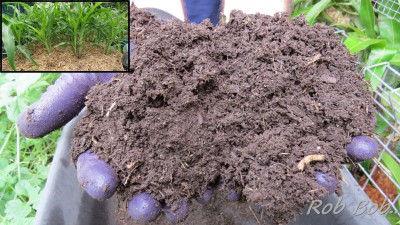 What isn't devoured by the girls is scratched around the pen, mixed with manure and then composts down. Their varied diet means that the manure is rich and when added to the composted scraps/clippings in their pen makes for a very rich additive for the garden. It's packed with organic matter to help feed the compost worms in the garden beds which is another bonus. The last lot that was collected was added to our sweet corn bed which was sown out on the 7th of January and I think the results speak for themselves. :)»
We've also been composting garden and lawn scraps and out in the front yard we have a pile that is mainly lawn clippings under a stand of pigeon pea bushes. This pile, if left alone, would eventually break down but as I'm impatient I have been boosting it with some other prunings from the yard. As the pile is mainly a cold composting grass clippings heap it does tend to dry out a little and become slightly hydrophobic, not allowing water to penetrate deep into the pile. To combat this I like to give it a water whenever anything is added and turned over. A few different bits from around the patch have been added to this heap. The first lot of goodies to go in was the old pumpkin and spaghetti squash vines that had been growing out the front. They were run over with the mower to make the composting process faster and then buried in the centre of the pile.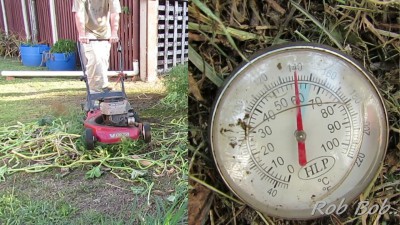 I was most surprised to find that the composting process had started the very next day with the centre of the pile hitting 60°C/140°F. I think the fresh greenery added the nitrogen and moisture that the pile needed to boost the composting process. A few weeks ago we also started to add the pips and skin from the mangoes we harvested. We have found that mangoes and pineapple in particular attract black soldier flies into the compost where they lay their eggs. These flies are great to have around as not only are their larvae great composters, the adult flies release chemicals that tend to keep house and blow flies away.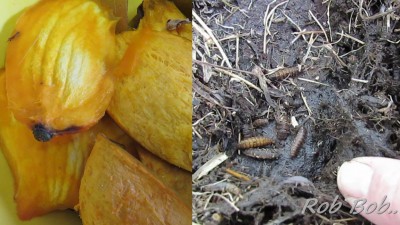 In no time at all these little composters can devour your scraps (including meat and some dairy if in a purpose built farm) into waste that can then be composted down further into a great fertiliser. We actually have a fair few mangoes that have been blown by Queensland fruit fly so they too will be going into the pile. Before adding them we put them into a bag or bucket with a lid and leave them out in the sun for a few days. The heat kills the fruit fly larvae that would otherwise continue their life cycle in the compost pile and become pests later on.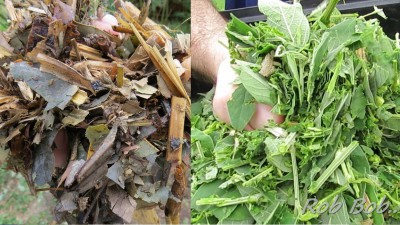 Over the weekend some mulched up weed tree branches and pigeon pea bushes were added before giving the pile a good turn over and soaking. The pigeon pea will help add extra nitrogen to the mix and the leaf mulch will add beneficial microbes as it had already started to break down in the barrel. When the next batch of mangoes go into the pile another load of pigeon pea mulch will also go in as well.
Mulch is another product you can grow, chop/mulch up and add to the garden to save you some coin. Some good sources for home grown mulch that we have used in the past are lemongrass, comfrey and pea plants. A new one we have been able to try this Summer is corn stalks. Rather than trying to compost them down, I thought it would make a great mulch on the bed it was grown in. That way it can slowly break down and become food for the compost worms in the bed. So far I think it's doing a great job and it will be interesting to see how long it takes to break down.
Hope that gives folks a few ideas on how they might use plants and prunings from the patch in different ways to help them out and save them some coin. Let me know if you have any other great ways to processes organic matter for free on site.
That's about it for this month's blog. I should be able to introduce you to some new residents in the patch next blog.
Cheers all,
Rob : )»
You can get updates on Rob Bob's new gardening adventure blogs on the Simple Savings Facebook page
or in our Members' Blog section.
---
Last month Petra emailed us asking for ideas on holding a unique but Simple Savings-inspired birthday celebration for her dad:
"My dad's 60th birthday is coming up and although I don't have a lot of money to spend, I want to put on a really unique birthday party for him. I'm not very creative and would love some ideas about where, and how, to cater for about 50 people. We have a bit of money put aside to hire a hall if necessary but all the invitations, decorations and food will be 'home-made'. I really want this to be something he'll remember, so need your help!"
We got so many fantastic ideas for Petra - thank you! Here are some of our favourite replies:
When trying to keep party costs down don't be afraid to ask prospective guests to help with the food. Perhaps a friend or relative is good at making cakes - ask if they would make one as a gift. Also you can ask others to 'gift' their time to help with decorations - especially if you know they are on a budget and may struggle to find the money for a gift. Most will be happy to be involved directly with the party; it will save them having to think what to buy the person and they know their 'gift' will be appreciated. Give a little credit where due on the day by making tags such as 'Table decorations made by Auntie Flo', 'Sausage rolls hand-made by Aunt Jane', 'Crockery loaned and will be washed up by Fred' and so on. The party VIP will be delighted that everyone has got together to plan the day and everyone will enjoy the party better knowing there's no big bills to follow!
Contributed by: Helendt
Since your dad was born in the 50's, why not have a 'back to the 50's' fancy dress party? This way you can let people's costumes and the theme be the focus for the night, rather than a large cost. Do some research on what sorts of things were popular in those days and decorate as frugally as possible by borrowing where you can and scouring op shops. Some cheap ideas for decorations:
Laminate black and white 1950's photographs printed off from the Internet. You don't even need a laminator to do this; your iron will seal the laminate pouches - just remember to put a tea towel over them first.

Hang old fashioned vinyl records from fishing line from the ceiling - you can pick these up super cheap from the op shop and garage sales.

Google photos of the 50's for decorating and fancy dress ideas. Like this link.

Make the menu all finger foods to save on making it a formal sit down event. Most people have more fun mingling anyway, and you can do funky 'back in the day' finger foods like mashed potato wrapped in Devon and so on. A 50's dinner party should have lots of toothpick finger food which will make catering and clean up easy. You can try this website and similar for ideas on toothpick finger foods.

Make sure you have some 50's and 60's music on hand, you can usually pick this up fairly cheap and might be lucky to find some at the op shop or be able to borrow some from the library for free!

Contributed by: Wishful thinking
For a low-cost party idea which is heaps of fun, how about a 'Thrift Shop Elegance' theme? All outfits must be bought at op shops and evening wear is preferable. Keep your guests giggling with various small prizes throughout the night such as 'Best Dressed', 'Most Tacky' and so on. It costs so little to throw such an event but the memories and photos are priceless!
Contributed by: Dee
A picnic in the park makes a great low-cost party - we did this for my mum's 70th birthday. A few months beforehand, go and find a nice, shady park or beach area and check out what will be the best time of day - we had a brunch and the closest family members all brought platters of food. Decorations were limited, but not needed as the bush scene was perfect and there was no major cleaning up. Mum didn't want any presents so we put this on the invitation, however, we did quietly mention that Mum could use a gardener so with the money she received we were able to get a gardener to come in once a week for a year!
Contributed by: Louise
My daughter's 18th birthday party for 80 guests cost me just $150! I borrowed a few slow cookers from friends to do the catering. We had five different meals in the cookers and I then just cooked large pots or rice and pasta to go with them. We had beef bolognaise, sweet and sour pork, Thai green chicken curry, beef and red wine casserole and a vegetarian pumpkin risotto. All were packed with lots of vegies to bulk it up and the bolognaise also had some lentils to bulk it up even further. It was a great way to feed plenty on a budget and all with wholesome home-made tucker. For dessert we had birthday cake and I made some individual shortbreads dipped in chocolate and a bowl of 'Favourites' chocolates. Everybody loved it and has since used my idea too!
Contributed by: Selsbels
We recently went to a friend's 80th birthday party and were really impressed with the simple yet special touches his family put together for him:
The family hired the local hall which was air conditioned on a very hot weekend, great thinking!
They had several tables set aside on which they had grouped photos - one of his family (starting with his grandparents and including a little written history of his ancestors), one of the occupations he had held, including a brief history of his jobs accompanied by newspaper clippings, and one of his main interest which is horses so there were stacks of photos of his racehorses or work horses and again, newspaper clippings. All these were covered with clear plastic to protect the photos.
On the dining tables were laid tablecloths with little cut-out horses scattered over them. It was brilliant; I think you can get them and others like them from Spotlight or a $2 type shop. The family also placed two or three boxes containing stars and happy birthday signs (the stars were on long sticks so the display was like a floral arrangement) and the boxes were covered in sparkles.
At the front of the room there were two blackboards on which the family wrote little messages about their father/grandfather; it was lovely to read the messages. They included little gems such as how he can't swim. These along with the photos I think were the best touches.
The music was a mix of modern and older (today and up to 80 years ago) and it just felt right on the night!
The family elected to pay for a caterer who kept it simple with lovely boards of nibbles, followed by cold chicken, ham and salad and finished with plum pudding, custard and fresh fruit (The plum pudding was a favourite of the birthday boy's!).
The family offered free beer or soft drink but was BYO spirits (given it is a hall, that would have got around the licensing conditions); however, you do not have to have alcohol.
I think the love of the family really showed through on the evening and has definitely provided me with plenty of ideas for future special events!
Contributed by: Summer Breeze
A picture collage makes a great low-cost decoration which can also be given as a gift after the event. Buy a fairly large framed cork board. Then ask your guests to bring along a photo of the party VIP and ask them to add it to your collage. It can be photos from any era; when they were at school, at work or a work party, whatever! We did this for my hubby and added photos of his fishing trips, his boat and 4WD which tows the boat to Cape York and so on. It's proudly displayed in our lounge room.
We did a similar thing for my mum's 80th birthday where my siblings and I got photos over the years including some with my late dad, and used an online photo site (in our case Big W) to make a collage, sharing the cost between us. As I live in a different town to Mum, we arranged for the collage to be collected from my mum's local branch of Big W, so when we made a surprise visit for her 80th birthday, we collected it and brought it to her for her birthday gathering. Lots of surprises and laughter that day!
Contributed by: Lexie
---
Jacqueline has emailed asking for some help! She writes:
"I am what might be described as a 'well-endowed' lady. I also love my food, which undoubtedly contributes to my endowments! I am also a grot. Not a wash goes by that I don't have at least three tops that need serious de-staining somewhere down the highly visible front. I find no joy in spending hours examining dirty clothes or undertaking laundry detective work to match the right stain remover to the right stain, particularly as I'm often unsuccessful. I am heartily fed up with forking out money for new clothes unnecessarily.
Any tips out there for quick and cheap multi-purpose, all-in-together stain removal? Or culinary behaviour change, other than tucking the tablecloth under my chin? Breast reduction is too expensive!"
If you have any pearls of wisdom you'd like to share with Jacqueline, please send them in to us here.
---
Well, that's your Simple Savings Newsletter for February 2014 and we hope you have enjoyed it. Kick-start your 'No Spend' by joining us in the Forum challenge and get some inspiration from our Facebook hints and tips. We know you can do it!
Our members are hugely important to us and we love hearing from you all! So next time you're on the website, why don't you get in touch and say 'G'day'! Let us know what you would like to see more of in our newsletter or any suggestions you have for something new to try. We love receiving your clever ideas!
Don't forget to spread the love around to your family and friends too by forwarding them our newsletter or letting them know about our website. Help make their lives easier and save them money too! Or tell them about us on Facebook by clicking the 'like' button on our Simple Savings Facebook page.
Till next time...
All the best,
Fiona