This issue includes:-
Sad Sally, Happy Hanna: Financial Freedom?
March is 31 Tip Challenge Month!
NEW! Short Story Competition
Best of the Vault: Small Changes, Big Differences
Best of the Forum: Starting Afresh
$21 Challenge
Sophie Gray: The Basics
Penny's Blog: Ministry of Savings
Homeopathy Corner: Response to the Sceptics
From Last Month: Fair Share for Singletons
This Month's Help Request: Keeping My Chin Up
Savings Story: No More Nightmares!
---
Hello,
Guess what? At five months old, Elora is crawling and my goodness is she in a hurry! The moment we pop her on the floor, yippee, she is off and racing! That baby has places to go and toes to suck. Yes, toes to suck. Don't ask me why but she has a thing for big toes. No foot is safe. One minute she is on the other side of the room and the next she has latched on to your toe. Talk about unhygienic! She isn't fussy either, any toe will do! If she can't get to any of ours she simply lies there and sucks her own. Only a baby can be content lying there and sucking their own toe for hours on end!
Elora is not the only one learning new skills this month. These members have been trying out some fantastic new ways to save money and couldn't wait to tell us about them!
"Just a few months ago I made a new friend. When she told me she needed to learn how to become a smarter shopper, I told her I could help. I presented her with a new folder which included the Simple Savings Bill Payment System, with instructions how to use it and a reusable shopping bag with $21 worth of food in it. We sat down together and wrote out her and her partner's bills. The first thing she said was "Right - we are quitting smoking, buying no more takeaways and we'll be taking our own lunches to work from now on!" While I don't think her boyfriend was very pleased initially, he came round very quickly when he saw what a difference it was making. My friend was so happy and touched when I gave her the Simple Savings folder and thanked me for giving her life changing help. All I can say is thanks Simple Savings for your good work and for helping me make a new friend!" (Chloe Murphy)
"For the first time since we signed up to Simple Savings, my husband read the monthly newsletter before me. He immediately got on board with 'No Spend Month'! We sat down and agreed on what we considered a need and a want and I discovered he was actually very good at it. We are only six days in but he has already stopped me from spending money. It wasn't a huge amount of money, but it has resulted in a big change of thinking.
"I'd had a rough day, the kids had just had their first day at school, and the last thing I wanted to do was cook dinner. I suggested I go and get fish and chips. However, he told me it was 'No Spend Month' and we were not having fish and chips. I argued that it was food and therefore a necessity, to which he replied that we had food at home and he would cook. Which he did!
"Thanks to Simple Savings, my husband has now realised that he doesn't need to spend money as often, and he will also cook dinner! In one week, two miracles have occurred!" (Catherine Scott)
"Thank you Simple Savings for changing the way I think. Today I was out shopping with my two daughters and a friend's two children. I wanted to give them an ice cream each as a treat, but I stopped and thought about it and added up the cost of purchasing four ice creams at around $3.50 each. Instead I went to the local supermarket and bought a box of four ice creams for a total of $5.00, giving me a huge saving of $9.00. The kids were happy and so was my bank balance!" (Amy O'Meara)
"I think your website is awesome and I have used lots of the ideas that I have learned. For example, I keep a file full of recipes plus the ingredients I have in my fridge, freezer and pantry. I regularly check my file to see what I already have. Instead of menu planning being a hassle, I find it a lot of fun and a chance to be creative. We have made some amazing salads and my sister loves to see what we are going to enjoy each week when she eats with us. Instead of feeling a failure, I feel stimulated and interested." (Angela Tayler)
"Having read your website for many months, I decided to follow your suggestion to look in my cupboards and see what was hiding in them. I was pleasantly surprised at what I found in there - there was lots of food that I had forgotten about! I followed your lead and made meals from what I already had, and ended up with a whole week's worth of meals for my husband and me, as well as for guests that were already booked in to eat with us. So, come on everyone! Look in your cupboards and use what you already have, rather than buying more of the same!" (Marilyn Weber)
All the best,
Fiona Lippey
To make your 31 day Challenge easy we have dropped the price of the Savings Vault to $31 (usually $47). With almost 14,000 tips on absolutely everything you can possibly think of, choosing a new tip each day should be a breeze! You only need to implement a couple of those 14,000 hints to get your money back. Plus, if you aren't happy we have a 365 day no questions asked guarantee. You can join the Vault here. The discount will apply through to 31st March.
---
Sally tore open the envelope in excitement and anticipation. This was one credit card statement she didn't have to hide! 'Balance owing? ZERO! I've done it! I've finally done it!' She felt like dancing round the kitchen. At last that blasted credit card was paid off! The timing couldn't have been better either. Today was Sally's day off. 'All that scrimping and saving was worth it,' she smiled to herself. 'Now I can go out and enjoy myself!'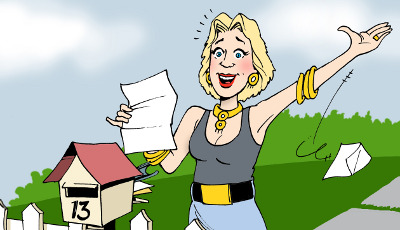 Sally didn't know what to do first so she bought herself a cappuccino and a huge slab of carrot cake in the café while she thought about it. 'Now this is more like it,' she thought happily. 'No more lukewarm coffee and soggy sandwiches for me!' No more Pete on her back nagging about saving money - and no more Savings Group meetings either! She had reached her savings goal. She was free!
Hours later, Sally arrived home exhausted but happy. It had been so much fun being able to shop with her credit card again! It was amazing how quickly she had managed to rattle up a few hundred dollars but what the heck? She had no reason to save any more. She could pay it off again in no time! She walked through the door, bags in hand, took one look at Pete's questioning eyes - and the bubble burst. 'Oh heck,' Sally wailed in remorse. 'I've done it again, haven't I? I'm back to square one!'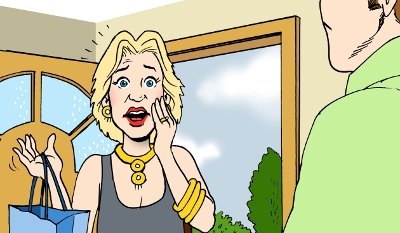 ---
Sally has every right to be proud of reaching her savings goal, but she has saved money only to be able to spend it again! If you're saving money simply so you can buy more 'things', you are saving for the wrong reasons. 'Things' do not make you wealthy. Happiness does not come from owning lots of stuff.
Simple Savings isn't so much about saving money as improving your life. Sally sees saving money as being repressed; she feels that she had to 'go without' just so she could pay off her credit card. But saving money doesn't repress or limit you - it frees you.
Having the skills to be able to live off very little money is the ultimate freedom. The less you can live off, the less you can get by on, the less you have to earn, the more freedom you have. Being careful with your money will give you the freedom to be who you want to be. But that is not the only thing it will give you. Being a thoughtful spender will also mean you can:
Be generous when you want to
Help the planet
Be empowered instead of being a sucker
Pass on skills to your children
Be a fantastic cook
Work less
Have more family time and
Relax more.
Saving money is not repressive, it is a fun and exciting way to improve your life. Be excited each time you save a dollar. That is one dollar you will never have to earn. Becoming frugal will mean you can do and be things other people can't because they wasted their money. Becoming frugal will improve your life. So let's see how much progress you can make in 31 days. This month is 31 Tip Challenge Month. Your mission is to find 31 new tips that will improve your life whilst saving you money. Try a new one every day. It is time to liberate yourself and be less dependent on money.
To help get you going we have dropped the price of the savings Vault from $47 to $31 through out this Challenge. (The discount goes till 9pm, 31st March.) So there is no excuse. (We have a full year guarantee, so if you are disappointed for any reason we will happily give you your money back.) There are 14,000 tips in the Vault. Go to the Vault categories that are relevant to you and make a list of 31 tips to improve your life. Then challenge yourself to do one tip each day for the next month. It will be so much fun! Let's go for it.
---
This month's competition is a little different. It's a short story competition! A romantic short story, to be exact. Who can write the best Simple Savings style romance? 'It all started when he was ogling the marked down meat in my trolley...' - er, we're sure you can do better than us! There is a prize of $300 cash for the best entry so get those fingers typing! You can write about whatever you like - as long as the story is based around saving money. Maximum 1000 words please. We can't wait to read your stories! Send them to us here.
---
The best thing about the 31 Tip Challenge is that you don't necessarily have to make big changes to improve your life and your savings! Here are some of our favourite 'small but smart' tips from the Savings Vault. Give them a go this month!
Here's a hint to use up those food items which end up at the back of the kitchen cupboard.
Every Tuesday, use one or more of the ingredients that are hiding in the pantry. These are probably items you bought because they looked interesting or were on special, but have never got round to using. You'll save money by using what you already have, and free up space in the cupboard. By doing this, I estimate I've saved about $3.50 per week, or $182 over the course of a year.
To get you in the habit, you can even give this day a special name, such as 'Use it Tuesday'.
Contributed by: Liz Thomas
We save $25 a day by pretending to smoke! My husband and I don't smoke but we have many friends who do, and they always buy their cigarettes first thing each day before they purchase anything else. We decided if they can do that, then we can 'buy' our savings before anything else. If we smoked a pack a day we would spend $25 a day, so each morning we transfer this into our savings account. We save $9125 each year with this savings plan - a pretty good holiday for a family of six!
Contributed by: Cindy Franklin
Please don't assume that some of the things you are doing to save money are things that everyone knows about.
I was recently talking to a grandmother who only wanted one lemon from a pile of giveaways for her evening meal of fish. I suggested that she take a few more and squeeze the juice and freeze it in ice-cube trays, giving her enough to defrost for her dinner for months. She was absolutely delighted with the idea, while I thought it was something everyone would know to do.
I continually go through the Vault and take a few ideas for cutting costs in the budget and run with them, and then come back for more. It is part of my monthly list of things to do. Most of the ideas I already know, but sometimes something jumps out at me that I had forgotten about or had simply never got around to doing.
Contributed by: C.W
---
There's no denying, Simple Savings is a massive money saving resource and a question that often gets asked in our Savings Forum is 'where do I start?' If you feel a little overwhelmed and you are not sure what tips to start off your savings with, here are some threads from our helpful Forum members that will set you on the right path.
Mel is a brand new member and wants to get on top of her finances. There's just one problem - where on earth does she start? Which threads are the 'must-reads'? What parts of the site are the most helpful? You'll find all the answers here!
read more...
There's nothing more motivating than reading of others' saving successes to spur you on towards achieving your own goal. In this thread, Frangipani asks other Forum members to share their stories. A fantastic read that shows it really is possible to live the life of your dreams.
read more...
Linda asks the Forum members - out of all the saving tips they use, which one saves them the most money of all? This brilliant thread will give you heaps of suggestions for your 31 Tip Challenge!
read more...
Simple Savings members use countless tips every day - but Kaz wants to know, which one is their favourite. As the replies soon show, it's pretty much impossible to choose just one!
read more...
Do you have a personal challenge you need to save for quickly? This member is trying new tips and using every available resource, all while using the Forum to keep herself accountable!
read more...
---
It's been a fantastic few weeks for the $21 Challenge, with hundreds of families giving the Challenge a go for the first time after attending one of a series of talks given by Penny (Jackie) at libraries around New Zealand. The libraries were packed to the rafters with people wanting to learn the secrets to feeding their families with just $21! You can read all about them here.
From the library talks we discovered that many people genuinely don't realise how many of the most regularly bought items on their shopping list can be made from scratch for a fraction of the price. It was fantastic to see people racing to grab a copy of the book so they could learn how to make their own yummy sausage rolls, muesli bars and crumpets! Why not give a new 'make it from scratch' recipe a go for your 31 Tip Challenge? To get you started, here is a fantastic recipe for muesli bars from The $21 Challenge book, contributed by Sara Dias. Once you've tried these, you'll never go back to 'bought' ones!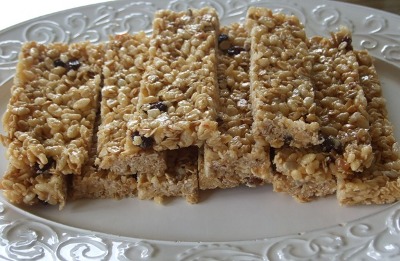 1 ½ cups toasted muesli (whichever type you have)
2 ½ cups Rice Bubbles (any brand will do)
½ cup coconut
¼ cup crushed nuts
125g butter
½ cup honey
½ cup peanut butter
½ cup raw sugar
½ cup choc chips (optional)
Grease and line a shallow baking tray (we recommend a 28cm x 36cm tray, which makes 30 standard muesli bars). Mix your muesli, Rice Bubbles, coconut and nuts together in a bowl. Put your butter, honey, peanut butter and sugar into a small saucepan and stir over a low hear until melted. Bring to the boil, then reduce heat and simmer without stirring for five minutes. Pour melted ingredients into the bowl with your dry ingredients and stir well. Leave to cool for 20 minutes or until it reaches room temperature. Add choc chips if using and mix well. Spread mixture into the tray and pack in tightly, smoothing with a knife or spatula. Pop in the fridge until firm. Slice and serve. These bars will keep in the fridge for three weeks - if they last that long!

To order a copy of The $21 Challenge, click here.
---
I am teaching my kids to cook, a process that began as soon as they were able to stand. They're taller than me now, so they are not learning very fast. Sometimes the outcome is edible, occasionally it's even palatable, but some days I despair.
I also worry. I'm a mummy and worrying is part of the job description but I do it to international standards. I lie awake at night worrying frantically - what will become of them when they are on their own? Will they die of food poisoning, develop scurvy or goitre or anaemia? (And will that reflect badly on me!)
I also worry - and this is far more frightening - about what they'll feed me when I'm old and can't cook for myself. Will they serve me salmonella soup and botulism beef? Will they clog my aged arteries with fat and finish me off for good? I'd rather stick a fork in my eye than eat some of what they are most enthusiastic about.
They love junk food - never mind it's all fried, to them fried is the 'secret ingredient' they love. There is little hope for me!
Last night the girl child cooked as her young chap was around for dinner. I rather lose my appetite when I am confronted by 16-year-olds in love - sooo many more things to worry about! However, it was interesting to see her ratchet up the effort, so maybe all is not lost. She also discovered that if she, or in this case he, doesn't eat vegetables you need a lot more main course. That the vegies in your meal aren't just nourishing, they're filling. An important and fundamental thing to know about preparing meals that she now understands, hurrah! Here are some others in the vain hope that one day she'll read them:
Learn to chop onions properly so they cook evenly and distribute easily though the dish, no nasty slippery chunks please!

Chop vegetables and meat into even size pieces, so they cook evenly and in the same amount of time
Use good quality equipment- heavy based pans distribute the heat evenly so you avoid 'hot spots' and burning
Taste before you season. Ingredients vary, depending on their age, freshness and storage method; always taste before you serve
Plan your meals so you don't over stock, run out of time or miss out an essential ingredient
Read the recipe through before you start so you know what order to proceed in (it's all too easy to drain the stock you needed for the sauce down the sink or miss turning on the oven)
Eat in season - fill the plate, sandwich, stew, snack box or whatever with seasonal fruit and vegetables. They are the cheapest and healthiest way to fill up.
This pasta sauce can be as simple or elaborate as you choose to make it. It is very low in fat, can be made in bulk and frozen or bottled and can be meat-free or used with a small quantity of meat left over from a previous meal.
1 onion, chopped
1 clove garlic, crushed
2 rashers of bacon - optional
2 celery sticks or a couple of courgettes, chopped
1 capsicum, chopped
1 tbsp olive oil
1 400g tin tomatoes
½ tsp sugar
1 tbsp tomato paste
1 tbsp basil pesto or 1 tsp dried basil or a handful of torn basil leaves
¼ tsp dried chilli seeds, optional
Black olives, optional
Sauté onions, garlic, celery, bacon if using and pepper in oil for about 5 minutes until lightly browned. Add tomatoes, tomato paste and sugar, and cook for another 5 minutes. Add olives, pesto and chilli seeds and mix into cooked pasta.
Any green vegetable seems to work well so use what you have got.
Other options - add a dash of wine or a couple of chopped sundried tomatoes, add some cooked chicken or seafood, add other vegetables like asparagus tips or chopped steamed spinach... Think of the sauce as a base and use your imagination. This is so quick, easy and inexpensive you need never open a jar of sauce for pasta again.
Serves 4
This style of meal is very quick to make and will work well with a wide variety of flavours. You could add bacon or cheese, salami or seafood - the possibilities are endless and the results are delicious.
4 medium potatoes, scrubbed
6 large eggs
1 tin whole kernel corn
1 onion, chopped
6 tbsp oil
2 tomatoes, chopped
Salt and pepper
Handful of chopped herbs - whatever you have, parsley, chives, thyme...
Cut potatoes into 2cm cubes and boil in salted water until just cooked. Drain and return to element for a few seconds to dry out.
Heat a little of the oil in a heavy based frying pan and sauté the onion till soft. Toss it in with the potato then add the tomatoes, salt and pepper, herbs and lightly beaten eggs.
Heat the remainder of the oil until very hot, give the potato, egg mixture a gentle stir then quickly pour into the hot pan and reduce the heat.
Cook the frittata on a moderate heat till the edges are quite set.
Heat the grill and place the pan under the grill until the centre is set and the top golden.
Run a knife around the edge of the frittata and give the pan a gentle shake to ensure that it is not stuck before turning out onto a warmed platter. Place the platter over the pan and quickly invert. Remove the frying pan and serve the frittata immediately with a salad and tomato sauce or salsa.
Sophie Gray is the author of the range of Destitute Gourmet cookbooks. www.DestituteGourmet.com
---
Feb 19, 2010
Today looks pretty much like any other from where I'm sitting. Out of the window to my left I can see Lake Waikare, dotted with white caps. Out of the windows right in front of me I can see farmland stretching as far as the eye can see, right up to the Bombay Hills. Out of the window to my right I can see a ring of shady trees and bright orange poppies waving in the wind. What makes today different from yesterday and the two thousand or so days before that is the 'For Sale' sign at the end of the drive. It's taking some getting used to, I can tell you! After almost three months in limbo, we have finally got the go ahead to move to Whangamata. Yesterday we put an offer on the house we have been dreaming of all summer and it's been accepted! Woohoo! Now we just have the small matter of selling our place to attend to...
Already I'm wondering how we can possibly bring ourselves to leave this place. It doesn't help that everyone I talk to asks how on earth we can bear to leave it either! There's no doubt it's a pretty special place. The hardest part for me is knowing that once it sells, we'll never be able to get it back. Somebody else will be picking fruit from our trees and sitting on our deck with a glass of wine, watching the incredible sunsets. But it's time for a change and in our case, it really is a seachange. Noel's ready for a new challenge, the kids are chomping at the bit to get to their new school - and me? I'll be a writer who lives at the beach! How cool does that sound? I think even I can learn to live with that!
Still, now is not the time for resting on our laurels. We've got a house to sell and who knows how long that could take in the current economic climate? For all we know I could still be looking out of these same windows in two years' time! Hopefully not but in the meantime we've got some serious goals to work on. The first one is to make our property look totally irresistable to buyers without spending a fortune. The second is to save as much money as humanly possible. From now on, every month is going to be a 'No Spend Month!' A small house on a 659m2 section in Whangamata costs the same to buy as our big house and two acres. Even if our house sells at the full asking price, we are still going to have to borrow more than $17,000 to cover the agent's commission fees and any other expenses which will no doubt crop up. If it sells for less than the asking price, we could be looking at considerably more. OK, so even if we do have to borrow it won't be a huge mortgage by any stretch but I hate owing the bank money, hate it!
So I'm really glad that my War on Debt calendar is showing a '31 Tip Challenge' for March, I reckon it's going to be a big help. I've already started digging out tips which will help me declutter and give the house a bit of a revamp for little or no cost, such as The Power of 'Sparkle'. A friend also told me about 'home staging' and gave me the link to a website called Homebase. While my budget doesn't stretch to having a team of professionals come and give my house a makeover, their site contains heaps of free tips and photos to show how you can achieve terrific results yourself. After checking out their website I decided to give it a go and I honestly can't believe the difference just moving a couple of bits of furniture around has made, I wish I had done it years ago! I look around this tidy, uncluttered house and can't believe it's mine. The only problem is, now I love my 'new' house so much, it's going to be even harder to leave!
A couple of years ago, a lovely lady wrote to me and said 'Do you realise what a wonderful legacy you are leaving your family with your blog?' I honestly had never thought about it that way so I decided I really should start printing my five years' of ramble off so that my children and even grandchildren can read it some day. I've yet to set a spare three weeks aside for putting the pages all in order, but as the printer churned out page after page I caught sight of all kinds of tips and snippets and it struck me 'Penny, when was the last time you tried something new to save money?' I mean, don't get me wrong, like many Simple Savers there are countless things I do every day to save money but it's all so automatic these days. While I'm patting myself on the back for making muesli bars or chucking baking soda down the loo for the hundredth time the Vault is still being topped up constantly with tips I've never tried or heard of before. The Hint of the Week email is a great reminder to give a new savings tip a go and I often do follow through with those but I confess I am guilty of spending too much time catching up on the Forum and not enough time catching up with new tips in the Vault. Which is criminal really because I'm missing out on the opportunity to make some brilliant savings! I mean, honestly Penny how hard is it for you to click the 'Recent Hints' button once a week and spend a few minutes taking some new tips on board? I'm the kind of person who would forget her head if it wasn't stuck on so I have just written 'CHECK NEW HINTS!' on every Monday in my diary for the rest of the year. That should keep me going for quite a while and that way I won't miss out on brilliant ideas like 'Sustainable Streets' - now that is something I would LOVE to do! *Sigh*, if only I wasn't moving!
As well as learning new tips, I've been learning just how rewarding it is to share tips with others. This week I gave a talk at Dinsdale Library in Hamilton. Once again it was packed and once again it was packed with people who desperately wanted to learn how to save money. So many lovely people stick in my mind from that day - such as the delightful pensioner who was on holiday from Australia and came up to tell me he and his wife put a quarter of their weekly pension into savings. 'That's how we were able to afford to come here!' he said proudly. Then there was the lady who confessed to me that she loathes baking, as I used to, and wanted to know what it was that changed my mind and made me learn to enjoy it. 'Easy', I told her. 'Pride! Instead of resenting the fact that the family keep scoffing your baking, be proud that they love what you make. Be proud that you have the skills to make yummy things for them and do such a great job of caring for them and making sure they have good food to eat. There's not too many people like us around, so be proud!' I also loved talking to the lady who came up to tell me that her pre-school daughter calls packaged food 'stale food'. 'I don't know where she came up with that from, but she insists she only likes her food fresh and will only eat home baking and fresh fruit and vegies. She even grows her own tomatoes in a pot!' A Simple Saver of the future if ever I saw one!
Without a doubt my favourite, however, was the lady who waited behind for ages until everyone had gone. 'I just wanted to say thank you for coming,' she said shyly. 'Oh, not at all, thank you for coming!' I laughed. 'No really - I only came here today to use the Internet because mine's been cut off. Instead I walked in and found you. I had a job interview this morning and I got the job. Next thing I know I'm sitting in the library hearing all these wonderful tips. I'm feeling so positive; I can't wait to give them a go. From now on, I think things are on the up for me!' Boy, that lady made my day! I guess my point is, it's not just learning new tips that makes a difference, it's SHARING them too which is just as important. Every single person who takes a few minutes to share a tip in the Vault or Forum is potentially making a huge difference to someone else's life, even if they don't realise it. I love Jamie Oliver's idea in his book 'Ministry of Food' where he encourages everyone who tries a new recipe to pass it on so that it helps someone else. In that case, we must all belong to the 'Ministry of Savings'!
2nd - Fast food
10th - No SAVE Month?!
16th - Gordon Ramsay where art thou?
---
We are often attacked by the septics for supporting homeopathy in this newsletter. Some say that it has nothing to do with saving money, it only works by placebo (people's imagination), it isn't a 'real' science and it is only practiced by charlatans.
So this month, Fran has called in reinforcements in the form of Robert Medhurst of Brauer Natural Medicine (www.brauer.com.au).
Robert refers to almost 500 real scientific studies testing homeopathic remedies including one supporting my personal observations that the 'costs of homeopathic treatment were significantly lower than conventional treatment'.
http://homeopathyplus.com.au/hplus/research/homeopathy-works-and-the-skeptics-cant-stand-it.html
---
Last month Julia asked:
"As the only single person in our family I feel the constant pressure when it comes to gift buying or even eating out when we are together. I constantly end up paying more than I should because I don't want to look like a scrooge but I really can't afford it. I have a well paid job but am trying to save as well which doesn't seem to be getting through to the rest of my family. I love spending time with my family, but I'm struggling to afford it. Does anyone have any suggestions?"
Thank you everyone for your swag of wonderful suggestions. With savvy ideas like these, Julia can relax and look forward to making some great savings, without fear of being labeled 'stingy'!
I earn more than anyone in my family but I'm also the 'tightest'. I don't get any stick for it though, because I'm generous with my time and emotions instead.
Several members of my family are financially challenged, so we discussed things and came up with a few rules. For Christmas, we only buy for one adult each, by drawing a name out of the hat and buying a gift with a limit of $50 to $70. We can all buy for each of the kids - there are only three nieces and nephews so far - but I'm happy to buy a combined present for around $30, such as a board game which they love. When they were really young they were just as happy with the paper and box that the present came in, so keep that in mind too! And always buy from discount retailers such as The $2 Shop.
I'm lucky that when we eat out as a family, Dad still pays. He's proud that he still can, even though his family is an average age of 40! But if he didn't, I'd be dividing the bill, because if I only buy one glass of wine then I'll be damned if I'm going to pay for the others' alcohol habits.
My final message is that if you are honest with your family they will be supportive and proud that you're being so goal oriented and focused.
Contributed by: Justine Stewart
Most restaurants only allow one bill per table, so you invariably end up subsidising someone else's meal. So if you go out for dinner, speak to the head waiter before sitting at your table and make it quite clear that you require a separate bill for your food. If you sort out the bill paying routine before you eat, there will be no dramas at the end of the meal and your family and friends will soon follow suit.
As for gifts, how about putting a monetary limit on all gifts or, if the family is large enough, do the 'names in the hat' routine, so you only have to buy one gift with an agreed price limit. That way, no one person can be seen to be miserly if everyone plays the game!
Contributed by: Caroline Marryat
In our family, we have a simple rule for gift giving. Only one gift for each couple if they have no children, and if they do have children, then we only buy for the children, not the adults.
When eating out, try to go to places where you can pay for your meal in advance, or where they will split the bill for you. It's also a good idea to purchase your own drinks, rather than getting into shouting rounds.
Contributed by: Amanda Brent-Kay
When I was single, my family didn't understand that I wanted to save for a house instead of forking out lots of money on gifts. They laughed at me and joked that I should simply marry a rich husband!
In spite of their 'advice', I went to the bank and opened a first home saver account, putting a small amount away each week. I know I'm some way from buying my own home, but my savings are growing and I'm happy to see that I'm earning $5.00 interest every month, which increases as my savings grow. You may not be saving for a house, but you need to secure your own future, which some in your family might not see. They think someone else will fix it or sort everything for you, so it's good to see you doing it for yourself. I think you should also put a portion of every pay towards your savings goal; count it as a bill which must be paid with your other bills. Then, you can enjoy what is left over.
Don't be afraid to buy gifts in variety shops and discount retailers. They have lots of different stuff for low cost gifts. For example, buy some cheap glass jars, fill them with lollies or home-made bickies and decorate with some ribbon and a gift tag.
You never know! Once you put your foot down and take a stand, others may say they feel the same and want to change their gift giving practices.
Contributed by: Chloe
I'm a single person who enjoys dining out with the family. To make this experience affordable as well as enjoyable, I collect shopper dockets that feature meal deals in my local area, for example, 'buy one main meal, get one main meal free'. I use these dockets with other family members to share the cost. In this way I might only pay half of the regular cost of my meal!
Contributed by: Annette Nott
Spending quality time with your family is better than money and gifts - but are you giving quality time to your family? Are they giving quality time to you?
Perhaps you need to develop a better line of communication with your family. If you've been over generous, then you have to pull back instead of giving lots of gifts in the name of love!
You don't need to spend money to show love to your family. I know you feel you should - I have felt that pressure too - but has it occurred to you that they may just want you to turn up and say 'how's it going?', or perhaps offer to help cook dinner that night? That costs nothing, and your family would be so pleased to have you there!
In my case, my nieces jump all over me when I see them, probably hoping for a gift. But when I don't have a gift for them, I simply say, 'Sorry, no pressies today. But let's do this instead!' We then go and blow bubbles with a smidge of detergent and water, jump in puddles, or whatever! By diverting their attention away from money and gifts, and onto a fun activity, the lack of gifts becomes a non issue.
So, if you think you have to outlay a ton of cash each time you see your family, think again! You may find that your family doesn't expect financial outlay from you, just your time! So be open minded and give it a try - it may just work.
Contributed by: Lisa Delace
I am a single person with one child. When I spend cash during the week, I always break a $10 or $20 note and put the change straight into my coin purse. When I go out for dinner with other people, I take my coin purse so I know that when the bill arrives, I will always have exact money to contribute and won't feel embarrassed about asking for change; I also don't have to leave a larger tip than I'd like.
Before the menu gets taken away, I make a mental note of the cost of my meal and drinks. When other people order garlic bread, alcohol or other extras that can mean an extra $10 or $20 on the bill. If they then suggest that we share these extras, and if that's not what I want to do, I just say I don't like garlic bread, tell them that I just want my main, or say I'm having an alcohol-free weekend. By doing this, I don't feel obliged to contribute to dishes or drinks that I didn't want to order.
When it comes to gifts, my strategy is to save up points on my credit card reward program and redeem the points in store gift vouchers a couple times a year. With all my household bills set up as direct debit on the credit card, I usually earn enough for a $250 voucher each year. I wait for sales and buy gifts with these vouchers. I get to buy nice presents for people without feeling like it's a big out of pocket expense. Of course, I always pay my credit card balance monthly so I never have to pay interest.
Contributed by: Tania Orum
To save money when dining out, I always buy an entree size meal for my main, and either share a dessert or have a coffee. It costs far too much to have every course. I also pay for my own meal, and I never offer to split the bill evenly, especially when the others eat up large. I also choose somewhere affordable, and only dine out once a month. Works for me!
Contributed by: Colleen Parr
If you can't afford something, say so!
I had friends who constantly wanted to go out with their kids to indoor parks and other money wasters. I knew I couldn't afford it, and I had the guts to say NO. I am cutting debt due to this simple word, while the others are getting deeper into debt. Believe me, you will feel good when you see your money piling up... so learn to say no!
Contributed by: Julie E
My family often organises get-togethers once a month, doing inexpensive things like:
Enjoying a picnic at a centrally located park. Everyone brings a dish such as sandwiches, cake or fruit salad. Parents should bring slightly bigger dishes, to cover for the children. Just make sure you coordinate with your family, so you don't end up with six bottles of soft drink and no food!

Games night at someone's house. Again, bring a dish, whether it's a cheese platter or yummy home-made dip with some crackers.

Pot luck dinner. I'm sure someone else will suggest this but you can't beat a pot luck dinner. Pick a theme for the night, for example, 'Mexican' and everyone brings a suitable dish such as nachos, tacos and burritos. There are plenty of options here.

Go to a local attraction - my family recently did the Quarantine Station ghost tour in Sydney - where each person pays for their individual entry. Something like this works well when paired with a picnic.
If these things aren't an option, maybe talk with your family about how you feel, and explain your financial situation. They may not even realise that you feel pressured to spend beyond your means. Or when eating out, divide the bill according to what you've actually spent. If you've had one glass of wine and pasta, only pay for that. This isn't being a scrooge; it is a fair way to cover your meal that doesn't see needless money coming out of your pocket. For shared dishes, like garlic bread or side salads, split the cost fairly.
Contributed by: Caitlyn Murphy
---
This month Kate C asks:
"I've just been told by my boss that I'll be working 20 hours a week from next month instead of 37. I have no choice - it's either 20 hours or nothing and everyone else has been told the same thing. But I won't be able to make ends meet and my husband cannot work at the moment because of a knee reconstruction. The mortgage is the biggest worry, but if I pay that I am really scared I won't have enough pay the rest of the bills. What should I do? I really don't want to lose our home."
Poor Kate! Many of our members have found themselves in similar situations so we know you must have some helpful answers. Send in your tips for Kate here.
---
Last Wednesday night I couldn't sleep. My wasteful and muddled book-keeping ways had haunted me for the past year or more and got me terribly into debt. I had dollar signs and numbers running through my head - what to pay when, who I'd forgotten to pay and how much I was wasting in overdue charges - all from being disorganised and overspending. It was a total nightmare! I woke up in a cold sweat in a genuine state of anxiety. I could bear it no longer!
At 3am I got out of bed and sat in my PJ's in my little study ready to take action. Between 3am and 5am I crunched numbers, drafted a simple budget and ploughed through all my disordered paperwork - unpaid bills, reminders, threats...the lot! I set up all recurring credit card and regular bills on my Outlook program in bright colours. Then I downloaded the Monthly Bill Summary, Monthly Bill Planner and Pay Day Planner from Simple Savings and got them all up to date. I have a lovely new folder which has become the centre of my Home Accounts now! There were two long standing accounts I was really worried about. I wrote an email to both, saying I intended to pay and asking if I could pay via a weekly schedule (as both were threatening to start legal action). I have now earmarked 20% of my salary to go to these so I do not incur a bad credit rating. I have also just faxed off a request to Veda Credit Advantage to get a current report to ensure all my details are accurate and up to date. I have also just emailed my tax accountant to make an appointment next week to get my late tax up to date.
Those couple of hours were very busy - but oh how well I slept when I returned to bed at 5am! I am not out of the woods yet but I have made a very good and determined start. I am ready to put my old ways well behind me and move forward!
Contributed by: SmileyJo!