Hello,
Thank you for all your wonderful feedback about the changes to our newsletters. We're so glad to hear you are enjoying the new, shorter format!
"Love the new format & determined to make some positive changes this year, both in lifestyle & finances!" Tracy C
"Just want to say what a great idea it is to send smaller emails more often, I get withdrawal symptoms waiting for the monthly ones!" Trish B
As always, if you have any feedback - good or bad, please write in and tell us. What would you like to see in your Simple Savings emails? Which savings topics which you most like our help with?
I look forward to hearing from you.
Many grins,
Fiona
---
"Oh good grief, it just gets worse!" Sally said, looking at her computer screen in panic. "What gets worse?" asked Hanna, through a mouthful of sandwich. "What do you think? All this stuff about Donald Trump, it's all over Facebook", Sally waved a hand at the screen. "Honestly, I haven't slept properly in days! Don't you worry about what's going to happen to you?" she looked wide-eyed at Hanna.
"Why, what's going to happen to me?" Hanna smiled, still calmly eating her sandwich. "Don't you know what this could mean for us? We could lose our jobs, our homes, anything! Honestly Hanna, I thought you of all people would be up with the play", Sally glared. "I am up with the play!", Hanna replied. "But there's no point worrying about it; we're already doing everything we can. It's business as usual in our house."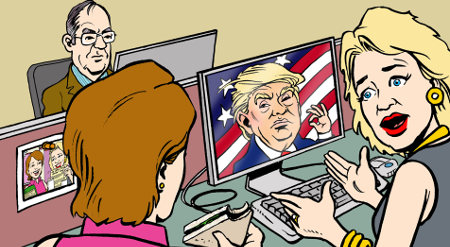 "What on earth do you mean?" Sally asked. "I mean things don't have to change", smiled Hanna. "We just live frugally the way we always have. When you know how to survive on a tiny budget, you are always prepared for whatever life throws at you. Relax, Sal! It will be alright." "Do you really think so?" Sally looked hopeful. "Yes, I do", Hanna replied. "If you're really worried, grow a few vegies in the yard and get some chickens. Balance your budget and focus on building yourself a nest egg. You'll get through." "Well - that makes sense. I feel a bit better now", said Sally "Thanks Hanna! Build myself a nest egg, you say? Guess I'll definitely need those chickens then!"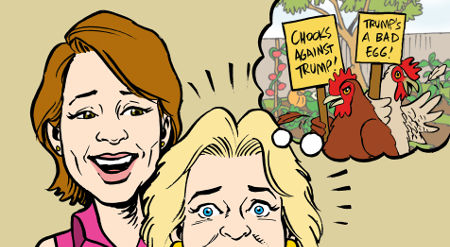 Next time: In our next newsletter we will talk about some easy ways you can get started building your own nest egg. Chickens are optional ;-)
---
I am spending a fraction of what I used to on food and other groceries since I set myself a $10 top-up challenge! Every few days I would go to the shops to top up bread, milk, butter, tomatoes and other essentials. However I found invariably I would need this or that that hadn't been included in my regular grocery shop and I would end up spending about $20-$30. Not any more though! Now I walk in with only $10 and stick to the $10 top up budget. For example, today it was bread on sale, chicken drumsticks and hot cross buns, which came to a total of just $8.50. I am much happier with the new, lower amount! Walking in with $10 for top-up groceries is challenging but also saves us money as we use whatever is at home and there is a lot less wastage. Happy me, happy wallet and happy environment!
Contributed by: PlanB
---
We love to hear all your favourite ways to save money. Share them with us today and you could win a year's free membership to the Simple Savings website! All it takes is a few minutes to enter and the winner gets to enjoy access to thousands more brilliant money saving tips and resources in our precious Savings Vault, as well as everyone's favourite, the Savings Forum. To be in to win, send your tips in to us here. You can enter as many times as you like, so don't be shy!
---
That's all for today. If you want to get a head start on building your nest egg before the next newsletter, visit our website - there are stacks of brilliant tips waiting to help you save money right now!
Until next time,
Fiona