This issue includes:
January Calendar Topic: Eat Together at the Table
The Savings Vault
Competitions, Competitions, Competitions!
Funky, Affordable T-Shirts
Free 2018 Calendar
Hint from the Savings Vault
---
Hi,
Merry Christmas! I hope you are having a lovely December and you like your Simple Savings calendar for 2018. We made a slight error in the calendar on the month of December. If your December doesn't start on Saturday the 1st, please download our revised calendar.
All the best,
Fiona
---
Did you know that eating dinner in front of the tellie makes you fat, and eating dinner around the table together as a family makes your kids smarter, healthier and wealthier? That may sound hard to believe but it is true. Researchers have found that children who enjoy eating dinner at the table with their family:-
Have a lower Body Mass Index
Get higher marks at school
Are less likely to take drugs
Are more likely to be wealthy
Eat more nutritious meals
But these are not the reasons why my family eat dinner together every night. We do it because it is FUN! We laugh. We tell jokes. We play games. We tease each other. We chat. Eating dinner together is our favourite part of the day.
I believe encouraging others to spend more time at the dinner table in 2018 is the simplest way we can help each other have a happier and healthier year.
There are many reasons why 36% of Australians admit to eating most of their meals, when home, on the couch while watching their favourite TV programs. 33% of teens and 50% of people aged 20-34 never eat together.
Some of these reasons include: they live alone, they are busy, and they don't see eating together as a priority. We want you to make it a priority. Eating and meeting at a screen-free table for an hour each night is the most important thing we can do.
But how can you go from never eating at the table and always having the tellie on during meals, to screen-free table time? Start by making it fun to eat dinner together. We are helping you do that by making some printable games, jokes and conversation starters for you to use at the table.
Download them and give it a go!
---
Remember us? A Savings Vault membership is your entry ticket to nearly 19,000 hints, our fabulous Forum and our premium Downloadables. Membership gives you access to all of this, and more, for 12 months.
Vault memberships are our only source of income. We do not accept money from advertisers because we want everything we do to be in your best long term interests. If you like hearing from us please show your support by getting a Vault membership.
---
We have many competitions planned for you in 2018. Starting with these three:
We would like to see more of the funky, affordable t-shirts everyone has been making. If you have made a shirt with an iron-on transfer and an inkjet printer, take a photo of it and email it to us and/or post it to our Simple Savers Facebook group.
The best photo sent to us before 15th January, 2018 will win $50. The competition terms and conditions are here.
We would like you to share photos of your family and/or friends at the table in January with our Facebook group. We are giving a $50 prize to the most popular photo/post at 10pm on the 31st January.
The competition terms and conditions are here.
We give away one 12-month Savings Vault membership per week to the person who sends in the best money saving hint. Everyone can enter. If you are already a member you win an extra 12 months added on to your existing membership.
Enter your hint here.
---
In case you missed it in last month's newsletter we have started making t-shirt transfers so you can make your own funky, affordable t-shirts.
T-shirt transfers are a great way to have funny shirts for an affordable price. This is how they work.

This week we have added...
See all the other designs here.
---
Start 2018 organised, happy and ready to go with The Simple Savings 2018 Calendar
To any early birds that have already been there, done that, please note there has been a correction to December 2018 (the calendar version, not the actual month in real life). Thanks to one of our eagle eyed members, we discovered December started on the wrong day. Please download the amended version.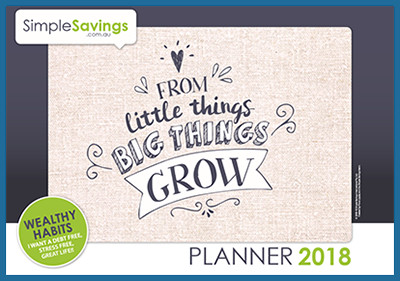 ---
Thank you to Allen, just in time for Christmas:
Rescue cast iron crackling easily and quickly by using the microwave. When the roast comes out of the oven, remove the crackling, wrap it in paper towel and pop it into the microwave on high for 30 seconds. Remove it and check. If it needs more, repeat until the crackling is all puffed up, but be careful not to overcook it because it will burn if left too long. The finished product is perfect crackling every time.
---
Thank you for your support this year. I hope you have a very merry Christmas and a Happy New Year!
Many grins,
Fiona Lippey
91eac76449dea00de3011f5309e3