This issue includes:-
Sad Sally, Happy Hanna: What a Waste!
April: The $21 Challenge
Best of the Vault: Take the $21 Challenge
Best of the Forum: Waste Not, Want Not!
Best Members' Blog: Cast Your Net Wider for Even Better Savings
Mimi: Baked Ricotta Feeds Us for Breakfast, Lunch and Dinner
From Last Month: Keeping Our Seniors Safe
This Month's Help Request: Getting Saucy!
---
Hello!
It's April! We hope you enjoyed a happy Easter with your family and friends. We had great fun making a few Create-aways in March and have added them to our regular menu plan. This month I want you to think about how much food we waste - I found this fantastic info-graphic which illustrates it perfectly:
www.lunchalot.com/foodwaste.php
It really makes you think doesn't it?
I always love hearing your savings ideas and stories and tips! Here are some of my favourites this month:
"I really enjoy reading your newsletters and particularly about how other members are putting all the tips and tricks into good use. A lot through necessity (unfortunately) but the importance and pride that they're taking in making ends meet is really lovely to read about. Kudos to you for sharing the tips and building such a community." (Kate)
"Hi Fiona. I'm a new Forum member and had to email and tell you how much I've learned, just in the last week. I am loving the information and support from your Forum members. Thank you!" (Saskia)
Have a great month!
All the best,
Fiona Lippey
P.S. Our Simple Savers Facebook group has 5000 members and is getting busier every day. Come and say hello.
P.P.S. Our gardening guru Rob Bob is having a break this month but if you need a fix, you can find him here.
---
Hanna jumped up from her chair and slammed the newspaper on the table. The headline read, "We waste 20% of all food we buy!" She turned to Sally and started to rant, "Did you know that for every five bags of groceries people buy, they throw out ONE bag COMPLETELY UNEATEN! That's like throwing $20 in the bin every time you spend $100 on groceries. $20 in the bin! Can you believe that, Sal?"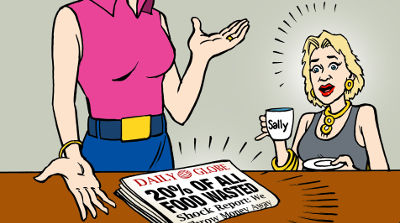 Sally looked sheepish, "Yes, Hanna, I can actually. I used to throw out that much food." Hanna frowned, looking perplexed at Sal. "Really? What changed?" Sal looked embarrassed. "Well, umm... you changed me. You told me about the $21 Challenge and well, at first I thought you were slightly mad! But then I actually DID a $21 Challenge and it taught me how to use up everything I already had in the cupboard and fridge. I realised I was letting food go to waste and then going shopping to replace it! Who was the mad one?!"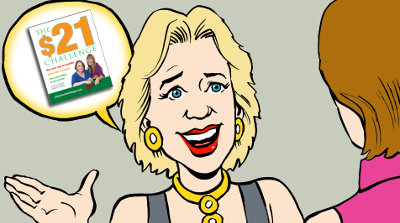 Hanna laughed, "Sal, I think you have the answer right there. The whole world needs to do the $21 Challenge!"
---
We think Hanna is on to something - imagine how much less waste there would be if more people did a $21 Challenge every now and then! The $21 Challenge is the ultimate way to ensure you have no waste in your kitchen. It's time to 'Face the Waste'!
Your challenge this month is to not throw any food away. This month we want you to do as many $21 Challenges as you can, but not just to save money; to avoid waste. We want you to use up every last scrap of food you have and stop taking it for granted. There is a huge amount of energy, time and resources going into producing our food so don't throw it away - eat it! If you focus on this for one month, you'll find your habits changing. You'll be using up the food you buy without having to think about it. No more throwing money in the bin!
Obviously you'll still have to buy groceries this month, but perhaps you might do a $21 Challenge your first week, then spend $100 on groceries the second week, $150 the third week and so on. The aim is to 'Face the Waste' and stop wasting precious food. For those of you who haven't heard of the $21 Challenge, click here for much more information.
There are hundreds of threads in the Forum and we'll post information, ideas and recipes on our Simple Savers Facebook page
We'd love to hear how you get on so please let us know! Good luck!
---
The $21 Challenge is a fantastic way to save money, stocktake your fridge and cupboards - and have fun doing it! Here are some great ideas that will help.
School holidays are more affordable with the help of the $21 Challenge! Money seems to slip away so effortlessly while out having fun with my teenage kids. Budgeting is something I am trying to teach them about but it is hard to make it relevant sometimes. Then I had a great idea that would make them pro-active with the weekly budget over the holidays, without me being a 'budget nag'.
It is the $21 Challenge week, with a twist. THEY have to go and log all the food in the freezer and pantry, and make up the meal plan for the week. Then all the money THEY save us for the week can go towards some guilt-free fun. It's a great incentive and my kids are learning important household skills.
Contributed by: Louise Blackmore
I used to waste quite a bit of food as family members would move stuff around the fridge and freezer until it was hidden out of sight. So I bought two small magnetic whiteboards for around $7.00 each and put one on my fridge and one on my freezer. I now note down the opened items, fruit and vegetables and leftovers in my fridge and freezer - because of this I now know what is in there and I can make up menu plans accordingly!
Contributed by: Sue Brown
Next time you run out of eggs, don't panic! Due to the expense of buying eggs and not having any on hand, I recently decided to try using two tablespoons of cornflour per egg in a biscuit recipe. I then added milk and the biscuits turned out exactly the same!
Contributed by: Dana Grayling
With a little effort, you can make fabulous meals with very humble ingredients. For example, home-made gnocchi requires less than a kilo of potatoes, some flour and two egg yolks to feed four people. Gnocchi can be dressed simply with some butter, herbs from the garden and Parmesan. Another tasty option is to puree some baked pumpkin and garnish with fried bacon and sage. Both meals are superb.
Ingredients:
800g potatoes - choose same sized potatoes so they cook at the same time
2 egg yolks
100g plain flour
Salt
Method:
Bake potatoes in their jackets for about one hour or until tender in a 200C oven. Peel, then mash thoroughly. Add egg yolks, flour and salt. Knead well until the dough is elastic. Shape dough into small balls and make long rolls as thick as a thumb; it is best to do this on a lightly floured board. Cut into 2cm segments. Press each segment gently with a fork.
Place in lightly salted boiling water, in batches, until they rise to the top; about six minutes. Remove with a slotted spoon. You may need to keep the cooked batches warm in the oven while you cook the rest.
Buon appetito!
Contributed by: Louise Saw
---
It can be hard to start your first $21 Challenge - but once you start, you'll be hooked! Here are some great ideas to get you started:
Financially Fit Mum is on a mission to avoid expensive takeaway - and she wants to be prepared!
read more...
Sourdough could be an easy, versatile and tasty idea for your $21 Challenge week - what are you waiting for?!
read more...
Our wonderful Forum members have some great ideas for pizza scrolls - great for morning teas, famished teens, lunches and easy dinners.
read more...
There are so many good ideas collated by Claire here, you're going to need a cup of tea, or two (!), to get through them.
read more...
---
One of the many benefits of being a Vault member is that you can win $100 cash each month for your Simple Savings blog! Starting your own blog on the site is easy. All you have to do is log into the Vault, click on 'My Desk' at the top left, then 'Your Blog'. Then get writing! We love reading all your money saving trials and tribulations and really appreciate the effort that goes into each one.
This month's winner is Leejay, our 'Urban Hunter Gatherer'!
"I am a serious Urban Hunter Gatherer. I stalk supermarket mark-downs and clearance items with a seriousness that borders on obsession.
There are four supermarkets within 3km of where I live and I thought I knew what to expect from each one. But yesterday I learned something. Just because a shop is part of a chain, doesn't mean that they all work in the same way.
For example, my local big name supermarket marks down meat approaching the use-by date by a dollar or two. Catch it the day before use-by and this can be as much as 25% to 50% off. Not bad. The same supermarket chain in the next suburb starts their mark-down process at a 50% discount, which reduces as the use-by date approaches. This can give a discounted price of 50% to 75%.
Here are a few tips for buying marked-down meat.
Always keep the receipt. If it is not fresh, take it back. Even though it is a mark-down, it should still be edible.
Freeze immediately. Don't drive around all day with your meat in the car!
Large cuts can be great value. Slice or dice and freeze or cook straight away for cold meat cuts.
Deli items close to use-by can also be frozen. I regularly freeze dips, yoghurt, cream, milk and whole luncheon meats like Strasbourg. (Note - sliced meats don't seem to do as well in the freezer in my experience.)
So don't pass a supermarket! If you have time, pop in and take a walk around the walls. This is where you will find your fresh items and the best mark-downs. And remember shopping Karma - don't be greedy! Buy what you need but leave one for someone else. That way next time you look for bargains they will be there just waiting for you."
Well done Leejay!
You can read more of our members' blogs here.
---
Baked ricotta is the easiest thing ever. It's a bit like a cross between a quiche and a savoury cheesecake and is really versatile. I made one this week in a silicone loaf pan. We had it as breakfast the next morning, served on toast with rocket leaves and oven-dried tomatoes. The next day I sent it with my daughter for lunch, diced on top of some salad leaves, and my husband and I enjoyed it broken into chunks and tossed with rice noodles, wilted baby spinach and a drizzle of garlic infused oil. Then last night, we had it cubed and mixed with steamed sweet potato chunks, chick peas, corn kernels, fresh herbs and brown rice. All were pronounced keepers.
Now there are only three of us, one loaf has lasted us well. If you have a larger family it either won't stretch as far or you'll need to increase your quantities. You can double or triple quantities of ingredients to make a larger loaf or several small ones.
This makes a great addition to a platter of nibblies too, either as a whole loaf with ciabata or crackers and a knife to carve slices, or in cubes or ready cut slices atop anything from slivers of tomato and cucumber, to Melba toast and wraps. It's really economical compared to gourmet cheeses or bought quiche or other nibble type things too.
You'll need:
375g tub ricotta
2 eggs
½ tsp each garlic granules, dried onion flakes, dried chilli flakes, dried oregano and dried basil, or fresh or minced equivalent quantities
A silicone loaf pan or a Pyrex or bakeware one, sprayed with cooking spray and lined on the base with baking paper
Then just:
Preheat the oven to 175C fan forced or 180C normal.
Tip the ricotta into a large mixing bowl and add the other ingredients. Beat with a wooden spoon until smooth and well combined.
Scoop the mixture into your prepared pan and bake for up to 75 minutes, until firm and springy to the touch in the centre.
Remove the loaf from the oven and allow it to cool in the pan. I usually leave ours in the pan at this stage, covering the surface with cling wrap to prevent it drying out in the refrigerator.
Carve slices as required.
Yum. :)
You can get updates on Mimi's new blogs on the Simple Savings Facebook page
or in our Members' Blog section.
---
Last month Jilly emailed us about ideas for keeping her elderly parents safe at home.
"Can I please ask your subscribers for help? I am trying to help my elderly parents stay at home as long as possible and wondered if people had ideas and tips to make their home 'safer' for them. I'm also looking for ideas so we can make life easier for them as well."
We were absolutely overwhelmed with your fantastic ideas for Jilly, thank you! Here are some of our favourites!
The Commonwealth Government funds a program to help anyone over 60 remain in their own home. It's called Home Assist in Queensland and something similar in other states. Through this service, people are able to have an occupational therapist come out and assess their home and make recommendations and the service will then assist in having the work done.
Through Home Assist my mother had grab rails installed in the shower, hand rails installed on steps and stairs, and smoke alarms installed. They will come out on request to change light bulbs that are out of reach.
There is a small fee for services such as the occupational therapist. For work done by the on-staff handyman, all we needed to do was reimburse them for the cost of the materials. If home repairs/maintenance is needed, they will recommend tradesmen who have been vetted so you can be confident elderly people are safe.
Home Assist Secure, Queensland
Contributed by: Jennifer C
You can get help for seniors from a website called myagedcare.gov.au which is run by the government. There is information on what services are available, hints for carers of aged people (through an organisation called HACC) and a telephone number where you can reach them. They will advise on what subsidised services are available, such as handyman jobs, lawn mowing, gardening, meals and transport.
My husband is a disabled pensioner and I am his carer. After a recent visit to hospital we had a consultation with an occupational therapist who advised us on safety at home - such things as a seat in the shower, rubber mats on bathroom floors and handrails for outside access to the garden. In addition to this it helps if you get your family to assist with decluttering your home. If you haven't used something for the last two years, then you need to dispose of it.
Contributed by: Norma King
Help keep seniors safe at home by getting them all the help they are entitled to.
An ACAT (Aged Care Assessment Team) referral would mean they get an assessment of their needs in the way of home care and from that the possibility of a Home and Community Care Package. This can be up to 14 hours assistance a week, dependent on their assessment. Allowing a small amount of time for admin, they could reasonably expect assistance with personal care (showers), shopping, household duties (cleaning, ironing), doctors' appointments and even meal preparation. All of this can relieve the stress of coping and make it easier to remain in their own home for as long as they can.
These packages are Home and Community Care funded and require a co-payment usually $5.00 per hour of assistance given. This is a lot cheaper than private assistance and Community Carers are police checked and are covered by insurance. An ACAT assessment may mean you can access a yearly spring clean at a reduced rate or free of charge. Also, your details are in the system should your needs change and this could expediate access to services in the future.
Contributed by: Glenys Smith(Gordon)
The NSW State Government's Department of Health is conducting free courses on fall prevention. The course I attended was called 'Stepping On'. It was two hours at the local hospital, run by physiotherapists and had lots of information on diet, hearing, coping with failing hearing and so on. There were many tips on how to improve the home environment to reduce the chance of falls. They will also come out to our home and assess safety issues and recommend improvements. I learnt a lot!
Contributed by: Barbara
The Volunteer Task Force is a not-for-profit organisation that helps frail and aged in their own homes. They help with gardeners, cleaners, drivers for outings/shopping and also help to make the home safe.
Contributed by: Julie Buxton
Here are a few things you can do to help elderly parents:
Cook meals ahead of time for them and freeze them in individual portion sizes to be reheated in the microwave
Install handrails in the bathroom and toilet to make it easier
Get non-slip mats for the shower, bath and any wet areas
Move furniture around in the house to make getting around easier and move any trip hazards such as electrical cords or smaller pieces of furniture
Get extra help from friends and neighbours (or an organisation) to do gardening or any heavy work around the house.
Contributed by: Clare I
One of my big worries with elderly parents has been about them managing money. If you don't have a Power of Attorney for your parents, do it now. Even without a Power of Attorney you can become authorised to access your parents' bank accounts. Arrange an appointment with a bank officer for yourself and your parents, and once you have access you can arrange for all bills to be paid automatically.
Any occasional accounts such as those from tradespeople can also be paid from bank accounts which reduce the need to carry cash and reduces the likelihood that a dishonest person will try to overcharge them. Services such as GP, dentist and pharmacy will usually agree to send invoices to you so you can pay your parents' bills by bank transfer.
Next, teach your folks how to use PayPass safely. No more standing at a checkout unfolding bills from their wallet or standing there saying their PIN aloud because they have trouble remembering it. Sure, PayPass has its own pitfalls, but I think it's safer on balance.
These few steps have helped me to feel more confident about my mother's safety, and they have helped her to feel confident to go on managing as much of her business as she possibly can, which keeps her engaged and independent. Wins all round!
Contributed by: Kate Hitchens
I was recently worried about my elderly mum who lives alone. We have set up an alert system whereby if she doesn't email or phone her sister before 10am every morning, her sister will drive round to check on her (she lives close by, whereas I am an hour away).
We also moved the most-used items in the kitchen to the easiest to reach cupboards, same with bathroom and linen cupboards. We installed a gate across the entrance for extra security and got a personal security button in the event of a fall. She has large key phones and keyed alike door locks for ease of use. It was an easy process and only took a few hours, and I am at peace with what we have done for Mum (for now!).
Contributed by: Helen D
For help in the home for elderly parents, their GP can refer them to either an occupational therapist or the Aged Care Assessment Team who will have many ideas on home safety. Some of those may include non-slip mats, removal of bath/stepped-up showers, adding handrails, removing trip hazards and so on.
Some of my favourite tips relate to adequate lighting. You can buy touch-sensitive bedside lamps that are very easy to turn on with no switches to fiddle with. Certain small lights can be plugged into power sockets to light the way to the bathroom and turn on automatically once dark. Lighting is very important in falls prevention as is removing excess furniture.
Multiple phone lines with handsets around the house might also be helpful. 'Emergency Alarm Pendants' such as Vitalcall that hang around the neck and can be pushed in an emergency are life-savers, and sometimes they are discounted if you order them online.
The Government has put quite a bit of funding into services coming to people's homes which are designed to keep them in their own home for as long as possible. If we don't use them we lose them!
Contributed by: Jenny W
To help keep elderly people safe at home, make sure that there are sufficient railings near stairs or steps (and don't forget outside in the garden). Put locks on windows and doors if possible but otherwise get some dowel from a hardware store to put into the groove behind the window when closed. These are easy, as when the window is open the dowel is not in place but it reminds one to shut windows before retiring or going shopping - put the dowel on the table so it reminds them there are windows open.
Check with Meals on Wheels for possible visits if needed, and for home-made meals you can batch cook but make sure they know how to use the microwave safely! (Hint - when meals come out there is a large amount of steam, so leave for a few minutes, pry off one edge and then open lid or remove plastic.)
Contributed by: Judith W
I work for an ambulance service and hope these tips may help keep elderly people safe at home.
Look for a personal alarm system. They can be a button on a pendant or watch-style and can be as simple as a unit attached to their phone which calls five numbers until someone answers. There is also a monitored version (available through some home security services or possibly your state ambulance service). There are also organisations such as St John's who make daily phone calls to check on older people. If your Senior gets on well with a neighbour, maybe a signal system may work, for example, if the front blind isn't up by a set time, the neighbour can check on them.
There are services available to assess the home for falls risks like floor mats, steps and so on. Talk to their doctor or council to find these. They may also be able to help with things like rails in the toilet/bathroom, seat raisers for the toilet and blocks to help elevate lounge chairs/beds.
Ask their GP to regularly assess their mobility, especially after they've been ill as they may lose their health quickly, or if there's been any changes physically or mentally. Even medication changes can play havoc with people's well being.
Pharmacies will make up weekly blister packs (Webster Pack or similar) for any medications to make taking tablets daily a lot easier.
Set up a keybox or spare key hide and give the location/code to family, a trusted neighbour and the local ambulance service - it saves breaking windows or doors in case of emergency.
If getting in or out of a car is becoming a problem, a plastic shopping bag (and towel in warm weather) on the seat can make pivoting in and out easier. There are also 'hand grips' available that hook onto the door latch on the car's pillar for extra leverage.
Make sure smoke detectors are in good working order. They can also be set up with a flashing light for the hearing impaired.
Check any temperature controls on hot water systems as frail skin burns easily. Storage systems need to be hot enough to prevent Legionnaires Disease, but not hot enough to burn.
Review lighting in the home for those nocturnal trips to the loo.
Check the toilet door (if it's not in the bathroom) and see if they can be retro-fitted to open outwards for easy access in an emergency.
Look at cupboards and storage in the home and put regularly used items in easy reach to prevent falls, rather than too high or low. The best height is shoulder to thigh height, definitely no lower than the knee, and at a height that doesn't need them to climb or over-reach.
If arthritis is a problem, look into assistance products available such as those for opening jars, turning taps on and off and so on.
Meals On Wheels or assistance with weekly shopping is available. Check the fridge and freezer for use-by dates or food that's been there a while to prevent food poisoning.
If they use wheat bags (hot packs), beware that these can catch fire or scorch furnishings and fabric if frequently reheated - or worse, burn frail skin if they get too hot.
Take notice of unusual smells in the home, for example, a strong smelling urine may indicate a urine infection. Elderly people will very often display some confusion with this as well, but it's usually easily treatable with antibiotics.
Locum services are an option for short notice, unscheduled home visits for minor issues. If you are at all unsure, please ring your ambulance service for advice. They'll let you know whether they'll send a crew to them or if a locum service is a better option to help.
Contributed by: Caroline S
A couple of quick tips for ageing parents:
A major cause of misery can be a fall causing pain, expense and immobility. Falls do not have to be a part of ageing. Joining a Tai Chi class increases balance, flexibility and leg strength and will help prevent falls in the future. Classes are pretty reasonably priced (compared to pilates!). I have seen people who have done Tai Chi well into their 80s who look 20 years younger!
Watch out for slippery concrete drives and pathways - keep them water blasted.
Make sure steps are not slippery when wet - a covering of stair mesh will help give better grip.
If parents call your number last thing at night, they will only need to press the re-dial button if an emergency strikes in the night, and won't be struggling to remember a number in a time of stress.
Contributed by: Tessa R
There are quite a few easy fixes around the home to keep elderly people safe:
Get a cordless phone with a big number keypad and pre-program important numbers.
Make a list of contacts, for example, a trusted neighbour with a key that can check on them if needed, their doctor and list of medicines and so on.
Place seats in strategic locations such as next to the phone, in the bathroom and bedroom.
Check handles and change to quality suction cup ones in bathroom and toilet and near stairs.
Remove mats and rugs that are trip hazards, along with putting on 'grip tape' (available from hardware shop) on stairs or slippery areas (don't forget outside).
Replace door handles and taps with lever-style.
Improve lighting to assist reading and general vision.
If they aren't very mobile you may organise for home delivery of groceries and medicines and a mobile hairdresser or alternatively organise for someone to pick them up for regular outings.
Contributed by: A K
Pharmacies offer a dose administration system where medications are packed into breakfast, lunch and evening doses according to the days of the week. Essentially it is a week's dose of medication that is current, easy to follow and easy to see if medications are being missed. The pharmacist can also help chase up scripts with GPs and even deliver the packs to homes. This system helps keep people in a better position to maintain their independence.
Contributed by: Jen
The most important part of staying in your own home is to remove tripping hazards, since a fall will cause serious injury. Look at each room with fresh eyes; remove rugs as they can sometimes curve up at the ends and check each doorway to see if one floor surface is slightly raised above another. A home handyman can usually put a small angled piece of wood near the door so that there is no chance of tripping. Most importantly, check the bathroom and toilet, adding hand rails where necessary.
The backyard is also a concern, since there may be paving which has moved over time. Lift up pavers and re-lay them so they are flat. Consider getting a reliable person to do their gardening or hire a service so they don't feel overwhelmed by all the jobs that need to be done. A small, raised garden bed can be very helpful to avid gardeners so they still feel connected to their outdoor area and, if possible, next to a place they can sit and enjoy a cup of tea.
Contributed by: Amanda Pope
---
Teena has emailed asking for some help! She writes:
"My family loves sauce with their meals, all sorts of sauces! It occurred to me recently that I could be making my own for a fraction of the cost and they'd probably be tastier and have less sugar. So I'd love to ask fellow Simple Savers to 'get saucy' and share their favourite sauce, gravy and even chutney recipes - mint, tomato, BBQ, black sauce and so on. I'd love some tried and true recipes."
If you have any pearls of wisdom you'd like to share with Teena, please send them in to us here.
---
Well, that's your Simple Savings Newsletter for April and we'd love to hear how your $21 Challenges went and how you 'faced the waste' this month!
Our members are hugely important to us and we love hearing from you all! So next time you're on the website, why don't you get in touch and say 'G'day'! Let us know what you would like to see more of in our newsletter or any suggestions you have for something new to try. We love receiving your clever ideas!
Don't forget to spread the love around to your family and friends too by forwarding them our newsletter or letting them know about our website. Help make their lives easier and save them money too! Or tell them about us on Facebook by clicking the 'like' button on our Simple Savings Facebook page.
Till next time...
All the best,
Fiona