Here are 1 "Excellent for travelling" tips.
Don't buy a handbag organiser for $60. Here are a few other options instead.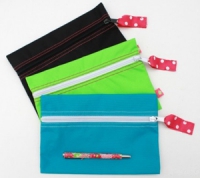 (.right)
I saved the price of an expensive handbag organiser by using three $2 pencil cases instead. I have two handbags that I swap depending on whether I am working or with the kids, and always found it a pain to transfer essential items like my wallet and make-up and to quickly find what I need in a big bag. Now my colour coded pencil cases make it easy! The green one holds my full make-up, for the days I have to dash off and do make-up on the train. This stays at home when I'm not in a hurry. The black one holds pens, business cards, usb sticks etc. and the blue one holds lip gloss, bandaids, panadol and postit notes. My items are now easy to swap between bags and I don't have to dig around for smaller items like pens. All for $6 and a hunt through the bargain bin at Officeworks!
This one is really good if you have a small bag.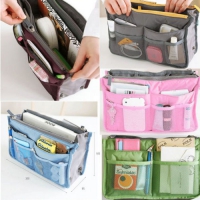 (.right)
You can also buy budget bag organisers on eBay. Just go to ebay and type in, "handbag organiser'.
These bag organisers are quite large and also can be used for keeping the inside of school bags tidy.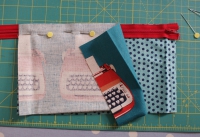 (.right)
If you are crafty. You can save yourself even more money by whipping up a couple of small bags yourself. Here is a link to a YouTube video showing you how to make your own pencil case.
How to sew a pencil case tutorial
16 responses in the members' forum