20,000+ Money Saving Tips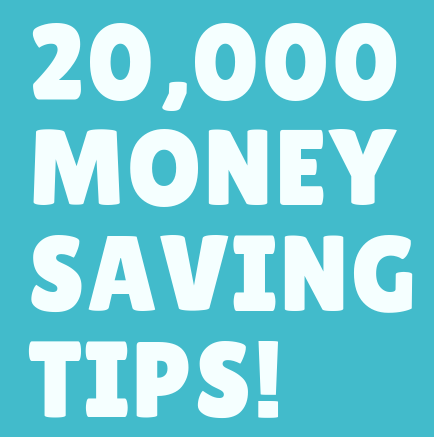 Too much for groceries
Too much for fruit and vegies
Too much for power
Too much for bank fees
Too much for electricity
Too much for cleaning
Too much for health care
Too much for insurance
Too much for software
Too much for computers
Too much for clothes
Too much for food
Too much for rent
Too much to look good
Too much to feel good
Too much for their car
Most people pay too much money for goods they use every single day and never, ever realise it. Getting ripped off SUCKS! The good news is, it doesn't have to be that way.
You CAN stop paying too much money for everything, starting right now! It's time to start slashing those bills and pocketing the savings. No five-minute wonders or fancy gadgets required. Just a little knowledge and some simple skills, which will benefit you and your loved ones for life.
Our Simple Savings exclusive full members' area – known as the Vault, contains 20,000 tips which teach you how to slash every bill you can imagine. Not just once or twice either, but continuously, as our information is constantly being updated. You can learn how to save money on everything on the above list and much, much more, all in the one place. To give you an idea of some of the really cool, tried and tested tips we have stashed in there, here are a couple to get you started:
My mother suffers from a rare type of auto-immune disease, called lupus, and is therefore allergic to most chemicals. This made cleaning difficult because she was allergic to most cleaning products, or those she wasn't allergic to were too expensive to buy on my carer's pension. Because Mum's disease is an auto-immune disease, I have to keep our house hospital-grade clean.
So I have come up with a fantastic recipe, and my house is spotless, smells great and is fresh and clean. The solution cleans and polishes everything, including windows. I have never seen glass and stainless steel taps look so clean. This solution also lasts forever. Household cleaner used to cost me $80 per month, but now I buy detergent every three months, vinegar once a year at $1.50, washing soda every 18 months at $0.98c and eucalyptus oil once every eight months at $3.50 - a saving of $880 a year minus $20 for the few items I do buy. In total I've saved around $2640 over three years.
1 litre water 200ml vinegar 40ml detergent 40ml eucalyptus oil 2 dessertspoons of washing soda
Mix all ingredients together, and it's ready to use. Use 60ml of solution in warm water to wash your floors. Fill a spray bottle and use it to clean your table, benches and bathroom.
My husband and I have recently decided to start a family, so I have been looking for ways to save money on baby expenses and found ways to save us thousands. I looked into the option of using cloth nappies as the savings are great (to buy disposables is approximately $3000 per child). I discovered that you can download free nappy patterns on the Internet to make fitted cloth nappies that look like disposables but are cloth.
I purchased five metres of fleece and towelling material, on sale. I then made my first nappy; it took me half a day to make and was very successful. For the outlay of just $40 I can now make fitted cloth nappies that should last one baby right through until they are a toddler.
I have come up with a simple way to save thousands of dollars in interest, while slashing years off our home loan. I had been trying to figure out a way to get rid of our mortgage by the time I am 40 (in five years' time). We have our own business so money is not regular and the amount is never the same so it makes it hard to budget. When we get paid, I pay the bills, leaving $1000 to cover fuel, shopping and smaller bills that may come in. The rest goes into savings. We were already paying $55 a week extra on our mortgage but I wanted to do more.
I love playing around on www.realestate.com.au and through this I figured it out! Instead of putting $1000 away I am going to put $900 away and put the remaining $100 on my mortgage. If I have to walk because I don't have enough money for fuel then so be it!
By doing this I will be paying an extra $155 a week off my mortgage. That cuts a whopping 15 years, four months and $134,046.22 off our loan! This has got me very excited and has made me even more careful with my money (it has even rubbed off on my husband). We are on our way!
To stop me from buying beauty products all the time, and to encourage me to use what I already have, I recently purchased a medium sized plastic storage box. I filled the box with all of the skin care and makeup that was hiding in my bathroom cupboard. The beauty box shows me at a glance just what I have and reminds me every day that I have enough items to last for at least six months!
The only beauty or make up item I will buy during the next six months is mascara, as that needs to replaced fairly frequently – all the other items are still well within their use by dates. I have made a commitment to my husband that I will use up what's in my box before shopping again, and I will not go back to buying beauty items for the sake of it. I believe that I will save at least $500 in the next six months!
I saved $163 on a new car alternator! I bought a new (second hand) car recently, which needed a few things done to get it roadworthy. One of these was a new alternator, which I priced at a couple of local auto parts stores for around $350 to $400. Then a friend of mine suggested I try eBay so I gave it a go. Imagine my delight when I came across a brand new alternator for just $187! This also included postage, so I bought and received it within a week. It has now been fitted and is working well. I am very happy with my purchase!
My kids love doing things on Saturdays but even a trip to the movies for our family costs $70. So I invented '$20 Saturday'. We could go anywhere and do anything as long as it didn't cost more than $20 for the whole day. One Saturday each month we would find a spot in the street directory that looked interesting and take a picnic, other times we visited free places such as museums or community festivals and the $20 bought a drink, small snack or ice cream. Not every place was terrific but we gave each place or activity a score to rate whether we would like to do it again. My boys talk fondly of things we did together and places we visited on $20 Saturdays and they learn that you don't have to spend up big to have fun.
I save a fortune on winter school uniforms by dressing my kids in their summer uniform with a school-coloured long sleeve skivvy or polo underneath. Winter and summer shirts which have the school logo on them cost $23, so rather than buying shirts for both season, another mum and I rack up winter savings by investing polo tops from Kmart in our school's shade of blue, which are just $5 each. The kids wear the polo tops with their summer shirts (which have the compulsory school logo on them) over the top. That's a saving of $18 per shirt, which is huge when you have two growing kids!
I recently made a saving of $420 on my broadband plan! My contract had expired but instead of doing nothing about it, I picked up the phone and rang the providers. Just by mentioning that my contract had expired, they offered me three free months if I re-signed with them (a saving of $180). I then asked if that was the best they could do and was told that they would discount my plan by $20 a month for a year - a saving of $240! A huge bonus and all it took was a phone call. Most companies will do what they can to keep your business and you only need to ask what they can do for you to get it. I also checked on my electricity account and was offered a 10% discount, just for signing with them for three years - something I had planned to do anyway!
This super basic mince recipe saves me up to $100 a month on takeaways, thanks to the convenience of having meals already 'half made'.
All you need are:
2kg minced beef
2 cups of red lentils
2 tbsp of vegetable stock powder, or four vegetable stock cubes
1 tsp dried garlic granules
1 dsp dried onion flakes
4 cups of water.
Place all the ingredients into a crockpot and cook on high for two hours, stirring every 30 minutes. It should be thick, aromatic and an unattractive brown colour (don't let this worry you!).
One batch costs just $13 to make and is enough to serve as a base for seven meals for our family (two children and two adults). This saves heaps of money and time too. I usually freeze the mince in margarine tubs, as that seems to be the right amount for one meal for our family.
The meals I made are:
1. Piemaker pies.
Allow one heaped tablespoon of basic mince per pie. Pour the mince into a small saucepan and add a large spoonful of gravy powder, or a dessertspoon of cornflour and some Vegemite for colour. Heat and stir until thickened. Spoon into pastry cases and cook in the piemaker.
2. Mexican enchiladas.
I use Mountain Bread or make my own crepes. Lay the bread or crepes in u-shapes in a large baking dish. Mix the mince with an equal amount of tinned or home-made refried beans. Spread the mixture in a sausage shape down the middle of each crepe, fold each side of the crepe over, sprinkle with grated cheese and bake at 180C until the cheese is melted and bubbly. Serve on a bed of rice, topped with natural yoghurt and some salsa.
3. Stuffed capsicums.
Halve enough capsicums for half or one per person. Spoon the mince straight into the capsicums, top with some mashed potato, pumpkin or sweet potato. Sprinkle with cheese and bake for 40 mins at 180C. Kids love these as the capsicum sweetens when baked.
4. Baked spuds with topping.
Allow one potato of appropriate size per person. Cook in the microwave according to manufacturer's instructions. Split a cross in the top and pile filling into the opening. Top with natural yoghurt or sour cream and chopped, sauteed bacon. Allow one large tablespoon of filling per potato. Mix the filling with one tin of baked beans and heat in a small saucepan before pouring on to the potatoes.
5. Spring rolls.
Mix about four tablespoons of mince mixture with a packet of cooked and cooled Two Minute Noodles, some shredded carrot, and 1/2 teaspoon Chinese five spice. Using filo pastry sheets or spring roll wrappers, fold a small handful of filling into each spring roll. Spray liberally with cooking spray and bake at 180C for 20-30 mins.
6. Greek pasta bake (Pastito).
Heat a container of mince mixture with a 400g tin of peeled tomatoes. Cook enough macaroni for your family and drain well. Mix with the meat mixture and spoon into a large baking dish and top with your favourite white sauce or cheese sauce. Sprinkle on some grated cheese and bake for 40 minutes at 200C.
7. Shepherds pie.
Add any vegetables of your choice to the mince mixture. Place into a baking dish and top with mashed potato, pumpkin or sweet potato then bake until heated and the potato browns.
We have saved almost $400 in petrol in the past nine months! We decided to have a 'No Car' week for one week out of every month. My husband and I walked 15 minutes to the train station instead of taking the car every day. We walked to the local shopping centre to do the weekly grocery shopping. Just doing that for a week saved us $40 in petrol alone. We have been having our 'no car' weeks every month now for the last nine months and have saved $360 so far.
Apart from the monetary benefits we have also found walking to the train station twice daily to be very good exercise. So much so that we cancelled our gym membership, saving a further $70 a month each! We have even found it has improved our relationship as we talk more on our daily walks. We can highly recommend trying a 'No Car' week. We enjoy ours so much, we're planning to try a 'No Car month!
Saving money isn't hard – and you really can save money on just about everything. All you need is the the know-how. To read through the other 19,990 tips, simply become a member of the Vault and you can get onto it right away! Just $27 will get you a 12-month membership, and you can learn how to save hundreds, even thousands more than that in return. Who wouldn't like that in their back pocket, to go towards a nest egg or goal of your choosing, instead of going on bills or to greedy companies? There are plenty of other things you get for your membership too, such as access to a beautiful and supportive discussion forum, tools, downloads and printables.
To top it all off, we have a 365 'no questions asked' money back guarantee. You could read through our 20,000 tips for the next eleven months if you wanted and then ask for your money back and we would happily give it to you. This is a site where you get to have your cake and eat it too. You have absolutely nothing to lose; we are genuinely here to help people. So let's set about taking those blinkers off and showing you where all your savings have been hiding. Let's set about welcoming you into a community where everyone helps one another to succeed. It is time for change.