"Secrets to Saving Money in Australia" Free Newsletter - September 2009
This issue includes:-
Sad Sally, Happy Hanna: Little Helpers
October is Make Your Own Gifts Month
Best of the Vault: Unique Gifts Without Breaking the Bank
Best of the Forum: Great Gifts to Make
Sophie Gray: Seriously Gifted
Penny's Blog: The Present
Homeopathy Corner: Autism
From Last Month: Chicken Mince Overload
This Month's Help Request: Breakfast Club Cooking
Savings Story: Winning the War on Debt
---
Hi,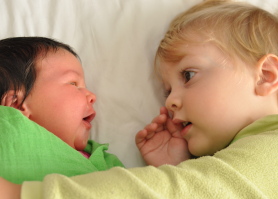 How are you doing? I hope you are well. Here are the photos of Sam, Jacqui and Tristan welcoming their new baby sister Elora into the household. Aren't they gorgeous? Not that I am in the least bit biased! We have been very lucky - Elora is an easy bub and has fitted into our household as if she has always been here. Which is kind of lucky, because the brand new $21 Challenge book hits the shelves today!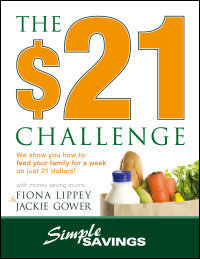 Yes! Our very first Simple Savings book! Thank you to all the members and staff who have helped complete the book. It has been a huge team effort. This book has been keeping myself, Penny (real name Jackie) and the guys busy all year. It contains almost all new content (not found on the site) and gives you step by step instructions on how to save your family over $270 a week on groceries. You may have already heard about the book, but if not, here is a link to the first chapter (1.4Mb PDF). You can buy it directly from us here or go to your nearest book store to check it out. You can also read about the book in this week's edition of That's Life! (page 16). How exciting! It really has been a big month!
We love to hear of your money saving successes; they make us grin from ear to ear! Here are some special ones you have shared with us this month:
"Wow, I cannot believe the savings I have made since joining. Over the last few weeks I have added any money left over each week to my mortgage. This alone has reduced my loan by two years! Even an extra $5.00 a week which can also make a great difference. Thank you all for your wonderful hints and ideas. Keep them up." (Annette)
"I can't thank you enough for your War on Debt Calendar. It has been a God send. I hope you do the same with some new ideas for next year, as I run my life completely by it. I am not out of debt yet, but well on my way." (Dimity)
"Amazing website - have just rejoined and am really going to go for it. I am painfully aware that our joint household income seems to be way above that of most people using this site and that our debt problems have arisen from poor money management - a kind of 'head in the sand' approach. We have always borrowed and paid back numerous personal loans, credit cards, interest free furniture loans, car finance and so on; lots of which have been paid off. But now we have an ENORMOUS amount of accumulated debt to pay off so that every month after we've paid mortgage, car payment, bills, loan payments and so on, there is nothing left to save. We have no savings, therefore no emergency fund, so anything that crops up has to go on the credit card to be paid off on pay day - which of course can never be paid off in full so the debt accumulates. For the first time in ages I feel that instead of worrying myself silly or putting my head back 'in the sand' again I can be proactive and do something about it. I feel like there is a light at the end of the tunnel." (L.C.)
"From your site you have truly inspired me to spread the word. I work three days of the week, have two children and do all the normal things that us mothers do to keep the house running smoothly. The girls at work were complaining that they still needed to go home to cook tea, make lunches, shop on the way home and so on. I told them about your site and if they organised themselves they would have more quality time to spend with their family at night and do their study or whatever. When I returned this week two of them came running up to me saying how organised they were because they had read SS newsletters and followed what I had told them. They had made lunches at night, filled the crock pot and turned it on before going to work, made a list for shopping and pre-cooked and froze dinners and snacks for lunch boxes. They also told me how much happier and more relaxed they were because they didn't dread the stress and rush when they got home. Plus, they were sitting around the table as a family having dinner and talking, not to mention the money that they had saved. Thanks for the inspiration and let's keep spreading the word." (J. Roberts)
Have a great month!
All the best,
Fiona
P.S. BRAND NEW COMPETITION
To help you on your $21 Challenge we started a new weekly competition to go with our regular Hint of the Week competition. We are giving a Vault membership (value $47) to the best tip, recipe or helpful suggestion linked to the $21 Challenge. To enter the competition click here
---
1. Sad Sally, Happy Hanna: Little Helpers
'Yay! It's only 100 days now until Christmas! Isn't that cool, Mum?' said the kids excitedly. Sally almost choked on her coffee. Christmas! But - she hadn't even paid off LAST Christmas yet! Not to mention her wages had been cut all year. How on earth was she going to manage THIS Christmas?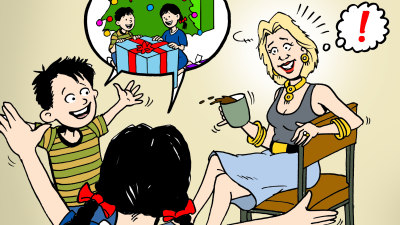 'Oh - er - wow! Is it really that close?' Sally managed a shaky smile. 'You two are going to have to be really good from now on then, Santa's going to be watching you!'
And I'm going to be watching every cent, she thought dismally. 'What's with the glum face?' asked Pete a little later. 'The kids were talking about Christmas today,' Sally sighed. 'It's been such a tough year Pete, how are we going to make it a good one?'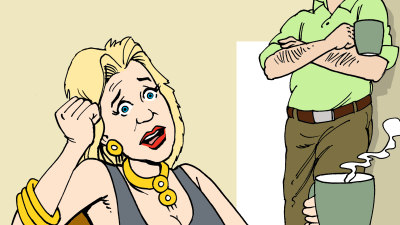 'Easy!' grinned Pete. 'They've heard all about the Global Financial Crisis at school, we'll just tell them Santa had his sleigh repossessed! Just joking!' he chuckled, seeing Sally's shocked expression. 'But we are going to have to do things a little differently this year. No credit cards for starters,' he said pointedly. 'We can have a go at making some gifts instead, just like Hanna does. I'm sure she'll be happy to give us some ideas. It'll be fun!'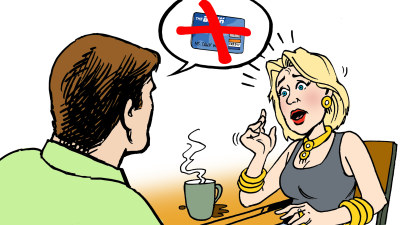 ---
2. October is Make Your Own Gifts Month
There are a lot of reasons why I love making gifts for people. The first is, gifts are a lot of fun to make. My favourite home-made present is the one Matt and the kids made for my birthday, which fell during No Spend Month. Matt helped the kids write 'I love you' on their faces and then took a photo of the three of them and framed it for my desk. Can you imagine how much fun the four of them had doing that together?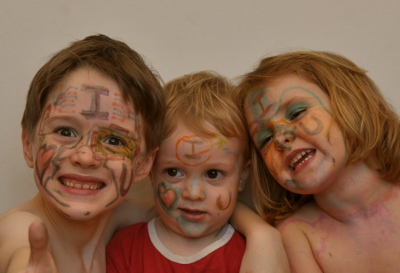 I love this photo. Sam on the left is a robot. Tristan is in the middle looking very muddled. He isn't old enough to understand why he's doing it but goes along with it anyway!
Making your own gifts saves you money for three reasons. First of all it is really cheap. To make my birthday gift, we already had a set of washable markers, an empty photo frame and a digital camera. So the only cost involved for Matt and the kids was $0.20c to print the photo.
The second reason you get to save is because it is an activity you can do at home, thus keeping you out of the shops. Making gifts takes time, so spending ages wandering around the shops isn't an option. Making your own gifts can save a lot of expensive purchasing mistakes, not to mention it protects you from all those little impulse extras we are inclined to pick up at the same time we are looking for the 'perfect gift' to buy!
The third reason is it protects you from going overboard at Christmas. There is nothing worse than spending Christmas racked with guilt at how much you spent and stressing over how you will be able to get back on track financially in the New Year. Making your own gifts ensures this doesn't happen. You simply put in a little time and effort making something heartfelt for each person that you know they will love. They'll love it because it came from you and you took the time to make it just for them. It is enough. It is all you need. It is what the spirit of Christmas is all about.
So this month, take pride in making your own gifts. Now is the perfect opportunity to get ahead for Christmas. If you are months ahead of time there is no danger of overspending and no need for Christmas guilt. There is nothing like doing a good job of making a gift for someone else to boost your self esteem. Don't be scared to try; you may well find you amaze yourself with the things you can make. Remember, even the Martha Stewarts of this world had to start somewhere!
Making your gifts now will leave you with time to actually enjoy your Christmas. There are currently 860 gift suggestions in the Vault with all the information you need, so no excuses now! When you have a Vault membership you have thousands of fantastic ideas at your fingertips. Use them to save yourself money, time and stress - and to make someone else's day!
---
3. Best of the Vault: Unique Gifts Without Breaking the Bank
We're always saying it but - Simple Savings members are a fantastic bunch of clever people! If you're ever stuck for a gift idea with a difference that won't break the bank, look no further than the Vault. Here are a few to get you going!
Get all you want for Christmas
This Christmas I am getting exactly what I want, and it has cost my family nothing except their time!
Each year for special occasions, my children ask me what I would like for a gift. Last month I said to my adult son that all I really wanted was to spend time with him and his family. Every Christmas he and his family stay on the Gold Coast in their caravan for a few weeks, enjoying the sun, sand and sea. I love the beach but never seem to get there as going alone is no fun. I also love my family but don't see them very often.
So I brazenly asked for what I would like, that would mean more to me than any other gift they could give, and after checking in with his wife, they agreed. I'm over the moon! I have never had a holiday in a caravan OR gone away for Christmas and best of all it doesn't cost anything except food and petrol to get there.
Spending time with my son and his family is just about the best gift ever. Playing with my grandchildren will make Christmas feel the way it should. All I had to do was ask!
Laminate hand-decorated place mats
A great gift for Christmas, a birthday or any other time of year is to have drawings or pictures laminated and used as placemats. My three children personalise placemats for family for Christmas lunch and have them laminated at a pharmacy for $1.00 a placemat. You can make a collage using old Christmas wrapping, cards or even photos.
Abundant free gifts from the library
Our family enjoys a wonderful Christmas every year, with heaps of presents for everyone - yet none of us have to spend a cent! I started this system of 'free gift giving' some years ago, when I was raising my young daughter alone and wanted to be able to give her plenty of Christmas presents without going overboard on the cost. Each year, our family selects books at the local library - some of which are huge and very expensive publications - which we gift wrap in Christmas paper and place under the tree. There is a terrific selection of beautiful books, novels, magazines and tapes to choose from. Everyone gets an abundance of gifts to unwrap and several weeks of fantastic holiday reading on a wide range of topics. The givers have a chance to select special books to suit each person - depending on their favourite authors and particular hobbies and interests. At the end of the summer holiday - the books go back to the library. Choosing our free gifts from the library is just as much fun as buying them for each other from a shop and the element of surprise is still the same for the recipient. An excellent way to treat the family with some fine reading and entertainment over the Christmas break - and at no cost at all!
Terrific low cost Christmas gift idea
A 'Salad in a Box' makes a terrific low cost Christmas gift! This year I was super organised for Christmas and bought some seeds in August from Diggers Club. I purchased Sweet Tumbler Tomato seeds, Mesclun Mix seeds and Mini Muncher Lebanese Cucumber seeds for around $5.00 each. I sowed the tomato seeds in September using Peat Jiffy Pellets in a plastic container on my kitchen window ledge (I was given the pellets for free, but seed mix would also work fine) and sowed Mesclun mix in a seed raising tray outside. Each 'Salad in a Box' will include one tomato plant, two or three types of lettuce and one cucumber, presented in a 'no dig garden' broccoli box along with some water saving crystals. The total cost of each box is between $2.00 and $3.00, which includes chook manure at $2.50 per bag, sheep manure at $3.50 per bag, lucerne at $12.50 per bale, seed raising mix at $7.50 a bag and the broccoli boxes for free. This gift is a perfect choice for the elderly who like to garden but are unable, or for others who love fresh salad but do not have the space for a vegetable garden of their own. Another bonus is that I have plenty of everything left over to use in my own garden as well!
Puddings in a teacup
Christmas puddings are great to give as Christmas presents to loved ones. I make a few and wrap them in calico with a ribbon and they love getting them as a personal gift. I also adapt the idea for couples by mixing the recipe and instead of cooking on a cloth/basin I grease teacups and 3/4 fill them with the mixture, cover with alfoil and place in frying pan with water and cook with the lid on until done. They cook quicker than a large pudding and are perfect sizes for individual serves. If I am giving it to a couple I wrap them in cellophane with a lovely gold ribbon and none of the pudding is wasted or not eaten.
Potted gifts
We used our thriving garden to make attractive gifts for less than $2.00. We have a flourishing aloe vera plant in our backyard and many of our friends and family have admired it. One weekend we went to the local hardware store and purchased 10 small pots on special, along with fertiliser and potting mix. We then took small cuttings from our aloe vera and planted one in each pot. Within a few months, we had 10 useful, unique gifts to give to our loved ones for special occasions that only cost us $1.50 each, plus a little love!
Hand-made gifts for under $2.00
This tip is from my mum!
We love Christmas and everyone loves giving and receiving presents. When my mum told me that she had to buy a gift for each of the eight women in her craft group I nearly died! I couldn't understand why they didn't each buy one gift and each receive one random gift.
But was I surprised - they have rules. The gift must be kept to $1.00 and under no circumstances is it to exceed $2.00. You would not believe some of the beautiful gifts that my mother received - hand-made decorations for the tree and house that would have cost $20 or more if bought at a shop and an inexpensive hand towel trimmed with a strip of delicate, intricate quilting that used up the creator's scraps.
And there was more. My mum was lucky enough to stumble onto a Royal Doulton sell-out where she picked up eight tiny dishes, all different and delightful for $1.00 each. She made shortbread biscuits in star shapes and tied them together in pairs like buttons. Wrapped in cellophane, they made another fabulous gift.
It proved to me that gift giving is not about the cost of the gift, but how hard you make the money work. In years gone by I used to do my Christmas shopping for family and friends on a budget of between $2.00 and $5.00 a person, and I never left anyone out and everyone appreciated their gifts because a lot of thought went into them. I think those gifts meant more than an expensive item bought on Christmas Eve as an afterthought.
Turn magazines into gift bows
Make gorgeous cascading gift bows to compliment any gift and use up your old magazines and Christmas wrap. Simply take two old magazine pages and tear or cut each page into about six long strips. Staple them together at one end then simply run your scissor blades along the strip, as you would to curl ribbon. It curls beautifully and gives a really full, vibrant bow.
Placed on a gift wrapped in brown paper, butchers paper, or even newspaper looks sensational and costs virtually nothing! You can use magazines, newspaper and even those annoying leftover scraps of Christmas wrap that are never big enough to wrap anything! No more shiny wrap and expensive gift bows for me!
Easy name plaque
An economical gift idea for young children and babies is a name plaque from wooden letters. I have bought wooden letters for about $1.00 each, in addition to a cheap set of paints. I then paint each letter a different colour, trying to choose or mix colours to match the decor of their bedroom as closely as possible.
The letters can be easily attached to a door with 'Blu-Tac' which enables them to be moved around and arranged however you like without damaging the paint. The gift is lightweight and small, which saves money on postage and is a helpful aid for teaching name, letter and colour recognition to young children. The overall cost of the gift will vary depending on the number of letters in a child's name but generally, it is a gift that can be made for under $10.
Make a recipe book of your child's favourites
A low cost, fun gift for budding cooks is a small recipe booklet of your child/children's favourite foods, including sweets, slices and biscuits. Include photos if you want to make it look more attractive. The kids can see what the food will look like when made and then ask for help to make it!
Pencil creatures for special school days
To make a school day extra special, create some 'pencil creatures'! Young ones love them and they are cheap enough to make for a whole classful of children. They will get plenty of use out of them too. Simply purchase a big packet of pencils, a bag of small pompoms and bag of tiny eyes, available from discount or craft shops. To make a 'caterpillar', get the blunt end of the pencil and glue three pompoms on to the side of the pencil, then glue two eyes onto the end pompom. There are many different creatures that you could make; all you need is a little imagination!
Unique baby gift
Embroidering names on clothing and other items can be costly. The prices I was quoted to embroider a gift for a newborn started at $17!
Instead, I went to a variety store and bought a plain baby T-shirt ($5.00), then went to Lincraft and bought some iron-on letters. These are really easy to apply and there are also loads of cute motifs to choose from to make a really unique gift without the massive price tag - the letters only cost $0.99c each, so baby Cian got his personalised T-shirt for only $10 and not in excess of $20.
---
Psst! Want to learn how to save money on EVERYTHING? Become a Savings Vault member! Each month we try to cram as much information as we can on a single topic into our free newsletters. The Vault, however, is loaded with information on absolutely every money saving topic you can possibly think of. Becoming a member gives you access 24/7 to whatever information you want, whenever you want it. With our 365 day 'no questions asked' money back guarantee you have nothing to lose and everything to gain! Click here to join.
---
4. Best of the Forum: Great Gifts to Make
Nothing makes a person feel valued or appreciated like a home-made gift, made just for them. Whether it's a cross stitch, a cushion cover, scrapbook or a pot of jam, you'll find these suggestions and many, many more in the Savings Forum. Let your creative imagination run wild!
NOTE: The Forum is in our paid members area, the Vault. You have to be a Vault member to access it.
This thread contains heaps of excellent gift suggestions for those of us who don't know how to sew. You'll find everything from rum balls to gingerbread houses here!
read more...
Whether it's for a birthday, Christmas or 'just because', this thread is full of wonderful ideas of what to put in your home-made baskets
read more...
'Centsable' is determined to have her most organised Christmas ever! She has come up with some fantastic ideas for themed hampers to give to her loved ones. No shortage of inspiration here!
read more...
Check out this thread for some clever gift ideas with a difference. Easy, unique and won't break the bank!
read more...
A forgotten art and something so simple, yet personal! Join the thread and make your own.
read more...
---
5. Sophie Gray: Seriously Gifted
When my friend Mary moved back to the UK last year it was like losing a limb. Mary was profoundly good at gifts - not expensive statements, but deeply personal, thoughtful, quirky and often edible gifts. One year she gave me a vegetable garden for goodness' sake!
Some people might have been offended by that, but for me it was evidence that she really knew me and had 'listened' to my moaning about a schedule that left no time to garden. While we were away, Mary and the kids snuck round, and weeded and planted me a vegie garden as an early Christmas present; a Potager, with little rows of French marigolds in between the lettuces. Every time I picked, weeded or watered that season, I was so grateful.
Don't get me wrong, I'm still furious with her for leaving and taking my godchildren, not to mention my half share in a tiny and very expensive little black dress! (Money saving tip: pick friends who wear the same dress size and you can share clothes; just don't let them leave the country.)
Included in my little stash of 'Mary memories' are the selection of gourmet potato crisps she gave me one year (crisps are my all time favourite food), and a folder of vegetarian recipes she had compiled for me - including her Creole pate, which I adore and a batch of which accompanied this gift. And a hand painted cup and saucer set that she gave me before she left. She had bought us an identical one each, as a reminder of all the time (and tears) we'd shared over the tea and coffee cups. Tucked inside mine was this verse - 'Matching cups for thee and me, let's send each other thought waves while we drink our tea'. As a way of staying connected it was simple, inexpensive but deeply personal.
A cup of tea may not float your friends' boat, but are they a chocolate lover? A champagne drinker? A hoarder of recipes? The essence of a home-made gift is that it hinges on knowing what someone loves and showing it.
Humble home-made gifts are precious because of the relationships, not the products. The primary school teacher values the home-made cookies with the handwritten label because she knows just how hard that child has to try to complete a task. Likewise the girlfriend values the home-made truffles because life with littlies is hard and she knows you needed that chocolate just as much as her!
The following ideas may help you get inspired to make some home-made culinary treasures:
Packaging: Come December everyone will be combing the shops for containers, so start hunting now. Noodle boxes, cellophane bags, small tins, small jars, pretty glass bottles, funky plastic ware or vintage/retro plates, bowls or mugs can all look fantastic.
Choose your recipes: Try to find things that will keep well so you aren't up till 2am baking the night before you want to give your gifts. Hard cookies, candies, spice mixes, long lasting cakes such as fruit cakes and pan forte, chocolate, home-made crackers and deluxe mueslis all keep well.
Sweet or savoury? Not everyone is a sweet lover (hard to believe I know!) but nuts are a treat that most non-chocolate lovers enjoy, or try candy coated or spiced nuts, nougat or brittle. Or, how about Bhuja mix or gourmet home-made crackers with a fab blue cheese?
What's the main thing? By this I mean, is the edible item the main thing or is it the packaging? For example, an old biscuit tin spray painted and adorned with the grandkids' handprints and filled with shortbread is a lovely thing the kids can make for the grandparents. In all likelihood the tin will be treasured with its little handprints after the shortbread are forgotten, whereas my sister's 'brother in law baking' is so highly prized I can't give you the recipe or I'd have to kill you.
Edible gifts don't have to mean cooking right now: Give an edible event, a voucher to get together after the holidays for cake and a catch up. Or 'cook's night off' vouchers, ingredients and a recipe, like the 'brownies in a jar' or 'cookies in a jar' layered mixes (recipes abound for these things so I'm not giving you one now)!
Chocolate swirling spoons
Chocolate teaspoons are a simple treat - swirl into an espresso or hot chocolate and let it enrich the drink. Chocolate spoons can be made en masse using cheap plastic spoons or basic metals ones available in bundles from discount stores. For a more special and lasting gift, look for quirky vintage or decorative teaspoons that will remind the recipient of your give long after the chocolate had gone.
Chocolate melts
Kremelta or Copha
Teaspoons
Non-stick baking paper
Melt the chocolate according to the manufacturer's instructions; a small piece of vegetable fat such as Copha or Kremelta may give you a smoother mixture.
Dunk the spoon in the chocolate and set on baking paper to harden. You may wish to do more than one application so the spoons have a really thick layer of chocolate.
Additions: Crushed candy cane can be added to the chocolate for a hint of peppermint, or crushed chocolate coffee beans, for the coffee addict.
Walnut cinnamon brittle
Easy, delicious and sooo more-ish. This easy treat appeals to sweet and savoury lovers alike.
2 cups walnut halves
1 ¼ cups sugar
¼ cup honey
1/3 cup water
½ tsp vanilla essence
¼ tsp cinnamon
1 tsp butter
Pre heat the oven to 180°
Cover a cookie sheet with non stick baking paper.
Place the walnuts in a metal dish and roast in the oven for around 5-8 minutes or until lightly toasted.
Meanwhile combine the sugar, water and honey in a heavy based pan, stir gently till simmering and sugar is dissolved, then turn the heat up and boil the mixture gently without stirring until golden.
Add the vanilla, cinnamon and butter, and when the syrup is a rich caramel colour toss in the walnuts, coat well and remove from the heat.
Carefully pour the mixture onto the prepared baking paper and use a knife to spread the walnuts into a single layer on the toffee. Leave to set. When completely cool break the brittle into pieces and store in an airtight container.
Pistachio and cranberry truffles
Christmassy and addictive, chocolate truffles are always appreciated. Make some to serve with coffee or give as a gift. Ganache based truffles will melt, like a piece of chocolate in the palm of your hand, so keep them cool.
Makes 34+ squares or balls
250g dark chocolate
½ cup cream
50g butter
½ cup - approx 70g pistachios
½ cup cranberries
Cocoa for dusting
Heat the cream and add the butter and chocolate. Stir until completely smooth and stir in the cranberries and pistachios.
For square truffles, pour into a square 17cm cake pan lined with non-stick baking paper and chill in the fridge or freezer until completely set. Alternatively pour into anything to set and when firm use a teaspoon to scoop out spoonfuls. Roll into balls and dust in cocoa.
Keep refrigerated in a sealed container. Chocolate will absorb other flavours in the fridge so keep it away from the leftover smoked fish pie.
Variation: Roll in additional finely chopped pistachios for a pretty green crumb coating.
Pistachio and apricot biscotti
These are serious café style, hard biscotti. Perfect as a home-made gift or long lasting nibble to share with guests over the festive season. The recipe makes around 50 so you've enough to give away and still have some left to dunk in your own coffee.
3 eggs
1 cup sugar
½ cup pistachios
1 cup coarsely chopped dried apricots
1 dessertspoon of vanilla essence
3 ½ cups plain flour
3 tsp baking powder
Non-stick baking paper
Pre heat the oven to 180°
Beat the eggs and sugar together until the sugar is dissolved and the mixture has become pale and frothy. Stir in the vanilla, flour, baking powder, nuts and dried fruit. Place the baking paper onto a baking tray.
Knead the dough lightly and form into 2 flattish logs. Bake for 25 minutes then remove from the oven and allow to cool. The logs will have cracked a little on top, this is normal.
Using a serrated knife slice the biscotti into 5mm slices - you should get roughly 25 from each log. Place the slices in batches onto a cooling rack, put the cooling rack onto a baking tray and carefully place in the oven. Cooking the slices on the rack allows the hot air to circulate around the biscuits eliminating the need to turn them. Bake them for 15 minutes or until lightly golden. Cool and store in an airtight container.
---
6. Penny's Blog: The Present
Well, it looks as though you're stuck with me hanging around here for a while yet - my brain scan was clear! Yippee! It appears I have ME, which is otherwise known as Chronic Fatigue Syndrome, which puts me well and truly in my place, as I was always a firm believer that this sort of thing was not a real illness, but more a cop out for the weaker souls among us. Something to fall back on when you need a convenient break from life in general. Ouch - how wrong I was! I can now tell you first hand that it is very real and it makes you feel like complete and utter CRAP. While it doesn't last forever, nobody knows how long it will actually last - I've been told it will probably be a good few months yet. Oh joy!
Still, it's been a wake up call if nothing else. I've got no choice but to pace myself these days and am slowly learning that the world isn't going to collapse if I play Guitar Hero with the boys when I think I should be folding the washing, or if I cuddle up and watch a movie with them when I think I should be doing the dishes. It really isn't a big deal in the big scheme of things but spending time with my family is. I have learned in a big way that health and happiness is what matters most. Not cars, possessions or any of that stuff. All I want is to get well, keep well and stick around as long as humanly possible to live the SS way with my family and pass it on to my kids. You can't buy that sort of thing. It's kind of funny when you think about it, how we place so much importance on material things in life, and for what? They're only temporary after all; you can't take them with you. Yesterday is history, tomorrow is a mystery. Today is a gift, that's why it's called the present!
It would be nice, however, if the heavens had not decided to open on the very day we were due to leave for Australia. Instead of the beautiful sunshine and clear days we have been experiencing for weeks, we've been bombarded with torrential rain and thunder storms ever since. Talk about rubbing our faces in it. Fortunately there's plenty to keep everyone busy around here. Noel has 34 days to go until Auckland Marathon and he's training hard, rain, hail or shine. I'm so proud of him and can't believe he's doing it for me. I don't think he believes it either, after he ran 25km yesterday knowing there's still 17km further to go on the day! He also has plenty to do in his vegie garden. He and Ali were both out in their gardens today, weeding and planting and hanging up old CDs to scare away the birds. Ali's grandma gave him some beetroot, carrot and radish seeds to plant, as well as some baby cabbage seedlings. Both gardens are looking really good and all the rain is making everything take off like a rocket. I think it can stop raining now though!
Ali makes me laugh so much at the moment. I can't work out whether he is a good Simple Saver or not. His money always seems to burn a hole in his pocket when he's out. He'll spend it on anything from hats to lollies to fake moustaches and if there's a charity collection box close by he'll always put some coins in too, bless him. Yet when he's at home, he lives the perfect frugal lifestyle. Aside from his hunting, fishing and gardening he has also become mad keen to learn to cook. We had so much fun in the kitchen yesterday! First he chose a recipe for Scottish Oat Cookies from a school library book and made them from start to finish with barely any instruction from me. Then he decided he wanted to make dinner for everyone as well and picked tortillas filled with Chilli con Carne. He did everything himself from browning the mince: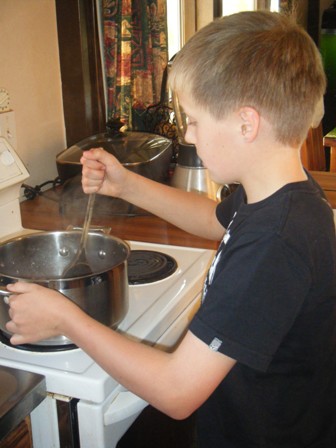 To adding all the spices and making the Chilli con Carne (hope it tastes as good as it smells).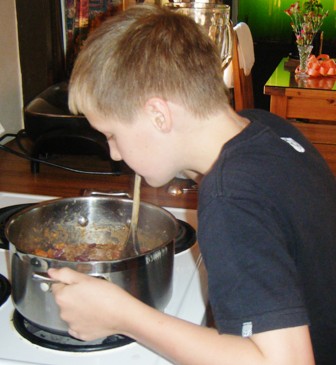 Then the real fun part - making the tortillas!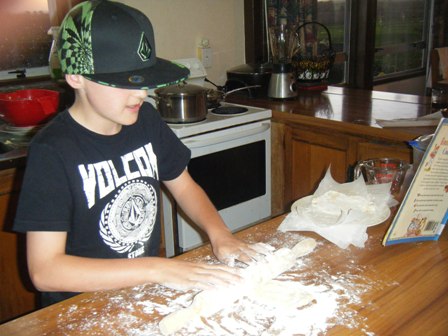 Making the tortillas was a real learning curve for us both as I had never made them before either! I had always put them in the 'too hard' basket but apart from the floury mess they were super easy to make. Just flour, water and butter, with a little olive oil brushed over the top. They tasted fantastic! The cutest part was how Ali insisted on following all the recipe instructions to the letter. The recipe book clearly stated that the tortillas were to be rolled out to 14cm wide - so out came his Australia Zoo ruler and each tortilla was carefully measured until it had been rolled out to the correct diameter! I was allowed to make the salad - but on HIS terms only, which meant no avocado! What with his cooking and his vegie gardening he really is a boy of many talents at the moment. We were laughing the whole time while we were in the kitchen together and it struck me that what we were doing was really important. He was learning survival skills through cooking for himself - but at the same time he was learning that tortillas are made, they don't just come out of a packet and that Chilli con Carne is made by using spices and tomatoes, not by opening a jar. I feel like I have taught him something really valuable and Ali is over the moon - now he can whip up his very own chilli as often as he likes! Now we know how much fun it is to cook together, we have decided we are going to have a go at making some home-made gifts for our home grown Christmas. Rocky road, mince pies, you name it. I'm looking forward to it already!
I have been writing a lot about Ali lately and you're probably wondering 'what about Liam?' Liam, bless him, is 13 and currently on his own planet - we call it Planet Liam. He is, and always has been, delightfully vague but this has now been accompanied by selective deafness, frequent eye rolling, a chip on his shoulder and the idea that the world revolves entirely around him. Nothing else matters as long as he hasn't run out of credit on his phone and can go skateboarding on demand. All of a sudden, parents are no longer acceptable to be seen with. Worse still, they have an annoying habit of continually trying to cramp his style and stop him from having fun, although they do still make a convenient taxi service. Talking has been replaced with grunting and he wants everything yesterday. There's just one problem - he doesn't want to pay for it! It's a standing joke that moths fly out of Liam's wallet when he opens it. The total opposite to his brother, he can hold on to his money for months. I guess they're both Simple Savers, just in very different ways!
3rd - A spanner in the works
16th - Stopping to smell the roses
17th - On distant shores
22nd - Space invaders and Kenny Rogers
---
7. Homeopathy Corner: Autism
Autism and its related conditions are becoming more and more common in our society. Fortunately, homeopathy can provide help and relief to both sufferers and their families. Over the last several years Fran has become a world renowned expert in reversing autism. This month she is sharing the story of one of her patients, a young boy called Brady. With the help of homeopathy, Brady has transformed from a 'living nightmare' to a happy, healthy schoolboy.
homeopathyplus.com.au/hplus/your-story/reversing-autism---bradys-story.html
---
8. From Last Month: Chicken Mince Overload
Last month Kirrily Hartnell asked:
"I have a lot of chicken mince in my freezer after a recent sale. I thought I could use it to make tacos but it just goes all gluggy and sticky in the fry pan. Can anyone tell me what else I can do with chicken mince, please?"
Wow! We've never seen so many great recipes and ideas for using chicken mince. Here are some samples of yummy recipes we received:
The fab four
There's more than one way to use up all that chicken mince! Here are four tasty suggestions:
1. Combine mince with beaten egg, finely chopped onion, fine bread crumbs and seasoning. Shape into small balls, place on a greased baking tray and cook in the oven, or lightly fry in a pan. Add bottled spaghetti sauce or sweet and sour sauce and serve with spaghetti for a quick and easy pasta meal.
2. Combine chicken mince with beaten egg, very finely chopped onion and seasoning. Mould around satay sticks to make kebabs. Coat in breadcrumbs and barbecue or place under the grill - remember to turn every few minutes until cooked. Serve on bed of rice accompanied with your favourite sauce.
3. Boil eggs, cool and shell carefully. Cover eggs with mince, ensuring a firm coating around each egg. Coat in beaten egg, then breadcrumbs and deep fry. Serve on a bed of egg noodles. Kids love these 'eggs in a nest'!
4. How about trying a chicken pizza? Swap your usual pizza topping, for example, ham or bacon with chicken. Don't forget a sprinkle of oregano on top of the other ingredients.
These suggestions should go a long way to using your chicken mince!
Chicken and sweet corn soup
There's just one word for this recipe. Yummy!
Ingredients:
300-400g chicken mince
1 tsp salt
1 egg white, beaten
6 cups chicken stock
Can of creamed corn
1 tbsp cornflour
Water
Soy sauce, optional
Method:
Place mince and salt in a bowl, and fold in the beaten egg white. Set aside. Bring the chicken stock to the boil, lower to a simmer and add creamed corn. Mix cornflour and water to a smooth paste and add to the soup, stirring until it thickens slightly. Lower the heat to a gentle simmer. Gradually add the mince to the soup, breaking up with a whisk as you add the meat. Pour in a dash of soy sauce if you like, and serve. For a touch of class, garnish with diagonally sliced spring onion.
Can't beat a burger
I have been making these Vietnamese chicken burgers for years. This recipe is ready to eat in 30 minutes and serves four hungry mouths.
Ingredients:
1 egg, slightly beaten
500g chicken mince
1 cup dry breadcrumbs
2 tsp grated ginger
1 clove garlic, crushed
2 tsp sambal oelek
1/4 cup chopped fresh coriander leaves
2 tbsp oil
1 cucumber
1 small carrot
1 loaf Turkish bread
4 lettuce leaves - use your favourite lettuce
1/2 cup fresh Vietnamese mint
1/4 cup roasted unsalted peanuts
Sauce:
1/4 cup sweet chilli sauce
2-3 tbsp lime juice
¼ tsp sesame oil
1 tbsp chopped coriander leaves
Method:
Combine the egg, mince, breadcrumbs, ginger, garlic, sambal oelek and coriander in a large bowl. Mix with your hands, divide mixture into quarters and form patties. Heat oil in a large frying pan and cook patties over medium heat for about 10-15 minutes, until cooked through. While the patties are cooking, peel long strips of cucumber and carrot.
Make the sauce by mixing all the ingredients in a bowl. Cut the Turkish bread into four pieces, split in half and toast on both sides. Place each patty on a piece of bread and top with lettuce, mint, carrot and cucumber. Drizzle on the sauce and sprinkle with peanuts. Top with the remaining bread slices.
Thai-riffic chicken patties
Like most Thai dishes, these Thai chicken patties are packed with fresh, subtle flavours.
Ingredients:
500g chicken mince
1 cup breadcrumbs
¼ cup sweet chilli sauce
1 egg
Shallots, chopped
Dash of coconut milk or cream
Olive oil
Method:
Combine all ingredients, except olive oil, and roll into small balls. Pan fry the patties in a little olive oil, turning occasionally until cooked through. Serve with fresh green salad for a light but tasty family treat.
Garlicky and good
These chicken kiev rissoles are absolutely delicious - surely one of the tastiest ways to use chicken mince.
Make up a batch of rissoles using chicken mince - add some breadcrumbs to ensure they don't get too gluggy. As you are rolling them up, place a knob of garlic butter in the centre. Coat the rissoles in breadcrumbs when you're finished, and fry as usual. I'm sure these rissoles will be gobbled up with relish by the whole family.
Everyone loves risotto
You can make a lovely risotto style dish with chicken mince. Simply brown a chopped onion in a pan, add chicken mince and cook till just done. Add uncooked rice to the fry pan and cook for three minutes, until it starts to brown. Add a can of tomatoes and some chicken stock and cook for a further three minutes.
Spoon this mixture into an oven proof lasagne dish, cover with foil and bake in the oven until the rice is cooked and all the liquid has been absorbed. Feel free to add other spices and seasonings to taste. This is a very easy meal to make, and cheap as chips.
Asian twist for chicken mince
I regularly use chicken mince to make this yummy brown rice and vegetable dish.
Cook some brown rice and set aside. Brown the chicken mince in a frying pan and remove. Put your vegies in the frying pan - these can include onion, capsicum, sweet corn, mushrooms, carrot and zucchini. When the vegetables are cooked to your liking, put the mince back into the pan and add some Indonesian ketchup. Throw in the brown rice, and stir all ingredients until well combined. Great at any time but particularly nice when served in roasted capsicums.
Saucy ways with chicken mince
I use chicken mince to make this lovely, creamy pasta sauce.
Ingredients:
2 tbsp olive oil
2 cloves garlic
1 onion, chopped
750g chicken mince
1/4 cup tomato paste
1 tbsp fresh basil
2 tbsp fresh parsley, chopped
1/3 cup cream
2 x 300g cans tomato Supreme (or use diced tomatoes)
Cooked pasta to serve
Method:
Heat the oil in a pan, add garlic and onion and cook until the onion is soft. Add chicken mince and cook until browned. Stir in all remaining ingredients, except the pasta, and cook until hot. You can spoon this delicious sauce over the pasta or stir through. Leftover sauce can be frozen and used when required.
Easy as pie
This chicken pie is a family favourite - the recipe is a little unusual as the filling consists of chicken meatballs!
Mix 500g chicken mince with 1/3 cup of breadcrumbs, made from yesterday's bread, and an egg. Season with a little cracked pepper and add some finely chopped herbs if you like. Mould into small meatballs, about the size of a walnut, and lightly fry in a non-stick pan or lightly greased pan. Once browned, put the meatballs into a lightly greased pie dish.
Julienne a carrot, a zucchini and one stick of celery, then finely slice half an onion. Cook all vegetables for five minutes in the chicken juices left in the pan. Add one teaspoon of chicken stock and one and a half cups of water or evaporated milk. Bring to the boil and thicken with two teaspoons of cornflour, mixed with a little water to make a paste. Pour over the chicken balls and top with pastry of your choice. Bake in a moderate oven for 20 minutes and enjoy - I'm sure you will!
Give chicken swirl a twirl
This recipe for chicken swirl will have the family spinning with delight!
Ingredients:
500g chicken mince
3 spring onions, finely chopped
1 tbsp chopped parsley
1 clove garlic, crushed
2 sheets puff pastry
100g cheese, shaved or thinly sliced
125g frozen spinach, thawed and well drained
1 cup julienne frozen carrots
1 cup frozen corn kernels
1 beaten egg for glazing
Method:
Combine chicken mince, spring onions, parsley and garlic. Mix well. Place one sheet of pastry on baking paper and lightly brush one edge with water. Overlap with second pastry sheet and press gently. Spread chicken mixture over pastry, leaving a border on the top short edge of about 5cm. Add a layer of cheese over the chicken, and then add layers of spinach, carrot and corn.
Starting with the short edge near you, and using the paper to help, roll the pastry around the filling, like a Swiss roll. Cut the roll into 3cm thick slices. Place slices cut side down on a lightly greased oven tray and glaze with the beaten egg. Cook at 200C (fan forced) or 220C (conventional) for 20-25 minutes until pastry is golden. The end result looks wonderful and tastes even better!
Grab a kebab
Kebabs are great for barbecues, easy family dinners, party snacks... in fact, kebabs are great at any time!
Chicken mince has good 'sticking' properties, so you don't need to add anything to the meat to roll it into chicken balls. Fry the balls until cooked, then slide them onto kebab sticks. Serve with satay sauce made from peanut butter, soya sauce and a little water. Alternatively, serve with a tomato salsa, made from diced tomato, onion, celery and any other chopped vegetables you may want to use up.
For an extra healthy sauce, cook up any vegetables you may have with a little water. Cook until they are just soft then process in a blender.
Vietnamese rice paper rolls
We love making Vietnamese rice paper rolls using chicken mince.
Fry the mince with a little red onion, and some Hoisin - not too much or you overpower the taste. Then, assemble the following ingredients: shredded lettuce, grated carrot, julienne cucumber, finely sliced red capsicum, fresh mint, coriander, cooked rice vermicelli noodles and a packet of rice paper wrappers.
Pour some hot water into a large bowl and dip the rice paper wrappers into the bowl to soften. Put the mince and all other ingredients onto the rice paper and roll up. Grownups might like to add some Vietnamese dipping sauce before rolling up - this consists of fish sauce, water, sugar, a dab of sambal oelek and grated carrot.
These rolls are healthy and tasty, and the kids love making them!
Don't forget your pets
Treat your pets with chicken mince!
Cook up the mince and set aside. Cook a small amount of grated potato, grated or chopped carrots, spinach, peas and so on - avoid onion and garlic though. Let the mixture cool before adding it to the mince. Be careful to keep the potato and other starchy vegetables to a minimum as most pets don't need much in the way of simple carbohydrates.
The internet is a great source for other pet food recipes using chicken mince - check it out!
---
9. This Month's Help Request: Breakfast Club Cooking
This month Kerry asks:
"I am part of a group of four parents who run a breakfast club at our school. We provide a nutritious start to the day for between 40 and 50 kids who do not always have breakfast at home. We offer toast with butter, jam or Vegemite and also have tinned fruit, as well as honey or cheese spread occasionally. Sometimes we even have a pancake day. However, I would love some new recipes and ideas for low cost, nutritious things we can feed the kids. We have little or no cooking facilities for a change and are always running out of ingredients. With only four of us catering for up to 50 kids, we really need to keep things simple and cost effective. Does anyone have any suggestions?"
Wow what a challenge! How would you feed 40 to 50 kids before school with limited ingredients? If you have some solutions or suggested ingredients that would be quick and cost effective please let Kerry know here.
---
10. Savings Story: Winning the War on Debt
"At just 24, the only debt my husband and I have is our mortgage, thanks to Simple Savings. We are fortunate to be in the position to make extra repayments onto our mortgage. Our base mortgage repayment is 18% of our monthly income, but by being Simple Savers, we pay extra repayments of 45% of our monthly income. However, we do not live as cheaply as we could - within our circle of friends, we are 'the Joneses' - we have four nice cars (three functional cars and a restored family heirloom which we did ourselves), a beautiful newly built home that includes a separate 'bar' building (much like having our own pub and cinema), many of the latest gadgets (which seem important when you're in your 20's like we are), always eat well and never seem to go without. This is all thanks to Simple Savings and my mother in law (who is extremely SS but doesn't know it!).
We buy things at garage sales, auctions, closing down sales, estate sales and the like. I do Once a Month Cooking which ends up lasting two or three months and only costs $300 maximum for the two of us. If we want a big ticket item such as a projector or pool table for the bar, we research the various kinds and brands to find exactly what we need, then shop around until we find a bargain. For example, we bought our projector approximately a year after we first decided we wanted one - this saved us $1700 because we were able to shop around and not be blinded by any sales spin. We save money to buy things, rather than live on credit. We do many things ourselves such as restoring furniture into excellent condition, finishing the bar ourselves (gyprock, insulation and so on), and grow some of our own vegies. We have our own water supply (are not connected to mains) so are conscious of how much water we use and also don't have water bills. Our phone is through our internet connection which is much cheaper than Telstra. Neither of us have ever had credit cards, however, we both have savings accounts for emergencies only.
We use many hints from the Vault that allow us to live fantastic lives while our friends sink further into debt and wonder how we do it (although when we tell them how, they don't seem to listen!). Our aim is to have the mortgage paid off by the time I'm 30, and since that's six years away, we may just be able to do it!"